Here's something to get you thinking.
The demand for all sorts of natural crystals is starting to steal market share from the diamond industry.
It would appear that more people than ever in Western countries are now on a path to spiritual awakening.
And that includes all Millennials who are ditching mainstream religion to follow Wicca and other more pagan belief systems.
As a seasoned affiliate marketer myself, my estimate is that the market for the metaphysical is set to explode over the next few years.
That makes right now a good time to position yourself ahead of the coming surge.
All you need is the right set of metaphysical affiliate programs to work with.
We asked the members of our Affiliate Lab group who are crushing it in this niche to share the referral programs that work best for them. 
Here are our top picks…
Top Metaphysical Affiliate Programs
1. Hay House
Hay House is a publisher of self-improvement books, audiobooks, and other materials.
The company was founded by Louise Hay after she used the power of positive thinking to allegedly cure herself of a life-threatening illness.
They provide a way for independent authors of spiritual and self-help books to publish their content and reach customers in 30+ countries.
Your visitors will find products spanning crystals and chakras to the Law of Attraction, vegetarianism, astrology, and more besides.
You can earn affiliate commissions to the tune of 50% on all sales, plus they provide lots of support for their affiliates in the form of creatives.
Note: Their program is invite-only and you need to be able to demonstrate that you can generate organic traffic to their offers.
Why You Should Promote Hay House
They stock a vast range of products suitable for multiple audiences interested in spirituality, self-help, and personal development.
Commission: 50%
Cookie Duration: 30 days
Payment Methods: TBC
Products: Audiobooks, books, courses
---
2. Live and Dare Meditation
Live and Dare is a meditation training program created by international author, speaker, and popular blogger Giovanni Dienstmann.
The goal is to help you move from what he calls "monkey mind to monk mind", finding inner calm through daily meditation.
Your visitors get access to 12 online courses, more than 50 guided meditations, mentorship from experienced practitioners, and a supportive community made up of other members.
The lessons are short so will suit people with very little time.
They also offer a free course, which could act as an effective pre-sell for affiliate marketers.
This program is managed in-house and pays 40% commission on courses and 10% on coaching programs.
Why You Should Promote Live and Dare
They're obviously market-savvy and have designed products and services to appeal to the broadest cross-section of potential customers, and their program offers generous commissions.
Commission: 40% on courses, 10% on coaching
Cookie Duration: 60 days
Payment Methods: PayPal
Products: Meditation training
---
3. Sivana
Next up on our list is Sivana Spirit, an online retailer of yoga clothing.
But they also sell a range of natural gemstone jewelry, crystals, and meditation supplies, such as incense and smudging sticks.
Your visitors will find everything from singing bowls to books on healing and spirituality in their online store.
The only potential downside here for affiliates is that their meditation supplies aren't prominently featured on their site.
So that means deep linking to products is probably a good idea.
One of the interesting sub-niches within their products is their singing bowls because they retail for up to $255.
You'll need an account with the ShareASale affiliate network to sign up for their affiliate link.
Affiliates can expect an average order value of $82 per sale, and around $8 in commission per referral.
Why You Should Promote Sivana Spirit
Their clothing will appeal to people who want to look the part, but their accessories will appeal to actual practitioners.
Commission: 10%
Cookie Duration: 45 days
Payment Methods: Check, direct deposit, Payoneer
Products: Meditation clothing and supplies
---
4. Trinity Road
Trinity Road claims to be the leading online and offline supplier of products for Christians, and more specifically Catholics.
That includes everything from candles and crucifixes to rosaries and vestments for those in positions of spiritual leadership within a community.
They even stock Catholic coffee along with travel mugs and tumblers for good measures.
What might surprise you is that there are around 1.3 billion registered Catholics in the world, so this is anything but a fringe or niche market.
So how does this Christian affiliate program compare to the other metaphysical programs in this roundup?
They pay 8% commission on all sales and have a pretty decent 3-month EPC.
Why You Should Promote Trinity Road
There are 1 billion Catholics on their spiritual journey through life right now, and Trinity Road has a range of products that will appeal to them in a very personal way.
Commission: 8%
Cookie Duration: 30 days
Payment Methods: Check, direct deposit, or Payoneer
Products: Christian
---
5. Sounds True
Sounds True program is another great affiliate program for both experienced and new affiliate marketers.
Sounds True program was founded in 1985 by Tami Simon who wanted to share spiritual wisdom with the entire world.
A little under 30-years-later the company has grown to 110 employees managing the 3,000 titles they publish across printed books, audiobooks, videos, and online classes.
And these aren't just random authors either – they're some of the leading names in the spiritual and metaphysical niche like Michael Beckwith, Thic Nhat Hanh, Pema Chodron, Jason Silva, Valarie Kaur, and many others.
Sounds true affiliate program pays a 35% commission on all sales. Some of their courses cost $137, so you'd earn $47 on that one referral, for example.
Why You Should Promote Sounds True
They have thousands of products, created by spiritualism celebrities, and with high enough ticket prices to make it worth your while.
Commission: 35%, 10% for sub-affiliates
Cookie Duration:
Payment Methods: PayPal
Products: Meditation music & courses
---
6. 15-Minute Manifestation
15 Minute Manifestation is a program that is pretty much the same thing as the Law of Attraction or Cosmic Ordering [1].
It contains a number of MP3 audio tracks that train you to dismiss any misguided or incorrect beliefs that prevent you from manifesting the life you've always wanted.
But you only have to listen to these tracks for 15 minutes each day, hence the name of the product.
Does it work?
We have no idea.
But we do know that the topic of cosmic ordering gets hundreds of thousands of organic searches per month.
This is a ClickBank product, so make sure you have access to their affiliate network before you do anything else.
Affiliate marketers receive a 35% cut of all sales referred. This program pays about $106 per sale.
Why You Should Promote 15-Minute Manifestation
The "law of attraction" niche is still extremely popular today, almost as much as it was several years ago, so there's a ready market for exactly this type of product.
Commission: 75%
Cookie Duration: 60 days
Payment Methods: Check, direct deposit, wire transfer
Products: Manifestation audio products
---
7. Sage Goddess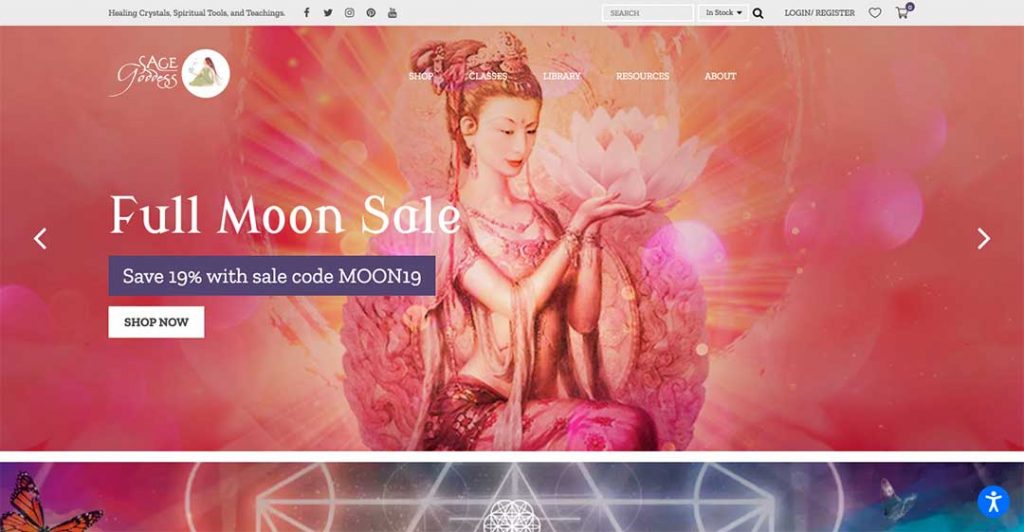 Sage Goddess affiliate program is an e-commerce store that sells a huge range of items suitable for audiences interested in all things metaphysical and spiritual.
Your visitors will find everything from Reiki supplies to crystals, smudge sticks, meditation cushions, magical candles, meditation benches, or even temporary tattoos.
And that's just a random sampling of their product lines – there are thousands of other items in stock at any one time.
They do also offer online courses, where you can learn tarot, numerology, and other such skills.
So that's another way to monetize your traffic.
The Sage Goddess affiliate program pays a 7% commission rate on all products sold, but please bear in mind that they use 24-hour cookies, unlike most of the other affiliate programs in our roundup.
So you'll need to send warm traffic to specific product pages if you want to make money here.
Why You Should Promote Sage Goddess
They've been in business since 2011 and carry a huge range of products that will appeal to anyone even remotely interested in the metaphysical.
Commission: 7%
Cookie Duration: 24-hours
Payment Methods: PayPal
Products: Spirituality products
---
8. BetterListen!
Better Listen is a publishing company that focuses on promoting the spoken word teachings of some of the most outstanding thinkers in the world.
Their library covers everything from mindfulness and meditation courses to books and audiobooks on religion, philosophy, spirituality, science, psychology, and personal growth.
It's an ideal place to send visitors who are interested in learning more about pretty much any subject from modern science to spirituality, and where both of these topics potentially intersect. 
How much is this spirituality program worth to the average affiliate?
They offer a 15% commission rate on purchases made by new customers, so there's no option for recurring commission here.
Why You Should Promote Better Listen
They offer a specialized online shopping experience aimed at people who want to learn more about how they fit in with the Universe around them.
Commission: 15%
Cookie Duration: 30 days
Payment Methods: Check, direct deposit, Payoneer
Products: Wellness audiobooks
---
9. 7-day Prayer Miracle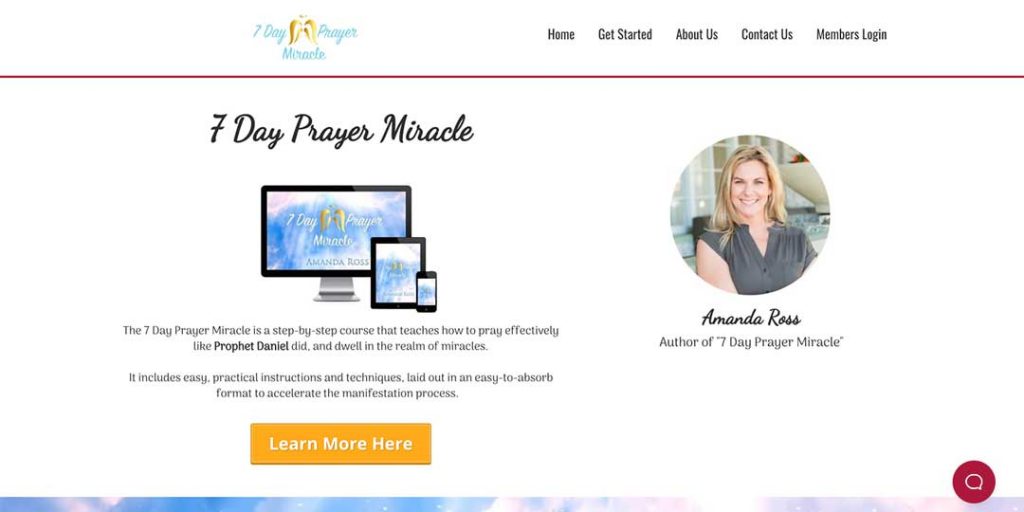 7-day Prayer Miracle is a digital product that aims to teach you the skill of focused intention through prayer.
So it's similar to what you'd learn in a course on the Law of Attraction. Except this is a catholic company.
The difference is that instead of simply wishing for the life of your dreams you use a specific type of prayer, as used by the prophet Daniel, to manifest miracles in his own life.
This product contains several eBooks covering the prayer itself, divine hearing, and divine numbers, but you also get a prayer journal and a series of MP3 to tune your mind into the "miracle frequency".
As an affiliate marketer, you can expect to earn up to $250 per sale by promoting this offer if your visitor buys all 3 up-sells.
There's also the opportunity to earn recurring commissions with this affiliate program
Why You Should Promote 7 Day Prayer Miracle
It has a relatively high ClickBank 'Gravity' score, so should convert well, and has the potential to earn you $200 per referral.
Commission: 75%, with option of 25% recurring
Cookie Duration: 60 days
Payment Methods: Check, direct deposit, wire transfer
Products: Prayer course
---
10. Tiny Devotions
Love Tiny Devotions was founded in 2010 and is a female-owned online store that started out selling Mala beads for use during meditation practice.
Mala Beads are basically the same thing as regular prayer beads, but in the case of Love Tiny Devotions, their bead necklaces and bracelets use crystals that provide the wearer with a specific additional benefit e.g. be calmer, more focused, etc.
Their bracelets and necklaces are available in a wide range of materials, with a finish to suit almost every taste.
They've also expanded their product range to include other jewelry, essential oils, and even tote bags, so you might pick up some incidental commissions there.
The big question though is can you make money online by promoting their affiliate programs?
Yes, although with an average commission payout of $6 per sale you're going to have to push other affiliate programs on your site or blog.
Why You Should Promote Love Tiny Devotions
Their products will obviously appeal to everyone from Buddhists to Yogis but are also en vogue enough to be worn as fashion jewelry.
Commission: 15%
Cookie Duration: 90 days
Payment Methods: Check, direct deposit, Payoneer
Products: Mala beads
---
11. Soji Energy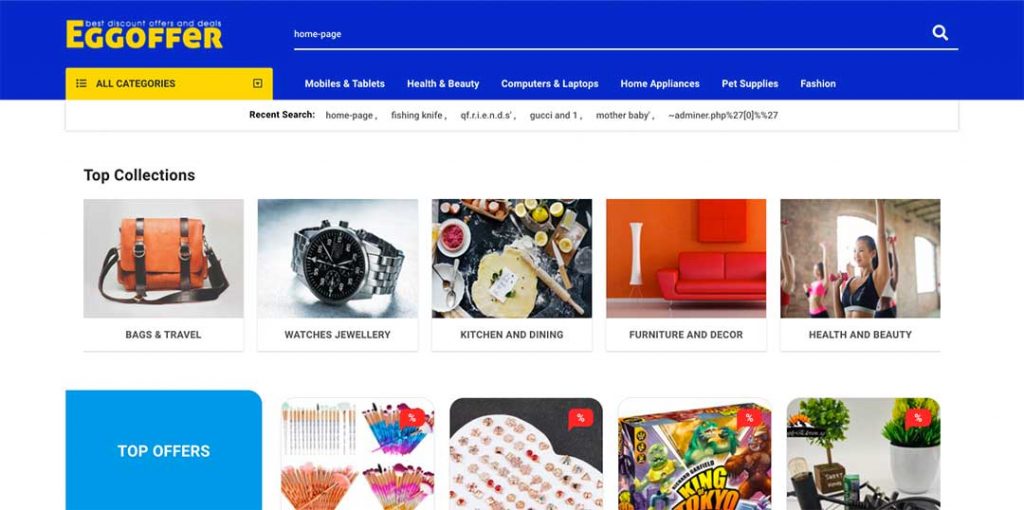 Soji Energy is one of the most unique spiritual affiliate programs we uncovered during research.
What your visitors get are water bottles, water dispensers, and essential oil rollers that contain natural crystals, so that every drop of water your drink or oil you apply is infused with the additional power of healing crystals.
So that's an interesting take on ways to use crystals in products and it's one that will appeal to pretty much anyone interested in the subject.
Plus, they also sell raw crystals which will appeal to the same audience but for different reasons.
You'll earn an average of $3 per referral made through your affiliate link, based on an average order value of $61.
So it would make sense to focus on their high-ticket items if you want to earn more than that per sale or pitch other affiliate programs alongside this one.
They're also a relatively new company, so you can gain access to early adopter privileges by taking action now.
Why You Should Promote Soji Energy
Their products look great, have tons of positive reviews, and should prove popular with everyone from alternative healing practitioners to beauticians.
Commission: 5%
Cookie Duration: 180 days
Payment Methods: Check, direct deposit, Payoneer
Products: Water bottles
---
12. Shambhala Publications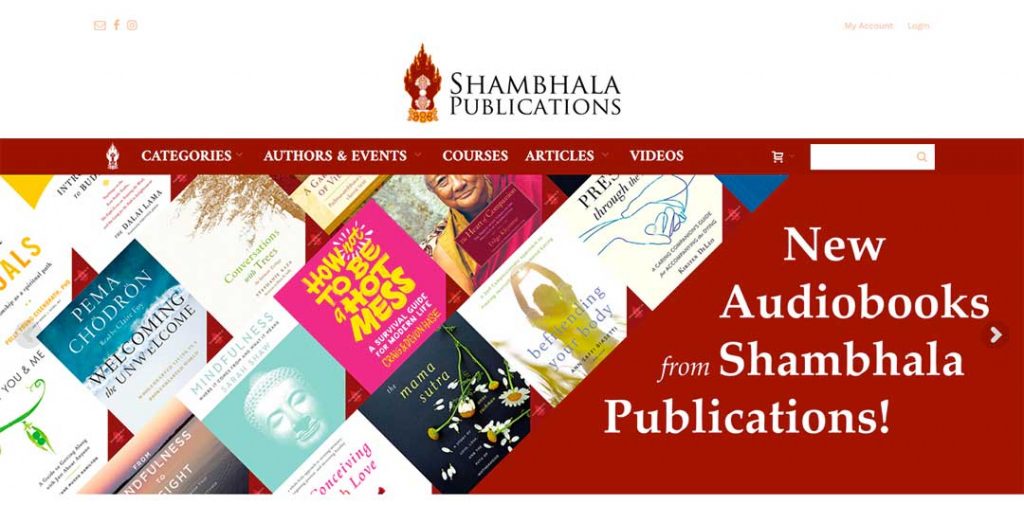 Shambhala is a mythical realm rooted in Tibetan folklore.
Shambhala Publications, on the other hand, is an offline and online business based in Denver, Colorado.
Their products include books and courses created by some of the leading spiritual leaders and authors alive today.
As of right now, they have over 1,600 titles in print covering everything from Buddhism, Christianity, yoga, and wellness to martial arts.
So there's enough diversity for somebody with even a passing interest in the metaphysical to find a book, audiobook, or course they'll enjoy.
Why You Should Promote Shambhala Publications
Their products are aimed directly at the metaphysical niche market so should convert well when sent warm traffic.
Shambhala Publications pay a 10% commission rate on all sales referred by you to their affiliate landing pages.
Commission: 10%
Cookie Duration: 30 days
Payment Methods: Check, direct deposit, PayPal
Products: Spirituality books and training courses
---
13. Mindvalley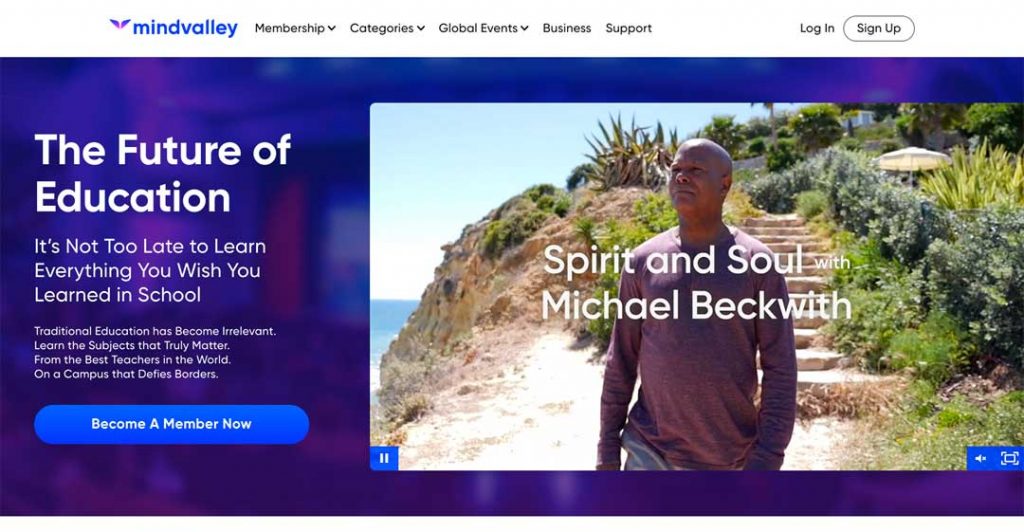 Mindvalley affiliate program is basically Netflix for the soul.
Midvalley affiliate program offers a full library of courses on the metaphysical that you can buy individually, or you can sign up for monthly membership that gives you access to everything.
With the Mindvalley affiliate program, you'll find courses that are ideal for bloggers in the meditation niche, but also in healing, well-being, health, relationships, and even entrepreneurship.
And they have new courses coming online all the time.
A typical spiritual affiliate marketer will earn a 30% commission on all new membership sales with this affiliate program. So this means you could earn up to $100 per sale based on their claimed baseline order size of $300 from the Mindvalley affiliate program.
Why You Should Promote Mindvalley
They're ahead of the curve in their approach to the metaphysical and spiritual market, so that's a sign they probably have even better ideas up their sleeve.
Commission: 5%
Cookie Duration: 30 days
Payment Methods: Check, direct deposit, PayPal
Products: Human transformation courses
---
Grow Your Net Worth With Metaphysical Affiliate Programs
And there you have some of the best metaphysical affiliate programs available online right now.
As you can see, there's a lot of money to be made by helping others tap into the world of the metaphysical or furthering their spiritual growth.
This is a niche that you could easily mistake as not being profitable, even though it's stuffed full of cash.
And choosing the right niche is the key to making a life-changing income.
Which is just part of what I teach in my Affiliate Lab course.
You can look over my shoulder as I walk you through the process of building an income-generating niche affiliate site.
All are based on tested and proven methodologies.
Want to Become a PRO Affiliate?
Comprehensive lessons
Niche Grading tool
Step-by-step website building guide
Regular updates


Private Facebook community
Bonus courses
Lifetime course access