Do you want to promote products to an audience of billions? The affiliates in the Christian niche know it can deliver enthusiastic shoppers, congregation-sized purchase orders, and relevance across most countries and languages.
As an experienced affiliate marketer myself, I understand the unique needs and interests of this niche. That's why I've consulted with successful members of The Affiliate Lab who have already established themselves in the Christian affiliate market. Together, we've curated a list of the best affiliate programs that cater to Christian audiences.
In this guide, you'll find out the best Christian affiliate programs and discover what sets each one apart. Then you'll learn how to break into the Christian niche and what you can promote in this niche.
Best Christian Affiliate Programs to Promote on Your Blog
The following programs can give you a great start in affiliate programs. Read on to learn more about these top programs, including what they do and what policies might affect you if you join.
1. Alpha Omega Publications
Alpha Omega Publications is a home-schooling resource for parents who want to give their kids an education based on the teachings of Jesus Christ.
They provide homeschool curriculums and classroom resources for various subjects, including math, science, and foreign languages. They also have a great affiliate program.
This affiliate program is hosted on the CJ Affiliate Network. This network will connect you to many other offers. You'll be able to access your sales data feed from the dashboard and work with a dedicated affiliate manager when you need advice.
The affiliate program pays only a 4% commission, but there's potential to market to homeschool networks and programs that may submit large orders. When you join, you'll gain access to links, coupons, and special offers that you can provide directly to your website visitors.
Quick Look
Commission: 4% Per Sale
Cookie duration: Cookieless tracking
Payment methods: Paper check, direct deposit or Payoneer
Types of Products: Homeschool support products, bible translations
---
2. Answers In Genesis
Answers in Genesis is an American apologetics organization that provides support for networks of churches and an excellent affiliate program.
The apologetics ministry focuses on arming those who share the faith with skills to make arguments and engage with questions, doubts, and skepticism.
The site operates as a large education-focused marketplace with a variety of products. They carry homeschooling resources, teacher resources, online courses, videos, event tickets, and gifts. The products range from a few dollars to as much as $500 for some event tickets.
They also have a gift shop section that carries religious apparel, including Christian shirts, hats, bracelets, and other products.
You can find the affiliate program hosted on ShareASale and all the affiliate-only promo codes. It offers a healthy 12% commission rate, which could be lucrative for group orders. Owners of blogs, an online store, social media pages, and other online resources are all encouraged to apply as affiliates and promote Christian products.
Quick Look
Commission: 12% base commission
Cookie duration: 60 days
Payment methods: Direct deposit, Credit card, eCheck, Paypal (ShareASale)
Types of Products: Courses, Curricula, Books, Tickets
---
3. Bein Harim Tours
Bein Harim Tours provides year-round tours of Israel. Their selection includes holy land packages with private tours of sites historically significant to the Christian faith. The Christian tours are multi-day packages running from $500 to $2000 a person.
The Bein Harim Tours affiliate program is hosted on ShareASale. It offers an impressive 15% Commission. This rate could easily net you hundreds of dollars on a single big-ticket reservation.
Quick Look
Commission: 15%
Cookie duration: 90 days
Payment methods: Direct deposit, Credit card, eCheck, Paypal
Types of Products: Guided tours and vacation packages
---
4. ChurchSource
ChurchSource is an online store and a Christian market provider of Protestant and Catholic bibles, materials for bible studies, reference books, and other related literature. They supply churches with tools for sermon preparation, bible studies, and services.
They also provide churches and church leaders with the marketing materials like Christian greeting cards or Christian-themed figurines to expand their ministries. The products are geared toward church leaders. It sells many products in bulk for competitive prices.
They are a dealer of American Bible Society and Thomas Nelson bible translations. Many churches and Christian organizations prefer these translations.
Most of the products here range between $10-$100. Discount prices are available for a variety of products. Affiliates are sometimes provided with sales sneak peeks and special offers just for their readers.
The ChurchSource affiliate program is hosted on the ShareASale network. ChurchSource affiliates can collect a reasonable 10% commission on each sale. This rate should work well for an affiliate marketer if they send bulk orders that this site can deliver.
Quick Look
Commission: 10% per sale
Cookie duration: 60 days
Payment methods: Direct deposit, Credit card, eCheck, Paypal
Types of Products: Bible/bible study materials
---
5. Faithbox
Faithbox is a Christian-focused subscription box service and they offer a great affiliate program. Each month, subscribers are sent containers with books, accessories, and art. The products are sourced from companies that have been assessed for their positive practices.
Customers can purchase a $30+ subscription or individually purchase past boxes for between $20 and $40.
The Faithbox affiliate program is hosted on ShareASale. As an affiliate marketer for quite some time, I very much appreciate ShareASale. It offers a flat $15 bounty for each person who signs up after following your link. The program advertises a consistent 5% conversion rate, which should help you determine
Quick Look
Commission: $15 per subscription
Cookie duration: 30 days
Payment methods: Direct deposit, Credit card, eCheck, Paypal
Types of Products: Subscription boxes
---
6. Judaica WebStore
The Judaica WebStore deals in craft goods from Israel, including jewelry, art, clothing, and edible gifts. Almost anything you'd find in a Jerusalem gift shop can be found here.
You won't find a bible here, but the site does sell many products that appeal directly to Christians. Christian sites focused on history or culture are great matches for the program, and the Judaica Webstore openly welcomes them to apply.
They also sell a selection of Dead Sea cosmetics that appeal across religious lines.
The site privately manages the affiliate program. Judaica Webstore offers a 10% commission rate that applies to all products. Affiliates are paid on the 15th of the month for all affiliates referred in the previous month. You'll need to generate at least $100 to collect the minimum payout.
Quick Look
Commission: 10%
Cookie duration: 30 days
Payment methods: PayPal, Check, Moneybookers, Wire Transfer
Types of Products: Israel-sourced crafts
---
7. Mozaico
Mozaico is a leading producer of custom-made mosaic art created from various colored stones. This mosaic art is designed to be installed into floors, walls, or other areas as a home decor.
The site sells various designs, including many with religious themes. The mosaics are piced like custom artworks, with many individual mosaics priced between $400-5,000 depending on the size.
The affiliate program for this home decor is directly managed by Mozaico. They pay an impressive 15% commission rate on each piece of art sold through your link.
Quick Look
Commission: 15%
Cookie duration: 30 days
Payment methods: Paypal
Types of Products: Mosaics
---
8. Nest Learning
Nest Learning is a major dealer of Christian educational products. They carry books (including the Christian bible from American Bible Society translations and others), music, and movies. They also sell bible study materials, lesson plans, and church supplies.
The products you can promote on the site cost anywhere from a few dollars to $100. Some items are sold in collections or bulk, with the prices reaching much greater heights.
The affiliate program delivers an 11% commission rate, with an option to go as high as 15% based on your sales volume. Affiliates are supported through a dashboard with a real-time data feed of their sales.
Quick Look
Commission: 11-15%
Cookie duration: 30 days
Payment methods: Direct deposit, Credit card, eCheck, Paypal
Types of Products: Educational products
---
9. S&S Worldwide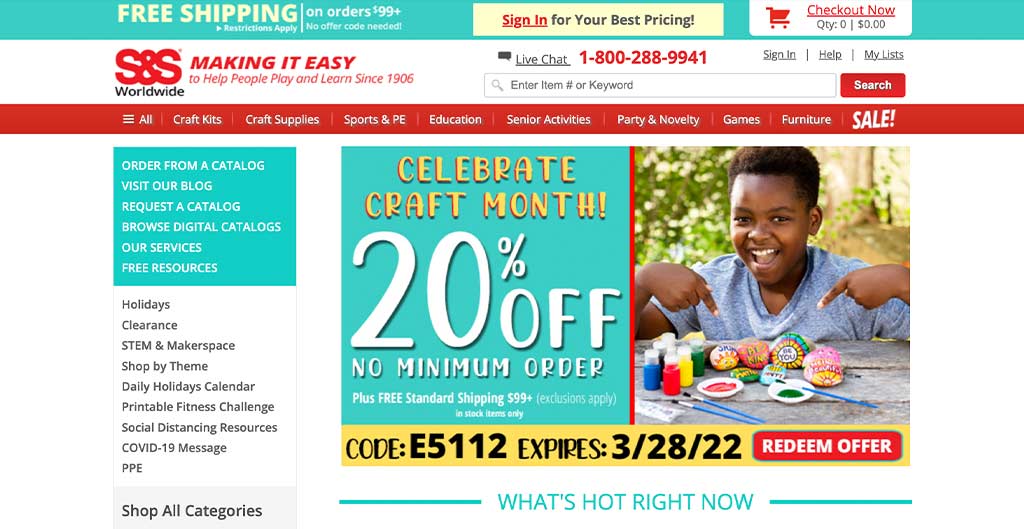 S&S is a massive marketplace for recreational supplies. Churches often host a range of activities weekly for both children and the elderly. This site can be a resource for the materials they need.
As part of the affiliate program, you can sell craft kits, art kits, physical education equipment, and party supplies. They sell a selection of goods designed for Christians and their organizations, including themed toys, books, and trivia games.
Many items on the site are relatively inexpensive. However, they carry some larger tools (for example, button makers) that cost several hundred dollars.
As part of the affiliate program, you can collect a 7% commission for each item purchased by buyers who followed your link. You'll be sent online reports each month with data you can use to improve your commissions.
The program is hosted on CJAffiliate. Coupon, reward, point, and cashback sites are not permitted to join.
Quick Look
Commission: 7%
Cookie duration: Cookieless tracking [1]
Payment methods: Paper check, direct deposit, or Payoneer
Types of Products: Recreational supplies
---
10. Catholic Company
The Catholic Company is a major marketplace of catholic-focused goods. It carries many different versions of the Catholic bible, as well as jewelry, home goods, and gifts.
This website is one of several Trinity Road websites. Trinity Road is a global company and one of the largest suppliers of Catholic materials worldwide. Forming an affiliate relationship here could open you to custom opportunities with other Trinity Road websites.
Even if you don't focus on working with the other Trinity Road websites, this one offers a great program. You can claim an 8% commission on all sales and a long 45-day cookie. The program is managed on the CJ Affiliate network.
Quick Look
Commission: 8%
Cookie duration: 45 day referral period
Payment methods: Paper check, direct deposit, or Payoneer
Types of Products: Catholic materials and gifts
---
11. ChristianCafe.com
ChristianCafe is one of the oldest Christian dating sites. Though it has intense competition these days, it's still a major destination for Christian singles who want to meet others who share their faith.
This dating affiliate program has one of the highest commissions available on this list, with 40% for every sale. At 120 days, the cookie policy is also one of the most generous. The program advertises above-average conversions and special promotions for affiliates.
Quick Look
Commission: 40%
Cookie duration: 120 days
Payment methods: Not Listed
Types of Products: Dating services
---
What Is Christian Affiliate Marketing?
Christian affiliate marketing are programs that target online consumers of the Christian faith with a world of products designed for their interests. These products appeal to hundreds of different denominations across the world's 2.4 billion Christians.
As an affiliate of these programs, you can collect a percentage of any products sold to customers who follow your text links.
These affiliate programs are an excellent fit for Christian bloggers, faith-based news sites, or monetized sites that serve parents, private schools, churches, and other organizations that are involved in Christianity.
Which Products Can I Promote in Christian Niche?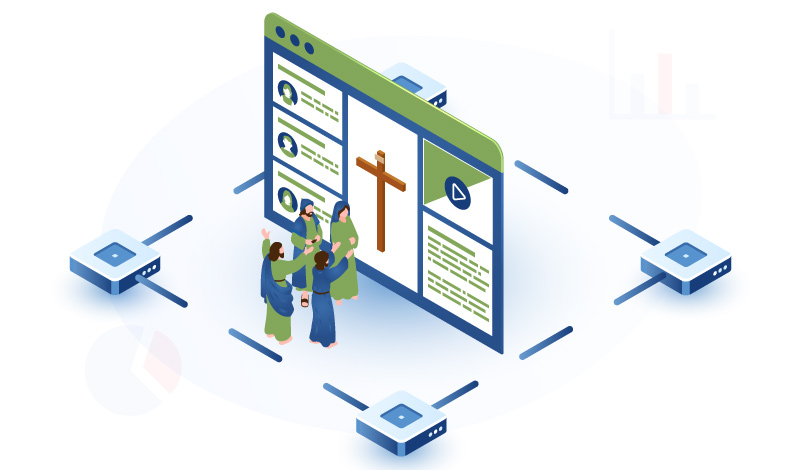 You can promote a variety of products. Many Christians choose to practice their faith in most parts of their lives. That means that they read Christian books, attend Christian events, and buy Christian gifts for other people who share their beliefs. As a result, there is a tremendous variety of products to promote.
Some of the most popular products in this niche include:
Christian greeting cards
Christian clothing
Books and Bibles
Homeschool curriculums
Church resources (office supplies, stationery, marketing materials)
Classes & courses
Outside marketing & outreach services
Can My Site Get Accepted To Christian Affiliate Programs?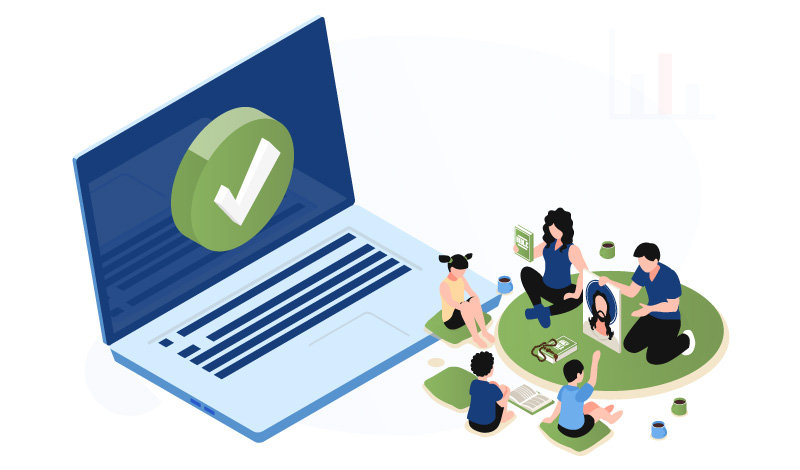 Yes, your site may already be ready to promote Christian products. For example, if you're a Christian blogger, many of the programs we'll cover here will be a good match. If you cover figures like Jesus Christ from a historical or cultural perspective, your site may fit.
Publishers who succeed with these programs tend to focus on a specific area of Christian living. For example, they may have a Christian blog that focuses on the sub-niche of:
Parenting
Homeschooling
Church management, growth, and outreach
Event planning
Wellness & Healthy Living
You don't even necessarily need a site. Many programs we've covered in this article allow email marketing or social media ads.
How Do I Make Money With These Programs?
Making money with these programs isn't difficult. The religious organizations market alone generates approximately $350 billion a year[2]. The total market, including everything from Christian t-shirts to books and beauty products, exceeds $1.2 trillion[3].
Houses of worship are some of the most substantial customers in this niche. They serve congregations of anywhere from a few dozen to several thousand parishioners. The average order value—for anything from printing services to hymn books—can be huge.
The best way to get started is with one of the top programs to connect you to affiliate offers.
---
Monetize Your Christian Blog With the Best Affiliate Offers
Jump into the best Christian affiliate programs, and you'll discover a market where you can promote an endless variety of products to billions of people all over the world.
If you can land churches and leaders as readers, you may claim some of the massive bulk orders made by churches every day.
But, affiliate marketing success takes more than knowing where to start.
If you want to master this online business, you need advice from experts who have been in the trenches…
Register free at The Affiliate Lab to learn how to access our essential guides and a lively community of experienced affiliates.
Want to Become a PRO Affiliate?
Comprehensive lessons
Niche Grading tool
Step-by-step website building guide
Regular updates


Private Facebook community
Bonus courses
Lifetime course access