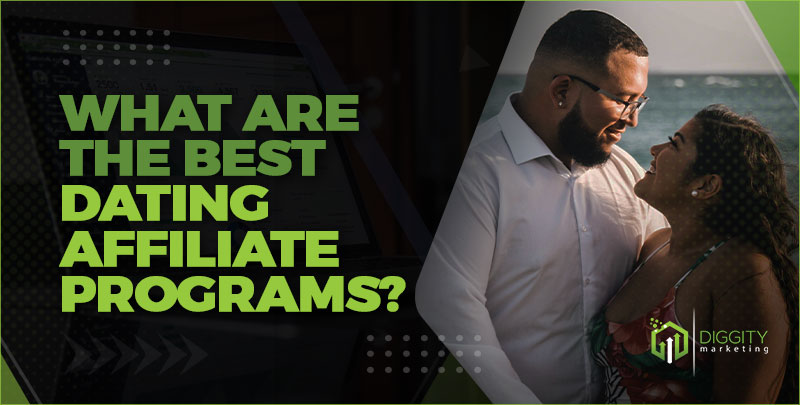 Choosing an evergreen and recession-proof niche is a smart way to set up an affiliate site, and the dating niche ticks both of those boxes.
Despite economic downturns, people will always need to form relationships, making the online dating industry worth an estimated US$6 billion with a projected annual growth rate of 5%.
While this niche is undoubtedly competitive, and there are plenty of free dating sites, promoting the best dating affiliate programs can still be a lucrative endeavor. With hard work and dedication, you can make money with dating websites.
As experienced affiliates who have successfully navigated the realm of dating websites, we are excited to share our knowledge and insights with you. We've also consulted a few of our friends at The Affiliate Lab. So let's dive in and explore the world of dating affiliate programs.
Top Dating Affiliate Programs to Promote
1. eHarmony
eHarmony has been around now for more than 20 years.
But what makes them different from other dating services is how they get couples matched up with each other – no pun intended.
Members have to complete a detailed relationship questionnaire that's then used to match them with people who are truly compatible with them.
Yes, it uses behavioral matchmaking technology to help singles find love.
And the interesting thing is that it works – this website is responsible for thousands of new marriages each year.
So that's one way to pitch it to your audience.
Their program is managed by CJ Affiliate by Conversant, one of the best affiliate networks, so you're in safe hands.
eHarmony is also one of the top performing programs on the above affiliate network, so they're paying out a lot of money in affiliate commissions each month.
Why You Should Promote eHarmony
They offer an innovative matchmaking service designed to create a high rate of successful matches for their members.
Commission: $10 per lead/30% per sale
Cookie Duration: 45 days
Payment Methods: Check, direct deposit, or Payoneer
Products: Dating
---
2. Christian Café
As we've already mentioned, online dating is a competitive niche.
One way to get around some of that competition is to target a sub-niche, like Christian singles looking for a god-centered relationship, and then to promote a Christian dating site to them.
Christian Café is one of the more popular Christian dating sites for mingling and has millions of members at the last count. This dating website has countless success stories.
And there are millions more Christian singles who are potential referrals for you.
So how profitable is it to help people of the Christian faith to meet their soul mate?
This site pays its affiliate partners 40% of every sale, and with membership costing up to $149  you could potentially earn $60 for a single referral.
You'll need an account with the Pepperjam affiliate network to promote this offer.
Why You Should Promote Christian Café
This offer allows you to monetize a very specific audience, users get a free trial, and the site has been responsible for 25,000 marriages so far. It also pays a far higher commission rate than Christian Mingle.
Commission: 40% per sale
Cookie Duration: 120 days
Payment Methods: PayPal, Direct deposit
Products: Christian dating
---
3. Cupid Media Sites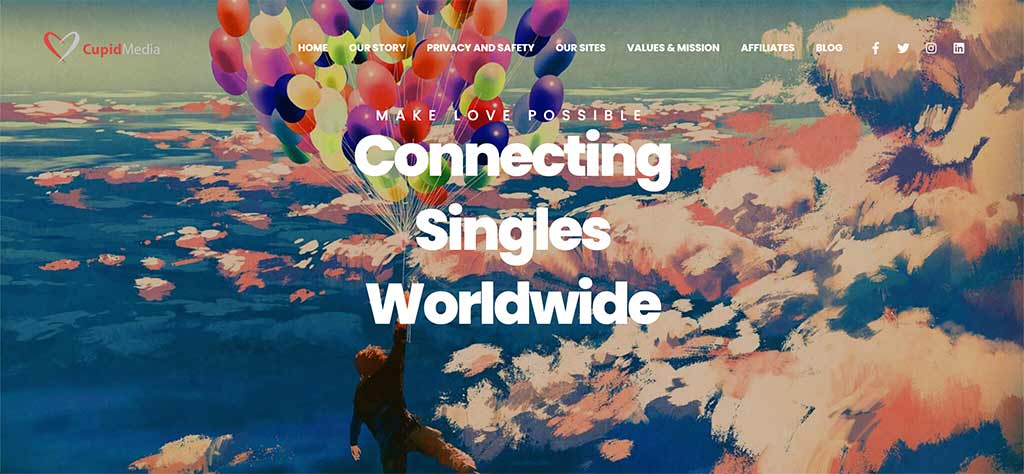 Cupid Media is the company behind OKCupid and every other dating website you've seen online with the word "Cupid" in the title.
If you choose their dating affiliate programs, you're not just working with a single dating site but an entire network of them.
Their portfolio of sites should contain a  match for whatever sub-niche of dating you currently operate in.
And that includes everything from geo-specific dating sites (UkraineCupid, etc) to BBWCupid, Cupid sites for the LGBTQ community, and even a dating site for single parents.
The added benefit to the above is that Cupid Media is unlikely to go out of business any time soon. As an active affiliate marketer, I sure appreciate this fact.
You'll earn a 75% cut of what your referrals pay for their Gold or Platinum plan, which means you could earn up to $89 per single sale.
Why You Should Promote Cupid Media Sites
Their program is easy to join, you have 30+ offers to work with, and they pay a generous commission rate.
Commission: 75% per sale
Cookie Duration: 45 days
Payment Methods: Paypal or check
Products: Dating
---
4. Elite Singles
The next dating site in our roundup is Elite Singles.
When your visitors sign up for a dating site they want to find their perfect match and then leave.
Nobody wants to be stuck on a dating site for months on end.
Elite Singles offers people an intelligent way to avoid that by matching people based on their real relationship preferences, locations, an in-depth personality test, and their education.
Opposites attract, but it's much easier to form a relationship with somebody you have things in common with.
Affiliates promoting this offer will get a flat $7 for each lead you generate for the Elite Singles dating website.
Why You Should Promote Elite Singles
They sign up over 300,000 new sophisticated and ambitious professionals each month, so their landing pages convert traffic well.
Commission: $7 per sale
Cookie Duration: 45 days
Payment Methods: Payoneer, check, bank deposit
Products: Exclusive dating
---
5. Silver Singles
Silver Singles is a dating site aimed at the 50+ dating scene.
And while that might not seem like an active market at first, it genuinely is. The average American is divorced by age 30, and 60% of them will be divorced again[1] after their second marriage fails.
There's a lot of single 50-somethings out there looking for love…
Niche dating sites like Silver Singles allow you to tap into an older market that's active and has a lot of disposable income.
The site uses a personality test to make sure your visitors find the best possible relationship matches and provides lots of support like expert advice on creating a great profile.
Your visitors can take Silver Singles for a test drive using their free account and then upgrade if they like what they see.
This program pays a flat $7 commission on each referral sent through your affiliate link.
Why You Should Promote Silver Singles
The 50+ dating market is a lucrative sub-niche, and this program gives you a way to monetize that audience.
Commission: $7 per sale
Cookie Duration: 30 days
Payment Methods: Payoneer, check, bank deposit
Products: Senior dating
"My advice is to start with a sub niche where competition is lower and get results faster. Then scale to different Geos. It's not only about English. Right now, it is so much easier to rank in some countries, for example, Japan or Brazil, than in English Geos."
Victor Karpenko
Founder of SeoProfy
---
6. Meet Your Psychic

And now it's time for some lateral thinking in monetizing an audience looking for love and romance – dating-related offers.
Single, divorced, or separated people tend to be uncertain of what the future holds in store for them.
But they're willing to pay for an answer to that eternal question, "When will I meet my soulmate," and that includes looking for what is now referred to as spiritual counseling.
It's kind of like outsourcing your rigorous relationship research to a higher power.
MeetYourPsychic is a site that offers spiritual counseling and claims to have helped over 500,000 people with career, grief, life purpose, and relationship advice.
Their prices start at just $1 per minute and your visitors get their first 3 minutes free of charge.
This is the most lucrative dating program here by payout – you get $100 for each new customer you send their way.
Why You Should Promote Meet Your Psychic
They provide an in-demand service for people who genuinely want the help of a psychic, and you can earn a lot of money by connecting the two.
Commission: $100 per sale
Cookie Duration: 30 days
Payment Methods: Direct deposit, wire transfer
Products: Psychic readings
---
7. Sugarbook
And now for something different in our roundup – one of the more specialized dating services you'll encounter.
Sugarbook – as the name implies – is a dating site for women looking for a sugar daddy[2], and older men looking for younger women who want a mixture of romance and financial support.
It also takes the concept of a dating site to the next level by creating a social network of sorts for its users but without any kind of personality test.
So your visitors can meet and chat with their future sugar daddies in real time – this is likely the future of all dating apps.
This offer is aimed at a very specific audience i.e. men with a lot of money and women looking for guys who like spending money on their girlfriends.
That means you should only send qualified traffic to their landing pages.
You can earn a flat $24 per referral, so it's about average for online dating sites.
Why You Should Promote Sugarbook
Not everyone is willing to work in the "luxury dating" niche,  but for those who are, this is one of the better affiliate programs to promote.
Commission: $24 per sale
Cookie Duration: 30 days
Payment Methods: PayPal, Direct deposit
Products: Sugar daddy dating
---
8. Adult Friend Finder
And now we come to a dating site that doesn't pull any punches – it's for adults who want to meet other adults, to do adult things with them.
Adult Friend Finder is not like the other dating sites in this roundup in a couple of ways.
Firstly, its target audience is far more interested in the physical and intimate side of dating than spending hours messaging. And secondly, their affiliate programs are run in-house.
And that then means you need to have an audience interested in this type of dating – you probably won't do very well with one of their banners on your crockery blog, for example.
But for those of you with visitors interested in both dating and adult sites then Adult Friend Finder is an affiliate offer worth considering.
So, how much can you make by sending traffic to their affiliate links?
You earn 75% per sale and then 55% on any renewals – the only program offering that type of payout structure.
Why You Should Promote Adult Friend Finder
They're one of the most widely recognized names in the adult dating vertical, so you won't need to explain to your audience who they are.
Commission: 75% per sale
Cookie Duration: Lifetime
Payment Methods: Check, wire, ACH, Paxum
Products: Adult dating
---
9. Match.com
Match.com is one of the better-known mainstream dating sites out there, probably because it's been around since 1995.
Since then, they've grown to an online dating site with more than 9 million paying members but somewhere around 20 million total active users.
That makes it one of the biggest online dating sites in the world.
Match.com is also one of the more traditional online dating sites, so you don't just swipe left or right – you get to read profiles too.
Although they do have a popular dating app as part of their service.
You'll get between $2 and $4 when a new online dater registers an account, but you can also get 50% of a 1, 3, or 6-month subscription.
So you could earn up to $60 for each referral sent to this dating website.
Why You Should Promote Match.com
They're an established brand in the world of online dates, so you only need to send warm traffic to their landing pages.
Commission: $4 per lead or 50% per sale
Cookie Duration: 1 day
Payment Methods: Check, direct deposit, or Payoneer
Products: Dating
---
10. Jdate 
Jdate is another of the faith-based sites in our roundup, this time with a target audience of Jewish singles.
Modern life and international travel make it difficult for the average Jewish single guy or gal to leverage the power of the shidduch – a traditional matchmaking and dating advice system used for centuries by Jewish families.
Jdate uses the power of the Internet and modern technology to pick up the slack.
The site itself is nothing to write home about – it's pretty typical of what you get with most niche dating websites.
And that's where the social proof kicks in because Jdate has a lot of success stories to boast about.
So that's the kind of stuff you can make great use of as many other affiliate marketers already have.
Their standard payout is $2 per sale, so there's room for improvement there.
Why You Should Promote Jdate
Their dating service caters to a very niche market that normally relies on more personalized dating services, so it has the potential to be very lucrative.
Commission: $2 per sale
Cookie Duration: 30 days
Payment Methods: Payoneer, check, bank deposit
Products: Jewish dating
---
Are Dating Sites Profitable?
Yes, dating sites are profitable. There are tons of dating affiliate programs available. Promoting dating websites with many super affiliate marketers in this niche can earn you up to $500,000 per month.
This is made possible by the high commission rates paid by the dating offers and affiliate networks in this market.
But this is a difficult niche to operate in.
So, don't expect to make easy money.
You need to be smart and work hard to get established.
But it is still possible to earn money in this niche – serious amounts of it.
---
Make Money With the Best Dating Affiliate Programs
And there you have our list of the best dating affiliate programs. Plus, using effective affiliate marketing tools can really help you out.
This is, however, a competitive market, so new online dating programs, affiliate networks, and services appear all the time.
Just make sure you vet their affiliate program before signing up for it.
Because your choice of affiliate programs can make or break the earning potential of your niche site.
This is something I learned the hard way…
But now, thanks to my Affiliate Lab training course, you don't have to make the same mistakes I did.
Just follow my proven step-by-step system for creating one profitable affiliate site after another.
It really is that simple.
Want to Become a PRO Affiliate?
Comprehensive lessons
Niche Grading tool
Step-by-step website building guide
Regular updates


Private Facebook community
Bonus courses
Lifetime course access