With years of experience in the industry, I can honestly say that one of the biggest tricks to being a successful affiliate marketer is avoiding the fads and embracing evergreen markets.
A prime example of such an evergreen niche is the fitness industry.
With an impressive annual revenue growth of nearly 9%, the global fitness sector is valued at a staggering $64 billion, demonstrating its immense potential.
Below, you'll find out the top fitness affiliate programs that are working for both me and fellow members in The Affiliate Lab.
Top Fitness Affiliate Programs
1. FanFuel (

Editor's Choice

)
FanFuel is the affiliate arm of Wolfson Brands, a UK supplier of supplements for the fitness and health, and wellness niche.
Their health supplements appeal to several different markets, ranging from bodybuilding to life extension, and even hair loss.
Furthermore, this fitness affiliate program also uses health and fitness influencers, as well as athletes, to help promote their products. So fitness enthusiasts get a visual representation of just how effective FanFuel products can be – social proof sells.
How does FanFuel compare to other affiliate programs for earning potential?
You can earn at least 40% commission on everything you sell on your fitness blog or channel, with the potential for recurring commissions.
This makes Fanfuel one of the highest paying affiliate programs in fitness, the best supplement affiliate program going, and one of the best fitness affiliate programs overall.
Why You Should Promote Fanfuel
This is a market-savvy brand with a broad cross-section of sports nutrition products to appeal to a very specific audience. Also, the 40%+ commission rate should be attractive to affiliate enthusiast.
Commission: 40% per sale
Cookie Duration: 90 days
Payment Methods: Bank transfer, PayPal, wire transfer, and Payoneer
Products: Health supplements
---
2. ACE Fitness
ACE (American Council on Exercise) Fitness is a non-profit organization that provides certification for both health and fitness professionals
Their mission is to "Get people moving" and be proactive in dealing with inactivity-related diseases such as obesity, heart disease, Type 2 diabetes, stroke, and cancer.
In the last 30 years, they have certified more than 90,000 health professionals and impacted the lives of 35 million people.
Their fitness affiliate programs are managed by Impact which pays a commission rate of 7% for every future fitness coach you refer, which ranks among the higher in the fitness industry.
An ACE 'Personal Trainer' certification costs between $849 and $1,499, so you could net $100+ per successful referral, making ace affiliate marketing program an excellent choice for those looking to make big money.
Why You Should Promote Ace Fitness
The ACE Fitness affiliate allows you to tap into a market that contains 650 million adults who are classified as obese[1]. There's a growing demand for trained fitness gurus to combat this health issue. The only downside is the lack of a dedicated affiliate support team.
By promoting ACE Fitness certifications, you not only help aspiring fitness professionals achieve their career goals but also contribute to creating a healthier and more active society. With a trusted and well-established organization like ACE Fitness behind you, the potential for success in the fitness affiliate marketing space is immense.
Commission:  7% per sale
Cookie Duration: 90 days
Payment Methods: PayPal, Check, Wire Transfer, Direct Deposit.
Products:  Fitness training certification
---
3. TRX Training
TRX (Total Resistance Exercise) is a manufacturer of body-weight/suspension training equipment, the brainchild of former Navy SEAL Randy Hetrick.
Their system allows you to create a gym in almost any location, indoors or outdoors using nothing more than a set of heavy-duty straps and your body – users can design fitness programs on the fly.
Your visitors can potentially save on their gym membership and get fit at home or while on the road.
Or that's one way to pitch this offer to your readers…
TRX equipment isn't exactly cheap but this is good news.
Why?
Because their fitness affiliate program offers a 5% commission rate and has an AOV (Average Order Value) of $200.
Why You Should Promote TRX
TRX has had many imitators but their brand name is still the most widely recognized in the suspension training market. And brand recognition can go a long way when it comes to adding another few percent to your conversion rate, making it a good affiliate program option.
Commission: 5% per sale
Cookie Duration: 30 days
Payment Methods: Direct deposit, wire transfer, or PayPal
Products: Exercise equipment
---
4. Reebok
Reebok is another of the major fitness brands with a fitness affiliate program that made it into our roundup.
From a company that first produced running spikes in the 1890s, it has become a lifestyle brand worth over US$2.4 billion.
A major advantage for affiliate marketers in promoting Reebok products is that this company is a household name.
So that means there should be less friction in the conversion process, making this program a good way to gain some extra revenue.
The downside is that Reebok products are available in most physical stores.
But if you can come up with a unique angle/sheer volume of traffic, then Reebok is happy to pay you a 7% commission rate on sales generated for their US online store.
Why You Should Promote Reebok
They are an international manufacturer of sportswear with an established presence in the market so you can, and should, piggyback off their fitness affiliate program to make some extra cash.
Commission:  7% per sale
Cookie Duration: 7-days
Payment Methods: Check, direct deposit, wire transfer, and Payoneer
Products: Sports footwear and clothing
---
5. Speedo USA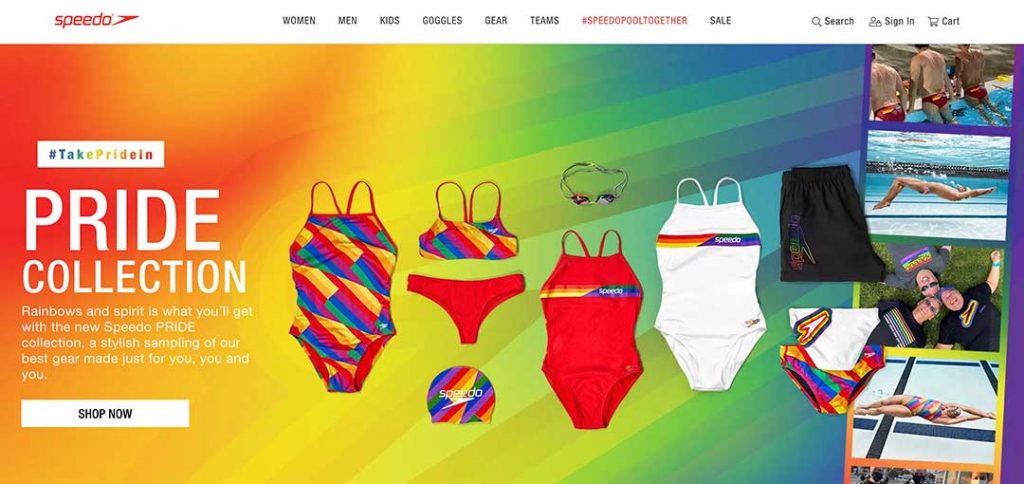 The first pair of Speedos was created in 1927 by a Scottish man who emigrated to Australia, working first as a milkman before earning his fortune manufacturing socks during World War 1.
Speedo today is one of the most recognizable names in sports, competitions, and casual swimwear, worn by many of the world's top water sports athletes.
They also offer free shipping on all orders over $100 in value, so that could be useful leverage for any fitness affiliate promoting their products.
Their affiliate program is managed by Pepperjam[2] so make sure you have an account there before you put together your affiliate content strategy.
Approved affiliates can then earn 7% of every sale they refer through this fitness affiliate program.
Why You Should Promote Speedo
They are the world's leading swimsuit and swimwear brand for both casual and professional swimmers, giving your affiliate program application a vast number of potential referrals.
Commission: 7% per sale
Cookie Duration: 14-days
Payment Methods: PayPal and direct deposit
Products: Swimwear
---
6. NASM
Next up on our list of fitness affiliate programs we have the National Academy of Sports Medicine (NASM). They've been in the business of providing professional certification to personal trainers since 1987.
To date, they have certified over 190,000 fitness professionals via their online training courses.
Fitness enthusiasts can attain their personal trainer certification from the comfort of their homes, making this a premier bodybuilding affiliate program.
They also offer payment plans, which might be worth mentioning in your affiliate presell content.
Each successful referral will earn you a fixed commission of $25, but a top-performing fitness affiliate can always attempt to renegotiate that amount.
Why You Should Promote Nasm
There's a growing demand for personal trainers, so you should be able to find a ready audience looking for a proven certification program.
Commission: $25 per sale
Cookie Duration: 30 days
Payment Methods:  Direct deposit, check, or Payoneer
Products: Fitness training certification
---
7. Titan Fitness
Titan Fitness manufactures a range of weight lifting and exercise equipment that allows your readers to build a professional gym in their garage, basement, or attic.
This includes racks, barbells, bikes, benches, free weights, and gym machines.
The difference is that Titan Fitness gear is as good as anything you'll find in a typical franchise gym.
The Titan Fitness affiliate program pays a 5% commission rate on all sales.
Their racks, for example, retail for anywhere from $500 to $1,000 so there's income potential if you decide on promoting fitness products of this company.
Why You Should Promote Titan Fitness
They sell a range of affordable yet highly durable exercise equipment that will appeal to everyone from personal trainers to the person who wants a permanent gym in their garage. Furthermore, their fitness affiliate program nets a good base amount per refferal
Commission: 5% per sale
Cookie Duration: 30 days
Payment Methods: Direct deposit, check, or Payoneer
Products: Fitness equipment
---
8. Inno Supps
The global health and dietary supplement market was worth an estimated US$140 billion in 2020 [3] and is expected to almost double in size within five years.
Inno Supps is a company focused on tapping into the health and fitness industry and this growth market.
While their product line does contain products aimed at the wellness market the rest of their supplements are for bodybuilders who want to gain muscle and burn fat.
Inno Supps also leverages the power of social influencers to market their products which makes for effective affiliate banners.
You need to make 5 sales per month from this fitness affiliate program to meet their affiliate commission threshold and your commission rate on those sales is 10%.
Inno Supps does not allow you to promote competing products or fitness affiliate programs on your blog or social channels. Another downside is that it only has a 1-day cookie to work with.
Why You Should Promote Inno Supps
Inno Supps has their finger on the pulse of that market and the products and social clout to match.
Commission: 10% per sale
Cookie Duration: 1 day
Payment Methods: PayPal
Products: Fitness supplements
---
9. NordicTrack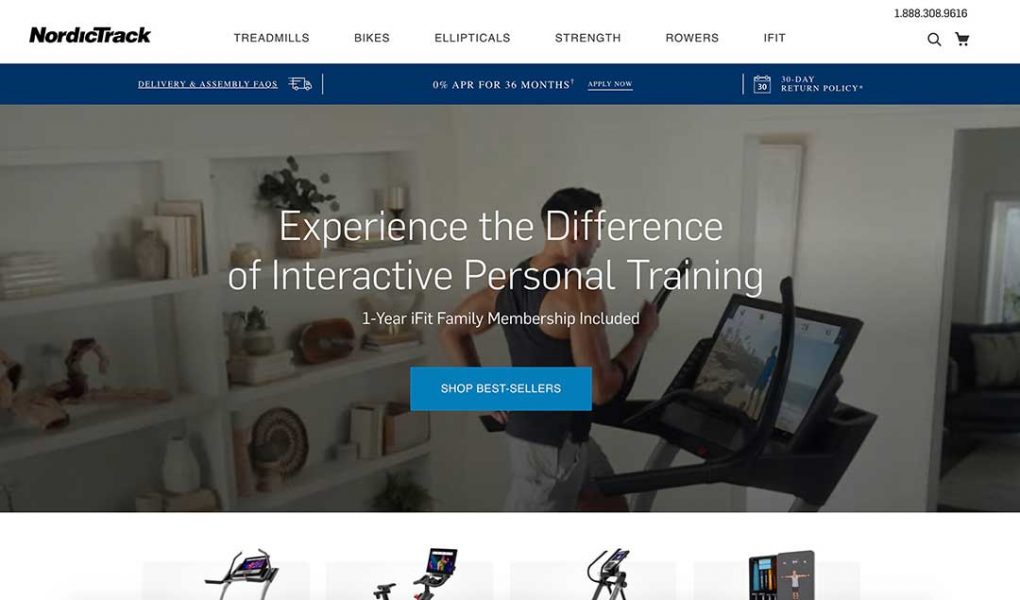 This is entirely possible thanks to the products manufactured by NordicTrack and its fitness affiliate program.
NordicTrack is probably best known for their original skiing trainer, but also manufactures elliptical trainers, treadmills, exercise bikes, plus rowing, free weights, and weight training machines.
This company also offers financing over 36-months to make it a little easier for you to help a potential customer to take that leap of faith into investing in fitness.
The NordicTrack affiliate program offers a 7% commission rate on all sales referred through your affiliate link.
Their treadmills start at $2,199, so a single referral could be worth $153.93 to you in commission. That makes this one of the top fitness affiliate programs here by income potential.
Why You Should Promote Nordictrack
NordicTrack is a household name in personal fitness, with a product range to match and a commission structure to make it worth your while working with them.
Commission: 7% per sale
Cookie Duration: 90 days
Payment Methods: Direct deposit, check, or Payoneer
Products: Home gym equipment
---
10. Body Gym
The BodyGym is a lightweight and portable workout system that allows the average person to perform more than 150 different exercises using just resistance bands and a static bar.
So the BodyGym gets around that problem by reducing the physical footprint required for intense workout programs to just a few square feet.
Affiliates promoting this offer get a 10% commission rate for all sales, which is slightly above average for products in the fitness niche.
Why You Should Promote Bodygym
BodyGym is ideal for the person who either can't afford a regular gym or just doesn't enjoy the experience. Retailing at just $120 this device is also more cost-effective than other types of home exercise equipment.
Commission: 10% per sale
Cookie Duration: 30 days
Payment Methods: PayPal
Products: Fitness equipment
---
11. Nike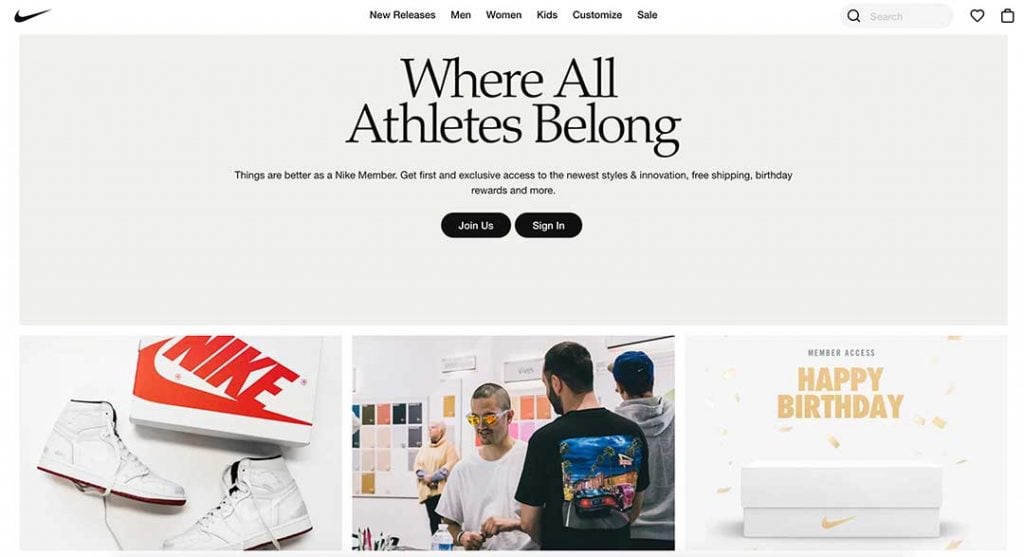 What started out in 1972 as a small business selling its own brand of sneakers has grown to become an international brand worth billions.
In case you didn't know, Nike manufactures and sells a range of premium-priced sports shoes covering everything from running track to professional golf.
But they've become just as well known for their range of sportswear.
A lot of new affiliates wonder why a company like Nike would use affiliate marketing as part of its business model.
Simply because it obviously generates revenue for them.
That's why they're happy to pay you a 10% commission on any sales you generate for them through your affiliate link.
Why You Should Promote Nike
They're the biggest sports brand in the world by turnover (US$37 billion) with a level of global brand recognition that means Nike products pretty much sell themselves.
Commission: 10% per sale
Cookie Duration: 7 days
Payment Methods: Direct deposit, check, or PayPal
Products: Sports clothing and footwear
---
12. Total Gym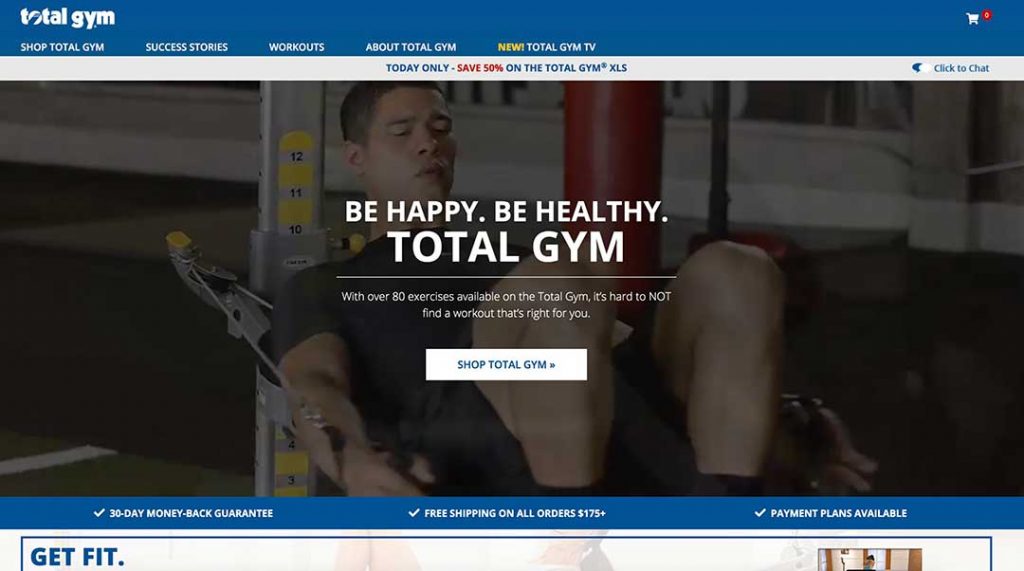 This is a uniquely styled piece of home workout equipment that allows users to get the benefit of a full workout but using just the Total Gym.
4 million people so far have invested in one of these devices.
But millions more are waiting for you to show them just how much they need this exercise machine.
This fitness affiliate program pays a baseline commission rate of 5% but has a 7-day EPC north of $120.
And you have the opportunity to earn income on everything from the Total Gym itself to their fitness workout DVDs.
Why You Should Promote the Total Gym
Shopping channels only feature products that are proven sellers. You also get to work with a dedicated affiliate team.
Commission: Up to 7.5% per sale
Cookie Duration: 45 days
Payment Methods: Direct deposit, check, or Payoneer
Products: Fitness equipment
---
13. Under Armor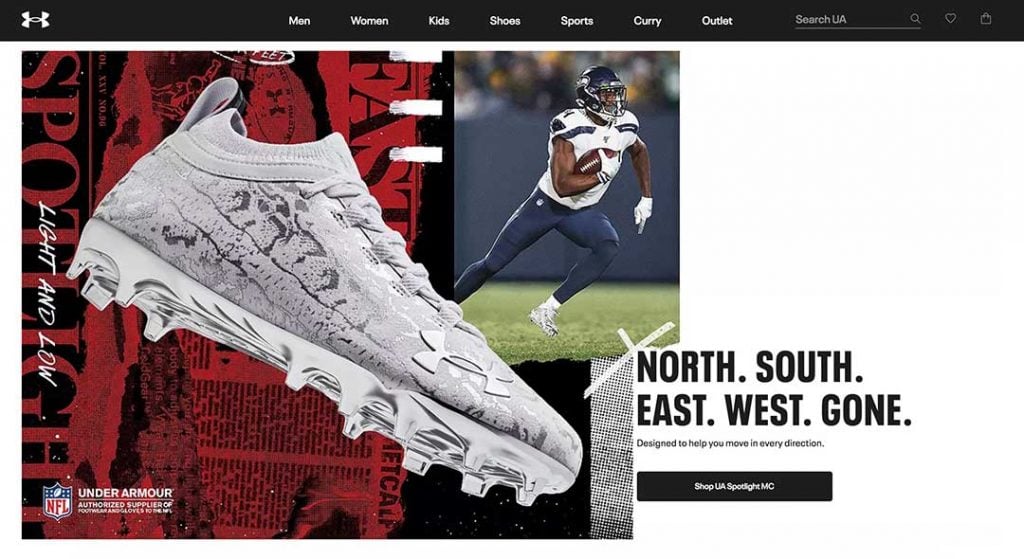 When Kevin Plank created the first Under Armor shirt in his grandmother's basement it was to solve the problem of wicking away sweat from his football uniform.
The days of training in cold, sweat-soaked t-shirts became a thing of the past thanks to his invention.
Under Armor now manufactures clothing for men, women, and children for sports as varied as football to fishing.
They offer an average order value of $100 and then move to their 5% commission rate, which means you can expect to earn an average of $5 per sale from this fitness affiliate program.
Why You Should Promote Under Armor
They don't just sell fitness clothing that looks good – it serves a real purpose.  There's a new generation of athletes born each day who'll need Under Armor sportswear.
Commission: 5% per sale
Cookie Duration: 30 days
Payment Methods:  International wire transfer or ACH
Products: Sportswear
---
14. Meredith Magazines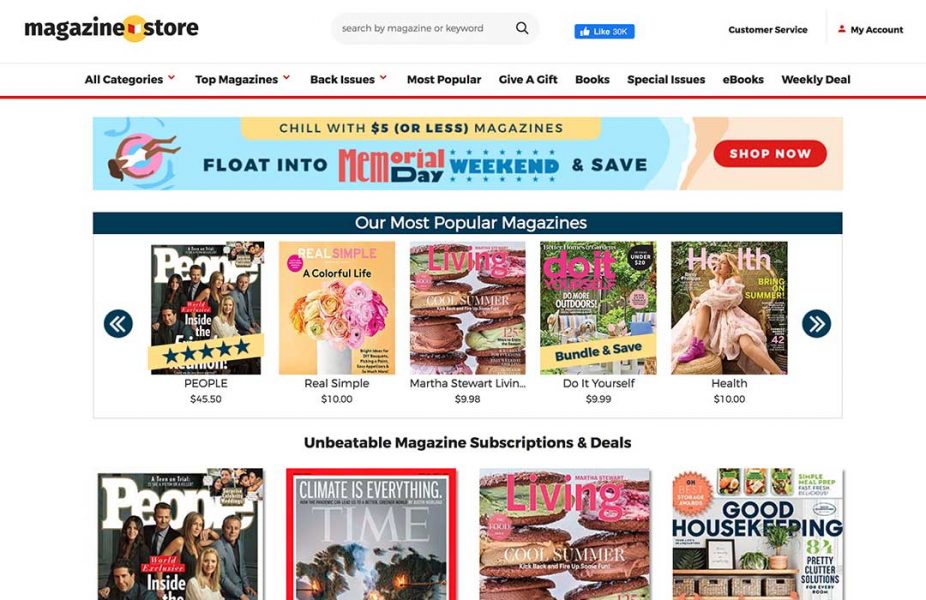 With this fitness affiliate program, you're doing your sports-loving audience a favor by introducing them to the Meredith Magazine Store.
They stock dozens of different magazines covering sports ranging from competitive shooting and fishing to RC car racing and horse riding.
So your audience is bound to find at least one magazine they're interested in subscribing to.
Your incentive from this fitness affiliate program is a 35% cut on all referred sales.
Why You Should Promote Meredith Magazines
As one of the leading online retailers of sports magazines they represent an ideal add-on offer for any affiliate with a sports/fitness blog or site. Inexperienced marketers will overlook this offer because it's not "cool", so their loss is your gain.
Commission: 35% per sale
Cookie Duration: 30 days
Payment Methods: Direct deposit, check, or Payoneer
Products: Magazines
---
15. Gene Food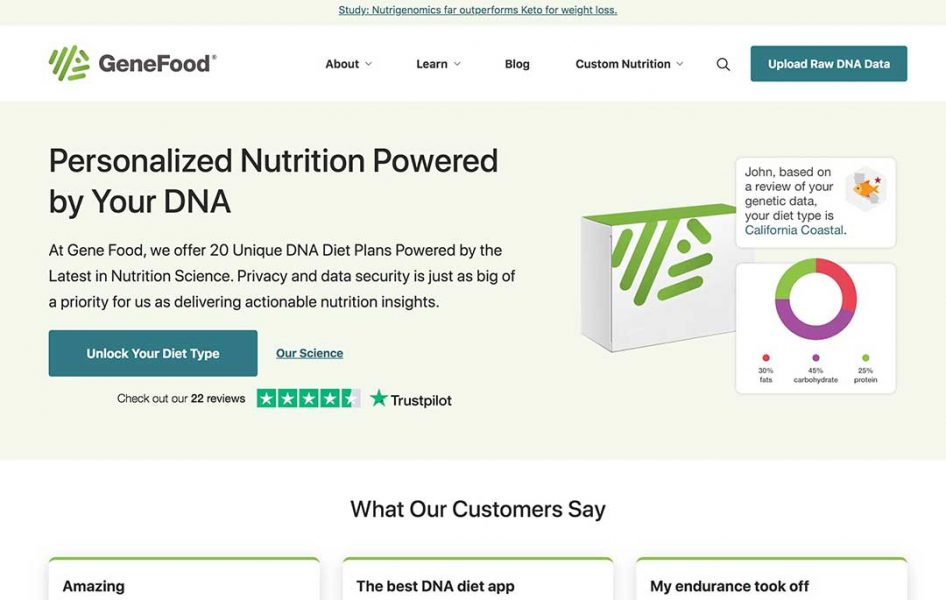 And the final entry in our roundup of fitness affiliate programs is Gene Food.
That's why Gene Food offers 20 unique diet plans that cater specifically to your genetic makeup.
Your body gets exactly what it needs for optimum performance but minus all the junk that makes you feel sluggish after eating.
You'll need an account with ShareASale to promote this offer.
You can then earn $20 for every lead you generate for Gene Food, and their conversion data indicates that roughly 1-in-20 of your affiliate clicks will lead to a sale.
Why You Should Promote Genefood
Your audience gets the benefit of meal plans designed by a fitness nutrition specialist, but without the expense. Body-type diets are nothing new but using your genetic information to dictate your diet is a new take on things.
Commission: $20 per sale
Cookie Duration: 90 days
Payment Methods: Check by mail, direct deposit, wire transfer, and Payoneer
Products: Nutrition
---
Fitness Niche Insights
It's not unusual for affiliates working in the fitness market to work one-on-one with supplement companies, often in exclusive arrangements.
And that includes supplements that you already use in your personal fitness routine.
All you have to do is Google "supplement (the one you use) affiliate program" to find out if they have an offer you can promote. I've found some of the best affiliate programs within the fitness category using this method.
Creating a pre-sell for a product you already own, use and love is much easier than for a product you don't know and might not even trust.
Additionally, the fitness niche offers an extensive range of sub-niches, providing ample opportunities for affiliates to specialize and cater to specific segments of the market. From workout routines, equipment, and apparel to nutrition plans, weight loss, and wellness products, there is a diverse array of options for you to explore.
By narrowing your focus and targeting a specific sub-niche, you can position yourself as an expert in the field and establish a dedicated following, thereby increasing the likelihood of generating sales and sustaining long-term success.
Another essential aspect to consider when working within the fitness niche is the importance of sharing authentic and valuable content.
Whether it's through blog articles, social media posts, or video demonstrations, providing your audience with insightful, actionable advice and accurate information is crucial for building trust and fostering a loyal community.
By consistently offering valuable content and promoting products that genuinely align with your audience's needs and preferences, you can create a strong foundation for a successful and enduring affiliate marketing career in the fitness industry.
---
Start Promoting the Best Fitness Affiliate Programs
There is a vast range of fitness affiliate programs offered on the market, and it can be quite hard to figure out which one will actually bring you a commission. After a thorough research, I can say Fanfuel gives the best results.
They offer high-quality products and have supplements for pretty much anything, so their shop caters to a large audience. Fanfuel also offers high commission rates, and you can be sure that you will benefit from the program even if you sell just a few products.
If you want to start your affiliate journey in the fitness industry, I would recommend you to try out Fanfuel and its affiliate programs.
Our #1 Recommendation: FanFuel