Finding high-quality freelance writers who can create engaging and effective copy, more often than not, is a really daunting task.
And, as a freelance writer, there are far too many freelance writing job boards out there that offer low pay or treat you like a cog in a machine.
That's why we bring you our list of the top 20 freelance writing websites that are great for both brands and freelance writers!
Whether you are a writer or looking for a writer, one of the biggest questions is what are the best freelance writing websites for what you want?
As a  website owner myself, I know how critical a steady stream of content is for making money online. Leveraging the top freelance writing websites out there will be one of the best investments in your business.
Types Of Freelance Writing Sites
Let's start by looking at the types of freelance writing sites in today's market.
Typically, when looking to hire freelance writers or looking for freelance writing gigs, you'll be faced with one of the following options:
Freelancer platforms
Content agencies
Job boards & classifieds
Social media groups
We've looked at all these types of freelance writing sites and bring you our top picks in each category!
---
Best Freelancer Platforms for Low-Cost Content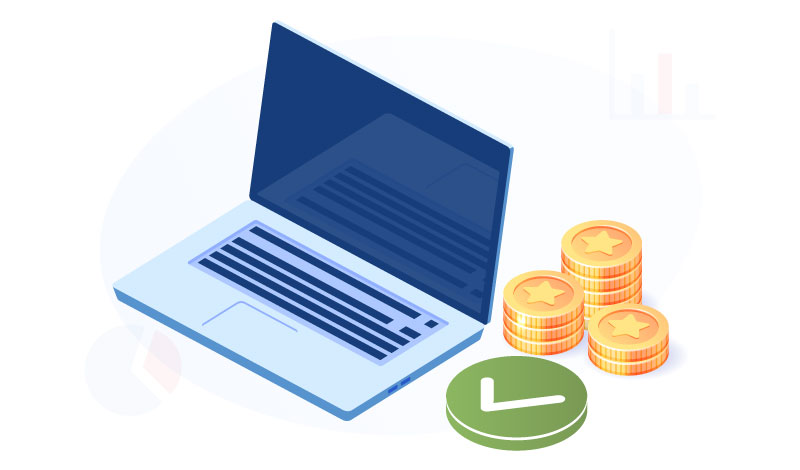 Low-cost content has as many perks as it does downfalls. However, it's an excellent place for people to get started, and there are a few platforms out there that offer some sweet deals.
For freelance writers, these platforms typically have a lower barrier to entry. For new freelance writers, you can get started by building up an income and a portfolio of freelance writing gigs in no time!
For brands and marketers, if your budget for content is on the low end, you might find these options a great fit in the interim until you earn enough to scale up to better quality options.
1. Upwork
Upwork is universally known as one of the top freelance platforms available today. It is a general platform allowing you to hire freelancers with a range of skills and from anywhere in the world.
For a new freelance writer who is just starting out, you can access a freelance writing job board with loads of opportunities and at various prices. Plus, you get to set your hourly rate and offer custom rates depending on the freelance writing job you're applying for.
If you're hiring freelance writers, the opportunities on Upwork are endless. However, you do have to invest some time scouting the right people for your projects.
All parties are also protected if a job doesn't work out as planned due to Upwork's Escrow payments. Employers pay for a freelance writing job in advance, and the funds are only released to the freelancer upon successful completion of the project.
Pros
Can hire different types of talent
Can pay/earn as little or as much as you like
Well–established platform
Escrow payments protect both parties
Cons
Clunky platform leading to inefficiencies
For content projects, the platform doesn't scale
A mixed bag of talent needing more time to vet people properly
Loads of low-quality writers and freelance writing gigs
---
2. Freelancer.com
Freelancer.com is similar to Upwork and has over 42 million users from 247 countries.
It's also worth noting there are no fees to use the platform. Plus, there are some very nifty enterprise features, used by companies like Nasa. These include workflow automation and a private freelancer cloud giving you access to the top 1% of talent.
So if you're a writer, building up your profile on Freelancer.com can open up some big doors for you if you have the skill to work with enterprises.
Pros
Large talent pool
Freelance writers for any budget
Low barrier to entry
Recruiter service to find the best freelance writers
Cons
Managed solutions only for large enterprises
It can be inefficient for managing content at scale
---
3. iWriter
If you're looking for a platform that only focuses on freelance writing gigs, iWriter may be a better option for you than Upwork or Freelancer.com.
It is known for providing very cheap but general content-writing services. If you're looking for expertise, iWriter is not for you.
But, as a freelance writer, this platform is a great place to get started with earning money online from a variety of writing gigs. As your writing skills build-up, you might choose to write for platforms that have higher barriers to entry and require more expertise
As someone looking to hire freelance writers, this platform takes the hassle out of ordering cheap content. Especially if you're just getting started with making money online and have a low budget for content.
You can make your money go further. Just make sure you spend the time testing out freelance writers and properly vetting them since iWriter doesn't help with any of that.
Pros
Very cheap rates
Reasonable turnaround times
Content only platform
No lock-in subscription
Great as an entry point for writers
Cons
Questionable quality on lowest tiers
Not sustainable for more experienced freelance writers in the long term
Hard to find good freelance writing gigs and talent
---
4. Textbroker
Textbroker is a step up from iWriter despite offering very competitively priced content.
Unlike iWriter, the most significant advantage of Textbroker is that you can have a team created for you by Textbroker's content managers, so you don't have to stress about the hiring process.
The content only starts at 2.7c/word to work with a curated team. This is a very competitive price in today's market! You can also handle everything from job posting to hiring by yourself, in which case the content prices only start at 1.5c/word.
You can also access translation services to have your content created in 45+ different languages. Additionally, you can always explore some of the Textbroker alternatives for your content needs.
As a writer, Textbroker also offers reward programs as you hit various milestones from the writing gigs you've completed.
Pros
Writer incentives and bonuses offered
Good balance between price and quality
Translation services can also be offered
Can build a team
Cons
Mistakes might be present in lowest-tier content
Expensive to use the managed service
Content writing packages in non-English languages start at $1000+
---
Best Freelancer Platforms for Premium Content
There are times in life when it's just worth it to pay a little more upfront to save yourself a big headache down the track. Managing your content production can definitely fit into this bucket!
If you're looking for scalable, quality content without the pressure of vetting freelance writers and training them, then premium freelance writing platforms are the way to go.
There are high barriers to entry for all their applicants which means the pool of talent you're accessing is of a higher caliber already.
Many of these premium freelance writing sites also offer editing and quality checks before you receive the completed article, saving you even more time.
5. Contena
As far as quality content goes, Contena is one of the leading freelance writing sites to look into.
It's an exclusive invite-only platform for writers, editors, and content managers. All freelancers on the platform have been thoroughly screened and tested.
And, perhaps best of all, Contena also provides writers with training.
However, it's worth noting that it's not free to be part of Contena. Even experienced writers pay a training and subscription fee. And companies looking to hire writers pay a $99 listing fee.
However, the beauty of the platform is that it minimizes the frustrations both sides experience. Writers know that only serious brands that offer fair compensation advertise on Contena.
The quality of writing jobs available on Contena supersedes those on any of the above platforms.
People looking to hire writers know that only the best can be hired through Contena. You won't get beginners, and you won't get illegible writing returned. You won't need to train people on how to write well. And you won't face the issue of people with fake portfolios.
Pros
Excellence is a priority
Invite-only, top-notch talent
Training for writers is included with membership
Weeds out the tire kickers and bargain hunters
Cons
Expensive to post freelance writing jobs
Membership is required for writers
Not suitable for beginners
---
6. nDash
If premium content is your goal nDash is another awesome platform to check out.
Brands like Hubspot, LinkedIn, Databox, and Monday.com use nDash to hire top talent. This means that for writers, nDash offers you the potential to turn a side hustle into a six-figure income through decent writing jobs alone.
For brands, you can reach out to a pool of vetted, elite-level writers. These writers can also pitch article suggestions directly to you, saving you so much time!
We also like how nDash's platform is built for efficiency. It's not just a typical marketplace that connects writers to brands. It also offers intuitive inbuilt features for efficiently managing your projects too.
Instead of hiring writers on this marketplace and managing the work in a project management tool, nDash is a 2-in-1 platform. We find it more intuitive and easy to use than platforms like Upwork!
Pros
Intuitive dashboard
In-built project management tools
Trusted by big brands
Writers can pitch directly to brands
Thorough vetting process
Free to join for brands and writers
Cons
More expensive
Generally not suitable for smaller projects
---
7. Scripted
Scripted is a newer platform on the market but is already working with some big brands, including Adobe, Adidas, IBM, and Healthline.
Writers can set their own prices for work. A minimum amount is set for each project so that other writers don't undercut prices so much that it's a race to the bottom. Scripted is serious about ensuring writers earn a competitive income!
So, if you're an expert freelance writer from the US or Canada, Scripted is well worth checking out this freelance writing website! The platform has a great freelance writing gig and plans to open up to writers from other countries in the future too.
Scripted's team makes sure that premium quality is available at every level of the platform. So much so that only 2% of writers who apply are accepted. That's why there's a monthly fee for brands to access these top freelance writers in addition to the cost of the content.
As an employer looking for freelance writers to work with, you can't create a Scripted account for free. Accounts start at $199/month with $100 of content credits included. For additional content, you'll need to pay for extra credits.
Pros
Trusted by big brands
Only US or Canada-based writers
Does not allow undercutting of prices
Offers competitive pay to writers
Premium quality
Cons
Not a good fit if you're just starting out
Writers outside the US and Canada can't apply
---
8. Constant Content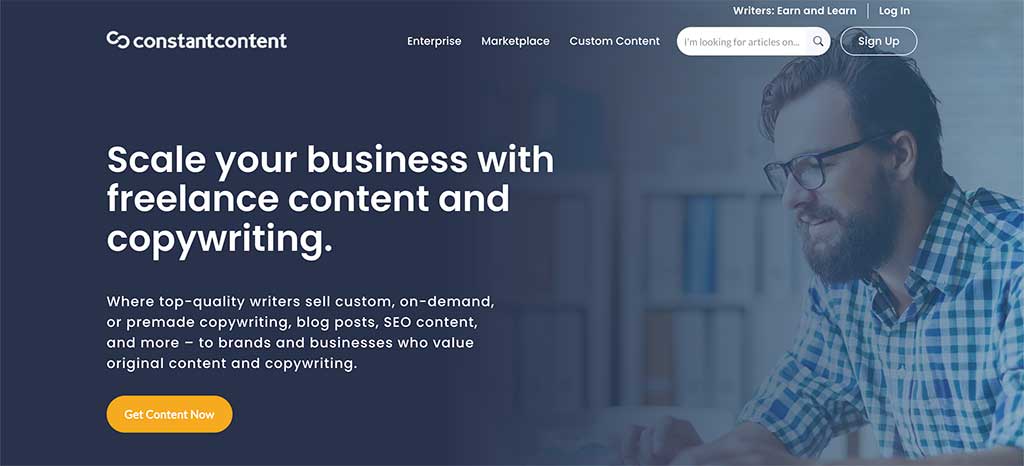 If you want to leverage the power of the biggest pool of vetted freelance writers that we've found, check out Constant Content.
With over 100,000 vetted writers, there's a wealth of opportunities to find the perfect freelance writer for your projects.
Pricing varies on the platform as writers set their prices. You can, however, save on costs by purchasing pre-written articles instead of custom articles.
As a freelance writer, there is a thorough vetting process you have to go through before you can be featured on this platform. Once you're approved, you can set your own terms and prices for your freelance writing gig and the companies you work with.
You can also get an account manager to help source the perfect writers for the project.
Pros
100,000 writers you can access
No subscription fees
Freelance writers can set their own prices
Account management available on enterprise orders
Can buy unique pre-written articles
Cons
Not a managed solution
No set price per word
Must purchase credits to view content
---
Best Managed Freelance Writing Platforms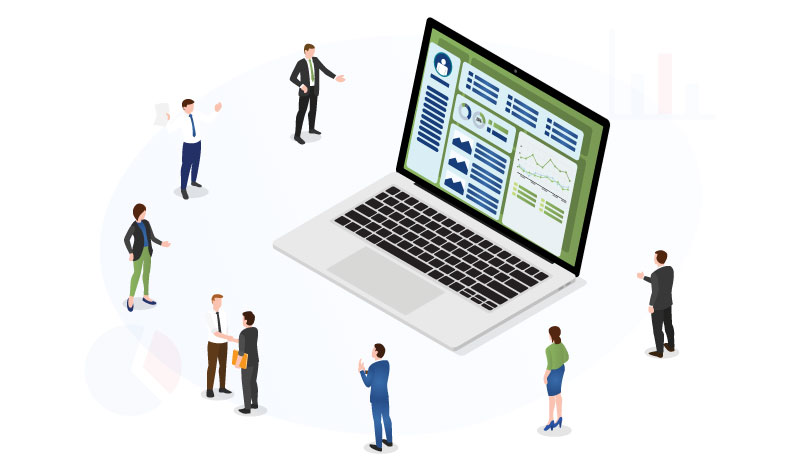 Managed freelance writing sites are the best thing since sliced bread. It's like having the power of an in-house team but without all the drama.
The biggest problem brands face is that scaling the production of quality content is no easy feat. Not to mention that finding great writers is easier said than done.
But, with a managed freelance writing platform, you don't need to worry about posting job ads, vetting writers, training them, or even hiring editors!
9. Verblio
The first on our list for this category is Verblio. Through Verblio, you are connected directly to high-end, expert, US-based writers across various industries.
The coolest thing about Verblio is that it has a massive team of product designers compared to other freelance writing platforms.
The benefit of having product designers on board means that the platform itself will continue to innovate and make your life easier. Clunky, outdated technology is among the top factors that kill scalability as far as content management is concerned.
It's also a solution that truly scales, allowing you to order thousands of articles a month easily. But only if you need it to. It's also great if you're only publishing one high-quality piece a month too.
Pros
Superior technology managed by a large product team
All native English writers
Quality content at scale
Flexible packages based on the volume of content you need
Cons
Expensive
Not suitable for entry-level projects
Only accepts writers from the US
---
10. ContentFly
ContentFly offers a platform that only the top 1% of writers are accepted on. It also saves you the trouble of building up your own editorial team.
ContentFly's advantage is in the scale of economies they can reach by leveraging automated systems to handle quality checks and vetting of all their writers.
As a freelance writer or editor, ContentFly pays a minimum of 5c/word and up to 30c/word though it's not suited to beginners. With thousands of happy writers on board, ContentFly is known for looking after both its clients and the freelancers on the platform.
If you're looking to have content written, ContentFly's quality is at a premium level for all types of content you need.
The entire content production pipeline is managed end-to-end by ContentFly's team.
Pros
Only top 1% of writers accepted
Decent wages paid to their writers
Premium quality
End-to-end, managed content production pipeline
Cons
Not suitable to writers just starting out
Expensive and not suited to side hustle projects
---
11. Writer Access
Writer Access is an Inc 5,000 company focused on streamlining content workflows. It's also not just a job board, either. Writer Access sets itself apart by going beyond what most freelance writing sites offer.
Instead, you can access key talent, tools to streamline workflows, and training all in one platform.
As such, it's not free to sign up. Monthly subscriptions are needed and priced separately from the content you order.
We love Writer Access because suitable freelancers and companies can be connected to each other via AI-powered search. It's great to see how Writer Access leverages its intelligent technology to make life easy for both freelancers and hiring teams.
For freelance writers, you can access training to help improve your work and grow your income. You will also be able to connect with companies that mean serious business.
Projects on Writer Access can earn as much as $2/word though there is a strict screening process you need to go through to prove your work is worth this kind of dough.
Pros
Broad range of tools to assist content workflows
Can also hire designers and translators
Opportunity for high earnings for writers
Manual screening processes
Cons
Membership required, content priced separately
Managed services start at $349/month (excl. content)
---
12. The Writer Finder
Want to outsource the hiring of writers? Enter The Writer Finder.
Through The Writer Finder, you'll be matched to 3 "ridiculously experienced" writers who specialize in your niche within 72 hours. You can leave the hard work up to the team at The Writer Finder.
If you're not happy with their options, they'll keep looking. Or, they'll give you your money back.
It's worth noting, the service provided is a fixed-fee job to help you secure 3-5 new writers for your team. You can also request help planning the content, but it's still not an end-to-end managed content process.
Either way, they can still help you save a heck of a lot of time!
Pros
Solves the problem of finding the perfect writers
Flat, reasonable fee charged
Money back offer if they don't succeed
Cons
Does not include content production
No ongoing support after initial hires
---
Best Content Agencies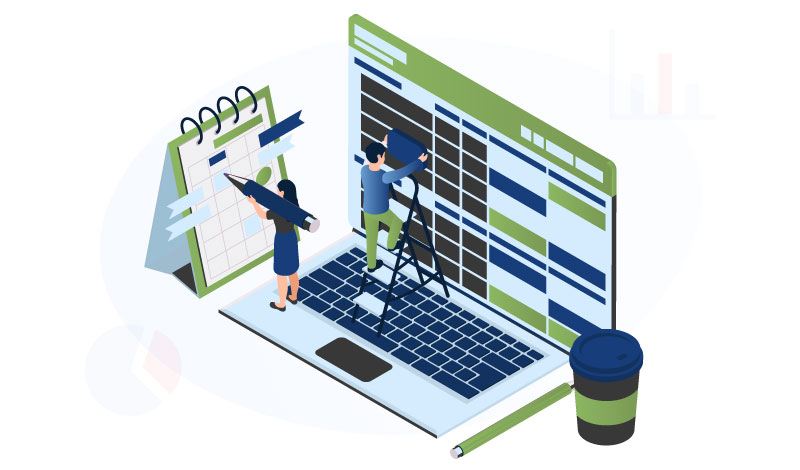 If going through a platform is not for you, a content agency may be a better option. The biggest difference between an agency and a platform is humanization.
You'll typically get an account manager and have someone you can talk to if any problems arise.
Agencies also tend to hire full-time writers, so you can often have the same writers dedicated to your projects, ensuring consistency throughout. As a writer, agencies are your best source of recurring and stable income.
13. Express Writers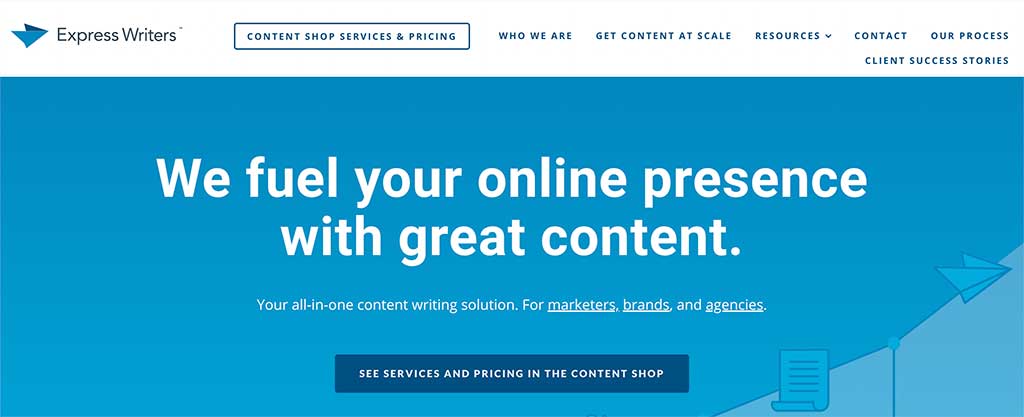 Having built a name for itself due to its dedication to quality, Express Writers is among our top choices of content agencies for marketers and brands.
With over 34 content types available, the Express Writers team can create any types of content your business or clients need, from blog posts to ad copy, video scripts, and more.
With in-house editors, content strategists, and SEO professionals, you can expect the absolute best from the copy you receive.
Furthermore, Express Writers also has a roster of industry experts you can rely on as well.
Pros
Can write over 34+ types of content
Pay for what you need
No monthly subscription fees
Multimedia content options
Cons
Expensive option
Not suitable for low budget projects
Writer's wages are reported on the low side compared to retail prices
---
14. SEO Content Hero
Do you need SEO content that ranks?
SEO Content Hero is the go-to content agency for many SEO professionals and content marketers, ourselves included.
Unlike Express Writers, SEO Content Hero specializes in authority SEO-optimized content, and they're pretty damn good at it too!
No matter if you're an affiliate marketer or an SEO agency owner, you'll find a package that suits you.
We also like that prices are reasonable for all applications of SEO content, including:
Program Snapshot
E-commerce content
Agency content
Affiliate site content
General website content
Blog content
And more!
Besides, we've also seen other people in the SEO community raving about the quality of service. That's crucial when it comes to a decent content provider!
Pros
SEO focused content
Reasonable mid-tier prices
Quality, authority content is their specialty
Cons
Does not offer content for ads or social media
Rates are competitive but not cheap
Not suited to low budget projects
---
15. SEO Butler
Another decent option that offers SEO-optimized content is SEO Butler.
You can order all types of SEO content, including:
Program Snapshot
Blog posts
Website content
Review articles
Buyer's guides
E-commerce content
And guest posts
Surfer SEO-optimized content can also be ordered for reasonable prices. SEO Butler is known as a reputable company across the SEO industry and offers a complete white glove service for agencies too.
Paired with some of their other services, such as social signals and citations, you can take your content's reach to the next level no matter what type of websites you're optimizing.
SEO Butler also only hires native English-speaking writers, ensuring the superior quality of their work.
Pros
Surfer SEO optimized content
Fair mid-tier prices
Native English writers
Discounts for large volume orders
Cons
Does not offer content for ads or social media
Bulk orders are entirely manual
---
16. Panda Copy
Are you looking for unlimited content for a flat monthly price?
Panda Copy may be the perfect solution for you!
The team at Panda Copy are all part-time or full-time employees, so you won't have the risks of freelancers who stop responding or flake out on a project.
Panda Copy's pricing is also a little different in that you pay a fixed monthly fee, and you can order as much content as you like since all plans offer unlimited copy requests.
With a turnaround of 1-2 business days, you could end up with up to 1000 words per day!
If you need continuous content, Panda Copy's unlimited copy requests deal is pretty hard to overlook.
Pros
Unlimited content requests for a flat monthly price
Fast turnaround
No need to hire freelance writers
For writers, part-time and full-time work offered
Cons
'Unlimited' requests doesn't mean unlimited content
Doesn't necessarily work out cheaper
---
Best Freelance Writing Job Boards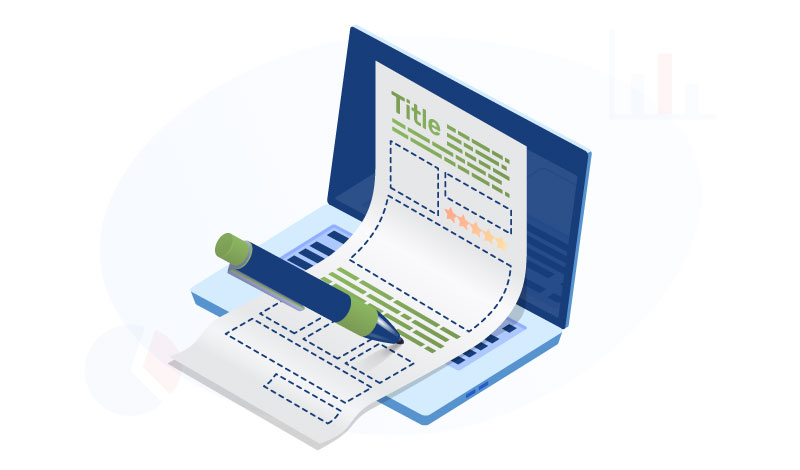 The last category of freelance writing sites we're looking at is job boards, including those on social media.
We've found a bunch of great talent through these job boards. We've got to say, though, that you miss out on the perks of having a platform that handles all aspects of hiring and project management.
If you don't already have a decent hiring and onboarding process in place, be prepared to put in some extra time to sift through the duds to find the writers worth their weight in gold.
17. ProBlogger Job Board
ProBlogger's job board has undoubtedly been around for a while! That doesn't change the fact that it's still a decent place to advertise for and find freelance writers for blogging.
With new jobs going up daily and offering decent rates, too, it's a great site to bookmark if you're looking for online writing jobs.
However, if you're looking for writers, it costs $75 to post a job for 15 days.
Pros
Been around for 15+ years
Thousands of writers are subscribed
Get over 250+ responses from a good ad
Find work in any blogging vertical
Great place to get started
Cons
Not a good fit for low-budget projects
Have to manually filter through loads of applications
Your job post is only up for 15 days
---
18. Cult Of Copy Job Board FB Group
Hands down, one of our favorite places to hire writers is in the Cult of Copy Facebook group. Almost all our full-time writers have come through this group.
The great thing about this job board is that you can get started with a small budget. Or, if you're a writer, you can build up experience without needing to rely on platforms that take a cut out of your earnings.
It's 100% free to advertise and find work on the Cult of Copy job board.
Pros
40,000+ people in the group
Great range of expertise
Free to join
Suitable for all skill and budget levels
Cons
Be prepared for people to slide into your DMs
Need an efficient process for hiring and onboarding
Can take a lot of time to find the right freelancer
---
19. Jarvis Job Board
With the advent of AI content on the horizon, you can save a lot of time and money by finding writers who can use platforms like Jarvis.ai really well.
As a caveat, AI content will not be the best fit for every business. For example, if your content requires a lot of research or hard facts, AI cannot produce that for you.
However, if you require general information posts, AI can help eliminate the experience of writer's block and help enhance your content for search engine optimization.
You can also leverage writers who use AI and produce more articles in less time.
As a writer, there is no barrier to entry for using AI to improve your content quality. And although it sounds like AI can put you out of business, trust me, it won't.
There's still merit in researching an article and putting together an outstanding structure. AI cannot replace the human mind… at least not yet.
If you want to get a complete AI content strategy for your website, watch this video.
Pros
AI content can scale
AI can help overcome writer's block
Jarvis helps writers be more efficient
Reasonable prices for any level of budget
Cons
Extra time needed for researching and editing
Most articles can be very generic or full of fluff
---
20. LinkedIn ProFinder
The last option on our list is the Linked In ProFinder tool. Many B2B and expert writers are active on Linked In, and you can easily find them using ProFinder.
For writers with some decent experience, LinkedIn can be a goldmine for connecting with your ideal clients. It's excellent for anyone specializing in technical, Sass, or B2B content.
Many clients with big budgets look for writers on LinkedIn.
Pros
Access high-quality writers
Verify work completed for other brands
No barrier to entry for writers just starting out
Cons
It can take time to build up a profile
Need to spend time building up connections
It can take a while to really take off
---
The Benefits Of Freelance Writing Sites for Writers
Freelance writing job sites can help you earn more. That's it, plain and simple.
Sure there are a tonne of low-quality job boards out there, but the ones on our list can help you earn over $5,000 per month from writing jobs.
As a writer, premium platforms like Contena, nDash, and Scripted can even help you earn a six-figure income and replace your 9-5 job!
If you're a beginner freelance writer, there are a bunch of platforms, like Upwork and iWriter, with low barriers to entry
You can also use these platforms and job boards to find clients in specific verticals that you might specialize in.
Many of the content agencies we looked at also hire experienced freelance writers. While the pay per article isn't always as high, they will typically offer you income stability with part-time or full-time options.
Either way, using freelance writing platforms or working for agencies will allow you to control your income. Plus, you can work from anywhere globally and make a decent living through online writing jobs. Pretty sweet deal!
---
The Benefits Of Freelance Writing Sites for Affiliate Marketers
When you start the journey toward making money online, you're typically faced with the situation where you wear all the hats in your business.
And you have to learn a lot of new skills too!
Writing is one of those skills that is worth its weight in gold. It is a skill that's directly tied to your income. The better quality content you put out there, the more income you stand to earn!
But, as we mention in The Affiliate Lab, it will quickly reach a point that's unsustainable to produce all the content yourself. And that's where it can help to have a freelance writer or two on your team.
Depending on your budget and available time, the best option for you will vary. That's why we've included a stack of options for people just like you.
For low-cost options, we suggest Textbroker since you can also have a content team curated for you by Textbroker's team.
Panda Copy is the way to go for options offering unlimited content requests for a fixed budget per month. And for done-for-you SEO optimized content, SEO Butler or SEO Content Hero are the top agencies that can handle your requirements.
---
The Benefits Of Freelance Writing Sites for Companies
As a company or marketer seeking quality freelance writers, it can be time-consuming to hire writers that meet your desired level of quality.
Not to mention the time you put into training them up in your processes only to discover they weren't the right fit after all.
Many of the platforms on our list use technology to help streamline the entire hiring process, such as nDash and Verblio. We've several hand-picked platforms that can also help take care of the hiring process for you, like The Writer Finder and Textbroker.
That's right. With these options, you can outsource anything from building a content team to managing your projects every month!
---
FAQs:
What Is The Best Way Of Pitching A Freelance Writing Gig?
The best way to pitch a freelance writing gig is to create a compelling proposal highlighting your skills, experience, and understanding of the project. Your bid should be professional and tailored to the specific project, demonstrating why you are the best fit for the job. 
How Much Should I Charge for A Freelance Job When Starting Out?
When starting out, you should charge an hourly rate of $6-$10 for a freelance job. This is a good competitive rate that is fair to you and the client. Ultimately, the rate you charge should reflect the value of your work and the amount of time you are investing in the project.
---
Start Using the Best Freelance Writing Sites
As a freelance writer, it can be hard to find a platform that allows you to connect with multiple customers and earn well without obstacles. You can spend time trying out different platforms, but in general, most writers decide to stay on Upwork.
Upwork allows you to connect with customers worldwide and set your own hourly rate. This helps you dictate your work conditions and eliminate low offers.
There are endless features and opportunities on Upwork, which helps you elevate your freelance writing career easily.
For that reason, if you are still not sure which platform to dedicate your time to, do not hesitate and register on Upwork today.
Our #1 Recommendation: Upwork