As a seasoned writer with a comprehensive understanding of the freelance market, I recognize the importance of discovering suitable platforms for publishing your work and generating income.
While Textbroker is a popular option for many freelance writers, it is crucial to explore additional avenues to expand your portfolio and diversify your writing opportunities.
In this informative article, I will share my knowledge and insights on the top alternative sites for freelance writing.
Leveraging my industry experience, I will help you identify the reasons why some writers choose to explore options beyond Textbroker and discuss other platforms that can contribute to your online writing career growth.
Join me as we navigate the world of freelance writing, providing you with valuable information to make informed decisions about where to showcase your writing skills and further your success in this competitive domain.
Textbroker Alternatives Based in U.S.
Now that you've decided to look into Textbroker alternatives there are a few sites that you may wish to consider. The sites that you'll find in this list are only available to American writers.
However, there are some sites available to those of you who live outside of the U.S. These are listed further down the page.
1. Verblio (

Editor's Choice

)
According to Verblio, they're the "simplest, most flexible freelance writing gig." However, this is a writing site that wants you to do more than Textbroker. They want you to have a background in content marketing and SEO.
However, once approved as a content writer, you can choose from a variety of orders or write on-spec content (content that you write with hopes that someone will eventually buy it but until then you aren't paid for it) for clients to buy.
The nice thing about this site is that pay starts at $10.50 per post.
---
2. Writer Access
Another well-established site like Textbroker is Writer Access. Although anyone can apply to write for Writer Access, your approval isn't guaranteed. Applicants are hand-vetted based on their resumes and freelance writing samples.
However, you should still apply to write for Writer Access since you set your prices which allows you to earn more money writing.
---
3. Word Agents
Here you're asked to write SEO content that helps clients rank better in the search engines.
Unlike Textbroker and some of the other sites on this list, Word Agents will assign you topics to write about. The pay ($0.03 per word) makes it worthwhile for many freelance writers.
Use caution here and make sure that you're ready to agree to a 90-day probationary period before applying.
---
4. BKA Content
This site is a bit different from Textbroker in that you won't only write blog posts and publish articles, but you'll also write E-commerce listings. They also require their writers to commit to writing 1,000 words per week or more.
Instead of paying per word, BKA Content pays $8-14 per hour which is about 1.5-5 cents per word. To get started with this company you'll need to get at least an 80% on their 20-minute exam.
---
Sites Like Textbroker for Freelance Writers Outside The U.S.
Anyone who lives outside the U.S. and would like to write for content sites like Textbroker have a lot of options available to them.
These are sites that Americans can also apply to if they want. Take a moment to look through each of them to see what you'll need to do to apply and what each company expects from you.
1. iWriter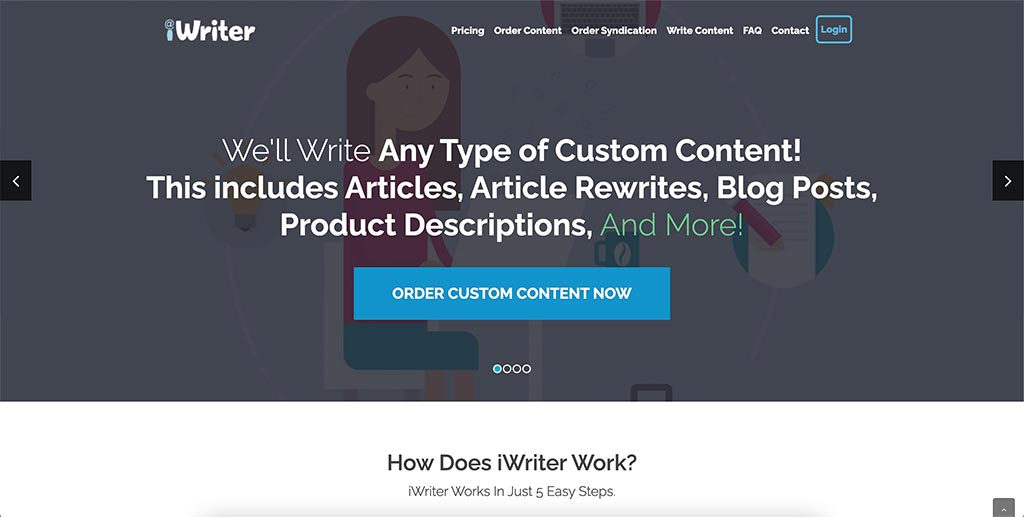 The content mill that's most like Textbroker where both native and non-native English speakers can find work on is iWriter.
This content mill works on a star rating system where you receive more stars based on client satisfaction. The more stars you have, the more money you'll make, but initially, it's very hard to make a decent wage.
A content mill like this may be good place to gain some writing experience. Unlike Textbroker, there is an application process and it may take a week for you to hear whether you're approved to write for them.
---
2. UpWork
One platform that freelance writers from around the world have used for many years now is UpWork. While it's free to create a profile, you have to pay to bid on any writing assignments posted on the job boards.
You can also find work without bidding on writing assignments since some buyers will browse through profiles and choose to hire you this way.
While UpWork is a great place to find permanent work, it's incredibly crowded. Therefore it's challenging to get started there. The nice thing is that you can determine how much clients pay you for your writing since you set your prices.
---
3. Freelancer.com
This is another writing site similar to UpWork. Although a lot of their jobs are for those in web design and development there are some writing jobs available.
Clients post job opportunities that you can bid on. This is your opportunity to tell them how much you'd like paid and when you can deliver the work.
However, it also makes the site highly competitive as clients usually choose the lowest bidder. Once you get a few clients you can form a long-term relationship with them.
---
4. Fiverr
This is another large platform that has many freelance writers looking to make money online.
This is because it's easy to get started and find freelance writing jobs since there's no application process. You simply create your profile, list your "gigs" (jobs you're willing to do), and what you'll charge.
Since this site is very competitive you'll want to make sure you advertise your gigs outside of here too.
---
5. Writer's Domain
This is a smaller one of the sites like Textbroker. They accept writers from the U.S., Canada, the U.K., Australia, and New Zealand.
You need to register and submit a sample before being approved. Then you'll write short-form content (600-800 words) that pays $12.25 – $40 per post for a variety of clients.
---
6. People Per Hour
Before you can start writing for this site you must undergo a thorough application process which includes providing references. After passing this step you decide on an hourly rate that you'll charge clients.
---
7. Scripted
Getting started with Scripted is as easy as creating a profile and taking a writing test. Therefore anyone whose English writing is good can apply for a job here.
If you're accepted you'll write high-quality content. How much work you do and what you charge for your work is controlled completely by you.
On average, most writers are making over 10 cents per word here.
---
8. Constant Content
Constant Content is one of the more challenging sites to get accepted to, but their top writers are making $90K+ per year. They'll have you fill out a form, take a quiz, and provide a writing sample.
If you're accepted to write here, the only downside is that you'll face rigorous ongoing quality control measures. However, you'll have the privilege to produce high-quality content as a skilled writer for big brands like Home Depot and Uber.
---
9. Crowd Content
Here you'll make more money than if you wrote for Textbroker but you must also be a skilled writer and produce higher quality work. To get started you simply create an account and answer some questions.
Once you're approved to write for this site you'll enjoy a wide array of projects (e.g., blog posts, product descriptions, editorial opportunities) to choose from. The only downside is that each new job requires that you apply again.
---
10. Zerys
Before being accepted by Zerys you'll need to pass a 40-minute test which includes producing a writing sample.
Once accepted you'll have three different ways in which you can get work: a client job board that anyone can use, a "favorite" job board where clients share jobs with their favorite writers, and direct assignments from clients.
The client will tell you what they're willing to pay for each job. Many people like this platform because it allows you to build long-term relationships with your clients.
---
11. Contently
You'll want to wait to apply for this content company until you have top-notch writing skills. However, if you're getting started and need somewhere to host your portfolio, this is a great option.
You can create a portfolio here so you can share your writing samples with the various places you apply to work for. When you're ready to apply at Contently you'll need to fill out an extensive application in which you'll share this writing sample with them.
---
12. Words Of Worth
This is one of the sites like Textbroker, but smaller. Before this content site accepts you they'll have you write a trial article for them. Once accepted there's plenty of work available which is why they expect their writers to commit to completing a certain amount of work each week.
---
13. Clear Voice
There are a lot of great reasons why you should consider applying to write here. The application process itself is simple in that you create an account and set up a portfolio. Having a portfolio on this site allows you to better showcase your skills to the prospective clients on this site.
Once you find a client to work with it's up to you to establish your rates. You can then communicate with them via this platform.
---
14. Skyword
To get started with this site you'll need to create an account and undergo a vetting process. This is because the company works with some big-name brands that want high-quality writers. These brands cover a wide range of niches and pay will vary depending on their needs.
---
15. Content Gather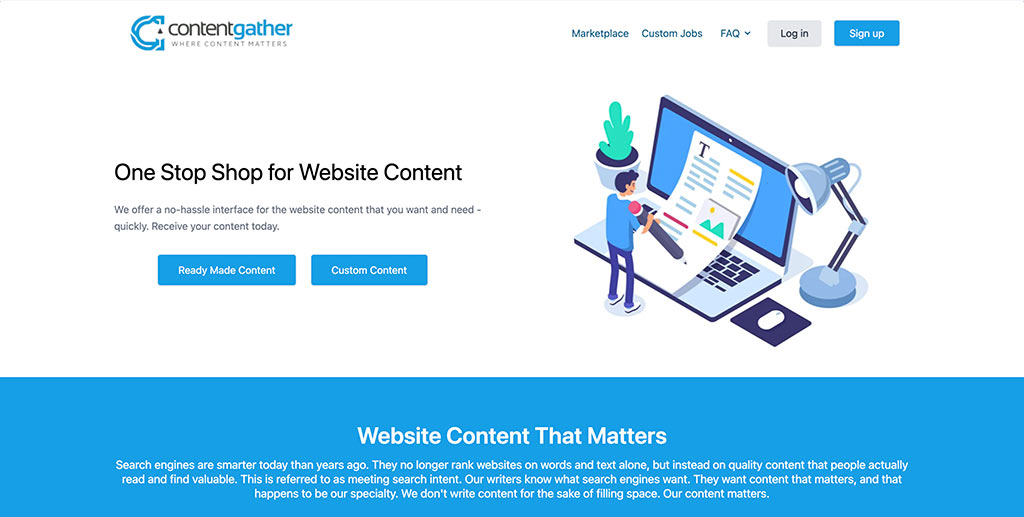 Before you can start writing here you must fill out an application. Once inside you'll find that there are two ways in which you can make money.
The first is to create any type of content you want and then list it for sale in their marketplace. Those in need of content can then browse through here and buy your pre-written articles.
The second way is to choose from custom jobs that are posted by clients. In both cases, your earnings will start at $0.01 per word.
---
16. The Content Authority
Content Authority is another content site that's very much like Textbroker. Here you're paid anywhere from 1.2 – 6.5 cents per word depending on what tier you're in. The higher your tier the more money you'll make.
Most of their clients are simply looking for content to help them fill out their blogs, but you may also be asked to write ebooks, press releases, and social media posts.
---
17. Content Fly
Although this site isn't much different than Textbroker, the way they attempt to present themselves makes them look different. This is because they want their clients to believe that they're a higher-end solution for all their writing needs.
Don't let their marketing tactic scare you off from writing for them. They aren't looking for stellar content like some of the other sites (e.g., Constant Content, Writer Access) on this list.
Additionally, they don't pay more than sites like Textbroker typically pay. However, they expect you to source royalty-free images to go with your writing.
---
18. Copy Press
Although this content marketing company expects writers to have a good grasp on writing and researching, much of what you'll write is basic material for blogs.
What you write depends on what the client shares with you. Unlike some of the other content mills on this list, Copy Press doesn't expect you to create a set number of articles each week. Instead, they concentrate on quality over quantity.
---
19. Smart Bug Media
Besides looking for sites like Textbroker, you may also wish to consider writing for content marketing agencies such as this one. Smart Bug Media caters to small businesses that have relatively low budgets.
They hire for various types of content that people who use their tools (e.g., managed services, platform) need. However, much of their focus is on B2B content and some B2C content. With this being said, Smart Bug is a great place for freelance B2B writers to get started.
---
20. News Cred
This is another content site that has a very specific focus. The focus here is on journalism and unique, highly-detailed reporting.
This has enabled them to create a pool of highly-talented researchers and writers for their customers. It's also enabled them to pay their freelancers fair rates, but they do expect them to write great content.
---
21. Pro Blogger
When you're ready to look beyond content marketing sites like Textbroker your next step is to take a look through online job boards. One of those that have been around for a while and built itself a solid reputation is Pro Blogger.
Besides writing, occasionally you'll find clients hiring editors and copywriters too.
Before you start looking for freelance writing jobs here you'll need to create a resume and portfolio with published samples.
This is because you're applying for long-term, permanent positions instead of simply writing a few articles for various clients on a website. You're still considered a freelance writer with most of these companies though.
Taking a few minutes to visit this job board daily is advisable as you'll find new posts for freelance writing and editing jobs.
The positions are mainly targeted toward intermediate to advanced writers, but occasionally you'll find entry-level positions (sometimes clients will even train you to write for them).
Therefore most opportunities start at $0.05 per word.
Once you find a job that interests you here it's important that you apply immediately. Not only are there business owners from around the world posting jobs here, but writers from around the world also gather here to find their next job.
---
What Is Textbroker?
Texbroker is one of the largest freelance writing sites on which to find jobs for content writers, but it's also where many writers have started their freelance journey. Anyone in the United States can easily sign up and start writing.
Once you've created an account you're in charge of choosing when and how you work. While you'll start with low-paying assignments, you can work towards higher-paying ones and be paid weekly. During this journey, you can also build long-term relationships with clients.
---
Why You May Want to Leave Textbroker
Although Textbroker is a great place for freelance writers to start, there are many reasons why you may want to find Textbroker alternatives.
One of the biggest reasons is the pay rate which starts at 1.5 cents per word ($15 for 1,000 words) which isn't as much as you'd make with some of these other sites.
Since Textbroker only accepts American writers[1], you may want to find some Textbroker alternatives if you don't live in the U.S.
---
Start Earning With the Freelance Writing Sites Like Textbroker
Verblio offers a wide range of jobs for experienced content writers and provides every freelancer with a vast number of opportunities.
The pay on Verblio is also much better than on the majority of websites of this sort, and you can also publish on-spec content, which will better your chances of finding new clients.
If you are looking for a reliable freelance writing platform, Verblio should be your first choice as it offers unmatched opportunities.
Our #1 Recommendation: Verblio