If you're new to affiliate marketing, it can be daunting.
You could promote thousands of different programs through affiliate marketing, all of them making the same promises of hefty commission payments.
But how can you even pretend to know which offers are worth your time and effort?
The thing is: You can't.
It takes years of making expensive mistakes to figure that stuff out.
You'll be glad to hear that, as an experienced marketer, I've already made all of those mistakes (and then some more). And now I am happy to share what I've learned with the world.
I've taken the lessons learned to share my favorite affiliate offers with you, saving you months of work and giving you a competitive advantage over people who don't follow me.
So here's my list of the best affiliate marketing programs for newcomers.
The Best Affiliate Marketing Programs for Beginners
Here are our favorite beginner affiliate programs. Keep scrolling for a detailed review of each.
| Program | Commission rate | Cookie duration |
| --- | --- | --- |
| FanFuel | 40% per sale | 90 days |
| ShareASale | Varies | Varies |
| FlexOffers | Varies | Varies |
| Market Health | Up to $75 per sale | 30 days |
| Commission Junction | Varies | Varies |
| Nord VPN | 30% - 40% | 30 days |
| ClickBank | Up to 100% | 60 days |
| Bluehost | $65 per sale | 120 days |
| Awin | Varies | Varies |
| Semrush | $10 per trial/ $200 per sale | 120 days |
| Elementor | 50% per sale | 30 days |
| Shopify | 100% (first 2 payments) | 30 days |
| Link Connector | Varies | Varies |
| Fiverr | Up to $150 per sale | 30 days |
| Rakuten Advertising | Varies | Varies |
| AppSumo | Up to 100% | 30 days |
| Etsy | 4% per sale | 30 days |
| Pepperjam | Varies | Varies |
| Amazon Associates Program | Up to 20% | 24 hours |
| eBay Partner Network | Up to 4% per sale | 24 hours |
1. FanFuel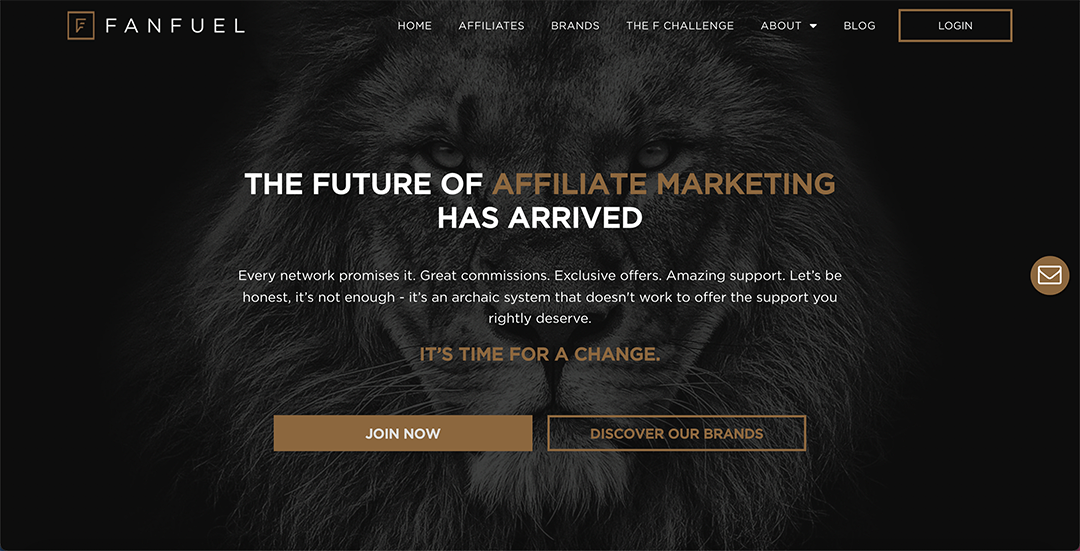 FanFuel is the affiliate arm of Wolfson Brands, a company that specializes in products for the health and fitness market.
What sets them apart from their competitors is that their products are used and endorsed by professional athletes as well as health and fitness-focused social influencers.
But their product line also includes nootropics to enhance human performance, hair loss treatments, and cosmeceuticals.
So you have a range of products that can appeal to multiple audiences across several niches. Which is great for anyone starting in affiliate marketing. In our opinion, this is one of the top affiliate programs to start with.
The additional benefit for affiliates is that you can earn more from their offers because there's no affiliate network in the middle to eat into your commissions. That's what I like the best.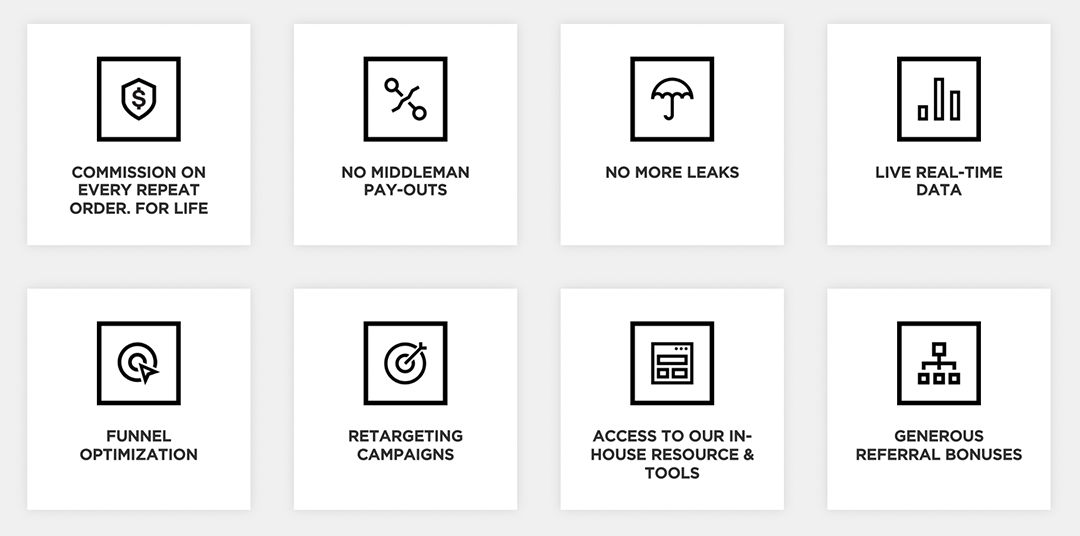 Affiliates promoting their offers will earn a 40% commission on each sale, more than many of the other affiliate programs in this roundup.
Why You Should Promote FanFuel
Commission rate: 40% per sale
Cookie Duration: 90 days
Payment Methods: Bank transfer, PayPal, Payoneer
Products: Health supplements
---
ShareASale is a network that's been in business for over two decades now and is home to almost 4,000 different merchants.
It was acquired by Awin in 2017 but still operates today under the ShareASale brand.
And while it might not have the most attractive or interactive interface, it set itself apart from other affiliate networks in the breadth of its offers.
It's a great affiliate network to check out if you're looking for a mix of mainstream offers such as CBD oil and mattresses.
A good reason for new affiliates to sign up with ShareASale is that this affiliate network welcomes newbies and won't kick you off the network if you don't make any sales within the first 180 days.
Unlike most affiliate networks, including the bigger ones…
Why You Should Promote ShareASale
Commission rate: Varies
Cookie Duration: Varies
Payment Methods: Check, direct deposit, Payoneer
Products: Various
---
3. FlexOffers
FlexOffers is one of those affiliate networks that fly under the radar of most new affiliate marketers.
There are two reasons for this.
The first is that they're simply less well-known than the bigger players in the market like CJ and Amazon.
And that's a shame because – in our experience – they have a really friendly affiliate management team who want you to succeed.
The second is that their business model means you'll receive a lower commission rate for a given affiliate program from their portfolio of merchants.
That's because FlexOffers take their cut from your referral.
Which effectively means you're a sub-affiliate for this particular affiliate marketing service provider. So, it's not exactly one of the highest-paying affiliate programs, but it's still good.
The beauty of their approach is that new affiliates can sign up for, promote, and profit from programs that they'd otherwise be declined for, including a range of credit card offers.
Another neat way to leverage FlexOffers is to find out if a company has an affiliate program that they don't advertise on their homepage but do offer via this network.
Something else worth knowing about FlexOffers  is that they offer Net 7 payments for top performers, which in plain English means, "You can get paid weekly."
Why You Should Promote FlexOffers
They provide newcomers to affiliate marketing with access to thousands of affiliate programs without the hassle of dealing with multiple affiliate networks.
Commission rate: Varies
Cookie Duration: Varies
Payment Methods: Check, PayPal, direct deposit, wire transfer
Products: Various
---
4. Market Health 
Market Health operates a hybrid affiliate marketing model – they're an affiliate network, but they also manufacture and distribute their range of healthcare and beauty products.
That presents affiliates with the opportunity to promote different products to different niches without joining multiple affiliate programs.
Their products span men's health, weight loss, and teeth whitening all the way to pet health products.
And with new products coming online at a pretty regular pace, you'll always have something interesting to pitch to your audience.
Another benefit is that you're dealing with a savvy affiliate marketing team with over two decades of experience in the industry.
This program is a personal favorite of mine and ranks as one of the top affiliate programs in this roundup and the health/wellness niche in general.
Why You Should Promote Market Health
You get a wide range of products to pitch, excellent commission rates, and a tenured company with a proven track record in affiliate marketing.
Commission rate: Up to 60% or $75 (dependent on the offer)
Cookie Duration: 30 days
Payment Methods: Bank, check, wire, and Skrill
Products: Beauty products and health supplements
---
5. CJ Affiliate Network
Commission Junction is allegedly the largest affiliate network in the world.
They represent thousands of advertisers across dozens of different verticals, so beginners should be able to find at least a handful of programs to promote.
A perk for new affiliate marketers is that you'll get to work with a dedicated affiliate manager in most cases.
These people can help take your affiliate marketing career to the next level with their insights and advice.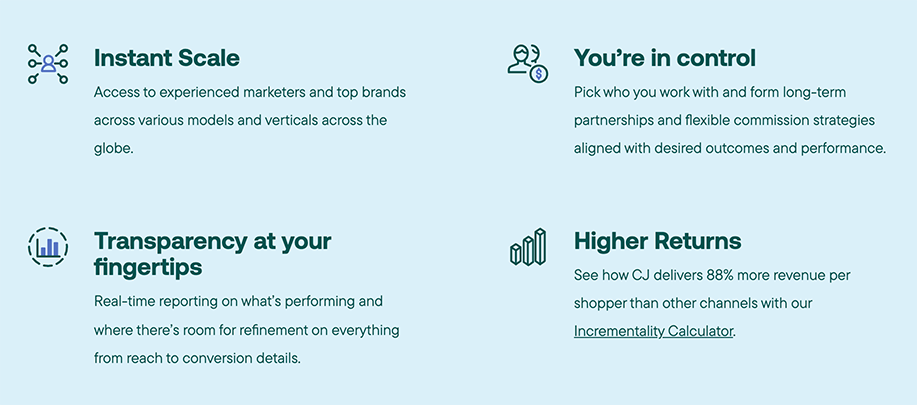 The interface is also intuitive, and you get lots of training materials via Commission Junction University[1].
And you also get paid on a Net 30 basis, so you won't be left waiting months to bank those affiliate commissions you worked so hard to earn.
Why You Should Promote Commission Junction
As an affiliate marketing expert, you get to work with leading brand names, very competitive commission rates, and experienced affiliate managers as standard.
Commission rate: Depends on individual program
Cookie Duration: Depends on the advertiser
Payment Methods: Check, direct deposit, or Payoneer
Products: Various
---
6. NordVPN
NordVPN is a security software company started by friends in 2012 with just a single VPN server.
Since then, they've grown to a VPN service that offers thousands of servers to more than 14 million users worldwide. Therefore, some even consider it the best affiliate program at the moment.
VPNs are a competitive niche, but it's also a niche experiencing 11% growth per year, and with growth comes opportunity.
But how is Nord different from any other VPN affiliate program you can find online?
You'll find them promoted quite heavily by prominent social media influencers like Casey Neistat and Philip DeFranco.
Part of the reason is that NordVPN is regarded as one of the best services of its type out there.
But the other is that big influencers typically only promote products that convert well i.e. they make money from the promotion.
Their affiliate program offers a 40% commission for all new accounts that sign-up through your affiliate link, but you can also earn 30% on renewals.
Why You Should Promote NordVPN
Commission rate: 40%
Cookie Duration: 30 days
Payment Methods: Check, direct deposit, or Payoneer
Products: VPN
---
7. ClickBank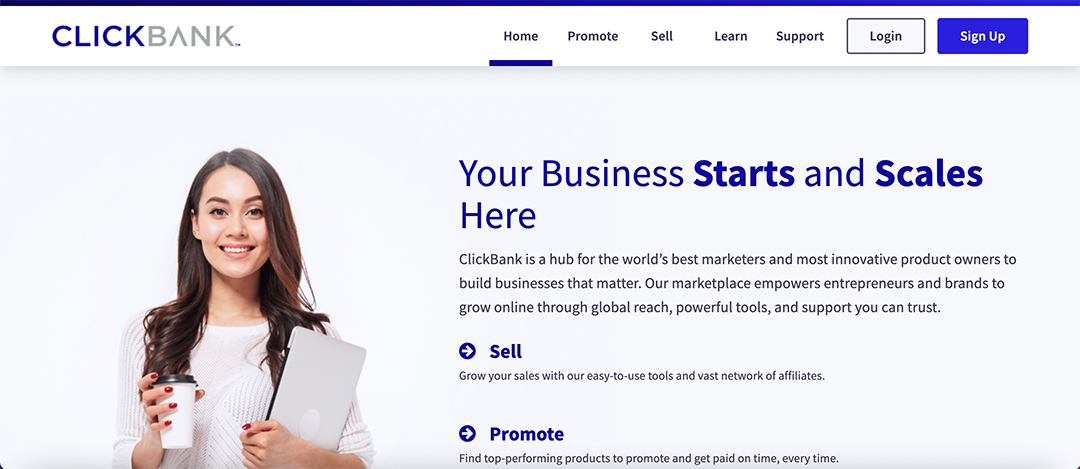 ClickBank is one of the oldest affiliate networks, starting from a garage in 1998.
And though it's not quite the powerhouse it once was, ClickBank can still be a ready source of income for affiliates today.
There are multiple ways to monetize a niche, including display ads and affiliate programs – they're quick and easy to use.
Digital products on ClickBank tend to get overlooked because they take that little bit of extra effort to review and promote properly, as do their healthcare and beauty products.
But the payoff is in the commissions you can earn as a Clickbank affiliate. Even relatively inexperienced affiliate marketers can bank $100+ commissions for a single referral.
A bonus is that many of these programs also offer some kind of recurring revenue model, so you sell once and get paid several times over, and all because of one visit to your affiliate site.
The trick for any ClickBank affiliate is picking the right offers to promote to the right audience.
Why You Should Promote ClickBank
Commission rate: Varies
Cookie Duration: 60 days
Payment Methods: Bank transfer, wire, check
Products: Digital information and health supplements
Note: If you've tried ClickBank and didn't like it, you can try other affiliate networks like ClickBank instead.
---
8. Bluehost
Bluehost is one of the many web hosting companies operating under the banner of EIG[2].
Since 2003, this company has established itself as a solid choice for affiliates and small businesses looking for affordable hosting and as a lucrative affiliate offer.
It's one of the top affiliate programs in this roundup by earning potential, paying at least $65 per referral.
That's why you'll see Bluehost mentioned and recommended on so many marketing blogs i.e. it's a lucrative offer, as are most web hosting affiliate programs.
And it's also a good service for beginner bloggers, meaning people promoting this offer can make that recommendation without feeling like they're doing anything wrong.
People need to find web hosting before they set up their website or blog…
So there's no reason why you shouldn't point aspiring bloggers and online entrepreneurs toward Bluehost because everyone benefits.
Driving a high volume of sales to Bluehost can result in nothing short of spectacular affiliate revenue.
Back when he was still publishing monthly income reports, Pat Flynn would show how he was routinely making $30k per month[3] in referral fees.
That makes it one of the potentially highest-paying affiliate programs in this roundup.
Why You Should Promote Bluehost
Commission rate: $65 per sale
Cookie Duration: 120 days
Payment Methods: Check, direct deposit, or Payoneer
Products: Web hosting
---
9. Awin 
Awin (Affiliate Window) is a network with an international reach, representing over 14,000 advertisers, and has publishers in 180 countries.
It's also one of those affiliate networks that gets overlooked in favor of more popular ones like CJ Affiliate by Conversant or ShareASale, for example.
And that's a real shame because they have some unique advertisers that you won't find anywhere else.
These aren't ultra-niche products or services either. They're all mainstream but are also exclusive to Awin to the point that many of their advertisers don't list their affiliate program anywhere on their website.
So you could potentially find some hidden gems in their 'Affiliate Directory'.
The only downside to Awin is its interface is a little messy – it gets the job done, but it could be streamlined to improve UX.
There's also the detail that they charge new affiliates a refundable $5 to sign up with them. While it makes sense to do this, it's enough to put some affiliates off because the "fee" sounds scammy.
Why You Should Promote Awin
Commission rate: Varies
Cookie Duration: Varies
Payment Methods: Direct deposit, wire transfer
Products: Various
---
10. Semrush
Semrush is one of the most popular SEO, competitor research, and content marketing tools on the market.
It offers marketers a comprehensive suite of tools to do everything from keyword and backlink research to optimizing existing pages of content.
That's why you'll find so many SEOs promoting it in their blog posts and YouTube channels.
But there's also the tiny detail that Semrush loves rewarding its affiliates with lots of cash.
You get $10 for every referral that signs up for a free trial and $200 for any referral that chooses a paid account.
They operate their affiliate program in the form of Berush, which is managed for them by Impact Radius.
This offer can generate a great affiliate income for an affiliate with the right audience – their most successful affiliates claim to earn 6-figures ($100k+) per month.
It's also one of the oldest affiliate programs in this roundup.
Why You Should Promote Semrush
Commission rate: Up to $200 per sale
Cookie Duration: 120 days
Payment Methods: PayPal, check, direct deposit, wire transfer
Products: SEO software
---
11. Elementor
Next up on our list of the best affiliate marketing programs for beginners is Elementor, arguably the most popular WordPress page builder on the market today.
Elementor has put the power of publishing within reach of tens of thousands of non-techies who want a slick-looking website but lack the coding chops to make that a reality.
This is why it's currently powering 8 million websites across hundreds of industries.
Elementor is also relatively easy to sell because it's supported by a savvy marketing team, constantly has new features added to it, and has a very active Facebook community[4].
There are many other WordPress page builders on the market, but Elementor just does a better job marketing itself.
This means you can recommend a product that does what it's meant to i.e. you have a clear conscience.
So how does it compare to the other marketing programs in this roundup?
Well, you get a 50% commission per sale, which comes to $24.50 per sale for a single license or $499.50 if you sell an 'Agency' license.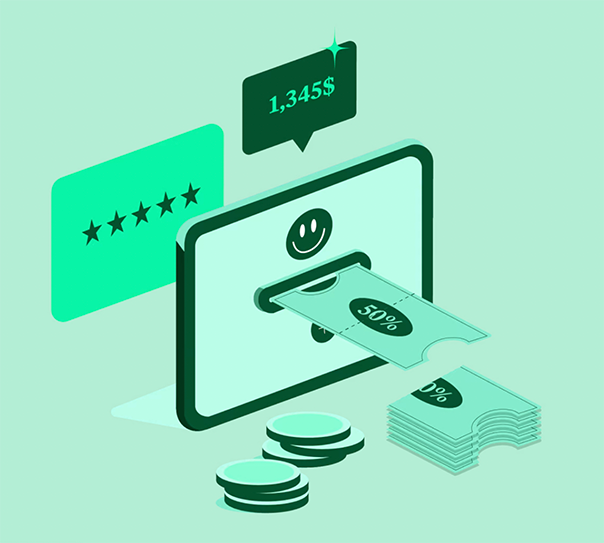 Why You Should Promote Elementor
Commission rate: 50%
Cookie Duration: 30 days
Payment Methods: PayPal
Products: WordPress page builder
---
12. Shopify
Shopify is an online e-commerce platform that provides businesses and brands of all sizes with a straightforward way to sell online.
And without any of the need to know technical jargon, hire web developers, or any of the dozens of other issues that can cause a new online business to stumble and fail.
Instead, your visitors just choose from plans starting at $29/mo but no more than $299 per month, or a fraction of what a custom online e-commerce solution would cost.
That's why more than 1.7 million businesses use Shopify.
It's also what makes them a good program for affiliates to promote i.e. they're a recognized global brand with a solid reputation.
So you won't have to explain who Shopify is. Instead, you can spend your time explaining how easy they make it for entrepreneurs to create their online store.
This affiliate program offers a 200% commission rate for sending new customers their way, with that figure made up of 100% commission on the first two payments made by a new customer.
And you also have the option to earn recurring commissions from referrals and 'Plus' upgrades[5].
That puts it way ahead in earning potential when compared to most other marketing programs you'll find.
Why You Should Promote Shopify
Commission rate: 100% on the first two payments
Cookie Duration: 30 days
Payment Methods: PayPal
Products: E-commerce solutions
---
13. LinkConnector 
Link Connector is another one of those affiliate networks you've probably never heard of despite the fact super affiliates use them extensively.
That's because they have a huge range of merchants to choose from including a lot of leading brand names.
So what makes them different from other networks?
As a beginner, you have less competition to work against in terms of promoting a given offer.
These same offers also remain relatively untapped by most other affiliate marketers.
That's because they're too busy chasing 2% commissions on Amazon to bother looking for other opportunities.
The downside is that the affiliate program interface is antiquated, to say the least.
But if you can get past the visuals, this network has a lot to offer new and experienced affiliate marketers alike.
Why You Should Promote Link Connector
They're overlooked by most affiliate marketers and have a great range of merchants who tend to pay slightly above-average commission rates, plus you get to work with a dedicated affiliate manager.
Commission rate: Varies
Cookie Duration: Varies
Payment Methods: Check, PayPal
Products: Various
---
14. Fiverr
Fiverr started in 2010 as an online gig service where you could hire people to complete various tasks for just $5.
A little over a decade later, it's grown to become a platform where creators can earn a full-time living selling their services to businesses that need their help.
It also benefits small businesses because they can hire the "talent" they need as and when they need it but without the hassle or expense of a full-time employee.
The beauty of the Fiverr affiliate program is that you can promote multiple affiliates offers to almost any audience you can think of.
Creators offer products that span everything from digital marketing services to spiritual counseling.
So that makes it one of the easiest and best affiliate marketing programs for beginners to promote because there's a Fiverr gig to suit everyone.
The Fiverr affiliate program is available via CJ Affiliate by Conversant but they also appear to operate an in-house affiliate program.
But your main focus as an affiliate marketer should be on their commission payment structure because you can earn up to $150 per referral. That's better than most finance affiliate programs.
Why You Should Promote The Fiverr Affiliate Program
Commission rate: Up to $150 per referral
Cookie Duration: 30 days
Payment Methods: Check, direct deposit, Payoneer
Products: Digital services and physical products
---
15. Rakuten Advertising
Rakuten is a Japanese online retailer that moved into the affiliate marketing network space in 2005 when it acquired LinkShare.
The company was known as Rakuten LinkShare for several years before they more recently completed the rebrand to Rakuten Advertising.
This network is home to several big brand names across multiple verticals, but they also represent thousands of smaller merchants with a very diverse range of products.
So there's a variety of products and services for you to promote spanning dozens of categories with something to suit the majority of niches.
Another perk of signing up for the Rakuten affiliate program is they have a pretty low barrier to entry – you just need an active website and not be promoting anything hateful or violent.
Why You Should Work With The Rakuten Affiliate Network
Commission rate: Varies
Cookie Duration: Varies
Payment Methods: Check, direct deposit, PayPal
Products: Various
---
16. AppSumo
AppSumo is an online marketplace that offers deals on the latest tech products as well as ongoing discounted plans or packages for more established brands in the tech space.
What this means, for example, is that you can get a lifetime license for a software product as a once-off cost instead of having to pay a monthly subscription fee.
This can save you thousands of dollars per year in membership and licensing costs for software that directly benefits your online or offline business.
AppSumo's product offerings are varied, ranging from marketing and analytics tools to membership to stock photo sites and productivity tools.
So what does this affiliate marketing program have to offer you?

You can earn up to 100% commission on all sales referred through the affiliate link on your site.
But you do need to do your due diligence here when selecting products to promote because, unfortunately, some of the products on AppSumo aren't as good as they sound on paper.
Why You Should Promote AppSumo
Commission rate: Up to 100%
Cookie Duration: 30 days
Payment Methods: PayPal, check, direct deposit, wire transfer
Products: Software and SaaS memberships
---
17. Etsy
Etsy is an online marketplace where crafters, makers, and doers can sell their wares to the general public without ever needing to build their website.
They're not the only option for crafters to sell online, but none of their competitors have the same presence in the market or the same variety of products from creators.
And that's good news for beginner affiliates because it means that Etsy is a great place to refer your visitors to if they're looking for a personalized gift that has not been mass-produced.
Or even just something quirky as a treat for themselves or their pet, including everything from portraits to pet sofa beds.
It's that varied.
How does this offer compare to the other affiliate programs in this roundup?
Awin manages Etsy's affiliate program so you'll need an account with them before you start promoting this offer.
You'll earn a flat 4% commission on all sales made through your affiliate link and have a 30-day cookie to play with.
Why You Should Promote The Etsy Affiliate Program
Your visitors can find gifts or creative services they won't find anywhere else, and you're supporting small businesses at the same time.
Commission rate: 4% per sale
Cookie Duration: 30 days
Payment Methods: Direct deposit, PayPal
Products: Craft products
---
18.  Pepperjam Network
And now we come to Pepperjam, a network named after jams that the owners once sold at a local farmer's market.
Today, they have thousands of merchants in their directory of affiliate offers, including major brands like Puma, LendingTree, Nordstrom, Netgear, ACE Hardware, and many others.
But there are also lots of more niche offers like business services, clocks, CBD products, pet medications, and survival gear.
Long story short, you'll find at least a handful of products to promote, almost no matter what niche you're operating in.
And again, because Pepperjam is a smaller affiliate network, they're eager to work with new affiliates,  so you can expect a warm welcome from their dedicated affiliate managers, as long as you have an active website.
Why You Should Promote Pepperjam
They're a hidden gem in the world of affiliate marketing with lots of CPS offers as well as CPA offers that pay up to $125 per referral.
Commission rate: Varies
Cookie Duration: Varies
Payment Methods: PayPal, Direct deposit
Products: Various
---
19. Amazon Associates Program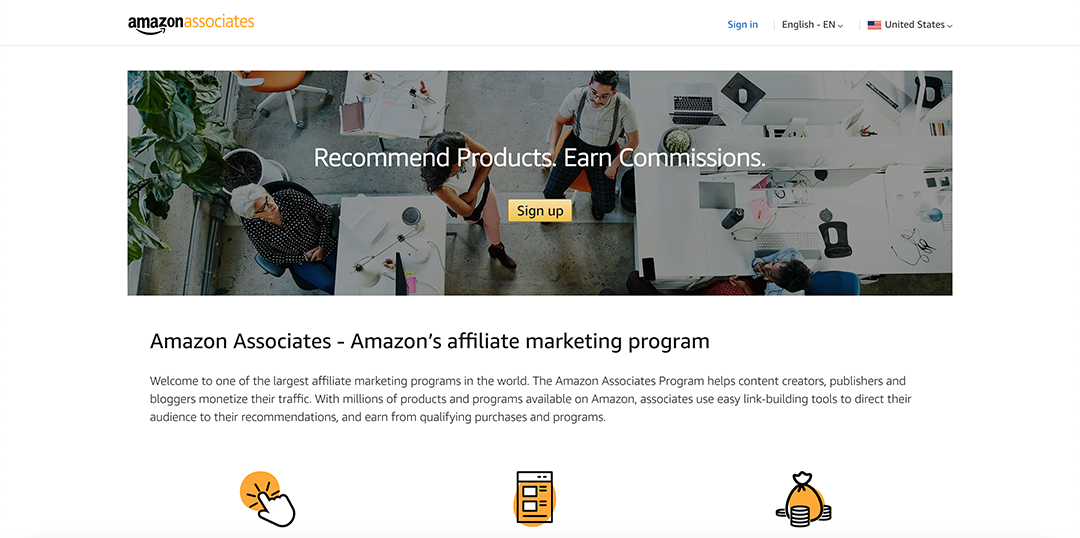 If you've been a fan of Diggity Marketing for any length of time, you'll know that we don't push the Amazon Associates program.
The reason for that is you can simply make more affiliate income with other programs.
But the fact remains that this program is popular with beginners and those in the early stages of their affiliate marketing business.
Why?
It's very easy to sign up for
It's very easy to use
There are tens of thousands of products to promote
They're a trusted name in online shopping
Their commission rates are low but still higher than other similar programs
And on the subject of commissions, here's what you can expect to earn per referral for each category:
Another issue is that Amazon is notorious for changing its commission rates[6], so what you get paid today…you might not get paid tomorrow for the same referral.
Just bear in mind that successful affiliate marketers tend not to use Amazon's affiliate program in the long term.
Why You Should Promote the Amazon Affiliate Program
Commission rate: Depends on product category
Cookie Duration: 24 hour
Payment Methods: Direct deposit, check, gift card
Products: Various
---
20. eBay Partner Affiliate Network
Beginner affiliate marketers often overlook the eBay Partner Network because they're all too busy applying to more mainstream affiliate networks and programs.
eBay is a mainstream business, but most consumers view it as an auction site and nothing else.
It can be a great affiliate program for affiliate marketers in certain niches, though, partly because it has over 1 billion active listings at any given time.
And no matter how obscure a product might be, you can be pretty sure you'll find it on eBay, and you can then earn a commission for sending warm referrals their way.
eBay's commission rates are roughly on par with those offered by Amazon, although do bear in mind that the top-selling products on eBay are brand-new electronic items.
That means, as an eBay affiliate,  you'll be working with a commission rate of no more than 2%.
Why You Should Promote the eBay Partner Network
Commission rate: Up to 4%
Cookie Duration: 24 hours
Payment Methods: PayPal, bank transfer
Products: Everything
---
Affiliate Networks vs. Affiliate Programs
Affiliate networks and affiliate programs are two distinct concepts in affiliate marketing. Both platforms can provide affiliates with a range of promotional and tracking capabilities. This can enable affiliates to market and monetize their content more effectively.
What's an Affiliate Network?
An affiliate network is a platform online publishers use to join affiliate marketing programs and manage their campaigns. It provides resources for marketers to get different types of traffic. It also provides an interface for tracking and reporting on the performance of their campaigns.
Pros
Fast and easy to join

Provide tracking tools to help you measure your performance and earnings

Offers a wide range of products and services to promote

Provides a variety of commission structures
Cons
You may need to invest time and effort into building relationships with affiliate networks

It can be expensive to join
What's an Affiliate Program?
An affiliate program is a performance-based marketing arrangement. It involves a business paying its affiliates for referring customers or users. Marchants rewards affiliates through commissions, a percentage of the referral's sales or leads.
Furthermore, the advertiser can manage the program directly by setting the commission rate and payment terms.
Pros
Better commission rates

Negotiable deals

An affiliate can get reliable advertisers

Dedicated support line
Cons
Limited choices of niche

Not easy to join due to the strict approval process

Needs experienced affiliates
---
What to Look for in a Good Affiliate Marketing Program
When looking for a worthwhile affiliate programs, here are a few key factors to consider:
Ease of Use
A worthwhile affiliate programs should make monitoring and managing your campaigns easy.
Look for a user-friendly and straightforward program to set up and use. Ideally, the program should provide helpful tutorials to guide you through the process. 
Point of Contact
A good affiliate marketing program should have a designated point of contact for any questions or concerns. This should be a person who is knowledgeable about the program. The contact can also provide helpful advice and guidance. 
A point of contact allows affiliates to build a relationship with the program and understand how it works.
Commission & Payments
It's important to understand the affiliate marketing program's commission structure and payment terms. A decent affiliate marketing program should offer competitive commission rates and reliable payment options.
Commission rates should be in-line with industry standards and easily accessible for review. 
Payment options should be secure and timely. This allows affiliates to receive payments via direct deposit, check, or other methods. 
---
How to Get Started in Affiliate Marketing
You can get started in affiliate marketing by:
1. Making Sure You Choose the Right Niche
Pick a niche that you're passionate about and knowledgeable in. Also, consider the size of the niche, the competition, and its profit potential.
2. Creating Your Website and Content
Once you've identified the right niche, it is time to create your website. Start by choosing a domain name and selecting a hosting provider. Then design the website. 
Next, you will need to create relevant content for your niche. This content should be informative, engaging, and useful to your readers. Include affiliate links in your content. The link makes it easier for customers to buy the products or services you're promoting.
3. Promoting Your Content
Use social media, email marketing, and search engine optimization (SEO) to reach more potential customers. Paid advertisements can also help you get a larger audience.
You can also join affiliate networks and forums to connect with other affiliate marketers and learn more about the industry.
---
FAQs
How Do I Become an Affiliate Marketer?
You can become an affiliate marketer by joining an affiliate network or program. After joining, choose a product to promote. Then create content to drive traffic to your affiliate link. Once people click on your link and make a purchase, you will get a commission.
Can You Make Money From Affiliate Marketing?
Yes, you can make money from affiliate marketing by earning a commission for every sale you make through your referral links. As an affiliate marketer, you connect customers to merchants through your referral links. 
What Percentage Does Amazon Pay Affiliates?
Amazon pays affiliates a percentage commission between 1% and 20%[7] for every sale completed through affiliate links. The exact commission rate varies by product category and is subject to change.
So it is important to review the details of any potential affiliate program before committing to promote it.
Is ClickBank the Best Affiliate Program? 
ClickBank is the best affiliate program, offering a wide range of products, and competitive commission rates. It is also a user-friendly platform. 
ClickBank provides the tools necessary to promote products, track performance, and optimize campaigns. But you can also consider other alternatives like Amazon Associates, and eBay Partner Network.
How Do You Make Money With Affiliate Marketing Without a Website?
You make money with affiliate marketing without a website by signing up with an affiliate network or program and using email marketing, social media, and influencer outreach. You can use the platforms to promote products and services, drive traffic and earn commissions.
Should I Pay To Join an Affiliate Program?
No, you don't have to pay to join an affiliate program. The top affiliate programs are free to join, and you can begin making money immediately.
However, promoting a product requires a significant investment of time and money. You need to create marketing materials and invest in advertising to attract potential customers.  
How Can You Determine if a Merchant Has an Affiliate Program?
You can determine whether a merchant has an affiliate program by researching their website and contacting their marketing or sales departments directly.
Most merchants will make this information readily available to potential affiliates. You can also search online for reviews and feedback from other affiliates.
---
Monetize Your Site With the Best Affiliate Programs for Beginners
And there you have it – 20 of the top affiliate programs for beginners to promote via their affiliate sites.
This isn't an exhaustive list by any means.
Instead, it's to illustrate what's possible even if you're a complete newbie.
I know how difficult it can be to find reliable information on affiliate marketing.
That's why I put together my Affiliate Lab training course – so you don't have to go through the same process of trial and error that I did.
All you have to do is follow a proven system that I've spent years developing.
The door is open.
Only you can step through it.
Want to Become a PRO Affiliate?
Comprehensive lessons
Niche Grading tool
Step-by-step website building guide
Regular updates


Private Facebook community
Bonus courses
Lifetime course access