Competition is inevitable in the business world, regardless of your niche. To emerge as a leader, it's essential to know your competitors, analyze their strategies, and devise superior tactics. That's where competitive intelligence tools come into play, providing valuable insights into the market and empowering you to create more effective marketing strategies.
As an experienced marketer, I have explored and evaluated various competitive intelligence tools to understand their strengths and limitations.
In this guide, we'll break down the pros and cons of the eight best competitive intelligence tools that expert marketers trust. We've also included a few quick tips on how to gather, analyze, and act on your market research.
All-in-one SEO tool, Marketing insights, Improved online visibility
SEO toolset, Website optimization
| | | | | | |
| --- | --- | --- | --- | --- | --- |
| Web Hosts | Hosting Type | Performance | Customer Support | Security | Pricing |
| #4 BuzzSumo | Understand Competitors' Content Strategies | 4.7/5 | 4.5/5 | 4.7/5 | 4.8/5 |
| #5 SimilarWeb | Get Deep Insights On Competitor Domains | 4.3/5 | 4.5/5 | 4.8/5 | 4.5/5 |
| #6 Sprout Social | Compete Better On Social Networks | 4.2/5 | 4.6/5 | 4.7/5 | 4.5/5 |
| #7 Owletter | Competitor Email Marketing Research Tool | 4.5/5 | 4.5/5 | 4.9/5 | 4.5/5 |
| #8 Crayon | Gather & Share Competitor Information With Your Team  | 4.6/5 | 4.7/5 | 4.8/5 | 4.5/5 |
Top Competitor Intelligence Tools Compared
1. SEMrush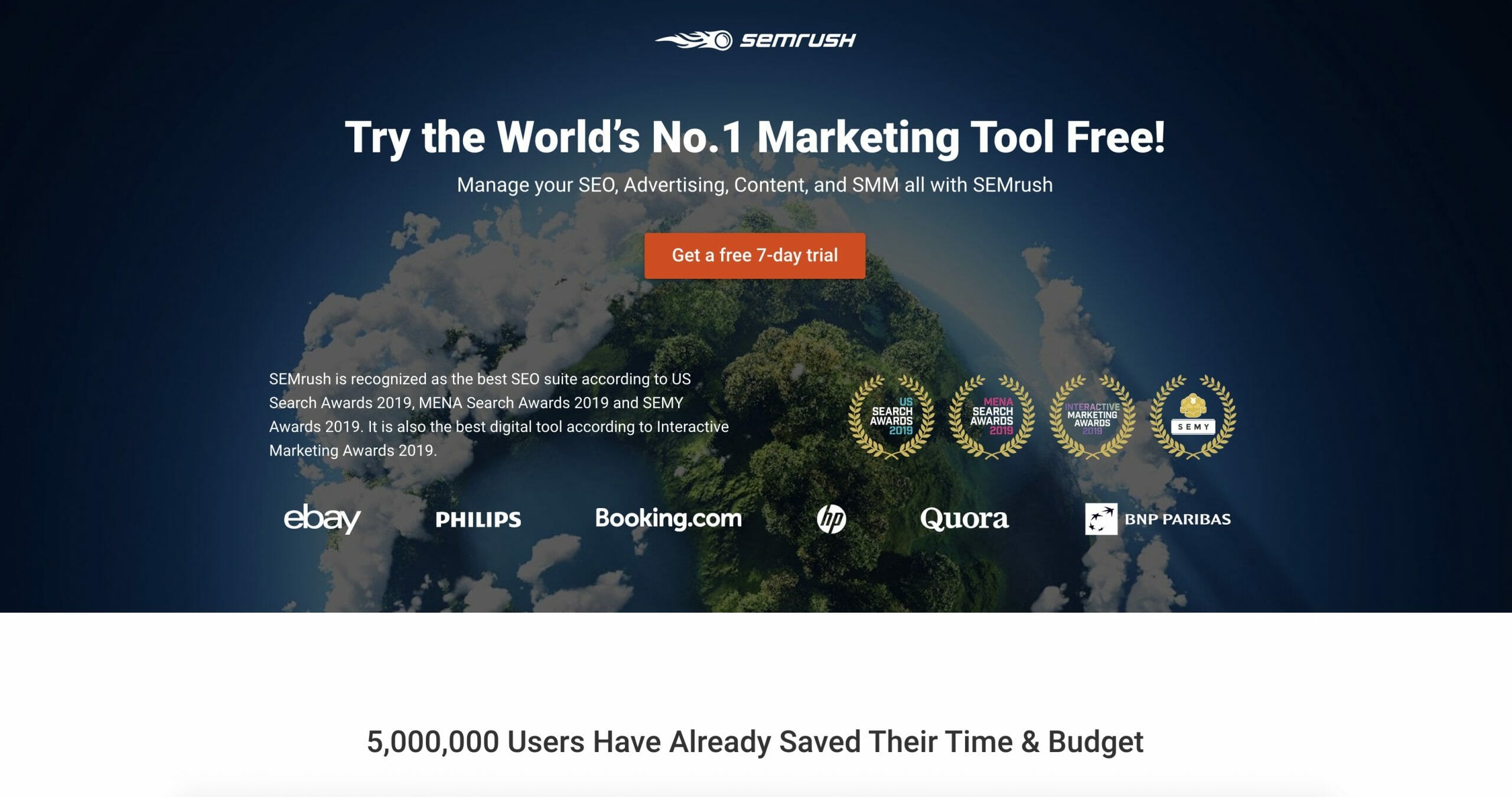 What it's for: Identifying competitors, analyzing website traffic, comparing competitor spend, and building PPC keyword lists.
The SEMrush SEO suite is an all-in-one tool that you can use at every stage of the digital marketing process, from keyword analysis to market research to social media strategy.
Their Traffic Analytics tool has gotten the most praise for its detailed analysis of metrics like traffic volume, top pages, and audience overlap.
But where SEMrush really shines is in its paid advertising capabilities. In my own experience using SEMrush, I found the Advertising Research report particularly invaluable for understanding my competitors' strategies and fine-tuning my own approach accordingly.
You can also find up-and-coming competitors, compare ad budgets, monitor landing pages, and localize your campaigns with SEMrush's powerful PPC tool.
When it comes to PPC campaigns in a competitive landscape, choosing the right keywords is essential. You want to target popular search queries, expanding your reach while minimizing your marketing spend.
Conventional keyword research tools are designed for organic search optimization, so they're not the best solution for polishing your PPC keyword lists.
SEMrush comes with an intelligence tool that collects PPC keyword data from multiple channels and organizes them into an easy, manageable list. You can even clean up the list and remove negative keywords that could cause your campaigns to compete against each other.
Rounding out the PPC suite is the CPC map, an interactive visual that shows you the average cost-per-click in different markets.
With this competitive intelligence tool, you can compare CPC against other metrics such as search volume to identify the keywords that will help you reach your target audience in a competitive landscape without straining your budget.
The biggest drawback to SEMrush is its ease of use. The tool provides you with a lot of significant SEO intelligence, but not much information on how to use their competitive intelligence tools and understand the data.
You may need to have some background in SEO to fully utilize the tool.
Pro-tip: A/B split testing is a great way to refine your paid search strategy. Use SEMrush to generate an unlimited number of ideas for your A/B tests. Compare the CPCs across different locations to find areas with more profitable PPCs, then implement the more effective ad.
---
2. Ahrefs
What it's for: Estimating organic traffic, analyzing backlink profiles, and discovering your competitors' best performing keywords – it can also generate content ideas on any topic using the Content Explorer.
As one of the biggest names in the SEO industry, it's no surprise that Ahrefs makes this list. The famous website provides handy resources for search engine optimization and a wide variety of free competitive intelligence tools that can help you with content marketing, site auditing, and competitive analysis.
The Site Explorer is perhaps one of the most widely-used competitor analysis tools in SEO. The interface allows you to see the organic search traffic, backlink profiles, and paid search keywords of competitors' websites.
The organic traffic feature shows you your competitors' top-performing keywords alongside the amount of traffic that they get from each search query.
And with an extensive database of 150 million keywords in the United States alone, you can expect accurate data to help you make more strategic decisions.
The backlink research allows you to dive deep into a competitor's backlink graph. When you plug the URL into the Ahrefs interface, you'll get a full list of that page's referring links.
Having personally utilized Ahrefs for various SEO projects, I can attest to the power of its backlink analysis capabilities, which have allowed me to successfully identify and incorporate the strategies of industry-leading competitors.
Site Explorer also has a robust index of more than 14 trillion backlinks and one of the fastest crawlers on the market.
Finally, you can find out what paid keywords your competition is targeting, so that you can identify missed PPC opportunities. Combine all three of these, and you have everything you need in a competitive research tool.
The Ahrefs dashboard is packed with features, but it's intuitive and easy to use even for beginners. Plus, when you sign up with Ahrefs, you get access to all the other marketing tools in the suite, including Keyword Explorer, Rank Tracker, and the free SEO Toolbar.
You can try out the entire dashboard with their affordable one-week trial, which is useful because Ahrefs isn't exactly the cheapest tool out there. Still, it's easy to justify the high price tag when you consider how this intelligence tool blows the others out of the water.
Pro-tip: You can also use Site Explorer to discover newly emerging competitors websites. The "Competing Domains" report in the dashboard helps you find sites that compete with yours across a variety of keywords, not just a single search query.
---
3. Surfer
What it's for: Analyzing search engine results to find patterns in the top-ranking pages.
Search engine algorithms are updated all the time, which makes keeping up with SEO's best practices difficult. And many marketers simply don't have the time to run correlational analysis against hundreds of factors.
Thankfully, there are intelligence software that extract SERP data so that you can discover why competitor websites rank. This allows you to reverse-engineer the most impactful ranking factors for your niche, and make a solid digital marketing strategy.
One such tool is Surfer, a comprehensive intelligence tool that looks at data points from over 50 pages and compares over 500+ ranking factors. It takes just a few minutes to get insight on ideal content length, number of headings, keyword density, and so much more.
This "one-click audit" provides you with actionable information about how you can create better-optimized content to outrank your competitors.
Not only does Surfer help you make informed decisions about your content, but it also automates the tedious process of building guidelines for your content writers. Surfer's auto-generated briefs are instant and precise.
There's no guesswork involved; everything from the number of words down to how many images you should include are based on your top competitors' high-ranking content.
Great content is the secret to SEO success. After analyzing the SERP for your search query, Surfer provides data-driven recommendations on how to optimize your content.
Surfer's suggestions are always specific, clearly presented, and actionable, so that even beginners can achieve higher rankings with relatively small marketing efforts.
The Surfer dashboard is a lot more accessible to non-SEO professionals compared to other free competitive intelligence tools. The interface is easy to navigate, and reports are presented in interactive graphs.
Plus, the tool's Content Editor integrates right into Google Docs, which makes it easier to write and collaborate on content while implementing Surfer's suggestions.
Having had the opportunity to use Surfer in my SEO strategy, I was particularly impressed by how it streamlined the process of developing content guidelines, effectively automating what was previously a time-consuming task.
Pro-tip: Aside from your primary and secondary keywords, Surfer will also provide you with a list of other terms similar to your keywords. These aren't necessary to rank, but using them will help you fill content gaps and may even allow you to rank for closely-related search queries.
---
4. BuzzSumo
What it's for: Discovering content ideas, getting data-driven content recommendations, and setting up competitor alerts.
One of the problems of creating content optimized for search is that there are no hard and fast rules. Things are highly dependent on your industry, but there's a lot of variation even within the same niche.
If you want to create better content than your competitors, using intelligence tool that lets you compare content marketing strategies is crucial.
BuzzSumo offers both paid and free competitive intelligence tools to help you mine top-ranking SERP results for winning content ideas. The discovery feature lets you look at the most shared content online so that you can pinpoint industry trends and identify content with high viral potential.
You can also search Quora, Reddit, Amazon, and other forum/Q&A sites for the questions your customers ask the most, allowing you to create in-demand and relevant content.
Benchmarking is another feature of this competitive analysis tool. You can compare competitors' top content to see which formats work best. If you want to stay on top of what your competitors are publishing, you can even set up notifications for new content.
During my use of BuzzSumo, the feature I found most useful was the ability to set up notifications for competitors' new content, which allowed me to stay updated and quickly adapt my content strategy in response to shifts in the industry.
Pro-tip: It's not just about what you share, but where you share it. BuzzSumo compares top-performing pages across different social media platforms to give you useful data about how your audience consumes content. From Facebook to Twitter to LinkedIn, find the one that's most popular with your customer base. Then, build your content around the topics and formats most commonly shared in that platform.
---
5. SimilarWeb
What it's for: Comparing your website traffic and performance to your competitors.
Free competitive intelligence tools like Google Analytics can only take you so far. When you only have data on your own site's performance, you're not getting the complete picture.
Understanding the competition – who they are, what their customers are looking for, and how you measure up – is the key to getting great results with digital marketing.
Competitor analysis tool SimilarWeb is one of the most popular market research tools. Unlike other competitive tools, which only display your performance, you can dive deep into your competitors' domains.
You'll be able to see your competition's website traffic and engagement numbers, including valuable info like time spent on page, traffic sources, and even mobile app traffic.
There's also a lot of customer insight that you can use to refine your marketing strategy. Find out what niche your competitors are attracting, and what kind of topics they're connecting with.
You can even check out the funnel analysis feature, which helps you visualize the traffic sources with the highest potential.
In my professional journey, I have found SimilarWeb exceptionally useful for gaining a broader perspective on the performance of my site in relation to competitors, particularly through its detailed traffic and engagement data.
You can give the tool a test drive with their free plan – it's limited to just a few results and three months' worth of traffic data, but it's enough to help you decide whether SimilarWeb is worth the investment.
Just keep in mind that, while SimilarWeb checks a lot of boxes, it does not provide end-to-end SEO solutions.
Pro-tip: If you handle client accounts, SimilarWeb can generate beautiful reports that you can easily share at meetings. Add a dashboard to the platform, then create one from scratch or choose from several different templates like "Market Analysis" or "Monthly Competitive Overview".
---
6. Sprout Social
What it's for: Keeping an eye on your (and your competitors') socials.
In today's digital world, social media is an essential component of your online brand. Being on Facebook, Twitter, Instagram, and other platforms allows you to expand your market and cultivate stronger relationships with your customers.
Having utilized Sprout Social for managing my social media activities, I was particularly taken by the tool's automation features, which significantly reduced the time needed for scheduling and approving posts, enhancing overall efficiency.
When it comes to social listening and analytics, you can't get any better than Sprout Social. From finding out what people are saying about your brand to organizing your content calendar, Sprout Social provides handy business solutions for every point of the process.
And if you want to take your social media management to the next level, you can also analyze your competitors' top-performing posts to gain insight into their social strategies.
There's even a "tips" feature that gives you specific action items on how to improve your social posts.
Sprout Social is easy to use, with its intuitive interface and helpful tutorials. The tool also saves you plenty of time because it automates most of your tasks such as post scheduling and approvals.
And since you handle everything from one dashboard, you remove a lot of engagement obstacles, making it easier to work on your accounts and scale up.
The platform's biggest plus is also its biggest downside. As a powerful social analytics tool, Sprout gives you everything you need to create more effective social media strategies. But social is the sole focus of Sprout, so while it might do that well, it can't do much else.
Pro-tip: You can customize your workflows to make collaboration more seamless. Users can submit posts for approval, and drafts are immediately sent over to the manager/client/editor/other point person. The workflow can be as simple or as complex as needed. But if you set it up correctly, you can significantly cut down on wasteful communication and messy back-and-forths.
---
7. Owletter
What it's for: Creating effective email campaigns to generate leads and convert customers.
Despite what some may tell you, email marketing isn't dead. Recent studies have shown that email is thriving more than ever before. The right email campaign can build your brand, hook leads, and maybe even convince a few to convert.
But creating an email marketing campaign isn't easy, especially if you're starting from scratch. What if you could take a peek into your competitors' emails and find out what makes them so effective? Then you could apply those learnings in your own email marketing strategy.
Owletter is a specialized competitive intelligence tool that shows you the stats on your competitors' campaigns.
From my experience with Owletter, the ability to gain insight into competitors' email campaigns down to specifics like open rates and sending times, has been invaluable in crafting more effective email marketing strategies for my business.
It can tell you what your customers are looking for, what subject lines attract their attention the most, and how best to craft your marketing message for maximum conversions.
The learning curve of Owletter isn't steep – just enter a competitor website into the dashboard, and the platform will do the rest.
Owletter comes at different price points so that businesses of all budget sizes can still benefit from this incredible tool. And you don't even need to sign up for your competitors' newsletters, which keeps your inbox free of clutter.
Pro-tip: Emails on Owletter are stored forever, which means that you can monitor trends over a long period and factor in seasonality when comparing data. Check previous successful competitor campaigns for inspiration!
---
8. Crayon
What it's for: Competitor tracking, analyzing, and acting on their every move.
Manually gathering and prioritizing competitive intelligence takes a tremendous amount of time.
Across your competitors' websites and social media accounts, news and PR outlets, third-party review sites, customer forums, and everything in between, there's a seemingly infinite amount of competitive information at your fingertips.
And then there's the challenge of getting your colleagues to actually use the intel you've worked so hard to gather and prioritize — not an easy task.
Crayon is the competitive intelligence platform that enables you to check each of these boxes from one central place. Given the competitors you want to keep tabs on and the types of intel you care about, Crayon automates the process of gathering and prioritizing competitive information.
Plus, with the help of battle cards and integrations with communication channels like Slack, you can deliver real-time intel in ways that make it easy for your colleagues to digest.
As you can imagine, battle cards are most often used by sales reps. For those not familiar with battlecards, they are a form of sales collateral designed to make it easier for sales reps to discuss a specific competitor when speaking with prospective customers.
In my use of Crayon, I've found the integration with platforms like Slack and the dynamic updating of battlecards to be a game-changer, allowing me to keep up with competition and communicate this intelligence to my team effectively.
Pro tip: Different stakeholders care about different things. Whereas sales reps want battlecards to help them win deals, executive leaders want high-level takeaways to help them make long-term strategic decisions. Connect with your stakeholders to find out which specific deliverables they're looking for, and then use Crayon accordingly.
---
Which Competitive Intelligence Tools Do We Recommend?
Competitive Intelligence tools can provide you with valuable information about the competition – who they are, what they're doing, and how your business' performance compares to your competitors.
Having a strong arsenal of tools will help you identify marketing opportunities and learn from other's best practices, so it's important to choose the right ones for the job.
All of the software tools on this list are a must-have for marketers, but if you only have room in the budget for a few of the best, then stick with SEMrush, and Surfer.
These two tools alone are responsible for 99% of our marketing, and we've found a lot of success by utilizing and mastering these platforms.
Our #1 Recommendation: Semrush