When starting a business, one of the essential steps is market research. You need to know your target audience, their needs, and what solutions you can offer them. There are a host of different tools you can use to get the information you need.
To help you narrow down your options, we have researched and used over 25 market research tools, and we've come up with a list of the top 10 best market research tools for you. These tools will help you gather data sources about your industry, competitors, and target market. So what are you waiting for? Check out our list and start researching!
1. Think With Google 
If you're looking for an all-in-one market research tool, look no further than Think With Google. As the name suggests, this platform allows you to access all the data that Google has on consumers, including what they're searching for, what they're buying, and spending their time [1].
In my experience, you can use it to get insights into specific industries and track the competition. Plus, a handy blog covers everything from marketing to entrepreneurship. So if you're looking to stay ahead of the curve, Think With Google is your go-to resource.
The site is organized into four sections (Consumer Insights, Marketing Strategies, Future of Marketing, and Tools) that you can use to find the information you are looking for.
Pros
Access to industry-leading research and insights

Wide range of tools and resources for marketers and advertisers

Integration with other Google products

Free access to valuable insights and data
Cons
Availability of data may be limited in certain regions.
Custom rating criteria
User-friendliness: 5
Features: 5
Support: 4.9
Market and brand research tools are your secret weapon in the quest to understand your customers — and find new ones.
– Michael Metcalf, Content Strategist at latana.com
2. Answer The Public
Answer the Public is a free online keyword research tool that you can use to gather data about the public sentiment on various topics. You type in a keyword or phrase, which will give you data about what people are searching for related to that topic [2].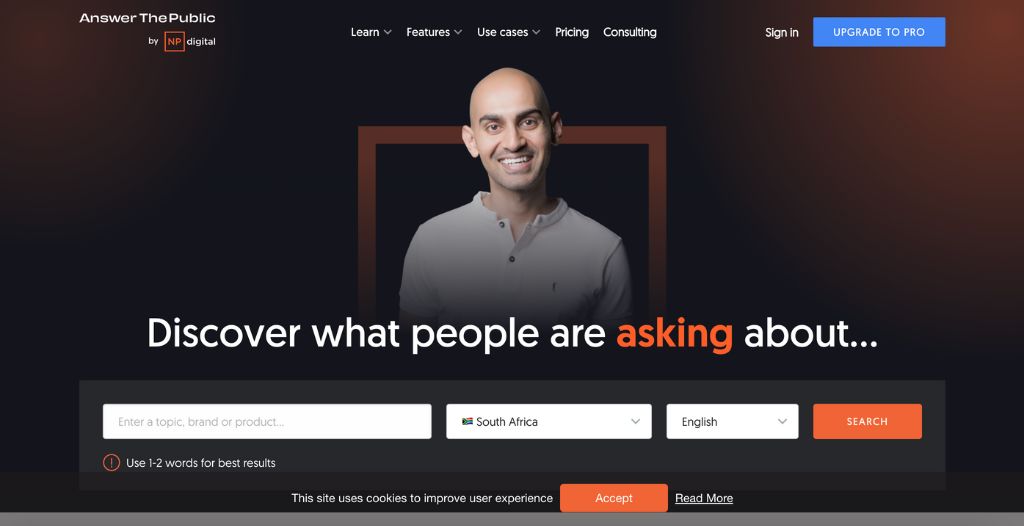 In addition, Answer the Public places this data in flat datasets or practical data visualizations to share with your teams.

In my experience, this is an excellent research tool for getting an idea about what the public is thinking about a particular topic, and it can help find ideas for blog posts or products.
Pros
Simple interface for quick insights.

Data visualization for easy information sharing.

Unique insights into how a topic is tackled in search.
Cons
Limited users and searches with a free plan
Custom rating criteria
User-friendliness: 5
Features: 4.9
Support: 4.9
3. Survey Monkey
SurveyMonkey is another best market research tool for conducting market research. It allows users to quickly create and deploy surveys online, gather data, and analyze the results [3].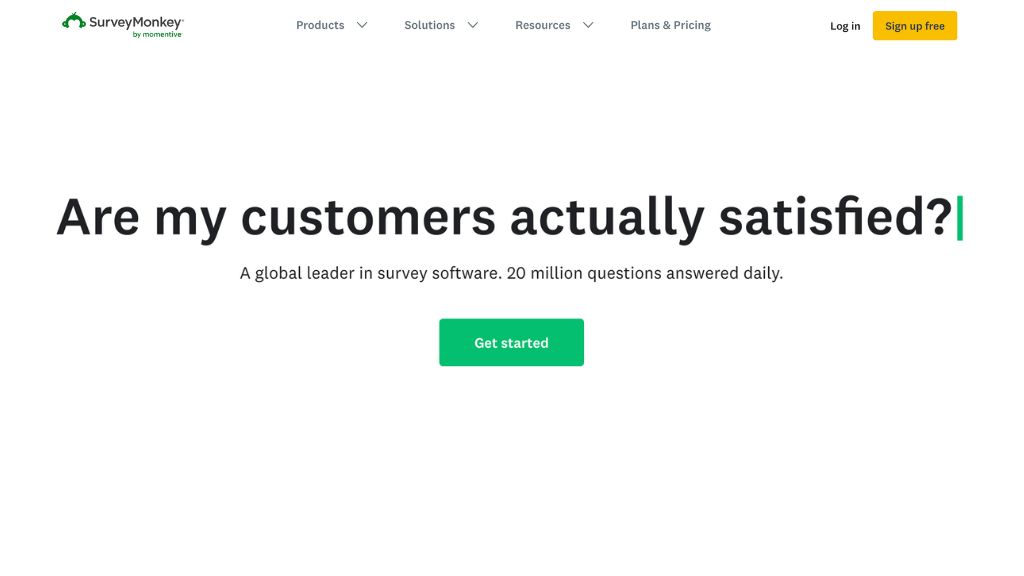 The survey-creation tool is intuitive, and you can use the wide range of templates available to tailor your questions. You can also customize the look of your survey, add images and videos, and even embed it on a website.
SurveyMonkey also has excellent features such as skip logic, which allows users to jump questions based on their answers, or piping, which inserts answers from previous questions in subsequent ones.
In my experience, the analytics provided are comprehensive: you can break down results by demographics or behavior patterns, segment answers for better insights, generate real-time reports in PDF or Excel format, and more.
Pros
User-friendly interface

Wide range of customization options

Advanced reporting and analysis tools
Cons
Some features are only available with paid plans
Custom rating criteria
User-friendliness: 4.9
Features: 4.9
Support: 4.9
4. Question Pro
You might not have heard of Question Pro, but it's quickly becoming one of the go-to tools for market researchers. It's an online survey platform that allows you to create and distribute surveys, analyze results in real time, and create custom reports. 
Also, it's incredibly user-friendly and has many features that make it easy to set up surveys that fit your needs [4].
In my experience, what sets Question Pro apart from other survey platforms is its ability to integrate with third-party services like Salesforce and Google Analytics. This way, you can connect your survey data with other data sources for an even more comprehensive view of your target audience.
You can also use the platform's data analysis tools to uncover powerful insights into customer behavior.
Pros
Easy to use, particularly with built-in templates.

A wealthy free plan

With clock LiveChat support
Cons
Mastery of the software takes time.
Custom rating criteria
User-friendliness: 4.9
Features: 4.8
Support: 4.8
In part, we can blame lack of research for why there are so many unsuccessful product launches and ill-conceived new feature additions. Founders and brand managers "know" it will be successful — they run on their instincts, not the facts.
– Jamie Oetting, Senior Manager of HubSpot's Multimedia Content Strategy Team
5. Typeform
If you're looking for an all-in-one free market research tool, then Typeform is the way to go. From surveys to polls and even quizzes, you can tailor your Typeform surveys to suit the needs of your specific project [5].
In my experience, there is a pre-built survey template that makes it easy to create beautiful and engaging surveys with its drag-and-drop builder, allowing you to customize questions and answer blocks for maximum engagement.  You can add images, videos, and GIFs to your survey questions, making it an ideal choice if you want to make a great first impression with potential customers.
Typeform also offers reporting features such as heatmaps which allow you to track user behavior on a page-by-page level to get insight into how customers move through your survey.
Pros
User-friendly

Robust data visualization.

Optimized for mobile devices
Cons
No customer support
Custom rating criteria
User-friendliness: 4.8
Features: 4.8
Support: 4.7
6. Statista
Do you need to crunch data quickly? Then you should give Statista a try. This tool is one of the best for researching and leveraging market data for your business.
Statista has over 1.5 million sources of information, from public sources such as the US Census to private companies like Twitter and Uber.
Statista has a drag-and-drop interface that allows you to build reports and dashboards quickly, as well as its AI-powered recommendation engine that suggests the best visuals for your projects.

In my experience, Statista gives you access to reliable third-party data sets, which can help you gain better insights into your market and make more informed decisions.

All in all, Statista is a powerful tool to have in your arsenal if you need quick access to meaningful market research data [6].
Pros
One of the finest online statistical resources.

Great user experiences.

Easy to retrieve data.
Cons
A free plan is limited
Custom rating criteria
User-friendliness: 4.7
Features: 4.8
Support: 4.7
7. Qualaroo
Let's move on to Qualaroo, which stands out for its focus on understanding customer behavior and gathering actionable insights. It collects customer feedback when they have an issue or experience a negative emotion. Then it offers questions to understand why customers feel what they feel [7], Qualaroo provides an AI-driven platform to analyze customer responses, detect patterns, and make recommendations.
It's great for customer journey mapping and customer segmentation as well. The tool then offers insights to optimize marketing efforts and take advantage of any opportunities that may arise.
In my experience, Qualaroo is user-friendly and easy to set up – the platform takes only 10 minutes to integrate into a website or mobile app. And it has excellent customer support too.
Pros
Easily set up and deployed surveys

Analytics decreases reporting time

Easy to understand
Cons
Dashboards could be made better
Custom rating criteria
User-friendliness: 4.7
Features: 4.8
Support: 4.7
8. Qualtrics
Ever heard of Qualtrics? Well, it's a feature-rich market research tool that provides powerful insights into customer experience, employee engagement, and brand performance.
It's an efficient way to get lots of feedback from your target audience and ensure your product or service meets demands. It comes with an intuitive drag-and-drop dashboard for creating surveys and polls and in-depth analytics for analyzing feedback [8].
In my experience, Qualtrics allows you to create custom visualizations with widgets and data filters for more accurate results. It can track changes in customer sentiment over time, so you can see how customers feel about your product or service at different points in the lifecycle.
Pros
User-friendly interface

Advanced survey and data analysis tools

Customizable surveys and data visualization options
Cons
Steep learning curve for some features
Custom rating criteria
User-friendliness: 4.7
Features: 4.7
Support: 4.6
9. Tableau
At number 9, we have Tableau, a market research tool that can quickly create interactive data visualizations. With Tableau, you can easily make sense of large datasets with drag-and-drop features and sophisticated analytic capabilities.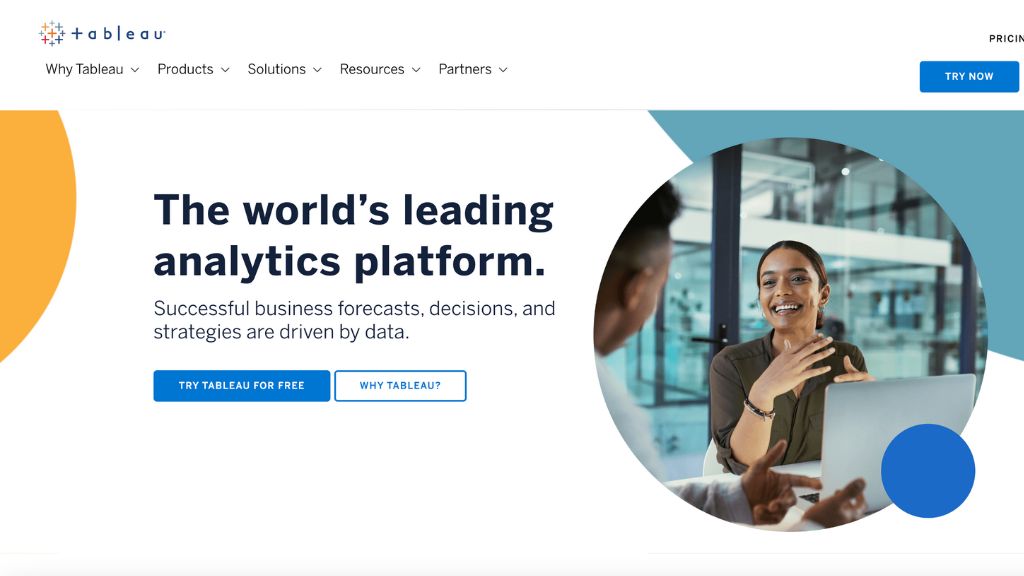 Tableau also offers powerful analytics tools such as drill-down analysis, automated calculation functions, and predictive analytics. It has natural language query capabilities, so you can ask questions in plain English and get quick results without needing coding or programming skills [9].
In my experience, Tableau has built-in collaboration features that allow you to share reports with colleagues and stakeholders in real time. This makes it easy to keep everyone up to date on the progress of your market research project.
Pros
Enhanced visual data reporting tool.

Serve as a central repository for data.

Data analysis is straightforward.
Cons
You need to gather your data
Custom rating criteria
User-friendliness: 4.6
Features: 4.7
Support: 4.6
10. BrandMentions
Are you looking to learn more about how people talk about your brand on the internet? Then BrandMentions is the perfect tool for you. It allows you to track your brand's presence across the web, search for mentions in real time, and analyze your competitors' activities [10].
With BrandMentions, you can capture every single mention of your brand. It tracks over 6 billion sources, giving you access to mentions from news sites, forums, and social media networks. This way, you get an in-depth look into how people view your brand.
In my experience, you can even customize search parameters to get more precise results tailored to fit your needs. And with the sentiment analysis tool, you can accurately measure how well-received your product or service is by monitoring positive and negative feedback.
Pros
It's an excellent tool for carrying out social media research

You can use it to monitor your brand

Intuitive user experience
Cons
It can only analyze social media data
Custom rating criteria
User-friendliness: 4.5
Features: 4.6
Support: 4.5
Buyer's Guide
When choosing the right market research tool, there are a few things you need to take into account. First and foremost, you need to identify your research objectives. What exactly are you looking to learn? This will help you zero in on the right type of tool.
Once you know your objectives, you can start looking at different market research tools and see which ones best fit your needs. There are various tools out there, from online surveys to focus groups.
So whether you're looking for demographic data, consumer insights, or trend analysis, there's a tool that can help you get the information you need to make informed decisions about your business.

What Is Market Research?
Before beginning your market research, it's essential first to understand what it is. Simply put, market research is the process of gathering, analyzing, and interpreting information about a market, a product or service to be offered for sale in that market, and about the past, present, and potential customers for the product or service; research into the characteristics, spending habits, location and needs of your business's target market, the industry as a whole, and the particular competitors you face.
It helps companies understand the demand for their products and services, identify potential customers and target markets, and assess the competition.
Market research includes various methods such as online surveys, focus groups, and secondary research to gather data and provide insights for informed decision-making.
Market research aims to provide accurate and relevant information to guide strategic and tactical marketing decisions.
There are a variety of different market research tools available to help you gather this information. The key is to find the ones that work best for you and your business.
Most market research tools are designed to make it quicker and easier to find relevant data. Whatever the market, product, or purpose, the right research tools can do just that.
– Liz March, Digital Research Specialist
How To Choose The Right Market Research Tool
Picking the right market research tool can be a daunting task, especially if you're new to the whole thing. To help you out, here are some tips for choosing the right tool for your needs:
Price and budget

: Are you looking for something free or low-cost? Do you have a budget for premium solutions? Be sure to pick a market research tool that fits within your budget.

Features

: There are all kinds of features available, from survey builders to analytics tools and more. Make sure to select a tool with all of the features you need. The tool should have robust data analysis features that provide meaningful insights from the collected data.

Ease of use: A complex system can be challenging to navigate if you don't have much experience with market research tools. Choose something easy to use and understand to ensure accurate data collection and analysis.
Customer support: Good customer support can make all the difference in understanding how the tools work, getting answers to questions, and more. Pick a vendor with excellent customer service.
Research objective: The tool chosen should align with the research objective and provide the necessary data and insights required.
Target audience: Understanding the demographic and psychographic characteristics of the target audience is crucial in choosing the appropriate tool.
Data collection method: Different tools employ different data collection methods (e.g., surveys, focus groups, interviews). Choose the most suitable method for the research objectives and target audience.
Scalability: Consider future research needs and choose a tool that can accommodate potential increases in the sample size.
Integration: The tool should be compatible with other tools and software used for data analysis, reporting, and presentation
Evaluate the available options: Research different market research tools and compare their features, pricing, and limitations.
Consider the data you need: Choose a tool that provides the type of data you need, such as qualitative or quantitative data.
Test drive the tool: Take advantage of free trials or demo versions to see if the tool meets your needs and expectations.
Evaluate the results: After using the tool, evaluate the quality and accuracy of the data collected, as well as the overall user experience.

How To Use A Market Research Tool
Now that you know the top 10 market research tools to explore, let's dive into how to use them. With most of these tools, you start by selecting the type of research you want to conduct. For example, if you're looking for consumer insights, you can choose that option and enter the parameters for your research.

You can also filter your results by region or other criteria as needed. Once your filters are set, you'll start seeing the results come up—it could be surveys or analytics data, depending on what type of tool you're using. Be sure to pay attention to what kinds of insights these tools reveal and how they can help inform your product decisions.
It's important to note that different market research tools have different strengths: some are better suited for customer surveys, while others might be better at providing insights into specific demographics or industries. It's all about finding the right tool for what you need and using it correctly to get actionable information that will help drive business decisions.
Benefits Of Using Market Research Tools
There are many benefits of using market research tools. When you use the right tool for the job, you can get accurate and reliable data to help you make informed decisions about your business.
Here are some of the key benefits of market research tools:
Better decision-making

: Market research provides valuable data and insights that can inform and improve decision-making at all levels of a business.

Increased understanding of the market: Market research helps companies understand the target market, consumer behavior, and market trends.
Competitive advantage: Companies can gain a competitive advantage by using market research to understand their competitors and develop strategies to differentiate their products and services.
Improved product development: Market research can help companies identify consumer needs and preferences, leading to the development of products and services that are better aligned with consumer demand.
Cost savings: By using market research, companies can avoid costly mistakes and make informed decisions that can save time and resources.
Increased customer satisfaction: Market research can help companies understand customer needs and preferences, leading to the development of products and services that are better aligned with customer demand, resulting in increased customer satisfaction.
Improved marketing: Market research helps companies understand consumer behavior, preferences, and attitudes toward their products and services. This information can inform and improve marketing strategies, leading to increased brand recognition and sales
Frequently Asked Questions 
What Are The Primary Market Research Techniques?
Primary market research techniques include Surveys, Focus groups, Interviews, Observation, Secondary data analysis, A/B Testing, Product testing, Questionnaires, and many more.
What Are The Secondary Market Research Techniques? 
Secondary market research techniques include Online analytics and web data, Public records and databases, Industry reports and publications, Competitor analysis, Trade associations, and industry groups, Customer feedback and complaints, Sales and marketing reports, and Historical sales and customer data.
What Can I Discover With Market Research?
Market research can help you discover the following: Consumer needs and preferences, Market size and segmentation, Competitor analysis, Customer behavior and demographics, Product or service demand, Brand awareness and perception, Consumer satisfaction and loyalty, Market trends and opportunities, Target audience identification, Marketing, and Advertising effectiveness.
Are Market Research Tools Worth The Cost?
Yes, market research tools can be worth the cost. The insights gained from market research can inform business decisions and improve marketing strategies, leading to increased sales and revenue. Market research can also help identify potential risks and threats and assist in product development and customer satisfaction. 
Why Is It Important To Do Market Research?
It is essential to conduct market research so that you can understand the target market and its needs, identify market trends and changes, determine the feasibility of a new product or service, gain competitive intelligence, make informed business decisions, reduce risk and increase the success rate, understand consumer behavior and preferences.

Get The Best Tool For Market Research Today
So, there you have it: 10 of the best market research tools to help you get started on your next business project. With the right market research tool, you'll be able to gather the data you need to make informed business decisions and take your business to the next level.
We recommend Think With Google; it allows you to access all the data that Google has on consumers, including what they're searching for, what they're buying, and how they're spending their time.
Try Think With Google today; you can use it to get insights into specific industries and track the competition.