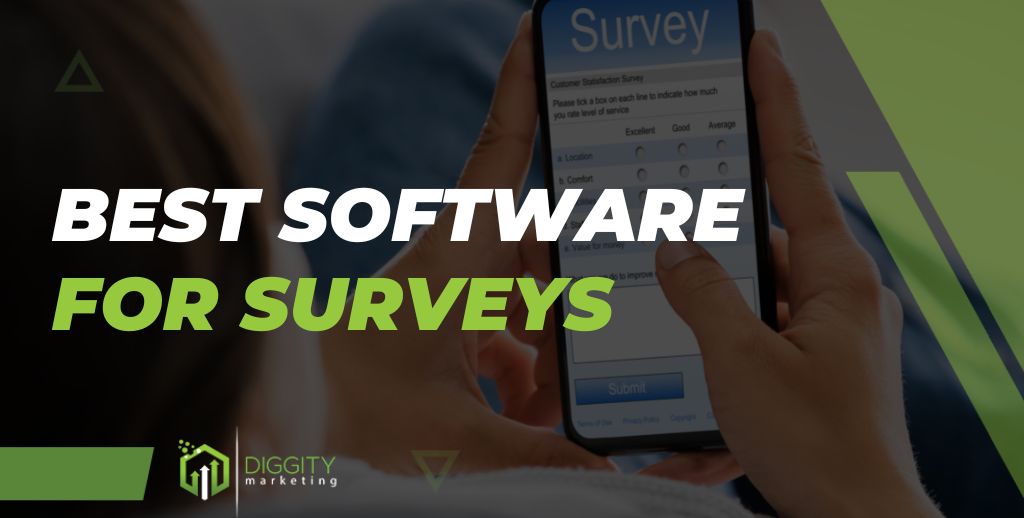 Software for surveys is a great way to generate feedback from a target audience.
These types of software serve as solid alternatives to traditional surveys with outstanding features that will keep your target audience answering questions to the very end.
Finding the best survey software can be a bit of a task, considering that so many offer a wide range of features.
I spent months reviewing as much survey software as possible, and finally, I compiled a list of the best survey software, which I shall reveal everything about in this article.
1. HubSpot (

Editor's Choice

)
HubSpot is a powerful software that seamlessly connects your data, teams, and customers in one place.
This platform comes with various features, starting with the marketing hub that helps you attract the right audience, convert more people to your clients, and run solid marketing campaigns at a large scale.
The sales feature helps you and your business close more deals and establish a solid relationship with clients.
The operations feature lets you fully synchronize, clean, curate, and automate business processes.
HubSpot has a clean and simple visual dashboard that offers a real-time view of the entire sales funnel. You can customize the dashboard to add to the default modules or remove those you do not want [3].
In terms of pricing, HubSpot offers different pricing plans for different product hubs. For the marketing hub, you can get the starter plan for $45 per month, the professional plan for $800 per month, and the enterprise plan for $3600 per month.
For the sales hub, you get the starter plan for $45 per month, the professional plan for $450 per month, and the enterprise plan for $1200 per month.
The service hub offers the starter plan for $45 per month, the professional plan for $450 per month, and the enterprise plan for $1200 per month.
From my experience, HubSpot is highly sophisticated software, with surveys being just one of its amazing features.
Pros
Has a free demo trial

Simple to use

Personalized email sequences
Cons
You have to pay for additional technical support
Custom rating criteria
Extensions: 4.9
Privacy: 4.6
Customer support: 4.6
Pricing: 4.4
---
2. SurveyMonkey
SurveyMonkey is one of the most popular survey software in the world. The platform considers itself a global leader in survey software, with 20 million questions answered daily.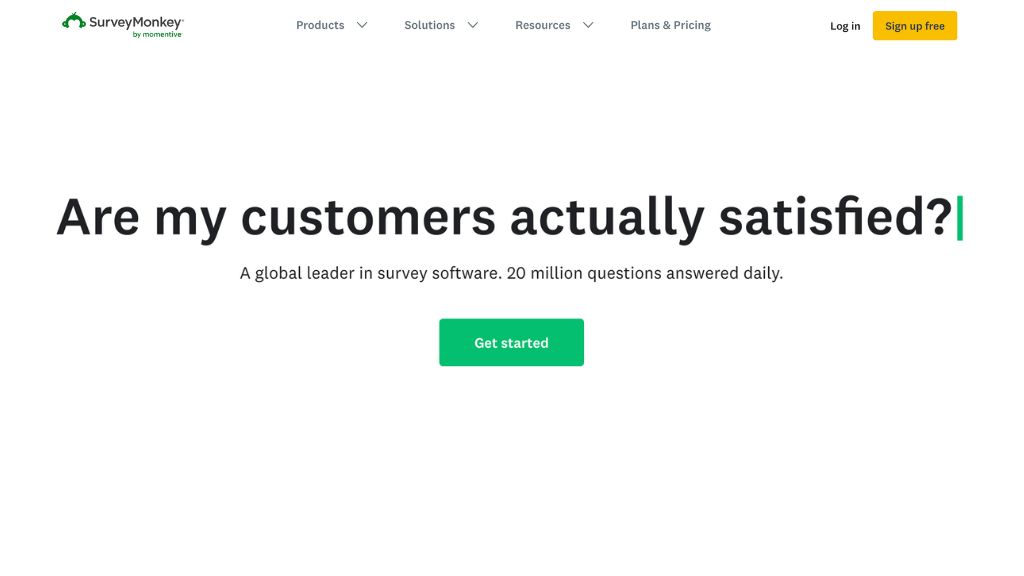 With SurveyMonkey, you can conduct a survey that can help you provide insights into what your customers want and where you can make improvements.
SurveyMonkey provides a set of nearly 30 canned answer choices in a pop-up menu to expedite answer choice entry. However, access to some of these "certified templates" requires access to a paid tier, as does the ability to edit questions from templates in your surveys [1].
If you run a business that needs survey software, SurveyMonkey has got you covered, and all you need to do is integrate its applications into your business.
SurveyMonkey offers different plans for teams, individuals, and enterprises. Team plans come in two different packages, starting with Team Advantage at $25 per month and Team Premier at $75 per month.
For individual plans, you get the premier annual, which costs $119 per month; the advantage annual, which costs $39 per month; and the standard monthly, which costs $99 per month.
The Enterprise Plan will require you to contact their sales team to learn about the price.
From my experience, SurveyMonkey is more than just software for a survey, as it has other advanced features, such as TechValidate and CX, that large organizations and businesses will highly benefit from.
Pros
Solid features for various survey types

Simple user interface

Excellent tools to customize design elements

Has flexible pricing plans
Cons
Limited question options
Custom rating criteria
Extensions: 4.6
Privacy: 4.7
Customer support: 4.8
Pricing: 4.5
---
3. SurveySparrow
SurveySparrow is a management platform you can use to conduct seamless surveys and derive great feedback.
SurveySparrow lets you turn surveys into conversations. A conversational interface enables users to create and share highly engaging, mobile-first surveys [2].
Besides creating surveys, SurveySparrow allows you to create meaningful designs, properly manage and analyze customer responses and much more using its automation feature.
You can also create cases for similar customer responses, resolve them if necessary to ensure customer satisfaction, and keep track of the process.
If you run an organization, SurveySparrow has an exciting feature called business intelligence that enables you to identify specific business patterns, discover and monitor customer trends, and even make impactful decisions.
It also has amazing pricing plans for its survey customers. For individuals, there is the free plan for starters, the basic plan at $19 per month, and the premium plan at $29 per month.
For businesses, there is the business plan at $99 per month, the enterprise plan at $499 per month, and the elite plan for businesses that need a custom solution.
From my experience, SurveySparrow is a very flexible software for conducting market research and employee engagement surveys, offering great benefits to businesses and individuals across industries.
Pros
Fast and flexible

Has a highly superior analytics

Seamless and swift integration
Cons
No email marketing feature
Custom rating criteria
Extensions: 4.7
Privacy: 4.6
Customer support: 4.8
Pricing: 4.6
---
4. Qualtrics
Qualtrics is an excellent software with one of the best free survey tools, known as "survey maker," that allows you to create, distribute, and analyze surveys for free in minutes. 
With Qualtrics, you enable everyone to capture, analyze, and share actionable insights and use them to identify or improve existing products, services, and experiences [4].
This tool has over 50 survey templates, so you can choose the one that fits your target audience the best.
From my experience, Qualtrics is a great software that you can use to assess the customer experience and that of your employees, products, and brand.
Pros
Integrates well with web services

Has an easy-to-use dashboard

Makes it easy to build a survey
Cons
The survey data analysis options are weak
Custom rating criteria
Extensions: 4.8
Privacy: 4.7
Customer support: 4.5
Pricing: 4.4
---
5. Typeform
Typeform is a unique software that allows you to create typeforms, specialized forms that add a lot of creativity to your survey.
It is impressively versatile and offers good tools for designing forms and crunching the data you collect  [5].
The platform also provides different templates for different categories, ranging from survey templates to quiz templates, form templates, and poll templates.
You can integrate it into various applications for your work or business. It is easily compatible with Slack, Zapier, Google Sheets, Airtable, Salesforce, and others.
In terms of pricing plans, Typeform is quite simple, offering you four packages starting with the free plan, the basic plan at $25 per month, the plus plan at $50 per month, and the business plan at $83 per month.
From my experience, Typeform is a simple software that is best for individuals who just want to get simple tasks done.
Pros
No credit card needed

Has a lot of app integrations

Questions can be paired with images and videos
Cons
The free plan is very limited
Custom rating criteria
Extensions: 4.8
Privacy: 4.7
Customer support: 4.5
Pricing: 4.8
---
6. Jotform
Jotform is one of the best online survey tools you will find interesting, given that it has forms that can generate reports and automate workflows.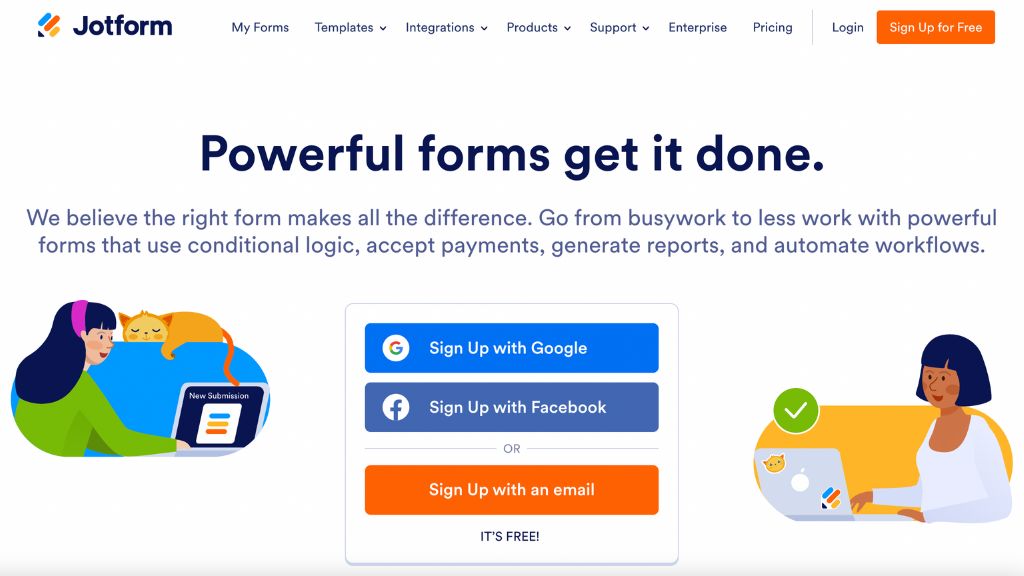 An interesting part of Jotform is that it has a no-code feature that allows you to create professional-looking forms for your surveys and style them with your logos, fonts, and colors.
Jotform has over 150 integrations that can easily sync with your business and cloud storage apps.
Jotform has free and paid plans and supports multiple languages, including French, Italian, German, Chinese, Danish, and Polish [6].
Its paid plans include the bronze plan for $34 per month, the silver plan for $39 per month, the gold plan for $99 per month, and the enterprise plan, which will require you to contact sales to determine the price.
From my experience, Jotform has all the features you need to get the most out of your survey.
Pros
The forms are easy to build

It is super quick and easy to use

Requires no setup fee
Cons
It does not have a live chat feature
Custom rating criteria
Extensions: 4.8
Privacy: 4.7
Customer support: 4.4
Pricing: 4.7
---
7. QuestionPro
QuestionPro is the best survey software for a beginner who needs a simple survey with basic multiple-choice question types, logic, and branding.
QuestionPro offers 80+ features to create online surveys for free – the highest number of free features in the research industry [7].
If you are looking to create survey solutions for customer experience, workforce, or academic research, QuestionPro has just the right features for you.
You can also gain access to multiple integrations alongside other helpful resources.
QuestionPro provides you with a free plan, an advanced plan at $99 per month, and a special team edition plan for professionals.
From my experience, QuestionPro is best for people who need to get a basic survey done quickly without needing advanced features.
Pros
Offers comprehensive analytics features

It easily adapts to mobile use

Has a very nice combination of great power and ease of use
Cons
It lacks presentation capabilities
Custom rating criteria
Extensions: 4.7
Privacy: 4.7
Customer support: 4.3
Pricing: 4.6
---
8. Zoho Survey
Zoho Survey is one of the best survey tools because it allows you to create a survey in minutes, get feedback from your target audience, and analyze the results graphically.
To design the perfect survey, Zoho Survey provides you with over 25 question types and features to ensure that it aligns with your style and type of business.
The Zoho survey protects your results with SSL and ensures you have nothing to worry about when you share the results on social media and through email campaigns.
Speaking of pricing plans, this software offers a free trial at no cost, a plus plan at $20 per month, a pro plan at $25 per month, and an enterprise plan at $60 per month.
From my experience, Zoho Survey is an excellent survey software that provides an easy way to create surveys and get the feedbacks I need.
While 88 percent of the accountants said they were able to save up to 10 hours a week using Zoho's cloud-based accounting software, over 85 percent reported being able to provide more advisory services because of the time saved on performing crucial accounting tasks.
– Sivaramakrishnan Iswaran, Global Head at Zoro Corporation
Pros
Comes with solid built-in integrations

Has an intuitive interface

Has an excellent mobile support
Cons
Has no support for display logic
Custom rating criteria
Extensions: 4.7
Privacy: 4.8
Customer support: 4.6
Pricing: 4.5
---
9. Google Forms
Google Forms is a free online survey tool that allows you to create surveys and analyze customer feedback in real time. 
To get your survey ready, you must create the form, select from multiple question types, drag and drop to reorder questions and customize your values easily before sending it to your audience for their responses.
You can also mess around with the colors, images, and fonts to fit your personal or business styles, designs, and values. 
For pricing plans, Google Forms has multiple pricing plans which come with other Google applications such as Google Docs, Sheets, Slides, and others. 
These plans include a free personal plan, the business starter for $6 per month; the business standard plan, for $12 per month; the business plus plan, for  $18 per month; and the enterprise plan, which will require you to contact sales for pricing.
From my experience, Google Forms is one of the best and easiest survey software.
Pros
Works seamlessly with other Google apps

It is easy to set up

Has easily customizable forms
Cons
The styling is limited
Custom rating criteria
Extensions: 5
Privacy: 4.9
Customer support: 4.8
Pricing: 4.7
---
10. SurveyLegend
SurveyLegend is a remarkable survey tool you can use to create branded surveys for your brand or business.
It allows you to get this survey faster to a wider audience through emails, SMS, Facebook, Twitter, and blogs.
SurveyLegend's advanced users can take advantage of unlimited features, company branding, white-label questionnaires, skip logic, branching, media-rich questions, and more [8].
This software has various pricing plans, starting with its free starter plan, the pro plan, which is $15 per month; the business plan, which is $25 per month; and the legendary plan, which is $65 per month.
I used the starter plan, and the results were quite solid and commendable.
Pros
Provides live analytics

Offers a lot of flexibility

Allows you to customize your surveys and templates easily
Cons
It does not have a PDF feature
Custom rating criteria
Extensions: 4.8
Privacy: 4.7
Customer support: 4.7
Pricing: 4.8
---
Buyer's Guide
Software for surveys are online survey tools that allow you to collect data from your clients and get feedback on a service or product that will help you or your business make the necessary adjustments.
Survey software is important because it helps you identify specific trends and patterns regarding your client's likes and needs at a particular time. 
With this information, you will be able to conduct a business analysis to ascertain the best step to take to remain as attractive as possible in the eyes of your clients.
Before purchasing the best software for surveys, there are certain factors you need to take into consideration. 
1. Software Features
The best software for surveys must have certain features that are top-tier, so you need to be on the lookout for them before taking the next step. 
These features include a survey builder, data security, data integration, an analytics tool, and multiple survey distribution channel.
These key attributes are important as they make conducting surveys much easier and are essential for your experience.
2. Pricing
Although there are many software survey options, you need to go for one that only has the tools you need at an affordable price.
Going for software with many features you do not need would make no sense, causing you to pay a sum far beyond your budget. 
For this reason, ensure the software has exactly what you need at a price you can afford.
3. Ease Of Use
Having survey software that you can easily set up, navigate and use is one of the core factors you should consider before deciding on the best buy.
Most survey software today is built with a no-code integration, meaning you do not need to be a developer to use the platform. Ensure the software you have in mind has this feature before purchasing it.
4. Business Style
You should use software that offers various survey designs and templates tailored to your business style. 
This way, it becomes much easier to customize a survey that feels more in tune with your business type.
We started administering software surveys to parents asking about their children's educational experiences by the end of March 2020. We were very fast but always careful about what we were asking and how we were asking it from the very beginning, which gave us high-quality data.
– Anna Saavedra, Research Scientist at the Center for Economic and Social Research (CESR) at the USC Dornsife College of Letters, Arts and Sciences
Frequently Asked Questions (FAQs)
What Is The Most Popular Online Survey Software?
The most popular online survey software include Survey Monkey, Google Forms, and Zoho Survey, among many others.
Does Google Have A Survey Software?
Yes, Google has a survey software called Google Forms. This software allows you to easily create surveys using its forms, after which you can share and analyze the results in real-time.
Can I Use SurveyMonkey For Free?
You can use SurveyMonkey for free, especially if you want to get simple work done. However, this is only limited to its most basic tools since its more advanced features will require you to get one of its paid plans.
Is Qualtrics Better Than SurveyMonkey?
Deciding if Qualtrics is better than SurveyMonkey will depend on your preference and what you are looking for in survey software. Other than this, they are both excellent platforms and can be used by individuals and businesses to carry out surveys seamlessly.
Get Your Best Software for Surveys Today!
Finding high-quality survey software can be challenging, but after a large period of testing, I realized Hubspot offers the best features.
Hubspot is easy to use, with a wide range of customization options and a real-time sales funnel overview. It will help your business perform better and create a steady relationship with your customers.
If you are looking for a reliable software survey that can help you elevate your business, you could give Hubspot a try and make it work to your advantage.
Our #1 Recommendation: Hubspot