A common pitfall among website owners is the reliance on the "publish and pray" strategy for their content.
Merely uploading content to your site will not automatically convert visitors into buyers; it's essential to implement measures that encourage users to stay longer and engage with your offerings.
Enter CRO (Conversion Rate Optimization)…
Drawing from my own successful experiences with CRO, I can attest to its significance. But what exactly is it? CRO is a methodical approach aimed at crafting a captivating user experience, enticing visitors to get in touch, purchase products, or become new clients.
By optimizing conversion rates, you can unlock the full potential of your website and drive tangible results.
To find out how CRO increased our client's revenue by over 300%, read on…
What is CRO? – CRO Meaning
CRO involves optimizing your website and landing pages based on user behavior to compel visitors to take a desired action (conversion) on your website.
CRO encompasses many strategies for tailoring your website to suit the needs of your audience to you can compel them to subscribe, buy your products, contact you, or otherwise convert into a new customer.
Conversion rate optimization is also the quickest way to generate more profit in the shortest amount of time, as it doesn't require more traffic but converts what already have into more buyers.
In a nutshell:
Conversion Rate Optimization allows you to make changes to your website and content that help you generate the best results (more customers or leads) from your website content. And when your conversion rate optimization is on point, you are likely to see a greater return on your marketing investment.
At The Search Initiative, we know that our clients need both CRO and SEO to have a winning website strategy and see the highest ROI possible.
Here is why Conversion Rate Optimization and Search Engine Optimization make the perfect pair when it comes to your website marketing.
CRO is Not SEO
We are big fans of SEO – but SEO is not CRO. It is easy to get the two acronyms confused.
SEO stands for Search Engine Optimization and involves attracting visitors from search engines (namely, Google).
CRO, on the other hand, is focused on turning those visitors (and visitors from other sources) into customers.
Ideally, your website strategy will involve both Search Engine Optimization and Conversion Rate optimization to attract visitors and convert them into leads and buyers. If implemented correctly, SEO and CRO are a powerful combination that helps turn your website into a traffic and lead-generating machine.
Why CRO Matters
CRO matters for websites because it's not enough to simply drive traffic to your website – you want that traffic to turn into subscribers, buyers, and clients.
The simple fact is that there's little point in investing time or money into your marketing if you're not getting a return on your investment. CRO helps you increase your ROI and make the most of your marketing dollars.
In getting started with CRO, consider your conversion goals. Do you want to go beyond traffic generation and start getting more leads/sales? Then you will need a website optimization plan.
With CRO, you get the high-ROI testing you need to determine what gets people to stay on your site and make you money. You'll have a data driven strategy for:
Creating content that converts
Laying out a web design that turns visitors into leads
Keeping users on-site until they buy
Turning passive visitors into engaged buyers or clients.
"Content doesn't win. Optimized content wins."
– Li Evans, Marketing Strategist
How We Increased Online Revenue by 350% with CRO
Our client, Susan, wanted to get more customers through her eCommerce website. She sells custom-made suede shoes.
Her top-selling product is a pair of rose-colored suede pumps, selling at $149.
In her first calculation, Susan discovers that about 2% of visitors to her landing page end up buying a pair of pumps. At last check, she got on average 2000 visitors to this page a month, which resulted in $5,960 in revenue.
But through implementing CRO (we updated and A/B tested her ad copy, included some more enticing images, and added a bold Call To Action button to the checkout page), we boosted her conversion rate to 9%.
In this case, her revenue jumps to $26,820 (2000 visitors x 0.9 x $149) per month. Big difference from $5,960, right?
The power of CRO is nothing to scoff at – it can make a huge difference for your business if you understand the process and take action on your own optimization plan.
So, let's get started…
The CRO Process
CRO allows you to identify, test, and implement certain optimizations that will turn traffic into buyers.
But you can't make these improvements unless you know what's "broken" or what your existing numbers are. That's why the CRO process starts with you knowing your number of conversions and calculating your conversion rates.
Understand Your Conversion Rates
Your conversion rate is the number of people who follow through on a call-to-action divided by the number of visitors that visited that landing page.
So, say 100 people visit your web page from Google and 2 of those people end up filling out the contact form on that page. Your conversion rate would be 2 / 100  x 100 = 2%.
By knowing your conversion rates, you can understand the effectiveness of your website marketing and set a benchmark by which you compare all future optimizations.
Your goal, then, is to improve this conversion rate over time by making adjustments to your website structure, content, and CTA features.
Measuring CRO
While your conversion rate is a useful metric by which you can measure the success of your website marketing, it is not the end all be all. There are other metrics that contribute to the overall success of your business – such as revenue per visitor, average order value, lead quality, and more.
With this in mind, you'll want to track your website traffic, determine your conversion rates, calculate your ROI, and then identify any areas for improvement. Then, you'll be able to create a plan for how to optimize your website.
Create a CRO Action Plan
Know that it's virtually impossible to have a conversion rate of 100%, but there are certainly steps you can take to increase conversions on your website. Once you identify areas that have a less-than-ideal conversion rate, you can lay out an optimization plan for how to improve your website's CRO.
We will talk about some CRO best practices that you can implement on your website later on, but your unique optimization plan will greatly depend on you A/B testing incremental changes and determining what works for your site.
But first, let's look at a CRO concept that provides an excellent framework for how to create a high-converting landing page…
The Conversions Hierarchy
There is a concept in CRO that's known as a "visual hierarchy" (or "conversions hierarchy") which is essentially a framework website owners can follow when it comes to laying out a high-converting landing page.
A visual hierarchy is a unique way of organizing your website so it communicates the importance of the content, highlights the products you want to sell, or otherwise directs users to your CTAs.
This framework involves including certain "cues" (such as copy, button color, size, shape, contrast, or positioning) that help visitors notice features/products on the landing page.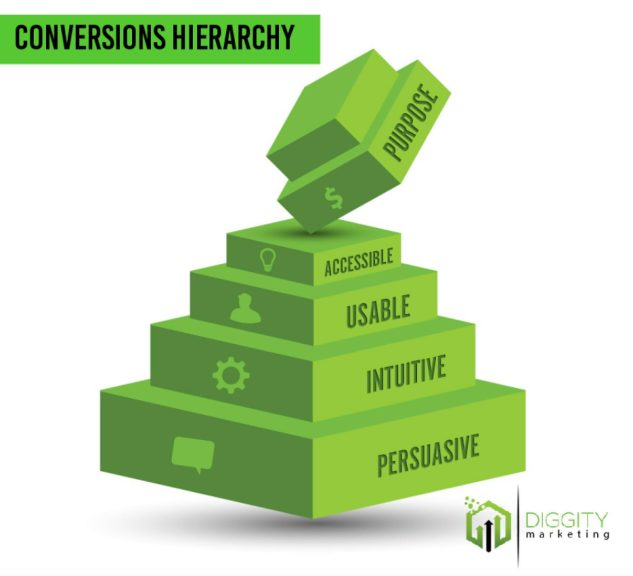 There are many models that represent a conversion hierarchy, but the basic structure is this:
Purpose – What purpose is your website trying to fulfill? How is this message communicated on your site?
Accessible – Is your website functional? Do all the features work?
Usable – Can users easily navigate your website? Can users access it on mobile devices?
Intuitive – Can users find what they are looking for on your website? How is your content organized? Is it easy for users to identify your CTA buttons? How are products positioned on the landing page?
Persuasive – How are you communicating the value of your offer(s)? Are you highlighting the features and benefits of your products/services? Do your product/service images look appealing? Do they stand out compared to the other content on site?
Basically, CRO not only involves communicating WHY your offer is so great, but also positioning your offer in a way that grabs the user's attention. That's why much of CRO involves design elements, site navigation, imagery, and organization to direct visitors to your CTAs.
"CRO is about how all of the different pieces come together."
– Tania Lyerly,
Torspark
So, what key elements does your website need in order to convert traffic into customers?
Let's take a look…
Key Elements Needed To Convert
CRO requires four elements to convert website visitors into leads, buyers, or clients. These elements are:
User psychology
Design
Copywriting
Analytics
User Psychology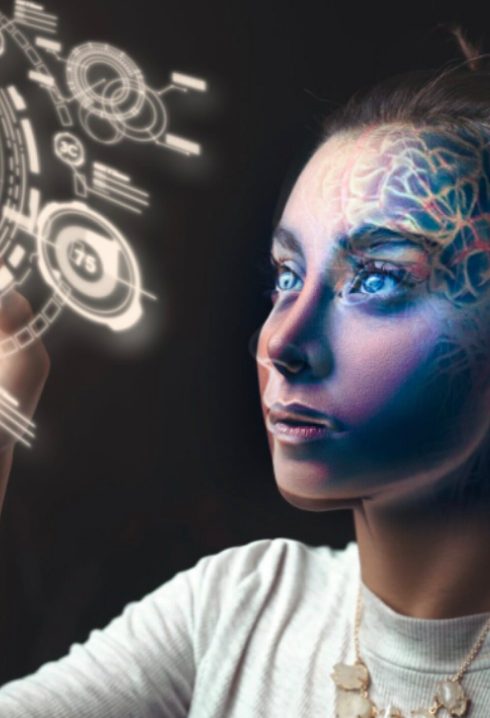 It's hard to know what will compel users to convert on your website if you don't understand what makes them tick. In other words, you need to know what they are interested in, what features they are looking for in visiting your website, and what messaging entices them to convert.
User psychology involves an understanding of user behavior and basic persuasion principles. For instance, your audience might be influenced by seeing testimonials (social proof) from past clients, by compelling copy that communicates the benefits of your offer, or by video tutorials that explain the features of your products.
Design
Your website or landing page design plays a huge role in converting visitors into buyers. If your website isn't fast, functional, and user friendly, it's unlikely that users will stick around long enough to buy.
So, your website should have a professional design, be easy to navigate (on desktop and mobile), include clear CTA buttons, and include easy-to-read content. Further, it should utilize a visual hierarchy to highlight your most important offers and direct users to your conversion points.
Copywriting
Copywriting utilizes an understanding of buyer psychology to craft a message that entices your unique audience to take action. Copy will vary from business to business because it depends on who your audience is, what they want, and what your brand represents.
It's highly recommended that you work with a professional copywriter to conduct audience research and craft copy that resonates with your target audience. If you are more of a DIY type, a great resource for how to improve your web copy is "Web Copy That Sells" by Maria Veloso.
Great copy can make all the difference when it comes to persuading visitors to opt into your offer, buy a product, or pick up the phone.
Analytics
With analytics, you gain valuable insights into how users interact with your site, what pages they engage with the most, and which CTAs trigger the most conversions.
We highly recommend taking a data-driven approach by optimizing your site according to what's working with your unique audience. We recommend a variety of tools to help you track your traffic and asses your website's CRO:
Google Analytics – Experiment with different content types and track conversions on important web pages.
HotJar – Watch how users navigate your site with heatmaps, mouse tracking, and user behavior tracking.
Optimizely: Run A/B and multivariate tests on existing web pages to see which ones convert the best.
Ready to improve your CRO? Implement these CRO techniques to boost your website conversion rate…
CRO Best Practices
Following are some tried-and-true CRO best practices to get the best results from your digital marketing.
Survey Your Audience
One of the best ways to understand what compels your audience to take action is to simply ask them.
You can conduct a market research survey (using Google Forms, JotForm Survey Maker or Typeform's survey platform) to ask your target audience what their pain points are, what features/benefits they're looking for, and what elements they find most engaging on a website.
With this insight, you can make sure your copy and web design suit your audience's unique needs.
Analyze User Behavior
Similarly, you can dig into your existing analytics to see which web pages get the most engagement and conversions. This will give you some idea as to what content performs best or which CTAs get clicked on the most.
You can also run a heatmap analysis to see where people click and how they navigate the page. Then you can optimize for maximum conversions.
Raise Your Relevancy
Your digital marketing campaigns (and subsequent landing pages) are more likely to convert if you're attracting a relevant (and preferably "warm") audience.
You can raise your relevancy by targeting high-converting keywords in your SEO, tweaking the targeting on your PPC campaigns, or using targeted copy on social media. The more "primed" your audience is before they get to your website, the more likely they are to hop on your offer.
Track the Customer Journey
You can use Google Analytics and similar tools to track how users navigate your website from one page to another. Typically, this involves looking at a "content drilldown" or "flow" report to see which pages users visit in succession.
With this data analysis, you can see where users drop off and therefore where further optimization may be necessary. For example, if customers are dropping off right before they confirm their purchase, you might need to create a frictionless shopping cart experience or add a clearer "Buy Here" CTA button.
Bring Important Products/Offers to the Forefront
Don't bury your most important offers or conversion points on your website. It should be stupid-easy for users to find what they are looking for, sign up for your freebies, contact you, or buy your products.
So, if you are promoting a free search engine optimization audit, add that as a button on your main menu or include an opt-in on your homepage. If you have an ecommerce site, make sure your Products and Category pages are referenced in the main menu. Users shouldn't have to dig through your site to find your free or paid offers.
Adopt a Visual Hierarchy
You can use colors, sizing, and contrast to have certain elements stand out on your website. This will help you grab visitors' attention and compel them to convert, faster.
For instance, your CTA buttons should be high-contrast so they stand out from the rest of the content on your site. You should also have clear, visually appealing images on your product pages that highlight the most important features.
The goal is to make your most compelling offers and CTAs stand out against the rest of the content on the page.
Use Value-Building Copy
Different pages on your website serve different purposes. Some might aim to inform while others aim to persuade. So your web copy should align with where users are at in their buying journey.
Craft copy that communicates the value of your offer, whether it's paid or unpaid. Speak to the benefits your audience is looking for (based on your market research) and position these against what's offered by your competitors. Then, utilize persuasion techniques (like Reciprocity, Social Proof, or Authority)  to encourage users to opt into your offer.
Include Clear and Concise CTAs
Your CTA buttons or text should clearly state what users are opting into. They should be easy to read, stand out from the rest of the content on your site, and utilize concise language.
Avoid CTAs like "More" or "Get it Now" and instead aim for CTAs like "Add to Cart", "Get My Audit", or "Download Ebook" which clearly state the action you want users to take.
Add Social Proof
Social proof (like client testimonials, reviews, or case studies) shows prospective customers that you not only talk the talk but can also walk the walk. Social proof can be used to boost your authority, position you against the competition, and highlight the results you have generated for past clients.
Include social proof on your sales pages, product pages, and throughout your website to compel visitors to request more information and ultimately buy what you're selling.
Reduce Friction on Your Website
Avoid clunky elements on your website that might slow down the buying process. For ecommerce, make it easy for users to add items to their cart and follow through on their purchase. For other offers, make sure your contact forms work and that your links direct users to the correct landing page.
A/B Testing
Finally, every CRO adjustment you make on your website should undergo A/B testing so you can see what's working and nix what isn't. Use A/B testing to compare the conversion rate before and after the change so you can know whether your optimizations are moving the needle.
Let's take a look at the results that can happen when you improve your website's CRO…
CRO in Action
At The Search Initiative (TSI), we were able to help one social media marketing website lift their algorithmic penalty and increase their CTR from 3.8% to 16.4%.
This client offers monthly subscriptions to help clients gain better social proof on Facebook, Instagram, and other social media platforms. Unfortunately, their site was hit by an algorithmic penalty that decreased traffic to almost 1/10th of their previous volume.
After we had managed to lift the penalty, we ran a CRO test using Google Analytics to visualize the path users traveled from one page to the next. Once we saw where users were dropping off, we optimized these pages with better content and clearer CTAs to improve their conversion rate.

The result? We increased the number of visitors by 9,109% and saw a 388.48% increase in revenue, a 1,186.99% ROI increase, and a 7,610.70% increase in leads!
Interested in getting results like this? Contact us today at The Search Initiative and get a free consultation.
FAQs:
How Do I Improve My Conversion Rate?
You can improve your conversion rate optimization by using CRO tools to investigate why visitors aren't taking the intended action on your website, such as clicking a call-to-action (CTA) button, subscribing to your email list, or purchasing an item.
Once you know what's stopping people from converting to your website, you can decide what to test (through A/B testing or multivariate testing) to fix the problem and boost conversions.
What Can Help You Analyze Conversion Optimization?
To help analyze conversion optimization, you can use both quantitative and qualitative CRO tools, such as Google Analytics, for example. These tools will help you assess the efficacy of your conversion rate optimization strategies.
How Do You Measure Conversion Rate?
You can measure the conversion rate by taking the number of customers who converted and dividing it by the total number of people who visited your site and multiplying the result by 100. If you want to know if the tweaks you've made to your site have improved conversions, you need to regularly monitor your conversion rate.
Conclusion
CRO can make a world of difference for your business by generating more leads and sales from your website traffic. Search Engine Optimization may be one part of the equation, but you need CRO to convert visitors into buyers.
There are many steps you can take to improve your conversions, such as optimizing your content, adding clearer CTAs, using A/B testing, and adopting a visual hierarchy on your site. You can certainly implement some of these changes on your own, but it helps to have a pro-look at your site.
Learn more about our data-driven approach to CRO and website optimization at The Search Initiative. We're here to help you turn your website into a lead-generating machine.
"They're the only agency I've worked with that consistently rank my clients – focusing their strategies on technical Search Engine Optimization. I like that a lot – the best SEOs are always technical."
Aires Loutsaris, SEO Consultant
"I've been working with The Search Initiative for over 2 years. In that time, I've seen some amazing results with some hard cases. I've been able to get detailed and wonderful project management, great follow-up and really have a hands-off experience."
Chris Romero, Full-Scale SEO
"Great service. Each month our traffic increases and we got tons of new leads. The only issue for us is keeping on top of all the new business!"
Steve C, USA Investment Website Owner
Get a Free Website Consultation from The Search Initiative: