As an experienced affiliate marketer, I understand the importance of maximizing your website's income potential. If you're not utilizing pay-per-click affiliate programs, you may not be reaching that potential.
Having invested in creating quality content as an affiliate marketer, you can now benefit from other affiliates who are eager to display their sites to your audience, paying an ad network for each click.
In this guide, I will discuss 10 platforms to help you benefit from pay-per-click affiliate programs. For each network, I will delve into key features and provide an overview of their policies based on my expertise in the field.
What Are The Best Pay Per Click Affiliate Programs?
The best pay-per-click affiliate programs are all listed below. You can get a share of billions of dollars that swim around PPC, but you don't have to take any of the risks by doing the spending. It's a win-win situation.
The 10 PPC affiliate programs we will discuss here are:
Media.net
Ezoic
Google AdSense
Sovrn (formerly Viglinks)
Revenue Hits
Adsterra
Adblade
Bidvertiser
Mediavine
Infolinks
Below, I'll tell you a little about my experiences with each of these PPC affiliate programs—including some of the best ways to take advantage of their policies to earn the most money possible.
As far as policies for these PPC affiliate programs, I've focused on the ones that will make the most significant difference when it comes to getting paid.
I'll cover the commission rates, what actions earn, how long it takes until you can collect, and how to get the cash you've made from each ppc affiliate program on the list.
Let's start with one of the largest non-AdSense pay-per-click affiliate marketing programs out there.
1. Media.net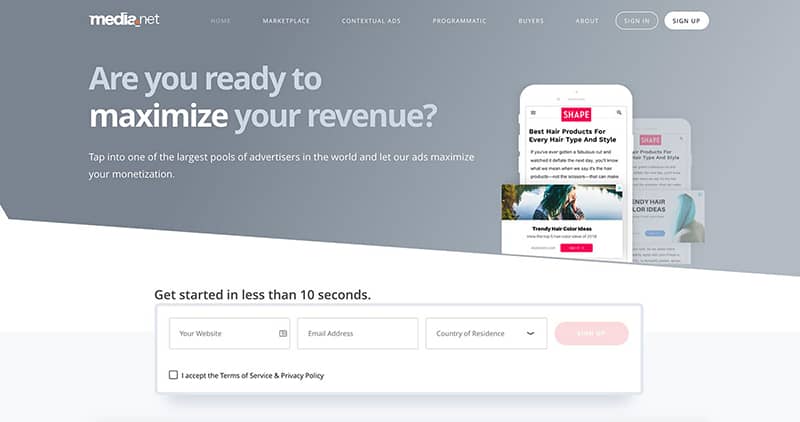 Media.net is a major player in the larger Yahoo!/Bing Network ad network. Advertisers from all over the world pay to do their pay per click advertising here, and you could be collecting a share as one of the many affiliates hosting ads.
Don't turn your nose up just because this platform doesn't handle Google ads. It serves more than $6 billion worth of PPC and other ads every year on some of the internet's most high-traffic sites.
However, you don't need to have a significant amount of visitors to make this network work for you.
Thanks to generous rates for impressions—and the number of ads you can post on each page—as an affiliate, I was able to make hundreds a month with around 1000 views a day. So I would say that this is a very suitable PPC affiliate program for beginners.
Key Features
One of the largest advertisers in the world: If you want to work with Bing, you won't find any larger pay-per-click affiliate programs anywhere else. Your affiliate website will have access to a massive amount of PPC advertisers in all kinds of different niches.

Up to 3 adverts on each page: You can have as many as 3 adverts running on each of your pages simultaneously. This can allow you to maximize the number of views you get with this network. There are also in-content ads that may appear similar to affiliate links.

Accepts niche websites: Media.net accepts all kinds of niche websites due to the massive variety of advertisers that they serve. If you're focused on a narrow niche, you're likely to find good partners here.
How to Make Money With Media.net's Program
Making money with Media.net is a matter of maximizing views. The network allows you to have up to 3 adverts on each page, and that means you can achieve 3 impressions for each person who arrives on that page and sees the click affiliate programs ads.
You're free to host an affiliate link on each page receiving traffic—maximizing the value when compared to other ppc affiliate programs.
It's important to note: If you want to stay with this PPC affiliate network you need to keep things on the level. Many people have left reviews complaining that this network bans people very quickly over low-quality traffic and suspicions of click fraud.
Policies That Matter To An Affiliate Site Owner
| | |
| --- | --- |
| Program key measures (1000 views, or per click, etc.) | CPM, CPC, CPA, and CPL |
| Minimum traffic | 5000 visitors per month to qualify |
| Types of PPC Ads | In-content contextual ads |
| Payment methods | Paypal, Wire Transfer |
| Payout conditions | $100 minimum threshold |
---
2. Ezoic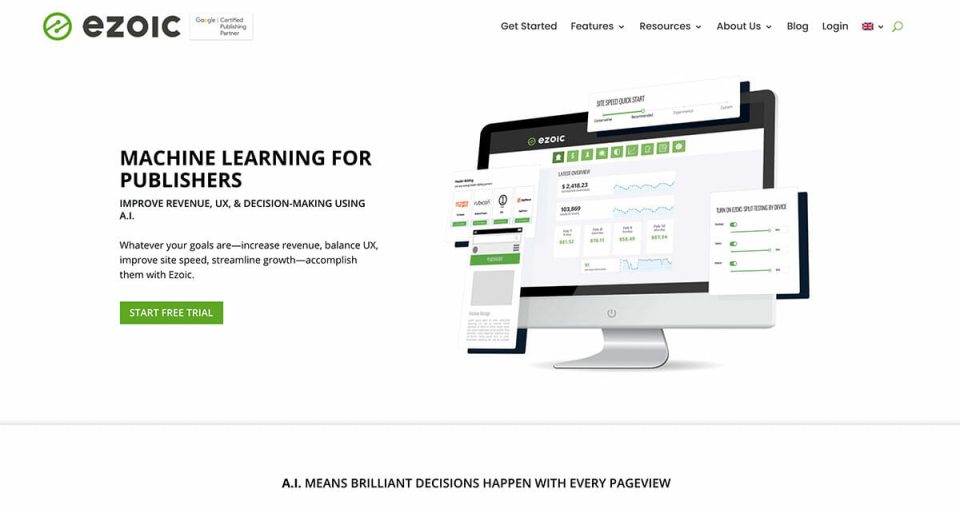 Ezoic is a small but insistently modern pay per click affiliate program. Advertisers and PPC affiliate marketing publishers on the network enjoy access to several AI-enabled features.
These include automated optimizations to improve conversion rates and advanced testing features that this referral program offers.
Ezoic claims that these features directly improve the UX for users. Having used Ezoic extensively in my own PPC campaigns, I can attest to these claims as well as the platform's effectiveness.
Key Features
Advanced testing features to run your own experiments: Ezoic allows you to set rules and change preferences so that you can perform split tests without applying any other software or plugins.

A unique tracking system that replaces RPMs: This network replaces traditional RPM tracking with one that measures significantly more factors, including how many times the user has visited, and what time of day they visit, making it much easier to boost your affiliate income from Google Ads and other sources.
How To Make Money With Ezioc's Program
Ezoic uses a unique measurement to set session earnings: Earnings Per Thousand Visits (EPMV).
This system accounts for a lot of different factors on the web page where advertisements are being measured and awarded different rates.
One of the most important factors is the device that's sending the traffic (such as a PC or mobile device).
The Ezoic calculator[1] can help you predict the earnings on your PPC affiliate marketing website based on the traffic that you already receive, reducing your work as an affiliate marketer by helping you predict your website traffic.
Policies That Matter To An Affiliate Site Owner
| | |
| --- | --- |
| Program key measures (1000 views, or per click, etc.) | CPM Earnings Per Thousand Visits (EPMV) on a sliding scale from $.40-.91 |
| Minimum traffic | 10,000 monthly visits |
| Types of PPC Ads | Native ads, anchor ads |
| Payment methods | Check, Paypal or ACH |
| Payout conditions | Net-30 |
---
3. Google AdSense
Google AdSense is the largest online advertising platform in the world. It is already home to millions of affiliate marketers looking for an extra buck, and few networks are better known for their PPC affiliate marketing programs.
As a seasoned PPC affiliate marketer, I have utilized Google AdSense and its PPC affiliate marketing programs in numerous campaigns, leveraging its sophisticated analytics and targeting capabilities to generate high-quality traffic and conversions across a wide range of niches.
Publishers who sign up for Google Ads will get to enjoy Google's significant technology advantage. Google AdSense has some of the best analytical tools in the game and uses its search insights to deliver ads that are highly relevant to your website traffic.
Key Features
Automatic optimization for mobile phones and tablets: All the pay per click

Google Ads

automatically resize for ideal viewing when seen on a tablet, phone, or another mobile device.
Exceptional control of Google Ads: Google gives you a large selection of Google Ads controls. You can block the ads you don't like, determine where they appear, and filter out the ones that don't fit your site. It also has in-article text ads that will look identical to your affiliate links.
How To Make Money With Google Adsense
Making money with Google AdSense depends on your ability to generate impressions from the visitors you're already attracting to click any on-page affiliate link. While the advertisers will pay per click, you're rewarded for impressions.
Google AdSense can be very picky about what traffic qualifies. If you want to get paid, you need to attract US traffic that's searching within lucrative categories. If you already care about getting high-quality visitors for your pay-per-click affiliate programs, this likely won't be a problem.
You'll also need to be careful if you want to avoid getting banned from this PPC network. It doesn't take much to be accused of click fraud, and there aren't any reliable ways to appeal.
As an example, if you receive 50,000 page views a month from North American visitors searching for electronics, you stand to earn around $5,000. However, if the category is real estate, that same amount of website traffic could net you nearly $14,000.
This information comes from the calculator Google provides for its pay per click affiliate programs publishers. You can play with it to learn more about the possibilities[2].
Policies That Matter to an Affiliate Site Owner
| | |
| --- | --- |
| Program key measures (1000 views, or per click, etc.) | Between $0.10 to $0.30 per view, but averages out at $0.18 per view. Use a revenue calculator here. |
| Minimum traffic | None |
| Types of PPC Ads | Text and Display ads, In-feed ads, In-article ads |
| Payment methods | Checks. Electronic Funds Transfer (EFT). EFT via Single Euro Payments Area (SEPA). Rapida. Wire Transfer. |
| Payout conditions | $100 threshold, net 30 |
---
4. Sovrn
Sovrn (formerly Viglinks) is a smaller but still substantial advertising service that works with more than 40,000 independent sites, including many affiliates who want to take advantage of pay per click monetization.
It supports a good variety of PPC ad formats and sizes.
All the ads it supports are display ads, so they won't get in the way of the affiliate links you use in your content.

It supports its membership with an impressive array of tools to enhance the user experience, collect data, and add new website features.
This can make for some impressively easy testing when it's combined with Sovrn's analytics features.
We found their analytics features really useful for testing and optimizing audience targeting, revenue, and other key metrics, which helped us improve our campaigns and drive better results.
This network has grown to the point that its pay per click affiliate program is now regularly recommended as an alternative to AdSense.
Key Features
Ad Unit Creation Tools:: Sovern offers "//Signal", a product that helps publishers create new ad units. //Signal gives publishers ideas of how to monetize their audience's activity based on the massive amount of data that it collects.
Adblock Monetization: Another feature, "AdBlock Unlock", detects visiting users that are using ad blockers and gives them customized requests to whitelist your site. The end result is higher conversion rates.
How To Make Money With Sovrn's Program
Like several other pay per click affiliate programs on this list, Sovrn reserves the best rates for US-based traffic. If you're making money off a good US affiliate program, that's a criterion you likely already meet.
If a majority of your traffic is not from the US, joining this PPC network will be difficult, and you won't get paid much for your trouble.
Svorn is a good PPC network for small publishers and new affiliates because it has one of the lowest payment thresholds in the business. It also has a low minimum Pageview threshold compared to other pay per click affiliate programs on the list.
You're eligible for payment at $25, and that means you can earn money from your ads very quickly. Additionally, payment is wired as soon as you hit that threshold. You don't need to request a withdrawal or wait another 30 days.
Policies That Matter To An Affiliate Site Owner
| | |
| --- | --- |
| Program key measures (1000 views, or per click, etc.) | CPA, CPM |
| Minimum traffic | 1,000 daily pageviews |
| Types of PPC Ads | Display ads |
| Payment methods | PayPal, Wire Transfer, ACH, Check, and eCheck |
| Payout conditions | Minimum payment threshold of $25 |
---
5. RevenueHits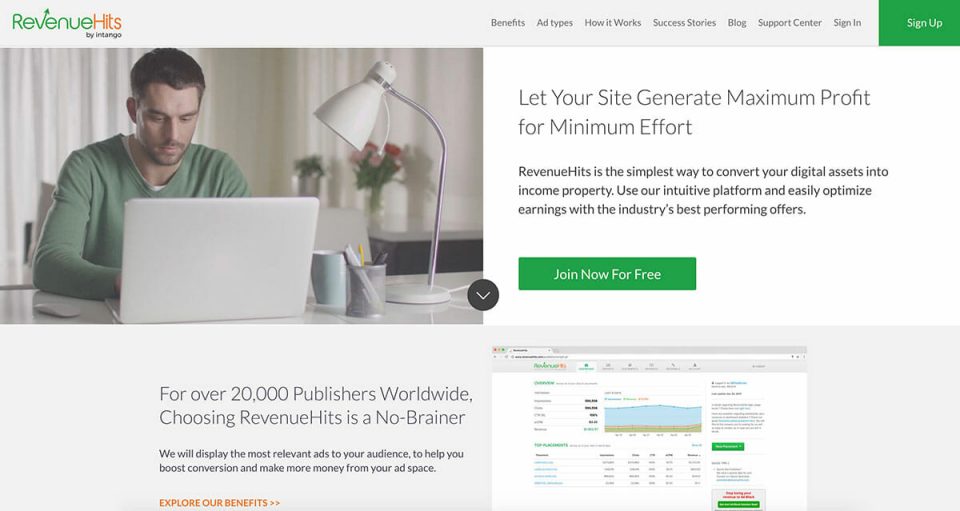 Revenuehits is an ad network that prides itself on offering its 20,000+ publishers a mostly hands-off experience to monetizing their sites. It offers pay-per-click affiliate programs in addition to several other ad revenue options for affiliates and advertisers.
The network chooses the pay per click ads that appear on the publisher's blogs and landing pages. They claim the lack of choice is balanced out by exceptional optimization algorithms that match ads closely to the traffic of the destination site.
There is a wide variety of different banner shapes and sizes. Drawing from our experience, they're mostly visual so they didn't interfere with any affiliate links we had throughout our content.
While advertisers can choose from a series of ad models including PPC, publishers are paid on a CPA (cost per action) model. As a PPC affiliate marketing advertiser, you'll only be paid when your ads collect clicks.
Key Features
CPA driven: RevenueHits operates a lot like the affiliate programs that you're used to. It only pays publishers when a visitor clicks on an ad and then performs an action such as a signup or purchase.
Multilevel tracking and reporting systems: This network makes use of advanced tracking tools that monitor statistics, impressions, total clicks, and the amount of revenue collected from customers.
Adblock monetization: Like some other

pay-per-click affiliate programs

on this list, this one maintains alternative methods to reach people who have Adblock systems activated. These alternative ads allow for 100% monetization of your traffic.
How To Make Money With Revenuehits's Program
To earn money with RevenueHits, you'll need high-quality traffic.
You won't be paid on impressions, so it's important that you're able to deliver traffic that will rack up clicks. If you have an affiliate link on the page that gets a decent amount of clicks, that's a good sign the ads can work, too.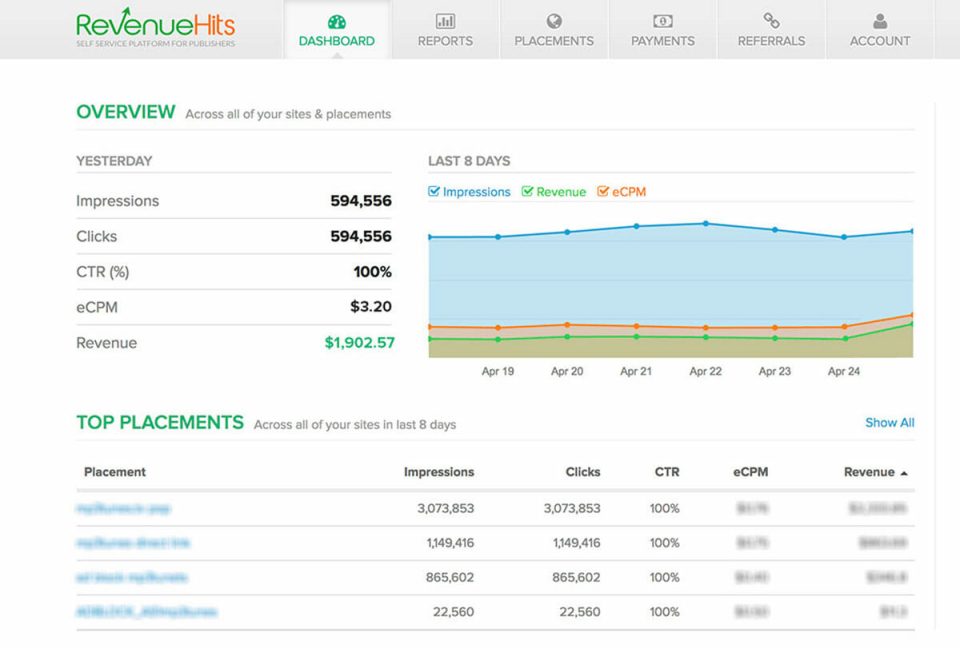 For its own part, the network has some advanced tools to deliver highly-relevant PPC ads to your traffic. How much you make may depend on how effective those tools are, but at least you'll enjoy a 100% fill rate so that none of your placements will be wasted.
Like many other pay-per-click affiliate programs on this list, RevenueHits has methods it uses to check for click fraud or farms.
Policies That Matter To An Affiliate Site Owner
| | |
| --- | --- |
| Program key measures (1000 views, or per click, etc.) | CPA, RPM up to $10 |
| Minimum traffic | None |
| Types of PPC Ads | Display banner, button, footer, interstitial, pop ads, shadow box, slider-top banner, dialog, and notifier |
| Payment methods | PayPal |
| Payout conditions | $20 |
---
6. Adsterra
Adsterra is an advertising network that claims to enjoy more than 25 billion impressions a month. Many of the publishers are affiliates who are looking for ways to add to the income they collect from affiliate links.
When we signed up we had access to dozens of advertising models, including PPC, CPM, CPA, CPC, CPL, CPO, and CPI.
We found that its reputation is really built on the work it has done to filter low-quality advertisers out of its PPC program. It is also known to pay publishers and affiliate marketing partners very promptly and reliably.
Key Features
100% fill rates: Adsterra always posts ads in every spot that you've authorized on your website, and has options and alternatives in place to respond to visitors with ad blockers.
Large variety of ad formats: This network can take advantage of all types of ad spaces on your

affiliate website.

That includes banners, web push ads, native ads, and Video Ad Serving Templates (VAST).
Variable rates: Rates float based on a number of factors, including the browser and operating system used by the visitor. Advertisers may be able to prevent their ads from appearing in front of sites with low-performance traffic.
How To Make Money With Adsterra's Affiliate Program
Adsterra is a selective network—some would say the best pay per click network on this list.
A lot of SEO marketers like to advertise here because the options can so easily be customized to different products. If you get accepted, it's likely because you're already able to produce a steady amount of high-quality traffic.
If that's the case, then your best chance to get paid a lot is by taking advantage of all the experimentation that you can do through their PPC programs.
Policies That Matter to an Affiliate Site Owner
Program key measures (1000 views, or per click, etc.)
Banners are CPM/CPC/CPA/CPL/CPI
Pop Unders are CPM/CPA/CPL/CPI/PPI
Web Push ads are CPM/CPC/CPA/CPL/CPI
Native ads are CPM/CPC/CPA/CPL/CPI
VAST ads are CPM/CPA/CPL/CPI

Minimum traffic
5000 impressions each month for popunders, 50,000 impressions each month for display ads
Types of PPC Ads
Banners, pop-unders, web push, native ads, video ads
Payment methods
Bitcoin, Wire Transfer, Paxum, PayPal, WebMoney, Epayments
Payout conditions
Net15, Minimum payout is $5 for Paxum and Webmoney; $100 for PayPal or Bitcoin, or $1000 for Wire Transfer.
---
7. Adblade
Adblade is a premium ad network catering to some of the most successful advertisers and publishers in the world. The ads served here are content-style, meaning that they appear to be related articles or blogs.
The content-style ads are posted at the end of your content, so they won't interfere with affiliate-link anchors in your content.
If you'd like to join this network as a publisher, you'll need at least 500,000 page views a month. We decided to try them out and we were surprised to see that we had access to some of the largest and best-paying advertisers online—huge news sites like Fox News and search engines like Yahoo!
They don't place any significant restrictions on verticals. Any website on any topic, including those used by affiliates, may be able to find a home here as long as the pageviews are there.
Key Features
Compatible with AdSense: Even though the ads aren't Google's, you can still use the AdSense analytics tools to track the performance of their PPC programs. That's a great benefit since AdSense has some of the best technology in the business, and can help you with the affiliate side of your site.

"Newsbullets": This is a proprietary type of ad that resembles a piece of content. Adblade claims that these ads can deliver 3x the performance compared to typical banners on your website.
How To Make Money With Adblade's Affiliate Program
If you're approved for the Adblade PPC affiliate program, it's because your affiliate marketing website is already doing really well. If you've worked hard to get approved for any top affiliate program that pays per click, you can expect the same kind of scrutiny here.
Adblade may pay off well for you if you have traffic that matches the needs of their huge advertisers.
The content-style ads are likely to match well with sites that are also based around blogs rather than videos or images. The average affiliate program already prefers that, so a practicing affiliate may find acceptance easy here.
Your readers will be more likely to click through on the ads if they think they're going to get the same kind of content they're already reading.
Policies That Matter To An Affiliate Site Owner
| | |
| --- | --- |
| Program key measures (1000 views, or per click, etc.) | CPC, CPM |
| Minimum traffic | 500,000 pageviews a month |
| Types of PPC Ads | Banner ads, news bullets |
| Payment methods | Check, ACH direct deposit |
| Payout conditions | Net-30. $100 and for international ACH ( $250 ) |
---
8. Bidvertiser
Bidvertisers is one of the oldest among other PPC affiliate programs in the game. It dates back to 2003 when PPC ads were just beginning to appear.
While it didn't exactly meet its goal of being a serious challenger to Adsense, the fact that it's still around says a lot about its stability. It's a solid choice for website owners who want to diversify their affiliate income.
It is an advertising program that allows publishers to form relationships directly with PPC advertisers rather than assigning PPC ads to each website based on an algorithm.
There are currently more than 80,000 partners in the program. We found their signup process to be very easy. So we weren't shocked to see that there are a lot of people with no prior experience selling online on there.
While it's easier to join Bidvertiser than many of the sites on this list due to the low traffic requirements, you will still need a website that's free of adult content.
Key Features
Automated approval process: The approval process to join Bidvertisers is completely automated. Your affiliate website will be scanned. As long as it is detected that you meet the minimum requirements, you will be approved. Advertisers can choose their sites, so you'll still need to meet their standards.
Exceptionally low payment threshold: You can collect any earnings from this network after making only $10

with their PPC programs,

as long as you accept Paypal. This is one of the lowest thresholds on the list.
How To Make Money With Bidvertiser's Affiliate Program
Your income on this network is heavily dependent on the advertisers that you choose after joining the pay per click affiliate program. Apply the same instincts you would when picking an affiliate program, and you'll probably do well.
If you don't select an advertiser, the ads that are posted to your affiliate marketing website will not be contextual, and that means that the click-through rate is likely to be very low.
Additionally, the network doesn't offer good rates at all for traffic that is outside of the U.S. If that's most of your traffic, you may be better off on a different network. If you have traffic that pleases a good US affiliate program, it likely won't be a problem.
Policies That Matter To An Affiliate Site Owner
| | |
| --- | --- |
| Program key measures (1000 views, or per click, etc.) | CPC, CPM, and CPA |
| Minimum traffic | None |
| Types of PPC Ads | Display Ads, Pop-Under Ads, Slider Ads, XML Feeds, desktop and mobile |
| Payment methods | PayPal, Bitcoin, Check, Bank Wire |
| Payout conditions | $10 for Paypal, $100 for Check, $500 for Bank Wire |
---
9. Mediavine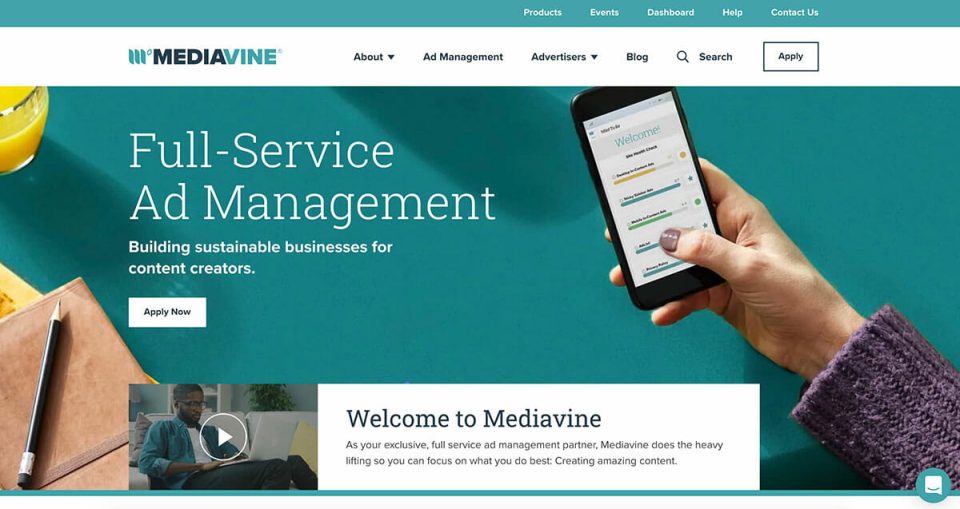 Mediavine is a large, well-regarded network with some high standards. It has tight controls in place that limit participation by both lower-end advertisers and PPC affiliate publishers.
This network, like AdBlade, is one that is only accessible to publishers who have been able to generate a significant amount of traffic. To apply, you'll need to be able to show that you can draw in at least 50,000 visits a month. Luckily, our application was accepted rather quickly. Their revenue share and loyalty bonuses are what particularly appealed to us.
The other side of this bargain is that its pay per click affiliate program offers some of the highest rates in the business, with RPMs as high as $30.
Key Features
Powerful connections: Mediavine has famously good relationships with top advertisers, including some of the most prestigious in the affiliate world. On top of that, it owns some major publishers including Hollywood Gossip and Food Fanatic.
Concierge-grade support: Mediavine is known for having exceptional and responsive support for both

affiliate website

owners and publishers.
Revenue share and loyalty bonuses: You receive 75% of gross proceeds paid by advertisers and networks as reported by the ad server. That share increases by 1% or more for each year you're with Mediavine, up to 5%.
How To Make Money With Mediavine
Mediavine offers some of the highest RPM rates among all other PPC affiliate programs on this list. The rate of $30 was possible with Adsense only a few short years ago but hasn't been available for a long time now.
Naturally, a lot of affiliates have gravitated here. You can run your affiliate program while running these ads at the same time.
If you've built an audience on an affiliate marketing website, making Mediavine pay may just be a matter of dropping your current advertiser and switching over. You should be able to collect increased rates by doing only that.
When it comes to collecting the income you earn, Mediavine has its good and bad points. The minimum payout is a low $25, but the payment terms are unusually long at NET-65. You'll be waiting months for any payment to come through.
Policies That Matter To An Affiliate Site Owner
| | |
| --- | --- |
| Program key measures (1000 views, or per click, etc.) | CPM |
| Minimum traffic | 50,000 visitors a month |
| Types of PPC Ads | Banner and native ads |
| Payment methods | Paypal, Domestic ACH, International ACH, U.S wire transfer, International wire transfer, Paper check |
| Payout conditions | Net 65, $25 minimum |
---
10. Infolinks
Infolinks claims to be the 3rd-largest PPC company online. It's PPC affiliate programs have a relatively unique way of delivering ads that don't rely on most traditional banners. Its ad options include proprietary options such as InTag, InText, and InFrame, which we learned to appreciate very quickly.
Two of these options (inTag and inText) can be linked to words in the text, revealing themselves only when your readers scan over them. The final one appears on the edges of a page when the visitor is using a wide-screen monitor.
These types of ads don't interfere with others, meaning you can throw in other affiliate programs that pay per click.
Key Features
Real-time intent targeting: Infolinks ads are capable of detecting each visitor and delivering ads that are relevant to them in real-time. It's contextual to each visitor in addition to contextual to your site's content.
Can be used simultaneously with Adsense and other networks: Infolinks in-text ads do not interfere with other banners on the page, meaning that you can monetize in different ways. This arrangement does not violate Adsense's terms of service[3].
How To Make Money With Infolinks's Affiliate Program
Infolinks offers you the chance to double the ad-space real estate on your affiliate blogs and landing pages. That's money you're earning in addition to whatever your affiliate program for that site is bringing in.
Adsense and Infolinks ads can be run on the same page without interfering with each other (along with an affiliate link or two), and the same goes for many other ad networks.
The best way to make money with Infolinks is to combine it with another program, even another PPC affiliate program. You can collect money from three directions when you account for your affiliate program revenue.
Policies That Matter To An Affiliate Site Owner
| | |
| --- | --- |
| Program key measures (1000 views, or per click, etc.) | CPC |
| Minimum traffic | None |
| Types of PPC Ads | In-text ads |
| Payment methods | PayPal, eCheck, ACH, Payoneer, and Bank Wire Transfer |
| Payout conditions | Net 45. $50 payment threshold |
---
Start Making Money With the Top PPC Affiliate Programs
If you have a successful affiliate website, PPC ads can be a lucrative addition to your other affiliate programs. Pay per click affiliate programs will allow you to add a second revenue stream to your best-existing sites so that it can earn more no matter how well it's doing already.
Do you want to learn more about making any affiliate program work? You should visit The Affiliate Lab. Here, you'll find exclusive education resources that let you skip over years of trial and error. You'll also get access to one of the best communities of affiliate marketers online.
Want to Become a PRO Affiliate?