With the number of affiliate marketing books, courses, and affiliate program management guides out there, it's easy to feel overwhelmed.
Luckily, I've been in the business of making profitable affiliate marketing sites for years, and in this article, you'll learn about some of our favorite affiliate marketing books.
If you can read one or two, you'll boost your prior knowledge about affiliate program management more than most people.
When you're done reading a few of the best affiliate marketing books, you'll have insider information and it will be much easier for you to start your affiliate marketing journey.
Best Affiliate Marketing Books in 2023
1. Evergreen Affiliate Marketing
Evergreen Affiliate Marketing is a book by Nate McCallister published in 2019 that focuses on affiliate marketing strategies and concepts that will stand the test of time.
Nate McCallister claims the principles in the book will remain relevant for another 20 years.
This book is worth checking out if you want a good overview of the affiliate marketing industry or even have an affiliate site that you want to boost.
It covers various valuable affiliate program topics for an affiliate marketer, such as content creation, free affiliate marketing strategies, copywriting tips, and many other make-money online topics.
The affiliate marketing book also covers mindset concepts that help keep you in the right frame of mind, even when you don't see immediate results. It opens you to the world of experienced affiliate marketers.
2. From Nothing: Everything You Need to Profit From Affiliate Marketing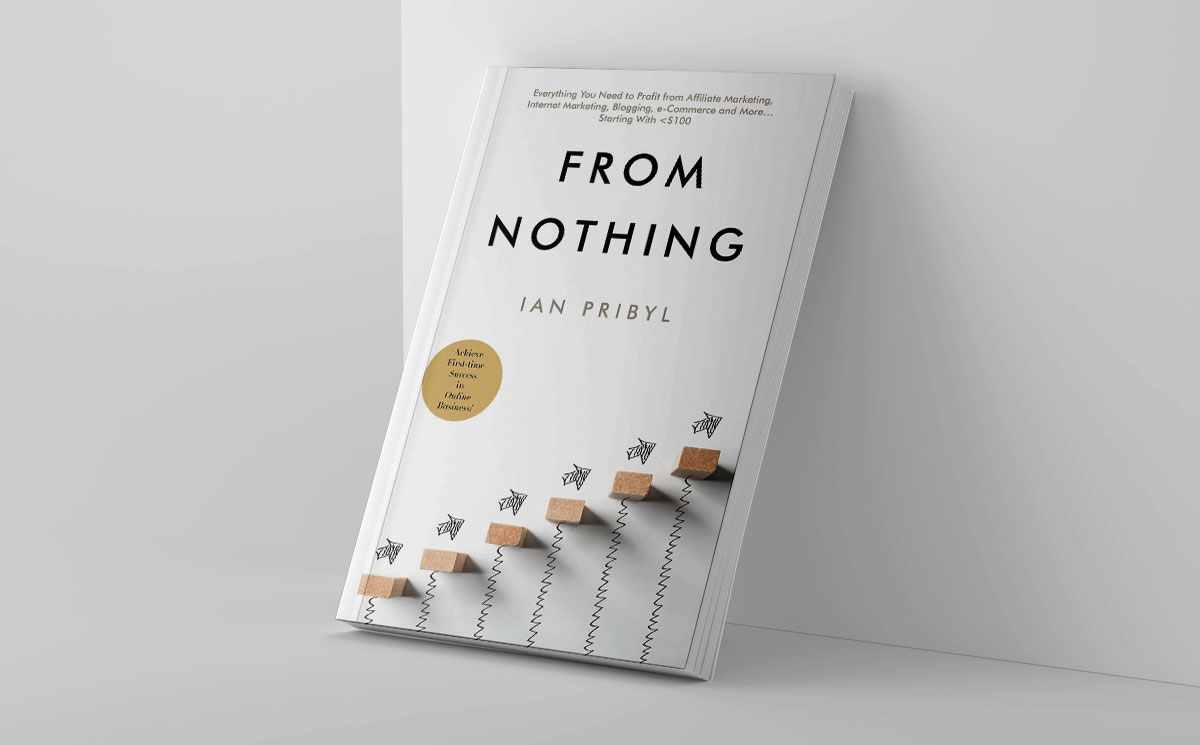 The full title of this book is "From Nothing: Everything You Need to Profit From Affiliate Marketing, Online Marketing, Blogging, Online Business, and More" and it's written by Ian Pribyl in 2019.
Ian Pribyl started making money online through digital marketing when he was 16, he achieved super-affiliate status on various marketplaces and launched a video training course called The Free Internet Marketing Project.
Most of the lessons in this book are taken from that course.
His book aims to show people that it is possible to start an online affiliate business with less than $100 in your bank account.
It contains 360 pages that detail a complete step-to-step blueprint for building an online affiliate business.
The book covers subjects such as picking a niche, building an authority site system, keyword research, writing quality content, promoting your website, becoming an expert affiliate manager, and much more.
3. Affiliate Marketing for Dummies
Affiliate Marketing for Dummies 2020 is written by Ted Sudol and Paul Mladjenovic.
It's another great entry in the classic "For Dummies" series.
Affiliate Marketing for Dummies focuses on the essentials of affiliate marketing and it's tailored toward complete beginners.
The introduction of the book is all about how affiliate marketing works, the potential benefits of affiliate program, and the initial steps needed to start.
It also provides some advice on how to avoid get-rich-quick schemes.
Once the basics are covered, the book will show you how to do keyword research as an affiliate marketer, build a website, an introduction to search engine optimization, create content, email marketing, and much more.
There also is a list of recommended tools for the best affiliate marketers. Overall, Affiliate Marketing for Dummies is a good starting point to learn the affiliate marketing basics.
4. $100M Offers: How to Make Offers So Good People Feel Stupid Saying No
$100M Offers is not about affiliate marketing specifically but it helps improve other skills that are needed to be successful in the affiliate marketing industry.
It's a short 164-page affiliate marketing book published in 2021 and it's often on sale for $1 on Kindle.
$100M Offers tells the story of how the author, Alex Hormozi, went from being broke to earning $120M within 48 days across multiple industries by using the affiliate program concepts in this book.
As the title suggests, the focus of the book is all about how to create irresistible offers.
It's mostly about copywriting and leveraging your position in an industry.
This is one of the affiliate marketing books that will teach every affiliate marketer how to find highly profitable niches, create high-value offers (with add-ons), and implement smart guarantees that are difficult to refuse.
It won't give you a step-to-step affiliate marketing plan on how to build a successful affiliate marketing business, but it does cover some very important concepts for affiliate program management.
Highly recommended.
5. Page Marketing Plan by Allan Dib
The 1-Page Marketing Plan was written by Allan Dib and published in 2016.
The book has lots of interactive affiliate marketing terms, such as the 1-Page Marketing Plan canvas, which is a worksheet for your affiliate business broken down into three categories: Before, During, and After.
The idea is to use the affiliate program tips in the book to fill in the canvas with the most efficient strategies for each section.
It really helps business owners create a solid and simple affiliate marketing plan for their business that they can easily follow.
You'll learn a lot of great advice such as how to get new customers, earn more profit from existing customers, close sales, beat your competition, use direct response marketing techniques, create affiliate marketing campaigns on a small budget, and much more.
It's another short and sweet 234-page book that I suggest everyone read at least once.
The principles will carry over into your affiliate marketing business.
6. Deep Work: Rules for Focused Success in a Distracted World
Deep Work by Cal Newport is about learning how to focus on difficult tasks without distractions. With attention spans getting short, Deep Work will show you how to concentrate on challenging tasks.
Affiliate marketers have to deal with a wide variety of tasks, many of which are tiresome. What sets the successful affiliate marketer apart from the rest is a consistent work ethic, and this book can really help you with that.
In the book, Shallow Tasks are described as tasks that don't require much mental energy, such as browsing Facebook, watching movies, and whatnot. These are the basic affiliate marketing terms that should keep you going years to come.
Deep work is the opposite; learn how to focus on a challenging affiliate program task that provides value—for instance, finding a profitable niche, or competition analysis. I highly recommend affiliate marketers read this one!
7. Ogilvy on Advertising
Originally published in 1985, David Ogilvy's advertising book is a little dated, but many of the same principles apply to the modern world.
During his time, David Ogilvy was one of the world's most successful advertisers.
The Ogilvy on Advertising book covers a wide range of topics surrounding advertising such as; how to find an advertising job, advertising that works, writing successful copy, how to start and run an agency, conducting accurate research, and much more.
It's mostly old-school copywriting tips and tricks.
While a little old, the lessons can help new affiliate marketers with the advertising side of their business.
If you want to become an affiliate marketer, this Ogilvy on Advertising is a great resource.
8. Hey Whipple, Squeeze This: The Classic Guide to Creating Great Ads
Hey Whipple, Squeeze This by Luke Sullivan is another one of best affiliate marketing books with heavy focus on the creative advertising industry.
The book has been updated several times for relevance, and the latest edition includes strategies on how to use social media marketing (YouTube, Instagram, TikTok, and Facebook advertising, etc) for your affiliate marketing campaigns.
Every affiliate marketer should study advertising and copywriting because you'll have to use those skills to promote your products.
Granted, the products aren't your own, but you still need to learn how to convince people to click the link.
Hey Whipple, Squeeze This will teach you how to come up with fun and creative ads to promote your products.
While the focus is on traditional paper advertising (magazines, newspapers, etc) the principles still apply to the digital world.
It's a fun book that has a lot of gold nuggets about affiliate marketing, not to mention plenty of real-life examples of successful advertising campaigns.
9. The Magic of Thinking Big
The first edition of The Magic of Thinking Big was published in 1959 and many of the same insights hold up today.
The book will show you how to focus on your affiliate marketing business, believe in yourself, think creatively, and stay consistent. It will do wonders for your business confidence!
Most of the chapters are dedicated to helping you create a six figure business mindset and attitude.
Many of the strategies and tips in this book are backed up by real-life case studies.
If you want a solid foundation on business principles, The Magic of Thinking Big is the book for you.
A must-read for any aspiring affiliate marketing entrepreneur!
10. Building a Story Brand: Clarify Your Message So Customers Will Listen
Building a Story Brand: Clarify Your Message so Customers Will Listen by Donald Miller will reveal insider affiliate marketing secrets on how to create an affiliate network by working with your your customers.
As the title suggests, most of the book will help you create a system for creating a unique story for your business.
In the affiliate marketing industry, a unique story brand can dramatically improve the effectiveness of advertising campaigns.
Inside you'll learn the key principles to developing a story for your brand that you can leverage to engage customers.
If your business relies on ads, the best affiliate marketing books will improve the quality of your ad campaigns, and this book is no exception.
It's all about how to make your business relatable to customers.
It's well worth reading!
11. The Secrets Trilogy by Russell Brunson
The Secrets Trilogy includes three books: Dotcom Secrets, Expert Secrets, and Traffic Secrets.
Russell Brunson is well-known in the internet marketing industry for creating a powerful sales funnel tool called ClickFunnels.
The Secrets Trilogy is mostly focused on the sales funnel area of your business.
The most popular book in the series, Dotcom Secrets, reveals a gold mine of advice on how to optimize your website's funnel for the best results, including free scripts for various types of businesses.
Funnels are still important for affiliate marketing because if you "prime" site  visitors to click a link and buy a product it will lead to more commissions for you.
The Secrets Trilogy does focus more on creating sales funnels for your own products but the same ideas can also be carried over to affiliate marketing websites too.
12. The 10X Rule: The Only Difference Between Success and Failure
The 10X Rule is a very motivational book that will teach you how to take bigger and better action towards your business goals.
It's all about taking massive action to blast past challenges and take your business further.
In the book, this level of action is called the 4th-degree of action, which is what separates successful entrepreneurs from failures. It's all about the business mindset.
The author wants you to come up with business goals and then add a 10-times multiplier to them, encouraging you to think bigger and take more action.
A highly motivational book that will leave you with the knowledge you need to take control and push forwards.
Online Affiliate Marketing Courses vs Books
While you can learn from courses and books, we generally recommend sticking to online affiliate marketing courses.
The reason for that is online courses are much easier to update with videos and new information.
Best affiliate marketing books are mostly limited to text and are more challenging for authors to update.
In the fast-paced world of online business, outdated advice can lead many people to making mistakes.
The last thing you want is to spend money on a resource that leads you down the wrong path.
Pros & Cons of Affiliate Marketing Books
Pros
Learn tried-and-true strategies from experts
Can physically interact with paperback books (highlight text, leave notes, etc.)
No need for an internet connection or a screen to read a book (unless it's digital)
Audio books are great when commuting
Cons
Much more challenging for authors to update with relevant information
No rich-media included (unless digital and linking to external resources)
Technical steps are more difficult to follow
Pros & Cons of Online Affiliate Program Courses
Pros
Easier for the owner's to update as strategies and tools change
Can include rich media (videos, audio, downloads, etc.)
Forums and social media make it easy to communicate with other members
Membership can include extra bonuses such as additional downloads, coaching services, and much more
Cons
Can be expensive (monthly subscriptions, etc.)
Some course owners often forget to update the training videos
As for books, the instructions are mostly limited to image resources, although some digital books include external links to video files too.
Books are fantastic resources for learning marketing principles and tips that stand the tests of time but they're very limited when it comes to rich media.
Online courses are more efficient at teaching the technical side of the affiliate marketing business because you can watch instructional videos.
For example, it's much easier to follow the instructions from a video on how to setup an affiliate site compared to books.
Not to mention the user interface of tools and software change quite a lot over time.
If you have a computer, online courses are the best method to learn affiliate marketing because they're much more interactive.
What About Audio Books?
Audio Books are a fantastic way to learn while you're busy with other tasks.
For example, you could listen to an audio book on your drive to work every day.
With headphones, you can listen to audio books while exercising too!
It's a great way to kill two birds with one stone; learn new skills while staying busy.
Most of the books on the list above have audio books versions available.
Many of them are free with a subscription to Audible.
Better yet, on Amazon, Kindle Books and their audio editions sync across devices.
You can listen to an audio book in the car, and then continue where you left off on a Kindle when you get home.
To get the best of both worlds, you can use a combination of online courses, audio books, and traditional books.
Learn Affiliate Marketing: Beginners Step by Step Guide
Speaking of learning affiliate marketing, over at the Affiliate Lab, we'll show you how you can not only create  successful affiliate sites but also flip them for a nice profit.
The Affiliate Lab also has detailed videos and guides on every aspect of building your first successful affiliate marketing website, from niche selection, monetization, getting traffic, SEO, and everything in between.
It's the exact blueprint we use to create and rank affiliate sites in a wide variety of niches and industries.
It's got plenty of affiliate marketing secrets!
Which Marketing Book Will You Read First? 
Remember, information overload is a real issue, and it often prevents people from taking the small steps necessary to begin receiving their first payments from affiliate marketing.
It's better to start small then to not start at all.
Because of this, we recommend choosing only a couple sources, and then immediately implementing what you learned in your business.
The affiliate marketing books listed above, as well as the Affiliate Lab Course, will provide you with more than enough information to start your journey.
To get started learning today check out our free webinar where we go over the basics of Affiliate Marketing, how to make a consistent affiliate income online, as well as some more advanced techniques check out the free webinar here.