With the huge technological advancements today, the methods to earn money are endless. Especially as it pertains to online opportunities. And one really great way to do so is through affiliate marketing.
If you're new to the game, you may be looking at the options that are available to you. With my own experience as an Amazon affiliate, I'm eager to share insights, tips, and essential information to help you make an informed decision about whether this program is the right fit for your goals.
By the end of this blog, you'll have a comprehensive understanding of the Amazon Affiliate Program and its benefits, empowering you to make the best choice for your online income-generating journey.
What Is Affiliate Marketing?
Affiliate marketing is a performance-based online marketing strategy where businesses reward affiliates for each customer or visitor brought in through the affiliate's own marketing efforts.
Very simply put, affiliate marketers partner with other businesses as partners to help promote their products or services. For example, you can become an Amazon affiliate and promote their products on your website.
Affiliate marketers make money by helping businesses make sales. Most affiliate programs pay a percentage to their affiliates on a commission basis.
Being an affiliate marketer comes with great benefits. That's because you can use an already established business to start up your own gig.
All you need to do is spend some money on getting a website going. If you already have a large following on social media platforms then becoming an affiliate is an excellent way to monetize your platforms.
If affiliate marketing is completely new to you and you'd like help getting started, read our beginner's step-by-step guide to affiliate marketing.
What Is The Amazon Affiliate Program?
Amazon's affiliate program is a program that allows affiliate marketers to advertise Amazon's products on their website by creating Amazon affiliate links.
This program is free for website owners and bloggers to join. It is therefore a way for them to monetize their site or blog.
When someone clicks on the Amazon affiliate links that they created and buys a product, the website owner or blogger then makes a commission on the sale. Because Amazon sells a variety of products, you can promote ones that fit your niche.
For example, if your blog is about health and beauty, you can create affiliate links to products that Amazon sells in the health and beauty category.
How Does The Amazon Associate Program Work?
The Amazon Associate's affiliate marketing program works by using Amazon associates (affiliates) to create affiliate links and post them on your website to sell Amazon's products.
And when a customer purchases products using your affiliate links, you make a commission.
But let's deep dive into how it works a little more and take look at the Amazon affiliate program commission structure as well as the rules and requirements for joining as an Amazon affiliate marketer.
The Rules And Requirements For The Amazon Affiliate Program
Now, not every affiliate program is the right one for you. Before signing up, it's important to understand the rules and requirements. Amazon has been known to be quite strict when it comes to their expectations of what their Amazon associates should and shouldn't do.
Not understanding their requirements can lead to your Amazon associates account being banned. And following them well is key to becoming a successful Amazon affiliate marketer. Now let's take a look at the rules for the Amazon affiliate program.
Your site or blog must state that you may be making a commission from your recommendations.
You should steer clear from making false claims or statements in your recommendations like creating fake traffic or fake product reviews.
Avoid mentioning prices.
Avoid shortening affiliate links.
You cannot use any Amazon affiliate links for offline promotion methods like in emails, ebooks, etc.
Here are the requirements when it comes to becoming an affiliate marketer for the Amazon associates program:
Website Requirements
So you already know that to be a successful affiliate marketer, you need a fully functioning website or blog.
This means that you are responsible for the development and maintenance of your website.
Amazon affiliate's basic requirements include affiliate marketers having original content that is also publicly available.
It is also very important that your website does not contain any infringement on intellectual property rights, any sexually explicit or violent content, incitement of criminal activities, or display of discrimination.
Mobile App Requirements
You can apply using your mobile app provided. It is available for free on Amazon, Google Play, and Apple stores, contains original content, is different from Amazon's shopping app, and does not have features that track pricing.
Social Media Requirements
The Amazon associates program allows you to promote on the following platforms, Facebook (a business or a public group page), Instagram, YouTube, Twitter, TikTok, and Twitch.tv. But one of the requirements is that you have at least 500 organic followers.
Link Requirements
You'll create and use special affiliate links on your website so that Amazon can track and calculate your income.
Remember, most of these rules and requirements are just standard practice when it comes to being an ethical affiliate marketer – as strict as they may sound. You can access and read Amazon's full associates policy here.
The Amazon Affiliate's Program Commission Structure
Now according to ZipRecruiter, the average Amazon affiliate salary is $28 per hour or $58,480 per year.
But how well you earn depends on a few things. Obviously, the more time and effort you put into your site and marketing strategies, the more successful you'll be and the more you'll earn.
In general, Amazon affiliate marketers can make between $19,500 – $124,000 per year. With only 1% of successful Amazon affiliate marketers earning the latter. Amazon's commission structure differs per category.
For example, if you have a site that falls within the tech niche, you may promote their products from the "Electronics" category where the fixed commission income rate is 4% for affiliates. This gives you a good idea of the affiliate income associated with each category or niche.
You can view the breakdown of the commission structure per category by accessing Amazon's Associate's Program Standard Commission Income Statement here.
How To Become An Amazon Affiliate
If the Amazon associate program sounds like something you're interested in, then here's how to become an Amazon affiliate. Remember that to become an Amazon affiliate marketer, you need a website, blog, or YouTube channel.
Step 1: Go to the Amazon Associates Center and Click on Sign Up
Start by going to the Amazon Associates center. You'll see a signup button. Click on it to get started with the process. You'll then be required to sign in. If you have an existing Amazon account, simply log in. if you don't have an existing Amazon account, you can create one.
Step 2: Enter Your Information
You'll then need to complete your account information. This includes basic information like your address and so on.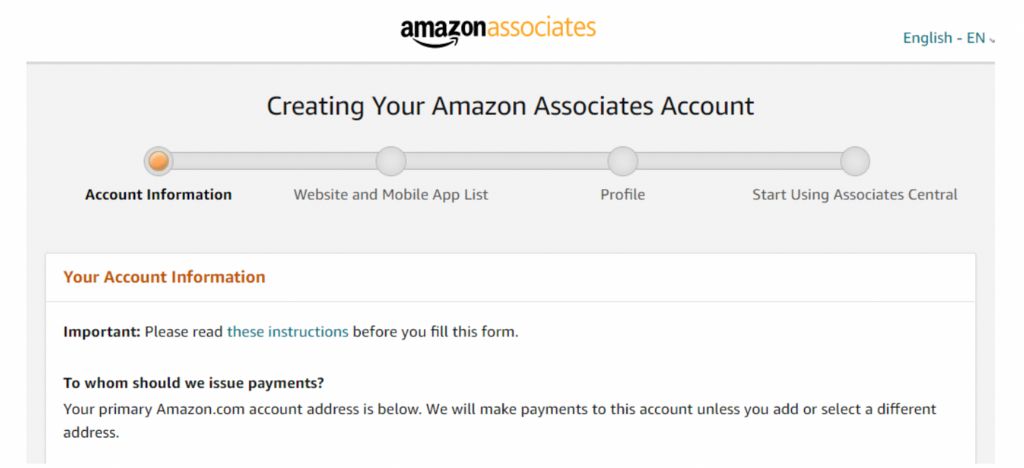 Step 3: Enter The URL Of Your Website, Social Media Channels, And Apps
You'll then be required to enter your website address or multiple website addresses, social media channels or channels, and/or your mobile app or apps. You can enter up to 50 websites, apps, or social media platforms.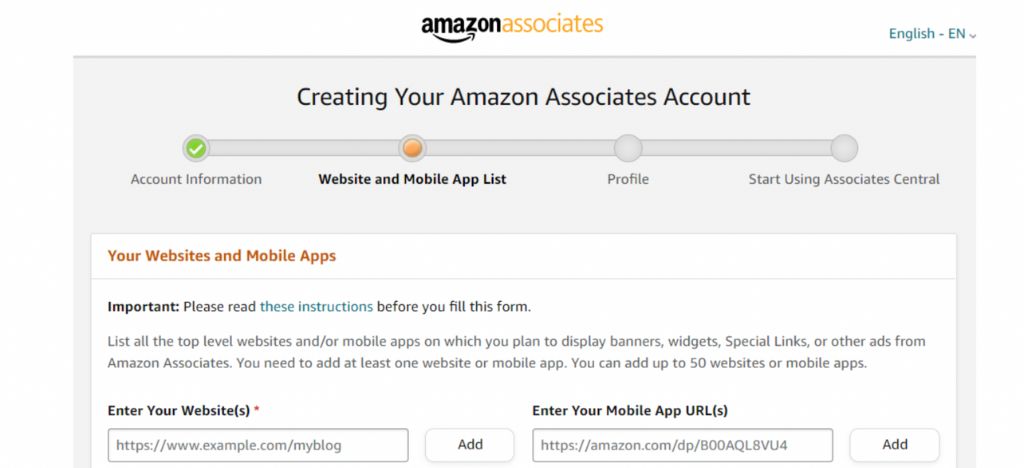 Step 4: Select A Store ID
This is usually the same as your primary website name. You'll also need to complete additional information like what your website/s aim to achieve and select the links they'll mostly target.
Step 5: Explain How You Drive Traffic To Your Site
You'll need to add some more detailed information in this next step.
You'll need to state the methods you'll be using to drive traffic to your site to monetize your website in order to make affiliate sales using your Amazon product links.
You'll also need to think about how many visitors you expect your site to bring in.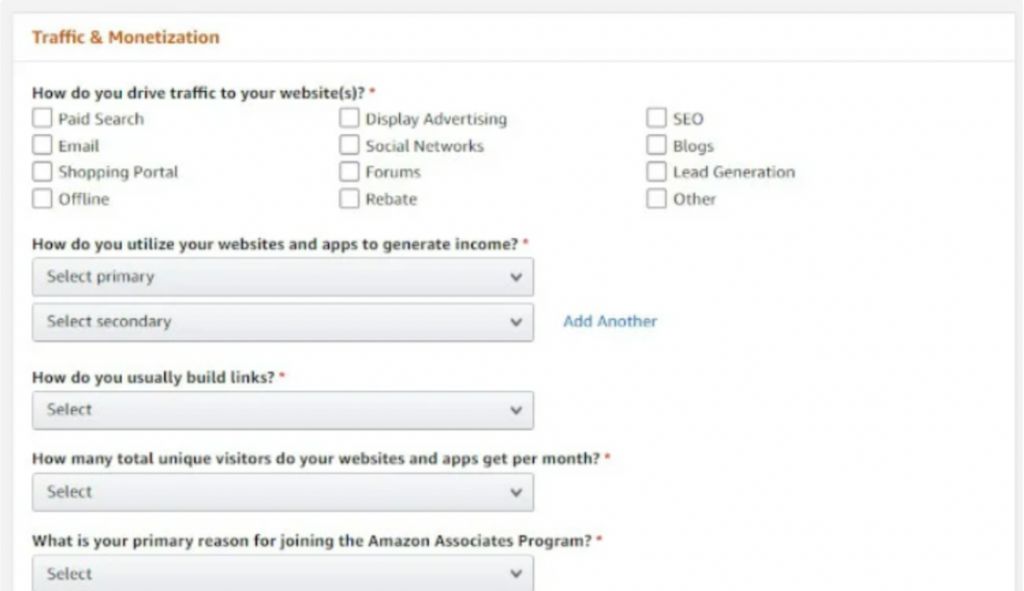 Step 6: Select A Payment Method
Finally, you'll need to select a payment method.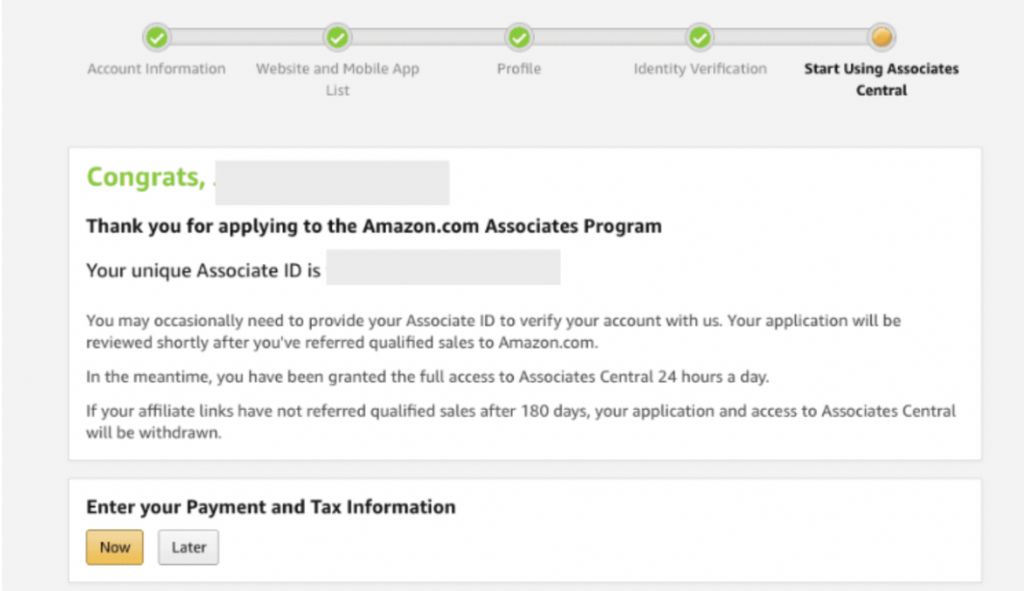 You'll first need to add your payment and tax information. Then, return to your dashboard and enter the 4-digit pin that Amazon gives you.
Once all these steps are completed, you'll need to wait for Amazon to approve your Amazon affiliate account.
Step 7: Create Amazon Affiliate Links
When your account is created you'll get access to your personal Associate homepage. You'll then see your performance dashboard where you can track your earnings, and total clicks and see a monthly summary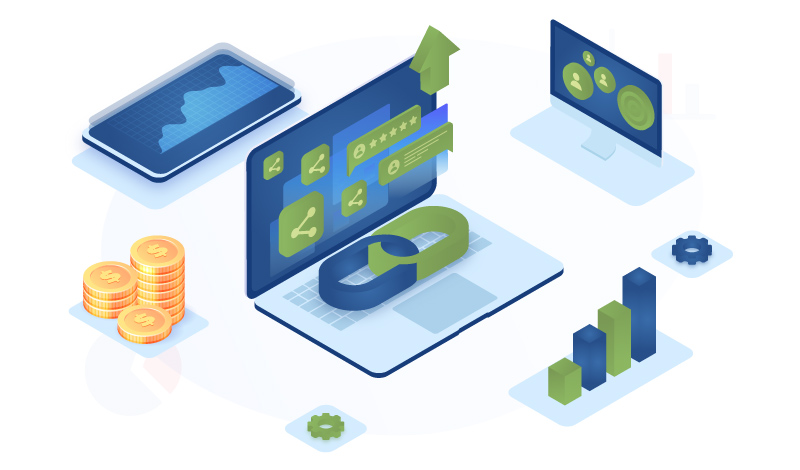 To create an Amazon affiliate link, click on Product Linking in the top banner and then select Product Links. Then, add in the ASIN or the product you want to promote or use the Amazon search tool to search for the product.
Then, click on the "Get Link" button. You can also use Amazon Associates SiteStripe as a product link tool to create an Amazon affiliate link directly.
Weighing Up The Pros And Cons Of Becoming An Amazon Affiliate
As with all things, there are advantages and disadvantages to becoming an Amazon associate or affiliate. We'll dive into these next.
The Upsides
Let's take a look at some of the advantages of joining the Amazon associates program.
It's Already An Established Brand
Amazon is the first to offer an affiliate program with theirs kicking off in 1996.
Apart from this, Amazon is a strong brand.
These factors make it a very good option for affiliates to earn money.
And, this also makes it a good program for new affiliate marketers to use.
It's A Great Way To Monetize Your Blog, Site, YouTube Channel, Or Social Media Platforms
If you've got a blog, website, YouTube channel, or another platform, there's a good chance you'll want to monetize it. This is a great way to earn money doing what you love. Affiliate marketing offers you a chance to do that.
With the Amazon associates program, you can sell products that are linked to your niche and make a passive income.
It Offers Affiliates The Chance To Earn Really Well
The earning potential is almost limitless. With an improved content marketing strategy and increased experience as an Amazon Associate, you can continue to increase your earnings.
One of the benefits of joining the Amazon affiliate program is that if customers use your link to purchase the product you advertise and they purchase additional items, you'll earn a commission on all of the items.
It's Easy To Use
The Amazon associate program is easy to sign up for and use, provided you stick to their rules and requirements.
They offer user-friendly web tools and plug-ins for blogs and websites.
It Gives Affiliates Access To A Global Market
As a worldwide brand, being an Amazon associate gives you the ability to target a global market and really grow your brand, site, or blog.
The Downsides
There are also some factors to consider before signing up as an Amazon affiliate.
You Can't Use Offline Methods To Promote Amazon Products
For some people, not being able to include affiliate links in their emails is a big deal.
One of Amazon's rules is that you cannot promote their products in any offline marketing.
This may limit you and may not necessarily be the preferred choice for you.
Commission Rates Are Low Compared To Some Of The Other Affiliate Programs
Amazon's commission structure is considered to be low in comparison to other affiliate programs.
According to Geniuslink's historical guide,
The average commission rate for Amazon affiliates peaked in mid-2012 at 9.25% and has fallen to nearly a third of that.
Affiliates still frequently state that the commission rates remain low. And for some affiliates, other programs or methods are more lucrative.
They Can Be Quite Strict When It Comes To Their Rules
It is not uncommon for affiliate marketers to complain that Amazon suddenly banned their accounts. So if you don't follow their rules by the book, you may have your account suddenly banned. It is also difficult to get it reinstated, which may be a risk for some.
How To Increase Your Earnings As An Amazon Affiliate
There are many strategies that you can implement on your Amazon affiliate website to increase your earnings.
Your income largely depends on the strength of your affiliate marketing skills and the functioning of your website. Let's go into more detail here.
Go Niche-Specific
When it comes to any successful business website, picking your niche is really important.
Customers want to know at first glance what you're all about and not be confused by a variety of random options.
By honing in a specific niche, you'll also have a better SEO performance.
It'll also be easier for you to promote Amazon products that are in line with your niche.
Focus On Original Content
Having original content is key for establishing your brand and gaining your customers' trust. It also helps you to rank better when it comes to SEO.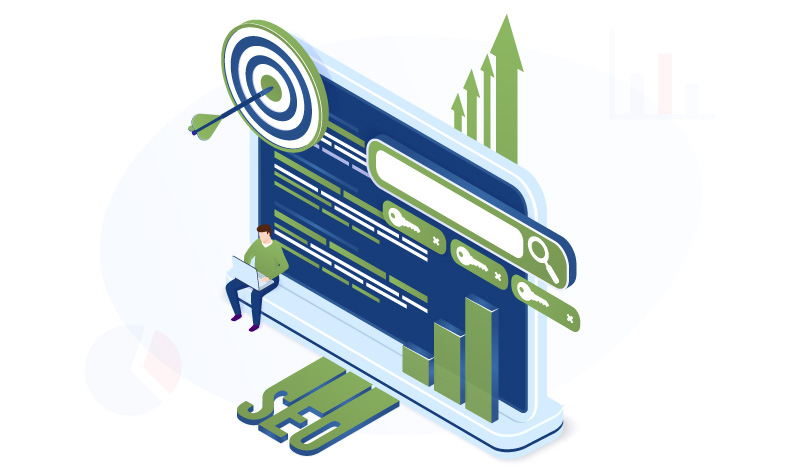 Apart from original content, the quality of your content also matters and is best when it adds value to your target audience. By drawing them in with high-quality material, you are more likely to lead them to a sale.
Use SEO Strategies
It is difficult for a website to be highly successful without SEO (search engine optimization) strategies these days. That's because there's a lot more competition as more and more businesses go online.
The more you invest in the SEO of your site, the more traffic you'll get and the more sales you make with each affiliate's link on your site.
Blog Frequently
Not only does frequent blogging help to increase your SEO ranking, but it also gives your target audience original content that they find helpful.
This increases their level of trust in your business or brand and makes them a lot more likely to listen to your recommendations.
By establishing rapport with your customers, they're a lot more likely to buy products from your site.
Write Product Reviews
Writing product reviews helps to give your potential customers honest feedback on products while boosting your SEO. This is only helpful though when your reviews are honest.
Positive reviews are much more likely to lead to a sale and you should add your affiliate link to the product you're recommending in your review.
Great Alternatives To Amazon Associates
Amazon Associates is not the only great affiliate program out there. And, it may not be the right one for all affiliate marketers.
If it isn't for you, here are some alternatives that you can consider. These are also highly regarded affiliate programs.
Target Affiliate
Target has a similar product selection to Amazon.
The commission rates you make on sales is higher than the Amazon affiliate's program pays.
In fact, as a target affiliate, you can earn up to 8% commission.
Another plus side of joining their affiliate program is that you get paid each time a customer places an order within 7 days of clicking on your affiliate link.
One thing to note about the Target affiliate program is you need to have a family-friendly website with existing traffic. Your traffic also needs to be mostly from the US.
DFO Global
If you're serious about making income as an affiliate marketer then DFO Global may be for you.
They offer a wide range of e-commerce products to choose from.
They also offer high converting offers and great payouts.
They boast a safe, brand-protected environment for their affiliate partners.
They also have experienced managers that work closely to help you succeed as an affiliate. And, they have a media buying team that offers affiliates performance insight and recommendations.
eBay Partner Network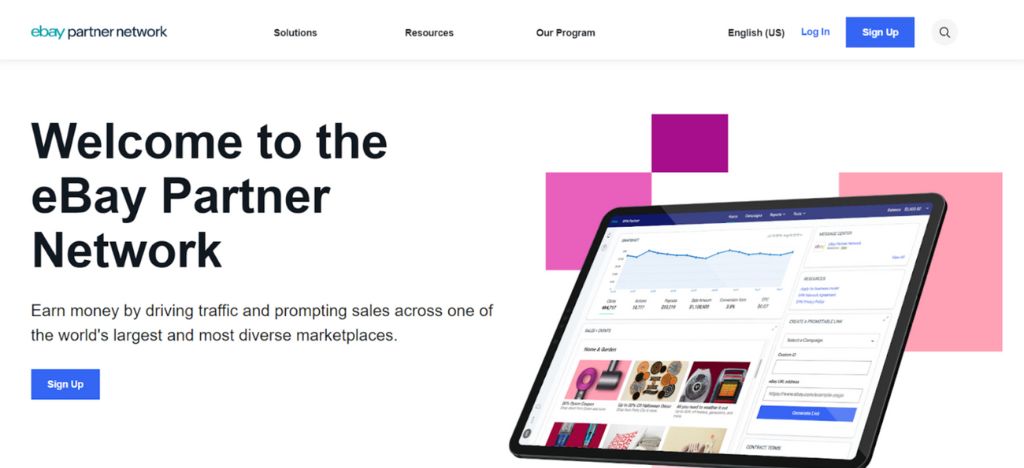 This site started as an auction site, but now according to eBay statistics, 80% of the items being sold are new.
And eBay is moving more toward an e-commerce site. eBay also offers a wide range of products to promote.
You also get income by promoting product links on your website, blog, or social media and earn a commission on each sale you make.
The commission percentage is pretty much the same as Amazon associates.
The commission rate ranges between 1% – 4% on sales you make with your affiliate links.
CJ Affiliate
This is a good alternative for more experienced affiliate marketers.
They offer 300 brands, including many of the world's top brands.
They work on cost per acquisition, so just like Amazon associates, you get paid when you make a sale as an affiliate.
CJ Affiliate also offers a range of product categories to choose from.
To join as an affiliate, you'll need to be the owner of the website you use to promote their products.
This platform now offers over 21,200 merchants offering a large variety of products for affiliates to choose from.
As a ShareASale affiliate, you'll choose a merchant and direct sales to their website.
These merchants then pay their affiliates a commission fee for the sales they make from their referrals.
This affiliate program also offers pay-per-sale, pay-per-lead, and pay-per-click programs.
Unlike with some of the other affiliate programs we discuss, the merchants you partner with through ShareASale will have their own applicable commission structures.
Affiliaxe
This is another great program for more experienced affiliate marketers.
The program provides affiliates with their own affiliate manager and helps them with digital marketing strategies.
They also offer affiliate programs in various niches so you can choose the ones that fit your website the best.
They also offer a great platform with easy-to-use features.
It is also known for offering higher commissions, which is why it's a great option for affiliate marketers who are looking to grow after being in the game for a while.
Find out more about the best affiliate networks in our article.
FAQs
Is Amazon Associates Free To Join?
Yes, Amazon Associates is free to join. There is no cost to join the Amazon affiliate program.
How Do Amazon Affiliates Get Paid?
Amazon affiliates get paid either by receiving a cheque, or an Amazon Gift Certificate or deposit their commissions directly into their bank account.
When Do Amazon Affiliates Get Paid?
Amazon affiliates get paid on a monthly basis.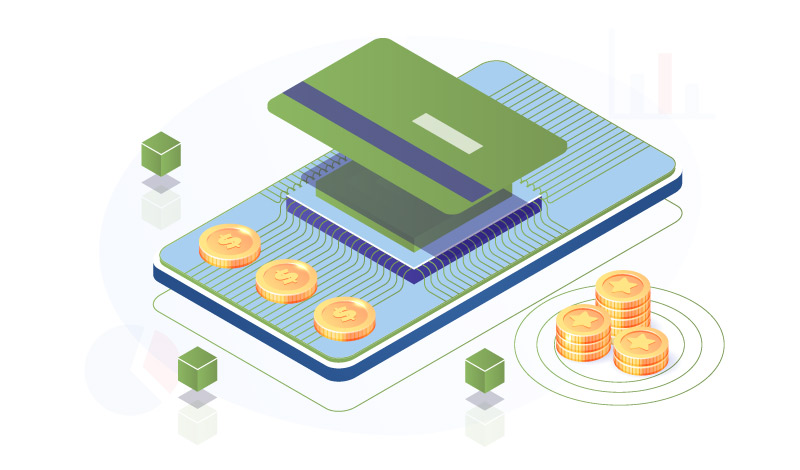 However, you'll only receive payment on a 60-day basis. So if you earned a commission in January, you'll get paid in March.
When Does Commission Get Officially Attributed to Amazon Affiliates?
The commission gets officially attributed to an Amazon affiliate when the order is shipped. The catch is that if the order is canceled or returned by a customer who made a purchase through your link, you won't be eligible for the commission.
Ready to Become an Amazon Affiliate?
During this article, we took a look at the key considerations when it comes to joining as an Amazon associate, otherwise known as an Amazon affiliate marketer.
We can conclude that Amazon affiliate marketing is great for beginners who are looking to break into the field.
Being an already well-established brand, it'll be easier to make sales, and with dedication, you can earn well.
But this affiliate program may not be for everyone and more advanced affiliate marketers may be interested in pursuing partnerships that pay higher rates.
Starting off as an Amazon associate will certainly give you the experience in affiliate marketing that you need to expand your ventures.
If you are ready to take your affiliate marketing business to the next level check out our Affilate Lab course to learn the latest information about what's working in affiliate SEO today.