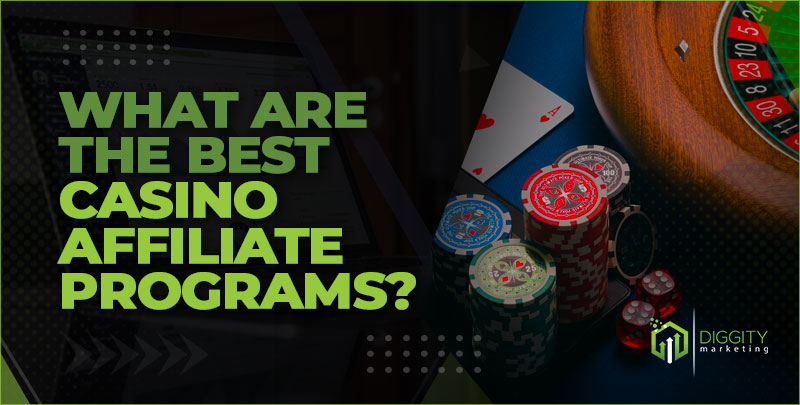 Did you know that the online casino niche is valued at US$72 billion per year, with projected annual growth of 12%? It's no wonder that so much money is spent in this evergreen industry.
If you're looking to tap into this lucrative market, you'll need to find the very best casino affiliate programs available.
The catch is that you won't find these on affiliate networks – they have to be tracked down manually.
Fortunately, as seasoned affiliate marketers ourselves, we've done the hard work for you by consulting with some of the top casino affiliates in The Affiliate Lab group. Together, we've compiled a list of the most preferred and high-paying casino affiliate programs available.
The Best Casino Affiliate Programs
1. Gamesys Group Partners
Formerly known as JPJ Group affiliates and Gamesys affiliates, Gamesys Group Partners has been around since 2001. JackpotJoy.com is their flagship gaming site specializing in bingo, instant-win games, and casino tables. 
With over two decades of casino sites operation, their selection of online gaming options has amassed a large player base. It includes Virgin Casino, Monopoly Casino, Rainbow Richies Casino, and Tropicana Atlantic City.
As a Gamesys Group Partners casino affiliate, you will earn 25-45% of your referred players' revenue share each month, and the earning potential is limitless.
 It's important that Gamesys bundles commissions into one balance. Any negative figures in one brand may have a knock-on effect on your general earnings for the month – which is currently non-negotiable.
However, with low thresholds, affiliates can expect regular payments when required; they offer safe and prompt payment methods through bank account transfer, Netteller, Ecopayz, and Skrill.
Why You Should Promote Gamesys Group
Gamesys Group Partners is not only known for its extensive experience and diverse gaming options but also for embracing cutting-edge technology and trends.
They were among the first to adopt Bitcoin as a payment option for online gambling, demonstrating their forward-thinking approach and adaptability to the ever-changing digital landscape. This incorporation of cryptocurrency appeals to a wider audience and adds an extra layer of convenience for players.
As a casino affiliate, promoting Gamesys Group gives you the opportunity to partner with an innovative brand that offers an attractive commission structure to reward your efforts.
Commission: Up to 45%
Cookie Duration: 60 days
Negative Carryover: No
Payment Methods: bank account transfer, Neteller, Ecopayz, and Skrill
---
2. Poshfriends
Poshfriends is a casino affiliate program partnering with such games as JoyCasino, Casino X, and Champion Slots.
This casino affiliate program offers a traditional commission scheme called RevShare with earnings of up to 35% based on the number of monthly new players.
There is no negative carryover and no limit to earnings. Several payout options are available, including Skrill, Neteller, Cryptocurrency, and bank transfer.
There is also a CPA program where the payout is a fixed, pre-determined price and a sub-affiliate program. All three options are subject to administration fees.
In an effort to support their affiliates and ensure their success, Poshfriends provides a range of promotional materials, such as banners, landing pages, and tracking tools.
These resources help casino affiliates effectively market the partner casinos, increase conversion rates, and ultimately maximize their earnings.
Additionally, Poshfriends offers dedicated account managers who are available to assist with any questions or concerns, ensuring a smooth and productive partnership experience for all involved.
Why You Should Promote Poshfriends
Commission: Up to 35%
Cookie Duration: 30 days
Negative Carryover: No
Payment Methods: bank transfer, Neteller, Ecopayz, Webmoney WMZ, Cryptocurrency, Capitalist, and Skrill
---
3. BONS Partners
While Bons Partners targets players from Japan, you can still join their casino affiliate program. The RevShare commission model earns affiliates up to 45%. They also offer a CPA program of up to $500 and a hybrid program of both models.
The casino affiliate program earnings are lifetime, meaning once you refer a player, you earn as long as the player keeps playing. There is no negative carryover and a variety of payout options.
Bons Partners offers attractive marketing materials to draw players, including social media, email marketing, banners, and promo videos.
Bons Partners also demonstrates a commitment to staying up-to-date with the latest industry trends and technology. This ensures that their platform and partner casinos are optimized for both desktop and mobile devices, catering to a wider range of player preferences.
They maintain a competitive edge in the market, which can ultimately benefit affiliates in terms of player retention and overall earnings potential.
Why You Should Promote BONS Partners
Commission: Up to 45%
Cookie Duration: 30 days
Negative Carryover: No
Payment Methods: Bitcoin, Skrill, ecoPayz, PayPal, bank transfer
---
4. Conquestador
Conquestador is an affiliate network recently launched in the last five years and aims to attract web admins worldwide.
The casino affiliate program company has a license in the U.K. and focuses its marketing efforts on large markets such as Canada, New Zealand, and Japan.
Success on these sites requires affiliate marketers to consistently bring in gamers from the target market. Otherwise, their accounts can be closed immediately.
Despite their high expectations for affiliate marketers to consistently bring in gamers from the target market, Conquestador provides ample support and resources to help affiliates achieve success. Their well-designed website features an extensive FAQ section that addresses various concerns and queries, streamlining the process for both new and experienced affiliates.
By partnering with Conquestador, affiliates have the opportunity to work with an ambitious, growth-oriented company that is focused on expanding its presence in the competitive online casino market, offering potential for long-term success and profitability.
Why You Should Promote Conquestador
Commission: Up to 45%
Cookie Duration: Session
Negative Carryover: No
Payment Methods: Bank transfer
---
5. 7StarsPartners
With a user-friendly interface, reasonable commissions, and fair terms, you can rest assured that you'll earn some good income promoting 7starpartners as affiliate marketers.
Every affiliate partner can access high-quality marketing material to attract potential customers and generate substantial profits.
To further support affiliate success, 7starpartners provides high-quality marketing materials designed to attract potential customers and boost conversions.
With commission rates starting at 45% and the possibility of increasing up to 60% revenue share from referred players, affiliates have a strong incentive to promote brands like LibraBet Casino, YoyoCasino, Casinia Casino, Campobet Casino, Alf Casino, and BoaBoa Casino.
As an affiliate marketer, it's essential to carefully evaluate each brand's offerings and target audience to determine which ones are likely to yield the highest revenue share. By selecting the most suitable brands to promote, you can maximize their earning potential while providing valuable content and recommendations to your audience.
Why You Should Promote 7StarsPartners
Commission: Up to 60%
Cookie Duration: 1 month
Negative Carryover: No
Payment Methods: Paypal, Bitcoin, Skrill, WebMoney, Neteller, bank wire transfer
---
6. Income88
The year 2015 brought to life the Income88 affiliate program alongside the release of the operator's first online casino, Happy Luke. Their other leading brand, Live Casino, arrived in 2018. The primary target of the platforms and the network is the robust Asian market.
This casino affiliate program could be the key to expanding your business if you run a website, have a solid social media presence, or have a popular blog.
Income88 offers a generous revenue share scheme starting at 25% and eventually topping off at 50% from their casino sites.
Why You Should Promote Income88
Commission: Up to 50%
Cookie Duration: Session
Negative Carryover: No
Payment Methods: Bank account transfer, credit to your casino affiliate account
---
7. Casumo Affiliates
For a decade, Casumo Affiliates has earned the reputation of one of the top casino affiliates in Europe. Unlike many other affiliate programs, the Casumo affiliate program's purpose is to promote Casumo Casino exclusively, not multiple brands.
Like many other affiliate programs, there is no negative carryover, and you earn a revenue share of 25-45% based on new players per month. Casumo Casino is a well-established casino affiliate program brand, so as long as you bring traffic, you have strong earning potential, though in Euro payments only.
Why You Should Promote Casumo Affiliates
Commission: Up to 45%
Cookie Duration: 30 days
Negative Carryover: No
Payment Methods: Skrill, Neteller, bank account transfer
---
8. Bet 365 
Bet365 is one of the better-known names in online casinos.
Part of this is because they invest heavily in advertising and offer a high-quality gaming experience.
For example, they offer a wide range of online gambling games but also plenty of live games to choose from.
So your visitors can spend time solo sports betting or join live poker tournaments instead.
And all of this is done within the secure gaming environment offered by this company.
In terms of security, Bet365 ensures a safe gaming environment for its users, providing added peace of mind for both players and affiliates.
When comparing Bet365's affiliate program to others, the flat 30% revenue share is a competitive offering.
However, for affiliates capable of driving a high volume of depositing players, it's worth discussing potential opportunities for increased commission rates with a dedicated affiliate manager.
This personalized approach can help optimize the partnership and maximize the earning potential for high-performing affiliates.
Why You Should Promote Bet 365
They're a household name in the gambling market, while also being trusted by many super affiliates.
Commission: 30% revenue share
Cookie Duration: 45 days
Negative Carryover: No
Payment Methods: Wire transfer, player account
---
"Big brands might seem to pay less commission at face value. But they're also the best at customer retention and keeping players wagering. So, over the long term, the bigger brands will get you the biggest ROI."
James Dooley
---
9. Casumo 
It can be difficult to make money as a casino affiliate if the affiliate program brand you're promoting has little or no customer loyalty.
Casumo Casino actively works to keep their players happy, and that includes featuring a relatively modern interface for their casino games.
Happy players are more likely to spend money, which increases your chance of getting a nice big chunk of revenue share from the affiliate program.
Players can choose from online games, in-house live casino events, and sports betting.
Their live games involve betting against the dealer, so these are effectively skill-based online tournaments.
Your audience can choose from 2,000 video games covering everything from video slots to jackpot games and more besides.
Or they can hang out instead in a live online poker room with a real dealer.
As an active member of this affiliate program, you can earn up to 45% revenue share, but this depends on how many new players you refer each month.
Why You Should Promote Casumo Casino
They offer a bright and modern take on the online casino scene, with commission rates to make promoting them more than worthwhile.
Commission: 20% – 45% revenue share
Cookie Duration: 30 days
Negative Carryover: No
Payment Methods: Neteller, Skrill, Wire Transfer
---
10. Mr. Green 
Mr. Green has been in the online casinos business since 2007, starting out from their headquarters in Stockholm, Sweden.
This award-winning online gambling portal has grown to offer more than 1,000 games from many of the leading names in the online gambling niche.
Players will find the usual games to play, including online slots, classic slots, and a mixture of live and virtual casino games, including their new 3D offerings.
This is in addition to Keno, sports betting and jackpot games, many of which are available on mobile.
So how do they compare to the other online casino affiliate programs in this roundup?
Affiliates are provided with the necessary resources to effectively promote the offer, and the commission structure rewards performance with rates ranging from 25% for 0-1 referral up to 45% for 30+ referrals per month.
Why You Should Promote Mr. Green
They're a recognized and established brand in the online casino market, so you won't have to pre-sell them to players as much as lesser-known casinos.
This combination of an established brand, diverse gaming options, and a competitive commission structure makes Mr. Green a strong contender among online casino affiliate programs.
Commission: 25% – 45% revenue share
Cookie Duration: Lifetime
Negative Carryover: No
Payment Methods: Neteller, wire transfer, Skrill
---
11. Genesis 
Genesis Casino is one of the oldest in this roundup, with a history dating back to the Internet's earliest days.
As of right now, they offer more than 1,300 games spanning video slots, live casino, table games, roulette, and jackpots.
Your visitors also have the peace of mind of knowing that Genesis is PCI compliant, which means they offer a safe gaming environment.
New players get a €100 bonus and up to 100 free spins of specified games.
Genesis Casino frequently updates its game selection and offers exciting promotions, ensuring that both newcomers and loyal patrons always have something fresh and enticing to look forward to.
And while they don't have a dedicated app, they do offer a mobile-friendly casino gaming experience for your smartphone.
Their casino affiliate program pays a minimum 35% revenue share, plus a 2.5% lifetime referral commission.
Why You Should Promote Genesis Casino
They demonstrate the business acumen and financial stability that comes from over two decades of industry experience in the gambling market.
Commission: Up to 35%
Cookie Duration: 70 days
Negative Carryover: No
Payment Methods: Check, wire transfer, Skrill, Neteller
---
Expert Insight
And now it's time to hear from some experts in the casino affiliate marketing game who are making serious money in this high-ticket niche.
This is the kind of insider info you won't get anywhere else…
James Dooley from Best Companies [1] leads the way with:
Don't chase CPA network deals. Do chase the lifetime revenue share models instead.
This niche can be saturated for many of the bigger casino brands. So try to keep on top of new sites as a way of driving new customers long term.
Next up, we have Karl Hudson from BigWinAffiliates [2] with some hard facts about the casino niche:
Be prepared to build a lot of content and links – you'll need a lot of both
Expect negative SEO attacks, especially for the bigger volume keywords.
And finally, Jonas Torrång, dedicated affiliate manager from Cornvinus [3] shared the following with us:
"Almost every affiliate program will set you up with a standard rev share ladder deal of 25% – 50% lifetime commission on net revenue. This is fine in the beginning, but as soon as you start sending some NDCs (new depositing players) to the affiliate program, re-negotiate the deal with your affiliate manager. 50% rev share is far from the maximum deal you can get."
Jonas Torrång
Cornvinus
---
Do We Recommend Casino Niche?
Casino affiliate marketing is not an easy niche to build an affiliate website in, especially if it's your first one.
You need to know your stuff and have the funds to build a ton of content and links to have any hope of competing against other casino sites.
Choosing the right casino affiliate programs is only a tiny part of this particular equation,
Here's a closing thought from Jonas Torrång on the subject:
"Make sure you've got a big budget. I would generally recommend that you start with at least $50,000."
For right now, you can make easier money in smaller, more defined niches…
Which is exactly what I teach in my Affiliate Lab course – the exact processes and systems I use to build profitable niche sites.
Want to Become a PRO Affiliate?
Comprehensive lessons
Niche Grading tool
Step-by-step website building guide
Regular updates


Private Facebook community
Bonus courses
Lifetime course access