As a longtime affiliate marketer and founder of The Affiliate Lab, I've seen plenty of niches come and go. But one that's been a consistent winner is the music business.
With billions of passionate fans worldwide, high-dollar transactions, and an endless array of goods and services to promote, the music industry presents a wealth of opportunities for savvy affiliates.
Over the years, I've worked with many affiliates who have found great success in this niche, promoting everything from online music classes to high-end custom instruments worth tens of thousands of dollars.
If you're interested in exploring the music niche, this guide is the perfect place to start. We'll walk you through everything you need to know, from the basics of music affiliate programs to the top programs and policies to look for.
Top Music Affiliate Programs 
If you're looking for a music affiliate program to get started, you have a lot of choices. You can work with everyone from the largest family-owned musical retailer to the latest software providers for music teachers.
Get started faster with this list of some of the best affiliate programs in the niche.
You'll find out what these affiliate programs are about, what they sell, and how much you can make on every sale.
1. Audimute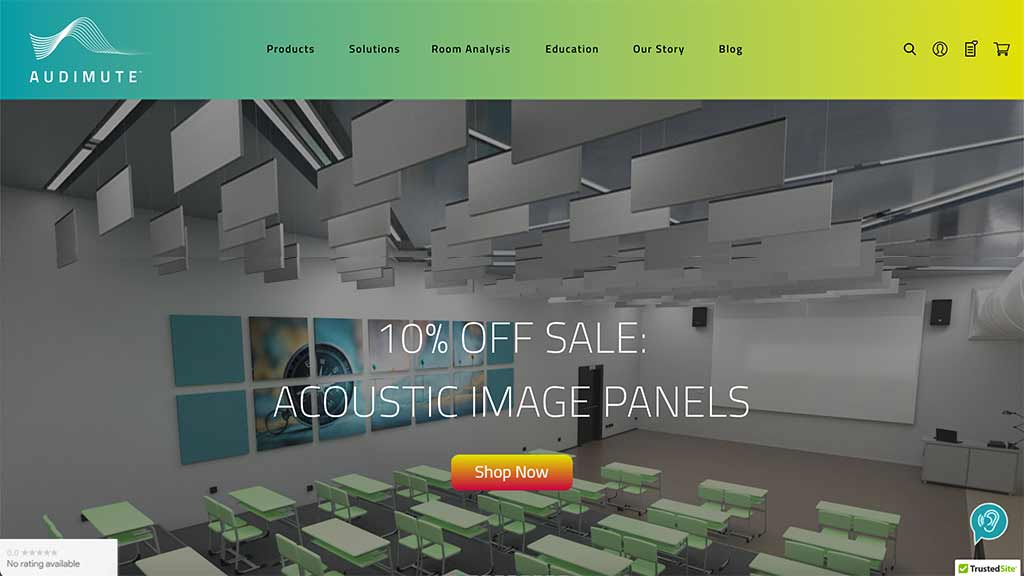 Audimute sells high-quality wall panels, sound barriers, and other supplies that ensure acoustic quality in spaces of all sizes. Musicians who need to prepare rooms to record music use panels like these to ensure better recordings.
These panels are also used by industry recording studios, corporate offices, and many other big-spending customers. If you have a website that reaches this type of audience, you may be able to make a lot more with every sale from this program.
The program, currently hosted on ShareASale, offers a commission rate of up to 5 percent on every product sold. They claim the average order value is over $200.
Snapshot
Commission rate: 5%
Cookie duration: 60-day cookie
Payment methods: Direct deposit
Types of Products: Acoustic wall panels
---
2. Fiddlershop
Fiddlershop is a destination site for violin, viola, cello, and double bass musicians. It sells high-quality instruments directly, including professional instruments with high price tags ($15,000+).
Affiliates can earn a 5% commission rate per sale as part of their  program. That may not seem like much, but the high quality of the items per sale here may mean large purchases more often than not.
You can use your website to promote the instruments or the many accessories, kits, and cleaning solutions they offer for each one.
Plus, they're willing to negotiate custom rates with high-performing affiliates.
It may be one of the best options on this list if you have a site focused on these specific instruments.
Snapshot
Commission rate: 5%
Cookie duration: 7-day cookie
Payment methods: Direct deposit, Paypal
Types of Products: Instruments and accessories
---
3. Guitar Center
Guitar Center is a large retailer focused on musicians and their needs. It still has hundreds of physical locations in the United States. The product range is massive and includes all the items you could pick up in stores along with many others available exclusively online.
They sell more than 40,000 products, including many of the most popular instruments in the industry. Customers can shop for guitars, keyboards, band instruments, and even home studio setups.
The variety can make this music affiliate program an easy fit for music websites in many different sub-niches. Even sites that don't directly target musicians (such as audiophile sites) can find matching products with the Guitar Center affiliate program.
The Guitar Center music affiliate program does not openly advertise its commission rates to unregistered affiliates. People in the program have reported a commission rate of between 6-8% per sale, with higher rates applying to some premium items.
Snapshot
Commission rate: 6-8%
Cookie duration: 14-day
Payment methods: Check
Types of Products: Instruments, accessories, education, and more
---
4. Master Class
MasterClass is a streaming platform with classes taught by famous artists and celebrities. It is not focused on musicians but has many instructors with musical backgrounds, including Tom Morello, Alicia Keys, and Hans Zimmer.
With one subscription, members can access all the available content. Affiliate marketers who are accepted can promote the annual membership valued at $180.
The MasterClass program is currently hosted on ShareASale. Affiliate marketers can collect a commission rate equal to 25% per sale. When approved, you can take advantage of free banners and support from a dedicated account management team.
Snapshot
Commission rate: 25%
Cookie duration: 30 days
Payment methods: Direct deposit, check, or Payoneer (through ShareASale)
Types of Products: Streaming classes
---
5. Maestro Classics
Maestro Classics sells teaching aids for children designed to foster a lifelong love of classical music. The website sells downloadable music, books, curriculums, and lessons.
This is one of the few options in the affiliate marketing world that works well for child-focused sites. If you cover parenting topics, STEM preparation, or other related topics, this program may fit your needs better than the others.
Affiliates can earn a 10% commission rate on all sales of CDs and MP3s through the program. All affiliates are provided with custom logos and artwork.
Snapshot
Commission rate: 10%
Cookie duration: 30 days
Payment methods: PayPal
Types of Products: Teaching aids
---
6. Pianoforall
Pianoforall helps people play the piano with a comprehensive set of Ebooks, videos, and audio lessons for performers at all levels. Subscribers can instantly access hundreds of resources with a $79 one-time payment.
You can promote subscription services and one-time lessons through the program. The program offers an unusually high 60% commission rate per sale.
Snapshot
Commission rate: 60%
Cookie duration: 90 days cookie
Payment methods: Direct deposit, check
Types of Products: Piano lessons
---
7. Prime Loops
Prime Loops is a massive marketplace for music samples. Rappers, DJs, electronic artists, music producers, and other customers can shop thousands of backing tracks for their next project.
The program allows you to market these tracks and collect a 20% commission rate when you're successful. It's a reasonable rate, though the transactions aren't likely to be high.
The prices range between $5-20 in value, but the site claims it enjoys a high visitor conversion rate. The cookie duration is only 2 weeks, shorter than what other programs offer on this list.
Snapshot
Commission rate: 20%
Cookie duration: 14 days
Payment methods: Paypal
Types of Products: Music samples
---
8. Rocket Piano
Rocket Piano is a learning platform that nearly a million customers have used to learn how to play the piano. The courses are now available both digitally and in hardback.
This affiliate program will be most closely applicable to sites that have piano-focused content. It may also fit some sites that are focused on self-improvement topics.
It's managed on the Clickbank network and pays a changing commission based on the product you sell. You'll be paid at a 75% commission rate for every download edition ($39.95) and 25% commission rate for every hard copy edition ($199.95).
Snapshot
Commission rate: 25-75%
Cookie duration: 30 days
Payment methods: Direct deposit, wire transfer, check
Types of Products: Piano classes
---
9. Singing Machine
Singing Machine is a karaoke brand that sells machines for homes, cars, and event spaces. It sells equipment of all grades, from children's toys to party setups. Some of the higher-end systems cost hundreds of dollars.
You may do well with this affiliate program if your site focuses on event topics, family fun, or entertainment management.
You can promote the machines and accessories through the affiliate program. It's managed on the Refersion network, pays a 5% commission rate for most items. Affiliates may be offered different rates based on product type or affiliate promotions.
Snapshot
Commission rate: 5%
Cookie duration: 30 days
Payment methods: PayPal, Payment Rails (as determined by Refersion)
Types of Products: Karaoke machines
---
10. Sam Ash
Sam Ash is a major music retailer and one of the largest family-owned musical stores. Their online marketplace sells over 40 000 products, including new and used musical instruments, sound equipment, DJ gear, and studio setups. Anything music producers would need.
Nearly any music-related website will find niche-relevant items to promote here. There are plenty of high-quality instruments for sites that appeal to professional visitors, or entry-grade instruments for sites that focus on beginners.
The Rakuten affiliate network manages the program. The affiliate commissions are paid on a sliding scale, where you can earn a commission rate as high as 10% on each sale. Initial rates are not advertised to non-members.
Snapshot
Commission rate: 10% (based on performance) per sale
Cookie duration: 30 days
Payment methods: Check, Direct Deposit, PayPal
Types of Products: Musical instruments, DJ equipment accessories, audio lessons, and more
---
11. Singorama
Singorama is a voice training software that helps customers develop a stronger singing voice. It takes purchasers through exercises developed by professional singers. A songwriting course is also available.
Clickbank hosts the affiliate program. It offers a 70% commission rate per sale on instant download products and a 40% commission rate on shipped music media courses.
Singorama has one of the highest commission rates on this list. It also has a more extended cookie duration period at 60 days.
Affiliates can also profit from any backend sales (for example, email offers) that the customer generates. Alongside the generous cookie duration of 60 days, that perk should make it easy to profit with this program.
Snapshot
Commission rate: 40-70% per sale depending on product
Cookie duration: 60 days
Payment methods: Direct deposit, wire transfer, check, or Payoneer
Types of Products: Voice lesson software
---
12. The Music Stand
This site bills itself as one of the biggest destinations for shoppers looking for gifts for musicians. It's stocked with tens of thousands of items to amuse, entertain, or help musicians express themselves.
They sell all of the items you might need to build morale among members of a marching band or orchestra.
That includes custom shirts, mugs, handbags, and achievement pins. It also sells teaching supplies, including blank music sheets, notebooks, and other teacher's aids.
As part of the affiliate program, you can promote any item for 10% net monthly commissions.
Snapshot
Commission rate: 10%
Cookie duration: 30 days
Payment methods: Auto-deposit, credit card, eCheck, or Paypal
Types of Products: Voice lesson software
---
13. Thalia Capos
Thalia Capos is a marketplace for guitar capos and picks. They also sell straps, slides, bridge pins, and other accessories used by dedicated guitarists. Many of the goods here are designed for the needs of enthusiasts, and priced accordingly.
ShareASale hosts the affiliate program. The managing team will provide you with existing creatives, banners, and affiliate links if you're approved. Payouts start at 15% per sale and go as high as 20% after 20+ sales a month.
Like some other programs on this list, it offers an excellent cookie duration of 90 days.
Snapshot
Commission rate: 5%
Cookie duration: 90 days
Payment methods: Direct deposit
Types of Products: Capos, picks, and accessories for guitars
---
14. Virtual Sheet Music
This is a large platform for downloadable sheets. They carry sheets for nearly every popular musical instrument and arrangement. Their customers include universities, orchestras, and theaters.
As an affiliate marketer in this program, you can earn a 30% commission on all sales when they join the program. You can claim that commission by selling individual items or subscriptions ($37.75/year). If you sell subscriptions, you'll receive a commission on any future renewals.
The program claims that you can claim affiliate commissions up to 30 years after a visit from your affiliate link. Cookie technology and program terms will change before that cookie duration is up, so your commissions are safe until then.
Snapshot
Commission rate: 30%
Cookie duration: 30 years (yes, years)
Payment methods: Paypal or check
Types of Products: Sheet music
---
15. zZounds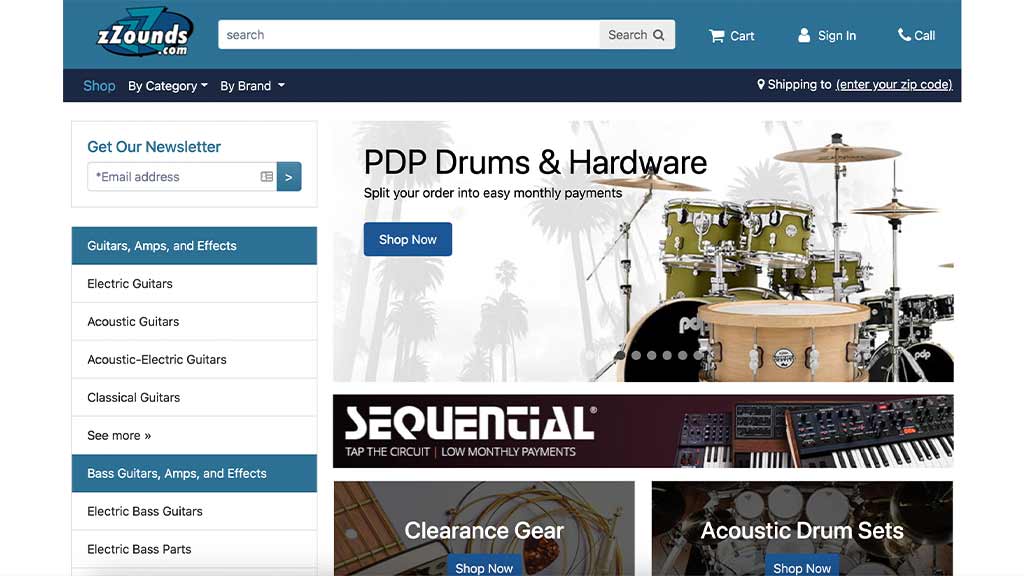 zZounds is a major music retailer selling thousands of guitars, bass', amps, synthesizers, mixers, and more. Many people consider it one of the best musical instrument retailers in the United States because of its generous price matching and return policies.
The wide variety of products will make it easy to build affiliate links around topics already covered on your site. You can work this program with any site focused around musical instruments or related accessories.
The program is one of the best in the niche and is hosted on CJ affiliate. A standard 6% commission rate applies to each sale. Bonuses of up to 80% are available for high-performing affiliates. The highest bonuses are unlocked after $10,000+ in monthly net sales.
Snapshot
Commission rate: 6%
Cookie duration: Cookieless tracking[1]
Payment methods: Direct deposit, check, or Payoneer
Types of Products: Musical instruments, accessories, and more
---
What's A Music Affiliate Program?
A music affiliate program is an agreement between a company and independent advertisers (affiliates). Affiliates use their websites or mailing lists to promote another company's products. They collect fees for completing specific actions, such as a sale or signup.
There are some great reasons to choose music over other niches. For example, the global music industry's revenue was recently recorded at $26.2 billion[2]. That amounts to a lot more opportunities to make a profit than you'll find in some smaller niches.
The purchase total per sale can easily reach 4-figures in this niche. Whether you're targeting the next aspiring rock star or a mother who wants her child to excel in a school band, you'll find people willing to spend big.
---
What Can I Promote With A Music Affiliate Program?
Below, you'll find just some of the goods sold in this niche and maybe a great match for your website.
1. Instruments
Instruments are among the highest-ticket items you can promote in this niche. There are healthy online markets for every musical instrument used by performing artists, marching bands, professional orchestras, or other music lovers.
The most popular instruments around the world include drums, clarinets, flutes, saxophones, violins, cellos, and guitars. Depending on the quality of the musical instrument, the cost per sale may range from a few hundred dollars to hundreds of thousands.
2. Accessories And Cleaning Kits
Instruments can be expensive to maintain. Wood instruments require fresh reeds, string instruments require new strings, and every instrument needs to be cleaned. The leads you generate may come back over and over—giving you a cut each time.
3. Classes
Classes take many forms in this niche. Affiliate programs may ask you to promote books, video courses, or tutors to musicians in your audience. You may also find offers to promote musical summer camps and college programs.
4. Software & Electronic Tools
Almost every musician and musical influencer uses software and tools. Software is used to record and edit tracks. Microphones, amps, speakers, and headsets are just some of the tools that musicians may seek.
These accessories often have high sales prices and may be purchased in bundles.
---
Start Promoting The Best Music Affiliate Programs
After reading all of this, we hope you're ready to jump into the music niche and music affiliate programs. Now, you know what they are, what products are promoted, and what the best affiliate programs have to offer.
But how do you know which is the best music affiliate program? Well, if you've been reading carefully and you know the music industry a bit, you'll know one when you see one.
The most important piece of advice we have for you is this: Don't wait. Start applying to any music affiliate program that matches your site, and you'll be collecting checks soon. The music industry has tons of opportunities for everyone.
Do you need a better site to apply to the best music affiliates in the music industry? Are you trying to earn more from your existing affiliate relationships? Join The Affiliate Lab. Here, you'll find the advice you need to catch up or break ahead of the pack.
Want to Become a PRO Affiliate?
Comprehensive lessons
Niche Grading tool
Step-by-step website building guide
Regular updates


Private Facebook community
Bonus courses
Lifetime course access