Over the years, search engine optimization (SEO) has played a crucial role in determining the success of most online businesses. As the internet continues to evolve, so does the complexity of SEO strategies.
The rise of AI-driven SEO tools has made it easier for marketers and businesses to enhance their online visibility, boost organic traffic, and outrank competitors.
As a seasoned SEO expert, I have researched and tested several AI SEO tools over the past five years and developed a comprehensive list of the best tools guaranteed to meet your SEO needs.
1. Neuron Writer (

Editor's Choice

)
Neuron Writer is a platform transforming how businesses approach search engine optimization.
This tool optimizes produced content with advanced artificial intelligence capabilities, making it indispensable for any digital marketer or content creator.
Neuron Writer is valuable because it can enhance your content's visibility, relevance, and overall SEO performance. 
It gives you a competitive edge by providing you with the latest SEO trends and algorithm changes.
Neuron Writer can monitor search engine updates and provide real-time suggestions to adapt content strategies accordingly. This ensures that you have a solid online presence.
Neuron Writer is a valuable resource for boosting productivity, overcoming writer's block, and generating creative ideas for my work.
Pros
Efficient keyword research 

Content optimization 

Automated content generation 

Generates content briefs
Cons
Does not fully understand the context or cultural nuances
Our Rating
Extensions: 4.9
Privacy: 4.9
Customer support: 4.9
Pricing: 4.7
---
2. Surfer SEO
Surfer SEO is an innovative tool that can transform how you optimize your business website for search engines.
This tool will help boost your search engine rankings, generate more traffic, and improve your online visibility.
Two significant features are its ability to analyze top-ranking websites and perform quality keyword research.
Surfer SEO offers on-page optimization features, providing specific recommendations to improve your content's structure, headings, meta tags, and keyword usage. These attributes ensure your website is fully optimized for search engines, leading to improved rankings and increased organic traffic.
From my experience, Surfer SEO's rank-tracking feature allows me to track keyword positions over time, helping me understand the effectiveness of my optimization efforts.
Pros
User-friendly interface 

Actionable insights 

Comprehensive keyword research
Cons
No free trial
Our Rating
Extensions: 4.8
Privacy: 4.7
Customer support: 4.8
Pricing: 4.6
---
3. Frase
Frase is a robust platform that helps you create content that meets the demands of your audience.
It can recommend comprehensive outlines and suggest topics to give you a head start on your article or blog post by analyzing top-ranking pages for any keyword.
With this, your content stands a better chance of appearing in featured snippets and voice search results, providing a better experience for your website visitors.
The tool also offers a comprehensive content analytics dashboard that provides valuable insights into content performance, including keyword rankings, traffic metrics, and engagement data. 
These insights allow you to track the success of your content strategy and make data-driven decisions for future optimizations.
I used Frase to enhance my content's SEO performance and drive more organic traffic to my website.
Pros
Comprehensive outlines for articles

Content briefs 

Content analytics dashboard
Cons
It may have a steep learning curve for beginners 
Our Rating
Extensions: 4.6
Privacy: 4.6
Customer support: 4.8
Pricing: 4.6
---
4. INK
INK is a revolutionary AI SEO tool that simplifies the complex process of SEO by offering real-time suggestions and recommendations, making it easier for you to sharpen your content and improve rankings on search engine results pages.
You can use INK to check for certain features, such as keyword usage, readability, and content structure, to ensure your content satisfies the benchmark for search engine algorithms.
This tool can also handle the research aspect of SEO for you, saving you the time and effort you need to implement your SEO strategy.
Moreso, it ensures that your content remains up-to-date with the ever-changing SEO landscape and keeps track of the latest trends and algorithm updates, providing you with timely recommendations to adapt your content accordingly. 
I find INK useful to improve the meta description of blog posts and craft engaging headlines that entice readers and search engines.
Pros
Real-time suggestions

Saves time and effort 

Competitor analysis
Cons
Limited customization options
Our Rating
Extensions: 4.6
Privacy: 4.5
Customer support: 4.5
Pricing: 4
---
5. Outranking
Outranking is an AI SEO content optimization and planning software that can leverage AI, data, and automation to generate better traffic and more revenue.
With Outranking's keyword clustering tools, you can get comprehensive keyword analysis and identify relevant keywords with high search volumes and low competition, enabling you to optimize content and increase your chances of ranking higher in search engine results.
Outranking has an important feature called AI writing that allows you to create high-quality outlines that will boost the quality of your writing and have the right balance between resonating with your audience and satisfying SEO effectiveness.
It helps you to stay ahead of the competition and make informed decisions to improve your SEO efforts.
Using Outranking can help gain insights into what keywords to target and how to structure content to improve your SEO.
Pros
Automated reporting 

Competitor tracking

Content optimization suggestions
Cons
SERP data is occasionally outdated
Our Rating
Extensions: 4.2
Privacy: 4.4
Customer support: 4.5
Pricing: 4.3
---
6. Scalenut
Scalenut is an AI-powered SEO and content marketing platform that helps you achieve all your SEO goals.
With this tool, you can plan and research content and optimize it to get the best results.
One unique attribute of Scalenut is its natural language processing (NLP) analysis feature. This feature helps you write smarter, improve the readability of your content and boost organic traffic.
It can also help you accumulate a quality list of closely related words for your target keyword to optimize your content.
Scalenut is a user-friendly tool, and I have found it accurate and helpful in generating high-quality content.
Pros
Time-saving 

Continuous updates and improvements 

Scalability
Cons
The potential risk of data privacy 
Our Rating
Extensions: 4.1
Privacy: 3.9
Customer support: 4.4
Pricing: 4.3
---
7. MarketMuse
MarketMuse is an AI SEO software that can give you reliable information for a successful content strategy.
This tool provides competitive content analysis, identifying gaps and opportunities to enhance the quality and relevance of your website content and allowing you to gain insights into your competitors' content strategies.
MarketMuse also has a content brief generator that provides blueprints for helpful, high-quality content to ensure high rankings.
It also integrates with ChatGPT to help you speed up your creation process and maintain its quality.
I found the optimize feature in MarketMuse helpful as it suggested related topics to include in your content.
Pros
Competitive content analysis 

Content recommendations 

Topic suggestions
Cons
Expensive pricing plans
Our Rating
Extensions: 4.1
Privacy: 4
Customer support: 4.2
Pricing: 3.8
---
8. WordLift
WordLife is an AI-powered SEO tool that does all the heavy lifting for you, improving your SEO strategies.
This platform has different use cases because it can serve as an SEO management service, an enterprise SEO platform, and an e-commerce SEO service.
If you run an online store, you will find WordLift to be very helpful because you can use its product knowledge graph feature to provide information about your products to search engines.
Pros
Improves website visibility 

Improved search engine rankings 

Enhanced user experience
Cons
Occasional inaccuracies 
Our Rating
Extensions: 4
Privacy: 4.2
Customer support: 4
Pricing: 4
---
9. Diib
Diib is an SEO tool and a traffic and SEO checker. This tool has a growth plan that you can leverage to set custom objectives and grow your business faster online.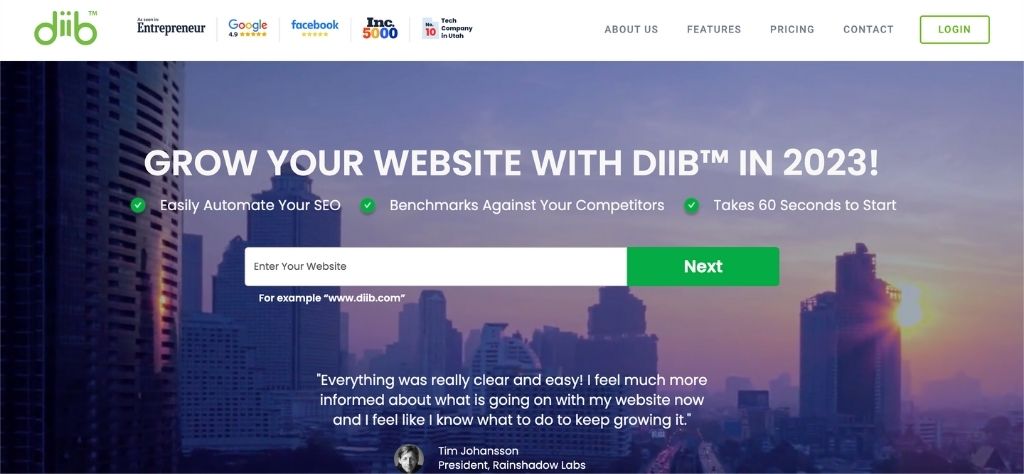 This platform lets you know your rankings and the steps to take with your business to achieve a better ranking.
With Diib, you can also benchmark your business website to see how well you are faring against your competitors and see if any improvements need to be made.
Diib is a user-friendly tool that provides detailed analytics about my website, including insights into my website's speed, security, and user experience.
Pros
Offers a free plan

Regular updates

Easy to use
Cons
It doesn't show if a backlink is do-follow or no-follow
Our Rating
Extensions: 4
Privacy: 4.1
Customer support: 3.9
Pricing: 3.9
---
10. Writesonic
Writesonic is an AI writer, copywriting, and paraphrasing tool that creates free SEO-friendly content for blogs, Facebook ads, Google ads, and Shopify.
This tool suits writers who want to create long-form blogs and articles, e-commerce stores who wish to improve their store's Google ranking and sales, and marketing teams who want to write copies that convert and generate leads.
If you are an entrepreneur, you can also use Writesonic to create a converting landing page copy or generate fresh ideas to boost your business.
The most exciting part about this tool is that it is entirely free, as no credit cards are required, allowing you to leverage it without paying a dime.
Pros
No credit card required

Generates SEO-friendly content 

50+ advanced writing tools
Cons
Copy may not be 100% accurate
Our Rating
Extensions: 3.5
Privacy: 3.7
Customer support: 4
Pricing: 5
---
Buyer's Guide
If you want to optimize your website's search engine, AI-powered SEO tools can be a game-changer, helping you optimize your website's performance and drive more organic traffic.
With the market flooded with various options, choosing the right AI SEO tool that suits your needs is essential, and these are some of the things you should pay attention to:
1. Identify Your Specific Needs
Each website has its distinct SEO challenges and goals, so you need to take your time to know your website's specific needs. 
Are you looking to target a niche audience? Is your focus on local SEO or global reach? Understanding your unique requirements will guide you toward an AI SEO tool aligning with your objectives.
2. Comprehensive Range Of Features
A robust AI SEO tool offers more than just standard optimization features and includes unique features that you will find beneficial.
Specific features, such as image and video SEO optimization, voice search integration, and AI-powered A/B testing for landing pages, are essential.
They should be in the chosen AI SEO tool of your choice. 
A tool with a comprehensive range of features will help you stay ahead of the competition and adapt to emerging SEO trends.
3. Seamless Integration Across Platforms
The mark of a top-tier AI SEO tool lies in its ability to integrate seamlessly with various platforms and third-party tools.
Look for a tool that can effortlessly integrate with your existing CMS, analytics platforms, and marketing automation tools. 
This integration enhances data flow, reduces duplication of efforts, and empowers you to make data-driven decisions from a centralized dashboard.
4. Data Accuracy And Actionable Insights
Reliable data forms the foundation of effective SEO strategies. Exceptional AI SEO tools prioritize data accuracy, leveraging real-time and up-to-date information to provide actionable insights. 
Such insights go beyond raw data to offer clear and practical recommendations, helping you optimize your website precisely and confidently.
5. Budget And Scalability
While budget considerations are essential, exceptional AI SEO tools go beyond just offering competitive pricing. Look for a tool that provides value for your money, delivering results that justify the cost. 
Scalability is paramount; choose a tool that can accommodate your evolving SEO needs and grow alongside your business.
AI should be embedded into existing processes and viewed as a mechanic to free up time for teams to focus on more creative tasks.
– Warren Daniels, Chief Marketing Officer at Bynder
FAQ
How Can AI SEO Tools Improve My Website's Search Engine Rankings?
AI SEO tools can improve your website's search engine rankings by providing valuable insights and recommendations based on extensive data analysis.
These tools can help you identify relevant keywords, optimize your content, analyze your backlink profile, and monitor your competitors. 
Are AI SEO Tools Suitable For All Websites?
Yes, AI SEO tools are suitable for all websites, regardless of size or industry.
Whether you have a small blog, an e-commerce site, or a corporate website, AI SEO tools can provide valuable insights and recommendations to improve your website's visibility in search engine results. 
Can AI SEO Tools Replace Human SEO Experts?
AI SEO tools cannot replace human SEO experts. AI SEO tools can automate many time-consuming tasks and provide data-driven insights.
However, human expertise is still essential for interpreting the data, making strategic decisions, and implementing complex SEO strategies. 
What Is The Best AI SEO Tool For You?
AI has come to stay in SEO, and this has been shown in the number of high-quality AI SEO tools we have today. 
While there are many options available, I have concluded after careful examination that Neuron Writer is the most effective AI SEO tool for content creation and optimization. 
Its user-friendly interface, AI-generated high-quality content, and impressive content optimization and management features make it a powerful asset for marketers and businesses seeking to achieve their SEO strategy, generate traffic and improve their online presence.
Our #1 Recommendation: Neuron Writer