LinkedIn accounts boost your lead generation more than all other social platforms combined. However, building your connections, sharing targeted content to select groups, and drawing insights from your stats takes much work.
This is why successful LinkedIn users automate the bulk of this work.
I've spent many hours researching and testing LinkedIn automation tools and using them on multiple business types.
In this article, I draw from my success with LinkedIn automation tools and my experience in digital marketing to narrow your search for the ultimate automation tools.
1. Dux-Soup (

Editor's Choice

)
Dux-Soup is among the best LinkedIn automation tools that help you attract, find, and engage with quality prospects.
Its advanced algorithm filters multiple accounts, follows precise LinkedIn activities, endorses skills, and automatically sends personalized messages.
I especially like how Dux-Soup humanizes the process. I can randomize the waiting time between actions. This gives my brand personality and doesn't make my prospects feel like they are interacting with a bot.
Other useful Dux-Soup features include integration with CRM and lead generation systems, such as HubSpot, LeadFuze, Pipedrive, and Zapier.
It also facilitates drip campaigns, and I can set the campaigns to stop or perform other actions when a prospect responds.
One drawback I found, however, is that Dux-Soup is not cloud-based. You must run your computer for several hours to let it perform tasks.
Instead of using technology to automate processes, think about using technology to enhance human interaction.
— Tony Zambito, Founder of Buyer Persona
Pros
Easy and beginner-friendly

Affordable

Comprehensive features

Safe payment options
Cons
Not cloud-based
Our Rating
Features:

4.9

Pricing:

4.6

Customer support:

4.7

User Friendliness:

4.8
---
2. LemPod
This LinkedIn automation tool targets recruiters, marketers, and brands, helping increase post views and reach a wider audience.
It works through a community of LemPod and LinkedIn that complement each other to promote your content automatically.
I drove significant engagement with LemPod during my test. All I had to do was find and join pods in my industry.
Then, every member automatically liked and commented whenever I posted content.
LemPod caps the pod populations at 50 and only allows a single post per member each day, which helps ensure that members remain undercover.
I appreciate that this LinkedIn lead generation tool is straightforward with a single goal: to drive engagement. It also allows me to select the comments I want on my LinkedIn campaigns.
Still, LemPod's simplicity can be a turn-off if you want more functionalities out of a LinkedIn tool.
Pros
Easy to use

Affordable pricing

Allows for comment selection
Cons
Limited functionality
Our Rating
Features:

3

Pricing:

4.8

Customer support:

4

User-friendliness:

4.9
---
3. PhantomBuster
PhantomBuster is a robust automation tool for LinkedIn and other major networks like Instagram, Twitter, LinkedIn Recruiter and sales navigator account, and Google Maps.
It offers over 100 automation tools divided into two categories: Phantoms, solo automation, and Flow, multiple automation that works in harmony.
With almost everything under one roof, this tool lets you automate email address generation, sending connection requests, liking and commenting on posts, lead generation, and outreach campaigns.
I especially found the data scraping feature invaluable. It provided valuable data that I could use to run effective campaigns.
PhantomBuster runs from the cloud, allowing me to shut down my PC and still have the tool doing all the heavy lifting.
The cost of using PhantomBuster is too steep because its basic plan starts at $59 per month when you pay annually.
Pros
Numerous functions

Works on multiple social platforms

Facilitates data-driven insights
Cons
Costly
Our Rating
Features:

4.8

Pricing:

3

Customer support:

4

User-friendliness:

3.5
---
4. MeetAlfred  
Previously called Leonard, MeetAlfred is an all-in-one lead generation software for Twitter, LinkedIn Premium, and email.
It automates LinkedIn account visits, follow-up messages, connection requests, and multi-messaging sequences.
I enjoyed using MeetAlfred's user-friendly interfaces and found the steps straightforward.
The tool also provides excellent reporting, allowing me to track individual and multiple long-term campaigns.
However, MeetAlfred's basic plan has limited features. It is also expensive, and you can only manage one LinkedIn account for $49 a month.
Pros
User-friendly interface

Supports multiple campaigns

Powerful analytics dashboard
Cons
Limited starter plan
Our Rating
Features:

4.7

Pricing:

3.5

Customer support:

3

User-friendliness:

4.8
---
5. Zopto
Zopto is an automation tool for LinkedIn sales navigator and recruiter accounts. It helps narrow down a target audience, generate leads, manage multiple accounts, deploy automated LinkedIn campaigns, and track data.
I was able to filter prospects according to various factors, including location, company size, industry, title, and seniority.
The LinkedIn automation tool also lets me match multiple levels of engagement with different prospects, such as message sequences, connection invites, and free InMails.
Zopto works with many integration tools through Zapier and webhooks, which opens up endless possibilities for a digital marketer. The dedicated customer success manager with the premium account plan could go a long way.
The platform does not offer any free trial whatsoever. This is quite a turn-off if you like to test things before committing.
It is also outrageously costly, beginning at $155 a month.
Pros
Hundreds of integrations

Provides analytics

A/B testing
Cons
Costly and no free trial
Our Rating
Features:

4.8

Pricing:

2.5

Customer support:

4.5

User-friendliness:

4
---
6. Taplio
This AI-powered LinkedIn automation tool helps with LinkedIn content creation by generating ideas. It provides notifications on news and the latest content ideas, allowing users to create a month's content in a few hours.
Taplio also has over 50 features, including critical ones such as scheduling tools that let you choose when your posts will go live.
Once posted, the tool allows you to monitor the results in real-time and provides invaluable analytics to improve your strategies.
I was not too fond of Taplio's paywall limitation, which restricts most of the features to get me to pay more.
Pros
Provides content inspiration

Easy to use

Numerous features
Cons
Paywall limitation
Our Rating
Features:

4.2

Pricing:

4

Customer support:

3.5

User-friendliness:

3.5
---
7. LinkedFusion
This LinkedIn automation tool primarily facilitates lead generation through various campaigns according to unique market needs.
It integrates with other tools like Google Sheets, Hubspot, and Zapier, enabling multiple non-native functionalities.
One thing I liked about LinkedFusion was its elaborate teammates feature that prevents members from the same team from pursuing connections already reached out to.
It also allows easy chat filtration, email reporting, and graphical analytics. Additionally, the software offers a comprehensive training academy.
LinkedFusion has excellent features but is costly, lacks a free trial, and customer support needs to be more responsive.
Pros
Supports team collaboration

Analytics and Reporting

In-built CRM
Cons
Poor customer support
Our Rating
Features:

4.1

Pricing:

3.6

Customer support:

3

User-friendliness:

3.7
---
8. Evaboot
Just like other LinkedIn automation tools, Evaboot is an automation tool that targets users with LinkedIn sales navigator accounts.
It helps extract accounts and leads and launch analytical campaigns without the need for technical expertise.
I used it to get my prospects' professional emails in just a few minutes. All I had to do was search for my target and click "Extract with Evaboot."
I could even export the data to CSV, which allowed me to upload the emails to other marketing tools.
The downside, however, is that Evaboot only works on the sales navigator account. It also extracts mismatched data occasionally.
Pros
Competitive pricing plan

Straightforward

Unlimited number of teammates
Cons
Only works on the Sales Navigator account
Our Rating
Features:

3

Pricing:

4.6

Customer support:

3.7

User-friendliness:

3
---
9. LaGrowthMachine
LaGrowthMachine is a lead generation software that lets you import contacts from a CSV file or social media platforms like LinkedIn.
This LinkedIn automation tool enables you to automatically manage your leads, build lead generation campaigns, and analyze results.
Without breaking a sweat, I used the platform to find my prospects' emails, social accounts, and phone numbers.
However, LaGrowthMachine had very few features for me to work with. It also had a learning curve, which was unexpected for a tool with limited features.
Pros
Integrates with other CRM tools

Provides a campaign builder

Responsive support
Cons
Not beginner-friendly
Our Rating
Features:

2.5

Pricing:

3

Customer Support:

4.5

User-friendliness:

3.5
---
10. Linked Helper
Linked Helper aims to boost your brand visibility on LinkedIn. It works by helping you create effective message sequences using the software's template for standard LinkedIn profiles.
The tool imports thousands of contacts from LinkedIn or a CSV file with a few clicks.
Its Hyperise integration feature allows to create hyper-personalized campaigns. You can choose from various variables to create highly targeted campaigns and send bulk LinkedIn messages to specific groups with the auto mailing system.
It lacks cloud-based functionality, which limits flexibility when hopping between computers or when a client has to shut down their PC.
Pros
Very affordable

In-built CRM

Integration capabilities
Cons
Limited features
Our Rating
Features:

3

Pricing:

3.8

Customer Support:

3

User-Friendliness:

3.6
---
Buyer's Guide
There are six crucial factors to pay attention to when shopping for a LinkedIn automation tool. 
1. Drip Campaigns
Beyond scraping publicly available information, you want a LinkedIn automation tool that facilitates outreach campaigns.
An excellent algorithm will also have smart sequences, allowing it to monitor the behavior of your leads and act accordingly.
2. Automatic Stop
The last thing you want is to keep bothering your prospects until your interactions feel robotic or your messages seem spammy.
You want a tool with automatic stop functionalities to choose when to stop following up and when to initiate a different action.
For example, you can control the automated LinkedIn messages and take over the conversation when the lead responds.
3. Reporting And Analytics
When analyzing LinkedIn automation tools, it is better to run some analytics and give a report. When creating your next LinkedIn outreach, metrics like response rate, profile views, and accepted connection requests are invaluable.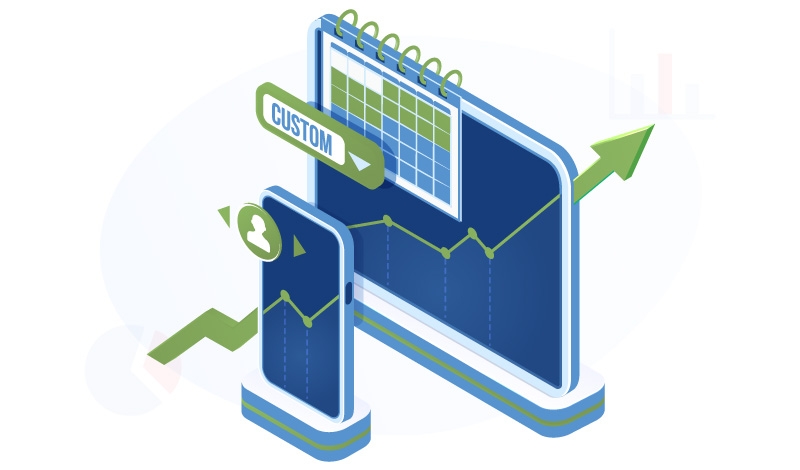 They help us know what works and what to change.
4. Hyper-Personalized Messages
It would help to have LinkedIn automation tools that enhance your ability to personalize messages.
For example, you can send unique LinkedIn messages to specific groups based on variables such as first or last name, company, occupation, etc.
5. Integrations
There are many other marketing and CRM software, each with unique capabilities that cannot all be achieved with a single platform.
You want integration capabilities so you have room for expansion and can take advantage of what other tools offer while minimizing the hassle of juggling many automation platforms.
FAQs
What Does LinkedIn Automation Do?
LinkedIn automation helps you expand your audience, generate quality leads, launch drip campaigns, receive valuable analytics, and integrate with other CRM tools.
Is LinkedIn Automation Illegal?
No, LinkedIn automation is not illegal. However, LinkedIn can ban your account for deploying automation tools that don't work within particular safe limits. The tools in this review are safe to use.
Which LinkedIn Automation Tool Should You Choose?
After thorough research, I highly recommend Dux-Soup as the ultimate LinkedIn automation tool.
Dux-Soup supports drip campaigns, automatic stops, personalized LinkedIn messages, reporting & analytics, multiple integrations, and more. I also find its technical support highly responsive.
Dux-Soup delivers all these excellent functionalities while keeping the prices lower than its competitors. It is the best platform to affordably take your LinkedIn marketing or skill sourcing to the next level without sacrificing quality.
Our #1 Recommendation: Dux-Soup