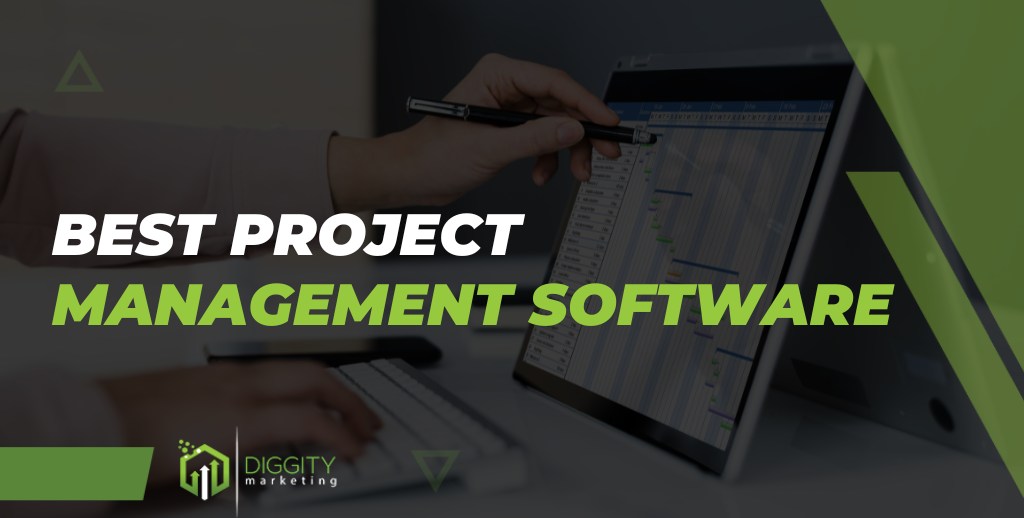 Project management software makes it easy to undertake projects, manage them, and ensure that the team executes them within the allocated time.
As a project management expert with over five years of experience, my team and I have been fortunate to use many of these applications and have discovered that some are more efficient than others. 
Based on our firsthand experience, I have compiled a list of the best project management systems, and I will reveal everything you need to know about their features, pricing, and much more.
1. ClickUp
ClickUp is a world-class project management software that makes your work much easier by providing all the features you need, such as documents, chats, and goals, all in one place.
You can plan and manage any work, connect with your team members, and even track work productivity using analytics and reporting tools.
ClickUp is also flexible and can integrate with many other apps, such as Slack, GitLab, and Webhooks, to foster productivity.
To use ClickUp, simply check out its free plan or opt for any of its paid plans starting with the unlimited plan at $5 per member per month, the business plan at $12 per member per month, the business plus plan at $19 per member per month and the enterprise plan which will require you to contact sales to determine the price.
ClickUp was an excellent software for me because it could handle different types of projects and help my team members get meaningful work done.
Pros
Has a high level of customization

Comes with a solid dashboard look

The free version offers you a lot of options

Has a great customer support
Cons
Limited time tracking feature
Our Rating
Extensions: 4.9
Privacy: 4.6
Customer support: 4.6
Pricing: 4.7
---
2. Monday.com
Monday.com is a leading software that allows you to handle project management, task management, sales and CRM, marketing, and software development.
This tool has a modern interface, and it brings everyone together so that each person can gain vital information from the other seamlessly regarding a particular task.
To get you started, Monday.com has a "building blocks" feature consisting of dashboards, integrations, automation, files docs, forms, and much more which you can use to create your workflow.
In terms of pricing, you can use the platform for free if you just want to keep track of your work and other basic activities. 
However, if you are looking for something much more advanced, you can opt for the basic plan at $24 per month, the standard plan at $30 per month, and the pro plan at $48 per month.
The enterprise plan will require direct contact with the sales department and is best suited for large organizations that want customized features.
From my experience using this platform, it has a very nice user interface with the most readily available features to complete any project.
Pros
Built for multiple users

Has great tracking features

Has a highly visual dashboard
Cons
It has a limited mobile app
Our Rating
Extensions: 4.8
Privacy: 4.6
Customer support: 4.5
Pricing: 4.5
---
3. Airtable
Airtable is a simple software that enables you to connect and achieve everything and anything. 
This means that you can seamlessly bring your work and team together in one place and foster efficiency using the applications available on this platform.
Airtable boasts many impressive features, such as interface design, views, automation, sync, and reporting, that focus on properly managing the available data and workflow.
This software also provides you with a ton of solutions to work with. For example, you can see how different teams use Airtable to complete their tasks and understand Airtable by use cases that will show you how to organize and manage content more effectively.
Airtable is also quite affordable as you can make use of the software for free, or you could go for any of its paid plans starting with the plus plan at $10 per seat per month, the pro plan at $20 per seat per month, and the enterprise plan which will require you to contact sales for more information.
My experience using Airtable was great as I didn't encounter any major challenges using the platform, which is why it makes this list.
Pros
Comes with apps, integrations, and automation

Highly customizable

It has a solid tracking feature
Cons
Has a complicated formula feature
Our Rating
Extensions: 4.8
Privacy: 4.6
Customer support: 4.5
Pricing: 4.6
---
4. Notion
Notion is an excellent software focused on team connection and collaboration to encourage better and faster work.
With this tool, you can handle most projects, including design, product, marketing, etc.
You also gain access to next-generation docs that you can use to communicate and share ideas more effectively with your team members.
There is also the "Notion AI" that helps you better execute presentations, work faster, automate tedious tasks, and write better.
It also has a solid integration feature that allows you to connect your tools, so you do not have to switch between apps to get work done.
You can also use this software for free, although with limited features, or you opt for its plus plan at $8 per user per month, its business plan at $15 per user per month, or its enterprise plan, which will require you to contact sales or request a trial.
I have used Notion previously, and from my experience, it is quite flexible and capable of being used remotely and in different types of organizations.
Pros
Very easy to use and customize

Compatible with different devices

Has excellent timesaving features
Cons
Has poor security features
Our Rating
Extensions: 4.8
Privacy: 4.5
Customer support: 4.5
Pricing: 4.8
---
5. Smartsheet
Smartsheet is a modern project management tool that enables you to grow an impactful business easily.
You can trust this platform because it is safe and secure, protecting everything you do with your work.
This tool takes what a spreadsheet such as Google Sheets can do to the next level, making it a very powerful project management software [1].
To get started using Smartsheet, you can watch a demo by registering, or you can check out the free plan at no cost, the pro plan at $7 per user per month, the business plan at $25 per user per month, and the enterprise plan which will require you to get in touch with the sales team.
From my experience, Smartsheet is quite advanced software and is best suited for large organizations and project managers with advanced workflows.
Pros
Comes with robust security features

Has remarkable reporting tools

Can be customized
Cons
Has a steep learning curve
Our Rating
Extensions: 4.6
Privacy: 4.8
Customer support: 4.6
Pricing: 4.6
---
6. Wrike
Wrike is a high-level project management app that helps you streamline your work process, manage multiple projects, and enhances collaboration and execution across all levels within your organization.
When it comes to project management, Wrike helps you strategize by illuminating your operations and by helping you plan, visualize, and track your objectives and key results for risk reduction and proper execution.
If you want to use Wrike strictly for project management, it comes with four pricing plans: the team for PMO plan at $9.80 per user, and the business for PMO plan at $24.80 per user per month.
The enterprise for PMO and the pinnacle for PMO plans will require you to contact the sales team to determine the price.
From my experience, Wrike is a highly advanced tool best suited for complex workflows and tasks.
Pros
Has premium customer support

Has a good dashboard interface

Offers real-time project and team reporting
Cons
Can be overwhelming for new users
Our Rating
Extensions: 4.5
Privacy: 4.6
Customer support: 4.9
Pricing: 4.6
---
7. Kintone
Kintone is one of the best project management apps that lets you manage your team's data, tasks, and communications in one place.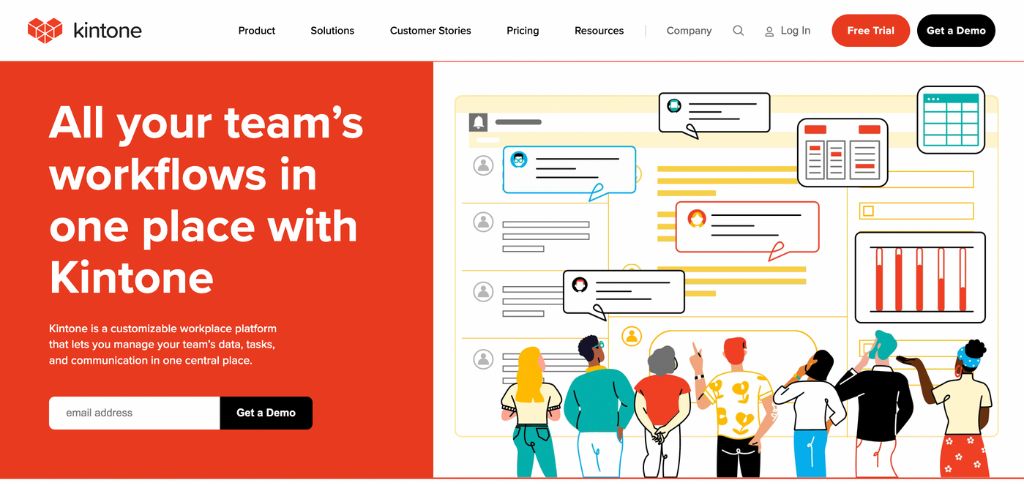 You can even build apps without coding with Kintone, which will help automate your business processes and adequately manage projects and complex data reports.
This software has native Kintone plug-ins, extensions, and an app template library.
It also offers different solutions categorized by department, function to which project management belongs, industry, and problem.
You can get a 30-day free trial using this platform or opt for its paid plan, which is $24 per user per month.
From my experience, Kintone is a simple platform that offers decent features for project management and other work functions.
Pros
Highly versatile

Has a top-tier reporting feature

Comes with a 30-day free trial
Cons
Has no offline access
Our Rating
Extensions: 4.5
Privacy: 4.6
Customer support: 4.5
Pricing: 4.6
---
8. Zoho Projects
Zoho Projects is a cloud-based project management software that helps you plan and manage your projects, track work, and foster great collaboration with your teammates.
This software prides itself on its top-tier features, including task management, task automation, time tracking, charts and reporting, and team collaboration.
This tool is quite affordable as it comes with a free plan of up to three users, a premium plan at $3.29 per user per month, and an enterprise plan at $6.58. You also get a 10-day free trial with no credit card required.
From my experience, Zoho Projects is a world-class software with the needed features to execute projects and workflows for different businesses and individuals.
Pros
Has a solid user interface

Can easily track time for any task done

It is quite affordable
Cons
Does not include pre-made templates
Our Rating
Extensions: 4.6
Privacy: 4.5
Customer support: 4.6
Pricing: 4.8
---
9. Liquid Planner
Liquid Planner is the right project management software to help you control project risks and manage uncertainties so that you and your team can execute the project successfully and with confidence.
This tool forecasts the time your project is expected to finish and watches out for certain uncertainties that could cause it to be delivered late.
It also gives you priority-driven views and ensures you are aligned with the right people performing the tasks at the right time.
If you want to know more about Liquid Planner, you can start by checking out their demo, which will require you to select a date and time, or you could check them out for free through their free trial.
You can also opt for any of its packages, starting with the essentials plan at $15 per user per month, the professional plan at $25 per user per month, and the ultimate plan at $35 per user per month.
After trying out this software, I discovered that it offers unique benefits to businesses that want to cater to unforeseen circumstances to ensure their projects are well executed at the appropriate time.
Pros
Has great customer support

Offers unique features

Has an excellent schedule
Cons
It may require training to use
Our Rating
Extensions: 4.4
Privacy: 4.5
Customer support: 4.5
Pricing: 4.5
---
10. Celoxis
Celoxis is a great project management solution that prioritizes project management and takes care of other business areas, such as streamlining your project portfolio and monitoring profit margins.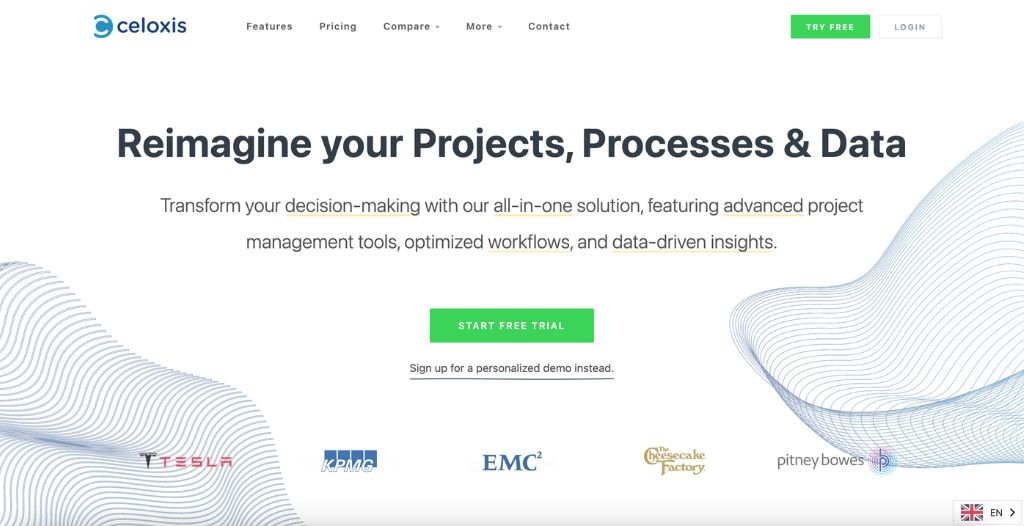 Some of its highly impressive benefits include intake management, what-if analysis, resource management, project planning, and portfolio monitoring, among others.
You can also use its time tracking, issue tracking, advanced scheduling, and risk management features to ensure that your task or project is done adequately.
You can get started with Celoxis by opting for any of its plans, which include the cloud plan at $22.50 billed yearly or its on-premise plan billed once, and will require you to get in touch with the sales team to get a quote.
My findings show that this software is a great tool for organizations that need just the right features tailored specifically for project management.
Pros
Provides great value for money

Has time tracking, project, and resource management tools

Easy to use and setup
Cons
Does not have proofing tools
Our Rating
Extensions: 4.5
Privacy: 4.5
Customer support: 4.6
Pricing: 4.6
---
Beginner's Guide
There are tons of project management solutions existing today and offering similar features. However, it is common knowledge that these project management platforms are not the same, and you should pay attention to these factors.
Organizational Size
Large organizations will have larger needs and more complicated projects and tasks than small start-ups. 
For this reason, check to see that the software you are going for has the required features to satisfy your organization's needs.
Scalability
Project management tends to evolve with time, so it is only normal that the software you use can adapt as well. This is why you should consider highly adaptable software that can serve your organization for years.
Ease Of Use
Project management tools shouldn't be rocket science for you and your teammates. In short, it shouldn't require much training before you become accustomed to it.
Going for software that is easy to use and implement without fuss will save you a lot of time and resources.
There is a workflow difference between the Sales department and the Creative one, for example. People have different ways of working and visualizing their projects, especially based on their skills. But also, if they need to work with each other on the same project management platform, you'll have to find the tool that offers this solution.
– Alexandru Stan, Serial Entrepreneur and Chief Executive Officer of Tekpon
Challenges
Once you know your organization's challenges, it becomes easier for you to be very specific about the type of project management software you need. 
For example, if you notice your organization has a tracking problem concerning a given project, you can focus on getting software that has an excellent tracking feature that will get the problem solved for you.
Successfully implementing an enterprise project management system is difficult. This is a cultural [issue], not a tool issue. Most organizations do not have consistent and standard practices for managing projects and reporting on portfolio performance. Something as seemingly simple as having a standard day for reporting status across the enterprise can send shockwaves, as people are used to reporting status on a specific day, usually because of their executive status cadence.
– Alan Zucker, Founding Principal of Project Management Essentials
---
Frequently Asked Questions (FAQs)
How Much Does A Project Management Software Cost?
Project management software cost is dependent on a lot of factors. However, it can be anywhere from tens of dollars to hundreds of dollars per month depending on the plan and what exactly you need it for.
What Makes the Best Project Management Software?
What makes the best project management software is the features that it comes with and how adaptable it is to your organizational workflow.
What Are the Top Project Management Features?
The top project management features are numerous. However, some of them include app integrations, reporting and tracking tools, templates, and project management scheduling.
What Is Project Management Software Best For?
Project management software is best for streamlining project management processes through better collaboration and tracking to ensure proper execution.
Get A Project Management Software for Your Organization Today
Project management software solutions are very important to every business and organization that frequently undertake and execute serious projects.
After putting it to the test, I will recommend ClickUp because it made my work much easier and provided a way for me to connect seamlessly with my teammates to get work done much faster.
It is also suitable for most devices, has excellent customer support, and is quite affordable.
Other project management tools listed here are also great in their ways, as they offer similar features with comparable price plans.
In conclusion, your chosen platform depends on your organizational needs and what you want from these software solutions.