There is one company that has consolidated a large amount of power when it comes to web hosting.
That company is called EIG or the Endurance International Group. Of course, we've had to try it.
This company has acquired over 80 web hosting companies to expand its customer base and includes some of the biggest names in hosting like BlueHost and HostGator.
In this article, we'll delve into the company's history, examine its reasons for acquiring web hosting companies, and evaluate the value of EIG-owned hosting businesses. As seasoned professionals in the field, we'll also explore alternative hosting providers for those seeking options outside the EIG umbrella.
EIG Web Hosting Companies and Brands
Under the EIG umbrella of hosting companies and brands, over 80 companies have been acquired over the years they have existed.
We will discuss the three most prominent hosting companies EIG owns.
1. Bluehost
As far as a web hosting company goes, Bluehost is one of the more popular ones acquired by the EIG. Bluehost is quite transparent about being an EIG company.
Their company's History Page listed their acquisition by EIG in November 2010. Bluehost powers over 2 million websites and is proud to be one of the EIG hosting sites.
Features offered:
Each hosting environment has tiered plans that scale as your website or business grows. They offer managed WordPress, e-Commerce, VPS, and dedicated hosting.
Each shared, or WordPress plan has an SSL certificate for the first year only, free CDN, and web builder capabilities. Bluehost is also a domain registrar.
A significant downside of Bluehost is that they do not offer a guarantee of uptime.
We know uptime is important for SEO and building trust and a community with your site visitors. Let's not forget the massive server outage and downtime of 2013.
Despite these drawbacks, it's worth noting that Bluehost does provide robust customer support, which includes a comprehensive knowledge base and 24/7 assistance, thus helping users navigate any potential issues with relative ease.
---
2. HostGator
Another popular host was acquired by the EIG. In HostGator's case, they aren't as transparent about being an EIG company.
Hostgator powers over 2.5 million websites, making it even more popular than Bluehost. The EIG machine acquired HostGator in 2012.
Features offered:
They offer a range of services and, at face value, seem like a formidable company in the web hosting industry. They offer domain registration, transfers, and management of domains.
Their hosting environments include shared, cloud, WordPress (managed), reseller, VPS, dedicated, and Windows hosting.
They offer a free domain with plans only if you sign up for at least a year. Other included add-ons are SSL certificates, backups, and unmetered bandwidth.
HostGator also distinguishes itself with a 45-day money-back guarantee, which is a longer period than what is typically offered in the industry, allowing customers to try their services with a greater sense of security.
---
3. HostMonster
HostMonster's website is tough to navigate regarding what plans they offer. They are not transparent about being an EIG host on their About Page.
They were acquired by EIG in 2010 as a sister company of Bluehost.
Features offered:
HostMonster offers basic web hosting services with an upgrade to a pro version which includes more features. They also provided VPS and dedicated hosting.
Some features include unlimited disk space, unlimited domain hosting, and 3 different webmail solutions.
Out of the three examples of EIG, web hosts Bluehost and HostGator stand out and can arguably be the more popular of their companies.
However, while they may boast excellent features, we know that their aim is not guaranteed high performance regarding hosting.
During our trial and error of HostMonster, we experienced firsthand the challenges of their complex website navigation and the underwhelming hosting performance despite the promised high-end features.
Again these companies should be avoided, primarily when better options exist outside EIG.
---
Dependable EIG-free Web Hosting Providers
Let's discuss some of the best EIG-free alternative hosting providers.
1. SiteGround
A non-EIG hosting solution, SiteGround is a host that positions itself as a company offering quality, robust hosting solutions, and the utmost performance.
It boasts more developer-oriented features. For example, the "GoGeek" plan offers free PCI compliance and free Git & staging areas.
SiteGround supports more than 2.8 million domains on various hosting plans and is arguably one of the most popular web hosts in the WordPress arena.
Trustpilot has 3,000 reviews of Siteground and 94% of which are excellent, giving it an overall TrustScore of 4.8/5.
SiteGround is equally praised for its excellent, around-the-clock, 24/7 technical support available by chat, ticket, or phone.
They are known to be quite efficient in solving customer hosting-related problems.
Features of SiteGround:
SiteGround includes managed WordPress hosting, basic scalable web hosting plans, Woo-commerce hosting, cloud hosting, and reseller hosting.
Their hosting plans include a free domain, SSL certificate, free CDN, unmetered traffic, enhanced security, and more.
In our experience using SiteGround, we found it to live up to its reputation, offering consistent uptime, rapid server response times, and user-friendly interfaces, all contributing to a seamless hosting experience.
Furthermore, their exceptional customer service consistently delivered prompt and helpful responses, solidifying SiteGround as a reliable hosting choice in our books.
---
2. DreamHost
The oldest host and, with time, has been able to hone its skills as a leader in the industry.
DreamHost has spent its time wisely, mastering the art of providing top-notch and quality hosting services with many features, perks, and scalable hosting plans.
During our time with DreamHost, we were particularly impressed with their promised 100% uptime, which they consistently delivered on, greatly enhancing our site's reliability.
Plus, their range of scalable hosting options allowed us to flexibly adapt our site as our requirements evolved, further cementing DreamHost as a versatile and efficient hosting service provider.
Features of DreamHost:
One of DreamHost's notable claims to fame is the guarantee of 100% uptime.
DreamHost is an all-in-one stop shop for everything you need to begin your website.
They cover a plethora of hosting environments that are scalable and affordable.
These include WordPress hosting with a managed option, shared, VPS, cloud, and dedicated hosting solutions.
They are also a domain registrar and an email host and offer pro services like website management and web design.
---
3. Hostinger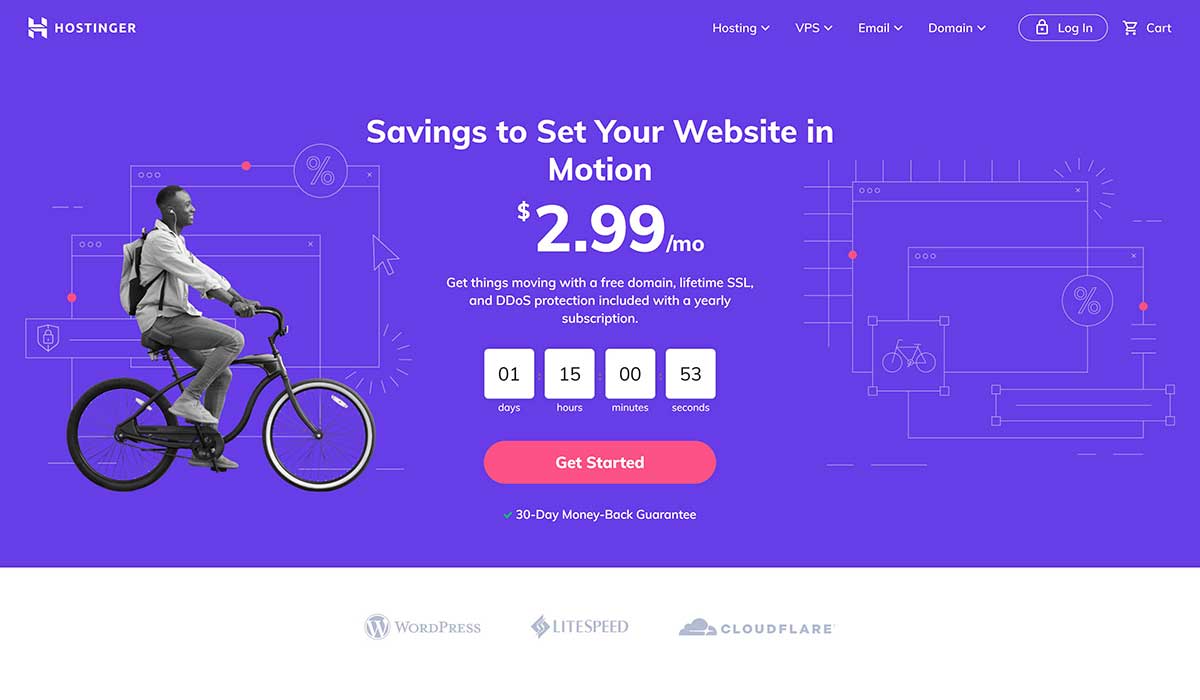 A young but powerful web hosting platform that created its home-grown hPanel to replace the cPanel for managing your hosting and website.
The customer base is over 1 million, and they are one of the fastest-growing web hosting services. They include seamless management tools, web speed, and 24/7 dedicated technical support.
We found their custom hPanel to be intuitive and user-friendly, making website management a breeze even for beginners.
Additionally, their rapid growth didn't compromise their dedicated customer support, which consistently provided timely and effective solutions, making our overall experience with Hostinger a positive one.
Features of Hostinger:
Hostinger offers basic web hosting, VPS, managed WordPress, Minecraft server hosting, cloud hosting, CMS hosting, Email hosting, eCommerce hosting, and many more.
They also offer a free hosting transfer. Domain transfer and registration are also available at Hostinger. They offer competitive prices and a heap of perks.
---
The History of Endurance International Group (EIG)
EIG's humble beginnings in 1997 formed in Burlington, Massachusetts, USA.
It grew into a hosting giant by acquiring smaller web hosts.
In November 2020, EIG announced a definitive merger with Clearlake Capital Group in an all-cash transaction of $3 billion.
In 2022 it continues to operate its companies under their original brand names but moved its entire IT infrastructure to India.
EIG acquired Ecomdash in October 2019 for $9.6 million cash, placing it under the Constant Contact group.
In April 2020, EIG won Google Cloud's Expansion Partner of the Year Award for the Asia Pacific.
In February 2021, Clearlake Capital turned away the Endurance Web Presence division, including its subsidiaries Bluehost, HostGator, and Domain.com.
The company merged with Web.com to create a new company called Newfold Digital in 2021[1].
EIG uses its free cash flow and access to the capital markets to acquire new businesses. The company has acquired hosting companies domestically in the U.S. and internationally.
By evolving into one of the Internet's principal Web hosting businesses, Newfold Digital, formerly EIG, was structured differently from big hosting companies such as GoDaddy, I & 1, Ionos, or Rackspace.
The company has grown its hosting brand and related businesses through many acquisitions.
---
Why Should I Care About EIG Web Hosting?
You should care about Endurance International Group (EIG) hosting because it has over 80 hosting companies under its umbrella, including some of the biggest names in hosting like Bluehost.
It's estimated that Bluehost powers over 2 million websites worldwide. Bluehost is just one of the significant hosting companies that fall under the EIG umbrella.
With so many websites coming online daily, the demand for web hosting services is higher than ever.
With a company like EIG owning over 80 companies in the web hosting business arena, they've consolidated the market and made it super competitive for companies outside of their host of companies.
If you're looking to start any website and have heard of EIG web hosting, it's best to read this article thoroughly before registering with one of their companies.
Why should you care about EIG hosting companies?
The reason is that while hundreds of web hosting services are out there, choosing one can be difficult and shouldn't be taken lately.
1. Free Publicity Through Affiliate Programs
Popular blogs about how to start a website and give web hosting advice usually push Bluehost because of their affiliate program.
Well-known major hosting companies owned by EIG have a reputation for having weak features and unreliable technical support, and in 2013 their data centers were hacked, affecting many of their brands, including Bluehost and HostGator.
This attack caused a blackout of millions of websites.
And we know website downtime can negatively impact your SEO. While plans with these companies can be cheap, you tend to pay for what you get. But again, why should you care?
The principal reason is that with EIG, all hosting infrastructure is shared between its hosting brands. And, over the years, they've had several large-scale outages just like the major one in 2013.
As we mentioned, millions of websites are affected, including websites hosted by major players like HostMonster, HostGator, and Bluehost. Many minor outages have happened as well.
The outages were so thorough that they affected phone lines servers, and almost all hosting businesses underneath EIG were affected.
3. Shotty Internet Security & Other Issues
Hosting companies underneath EIG don't have ironclad security protocols and are thus susceptible to attacks.
This security issue is because when they acquire a new hosting brand, they completely change and absorb the internet infrastructure and technical support into their existing infrastructure, weakening the web host.
Secondly, hosting businesses under EIG is known for having technical issues like throttling bandwidth, connections, etc.
With customer support, subscribers suffer long wait times and delays in receiving the help they seek.
4. Price-Fixing
Lastly, when one company controls multiple companies, the monopoly price-setting practice seems unconnected at first.
But the pricing of hosting solutions across a wide array of hosting companies under EIG use price-fixing.
In the case of the EIG umbrella, price-fixing involves an anti-competitive agreement between the companies to sell hosting services at a fixed price or maintain market conditions of the cost to control the supply and demand.
With this amount of control, EIG hosting companies can set any price they desire without you having a choice.
Because you're already a subscriber to their hosting, it is difficult to migrate to another host outside the EIG umbrella of companies.
Many EIG companies make it very expensive to migrate hosting to another company.
Additionally, if you can migrate to a new host, you may end up at another EIG company, making it difficult to escape.
---
What Happens to a Hosting Acquired by EIG?
A web host acquired by EIG is subject to significant changes and is not for the betterment of individual hosting businesses.
The past indicates we can continue seeing EIG's acquisitions of hosting businesses. But what happens to an EIG-owned brand?
When EIG purchases a web host, it typically makes numerous changes to the company.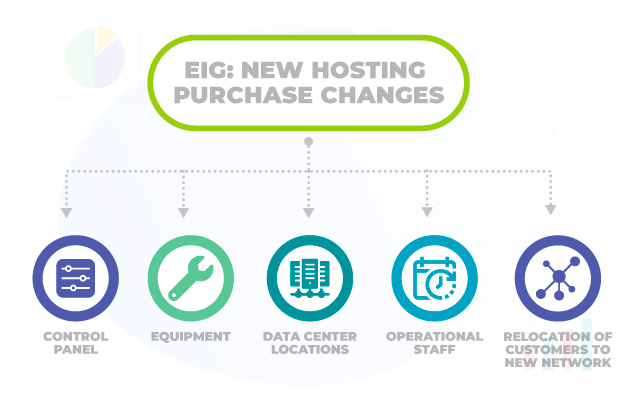 These changes include technical ones like changing the control panel or hosting interface, equipment, data center locations, changes to operational staff, and relocation of customers to their network.
Additionally, customers have complained about a reduction in technical and customer support levels after the purchase of a host by EIG.
Another prime example is after EIG purchased HostGator. Some customers express frustration with the low quality of service after the takeover.
Customers have taken note of the delay in response time after submitting tickets. Also, customer complaints increased when accounts were transferred from SoftLayer (data/computing center) to the EIG data center in Provo, UT.
However, HostGator remains one of the best of EIG's acquisitions, and most features have remained the same while changes took place on the administrative and technical sides.
It can be said that HostGator no longer resembles the company it once was in terms of reliability and focus on high performance.
In reality, the best advice is to register with a web host, not under the EIG group of companies.
The undeniable truth is that EIG owns so many top web hosts within the web hosting world.
Even if you are dissatisfied with one web host, and you decide to transfer hosting to another company. You may end up with another EIG-owned company.
So, it's best to do your due diligence and research the ownership of the hosts you decide to register for web hosting. This guide will give you some excellent hosts outside of the EIG web.
EIG Cycle of Acquisition
It's crucial to discuss the EIG cycle of acquisition. EIG's business model solely focuses on acquiring as many web hosting services as possible and absorbing their customer base.
They wish to keep their brands intact and operating (meaning sometimes there is no disclosure that they've become an EIG brand).
EIG appears to not be focused on quality of service or providing robust hosting features. Within the company, they consolidate support, the marketing, technology, and internet infrastructure departments.
Fewer employees are working to provide you with the quality service you had before EIG stepped in. The degradation of quality is immediate to the service you once received.
As we've mentioned when a customer is dissatisfied with one EIG host. A and moves to another EIG hosting service B, he will remain an EIG customer! Rinse and repeat the cycle.
Again, you must have verified that the hosting provider you choose to register with is a non-EIG hosting provider.
For example, an excellent non-EIG host that is highly secured with robust hosting service offerings is in demand for web hosting services.
---
Is EIG's Hosting Brand Any Good?
We've answered this question above, but we want to drive the point home further. The short answer to this question is no. EIG's hosting brand is not good. Why?
Because they are not focused on giving their customers an excellent performance-based hosting experience.
Their business model focuses on acquiring as many hosting providers as possible, absorbing their clientele, and making more money.
They reduce the efficacy of technical and customer support, minimize the internet infrastructure needed to run a web hosting company that is second to none and cut costs in the name of profits.
All in all, you should steer clear of any web hosting company that EIG owns. It isn't easy to find a host outside of EIG since they hold a monopoly in the web hosting industry.
Still, some companies exist outside EIG and offer excellent hosting services with outstanding technical support and various hosting environments.
Are EIG Hosts Any Good?
EIG web hosts are both good and bad. Some hosts have seen a decline in quality after being acquired by EIG, whereas others have been able to retain their previous standards. Some even receive praise. 
Are EIG Hosts Cheap?
EIG hosts are not the cheapest. Some hosts are more affordable than others, so it's important to shop around. Again, I'd like to propose a non-EIG service provider called Hostinger if you need reliable service at a tight price.
---
Frequently Asked Questions
Does EIG Own Godaddy?
No, GoDaddy is a domain registrar and web hosting company and it is not an EIG hosting company.
Some facts about GoDaddy include its customer base of over 21 million and 84 million registered domains. They employ a staff of 9,000.
Is SiteGround an EIG Company?
SiteGround is a group of companies registered in the USA, UK, Bulgaria, Cyprus, and Spain that manages three offices and offers quality hosting services from several data center locations worldwide.
No, SiteGround is not a web hosting company owned and operated by Endurance International Group of companies. It remains one of the non-EIG hosts.
Over the last ten years, SiteGround has employed over 500 company members who facilitate high-quality and innovative hosting services to their clientele.
Is A2 Hosting owned by EIG?
No, A2 Hosting does not come under the EIG umbrella of web hosting companies. They are a small company but a mighty one with data centers all over the world.
They have over 200 employees and over 110k customers and are growing yearly. They have customers in 223 countries around the globe.
Who Owns HostGator
HostGator is one of the better companies that fall under the EIG group of web hosting companies.
They continue to operate with innovation and give high-quality service.
They've been in the hosting industry since 2002.
After two decades of offering web hosting, they power 2.5+ million websites.
HostGator has been owned by Endurance International Group since June 2012. It is one of the more popular EIG hosting brands.
---
Steer Clear of EIG and Seek Quality Alternatives
EIG is a company that has gathered some of the strongest web hosting companies under its roof, and it continues to grow every day.
Although they offer a wide range of web hosts, HostGator is the one product that has maintained its quality and speed. It is an affordable hosting solution with a wide range of features and reliable uptime.
You will be able to create a high-quality website with ease and manage it without any problems. It is always updated with new features and is much more useful than other EIG hosts.
If great speed and ease of use are crucial for you, then you should try Hostgator as it is EIGs best product.
Our #1 Recommendation: Hostgator