As a seasoned digital marketer with extensive experience in web hosting services, I understand the challenges of keeping up with the ever-evolving trends in this space.  Various moving pieces, such as innovations, advancements in technology and unique occurrences (Covid-19) make speculation difficult.
Too many factors make it almost impossible to calculate the website hosting services market size and growth of this industry. However, with a deep understanding of the industry and its various moving pieces, I'm able to present an accurate and trustworthy state of the managed hosting services industry.
In this post, I'll provide you with insights on the latest trends, market size, and growth in the web managed hosting services industry to help you make informed decisions about your website's hosting needs.
Quick Summary
The web hosting industry, currently valued at $71.1 billion, hosts over 1.14 billion websites globally and is projected to reach $171.4 billion by 2027.
Key trends include the rise of cloud hosting, green hosting, and the expansion of Virtual Private Server (VPS) hosting, with AI and machine learning integration anticipated.
Major players include GoDaddy, Cloudflare, Google, IONOS, and Amazon, with the US leading in hosted domains and data center servers. Top website builder software includes Wix, Squarespace, Shopify, Automattic, and Weebly.
Key Web Hosting Statistics
There were over 1.2 billion online hostnames registered in July 2021. The figure has only increased and continues to do so.
Latest web hosting statistics reveal that the web hosting services market size in 2019 was $56.7 billion.
The market was dominated by the shared hosting public website segment in 2019 with a revenue share of 37.64%.
The web hosting services industry market size is expected to grow to $171.4 billion by 2027.
Over 1.8 billion websites rely on global web hosting services and most benefit from dedicated hosting.
Public cloud hosting services are expected to increase at a rate of 18.3% per year.
Global Web Hosting Services Market Size
1.14 Billion Websites Globally
The global world wide web hosting market is made up of over 1.14 billion online platforms as per Internet Live web hosting Statistics. This figure keeps growing every second. All of these websites resolve to an IP address and may include parked domains. With that said, less than 25% of these websites are believed to be active.
1.21 Billion Registered Hostnames
Recent web hosting statistics show that there were over 1.21 billion hostnames registered in 2021. Valuation of the market growth shows that out of this only about 200.8 million hostnames are active and online.
This means that active websites in the hosting industry are only 15.5% of the registered hostnames.
$71.1 Billion Valuation Of Global Hosting Industry
Global Industry Analyst recently gathered data that pegs the total worth of global web shared hosting sector to be over $70 billion.
The demand for shared hosting services online have only increased since the pandemic. the managed hosting industry is forecasted to continue growing at a rapid pace over the next 5 years as long as people continue to seek dedicated hosting services.
50 Million Hosted Domains In The US
The United States has over 50 million hosted domains, which is the highest number of domains in any country.
China is next with over 16 million hosted domains.
Expected Valuation Of $171.4 Billion By 2027
The web hosting services market size is expected to grow to $171.4 billion by the end of year 2027.
This projection shows that there will be a compound annual growth rate (CAGR) of 15.5% between 2020 and 2027.
Other numbers regarding the CAGR include:
Europe is expected to have the highest CAGR of 16% in the web shared hosting services market between the forecast period.
An increasing number of small and medium businesses came online during the covid-19 pandemic and more are expected to understand the benefits of shifting operations and processes online.
Virtual Private Server hosting (a sub-sector) is forecast period growing at a CAGR of 16.2%. The web hosting services market size is estimated to reach $8.2 billion by the end of year 2026.
Managed VPS is forecast period to expand by 16.5% between 2019 and 2016. This is the highest CAGR of all sub-sectors.
Experts expect to see a growing trend in the integration of AI and machine learning with VPS. small and medium enterprises relying on dedicated hosting are expected to become more aware and worried about cybersecurity.
Highlights of Hosting Services Market Growth
North America Has The Highest Number Of Dedicated Hosting Providers
There is no denying the fact that global internet penetration services is evident in the market growth rate across all countries and sectors.
Moreover, the market growth is evident in the high numbers of web hosts in the United States and North America.
Even so, Asia has the largest number of internet users in the web hosting sector.
The United States is responsible for a hosting market share of 51.59%.
China is the next country in line with its huge market growth projections that is currently at 16 million hosted domains. Germany follows with a share of 11.6%.
Iceland is the only country with almost 100% of the population being able to access the internet. It's market growth potential leads across the world.
Location Determines Host Popularity
Popularity of web hosting companies depends largely on where you are located.
GoDaddy operating company llc and Cloudflare are the most popular host providers in the United States.
However, Strato is the first choice for consumers in Germany.
123-Reg takes the top spot in the United Kingdom. In Italy, Aruba has a 55.49% hold on the web hosting services market share. There are certain web shared hosting services market that are highly local.
Top hosting companies in these locations are all owned by local brands.

The top 10 hosts in Czechia are all local companies and 9 out of 10 top web shared hosting services in Italy are local too.
Most Data Center Servers Are Located In The US
All web hosting services require data centers and servers for hosting websites on private cloud and online.
These servers are located across the world. There are many companies which even offer access to multiple servers in different locations for improving redundancy.
In relation to this, maximum servers and data centers are located in the United States.
The number of data centers present in the US accounts for 39.2% of the web hosting market share. In 2019, North America had a particularly high market share of 35.28%.
This higher share is largely because of the US web hosting services market since they have the greatest number of available public website segment.
Web Hosting Trends To Watch Out For
Web hosting on a global scale is adapting and evolving to meet the distinct demands of web users. These are a few web hosting statistics that highlight expected and current trends related to hosting services:
Increase Of 18.3% Per Year In Cloud Hosting
Hybrid cloud hosting, as per industry forecast period, is expected to increase by 18% each year between 2019 and 2025.
This has made private cloud hosting the fastest growing type of hosting. Cloud-based hosting tech offers flexible pricing and scalability.
It provides web free hosting services and resources on an on-demand basis as per website traffic.
Hybrid cloud hosting is a convenient option for growing small and medium businesses that require flexible hosting solutions.
This has allowed it to experience rapid market growth in the wider hosting industry.
Rapid Growth In Green Hosting
Eco-friendly initiatives are used by green hosts in the hosting industry for reducing the carbon footprint of data centers.
More and more small and medium businesses are are experiencing the environmental pressure that is coming with the rapid market growth. They have an obligation to project a climate-conscious and green image because of an increasing awareness regarding climate change and activist movements, such as Extinction Rebellion.
This has caused a growing demand for green hosting solutions like Hostpapa, Eco Web Hosting.
Growth In Virtual Private Server Hosting
Virtual private server hosting is expected to grow too as per Allied Market Research. With virtual private server hosting, businesses can enjoy unparalleled reliability, scalability, and security – all of which are essential components of a successful website.
This sector of the web hosting sector is expected to grow at a rate of 15.5% during 2020 – 2027.
The managed VPS server sector is forecasted to attain a $8.39 billion valuation by the end of 2026.
The growth of such web hosting services is thought to be due to a rising demand among consumers to overcome technical and security issues.
The market for virtual private server sectors was dominated by North America in 2018.
Allied predicts the trend will continue till 2027. Managed VPS is among the most popular forms of VPS hosting.
Largest Web Host Players In The Web Hosting Industry
There are over 2923 data centers and 269 providers in the world. This includes 2301 private cloud notes, 2832 colocation facilities, 924 disaster recovery and business continuity (DRBC) sites, and 634 Internet exchanges (IX).
These are among the top players in the hosting sector as of 2022.
GoDaddy
GoDaddy is a popular web hosting provider. GoDaddy's network includes over 37,000 servers all around the globe.
They are situated in 9 different facilities.
Only one of the locations are actually owned by GoDaddy.
The other facilities are leased from wholesale providers.
GoDaddy owns the facility located in Phoenix, Arizona.
The size covers more than 270,000 square feet and is pretty impressive.
GoDaddy is headquartered in Scottsdale, Arizona with a leased facility in Mesa, Arizona.
Other facilities are in Los Angeles, Virginia, Ashburn, Amsterdam, and Singapore.
Cloudflare Hosting
Cloudflare has a vast network with servers located across the continents.
The operating company llc is present in over 200 cities in over 90 countries.
This is a huge network which allows Cloud flare to offer enhanced performance and multiple layers of cybersecurity.
The success of Cloudflare hosting service lies on the size of its network.
It is constantly optimizing and growing in a bid to offer reliable services and make the internet safe for end-users.
Google
Google private cloud platform is synonymous with strong security, industry-grade services and a worldwide dedicated hosting network of servers.
Google has quickly made a name for itself and secured a position in the top data center and global web hosting services industry.
Currently, Google operates 21 data centers with 13 in the United States, 5 in Europe, 1 in South America and the remaining 2 in Asia.
Google constantly invests in data and security, innovations, renewable energies, and efficiency for making its data centers better performing, secure, and energy-efficient.
IONOS (by 1and1)
15 facilities are currently run by IONOS. There are over 90,000 servers in this vast network that are located in 9 different countries around the world.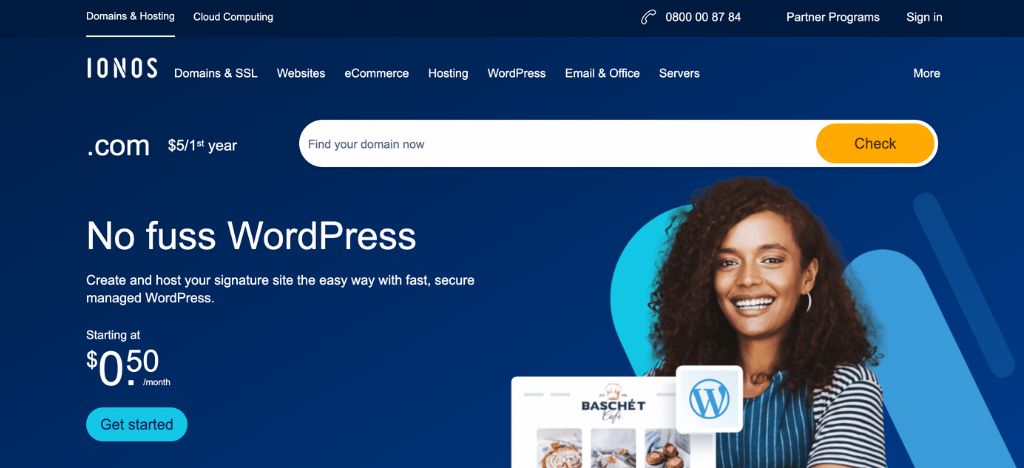 Great coverage, high performance, and increased security makes the operating company  llc among the top hosting and data center providers.
The fact that IONOS has 8 million customer contractors across the world only corroborates the fact.
Amazon
AWS Amazon has the fastest growing network in the world.
It offers services in 77 Availability Zones and has servers in 24 geographic regions.
The company is thinking of expanding its network to other geographic regions and Availability Zones.
This includes Indonesia, Spain, and Japan.
Most Popular WordPress Hosting Providers
WordPress is among the more popular content management systems (CMS) available today.
It holds 44% hosting services market share where content management is concerned.
In comparison, Joomla garners only 2.6% of the CMS market share.
WordPress is not limited to being used for blogging only.
It is popular in other industries, such as eCommerce as well.
WordPress powers a whopping 42% websites across the globe.
These are the top WordPress hosts:
BlueHost – 1.96 million websites
Automattic – 1.06 million websites
DreamHost – 0.96 million websites
SiteGround – 0.90 million websites
HostGator – 0.61 million websites
Web Hosting Providers With The Most Hosted Number Of Websites
It is not enough to simply know the top hosts for WordPress.
You can get a better idea about the extent of the hosting sector by recognizing the number of hosted websites of the providers.
It is logical to want to know about the companies that sell higher volume of data storage space.
The list includes all companies that sell server space, provide hosting services, and data center space. These are the top web hosting service providers in terms of the most hosted number of websites:
GoDaddy – 44.18 million websites
Cloudflare – 12.32 million websites
Google – 10.57 million websites
1and1 – 9.20 million websites
Amazon – 9.05 million websites
Top Website Builder Software
Many website hosts offer website builder software as well.
Website creators are particularly useful to small and medium businesses that don't have a large budget to invest in a web designer.
They can easily create a straightforward website using this software.
Experts recommend using website builders for creating a quick website easily before investing in a website designer.
These are the top website builder software options:
Wix
Giora Kaplan, Nadav Abrahami, and Avishai Abrahami founded Wix after experiencing how costly and hard it was to build a website from scratch.
Wix as a company was established in 2006. The trio decided to create a user-friendly and easy to use dedicated hosting site builder by fashioning it on their individual experiences.
Main stats regarding Wix are:
Web hosting market share – 31.05%
Number of websites global – 3,800,881
Number of websites in the US – 27,111
Squarespace
Squarespace was created as a University of Maryland dorm room project by Anthony Casalena in 2003. Casalena is the CEO of one of the most popular website creator platforms today.
Main stats regarding Squarespace are:
Market share – 18.92%
Number of websites global – 2,270,402
Number of websites in the US – 1,788,627
💡 Expert tip: It is cheaper and the recommended option in certain situations to use a website builder. These are the best website builders available today.
Shopify
Shopify can be dated all the way back to 2006 when a young German man living in Canada decided to create an eCommerce platform.
He wanted to sell snowboards online. Later, he found that he could easily modify his platform to allow other people to sell goods on online platforms in an easy manner.
Main stats regarding Shopify are:
Web hosting services market share – 13.34%
Number of websites global – 1,481,590
Number of websites in the US – 1,201,572
Automattic (WordPress.com)
Automattic owns WordPress.com. The company was founded in 2005 with a goal to make it easy for people with no coding or technical knowledge to get comfortable on WordPress CMS. Automattic is one of the most popular website creators.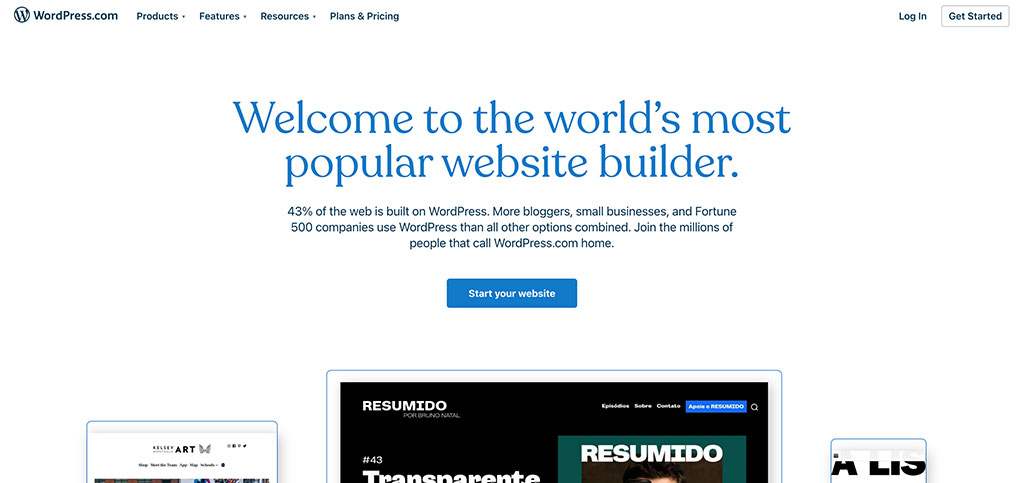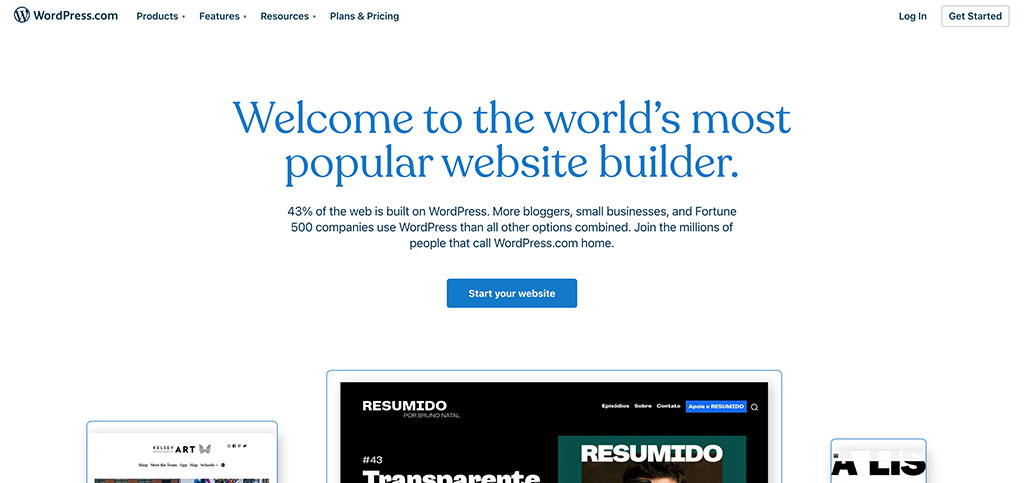 Main stats regarding Automattic are:
Market share – 8.63%
Number of websites global – 1,057,001
Number of websites in the US – 845,610
Weebly
Weebly is an eCommerce and website builder.
It was founded in 2007 in San Francisco, California.
The company was taken over by Square in 2018 and has since expanded its scope of services.
Over the past few years, Weebly has brought an increasing number of enjoyable site-building tools to end-users.
Main stats regarding Weebly are:
Market share – 7.72%
Number of websites global – 935,216
Number of websites in the US – 758,640
So, How Big Is The Hosting Industry? 
It wouldn't be an exaggeration to say that the hosting industry is going through explosive market growth, and the best is yet to come.
You can see the hosting services market size has a $56.7 billion valuation and is projected to grow till 2027 at a CAGR of 15.5%.
The CAGR is expected to place the overall market value at $171.4 billion by 2027.
These numbers clearly state that the web hosting sector has a strong presence and expected market growth.