Static websites are coming back into style for their simplicity and focus on performance. These websites focus on basic HTML, CSS, and JavaScript instead of databases for improved performance.
They are hardly a new development, but they are becoming more popular for those seeking dynamic website hosting with speed. 
We have spent months researching the best static hosting services and have used most of these services ourselves. All the best static web hosting services are evaluated based on affordability, support, security, and other crucial features.
Shared, VPS, Dedicated server hosting
1. Hostinger (

Editor's Choice

)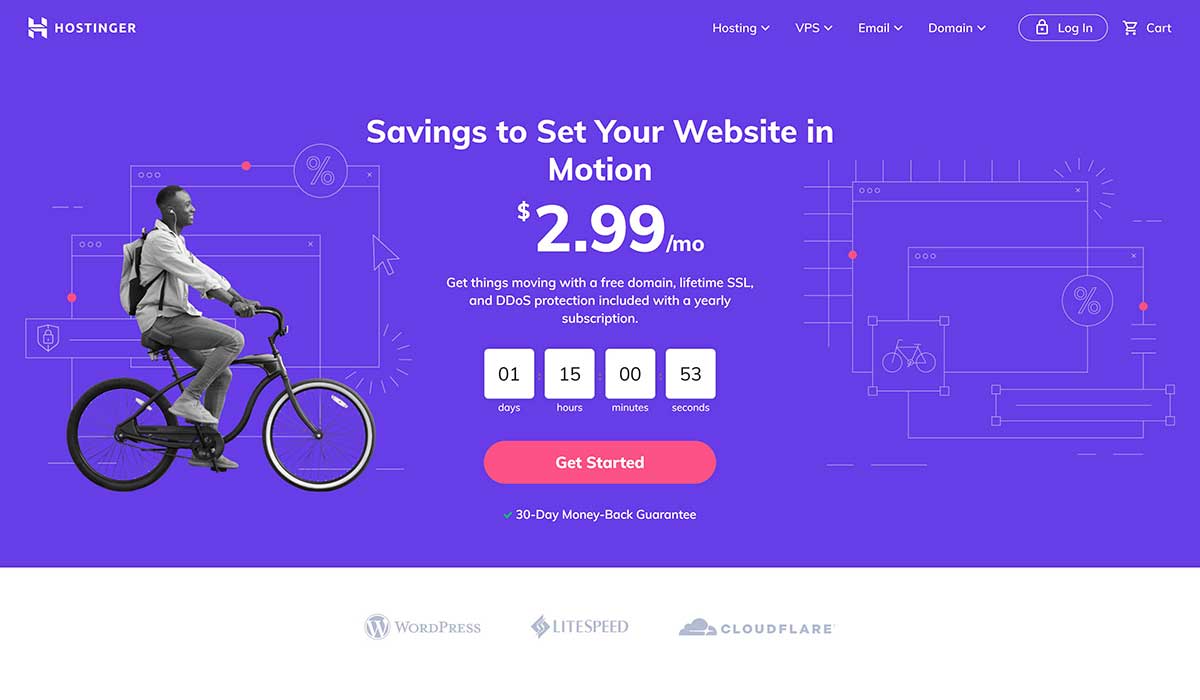 Hostinger provides dedicated hosting with web hosting plans that can be changed according to business needs.
Hostinger has data centers on four continents for fast and powerful service, no matter where your customer base is located. They are one of the most reliable hosting providers with low latency and quick web hosting service.
Although Hostinger offers VPS and cloud hosting, they specialize in WordPress hosting. They offer various plans for these websites. They also provide 24/7 customer support.
In our experience, their static web hosting is quick and reliable, and their customer support is knowledgeable and easy to reach.
Our Rating
Load Time:

5.0

Support:

4.9

Disk space:

4.9

Security:

4.9

Pricing:

5.0

Free migration:

Yes
Pros
Free website builder 

Free daily or weekly backup

Custom control panel

30-day money-back guarantee
Cons
Limited extras
---
2. Bluehost
Bluehost has a solid reputation in the shared and WordPress hosting realms. Today, they power over 2 million websites with well-maintained servers and excellent customer support.
Bluehost offers shared hosting, cloud hosting, VPS hosting, and dedicated server hosting. It has a 99.99% uptime to give customers the best experience on your site.
They also handle their town server locations. They back up your files nightly, protect you from spam, and constantly monitor their servers to offer you secure static sites [1].
In our experience, their servers are reliable, and their customer support and speed are excellent.
Our Rating
Load Time:

4.9

Support:

4.8

Disk space:

4.8

Security:

4.9

Pricing:

4.9

Free migration:

No
Pros
Free website builder 

Free Cloudflare CDN

30-day money-back guarantee 
Cons
No free website migration
---
3. HostGator
HostGator helps to host websites on their shared server but also offers dedicated servers and VPS hosting.
They also provide 24/7 customer support, several eCommerce tools to run your static site, support for content management like WordPress, Cpanel access, and a website generator.
Plans on Hostgator also start at less than three dollars a month and include free unlimited custom domains, a free SSL certificate, and unlimited bandwidth. 
In our experience, HostGator offers affordable plans with value-added features for anyone looking to start a website.
Our Rating
Load Time:

4.8

Support:

4.7

Disk space:

4.7

Security:

4.8

Pricing:

4.8

Free migration:

Yes
Pros
45-day money-back guarantee 

99.9% uptime guarantee

Unlimited email addresses
Cons
Restoring from backup costs extra
---
4. iPage
iPage is an established hosting provider that targets entry-level hosting plans for static website hosting. They offer single shared web hosting, WordPress, VPS, or dedicated hosting.
Along with hosting, they provide static site generators, static builders, and custom domain names. iPage offers some of the least expensive static hosting options starting at $1.99 a month[2]. You can check our in-depth iPage review for more info.
Based on our experience with iPage, their plans are simple, and pricing is affordable.
Our Rating
Load Time:

4.7

Support:

4.6

Disk space:

4.6

Security:

4.7

Pricing:

4.8

Free migration:

No
Pros
Simple plans 

Affordable pricing

30-day money-back guarantee
Cons
Lots of upsells
---
5. GoDaddy
GoDaddy has been around since 1999, offering its customers everything they need to grow custom domains and host their simple static website.
They offer features such as a static builder, hundreds of templates, an E-commerce platform, decent customer support, 99.9% uptime, cPanel access, WordPress integration, worldwide data centers, and more [3].
GoDaddy has over 20 million customers, even though other cheaper options are available. Their basic plan includes a website, 100GB of storage, unlimited bandwidth, and a free custom domain. 
In our experience, GoDaddy has consistent uptime and offers the largest number of free domain names.
Our Rating
Load Time:

4.6

Support:

4.5

Disk space:

4.5

Security:

4.6

Pricing:

4.7

Free migration:

Yes
Pros
Unlimited website hosting

Plesk control panel interface

Largest domain name registrar
Cons
Inconsistent quality of customer support at times
---
6. GitHub Pages
GitHub Pages is a well-known web hosting provider for static and dynamic websites. They offer a reliable platform where developers can host their web solutions, including static sites.
This platform provides free hosting solutions but does require knowledge of website development and Git. You will need to learn coding and software principles to use GitHub pages.
Based on our experience with GitHub pages, they are one of the best free website providers, especially if you have website development experience.
Our Rating
Load Time:

4.5

Support:

4.4

Disk space:

4.4

Security:

4.5

Pricing:

4.6

Free migration:

Yes
Pros
Free static website hosting

Built-in CMS

Fast CDN
Cons
The interface could be more user-friendly. 
---
7. Cloudflare Pages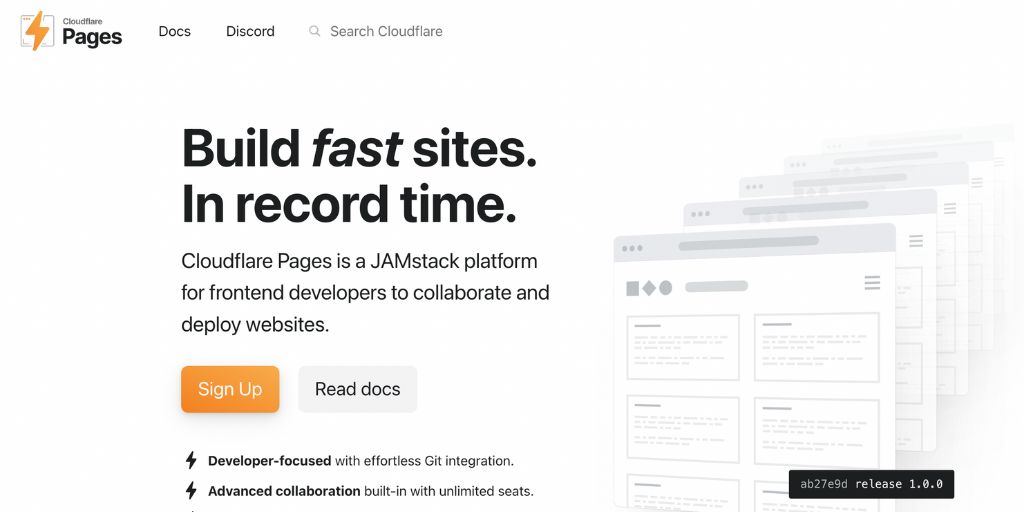 Cloudflare Pages is an efficient solution for developers to build static quickly. Cloudflare develops your static pages without you having to spend time configuring systems.
It also allows you to coordinate with engineers, designers, writers, and anyone involved in your static website design. Cloudflare also makes your website secure and scalable so you can focus on content and design[4]. 
They offer a free plan with 500 builds a month, unlimited bandwidth, and unlimited websites. In our experience, Cloudflare is user-friendly and convenient.
Our Rating
Load Time:

4.4

Support:

4.3

Disk space:

4.4

Security:

4.4

Pricing:

4.5

Free migration:

No
Pros
Built-in SSL certificate

Ability to monitor static site traffic

User-friendly
Cons
Support response time could be improved.
---
8. Netlify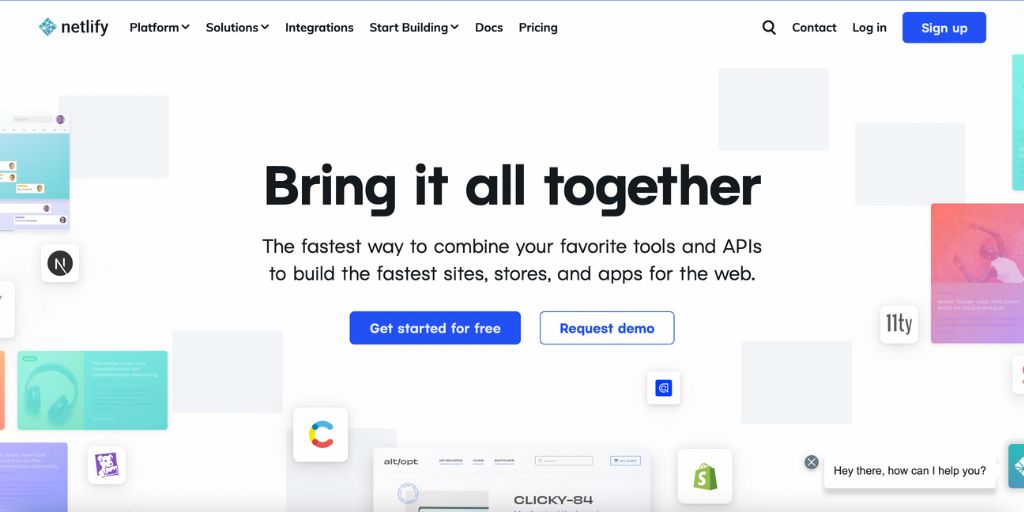 Netlify was created for static websites. The platform manages static, web applications, and team collaboration. You must know how to code and work in Git, but you don't need to set up a CI or CD or configure a CDN.
Netlify features an extensive global network for fast-loading web pages, tools to manage static files, tools to manage forms, automated builds, and a full site preview.
They offer a free static website hosting plan with 100GB bandwidth per month, 100 form submissions, one build, and one team member.
Based on our experience with Netlify, they offer quick-loading pages and customized tools that are useful for website building.
Our Rating
Load Time:

4.4

Support:

4.2

Disk space:

4.3

Security:

4.3

Pricing:

4.4

Free migration:

Yes
Pros
Easy use for developers

Fast static website development

GitHub integration
Cons
Lots of moving parts that can be confusing
---
9. Firebase
Firebase offers production-grade static website hosting. In addition to static web hosting, they also offer real-time databases with storage for static files.
They also provide free SSL certification, a custom domain, and more with their free plan. Fire base also provides a paid upgrade to increase bandwidth and storage capacity. 
Firebase can help you host your static site and provide mobile app landing pages and advanced web applications. You can deploy websites with a single command.
Our Rating
Load Time:

4.3

Support:

4.2

Disk space:

4.2

Security:

4.2

Pricing:

4.3

Free migration:

No
Pros
Free basic plan

Quick and simple setup

Lots of services and features
Cons
Limited data migration
---
10. Amazon S3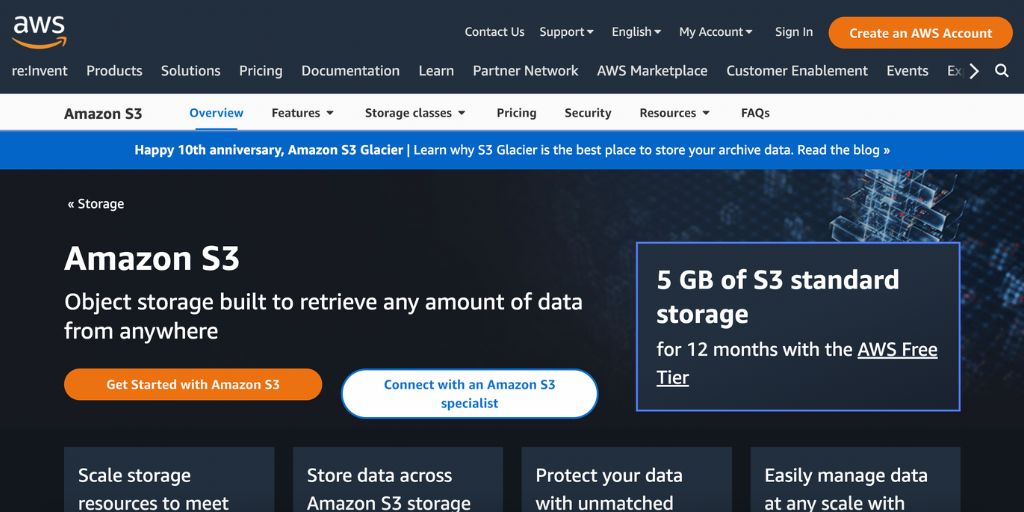 Amazon is one of the biggest online sellers worldwide, but they also developed tools to store data, including analytic tools, cloud storage, backup and recovery, and more.
Compared to other hosting providers, they offer data availability, security, and performance. They offer a free plan with all the essential features, such as hosting for your static site, 5GB of storage, 1GB of bandwidth per month, and free Google cloud storage [5]. 
Based on our experience with Amazon S3, if you aren't experienced with website setup, their service can be a bit complicated to use.
Our Rating
Load Time:

4.2

Support:

4.1

Disk space:

4.2

Security:

4.1

Pricing:

4.2

Free migration:

Yes
Pros
Developer-friendly

High durability

Simple to integrate with other AWS products
Cons
Setup can be complicated for first-time users
---
Buyer's Guide
Before choosing the best static website host, there are a few basics to understand about static web hosting.
What Is Static Website Hosting? 
Static web hosting is hosting that supports HTML-based websites with fixed content. When a user goes to a static website, the page is already built in HTML and JavaScript files. 
When the internet was started in the early 1990s, every website was static. As programming evolved, databases served as a way to separate website content from design.
The original static site generator had a difficult time connecting databases in a user-friendly way. Over time, content management systems like WordPress became popular and shifted web design in a dynamic direction [6].
---
What Is The Main Difference Between a Dynamic and Static Website?
The main difference is that a static website uses a single static file to display an entire webpage; the web browser just retrieves and displays the file.
Dynamic websites use server-side technologies like databases and PHP to build a webpage as the browser accesses several files to create one dynamic website.
Static is suitable for small websites that don't update their content often. Large websites with hundreds of pages are easier to maintain than dynamic websites.
These websites are manually created with hand coding or a static web generator relying on a command interface and a text editor.
WordPress and other content management systems, as well as drag-and-drop website builders and examples of dynamic websites.
Your website is the center of your digital environment, similar to a brick and mortar location, the experience is important when a customer enters,  as much as the perception they have of your business before they walk in the door.
– Leland Dieno, Marketing Technologies Specialist and CEO, Dieno Digital Marketing Technologies and Consulting
---
Advantages of Static Websites
Generally, these websites offer faster speeds, secure websites, and more affordable options than dynamic websites. They also provide the following:
High reliability

High scalability

More security

Less time creating the site

Easier for search engines to index

Fast and easy deployment

Fast marketing results

Better performance

No framework or language updates

Affordable

Design flexibility

Better SEO

Simple maintenance
Static get its strengths from simplicity. Without databases or third-party applications, there are fewer security risks, failure points, performance issues, structural inefficiencies, and add-ons that can get expensive.
I'm searching for your business on Google; I need to see you on Google. Think about it: if a business doesn't have a website, it's kind of suspect. You tend not to trust them.
– Wendy Coop, Certified Financial Education Instructor, Creative Consulting LLC
---
Drawbacks to Static Sites
Static sites also have some major drawbacks, including:
Difficulty managing content

Limited functionality

Manual updates required

Site owners will have a more challenging time using current design trends
---
How Static Site Generators Can Simplify Hosting
A static website generator can ease the process of creating a new website. Static generators pair your content with a design template and make static HTML code. 
---
Advantages of Using a Static Web Host
There are several advantages to using a quality static web host; these include the following:
Top-notch reliability

Maximum security 

Better performance

Good scalability

Excellent support

Cost-effective

All-in-one solutions
---
FAQs
What Is an Example of a Static Site?
Examples of static websites are resume websites, portfolio websites, brochures, one-off landing pages, and other pages that offer content in a read-only fashion. Static sites are typically small and don't require personalized content or updates. 
What Are Other Disadvantages of Static Web Pages?
Other disadvantages of static web pages include limited interaction, being prone to technical errors, being time-consuming, and lacking components like logins or notifications.
Which Technology Is The Best for a Static Website?
The best technology for a static website is js by Vercel. It is a static generator that also has options for API support, route pre-fetching, smart building, and other functions.
Which Programming Language Is Best for a Static Page?
The best programming language for a static page is HTML, CSS, or Javascript. Most static pages are built with HTML.
Can Static Web Pages Be Hacked?
Yes, a static web page can be hacked. A hacker can change content, download code when a viewer requests the page, or redirect to a page the hacker has set up. 
Do Static Web Pages Need a Server?
Static web pages do not need a web server to be hosted. Instead, they use content delivery networks like HTML or Javascript to provide information to the user.
Can I Monetize a Static Web Page?
Yes, you can monetize a static web page. Much like any other site, you can monetize a static web page by using affiliate marketing to get users to click your web page link.
Do Static Web Pages Need Security?
Yes, a static web page needs security like any web page. Static web pages can still be hacked despite not having sensitive information like user payment information.
How Long Will It Take to Code a Static Web Page?
For a static web page that is being coded from scratch, an experienced programmer would take between four and six weeks to code a static web page.
Is a Static Web Page Mobile Friendly?
Yes, a static web page is mobile-friendly. The content and theme don't change, so all static websites are mobile-friendly.
---
Which Static Web Host Do We Recommend?
Static websites are making a comeback. Their simplicity is not only preferred by Google for SEO purposes but is generally more cost-effective and simple to host and maintain. Finding the best static site host is key to maintaining your website.
Overall, we recommend Hostinger to host your static website. They offer great value with plans starting at just two dollars a month.
This provider also has data centers all over the world for even faster service. Their 24/7 customer support is knowledgeable, helpful, and easy to contact.
Hostinger also offers extras like free backups, a free website builder, and a custom control panel. They even offer a 30-day money-back guarantee to try their service.
Our #1 Recommendation: Hostinger