Many beginners are confused between web hosting and vps wordpress hosting.
The key difference between the two is that cloud WordPress hosting is centered exclusively around WordPress while web hosting refers to all types of hosting services.
Note that you can always host a website with regular hosting services.
You don't necessarily need a hosting service for a website.
Based on this, if you want a successful site, you need to find the right web hosting service provider.
In my years of experience with various shared web hosting providers, I have come to understand just how crucial high-quality customer support can be in shaping your overall experience.
This article will help you understand web hosting vs WordPress hosting and explore their pros and cons.
By the end of this article, you will be able to make the right decision as per your needs.
What Is Web Hosting?
Web hosting is a general term describing the process of an organization or individual renting or purchasing a dedicated server space to make their website accessible on the Internet.
A web host will host the website's files on the dedicated server space that has been rented which will allow people to visit the website online.
You essentially rent the company's server space for storing the files.
There are different web hosting provider services to suit individual needs.
You should pay attention to finding one based on your level of expertise, the site builder you choose, the content management system (CMS), and the size of the website.
There are various types of web hosting plans, features, and providers.
The primary categories include:
Shared hosting
VPS hosting
Cloud hosting
Dedicated Hosting
However, before you make a decision, you should have a clear understanding of the difference between web hosting and WordPress.
The Advantages Of General Web Hosting
Web providers offer plans for supporting different site builders and Content Management Systems.
WordPress users have the freedom of selecting their platform along with easing integration through built-in developer tools.
The type of web hosting plan you choose will determine the specific advantages of general web hosting.
The level of resources, flexibility, and tools vary greatly.
Purchasing a general web hosting provider plan means the company will conduct hardware maintenance and offer physical equipment.
You can use their expertise to ensure the smooth running of your website.
You can also benefit from high-security precautions.
There are numerous other general benefits to consider, such as:
Different plans to suit different budget
Round-the-clock dedicated customer support
Access to hosting knowledge database
Freedom of choosing a CMS
There are several website builders, such as BlueHost that offer a 30-day free trial. In addition, extra features are added as part of web hosting plans.

You may want to check these differences before you ask do I need a host for WordPress.
The Disadvantages Of General Web Hosting
General web hosting is not without its disadvantages.
You should consider the following if you use general web hosts for your hosting:
Less support: A major general web hosting vs WordPress hosting difference is that general web hosting services will not always have experts for handling specific issues related to the chosen CMS
Less maintenance for WordPress: As a WordPress user, you would be responsible for updating themes and plugins. You may need to perform maintenance tasks, such as malware tests without any technical assistance.
Lack of optimized servers: In general, website hosts provide standard servers for supporting various CMSs. This means you won't get built-in WordPress performance plugins or WordPress-optimized servers.
What Is WordPress Hosting?
WordPress hosting is a type of web hosting built for running WordPress sites.
You will receive all the essential tools and services you need for optimizing your WordPress site when you use a WordPress host.
These are specifically tailored for WP sites.
The key factor you need to consider in general web hosting vs WordPress hosting is whether you have a WordPress site or not.
The tools and services you receive while using a WordPress host will be specifically tailored for websites.
These may differ depending on the hosting service you opt for.

General features include automatic software updates, one-click-install, and a team of support staff specializing in WordPress for providing customized support.
The Advantages Of Managed WordPress Hosting
35% of all websites are powered as per the Hosting Tribunal.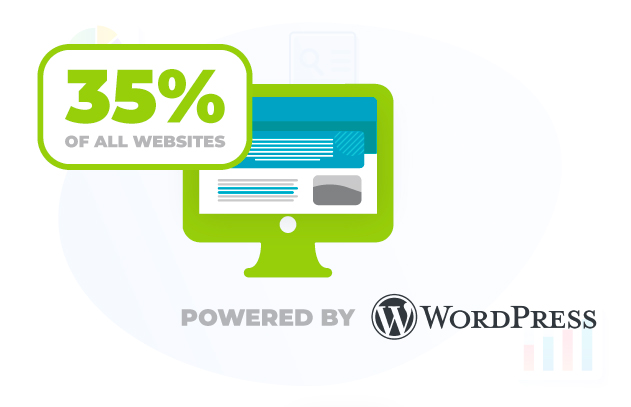 This is only going to increase in the coming years with a 4% marked annual growth.
WordPress is a popular website builder and is used by a wide array of businesses.
This type of host is a simple, fully-customizable, and easy-to-use hosting option.
You can significantly improve the performance and results of your WordPress websites by hosting it on WordPress.
Enhanced security: You can use servers equipped against WordPress-specific threats and a dedicated team for staying abreast of security issues and ensuring the site is secure and safe
Quick set-up: WordPress hosts offer and incredibly quick website set-up process using pre-configured web technologies.
WordPress servers ensure quick uptime and fast loading times from the moment your WordPress site goes live.
Better plugin efficiency: You won't need as many plugins when you use a managed WordPress hosting service.
Security, performance, and caching are optimized by the host. This is a vital factor to consider when examining web hosting vs WordPress hosting .
Automatic upgrades and updates: Security packages can be added to the servers which automatically upgrade and update things like your WordPress version, PHP version, and plugins.
Customized support: The best part about using a WordPress hosting service is the dedicated customer support service and expert advice for resolving WordPress issues
Disadvantages Of WordPress Hosting
The main features of WordPress hosting were developed for sites built on the WordPress CMS.
Hence, you may not want to choose this web hosting service provider if you want to create your site on other CMS alternatives.
WordPress hosting providers also usually come at a higher price tag as compared to shared hosting because of specific services, features, and functions.
This may not be a primary deciding factor in general web hosting vs WordPress hosting if you have money to spare.
However, don't forget that this refers to added costs in the long run.
There are also limited customization options available for websites on WordPress hosting plans.
For instance, the provider may restrict the installation of certain software.
What's The Difference Between Web Hosting And WordPress Hosting?
The primary difference between managed WordPress hosting plans vs general web hosting is that WordPress hosting plan is specifically created for websites whereas general web hosting provides an overarching and broader service.
General web hosting is more generalized and refers to the hosting service that is used for hosting a website's files on the server to make it go live on the internet.
On the other hand, WordPress hosting provides a specific niche in web hosting.
It can use shared servers for hosting multiple sites at once.
All the sites on the shared servers will be WordPress sites.
Shared WordPress hosting specifically caters to WordPress installs.
WordPress hosting plan provides customized services and solutions to websites.
In fact, the support team members at WordPress are often experts at increasing WordPress performance.

Everyone on the team is committed to helping the WordPress sites succeed.
If you encounter any issues with your WordPress hosting plan, the professional Happiness Engineers at WordPress provide real, human-centric support.
Web server configuration is the core difference between standard web hosts and WordPress hosting plan.
Typically, managed WordPress hosting plans offer resources that are optimized specifically for the platform.
Your web host may advertise features, such as increased PHP memory and PHP 7.
WordPress hosting comes with handy add-on services for helping the smooth running of a site.
Access to plugins and themes, automatic updates, and one-click installation are a few things that may be included in the plan.
Don't forget these extras are reflected in the price.
This is especially true if you choose managed WordPress hosting.
WordPress sites don't really need a WordPress host.
Basic hosting providers are generally adequate for storing WordPress sites.
Useful features, such as increased security, performance optimization, and free SSL certificates can also be included as part of the plan.
However, you will miss out on the WordPress-specific optimized alternatives.
WordPress Hosting Vs General Web Hosting: Which Is Better?
WordPress hosting is better if you built websites.
WordPress hosting perfectly integrates with websites.
It improves the site's security and functioning while offering automatic updates.
While it is not necessary for using WordPress hosting for websites, the ultimate best solution is to combine the two.
WordPress hosting is beneficial for those looking for a more optimized plan.
Your site will be run and maintained by WordPress experts for you.
This is stellar if you have limited experience and time to run websites.
Unfortunately, WordPress hosting doesn't give the same amount of control as standard hosting providers.
The price difference may not be significant in shared hosting plans, but web hosting plans are generally cheaper.
These questions should help you make a decision about your web host:
Do you have a WordPress website? You may want to consider a standard hosting plan if not.
What is your budget? Consider a shared hosting plan if low cost is a priority. WordPress web hosting is affordable too, but it does cost more than shared hosting.
Are you concerned about security? WordPress hosting has better security for websites compared to most shared hosting plans.
Furthermore, you can always upgrade a shared hosting plan to a VPS, dedicated server, or other option to increase security.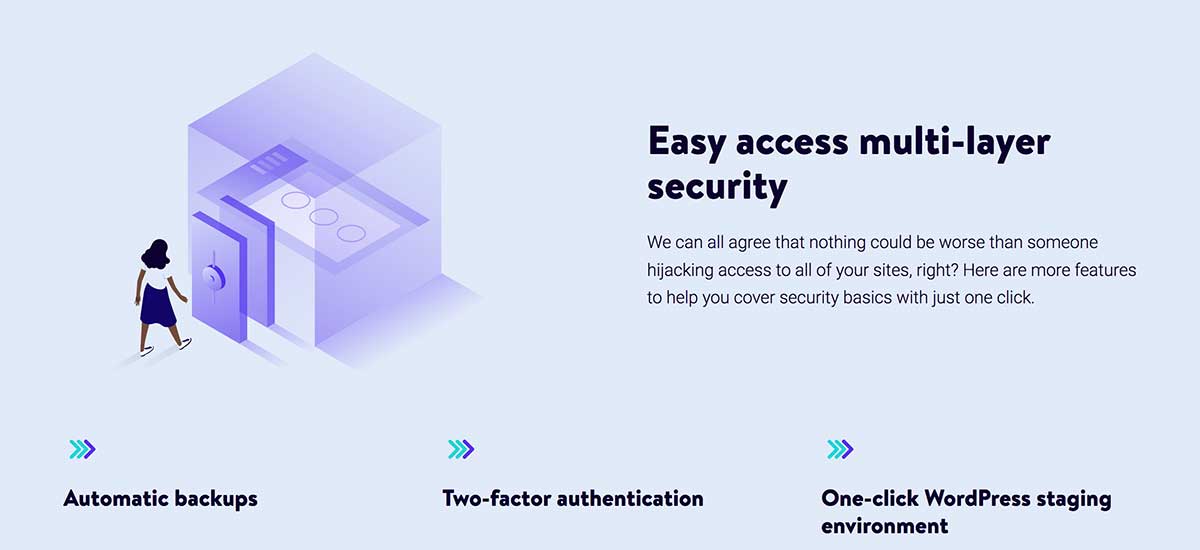 Can you stay on top of updates? WordPress gives out updates regularly. Recent versions are usually the most secure and include new features.
You may want to choose a WordPress hosting provider if you want someone else to take care of the updates for you.
How much traffic volume do you expect? Shared hosting plans will probably serve you for a while if you are creating an audience for your website from scratch.
The bandwidth offered by the shared hosting plan will be consumed quickly if your website gets a lot of traffic (for example 1,000 visitors per month).
In this case, you would want a web hosting plan that can handle high traffic, whether you choose WordPress or a standard hosting plan.
Do you need WordPress support? If you choose a managed WordPress plan then you get more tech support and help when you need it.
Regardless of the type of web hosting provider you choose, you need to ensure that your service provider fulfills the following criteria:
Top security standards
Excellent reputation
Flexibility to upgrade as the website grows
Access to high-quality user documentation and customer support
Who should use WordPress hosting?
You should use WordPress hosting if you have created your website with WordPress. WordPress hosting interacts seamlessly with WordPress-based websites, enhancing their functionality, and security, and offering automated updates. WordPress Hosting is optional if you already have a WordPress website, but combining the two gives the ideal package.
Those seeking managed  WordPress hosting might also profit. WordPress servers frequently provide managed WordPress hosting services, in which WordPress hosting specialists administer and maintain your site. This is an excellent alternative for individuals with minimal time or website management skills.
WordPress Hosting Vs Web Hosting: What To Choose?
There is no right or wrong choice in the battle of Web Hosting vs WordPress hosting.
The service you choose will ultimately come down to your budget, the type of hosting plan, and the help you require from the host for running your website.
The key difference between the two types of hosting providers is the service they offer.
You may want a standard web hosting plan if you are looking for a simple and generalized service.
Pertaining to this, if you want a more customized and tailor-made web hosting plan, WordPress hosting is the perfect fit. With WordPress hosting, you can get a custom-made plan designed to fit your specific needs.
Whether you're a budding blogger or a large business, WordPress hosting option gives you ultimate control!
If you are looking to host your WordPress site for business purposes then check out our guide the 7 Best Web Hosting For Small Business: 2023's Top Providers.