When finding the perfect platform for your design needs, exploring various alternatives is crucial to ensure you make the right choice. 
While 99designs has established itself as a prominent platform in the design industry, several other options are worth considering.
This comprehensive guide will explore some of the best alternatives to 99designs, highlighting their unique features and benefits. 
As an SEO expert who has worked with multiple designers and knows what platforms can provide outstanding designs, I will offer an informed and objective analysis of these alternatives.
Best 99designs Alternatives
1. DesignEvo (

Editor's Choice

)
DesignEvo is a noteworthy option among 99designs alternatives, offering a user-friendly platform for designers to create professional logo designs.
With its focus on logo design, DesignEvo provides a range of tools and features specifically tailored to meet the needs of designers in this niche.
Graphic designers, whether freelancers or professionals, can utilize DesignEvo to explore logo design projects and showcase their skills and creativity.
DesignEvo streamlines the logo design process by providing a variety of templates, icons, and customization options that enable graphic designers to unleash their creativity and deliver unique and visually appealing logo designs.
The platform also facilitates effective communication between graphic designers and clients, ensuring a smooth collaboration experience.
It offers an extensive library of graphics and intuitive tools that allow you to easily create stunning logo designs.

Pros
Offers extensive customization options

Saves time in the design process

Provides inspirational resources
Cons
Limits design scope
Our Rating
Features: 4.9
Customer support: 4.9
Ease of use: 5
---
2. DesignCrowd
DesignCrowd's platform provides an excellent opportunity for freelance graphic designers to showcase their skills and expertise, propose unique design concepts, and connect with clients who appreciate the value and creativity that a freelance graphic designer proposes.
By browsing through design briefs, designers can choose projects aligned with their expertise.
Using DesignCrowd's user-friendly platform, designers can directly communicate with clients, submit design concepts, gather feedback, and make necessary iterations, ensuring a seamless and collaborative process for both parties involved.
Overall, DesignCrowd's platform is a hub for businesses seeking graphic design services and designers looking to showcase their skills, providing a wide range of design options and being a reliable logo maker. 
Pros
Gain access to a global pool of designers

Wide Range of design services

Collaborative feedback process
Cons
Encounter designer competition
Our Rating
Features: 4.8
Customer support: 4.9
Ease of use: 5
---
3. Designhill
Designhill is a popular platform that caters to the needs of a graphic designer and businesses seeking graphic design services.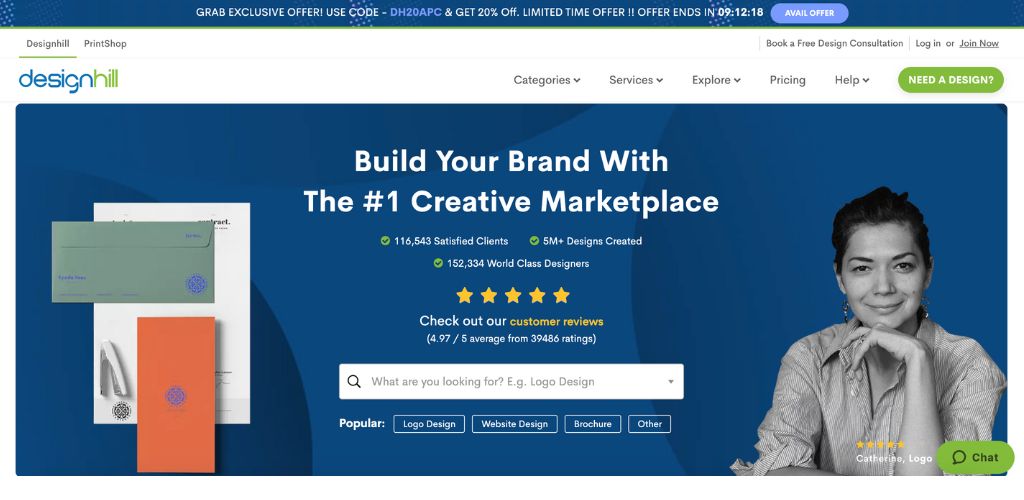 With its extensive network of creative professionals, Designhill can help meet various design requirements.
Whether freelancers or professionals, graphic designers can leverage Designhill to showcase their skills and connect with potential clients.
The platform serves as a hub where graphic designers can present their portfolios, demonstrate their expertise, and propose their services to businesses in need of graphic design solutions.
One of the advantages of Designhill is the ability for businesses to launch design contests. This approach allows them to receive multiple design proposals from professionals and select the best one that aligns with their vision and requirements.
Designhill is incredibly user-friendly, with its intuitive interface and clear navigation.
Pros
Diverse community of web designers

Explore graphic design services

Engage in collaborative design contests
Cons
Limited control over designers
Our Rating
Features: 4.5
Customer support: 4.6
Ease of use: 4.7
---
4. DesignBro
DesignBro is a platform specializing in graphic design, catering to businesses seeking professional designs and freelance designers looking for opportunities.
The platform offers a unique approach by connecting clients and freelance designers through design contests.
While DesignBro may not offer a dedicated logo maker, it provides a platform where freelance designers can participate in logo design contests, gaining experience and exposure.
Moreover, designers can also explore and engage with other graphic design requests posted by clients, further expanding their expertise and clientele.
Participating in design contests is a rewarding experience that allows you to showcase your creativity and connect with clients seeking top-notch graphic design solutions.
Pros
Provides constructive feedback

Expands portfolio opportunities

Facilitates client collaboration
Cons
Limited control over design projects
Our Rating
Features: 4.7
Customer support: 4.8
Ease of use: 4.3
---
5. Crowdspring
Crowdspring, a popular platform connecting businesses with professional graphic designers, is a hub where freelance designers can propose their creative solutions and collaborate with clients seeking graphic design services.
From logo designers to other specialized professionals, Crowdspring offers a diverse talent pool.
It provides an ideal platform for freelance designers to showcase their expertise and submit design proposals to clients, ensuring a collaborative process that results in visually appealing designs aligned with the clients' brand identity. 
Furthermore, Crowdspring's transparent pricing model allows businesses to set their budget and choose from different pricing packages, making it an affordable and transparent option for design projects.
Pros
Diverse pool of professional designers

Transparent pricing model

User-friendly platform
Cons
Limited control over designer selection
Our Rating
Features: 4.4
Customer support: 4
Ease of use: 4.8
---
6. Fiverr
Fiverr is a well-known online marketplace that connects businesses and individuals with a wide range of freelancers offering various services, including web design and graphic design.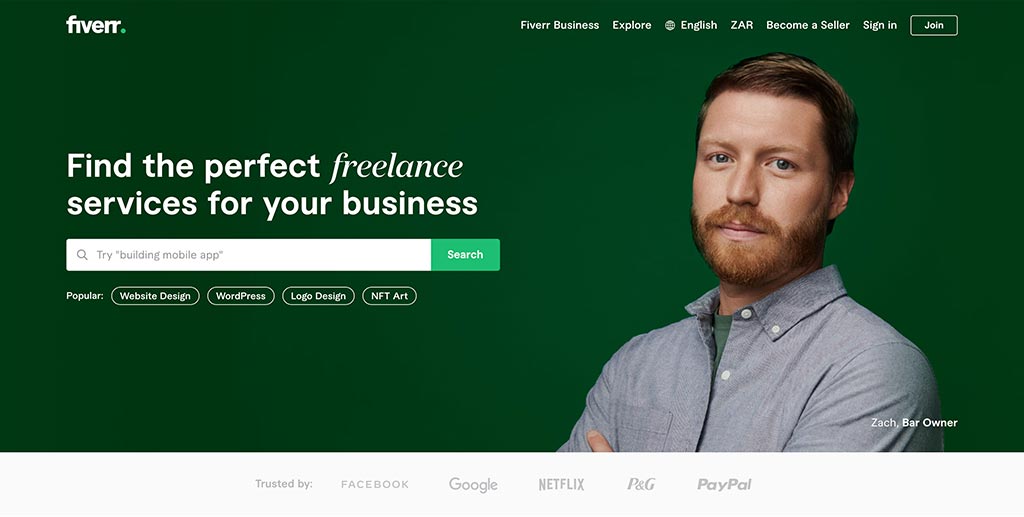 Fiverr provides an extensive selection of services tailored to meet diverse design needs.
One of the key highlights of Fiverr is its emphasis on graphic designs, including logo style and designs.
Businesses can browse through a multitude of logo designs available on the platform, allowing them to choose the style and design that aligns with their brand identity. 
Additionally, Fiverr enables users to submit design requests, providing an avenue for businesses to articulate their specific design requirements.
Design platforms have democratized access to professional design. Small businesses and startups can now access high-quality design at a fraction of the cost of hiring an in-house designer.
– David Airey, Author of Identity Designed
Pros
Millions of designers

Facilitates communication between clients and freelancers

Offers a wide variety of services
Cons
Requires a lot of time
Our Rating
Features: 3.8
Customer support: 4.6
Ease of use: 4.8
---
7. Upwork
Upwork is one of the leading online platforms that connects businesses with professional graphic designers, providing a wide range of graphic design services.
Only professional designers are allowed to showcase their portfolios and submit their design proposals, guaranteeing that businesses receive high-quality designs that meet their expectations.
One of the key advantages of Upwork is the ability for businesses to browse through the profiles and portfolios of different designers, allowing them to find their favorite designer whose style resonates with their brand.
This personalized approach enhances the collaboration process and ultimately leads to the delivery of high-quality designs.
Pros
Access professional graphic designers 

Streamlined communication

Experience flexible hiring options based on project needs
Cons
Incur fees based on the platform's structure
Our Rating
Features: 4
Customer support: 4.2
Ease of use: 4
---
Buyer's guide
1. User-friendly Interface
Choose a platform that offers a user-friendly interface, making it easy for both clients and freelance graphic designers to navigate and collaborate seamlessly.
Clear communication channels and intuitive design tools enhance the overall experience.
2. Comprehensive Range Of Design Services
Consider the alternative platform's range of design services, including logo design, website design, and other graphic design services.
This ensures that you can find a one-stop solution for your specific design needs.
3. Positive Reputation 
Research the platform's reputation by reading reviews and testimonials from both clients and freelance graphic designers.
Look for a platform with a strong track record of delivering quality design proposals and ensuring overall satisfaction.
4. Customer support
Having reliable and responsive customer support can significantly impact your decision-making process.
When using a platform to source graphic design services, questions, issues, and concerns may arise at any time.
A platform with dedicated support ensures that you receive timely assistance, resolve problems swiftly, and minimize any project disruptions.
By considering these factors and evaluating alternative platforms based on these criteria, you can make an informed decision and find an ideal 99designs alternative that meets your design requirements while allowing freelance graphic designers to propose their creative solutions.
FAQs
How Long Does 99DESIGNS Payout Take?
99designs payout takes up to 10 working days (excluding public holidays or weekends) after you have initiated a payout using one of the supported payment providers. The processing time may vary depending on your chosen payment method.
How Do You Get Clients on 99DESIGNS?
To get clients on 99designs, create a compelling profile and actively participate in design contests to showcase your skills. Promote your work outside the platform and provide excellent customer service to attract clients seeking your design expertise.
Which 99designs Alternative Should You Choose?
Based on comparing these platforms, DesignEvo is a clear winner. DesignEvo emerges as a standout option for freelance graphic designers to showcase their talents and propose their innovative designs, providing a robust platform and a thriving community that fosters collaboration and opportunities for professional growth.
As a freelance graphic designer, I have personally experienced the opportunities that DesignEvo provides. The platform empowers me to propose my design concepts directly to clients, enabling me to demonstrate my unique style and skills. 
DesignEvo not only offers a wide range of design services but also provides a platform where freelance graphic designers can actively participate and propose their ideas to clients.
Our #1 Recommendation: DesignEvo