To be an accomplished affiliate marketer, your business must revolve around your ability to promote, create and track affiliate links work.
Setting up the affiliate link is only the beginning of the process.
You still need to drive traffic to your website and get website visitors to click on the link and buy your products.
We spent many hours researching and testing the best methods available to teach you how to get your link up and running and make money as efficiently as possible.
Below you will find four steps to generating new affiliate link to help ensure your success in online marketing.
Quick Summary
Creating an affiliate link involves selecting an affiliate program, setting up and customizing the link, and testing it for functionality.
Affiliate links are key in marketing, indicating sales made due to your efforts, and can be attached to various content forms to drive traffic.
Successful use of your affiliate link requires strategic optimization, avoiding overuse, and partnering with authority figures for credibility.
What Are Affiliate Links?
Affiliate links are unique links for buyers to click on and purchase so you can receive a commission on the sale.
This unique affiliate ID makes tracking your numbers easy for both the affiliate programs and you as the affiliate.
Tracking affiliate sales, clicks, conversions, and cost-per-clicks can be invaluable feedback when looking at the marketing performance of your campaigns.
If you are new to the affiliate marketing program check out our beginners guide to learning affiliate marketing.
Why Are Affiliate Links important?
When you post your link and customers buy products through you, your affiliate link will indicate that the sale was made by your advertising efforts so that you get paid your share of the sale.
Businesses will believe that your customers found their website on their own and will keep all the profits of the sale if not for your affiliate link.
When an affiliate partners with a business, that affiliate is responsible for setting up and marketing their affiliate link.
New affiliates need to take the time to create their link intentionally.
Choosing the Right Affiliate Program to Create Affiliate Links
Whichever merchant you partner with on specific platforms plays a key role in creating affiliate referral links that reach the right audience.
Here are 8 of the top platforms to look at for your own affiliate program:
Amazon Associates Program
If you are looking to earn money off using your affiliate link to sell physical products then the Amazon Associates Program is a popular option.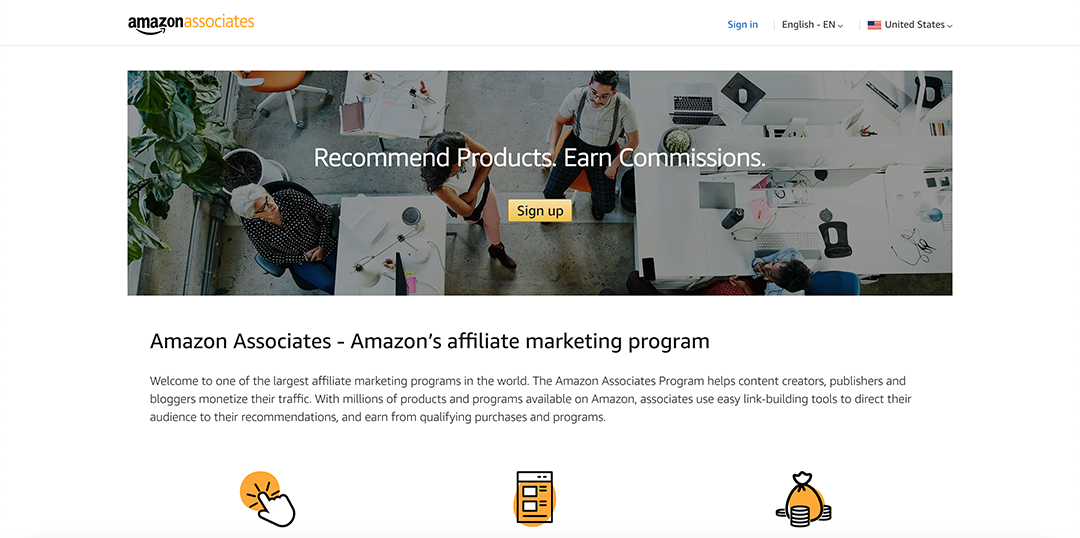 With the associate's program Amazon allows you to make between 1-10% commissions on products from video games, electronics, toys, tools, furniture, clothing, and more.
Amazon may have lower commissions in comparison with other platforms, but the size of Amazon's digital catalog makes it a very popular option.
Pros
Huge product selection and a well trusted brand.
Decent conversion rate
Cons
Low commission rates
Don't look after their affiliates
Affiliates may want a larger selection of partners to choose from.
Awin
Awin is a huge platform with over 13,000 merchants to partner with.
Some of their big companies are Etsy, AliExpress, HP, and Under Armour.
Their smaller companies can also be a great opportunity to find specific products, build your niche and grow your business.
There is also a dedicated WordPress plugin to help you import your products.
If you're looking to create links through Awin here is a guide to doing it on their platform.
Pros
Over 14,000 merchants to partner with for affiliates.
Major brands exclusive to Awin
Easy to use tools and plugins
Cons
Messy interface
Charge new affiliates a refundable $5 to sign up with them.
CJ Affiliate
CJ Affiliates has an impressive size of just under 2,700 merchants.
Their big companies include Office Depot, Lowes, Overstock, GoPro, Priceline, and Grammarly.
Each merchant has its own plan on how the affiliate management app is paid through their affiliate link so do your research.
Going through CJ to create affiliate links is a very easy to generate links.
Pros
One of the largest affiliate networks online
Hosts the affiliate programs for major brands such as Home Depot, Apple, TurboTax, and Zappos.
High end, powerful reporting tools
Reliable and timely payments
Cons
There has been some reports of customer service issues.
They have been known to cancel accounts with little to no explanation.
Rakuten Marketing
There may only be around 1,000 merchants but it's amazing the big companies that they have partnered with.
It's easy to see how Rakuten has been growing in popularity and revenue with Walmart, Best Buy, Papa Johns, and Macy's.
Your commissions will depend on the merchants you partner with and their commission plan.
Despite not having as many merchants as competitors, affiliates looking for a well-respected and well-known affiliate platform with big names will be pleased.
Pros
Trusted name with trusted companies including Walmart, Sephora, New Balance and more
Offera a ton of creatives to choose from including rotating ads and flexible linking options
Low barrier to entry
Cons
Reports of some delayed payments and outdated user interface.
Walmart Affiliate Program
Besides going through Rakuten to affiliate partner with Walmart you can actually partner with them directly.
Working directly with the Walmart Affiliate Program commissions can range from 1-18%, although most categories pay in the 1-4% range.
Walmart has a large selection of products and customer base.
Many affiliates like that the affiliate tracking cookies for Walmart lasts for three days compared to places like amazon affiliate program and eBay only last 24 hours.
Pros
Large brand recognition and lots of items to sell.
Cons
May have lower commission rates and you must sell products not at your local Walmart.
eBay Partner Network
Another big name in the retail world, eBay has 6.6% of the retail market compared to Walmart's 3.7%.
eBay Partner Network has a huge catalog to sell products from with a unique opportunity to sell not only new products but used as well.
You will earn in commissions 50-70% of eBay's revenue.
That is not commissions on the cost of the item as a whole but what eBay profits from off of the item.
The ability to sell almost anything anyone can get your hands on opens up all kinds of possibilities for affiliates to cash in.
Cons
Confusing commission structure and caps on per sale earnings.
FlexOffers
With over 12,000 merchants, FlexOffers is a great opportunity for affiliates looking to generate a lot of affiliate links to maximize their potential.
They do have a few well known names like Skechers, Priceline, Macy's, and Lenovo, but most of their merchants are smaller companies.
The managers are also a great resource for technical and marketing advice.
FlexOffers has a long established history and is a trustworthy platform that has stood the test of time.
Like many other platforms, the commissions depend on who you partner with to generate your affiliate links.
Pros
Tens of thousands merchants to choose from and a good reputation.
Cons
Average customer service reviews and not suitable for all niches.
With over 4,500 merchants big or small ShareASale has been around a long time.
Notable companies they partner with are NFL Shop, Wayfair, and Reebok.
The platform is WordPress friendly with an easy plug-in to import products.
ShareASale deals with selling both digital and physical products.
The dashboard isn't the greatest compared to competitors, but it does what it needs to do.
One real plus is how easy it is to generate affiliate links through their platform.
Pros
Diverse amount of merchants and easy to find them.
Cons
Not a great user interface and many links aren't WordPress friendly.
Before You Set Up Your Affiliate Link
After you have decided which platform is best for you there are a few things you want to take care of before you start generating links such as:
Choosing which products you will be selling
Agreeing on product pricing
How much you will be paid in commissions
What app or program you will use to track your data, workflow, and commissions
Whether you plan on recruiting and managing affiliates under you
How to Set Up Affiliate Links
While navigating each website platform will differ, the process of start creating affiliate links is similar.
Here are four easy steps to start pumping affiliate links out in no time.
Setting Up Your Affiliate Link and Creating a New Campaign
Setting up an affiliate link depends first on what platform you are creating links through.
Most of the common platforms will have a tutorial to walk you through their dashboard and a quick and easy way to get your link, usually in a matter of minutes.
Some of these affiliate networks allow you to create campaigns which allow you to organize your links.
What is Included in My Affiliate Link?
The newly created link contains a specific URL which has your affiliate ID or username
This link can now be attached to banners, lists, reviews, messages, and pop-ups to drive traffic to your affiliate business.
Through your affiliate platform you can track sales and clicks related to your link
Knowing the numbers related to your affiliate link can be vital to your success as you test and track your link's performance.
Customize Your URL
Sometimes generating unique affiliate links produces a string of letters and numbers a mile long that is both not fun to look at and not fun to copy or rewrite.
You can customize your URL so that instead of a mass of numbers and letters you and prospects see a nice and clean link.
Normally people set up their affiliate links like:
These links then redirect to the affiliate link.
This kind of link looks prettier – particularly when you have to put a raw URL. It also allows for more indepth tracking.
Test Your Affiliate Links
Don't start posting your affiliate links until you are sure they work the way they are designed to.
If certain links don't go to the general website but to specific products, then be sure they work correctly and don't kill a potential purchase.
You can't build a profitable marketing business if your links aren't working
If your links are broken or send prospective customers to the wrong website or page they will likely turn away from completing a sale for you.
Check you affiliate links to make sure they are active and sending customers to the right place.
Also, be sure to check your affiliate dashboard to make sure the click was registered and attributed to you..
How to Use Your Affiliate Link Like the Top Affiliates
Success in marketing isn't simply about creating product pages, an affiliate link, and then waiting for consumers to purchase your products.
Your marketing performance with your own affiliate program link requires a great strategy on how to use the link effectively.
Optimize Your Links
For the same reason you want to clean up your affiliate link to be short and appealing you also want to use actionable and engaging anchor text often.
If I'm advertising I don't want to say, "Visit diggitymarketing.com".
Instead, I could say, "Click here to learn how to crush it using an affiliate program."
The second route is more inviting because it is clear, simple, and appealing.
You can find out more about Conversion Rate Optimization here.
Don't Over Stuff or Overuse Your Affiliate Link
Marketing is about being direct and appealing.
If you place too many links in one place, the likely result is annoyance from potential customers.
Let people know what you do and your services from time to time then move on to new areas to prospect.
Find an Authority to Partner With
We as humans by nature buy from people we know, like, and trust.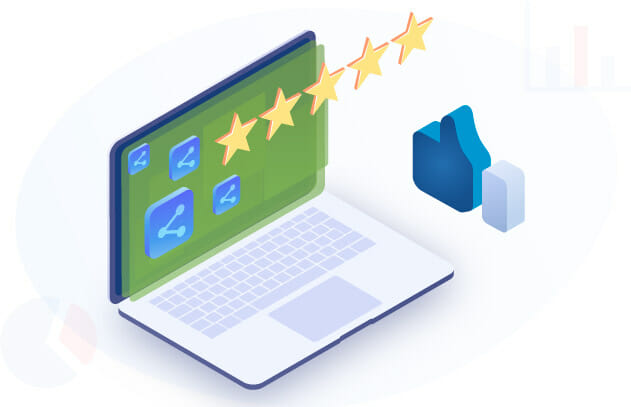 But how do you build all that with online marketing?
Here are some success tips to partner up with authority figures:
Guest star on a popular podcast or other successful affiliates
Create a guest blog post for a well-circulated newsletter and top producing affiliates
Use social media influencers to mention or promote you
Advertise on social media posts and other websites would be willing to post your affiliate link with a short description.
Find people that are authorities or popular where potential consumers are already familiar with and value their opinions.
In Conclusion
An affiliate link that is well-designed and marketed is essential for the success of an online marketer.
Taking the time to set the link up correctly and finding the right platforms to share your link is a sure-fire strategy needed if you plan to be a top producer like many affiliates seek after.
Want to know more about how to use your affiliate link to maximize your success?
Our latest webinar has you covered.
Whether you are a beginner or a veteran eager to hit the next level in your business we got your back.