The Amazon affiliate program is often the go-to for new affiliates, but this may not be wise. It potentially costs you thousands in lost income due to Amazon's consistently reducing commission rates, making income growth challenging.
As someone who's faced the challenges and limitations of the Amazon affiliate program, I've explored various alternatives to unlock greater earning potential. I'm excited to share my tried-and-tested recommendations with you, helping you increase your revenue without the need for additional traffic.
Let's delve into the world of alternative affiliate programs that can truly elevate your earnings.
Alternative Affiliate Networks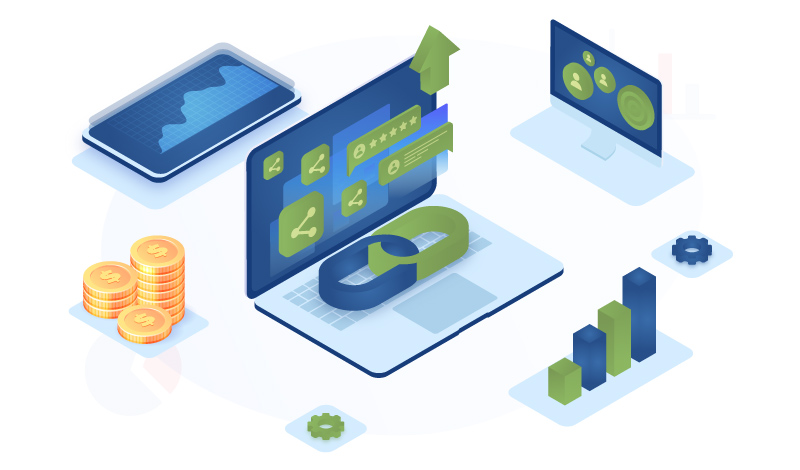 Now, we're going to take a look at some more affiliate networks out there that offer an alternative to Amazon's affiliate program and a way to boost your affiliate income.
The main reasons for considering non-Amazon affiliate networks as an alternative are higher commission rates, and you can speak to a dedicated affiliate manager in many cases.
Not just some nameless customer service soul at the other end of an email form or phone call who knows less about affiliate marketing than you do.
ShareASale is one of the best affiliate networks to work with.
This affiliate network has been in business for over 20 years, has Awin as its parent company, and has thousands of merchants to choose from.
But they also feature lots of advertisers you won't find elsewhere, which means you can find emerging niches here.
Finding offers to promote is straightforward, even if their dashboard looks a little bit dated.
You can filter available programs using everything from EPC (Earnings per Click), to ShareASale's in-house 'Power Rank' scoring system.
So you won't have to spend all day trawling through thousands of advertisers to find the handful you want to promote on your niche site.
Payout threshold: $50
Payment Frequency: Net 30
Payment methods: Check, bank deposit, Payoneer
---
2. CJ Affiliate By Conversant
Commission Junction (CJ Affiliate by Conversant) is probably the biggest affiliate network in the world, both by reputation and the caliber of the merchants they have on their books.
Their advertiser portfolio reads like a list of some of the world's biggest brand names, e.g. Zappos, VistaPrint, Walgreens, Xfinity, Verizon, Trip Advisor, TK Maxx, etc.
The signup process is relatively straightforward, as is applying to affiliate offers.
But if you want to speed up the approval process:
Have a live website
Have traffic going to that website
You'll find that makes your approval for programs go a lot more smoothly.
You also get all the usual creatives for programs and the ability to generate deep links to products.
This affiliate network has been a favorite among affiliate enthusiats for a long time now and is one of the best alternatives to Amazon's program.
Payout threshold: $100
Payment frequency: Net 30
Payment methods: Check, bank deposit, or Payoneer
---
3. Impact
Impact Radius is one of the newer affiliate platforms in the world of affiliate marketing and was founded by some of the same people who set up Commission Junction.
Their goal was to create a new type of network focused on high-quality relationships with partners rather than just high-volume relationships.
But they're still an affiliate platform with offers you can promote – a mixture of over five hundred CPA (Cost per Acquisition) and CPS (Cost per Sale).
So there's the potential here for you to earn a lot of affiliate revenue.
The only downside for beginners is that it appears to be very easy to get declined when applying to their network.
But you can still apply to programs on their network (Target, etc) separately and get approved.
Payout threshold: $50
Payment frequency: Net 30
Payment methods: PayPal, Check, Wire transfer, Direct deposit
---
4. Rakuten Advertising
Rakuten Advertising is a Japanese company with a significant presence in the online retail market in Japan and Asia.
They acquired Linkshare in 2005 and currently manage the affiliate programs of over one thousand advertisers.
What makes this a great network to work with is that you can promote global brands such as Kodak, Macy's, Lego, Microsoft, Dyson, Klarna, Telus, and hundreds of others.
But you also get to work with smaller, more niche companies too.
The signup process is relatively straightforward, and they tend to approve most new affiliate applications pretty quickly.
The interface is a little dated but the sheer quality of their advertisers more than makes up for it.
Payout threshold: $50
Payment Frequency: Net 60
Payment methods: Check, bank deposit, PayPal
---
5. Awin
AWIN has over 16,000 advertisers on their books that generated a total of $10.8 billion in sales last year.
This also means that Awin affiliates are also making a lot of money.
Awin is also the only network that charges a $5 fee (refundable) to sign up with them. But it does seem to limit the number of time wasters signing up with this Amazon alternative.
Something else to like about Awin is that while they do work with major brand names like Qatar Airways,  AliExpress, Etsy, and HP, they're also a great place to find smaller, emerging brands with a ton of potential.
Payout threshold: $20
Payment frequency: Net 30
Payment methods: Direct deposit, wire transfer
---
6. OfferVault
OfferVault is different from the other affiliate platforms featured in this guide because it's neither a network nor a direct affiliate program.
Instead, it's a free-to-register-for search engine that allows you to find many other affiliate networks and offers with just a few clicks of your mouse.
The programs and networks featured do lean more towards CPA and CPL offers.
So you can expect to find networks like MaxBounty and TerraLeads popping up in their search results, but not Commission Junction or ShareASale.
But if you are looking for affiliate programs that pay out anywhere up to $2,900 per lead, then OfferVault is an excellent place to start.
Just be prepared to work with smaller advertisers in very competitive niches against other – probably very experienced – affiliate marketers.
Payout threshold: Not applicable
Payment frequency: Not applicable
Payment methods: Not applicable
---
7. ClickBank
Next up on our list of alternative affiliate programs is ClickBank, a network with a difference because its advertisers sell a mixture of physical and digital products.
The physical products are often health supplements, whereas the digital offerings span everything from gardening, politics, and herbal remedies to games, personal finance, and how to make money online.
Selling digital products as an affiliate makes a lot of sense…
Your customers get their order immediately, and you can earn a whole lot of money promoting the right products.
The top-performing offers on ClickBank pay up to $200 – $400 for a single referral.
The trick with ClickBank is finding a winning offer in a market that's not completely saturated. But if you can do that, then it's entirely possible to make 5-figures per month with this network.
Payout threshold: $10
Payment frequency: Bi-weekly (after 1st month)
Payment methods: Bank transfer, wire, check
Our first stop is to look at Amazon's direct competitors in the e-commerce space i.e. other companies that sell lots of different stuff and are happy to pay you a commission for hooking them up with new customers.
---
Niche Solutions
I'm a big fan of not going wide with a huge authority site when you first start out in the affiliate marketing game.
My advice is to go narrow and deep using smaller networks and niche affiliate programs that focus on very specific audiences. They also tend to pay some of the best commission rates.
There are lots of other great affiliate programs out there to choose from.
Here are some of my favorites.
8. Fan Fuel
I'm a big fan of the health and fitness vertical and have several profitable affiliate sites operating in that specific niche.
And one of my favorite networks to work with is FanFuel.
Unlike most other networks, they manufacture their own range of health supplements, including bodybuilding products, weight loss supplements, beauty treatments, overall wellness supplements, and nootropics.
FanFuel markets its products using a number of active professional athletes and fitness influencers to build its brand presence.
They have a very attractive commission structure,  a good selection of payment options, and their landing pages also do a great job of converting qualified traffic.
This is one of the best Amazon affiliate alternatives if you're in the health, beauty, or fitness niches.
Commission: 40% per sale
Cookie: 90 days
Payment methods: Bank transfer, PayPal, wire transfer, and Payoneer
---
9. Market Health
Market Health is both an affiliate program and network.
The network is basically used to host their offers and manage their affiliate publishers and other assets.
And it's a winning combination.
From an affiliate's perspective, you get to work directly with a marketing-savvy manufacturer who's willing to pay you a minimum commission of $40 for each sale you generate for them.
Their health and beauty products cover everything from acne treatments to colon health and anti-aging creams and even pet products.
So there's enough variety in their offerings to span several niches.
Commission rate: Depends on the CPA or CPS offer
Cookie: 30 days
Payment Methods: Bank, check, Wire transfer, and Skrill
---
10. Travel Payouts
Travel Payouts started in 2011 as a site to help people find cheap flights, before developing its own affiliate program, and then finally becoming an affiliate network.
And they've paid out over $28 million in affiliate commissions since those early days.
International travel obviously experienced a serious downturn during the recent pandemic.
But despite this, the travel industry is recovering and will reach pre-pandemic levels in the not-too-distant future.
So now is a good time to position yourself ahead of that uptick with some solid travel affiliate programs.
Travel Payouts is home to 100 such CPA offers from leading brand names for flights, hotels, car hire, and much more – their top affiliates earn up to $90,000 per month.
Commission rate: Up to 70% rev share
Cookie: Permanent
Payment Methods: Bank transfers, PayPal, WebMoney
---
11. MoreNiche
Next up on our list of Amazon affiliate program alternatives is MoreNiche.
They've served the health niche since 1999 with a diverse range of products from several brands.
This affiliate network has paid $54 million in commission since 2002, so they're doing something right.
In terms of products to promote, these cover teeth whitening, weight loss, pre, and post-workout supplements, skin lightening creams, and testosterone boosters.
Something that sets them apart from every other affiliate program here is that MoreNiche guarantees that you'll get paid even if they don't.
So you won't be left waiting around for your affiliate payments to show up, which can even be in Bitcoin if you wish.
Commission: Up to $50 per sale
Cookie: Permanent
Payment methods: Wire, Skrill, Bitcoin, Paxful
---
12. Agoda
Agoda is another affiliate resource for bloggers, publishers, and influencers in the travel niche.
They're also a specialized affiliate programs in that all of their affiliate network offers are for accommodation in hotels or private vacation homes.
And they have over 2 million properties for your visitors to choose from plus a reputation as being one of the better-known travel accommodation sites online.
You can integrate their offers on your blog or site using text or image links as well as banners. But you can customize your ads just to feature specific hotels or certain countries.
Commission is paid on a sliding scale, starting at 4% for entry-level affiliates, but top-performers can get paid up to 7% of each sale.
The only real downside is that your cookie expires as soon as the visitor closes their browser, and unless they made the booking at that point in time you won't get paid for that referral.
Commission: Up to 7%
Cookie: Session-based
Payment methods: Bank transfer
---
13. Etsy
Etsy is another overlooked program that has a lot to offer affiliates who are willing to do a bit of lateral thinking.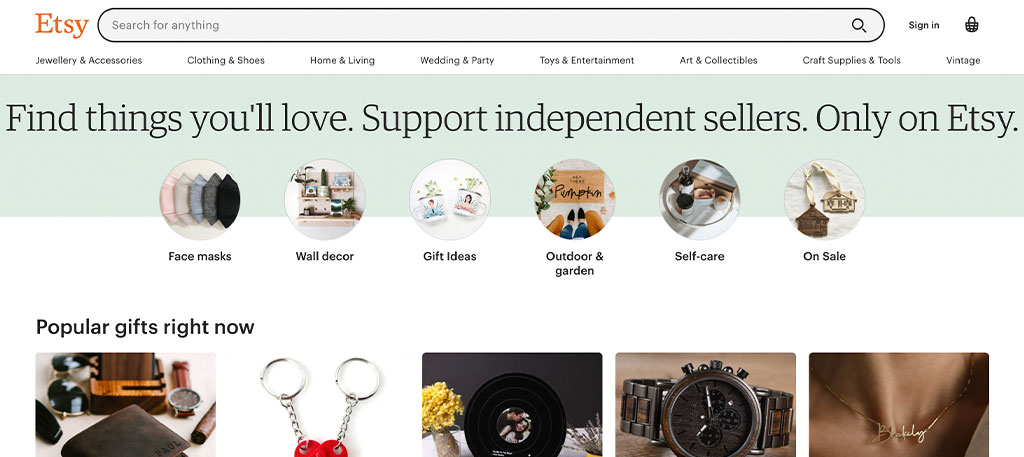 It started as a marketplace for crafters to sell their goods online without setting up their own website.
Since then, it's grown to become an e-commerce platform in its own right, selling a range of brand new, vintage, and craft goods.
They even sell electronic products like quirky USB drives and customized game controllers, so we highly recommend checking Etsy affiliate program.
So there's something there to appeal to the vast majority of people either looking for a unique gift, some interesting décor for their home, or memorabilia to add to their collection.
Commission: 4%
Cookie: 30 days
Payment Methods: Bank account transfer, wire transfer, Payoneer
---
Direct Amazon Alternatives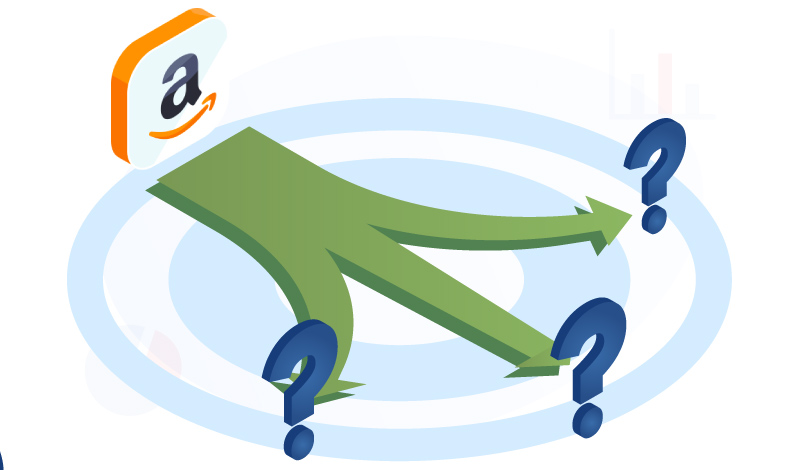 14. Target Affiliate Program
Target is what's known as a "big box discount retailer" that sells a wide range of general merchandise in the same way that Walmart does, for example.
They sell most of the usual stuff your visitors might look for on Amazon such as clothes, furniture, household décor, video games, electronics, etc.
But the big difference is that Target offers far higher commission rates for high volume sellers across most of their popular categories.
For example, 'Apparel & Accessories' pays a 5% commission rate to affiliates selling between 0 and 10 items per month. But if that same affiliate was to sell 10,000 items per month they get an instant commission bump to 8%.
The downside to this is that Target also pays a 0% commission rate on a whole host of other items such as:
So make absolutely certain you check the commission rates paid out by Target's affiliate programs before swapping over your links.
And if you publish in any of the above categories make sure to click on the links provided to see a list of the best affiliate offers for that niche/category.
Commission rate: Up to 8%
Cookie: 7 days
Payment methods: PayPal, check, wire transfer, bank deposit
Payout threshold: $50
---
15. Home Depot Affiliate Program
Home Depot has been around since 1979, growing from two stores in Atlanta to over 2,200 stores across several countries.
They also claim to be the largest DIY and home improvement retailer in the US with over 2 million items in stock at any one time.
So how do they compare to Amazon?
Their affiliate programs pay between 1% and 8% depending on the products you promote, but that's still a big improvement on the flat 3% paid by Amazon.
The Home Depot affiliate programs are currently only available through the Impact affiliate network. They use a manual approval process – so bear that in mind when applying.
You're also working with a 1-day cookie window, so you should only send warm traffic to these offers if you want them to convert.
Commission rate: Up to 8%
Cookie: 1 day
Payout threshold: $50
Payment methods: PayPal, check, wire transfer, bank deposit
---
16. Walmart Affiliate Program
Walmart is probably the best-known discount store on the planet, with over 11,000 stores in total.
Something else Walmart is known for is that they stock pretty much everything the average person might need – from LED TVs to groceries.
That's because this online retailer has over 4 million items in stock at any one time, so your visitors should be able to find at least one thing they'd consider purchasing.
Walmart's affiliate programs pay 1% to 4% commission on a referral made through your affiliate link –  depending on what category it's in.
Here's a list of the 4% categories to save you looking for them:
| | | | |
| --- | --- | --- | --- |
| Books and Magazines | Photo Services | Stationery | Automotive |
| Hardware and Tools | Do It Yourself | Horticulture | Personal Care |
| Pets and Supplies | Beauty | Men's Apparel | Baby and Toddler Apparel |
| Boy's Apparel | Girl's Apparel | Shoes | Intimate Apparel |
| Women's Apparel | Accessories | Accessories | |
So that makes it a competitive program worth your consideration. Walmart actually pays a higher commission rate than Amazon in a number of categories like pets, home improvement, and beauty.
But you're still limited to a maximum commission rate of 4%, unlike the 5% - 50%+ you can earn from other affiliate networks in the following niches/categories, for example:
Commission rate: Up to 4%
Cookie: 3 days
Payout threshold: $50
Payment methods: PayPal, check, Wire transfer, bank deposit
---
17. eBay Partner Network
Next up on our list of Amazon affiliate alternatives is the eBay Partner Network.
eBay is the biggest auction site on the planet, with over 1.5 billion live listings.
It's the "go-to" place for everything from antique movie memorabilia and entire houses to consumer electronics items – 80% of all items sold on eBay are new.
eBay affiliates earn up to 4% commission per sale made through their affiliate link, depending on the product category.
With that said, most of the other categories payout between 2% and 3% with the exception of computers and real estate.
There's also a commission cap of anywhere from $100 to $550 on earnings.
But they do have a 'Premier Program' for the type of affiliate partner or digital marketer who can push a high sales volume.
So, there is the potential for better commission rates if you qualify.
Commission rate: Up to 4%
Cookie: 1-day
Payout threshold: $10
Payment methods:  Bank deposit, PayPal
---
Go Direct With the Brand
Did you know that most companies are more than willing to talk to affiliates who can sell their products for them?
Amazon doesn't have a monopoly here.
Most of the time, all it takes is for you to contact the business's affiliate manager and pitch yourself and your site – LinkedIn is a good place to start for this type of info.
And when I say "pitch" I don't mean a PowerPoint deck with 147 slides.
Instead, just put together a simple email like the following:
This one short email can put you one giant step closer to having a one-on-one relationship with major brand names.
Remember, these companies don't always do business with Amazon because they want to.
It's down to nothing more than Amazon being the dominant player in the world of online shopping.
---
How Well Does Amazon Treat Its Affiliates?
Amazon does not treat its affiliates very well. Amazon affiliates receive no more than a 5% commission rate on the sale of physical products from specific categories. But the most popular product categories pay between 2% and 4% commission.
This is why most Amazon affiliates struggle to make anything approaching job replacement income.
Amazon now shows a complete disregard for the exact same affiliate publishers and marketers who helped them build their business in the first place.
Constantly reducing its commission rates doesn't help matters either.
And it's also the precise reason why one of the first videos in my Affiliate Lab course explains why you shouldn't sign up for this affiliate program.
Commission Rate Vs. Conversion Rate
The argument we hear most often in favor of the Amazon Associates program is, "…sure you get paid a lower commission rate but Amazon's higher conversion rate more than makes up for that."
But that's nothing more than an opinion without running some tests.
Let's take the example of health supplements.
You could promote products you find on Amazon, but a far better choice is Fanfuel/Wolfson Brands.
Here's why.
Amazon pays 1% commission on products in the 'Health' category and offers a 24-hour cookie. Which not that great compared to some other affiliate programs.
Fanfuel pays a 40% commission rate on superior products and you get a 90-day cookie to play with.
That's a massive difference in commission rate.
And, based on our experience in the health niche, we can flat out say that traffic to Fanfuel offers converts like crazy.
Something else to consider is that even if another affiliate program has a lower conversion rate a higher commission rate can easily make up for that.
Here's an example of how that works:
Amazon
Product cost: $100
Commission: 4%
Conversion rate: 10%
You should earn $400 ($4 x 100 sales) for every 1,000 unique visitors you send to this offer.
Fanfuel
Product cost: $45
Commission: 40%
Conversion rate: 8%
You should earn $1,440 ($18 x 80 sales) for every 1,000 unique visitors you send to this offer.
So, you could easily earn an additional $1,040 in cash by promoting a dedicated health supplement affiliate program instead of the Amazon affiliate program.
Just by swapping over your affiliate links.
---
More Ways to Earn Money
With the internet providing more opportunities to make money online, there are various ways to start earning extra cash. You can earn passive income streams from affiliate marketing.
Alternatively, you can earn active income through sources such as working as a virtual assistant or taking surveys.
Additionally, there are many freelance opportunities in writing, web design, and programming. With so many options available, anyone can find ways to make money online.
Making money online is an easy and efficient way to supplement your income. Here are three easy ways to consider them:
1. Freelance Content Writing Gigs
Freelance gigs are another way to make money online. You can write articles, blog posts, or even create e-books to sell. You can also offer freelance services such as copywriting, editing, and proofreading. 
Upwork and Freelancer are great websites to start with. You can also search for gigs on job boards. Once you find a job, you'll need to create a portfolio of your work to show potential clients. 
2. Virtual Assistance
Virtual assistance is a great way to make money online. It involves providing administrative, technical, or creative services to clients remotely. Examples of virtual assistance services include web design, customer service, data entry, transcription, and copywriting.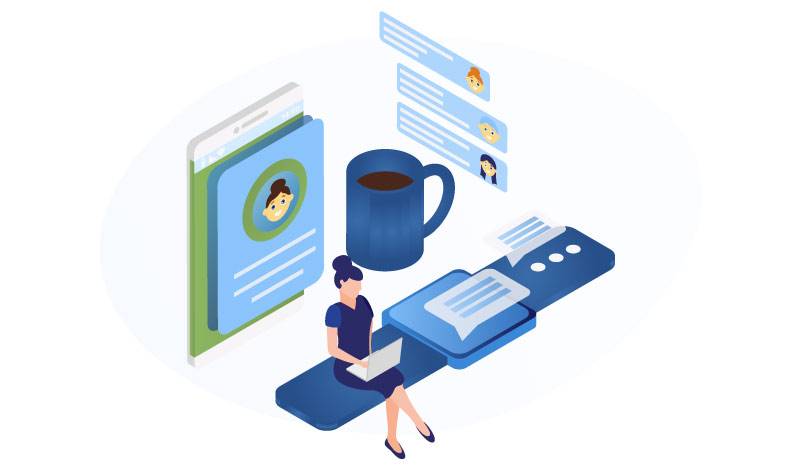 You can work on a freelance basis with virtual assistance. This allows you to set your own hours and rates.
3. Taking Online Surveys
Companies often pay for consumer feedback, and you can get paid for answering questions or giving your opinion. Taking online surveys is a great way to make some extra money in your spare time. 
Sign up for survey websites like Survey Junkie and Swagbucks, and start earning points for each survey you complete. You can then redeem those points for cash or gift cards.
---
Is The Amazon Affiliate Program Worth It?
No, Amazon's affiliate isn't worth the time and effort you put into it. The return on investment is typically poor, with many Amazon associates earning no more than $2,000 per month.
This might sound like a lot of money until somebody points out that affiliates working with non-Amazon Associates alternatives make 5x – 50x as much per month.
You have thousands of alternative programs you can work with, most of which pay better affiliate rates.
---
Start Using Better Amazon Alternatives:
There's more than one way to monetize your site and many Amazon affiliate alternatives to work with.
And that's for beginners and experienced affiliates alike.
The majority of the featured programs pay better commission rates than Amazon.
Yes, Amazon converts pretty well…but you still don't make a whole lot of money.
The affiliate marketing world is crammed full of better offers and networks.
This is the kind of stuff I get into in more detail in my Affiliate Lab course.
I've made lots of mistakes building affiliate sites – valuable lessons learned each time.
Now you can benefit from those lessons when making money with your online business.
Want to Become a PRO Affiliate?
Comprehensive lessons
Niche Grading tool
Step-by-step website building guide
Regular updates


Private Facebook community
Bonus courses
Lifetime course access
Got Questions or Comments?
Join the discussion here on Facebook.