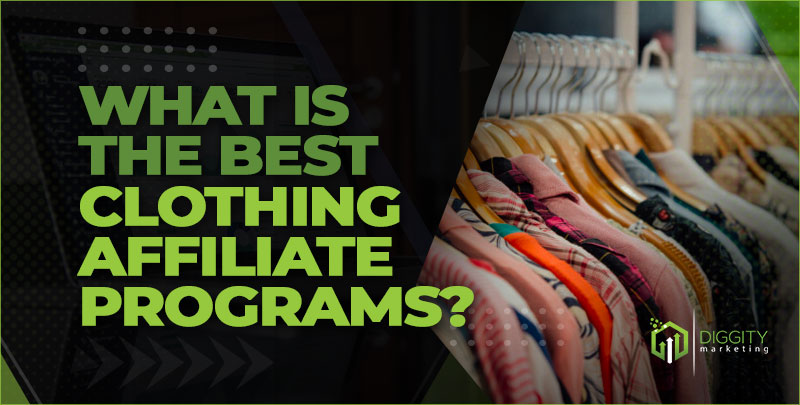 So…you followed your passion, built a fashion blog, and now have a following on social media too.
But you have no idea how to monetize your audience.
You're not alone. We've seen a lot of students in The Affiliate Lab who had the same issues when they first started.
Having personally navigated the challenges of monetizing a fashion blog, I'm excited to share my tried-and-true strategies for transforming your passion into a profitable venture.
The good news is that many of the brands you know and love have clothing affiliate programs that you can promote.
Some of them will even send you free samples of their products to review.
Best Clothing Affiliate Programs
1. Gwynnie Bee
Gwynnie Bee is a clothing delivery service…but with a difference.
Instead of receiving random items of clothing, you can instead choose what you "rent" each month.
And then when you're tired of a particular dress, jacket, skirt, etc., you simply return it and choose something else instead.
You'll never run out of something new to review on your fashion blog because you can rent clothes instead of having to buy them.
Their most basic package ($49 per month) allows you to rent one piece of clothing from their collection. But you can choose up to 10 items if you're willing to pay $199 per month.
Gwynnie Bee is an ideal offer to lead this roundup with because it's an affiliate that pays $55 per lead.
It's proof for affiliate marketers that you can make a lot of money from fashion affiliate programs once you're promoting the right offers.
Why You Should Promote Gwynnie Bee
They offer an innovative clothing rental service that will appeal to an audience that wants to wear the latest look but without having to buy a second (or third) closet.
Commission: $55 per lead
Cookie Duration: 30 days
Payment Methods: Direct deposit, PayPal
Products: Fashion clothing and accessories
---
2. Organic Basics
You won't be shocked to hear that the global fashion industry is worth an estimated $579 billion.
But the ethical fashion market is also currently valued at $6.35 billion[1] with projected growth of almost 9% per year.
This means that Organic Basics has positioned itself in the right market at the right time.
This company sells clothing not only made from sustainable fabric sources but is also made to last.
Their goal is to only use fabrics with the lowest possible environmental impact.
This program pays up to 15% commission on all referred sales. Influencers need to have at least 1,000 followers to qualify.
Why You Should Promote Organic Basics
They're ideally positioned for the current shift in consumer spending towards ethical shopping[2] i.e. consumers who can afford to spend more on sustainable clothing are already voting with their dollars.
Commission: Up to 15%
Cookie Duration: 30 days
Payment Methods:
Products: Organic clothing
---
3. Zappos
Zappos is one of a handful of startups that not only survived the Dotcom bust but went on to become a truly successful online retailer.
This company started out selling shoes online – buying them at a discount in local retail stores and then reselling them from their website.
They still sell shoes today but have also expanded into clothing, jewelry, handbags, and a limited range of houseware, all from 1,3000 brand names that consumers know and trust.
Zappos has an average order value (AOV) of $150 and you get a 7% cut of that in commission.
Why You Should Promote Zappos
They put the customer first in pretty much everything they do, so that means high levels of consumer loyalty, the potential for repeat sales, and higher conversion rates. You also get to work with a dedicated affiliate team.
Commission: 7%
Cookie Duration: 30 days
Payment Methods: Direct deposit, check, Payoneer
Products: Clothing and footwear
---
4. Grayers
Grayers is a men's fashion brand that offers stylish clothes but at prices that won't break the bank. It's one of the more popular fashion brands these days.
The company was founded by Peter Georgiou, an ex-Ralph Lauren employee who wanted to create his product line inspired by the fashion trends of 1930s England.
Visitors can shop by occasion, from their 'Resort' collection for something to wear on vacation, or just choose from a complete range of clothing for men including everything from shirts and jackets to gloves and wallets.
And they are one of the few affiliate programs that offer free shipping on all orders over $100 in value.
Affiliates get a 20% cut of all sales generated through their affiliate link. So, with an average sale size of $156, you can expect to earn $31 per sale.
It also helps that they have a claimed 23% conversion rate.
Why You Should Promote Grayers
They offer a unique take on men's fashion, looking to modernize classic men's outfits from the 1930s, and have a reasonably high average order value, and a healthy commission rate.
Commission: 20%
Cookie Duration: 30 days
Payment Methods: Payoneer, direct deposit, check,
Products: Men's clothing
---
5. MyTheresa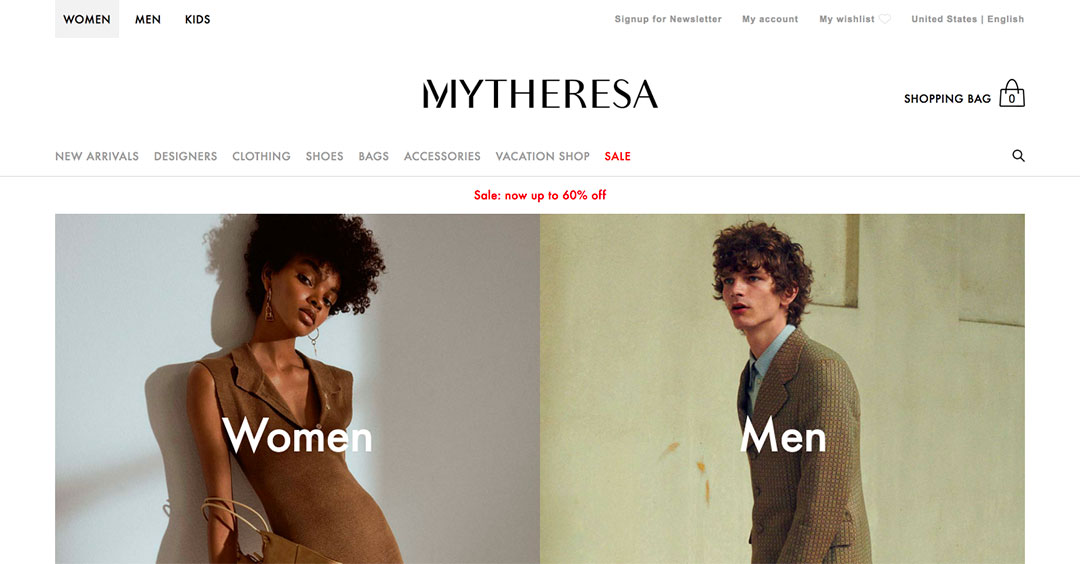 MyTheresa offers fans of haute couture the opportunity to shop online for clothing and fashion products from over 250 of the world's top designers and brands for men, women, and kids.
But this is luxury fashion for people who can afford to pay $700 for a pair of boots for their kids or $500 for a t-shirt.
So you're dealing with a very select audience.
The perk is that people who spend large sums of cash on clothing already know what they want – all you have to do is point them in the right direction.
MyTheresa also ships internationally to 133 countries, promising delivery of any in-stock item within 72 hours of ordering.
You get an 8% commission on anything you sell through an affiliate link on your clothing/fashion blog.
But their average order size is $600.
So a typical sale should net you around $48 in commission, making this one of the top affiliate programs in this roundup by earning potential.
Why You Should Promote MyTheresa
Their product range appeals to a target market with a lot of disposable income and who don't need to be convinced to part with it.
Commission: 8%
Cookie Duration:  30 days
Payment Methods: Check, Payoneer, Direct deposit
Products: Luxury fashion
---
6. AS by DF
AS by DF is a luxury clothing brand with goods designed and crafted in Italy and the United States.
They're also a unique offering among other fashion affiliate programs because they are a brand with an environmental conscience.
Their leather jackets, for example, are made from recycled leather scraps and they no longer use plastic in any of their shipping materials.
So their products will appeal to people who want to look good, but without creating a massive carbon footprint.
AS by DF also produces a range of non-leather goods in the form of sweaters, tops, dresses, bottoms, and textile jackets.
Their affiliate programs are available via the Awin affiliate network, so you'll need an account with them ($5 refundable cost) to sign up for this offer.
But it might be worth your while to promote because it claims to have an 85% conversion rate – this is the hallmark of profitable fashion affiliate programs.
They're also a relatively new company so you can be one of the first affiliate marketers out there to promote them.
Why You Should Promote AS by DF
Their products target two lucrative markets within the fashion niche – high-quality fashion and ethical fashion, both of which are happy to spend large amounts of cash to satisfy their personal needs.
Commission: 10%
Cookie Duration: 30 days
Payment Methods: Direct deposit, check, wire transfer
Products: Leather jackets and handbags
---
7. Yumi Kim
Yumi Kim is a women's fashion company based in New York City named after the owner Kim Phan and her dog, Yumi.
Her design signature is bright floral patterns with a distinct nod to Asian influences and inspiration thanks to her Vietnamese heritage.
Pretty much every piece of Yumi Kim clothing – from summer dresses to PJs – is a bold color or pattern.
The only exception to this is her range of wedding and more formal dresses, created for occasions when a woman wants to make an entirely different statement.

A typical Yumi Kim summer dress retails for around $230.
Their fashion affiliate programs pay a 10% commission rate on all sales – one of the highest of the fashion affiliate programs listed here.
So that means you'd make $23 per sale via a link on your fashion blog.
Why You Should Promote Yumi Kim
They sell boutique functional fashion wear that will appeal to women who want something different. A Yumi Kim dress also isn't cheap so fashion bloggers can make good money here.
Commission: 10%
Cookie Duration:  45 days
Payment Methods: Direct deposit, PayPal
Products: Women's dresses
---
8. Shirtbox
And now for something a little less serious in terms of clothing affiliate programs.
Shirtbox sells a range of quirky, fun t-shirts that are also eco-friendly.
They use minimalist packaging and water-based inks, so your cool new t-shirt is "green" down to its fibers.
You can get Shirtbox slogans printed on long and short-sleeved t-shirts, sweatshirts, hoodies, tote bags, and even mugs.
It's also worth bearing in mind that the global novelty t-shirt market is worth around US$3.6 billion per year[3].
And any fashion affiliate marketer who can tap into that will earn a 5% commission per sale they generate for Shirtbox.
You're probably not going to earn retirement cash promoting this offer, but it should perform well when positioned in front of the right audience.
Why You Should Promote Shirtbox
They supply an in-demand product with the opportunity for repeat sales because novelty t-shirts have a lifespan measured in weeks i.e. what's cool today probably won't be considered cool tomorrow.
Commission: 5%
Cookie Duration: 30 days
Payment Methods: Direct deposit, check, wire transfer
Products: T-shirts
---
9. ModCloth
ModCloth started as an online boutique fashion store back in 2002.
They sell vintage-inspired clothes made for real women, in real sizes, and that can't be found in chain stores.
Each of their models is a real person and manipulation of images with Photoshop is against company policy.
Their product range spans the looks of the 60s, 70s, 80s, and 90s.
Your audience can then choose from jeans, tops, shirts, skirts, dresses, shoes, swimwear, and just about anything else a fan of vintage women's clothing might need to complete their ensemble.
Genuine vintage clothing is very much in style right now so ModCloth can also appeal to that niche audience.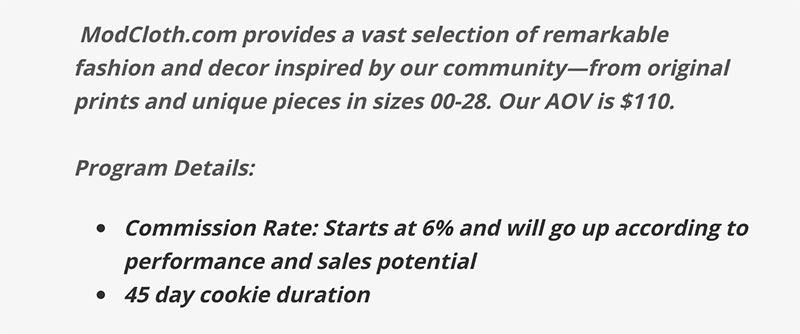 After a brief relationship with Walmart, ModCloth now runs its affiliate programs via the CJ Affiliate by Conversant affiliate network.
Affiliates promoting this offer will earn a flat 6% per sale, but ModCloth does offer rewards for their top-performing affiliates each month, as well as a higher commission rate if you can drive sales.
Why You Should Promote ModCloth
They've created an entire movement behind their brand, with fans always eager to purchase something new from their affordable clothing line.
Commission: 6%
Cookie Duration: 45 days
Payment Methods: Direct deposit, Payoneer, Check
Products: Vintage clothing
---
10. White House Black Market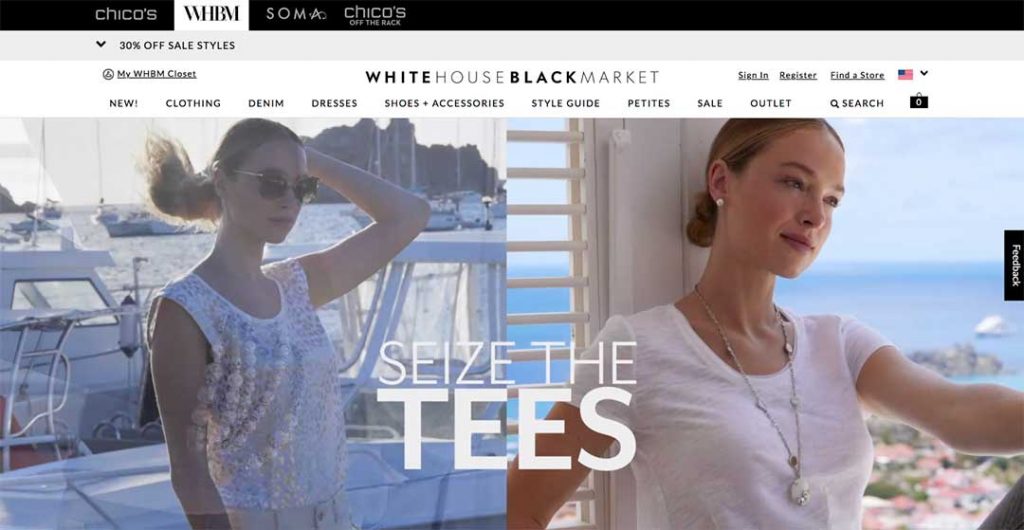 White House Black Market is a clothing boutique chain offering upmarket signature designs from a company that's been in business since 1985.
They currently operate over 400 stores across North America and garnered a lot of attention after former First Lady Michelle Obama wore one of their dresses to a public event.
But the neat thing about their products is they're affordable – a typical WHBM dress retails for around $150.
The White House Black Market affiliate pays a 2% commission on all referred sales.
That's about average for clothing affiliate programs of this type.
But it does mean that most fashion bloggers will need to promote other offers alongside this one.
Why You Should Promote the White House, Black Market
WHBM is an established brand with an air of exclusivity around it, and that's usually enough to have consumers reaching for their wallets.
Commission: 2%
Cookie Duration: 7 days
Payment Methods: Direct deposit, check, Payoneer
Products: Luxury fashion products
---
11. Michael Kors
Michael Kors is among the more popular international fashion brands with 1,200 stores and annual revenues of US$4 billion.
They sell a line of luxury ready-to-wear fashion clothing for men and women, as well as an exclusive range of accessories.
But their clothing is affordably priced, giving your audience the prestige of wearing luxury without having to spend a fortune.
And with new items arriving in stock several times per week, there's always something new for you to position in front of your audience from a label they already know and love.
The Michael Kors clothing affiliate programs also offer a little bit more than others.
That's because affiliates earn a 5% commission on any full-price product purchased through an affiliate link, but they also pay a 4% commission on sale items.
Why You Should Promote Michael Kors
Their range of affordable fashion clothing, footwear, and accessories is already highly desirable  – you just need to choose the right products for your particular audience.
Commission: Up to 5%
Cookie Duration: 14 days
Payment Methods: Direct deposit, check, PayPal
Products: Fashion clothing and accessories
---
12. ASOS
ASOS is a UK-based fashion retailer with products aimed at a young adult audience.
The company's original goal was to make movie and TV fashion available to the general public but to do that using sustainable materials and ethical business practices.
As of today, they offer 80,000 items from their store covering men's and women's fashion, including t-shirts, jeans, shoes, backs, lingerie, and beauty products. They're often featured in popular beauty and fashion websites like HerBones.com[4] due to their large catalog of high-quality fashion pieces.
Note: Their affiliate programs are only available in the UK, UAE, Middle East, Israel, and Brazil. They do not currently operate a clothing program for North America.

But this affiliate program has one key advantage over the others in this roundup when it comes to affiliate earnings.
That's because you get  6% for any referred sales attributed to new customers and 3% for sales attributed to existing customers.
Why You Should Promote ASOS
They're a vibrant and tech-savvy online clothing retailer with affiliate programs that have the potential to pay you ongoing commissions for customers you referred several years ago.
Commission: 6%
Cookie Duration: 30 days
Payment Methods: Direct deposit, check, wire transfer
Products: Young adult fashion
---
13. Lulus
Lulus was originally meant to be a mother-and-daughter-run coffee shop, but the idea of a vintage store won out before eventually being replaced by the Lulus clothing line.
Today this company is an online-only clothing retailer whose products offer premium chic but at regular retail prices.
But these aren't cheap or inferior products – they've been made somewhat famous thanks to being worn by several reality TV stars.
Lulus is probably best known for its dresses, shoes, and boots.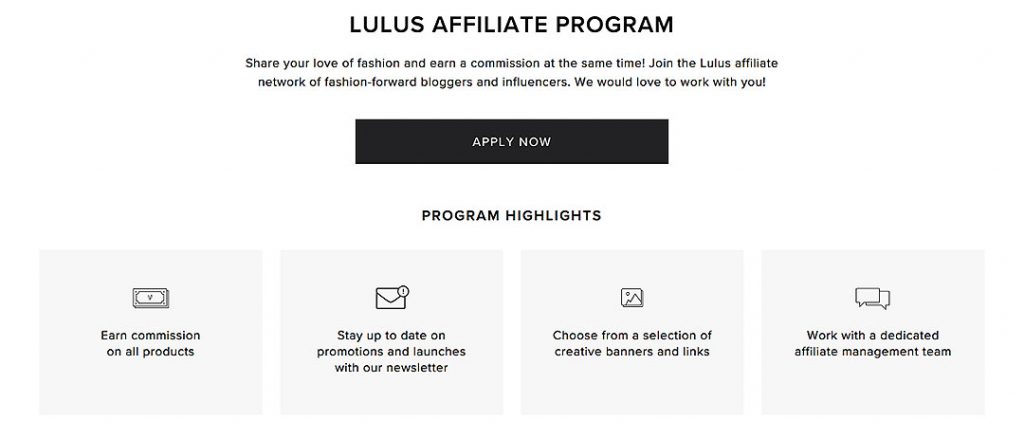 A typical Lulus dress, for example, retails for about $70, whereas a pair of Lulu heels retail for around $120.
So a 5% cut of a $120 referral is simply worth more to your bank balance than a 5% commission on a $70 sale.
Why You Should Promote Lulus
This brand sells a range of affordable clothing and footwear that looks like it costs 5x more than it does. That holds a lot of appeals for online shoppers.
Commission: 5%
Cookie Duration: 30 days
Payment Methods: Direct deposit, PayPal
Products: Fashion clothing
---
14. Zaful
Zaful is an online-only clothing retailer with thousands of items of clothing in stock at any one time.
Their products are designed to be bright, on-trend, and far more affordable than mainstream brands.
So they're quite similar to Newchic in that both of them are factory outlets for clothing factories located in Asia, but owned by different companies.
That also means that you should make your audience aware that a Zaful order can take 8 – 25 days to arrive.
Although they do ship to 260 different countries.
Just make sure to set reader expectations long before they hit one of their landing pages so that you can avoid refund requests.

The Zaful pays their fashion affiliates up to 30% commission, so even though their products are very affordable you can still earn $7 on the sale of a $21 sweatshirt.
That makes them one of the best fashion affiliate programs in our round-up.
You can sign up to promote Zaful via several different affiliate networks, but CJ, ShareASale, or LinkConnector are the ones we're most familiar with.
Why You Should Promote Zaful
Not everyone shopping online wants or can afford to spend $100 on a pair of swimming trunks. Zaful plugs that gap with fashionable clothing at affordable prices.
Commission: Up to 30%
Cookie Duration: 30 days
Payment Methods: PayPal
Products: Affordable fashion
---
15. TJ Maxx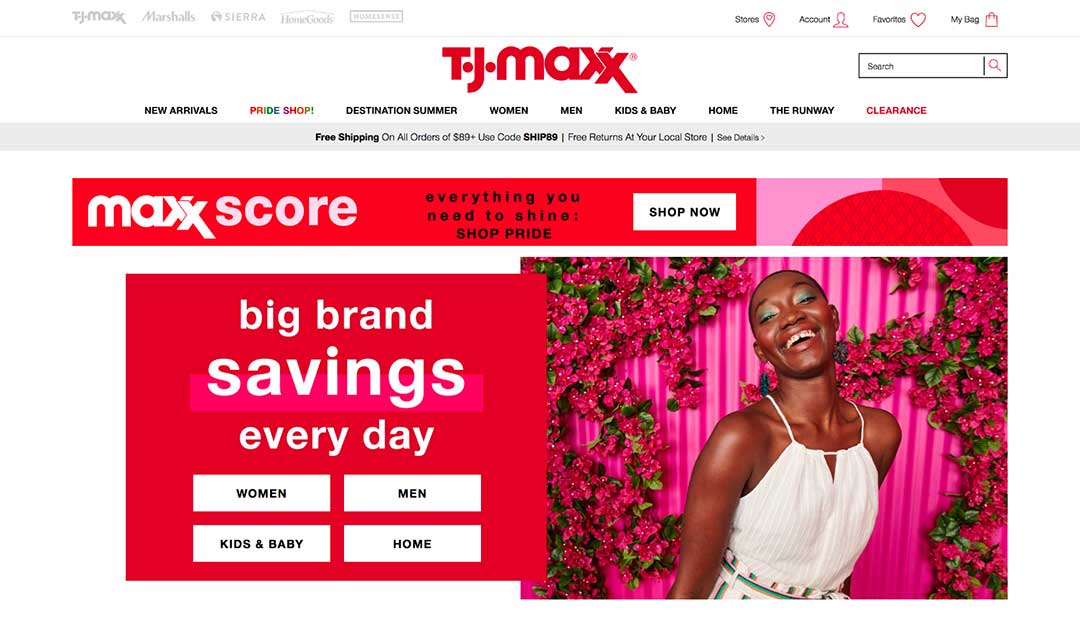 The desire to own brand-name clothing has to be backed up by the financial resources to do that.
TJ Maxx provides a compromise by allowing your readers to buy clothing from premium labels…but at stock clearance prices.
Finding shirts, suits, dresses, or shoes at up to 60% off normal retail prices is pretty much par for the course when shopping there.
Their lower prices are made possible by the fact that they buy their stock in bulk, from end-of-season clearouts, and similar sources.
You also won't have to work hard to pitch their products to your audience – any business with 1,000 stores in North America is already a household name.
How does TJ Maxx fare when compared to the other fashion affiliate programs in our roundup?
You'll earn a 3% commission rate on all sales generated through your affiliate links.
Why You Should Promote TJ Maxx
They're one of the most well-known brands in the discount premium clothing market and with no real competition.
Commission: 3%
Cookie Duration:  30 days
Payment Methods: Direct deposit, check, Payoneer
Products: Discount clothing
---
16. Newchic
Newchic is one of the more recent additions to the online fashion industry, opening for business in 2015.
They sell a wide range of men's and women's clothing, but also stock shoes, bags, jewelry, and fashion accessories, all of which are aimed at the younger end of the fashion market.
Newchic is an online storefront for clothes that are manufactured in Asia and then shipped directly to customers.
There's nothing wrong with that business model…but 14-day shipping is normal.
With that said, this fashion site has over 50,000 mostly positive reviews on SiteJabber, so they're keeping their customers happy.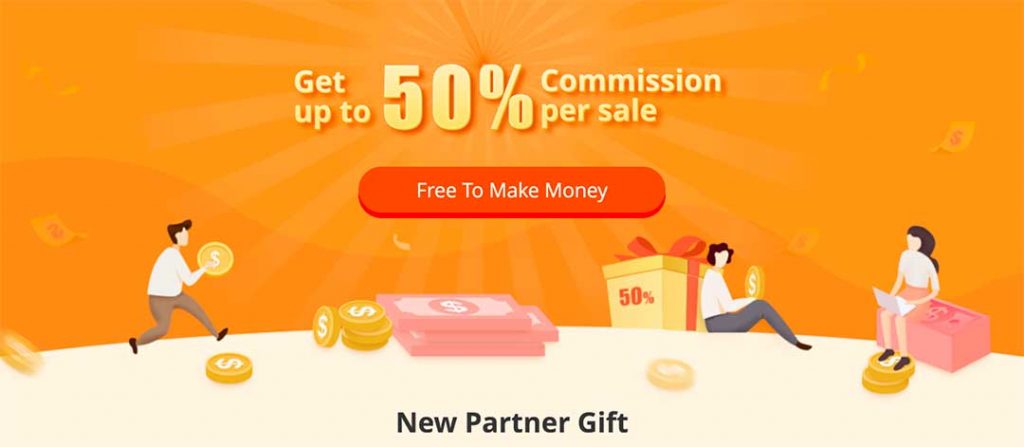 This fashion affiliate program pays a commission rate of up to 50% – the highest of all the affiliate programs we looked at.
But you have to drive a huge volume of sales to qualify for that higher commission rate and even then it's at the discretion of your affiliate manager.
Fashion affiliates must also have at least 5,000 followers on their blog, but Newchic does send out free clothes/samples for you to review.
Why You Should Promote Newchic
Their products will appeal to the fashionistas that want the latest look but don't want to work a second job to pay for it  – everything they sell is affordable, often costing 50% less than you'd pay elsewhere.
Commission: Up to 50% commission
Cookie Duration: 60 days
Payment Methods: PayPal
Products: Fashion clothing
---
Best Practices to Make More As a Fashion Affiliate
Now that you have a range of the best fashion affiliate programs to work with, how exactly do you make the most of these opportunities?
1. Do Real Product Reviews
Most companies in the fashion niche are happy to send affiliate partners (with a large audience) free clothing/samples to review.
If you're not comfortable wearing the fashion products in question then talk about how they look, feel, the quality of the fabric, etc. Give your fans emotional reasons for wanting to own each item.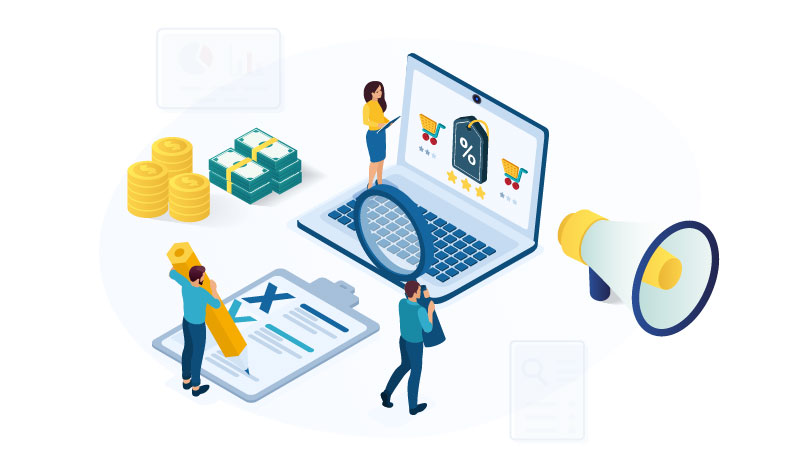 2. Ask for a Raise
Don't be shy about asking affiliate managers for a higher commission rate if you're already driving sales to their program.
3% percent extra added to your commission rate could be worth thousands per year in additional income for you.
3. Talk up Your Affiliate Disclosure
Let your fans and followers on your social platform of choice know how fashion affiliate programs work, what are the best affiliate networks, and that you'll earn a commission if they buy something through a link on your site.
Most people have no idea how fashion affiliate marketing works, but once loyal and dedicated fans do they'll usually go out of their way to send you an affiliate commission.
4. Promote Proven Programs
A smart affiliate marketer does not waste time on affiliate offers that might make them money. Instead, they invest their time in promoting profitable fashion affiliate programs that they know already generate income for others in their niche.
So, either take inspiration from the affiliate programs in this roundup, look at the products top influencers are talking about, and then apply them to promote products from those same fashion brands.
5. Sponsored Posts
If you have a huge following on social media, or elsewhere, you can ask if a brand wants to pay you to review one of their products.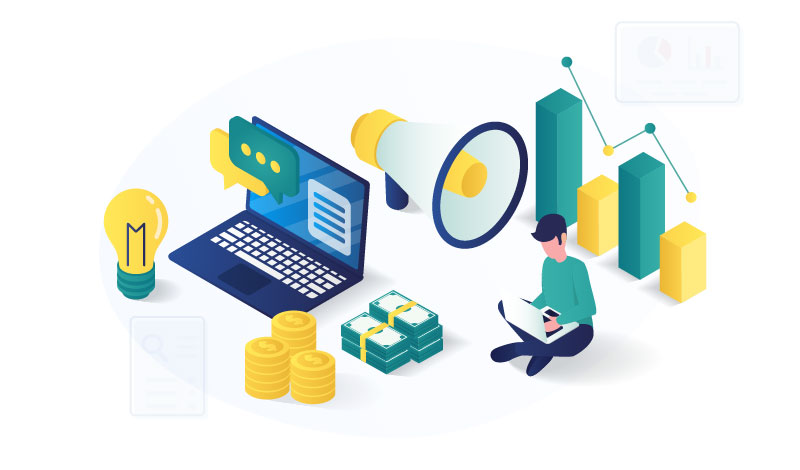 Some fashion influencers can make up to $250,000 per sponsored post.[5]
But what if you don't have a big social following and are just running a straightforward affiliate blog instead?
You can still apply most of the above advice to your site e.g. write great product reviews, ask for a better commission rate, talk about your affiliate disclosure (in a blog post), and choose to only work with affiliate programs that pay and treat you well.
---
Start Promoting the Best Fashion Affiliate Programs
As you can see there's a lot more to the clothing niche than you might have initially thought.
Big brand names have a lot of social clouts, but their affiliate programs usually have lousy commission rates and cookie attribution windows.
Smaller brands pay more through their fashion affiliate programs but also require a bit more effort from you to sell their products.
There's also the opportunity to work in sub-niches.
Vintage clothing is, for example, just one way for a fashion blogger to make money in this niche.
And picking the right niche is where most newbie affiliates stumble.
But you never have to make that mistake because…well…I've already made it for you.
I've spent years testing and tweaking, figuring out what works and, more importantly, what doesn't.
So, inside the Affiliate Lab, you can follow the exact, proven process I use to research, build, rank, and flip 6-figure sites.
Without any of the pitfalls, you'll face going it alone.
Want to Become a PRO Affiliate?
Comprehensive lessons
Niche Grading tool
Step-by-step website building guide
Regular updates


Private Facebook community
Bonus courses
Lifetime course access