Are you looking for ways to make money online?
If so, you may want to consider the AliExpress affiliate program.
AliExpress is one of the world's largest online marketplaces, featuring millions of products that you can promote and earn commission on.
Having tested hundreds of affiliate programs over the years, we know that not all are created equal. Some have proven to be profitable and worthwhile, while others have left us disappointed. It's crucial to approach affiliate marketing with caution and a discerning eye.
In this post, as seasoned entrepreneurs and affiliate marketers, we will share with you our honest AliExpress affiliate program review and tell you everything that you need to know about it, including how to earn money, commission rates, and whether you should sign up or not.
What Is the AliExpress Affiliate Program?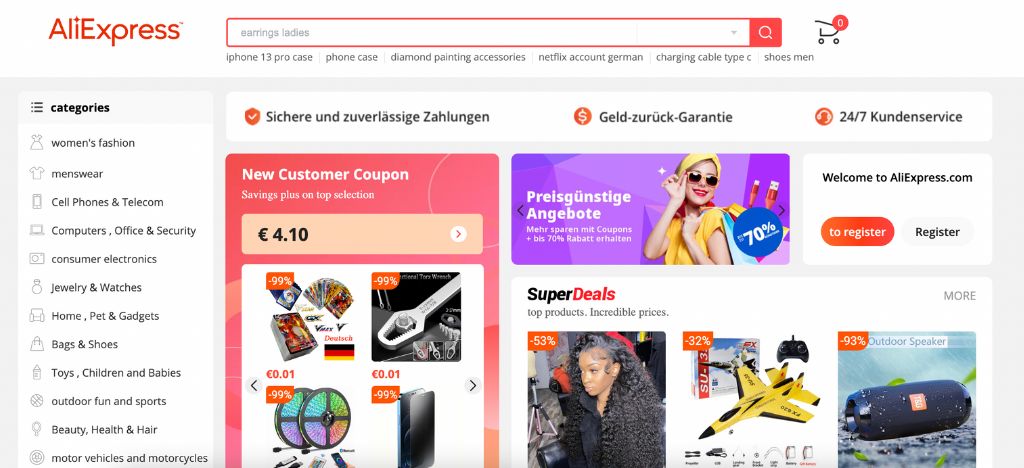 AliExpress is a huge eCommerce store that gets more than 13 million daily visitors from over 190 countries and regions in multiple languages.
You can think of it as the Chinese version of Amazon. They sell pretty much everything, from consumer electronics and home goods to clothes and jewelry.
But what makes AliExpress one of the best global eCommerce platforms is that it allows consumers to purchase products directly from manufacturers and wholesalers at a fraction of the cost.
This means that you can find products on AliExpress that are cheaper than what you would find on Amazon or eBay.
What's even better is that AliExpress has an affiliate program that allows you to earn commissions on the products you promote.
The AliExpress affiliates is a cost-per-sale program, which means you earn a commission on every product that you sell. The AliExpress commission rates range from 0% to 9%, depending on the product category.
Plus, they offer a cookie duration of 3 days, which means that you will still earn commissions if a customer purchases a product within 3 days of clicking on your affiliate link.
Here are some of the key features of the AliExpress affiliate program:
Affiliate Model: Pay per Sale (PPS)
Commission Rate: Up to 9%
Cookie Duration: 3 Days
Withdrawal Threshold: $16
Processing Fee: $15 per Transaction
Payment Methods: Internation Bank Account
Affiliate Software: AliExpress, CJ Affiliate, Flexoffers, and Awin
---
AliExpress Affiliate Program Commission Rates
| Category | Commission Rate |
| --- | --- |
| Electronics | 3% |
| Accessories | 9% |
| Home & Garden | 9% |
| Clothing | 9% |
| Other Product Categories | 7% |
| Hot Deals | 0% |
---
How to Make a Full Time Income With AliExpress
Basically, there are 2 ways to make money with AliExpress:
1. Become an Affiliate and Promote AliExpress Products
The first, and most obvious, way to make money with AliExpress is by promoting their products to your audience.
All you need to do is to sign up for their affiliate program (more on that later), make an AliExpress affiliate account and start sharing your unique AliExpress affiliate links on your blog, website, youtube channel, social media platforms, or anywhere really.
Whenever someone clicks on your unique link, the affiliate software downloads a "cookie" on the user's computer.
This cookie allows AliExpress to track the visitor's browsing behavior for a period of time (cookie duration).
If the user purchases within that time frame, you will earn a commission on the sale.
For example, let's say you are promoting a mobile phone that costs $500 and let's say the commission rate is set at 3%.
This means that if someone clicks on your affiliate link and makes a purchase within 3 days (the AliExpress cookies duration,) you will earn $500 x 0.03 = $15.
It's that simple.
The great thing about this is that you can promote products without having to carry any inventory or deal with shipping and customer service.
All you need to do is to find products that you think your audience would be interested in and start promoting them!

Pros
A well known and trusted name in the eCommerce business
Free worldwide shipping
Over 400 million visitors per month from more than 190 countries
Over 100 million products
You are buying directly from manufacturers, so you can get much better deals, especially when compared to other eCommerce platforms
Sitestripe toolbar makes it easy to create deep links to specific pages, such as product pages, special deals, or even search results. The toolbar also provides basic product information, including estimated commission rate and promo codes.
The ability to create tracking IDs to monitor performance across different channels
Multiple ad banners and text links to choose from
Public API, so developers can easily create integrations and tools
AliExpress created AliPlugin, which is a WordPress plugin that allows users to easily import products from AliExpress and create an online store
Only $16 withdrawal threshold
Cons
People don't trust the quality of Chinese products and always seem to assume that they are poorly made and will break easily, so it can be harder to convince them to make a purchase.
While AliExpress offers free shipping, all the products are shipped from China, so it can take a while for the products to reach the customer (often about 3 weeks) which can lead to many frustrated customers.
You can always use other options to ship the products such as DHL, but that will increase the cost for the customer.
Low conversion rate compared to Amazon and other eCommerce platforms.
The average commission rate is around 4% and the commission is capped at $50, so even if you sold a $2,000 item, you only get $50 instead of $80 (assuming a 4% commission rate.)
This is really absurd as customers tend to buy multiple items when they shop on AliExpress, so you would think they would reward affiliates for driving high value customers.
Affiliates can only withdraw their earnings via international banks and there is a $15 processing fee for each withdrawal.
Only a 3 day cookie duration, so if someone made a purchase more than 72 hours after clicking on your link, you won't get credit for the sale.
You can only withdraw your earnings on the 20th of every month.
The AliExpress portals are really buggy. Some of the features don't work and the support team is not very helpful.
AliExpress don't share enough information about their affiliate program and there is a lot of contradictory information on the AliExpress website.
For example, on one AliExpress page, it says that the cookie duration is 72 hours while on another landing page it says that the cookie duration is 24 hours.
Another example would be the commission rates, they claim that they offer up to 50% commission rate, but in reality, we couldn't find any rates higher than 9%.
2. Become an AliExpress Dropshipper
The second way to make money with AliExpress is by dropshipping.
Dropshipping is a fulfillment business model in which businesses don't keep an inventory of products they promote and sell.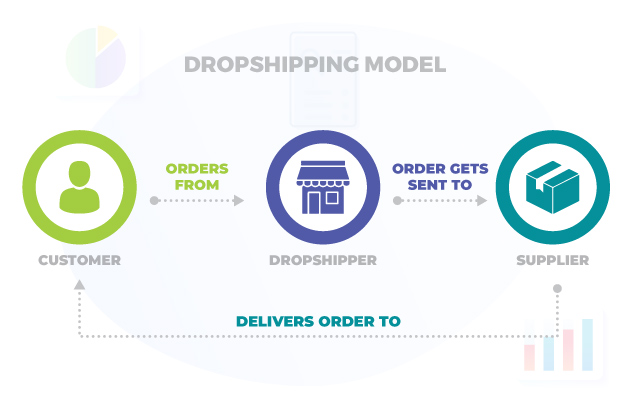 Basically, what you do is find a product on AliExpress that you think your audience would be interested in, list the product on your own store, and set your own price.
Whenever someone makes a purchase, you will then purchase the product from AliExpress or any wholesaler and have it shipped directly to your customer.
This way, you can start an e-commerce business without having to deal with inventory or shipping. It's basically a 0-risk business model!
You can even earn an affiliate commission on top of your own markup!
This can be done using Oberlo.
Oberlo is an app that allows you to find products to sell, add them to your store, and ship them directly to your customers with just a few clicks.
It's really simple to use and it integrates with Shopify, which is the platform I recommend for setting up your own e-commerce store.
And on top of that, it allows you to earn an affiliate commission on products you dropship!

Pros
You can start your own ecommerce store with very little money.
You don't have to deal with inventory or shipping.
Free shipping to your customer's doorsteps.
There are hundreds of millions of products to promote.
You can use Oberlo to automate your online business and earn affiliate commission on top of your own markup.
Cons
It can be harder to convince people to buy from your store, as people don't know you yet and they might be hesitant to buy from a new store.
It takes time to find good suppliers that offer good quality products.
The quality of the products is not consistent, which can lead to a lot of frustration and hurt your reputation.
The delivery time can be long, which can lead to unhappy customers.
You have to deal with customer service issues, as people might not receive their products or they might not be happy with the quality of the product.
---
AliExpress vs Amazon Affiliate Program
AliExpress program and the Amazon associates are two of the most popular affiliate networks out there.
Both affiliate programs allow you to earn a commission by promoting products, but there are some key differences between the two.
Here are some of the key differences between the AliExpress affiliate program and the Amazon affiliate program:
| Affiliate Program | AliExpress | Amazon |
| --- | --- | --- |
| | | |
| Commission Rate | Up to 9% | Up to 20% |
| Average Commission Rate | 4% | 4% |
| Cookie Duration | 3 Days | 24 Hours |
| Average Conversion Rate | 3.5% | 10% |
| Commission Cap | $50 | No cap |
| Minimum Payout | $16 | $100 for checks & $10 for direct bank deposit |
| Processing Fee | $15 | $15 on checks & no processing fees for international bank transfers |
| Payment Schedule | 60 days after the original purchase date | 60 days after the original purchase date |
| Number of Active Users | 400 million users per month | 200 million users per month |
| Countries | Over 190 countries and regions | Around 100 countries |
| Number of Products | Over 100 million products | Over 12 million products |
| Shipping Fees | Free shipping | Free shipping |
| Affiliate Software | Horrible | One of the best affiliate softwares out there |
| Prices | $ | $ |
| Overall Score | 5 | 7 |
---
How to Join The AliExpress
The process of joining the AliExpress program is pretty simple and straightforward:
Click Register
Enter your location, email address, and desired password. You can also signup using Google, Facebook, Twitter, Apple ID, VK, or OK
Choose whether you are an individual or a company and fill in the required information, such as your first name, network type, and country, then click Next
Fill in your website or promotion channel information and click Next
Enter your preferred contact method and email address, and click Send to receive a confirmation code for your email
Enter the verification code and click Next
You will be redirected to the terms and conditions page. Read through it and check the box to agree, then click Confirm
A pop-up will appear thanking you for applying and telling you that your application will be processed within 2 business days
And that's it! All you need is to wait a few days till the application is processed and you will be able to start promoting AliExpress products on your website or blog
---
Frequently Asked Questions (FAQs)
Does AliExpress Have Affiliate?
Yes, AliExpress has an affiliate program that you can join to start earning a commission.
How Much Does AliExpress Pay Per Sale?
AliExpress pays a commission to its affiliates based on the sales generated from their channel. The commission rate ranges from 0% to 9%, depending on the category of product.
How Does AliExpress Affiliate Program Make Money?
The affiliate program itself doesn't make money. But having an affiliate program increases AliExpress's exposure and reach, which in turn drives more traffic and boost sales on their platform, and that's how they make money.
Is AliExpress Good for Dropshipping?
Yes, AliExpress is a good platform for dropshipping because it offers a wide variety of products at low prices. Drop shippers can also take advantage of the AliExpress affiliate program to earn commission on sales.
Are Alibaba and AliExpress the Same?
No, Alibaba and AliExpress are not the same. They are both owned by the Alibaba Group, but they serve different purposes.
Alibaba is a business-to-business marketplace, which means they only sell to businesses in large quantities, while AliExpress is a consumer-focused online retailer, where anyone can buy products all over the world.
---
Should You Join AliExpress?
AliExpress affiliate program can be a great way to make money online, especially if you have an international buyers. However, I'm not a big fan of it.
First of all, the commission rates are quite low and the conversion rates aren't that great either.
The self hosted affiliate program software is complete garbage with lots of bugs and the marketing doesn't really seem to care about the affiliate program at all.
I'm not saying that you shouldn't give it a try, but there are many different beginner affiliate marketing programs out there that are just better.
If you're looking to make a full-time income from affiliate marketing, check out our free affiliate marketing training.
We have helped affiliate marketers from all over the world make a full-time income online and in this course, we teach you the exact processes we use to build, grow, and sell affiliate websites for 6 figures per year.
Want to Become a PRO Affiliate?
Comprehensive lessons
Niche Grading tool
Step-by-step website building guide
Regular updates


Private Facebook community
Bonus courses
Lifetime course access