Affiliate marketing has been a transformative force in digital commerce, redefining the relationship between brands and consumers.
As an expert in the field, I've witnessed firsthand the evolution and growth of affiliate marketing. This strategy has revolutionized how brands interact with customers, fostering more authentic and rewarding connections.
In this guide, I'll walk you through the world of affiliate marketing, uncover its intricacies and prevalent trends, and delve into insightful statistics.
Quick Summary
Affiliate marketing is a rapidly growing industry, with the global market size surpassing $17 billion and the United States leading in revenue generation with $6.8 billion.

Fashion is the dominant sector in affiliate marketing programs, followed by sports and outdoor products and the health and wellness industry. The toy industry, software, and home improvement are the fastest-growing sectors.

Fraud poses a significant challenge to the industry, with estimated losses of $1.4 billion in 2020 and a predicted $100 billion loss by 2023.
What Are Affiliate Marketing Statistics?
Affiliate marketing statistics refer to numerical data that measures affiliate marketing performance, trends, and growth.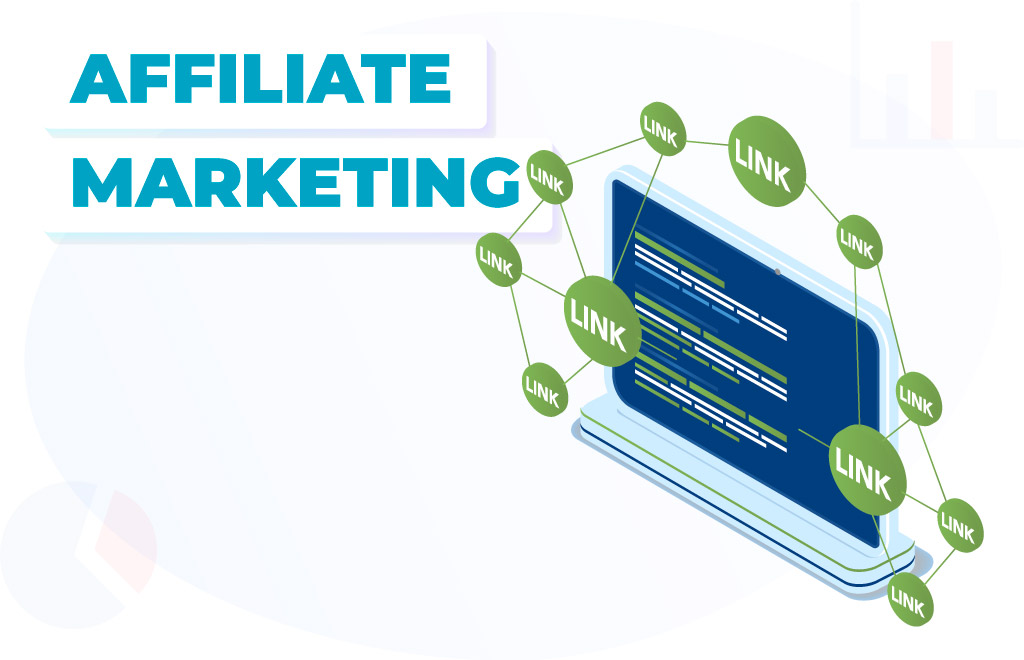 These statistics can include metrics like the number of affiliates, conversion rates, sales, commissions earned, and industry growth rate.
1. Affiliate Marketing Industry Statistics
As of 2022, affiliate marketing has blossomed into a $12 billion industry as of 2022, making up 15% of the total revenue in the digital media sphere.
Whether you're a business owner or a digital marketer, getting clued up on this trend can help you seize the marketing opportunities that affiliate programs offer. 
It's the go-to method for 83% of marketers when they're trying to reach potential customers.
And here's an interesting bit—geographically speaking, the United States is killing it in the affiliate marketing game, bringing in a staggering $6.8 billion. Japan follows not too far behind, with a respectable $3.3 billion.
So, whether you're based in these countries or targeting consumers there, there's a flourishing market waiting for you.
And guess what? The affiliate marketing world keeps growing. The global market size has mushroomed to over $17 billion, rising from $13 billion in 2016. 
Whether you're a blogger, influencer, or website owner, there's a slice of this good pie for you.
Looking at different sectors, fashion is the king of affiliate marketing programs, claiming a 19% share. 
Hot on its heels is the sports and outdoor products sector at 15%, with the health and wellness industry pulling in at 11%. 
If you're into fashion and run a related website or blog, you've got a lot of affiliate programs at your fingertips.
But what about the fastest-growing areas in affiliate marketing? Well, the toy industry is leading the pack with an incredible 109% growth last year, followed by software at 103% and home improvement at 86%. 
These are booming trends and untapped opportunities that you could explore.
Finally, when it comes to revenue generation, the retail sector takes the cake, contributing a whopping 43% of affiliate marketing revenue. 
This means promoting retail products could be a lucrative move, no matter what the primary focus of your website is.
2. Affiliate Marketing Program Statistics
The increasing trend among brands utilizing their potential is evident, with over 80% actively involved.
Uniqodo research indicates that these initiatives account for an impressive 15% to 30% of advertisers' revenue [1].
The strategy is clear – diversity. As highlighted by Affise, approximately 94% of publishers no longer rely solely on a single affiliate marketing network [2]. 
This diversification approach offers them a wide selection of products and services to promote, thus providing more income-generating opportunities.
But how big is this network? BloggingWizard reports that top affiliate networks comprise over 100,000 affiliates and thousands of merchants. 
And in this bustling market, AWIN is making a name for itself. According to WeCanTrack, it's leading the pack with the most publisher links.
Affiliate marketing isn't just popular among brands and publishers, though. It's also a significant player in e-commerce. 
Uniqodo tells us that it's responsible for 16% of online orders. That's a solid testament to its power in driving e-commerce sales.
3. Affiliate Marketing Growth Statistics
According to Social Media Today, over 85% of marketers expect their affiliate marketing revenue to increase. 
It's not just marketers who are hopeful about the industry's future. Uniqodo backs up this optimism by reporting a consistent yearly rise in spending in the affiliate industry by 10.1%. 
That's more than just a passing trend; it shows businesses are investing seriously in affiliate marketing.
In the United States alone, the affiliate marketing industry was valued at an impressive $8.2 billion in 2022. That's a big number that underscores its huge role in the nation's economy [3].
What's more, this industry isn't just growing in financial terms. Interest in affiliate marketing is soaring, too. 
Google reported a five-fold increase in searches for "affiliate marketing" in July 2021 compared to November 2014.
That shows many more people are curious and want to learn more about this field.
Let's not forget this mind-blowing stat from Social Media Today: affiliate marketing spending is growing at an amazing compound annual growth rate (CAGR) of 27%.
4. Affiliate Marketing Trends Statistics
Almost 69.22% of affiliate marketers generate traffic from search engine optimization (SEO). 
So, if you've been brushing off your SEO skills, now's the time to dust them off. 
SEO is crucial in driving potential customers to products and services linked via affiliate marketing [4].
Now, if we zoom out and look at the globe, the United States is the superstar regarding affiliate marketing. It's a massive market, and there's still a lot of room for new affiliate marketers to jump in and start making waves [5]. 
A good chunk of affiliate marketers, about 79%, use affiliate marketing as a tool to connect with their existing customers. For publishers, affiliate marketing is a boon. Around 76% value it for its potential to monetize their content.
When it comes to reaching customers, it's no surprise that social media is a big player. 
Over 65% of affiliate marketers use social platforms to connect with their audience. 
And since we're talking about connecting with the audience, we can't overlook the rise of mobile. 
Over half of affiliate traffic comes from mobile devices, and 74% of online shoppers in the US make a pitstop at multiple affiliate websites before they make a purchase.
Certain product categories, like web hosting, are also particularly lucrative in affiliate marketing. 
For instance, Bluehost alone disbursed over $5 million in commissions last year [6]. 
5. Affiliate Marketing Fraud Statistics
As much as we'd like everything to be sunshine and roses in the affiliate marketing statistics world, it's important to face the music – there are some significant challenges, too. 
According to CHEQ, a cybersecurity company that knows its stuff, affiliate marketing fraud led to a staggering loss of $1.4 billion in 2020 [7]. 
If that isn't enough to make you sit up and take notice, CHEQ also estimates that about 9% of all affiliate marketing generates and involves some fraud. 
This rate underlines how common fraud is and underscores the need for serious oversight and strong security measures in affiliate marketing statistics practices.
Unfortunately, this problem isn't going away anytime soon. 
Juniper Research has come out with a prediction that will likely give advertisers nightmares: between 2023 and 2028, fraud could lead to $362 billion loss [8].
That's a colossal amount of money that could be siphoned off due to fraudulent activities, underscoring how crucial it is to fight against fraud to keep the global affiliate marketing industry financially viable. 
Affiliate marketing is not a 'push-button' solution. It takes focus and commitment, and a certain choreography to make it happen the way you want it to.
– Pat Flynn, Serial Entrepreneur and Creator at SPI Media
6. Affiliate Marketing Revenue Statistics
Affiliate marketing has been a lucrative source of revenue for many publishers, with 31% of them confirming it as one of their top revenue channels. 
The financial gains are substantial, with the annual income of an affiliate marketer averaging $65,000, ranging from $30,000 to as high as $141,000. 
Even in the face of global crises like the Covid-19 pandemic, the affiliate marketing world showed its resilience.
More than half, or 56% of affiliate marketers, reported increased revenue.
The secret weapon in the arsenal of successful affiliate marketers is Search Engine Optimization (SEO).
It's a big deal – about 69.22% of marketers depend on it to drive traffic to their affiliate links.
Affiliate marketers are smart cookies – they've realized that consumers love saving money. 
In 2022, 51% of them earned their commissions by offering promotions like coupons, cashback, and loyalty programs.
The preferred method of payment in this space is the Cost-Per-Action model, and 99% of affiliate programs use it. 
It's a win-win because payment is only required when a specific action, like a sale, is completed, reducing financial risk for the advertiser.
Lastly, let's talk about ROI. In 2021, the affiliate marketing channel boasted a return on advertising spending (ROAS) of 1:12. 
That means for every dollar spent on advertising, $12 in revenue was generated. Now that's what I call a good return on investment!
7. Influencer Affiliate Marketing Statistics
The hottest niches in affiliate marketing are fashion and apparel, commanding a substantial 23.27% market share.
Closely following is the sports and outdoors niche, which holds a solid 18.16%. These sectors are teeming with opportunities, proving their resonance with customers.
In parallel, there's a significant shift towards influencer collaboration in affiliate marketing. It's no surprise, considering that approximately 56% of companies engage influencers with tangible benefits. 
In fact, around 88% of consumers are swayed to purchase a product or service if endorsed by a favored influencer. It's safe to say that influencers have become the modern equivalent of word-of-mouth marketing. 
And where do companies find these goldmine affiliates?
Well, 83% of recruiters find new affiliates through affiliate network dashboards. Content and blogger sites are also a jackpot for generating revenue. Around 40% of affiliate marketer commissions in the US come from these platforms.
When it comes to demographics, we find that most affiliates, about 31.86%, are aged between 35 and 44 years. 
That's a handy tidbit of information for companies wanting to fine-tune their affiliate marketing statistics strategies.
As in many other industries, networking is also key in affiliate marketing. About 79% of recruiters attend events hosted by other affiliates, and 56% plan to host their shindigs to find new mates.
And last but not least, let's not forget why business owners are picking affiliate marketing in the first place: it's a killer way to monetize their business. A whopping 76% of them choose affiliate marketing for this very reason.
FAQs
What Percentage Of Affiliate Marketers Are Successful?
The percentage of successful affiliate marketers is about 1%, indicating that it requires effort, skills, and marketing strategy to prosper.
How Many People In The World Do Affiliate Marketing?
Fifty-five companies worldwide provide affiliate marketing services, representing thousands of affiliate marketers globally. Combined with individuals independently engaged in affiliate marketing, this suggests a large global population of affiliate marketers, likely in the millions.
How Profitable Is Affiliate Marketing?
Affiliate marketing is still profitable. On average, publishers rake in about $52,000 annually through affiliate marketing. However, it's worth noting that a substantial number of them significantly out-earn this figure.
Decoding The Future: Insights From Affiliate Marketing Data
Now, we've come to the end of our journey through the world of affiliate marketing. We've explored the latest trends, statistics, and strategies that shape this dynamic industry. 
Armed with these insights, you are well-equipped to navigate the ever-changing landscape of affiliate marketing and unlock its tremendous potential.
Remember, success in affiliate marketing efforts lies in staying informed, adapting to new developments, and leveraging data-driven affiliate marketing strategies.
And if you want to start with affiliate marketing, feel free to check out best affiliate programs for beginners guide.
---
References:
https://rb.gy/y212k

https://rb.gy/fiiz4

https://www.statista.com/statistics/693438/affiliate-marketing-spending/

https://giantmarketers.com/are-amazon-affiliate-sites-profitable/

https://www.thewatchtower.com/blogs_on/top-10-best-countries-for-affiliate-marketing

https://influencermarketinghub.com/high-paying-affiliate-programs/#toc-15:~:text=60%2Dday%20duration-,16.%20Bluehost,-Bluehost%20is%20one

https://cheq.ai/blog/8-biggest-affiliate-marketing-fraud-legal-cases/

https://rb.gy/uujgx