In today's business world, the perfect keyword research tools and using target keywords can be crucial to a business website's success, and a good keyword research tool is well worth the money.
Optimizing your website with SEO keyword research can save you hundreds of dollars monthly. Ahrefs and Semrush are SEO tools that can help you optimize your websites.
We have spent months researching Ahrefs and Semrush and evaluated them based on their features, price, and more to help you choose the best SEO solution for your business.
Quick Summary
Both Ahrefs and Semrush optimize your website by creating content to drive more organic traffic and enhance the performance of your website by modifying technical aspects.

Semrush includes several key features, such as an online visibility management platform, domain analytics for SERP rankings, detailed analysis of toxic backlinks, and more.

Both Semrush and Ahrefs offer rank tracking, unique features, site audit features, backlink analysis, competitor research tools, and more.
Overview of Ahrefs and Semrush
These SEO tools can help you optimize your business website in several ways. However, the most important thing these tools do is to provide you with data to: 
Create content to drive more organic search traffic to your website.

Enhance the performance of your website by modifying its technical aspects.
You can use both tools to get keyword ideas based on phrases entered into the query box. These organic keywords can then be used in posts to improve ranking in organic search results. You can also determine keyword difficulty in ranking.
Both tools are also useful with site audits to determine if technical improvements can be made to help rank in search results.
---
Semrush vs. Ahrefs Features
Here we will compare Ahrefs and Semrush features.
Semrush
Semrush's features include: 
A database of over 20 billion keywords

An online visibility management platform that supports the Google search console.

Domain analytics for mobile SERP rankings

A social media tool to manage and track social media profiles

Data accuracy for search by constantly updating their database

A position tracking tool, including daily data updates and mobile rankings.

PDF SEO reports, including branded, white label reports, report scheduling, and integration with GA, GMB, and GSC.

Detailed analysis of toxic backlinks

Unique content optimization and writing features include an SEO writing assistant, on-page SEO checker, content audit, and more.
Ahrefs
Ahrefs's features include:
A keyword database of over 7 billion keywords

Supports Google, YouTube, Amazon, Bing, Yahoo, etc.

A complete breakdown of outbound links

Content explorer to discover and analyze top-performing content on various topics

Customizable dashboard

Link building

Competitor analysis

SEO change tracking

SEO tool rank tracking

Custom reports

Backlink analysis tool
Successful SEO isn't about tricking Google. It's about partnering with Google to give the best search results for Google users.
– Phil Frost, CEO, OPKO Health
---
Semrush vs. Ahrefs: Comparing Benefits
1. Rank Tracking
The success or failure of SEO efforts can be determined by rank tracking. Ranking improvements show how an SEO campaign affects a specific website's online visibility.
Semrush Rank Tracking
Semrush offers several rank-tracking tools to monitor daily progress and changes in the rankings of a website. They also keep track of daily search engine rankings for a custom set of keywords.
You can also review your target keyword search engine volatility and track keyword rankings in multiple languages and locations.
Ahrefs Rank Tracking
Ahrefs rank tracking tool can help a business improve its SEO campaigns.
They have a competitors tab to compare the progress of your site to others, a pages tab to group tracked keywords by their pages, a metrics tab to keep track of everything you need to know to measure keyword performance, and a grossing tab to determine how your tracked keywords have improved over a week, a month, or three months.
---
2. Keyword Research
When it relates to keyword research, there are three important factors to consider, including:
Determining the number of people searching for a specific keyword.

Finding out the difficulty of ranking for that particular keyword.

Getting keyword suggestions
Semrush Keyword Research Tool
Semrush uses a percentage score to indicate keyword difficulty; the higher the percentage, the more difficult it is to rank for the keyword. You can also use Semrush to create a keyword list that you can refer to whenever you want with the keyword manager.
Ahrefs Keyword Research Tool
Ahrefs signifies keyword difficulty by scoring the keyword out of 100, with a higher score indicating more difficulty in getting ranked for a keyword. You can also use Ahrefs to create a keyword list that can be referred to with the keyword list feature.
The keyword research feature not only determines the difficulty of ranking for a specific keyword but also tells you the number of backlinks needed to rank on the first page of search results.
Good SEO only gets better over time. Only search engine tricks need to keep changing when ranking algorithms change.
– Jill Whalen, CEO, High Rankings
---
3. Comparison of Unique Features
Both Semrush and Ahrefs have unique features that help them stand out from other SEO software, SEO professionals, and each other. 
Semrush Unique Features
Semrush has unique features, including a content analyzer to analyze your content, a domain comparison tool to compare two referring domains side by side, and a backlink audit tool to check backlink types.
Ahrefs Unique Features
Ahrefs has unique features, including domain comparison to compare up to five domains, batch analysis to access comprehensive reports to compare several URLs; link intersects to find opportunities for link building, an SEO toolbar to view your domain rating and backlink stats on pages, and an API external tool to use the database.
---
4. Comparison of Site Audit Features
Both Semrush and Ahrefs have site auditing features to determine the performance of your website from an on-page SEO perspective. Both tool search for issues that can negatively affect your search ranking in these site audits, including:
Duplicate content

Overuse of keywords

Slow-loading content

Missing headers

Crawl errors

SSL problems
Semrush and Ahrefs provide lots of valuable suggestions with their site audit features. Semrush's site audit tool is easier to use than Ahrefs and can automatically provide you with a simple list to follow.
With Ahrefs, you must analyze your site audit reports and manually create your to-do list.
---
5. Comparison of Competitor Research Tools
Competitor research is critical to successful technical SEO, and both Ahrefs and Semrush have different competitor research tools.
Semrush Competitor Research
Semrush has a dedicated section called competitive research within the platform, which contains a keyword gap, domain overview, backlink gap, traffic analytics, and organic search tools.
Each tool analyzes your competitors versus your website to identify gaps within technical SEO, content marketing, and more. 
Ahrefs Competitor Research 
Unlike Semrush, Ahrefs competitor research tools are not all grouped into one section; however, they have competitor analysis tools, including content gap, domain comparison, competing pages, link intersect, and competing domains to compare to other websites.
---
6. Comparison of Backlink Analysis
You can enter a domain name, and both Semrush and Ahrefs will find a list of backlinks to that page.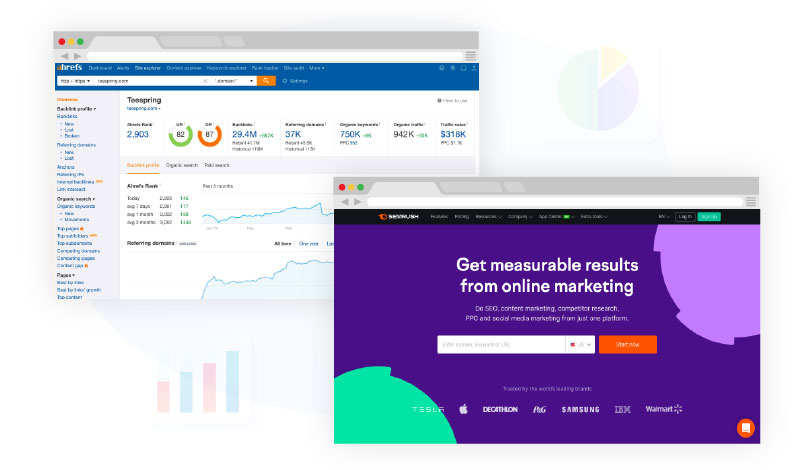 Semrush Backlink Analysis
Semrush has a large domain database with 729 million domains. They also provide a breakdown of backlinks, including anchor text used, linking domain types, the number of nofollow and dofollow links, new versus lost domains, and the country of origin of backlinks.
Semrush also offers a backlink auditing and building feature.
Ahrefs Backlink Analysis
Ahrefs has over 165 million domains and provides analyzing backlinks, including anchor text used, linking domain types, the number of dofollow and nofollow links, new versus lost domains, and the country of origin of backlinks.
---
7. Comparison of Pricing
Ahrefs
Lite ($99 per month):

 Includes an SEO dashboard, site explorer tool, keywords explorer, site audit, rank tracker, and alerts.

Standard ($179 per month):

Includes everything from the lite package plus six months of history, history position chart, SERP updates, batch analysis, content gap, broken backlinks, outgoing links, link intersect, domains and countries comparison, calendar view and reports sharing.

Advanced ($399 per month):

Includes everything from the previous two plans plus dashboard folders, Ahrefs search, two years of history, site structure, HTML source, HTTP authentication, and Google data studio.

Agency ($999 per month):

Includes everything from the previous plans plus unlimited history, access management, pay by invoice, directory listing, audit log, API, and SSO.

Ahrefs also offers a 7-day trial for $7.
Semrush
Pro ($119.95 per month):

 Includes 5 projects, 500 keywords to track, 10,000 results per report, competitor analysis, keyword research, keyword magic tool, website audit, and advertising and social media tools.

Guru ($229.95 per month):

Includes everything from the previous plan plus 15 projects, 1,500 keywords to track, 30,000 results per report, content marketing toolkit, historical data, multi-location and device tracking, and Looker studio integration.

Business ($449.95 per month):

Includes everything from the previous two plans plus 40 

projects, 5,000 keywords to track, 50,000 results per report, the share of voice, extended limits, API access, PLA analytics, and free migration from third-party tools.
---
8. Comparison of Support
Semrush seems to have a slight advantage with support because they offer email, chat, and phone support. Ahrefs doesn't offer any phone support, but their support options are more visible on the website. 
---
FAQs
What Do Ahrefs And Semrush Do for Websites?
Ahrefs and Semrush help optimize websites for search engines. They do this by providing you with data on what people are searching for in your niche, creating new content to generate traffic, identifying opportunities for link building, and more.
What Are Some Semrush And Ahrefs Competitors?
The main competitors to Ahrefs and Semrush are Majestic, Serpstat, and Ubersuggest.
How Do I Use Semrush to Improve My SEO?
You can use Semrush to improve your SEO by identifying competitors, and their top content, identifying your top-ranking keywords, finding new ways to monetize your site, seeing a breakdown of competitors' strategies, and finding quality link-building opportunities.
How Many Users Does Semrush Have?
As of 2020, Semrush has 471,000 users worldwide and growing [1].
Why Is Semrush Unique?
Semrush is unique because of its amazing tools, including a project dashboard, site health through the site audit, position tracking to monitor keyword changes, and organic traffic insights to see how your traffic is building.
Is Ahrefs Data Reliable?
Yes, Ahrefs data is reliable. Ahrefs search volume estimates are accurate for studied keywords within the Google search console.
How Does Ahrefs Collect Traffic Data?
Ahrefs collects traffic data by finding all the keywords for which your target ranks in the top 100 organic search results and estimates how much traffic your website gets from those keywords based on your website's ranking position.
How Many Keywords Does Ahrefs Track?
Ahrefs tracks up to 10,000 keywords in different locations. It also enables you to see changes in your SERP position from the web interface. 
How Long Will It Take To Rank In Google According To Ahrefs?
According to Ahrefs, it takes between 61 to 182 days to rank in Google [2].
How Does Semrush Collect Data?
Semrush uses machine learning algorithms and trusted data providers to collect data. They maintain their high standards for gathering data across all databases [3].
---
Ahrefs vs. Semrush: Which Is Better?
While both Ahrefs and Semush have their share of pros and cons, and the best SEO software for your business depends on what features you need. However, I would recommend SEMrush as it is an all-encompassing tool that will help you with SEO and digital marketing easily.
Semrush is the best tool of this sort on the market, and it provides a pricing plan for every budget. It will perform website audits, competitive analysis, and keyword research with high-quality tools, guaranteeing the best performance. Try Semrush today and boost your performance.
Our #1 Recommendation: Semrush