The growing popularity of pet care products has allowed individuals to generate substantial income as they promote these items.
Affiliate programs make this a reality since they work with pet care brands to help them reach a wider audience seeking competent recommendations in the pet niche.
As an SEO and affiliate marketing expert, I have been investigating for over three months to find the best affiliate opportunities in this niche.
My findings led me to select 10 of these programs, and you will find out why we picked them below.
1. Pet Pro Supply Co.
Pet Pro Supply Co. is a highly diversified platform offering a wide range of products, including veterinary equipment, grooming equipment, pet travel equipment, and kennels, to pet professionals.
The Pet Pro Supply Co. affiliate program is one of the best around, as they are linked with multiple affiliate sites such as GoodHouseKeeping and BenefitHub.
You need to register online via the provided form on the affiliate program section of their website to join the program and earn commissions.
Their average order value is $700, meaning you must meet this benchmark at least to earn decent commissions.
The program has several products you can promote to surpass the average order target, and if you are consistent with it, you can earn a large amount of money.
Pros
Wide range of products

Decent product discounts

Great commission rate
Cons
Has a minimum average order target
Our Rating
Commission: 4.9
Products: 4.8
Pricing: 4.6
---
2. BarkBox
BarkBox is a reputable online platform focused mainly on dog products and services to meet the demands of dog owners.
BarkBox has an affiliate and creator program divided into four categories with different commissions attached, as shown below:
BarkBox: $18 commission per sign-up

Super Chewer: $20 commission per sign-up

BARK Bright Dental: $20 commission per sign-up

BARK Food: 10% commission per sale
Registration is free so long as you have understood the program's guidelines, and you will get weekly newsletters from their affiliate team to let you in on their latest offerings and the best products to promote.
Their affiliate program is unique and has multiple options for you to choose from and make good commissions easily.
Pros
Multiple affiliate categories

Provides opportunities for third-party partners

Free registration
Cons
Commissions are not valid on gift cards
Our Rating
Commission: 4.7
Products: 4.6
Pricing: 4.4
---
3. Ollie
Ollie is a pet brand that provides fresh, home-cooked meals for your dog. The platform works with you to better understand your dog and provide custom-made pet food with the proper nutrients to meet your dog's needs.
The Ollie affiliate program provides an online form for registration to interested participants who are willing to support their mission to help dogs live longer and healthier lives.
Once you have successfully registered, you will be eligible to earn $60 as a commission for every order you drive through site banners and affiliate links.
You should also read and understand the contract terms before registering for the affiliate program.
Ollie's affiliate program is straightforward, making it easy to earn commissions for every purchase that comes through you.
Pros
Decent commission rate

Simple registration

Allows referrals from clicks within 30 days
Cons
Limited use of social media
Our Rating
Commission: 4.6
Products: 4.5
Pricing: 4.3
---
4. Petco
Petco is a pet brand known for offering a variety of products that can cater to the needs of most pets.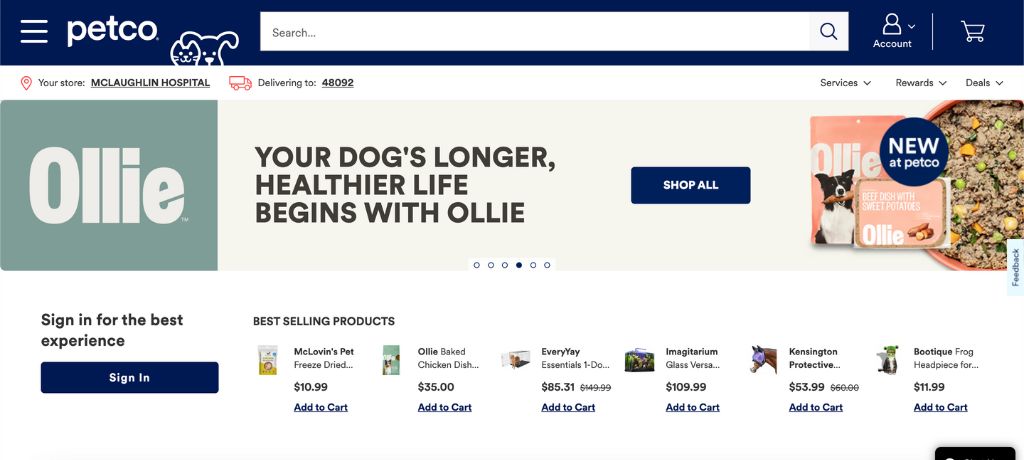 This platform offers discounts when you buy their products at a particular time of the year or use a valid promo code.
Their affiliate program is simplified, making it easy for anyone to join and promote the products.
The Petco affiliate program focuses only on product sales. However, there are instances where you might be informed to promote their services, such as pet grooming and training and qualifying products.
Doing this will earn you referral fees, different from the commission you earn for promoting regular products.
Petco will occasionally send newsletters to keep you informed about their new promotions and recommend new strategies you can use to drive even more sales.
Pros
Wide range of products

Special discounts and promotions

Solid marketing support

Multiple payment options
Cons
High level of competition among affiliates
Our Rating
Commission: 4.4
Products: 4.3
Pricing: 4.1
---
5. HolistaPet
HolistaPet is a highly-rated online pet shop that offers various health and wellness products for dogs, cats, and horses.
This platform helps you know which products are suitable for your pets and conducts lab tests to ensure their products are potent, safe, and healthy.
HolistaPet has a great affiliate program that lets you earn a 15% commission rate, adjustable to 35% upon a monthly review of customers' purchases.
Another benefit of this affiliate program is exclusive access to brand promos and advanced notice of brand updates.
You also get access to their user-friendly tracking software and an opportunity to sample their products for free on a case-by-case basis.
I noticed the HolistaPet affiliate program's quick and straightforward sign-up process. Their affiliate support team is also always available to solve any potential problems.
Pros
Solid commission rate

Offers a 30-day money-back guarantee

Multiple program attractions
Cons
Affiliates could be suspended without warning
Our Rating
Commission: 4.3
Products: 4.2
Pricing: 4
---
6. Chewy
Chewy is a reputable online retail store that provides various pet products, including foods, pet health products, treats, and supplies to many pet owners.
All you need to do to join the Chewy affiliate program is apply through the Partnerize link on their website and earn a 4% commission.
You will also have 1:1 support from their affiliate support team and regularly receive newsletters to inform you of new and exciting opportunities and trends.
Chewy has a decent affiliate program, with monthly payments to your bank account.
Pros
Easy to sign up

Reliable affiliate support team

Top-notch sales tracking feature
Cons
Low commission rate
Our Rating
Commission: 3.9
Products: 3.9
Pricing: 3.8
---
7. Paw.com
Paw.com is an online pet shop where you can purchase in-home, travel, and beauty pet products.
These pet products are of the highest quality and have been verified by reputable brands across the globe, such as Marie Claire and Oxygen.
Their affiliate program is one of the easiest to sign up for. You are provided with an online form on the website to fill in your details, such as your name and company information.
The commission rate is 10% of the order sale amount, and approved payouts are made 30 days after the end of the day they are invoiced.
The affiliate program terms are provided for download to ensure you are comfortable with the stated terms before you register.
Pros
Seamless registration

Multiple payment currencies

Solid performance-advertising campaign
Cons
The commission rate is not the best
Our Rating
Commission: 3.7
Products: 3.8
Pricing: 3.6
---
8. Whistle
Whistle is a unique online store that offers smart devices such as whistles, collars, and leashes useful for pet sitting and obedience training and to keep your pets healthy, happy, and safe.
These devices have a GPS monitoring and tracking system embedded in them to help you quickly check your pet's health signals, track their location, and monitor their daily activities.
The Whistle affiliate program is decent, offering many benefits, such as:
10% commission on sales

$100+ average order value

30-day cookie window

Performance-based incentives (i.e., bonus payouts, commission increases)
You can get started with them seamlessly, so long as you have personal social media accounts and websites where you can promote their products.
Bear in mind, however, that the Whistle affiliate program is only open to sites in the United States and Canada, which means you will only be eligible if you live there.
Pros
Top-notch incentives

High-quality products

Simple registration process
Cons
Only available in the US and Canada
Our Rating
Commission: 3.6
Products: 3.7
Pricing: 3.5
---
9. LivePeeFree
LivePeeFree is an online pet store you can count on to eliminate foul odors in your pet's urine.
The platform has an affiliate program that offers a 30% commission rate for any Live Pee Free products sold on their website.
They also offer an introductory coupon at 20% off on any item for the retail customer with no restrictions and a 100% satisfaction guarantee.
You can join their affiliate program once you sign up and follow the terms laid out accordingly.
The LivePeeFree affiliate program has an easy-to-use dashboard and a great payout schedule, and you can always count on their support to solve any problems.
Pros
Excellent commission rate

Highly effective products

100% satisfaction guarantee
Cons
Only suitable for website owners
Our Rating
Commission: 3.4
Products: 3.5
Pricing: 3.3
---
10. Embark
Embark is a veterinary website you can access if you want to perform DNA tests for your dog to know its breed mix.
You can also conduct other health tests via the platform to give your pet the best life and improve its overall health and well-being.
Embark has an affiliate program that you can become a member of and earn a 10% commission off any sales you drive with your unique affiliate link.
The Embark affiliate program is hosted through ShareASale. To complete your application, you must search for "Embark Vet" in the Merchants section of your dashboard once you have signed up and logged in. Afterward, you click the "Join Program" button to complete your application.
The most successful affiliate marketers don't chase high commission rates; they focus on promoting brands with strong conversion rates.
– Adam Viener, Affiliate Marketing Expert and Founder of Yazing
Pros
Multiple kits

Unique shareable affiliate link

Intuitive affiliate dashboard
Cons
It takes three days before your account is approved
Our Rating
Commission: 3.2
Products: 3.3
Pricing: 3
---
Buyer's Guide
The pet industry is very lucrative, allowing bloggers, pet lovers, and influencers to become affiliate partners with pet brands, promote their products, and get decent commissions.
While numerous pet brands and shops are out there, it is crucial to consider various factors before joining their affiliate programs. 
1. Conversion Rates
The conversion rate is usually the percentage of the sale price you earn for every purchase a customer makes through your affiliate link.
It would be best to consider pet affiliate programs offering decent conversion rates of at least 10% and above.
Also, look out for the quality and relevance of the products and ensure they are up to the required standard so that it doesn't become an arduous task for you to make sales and earn commissions.
2. Cookie Duration
The cookie duration is the time set for customers to make purchases through your affiliate link. A longer cookie duration increases your chances of earning a commission and gives customers more time to purchase.
Ensure you register for affiliate programs that offer at least a 30-day cookie duration and also understand how these programs handle multiple affiliate cookies (last-click wins, first-click wins, etc.).
3. Product Range
Endeavor to consider affiliate programs with a broad and diversified product range that can cater to a wider audience so that you can increase your chances of making sales and earning commissions.
4. Support And Resources
It is always best to go for affiliate programs with highly reliable affiliate support teams.
A solid affiliate support team can help you resolve issues quickly and provide you with marketing resources such as banners, product feeds, and promotional tips that can help you succeed.
Before registering, check if the affiliate program has an affiliate support team and offers promotional materials and training.
It's important to communicate with affiliate partners to build trust, loyalty, and rapport by not only providing affiliate product news but also real-life examples of customers who have benefited from using your products and services.
– Lee-Ann Johnstone, Affiliate Marketing Expert and CEO of AffiliateINSIDER
FAQs
What Is the Commission Rate for Pet Affiliate Programs?
The commission rate for pet affiliate programs varies. However, they typically range from 6% to 30%, depending on the program and product type.
Do Pet Affiliate Programs Offer Marketing Materials?
Yes, pet affiliate programs offer marketing materials such as links and banners. However, confirm this with the platform you plan to partner with as an affiliate.
What Is the Best Pet Affiliate Program?
I have reviewed several pet affiliate programs and their unique benefits and offerings.
However, I recommend Pet Pro Supply as the best pet affiliate program because the platform offers high commission fees and has a wide range of products.
Pet Pro Supply also offers discounts to customers when they purchase their products at certain times of the year or use valid promo codes.
If you are looking for an affiliate program that will allow you to profit easily, I would suggest checking out Pet Pro Supply.