The vegan food market alone has a projected global worth of US$25 billion within the next 5 years.
So even though only 2% of the population of the United States claims to be vegan, there's a lot of money flowing around in this vertical.
And that combined with the social clout of being able to loudly proclaim, "Did you know I'm vegan" means you have a ready audience to sell to…
People who are happy to spend money to maintain an ethical lifestyle.
All you need now are the best vegan affiliate programs to promote.
But I've done the hard work for you on that count.
Fortunately, I've done the legwork for you in identifying these programs. And I've also consulted with a few of our successful Affiliate Lab members.
Top Vegan Affiliate Programs
1. Sunburst Superfoods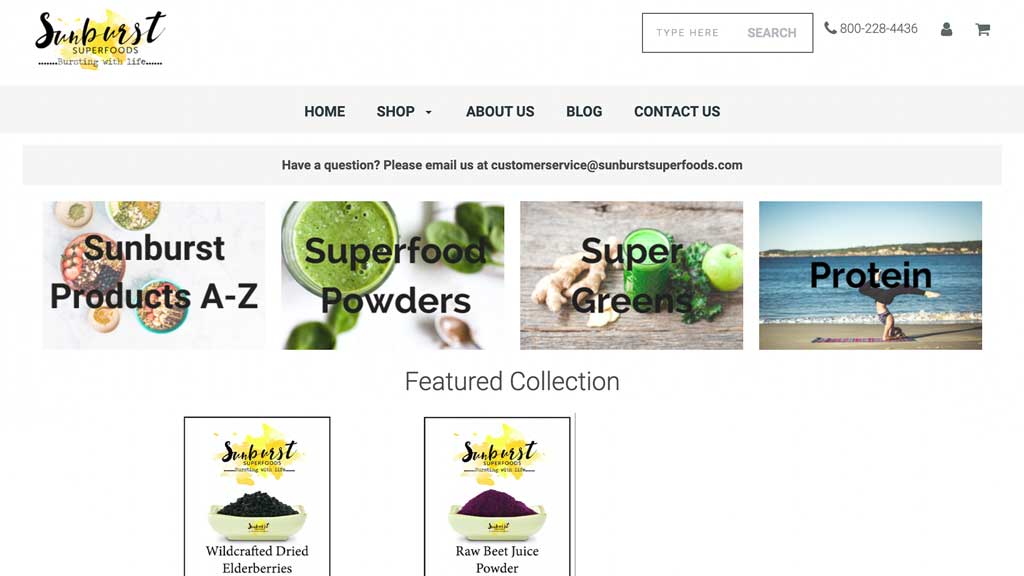 Sunburst Superfoods is an online retailer of products that contain a range of "superfoods" as their primary ingredient.
These are aimed squarely at those wanting to live a healthier or vegan lifestyle, and range from powders to juices and nut butter.
Each one contains raw ingredients, free of GMO content, so their customers get the maximum possible benefit of eating leafy green vegetables but in powder form.
Their online store also allows visitors to shop by their primary health concern, so this should allow traffic sent to these landing pages to convert pretty well.
The topic of superfoods is also evergreen (no pun intended), so you're not going to find these products going out of fashion overnight.
This vegan affiliate program pays a 10% commission rate per sale and claims to have an above-average conversion rate.
Why You Should Promote Sunburst Superfoods
Superfoods are and will be popular for many years to come, plus Sunburst's range is affordably priced.
Commission: 10%
Cookie duration: 60 days
Payment methods: Check, direct deposit, Payoneer
Products: Vegan food
---
2. Zatik
Zatik sells a range of skin, hair, and body care products all made using natural ingredients, and has been doing this since 2005.
This was when the founder created and released his first skincare product…as a hobby.
And now almost 20 years later Zatik is a growing brand with a loyal audience.
Their mission statement is that "What you put on your skin should be just as healthy as the food you put in your body".
That's why their shampoos, creams, serums, toners, or cleaners are entirely plant-based and have no added chemicals.
So not only are their products suitable for the vegan lifestyle but they're also cruelty-free and animal-friendly while also being eco-friendly.
The Zatik affiliate programs are managed by the ShareASale affiliate network. Affiliates receive a 15% cut of all sales, on average order size of $83 per referral.
Why You Should Promote Zatik
Their products will appeal to a number of audiences – from vegans to non-vegans who want to purchase vegan products because they know they've not been tested on animals.
Commission: 15%
Cookie duration: 15 days
Payment methods: Check, direct deposit, Payoneer
Products: Vegan skincare
---
3. Tofu Bud
Tofu is a vegan dietary staple because it's so versatile.
But one of the biggest problems with cooking tofu is that you have to drain all the liquid from it first, which can take forever.
Tofu Bud is a tofu press that reduces the amount of tofu prep time to as little as 15 minutes. That means your audience can spend less time on mess and more time on enjoying their meal.
This company also sells a range of other vegan products and vegan food and meal preparation aimed at the vegan market, including woks, fermentation crocks, vegan protein and superfood powders, and plant-based food wraps.
This affiliate program pays a 15% commission rate on all sales, so each Tofu Press will earn you around $4.50.
Why You Should Promote Tofu Bud
Selling a product that solves an immediate and recurring problem, like removing all the liquid from tofu, typically results in a high volume of sales.
Commission: 15%
Cookie duration: 30 days
Payment methods: Check, direct deposit, Payoneer
Products: Tofu press
---
4. Clean Affiliate Program
Clean is a detox program designed to help users cleanse their bodies of toxins and restore an improved overall sense of well-being.
It comes in two basic versions – Clean 21 and Clean 7, both of which are the creation of an actual cardiologist [1] who has combined the best of modern Western medicine with ancient knowledge from the East.
The net result is a cleansing program that is suitable for anyone eating a vegan diet.
The Clean online store also sells maintenance kits to keep users feeling healthy when they're not on a detox program.
And it also sells chocolate, teas, and other products to support a healthy lifestyle.
So what does this affiliate program pay you for promoting it?
You'll earn an average of $21 per initial sale based on their 5% commission rate and the $10 bonus paid on orders over $200.
Why You Should Promote Clean
Detox programs are becoming increasingly popular with people from all walks of life. The fact that this one is plant-based is just an added bonus.
Commission: 5%
Cookie duration:  90 days
Payment methods: Check, direct deposit, Payoneer
Products: Vegan body cleanse
---
5. Thrive Market
Next up on our list is Thrive Market, a plant-based food market with a focus on two things:
Healthy living
Saving shoppers up to 50% on retail prices
This means their food items are non-GMO, gluten-free, organic, and suitable for vegan meals –  sourced from ethical and sustainable suppliers.
All the healthy vegan food a person could want delivered to their front door.
And the cost of membership is very low at just $5 per month, plus the cost of whatever groceries or nutritional supplements a member purchases.
How does this offer compare to the other programs we've covered?
Affiliates can earn up to $40 per referral from their affiliate programs if a referral signs up for a 1-year plan with Thrive Market – monthly plan referrals pay a $5 commission.
Why You Should Promote Thrive Market
They cater to a growing market of people who want to eat a healthier diet while reducing their carbon footprint.
Commission: Up to $40
Cookie duration:  1-day
Payment methods: Check, direct deposit, or Payoneer
Products: Healthy groceries
---
6. Vegamour
Vegamour manufactures and sells a range of hair, lash and brow products made with 100% vegan-friendly ingredients.
Their plant-based shampoos, conditioners, creams, and serums are clinically tested but with a focus on cruelty-free testing in the interests of animal welfare.
And 91% of surveyed customers reported seeing a noticeable increase in hair quality and thickness, for example.
Which is really useful social proof for your affiliate content.
As is the fact that Vegamour offers free shipping on all orders over $49.
This program pays an 8% commission rate on all sales referrals that come from your vegan blog. Or any blog for that matter.
Why You Should Promote Vegamour
They sell a totally animal-friendly range of beauty products suitable for a vegan or environmentally friendly audience.
Commission: 8%
Cookie duration:  15 days
Payment methods: Check, direct deposit, or Payoneer
Products: Vegan hair growth products
---
7. Notiq
This is one of those Vegan products you'd probably never think of without some deep-dive research into the niche – vegan leather goods.
Notiq manufactures a range of planners, personal organizers, wallets, and handbags made from cruelty-free materials.
So not only are their creations entirely functional they're also kind of eco-friendly fashion accessories for the ethical woman.
And judging by the upwards trajectory in interest around "vegan leather", there are a lot of people who'll want to be early adopters in this market.
This affiliate offer claims to have a 20% conversion rate. So, based on an average order value of $288 and a 7% commission rate you could earn $20 per sale from 1-in-5 of your referrals.
Why You Should Promote Notiq
The vegan niche is a growing sub-niche of the vegan market and their products are perfectly suited to it.
Commission: 7%
Cookie duration: 30 days
Payment methods: Check, direct deposit, Payoneer
Products: Vegan leather goods
---
8. Maxine's Heavenly
Maxine's Heavenly is a range of cookies made with natural sugar and wholesome ingredients.
So your visitors get all the flavor of a regular cookie but without any of the empty calories or animal products or by-products, and they're also dairy-free.
Which makes them a perfect treat for vegans, either just to nibble on at work or to enjoy with a tea or coffee after a long day.
All of this came about as a result of founder Tim Miller making cookies with his mom Maxine.
He just adapted her recipes for a modern, health-conscious audience.
These plant-based, gluten-free delicious treats will earn you a 15% commission per sale, or roughly $4 per referral from all new but not existing customers.
Why You Should Promote Maxine's Heavenly
Everyone loves cookies and if they're allegedly "good for you", then you should have no problem finding a ready pool of referrals.
Commission: 15%
Cookie duration: 60 days
Payment methods: Check, direct deposit, Payoneer
Products: Vegan cookies
---
9. Green Chef
Green Chef was founded in 2014 as an online shopping and meal prep service, but with a difference. It's one of the more popular choices for vegan food within the vegan niche.
And the difference is that it's all vegan food and all vegan meals are GMO-free, and their ingredients are free from pesticides, antibiotics, and growth hormones.
Their menus cover Keto and Paleo dietary choices, but they do also offer a vegan meal delivery service in the form of their "Plant-Powered" menu.
Probably the best way to pitch this offer is that the idea of healthy eating appeals to lots of people, but actually making vegan meals doesn't.
So suggest that your visitors allow Green Chef do most of the hard work for them.
So let's look at what this vegan meals prep offer has in store for you as opposed to other vegan affiliate programs.
You'll earn a flat $15 per sale.
Plus, because this program is managed by Commission Junction, you'll have a full range of promotional banners, text links, reporting tools, and other material, available via your affiliate dashboard.
Why You Should Promote Green Chef
The average person doesn't have the time or ability to shop for and prepare a home-cooked meal[2].
Commission: $15
Cookie duration: 7 days
Payment methods: Check, direct deposit, or Payoneer
Products: Vegan meals
---
10. Honey Badger
Honey Badger is a range of pre and post-workout workout and personal health supplements.
But they're plant-based which makes them paleo, keto, and vegan friendly.
Not every vegan protein powder is created equal though, and where Honey Badger sets itself apart from the competition is that their powders contain no preservatives, or any artificial flavors, colors, or sweeteners.
So your visitors aren't getting a fake energy burst because they just drank a whole lot of sugar in their inferior protein powder.
This is also a family-owned and run business that has special forces veterans are part of its team – that might come in handy in your pre-sell content.
Are these plant-based protein powders worth promoting?
You'll earn 15% per sale and the program has a pretty high EPC, so all the indicators point towards this being a lucrative offer to work with.
Why You Should Promote Honey Badger
They manufacture a range of high-quality products that will fit in well on vegan blogs or influencer channels.
Commission: 15%
Cookie duration: 30 days
Payment methods: PayPal, direct deposit
Products: Vegan health supplements
---
11. Lysse
Lysse clothing looks and feels like a contemporary fashion brand but with a focus on clothes that women can wear on a day-to-day basis.
What started out as a range of leggings created in 2009 by founder Beth Cohen has since expanded into a full range of fashionable apparel for women, including tops, sweaters, jackets, and jeans.
Their vegan faux leather leggings, pants, and jackets though are what will most appeal to the people following your vegan blog or social channel.
So how does Lysse compare to the other vegan affiliate programs featured here?
The first thing is you'll need an account with the Pepperjam affiliate network to promote this offer and get access to the marketing materials you need.
It pays a 6% commission rate, so based on an average pair of leggings costing $100, you'll earn $6 per referral.
Why You Should Promote Lysse
They combine usable, comfortable fashion clothing with ethical animal-friendly materials, which people will want to wear for the boasting rights alone.
Commission: 6%
Cookie duration: 15 days
Payment methods:  PayPal, direct deposit
Products: Vegan clothing
---
12. PF Candle Co.
And now for one of the more interesting and one of the best vegan affiliate programs in this roundup.
Vegan candles might not seem like an obvious product to promote at first, but vegans can't use beeswax, which is what most traditional candles are made from.
P.F Candle Co. caters to this particular gap in the market, with their range of soy wax candles, that are 100%  free of animal byproducts and come from natural sources.
But they also sell hand washes and other personal hygiene products such as body washes, made with natural soaps, and fragrances.
Vegan candles and/or personal hygiene products could be an interesting sub-niche to target.
Their affiliate program pays a 5% commission on all potential customers referred through your affiliate links or banners.
Why You Should Promote P.F Candle Co.
The focus for the average blog dedicated to the vegan lifestyle is on food, so this offer means you can promote products to your vegan visitors that are more about relaxation and personal wellness than the absolute necessity of food.
Commission: 5%
Cookie duration: 30 days
Payment methods: PayPal, direct deposit
Products: Vegan candles
---
13. KVD Vegan Beauty 
KVD Beauty has an interesting back story.
They're a tattoo studio that expanded into the vegan cosmetics market, progressing from 100% cruelty-free makeup in 2008 to 100% vegan makeup by 2016.
Their online store contains as complete a range of cosmetic products as your visitors could want, including lipsticks, eyeliners, concealers, foundation, and much more, plus dozens of accessories.
So they deliver the results your visitors want but with the peace of mind of knowing that each product is made with 100% natural, organic ingredients.
KVD Beauty offers free shipping on all US orders over $35, and they also include two free samples with all orders over $50.
This vegan affiliate program pays a 4% commission rate, which isn't bad but is at the lower end of the payouts offered by the programs featured here.
Why You Should Promote KVD Vegan Beauty
Their affordable plant-based range of cosmetic and beauty products will appeal to a number of audiences ranging from animal activist groups to mainstream consumers. Thir affiliate programs are some of the best vegan affiliate programs out there.
Commission: 4%
Cookie duration: 7 days
Payment methods: Check, direct deposit, PayPal
Products: Vegan beauty products
---
Should You Promote Vegan Affiliate Programs? 
And that's a wrap on our roundup of the handpicked vegan affiliate programs for you to promote on your site.
This niche is pretty broad with multiple sub-niches that you could target e.g. vegan clothing, vegan personal hygiene, etc.
So, do yourself a favor and don't start yet another vegan recipe blog.
There are easier ways to make money in this niche – the above list of the best vegan affiliate programs shows you what's possible with affiliate marketing.
But even the best vegan affiliate programs can only take you so far because you also need traffic.
And that's exactly what you'll learn in my Affiliate Lab training course – how to build a niche affiliate site that draws in free organic traffic.
All you need to do is follow my step-by-step processes to build an online business you'll be proud of.
Want to Become a PRO Affiliate?
Comprehensive lessons
Niche Grading tool
Step-by-step website building guide
Regular updates


Private Facebook community
Bonus courses
Lifetime course access