According to statistics, billions of people worldwide use email to share and receive files. Email is the most trusted solution for reaching out to potential customers.
Most businesses send information via email. Cold emails are emails sent to a customer you haven't previously contacted and who doesn't know your brand, product, or service. Cold emailing can help a business with sales outreach and reaching new customers.
We evaluated hundreds of cold email marketing software based on their features, pricing, support, simplicity, and more to bring you the best cold email software options.
1. Mailrush.io (

Editor's Choice

)
Mailrush.io helps business-to-business companies to automate their cold email marketing.
It includes an email warming feature to ensure your emails don't land in the customer's spam folder, and they offer their own email service provider, or you can use their drag-and-drop feature to build your mailing list.
They also allow you to send follow-up emails automatically and track open emails, replies, and more.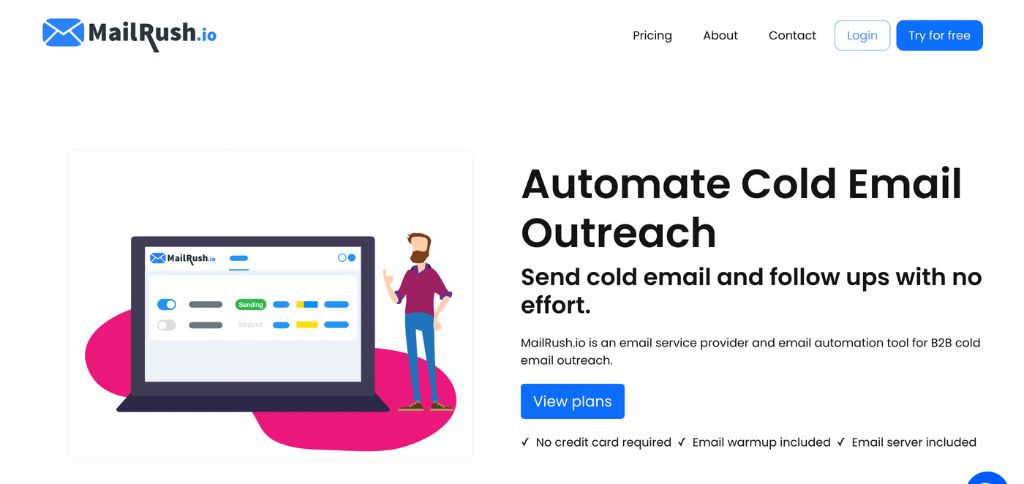 Mailrush.io starts at $19 a month with standard features to send up to 1,000 emails daily and 10,000 emails a month.
They also offer a 14-day free trial. Mailrush.io is an affordable cold outreach option that allows businesses to strategize their emails for increased response. 
Pros
14-day free trial

Drag and drop email editor

Tracking features
Cons
Limited email templates
Our Rating
Features:

4.9

Costs:

4.9

Support:

4.9

Simplicity:

4.9

Automation:

4.9
---
2. SmartReach
SmartReach allows you to have email delivered straight to the target customer's inbox.
They provide email verification to ensure the customer's email is active, spam checks, a domain warm-up feature, automated scheduling of emails, automatic follow-ups, the ability to track the progress of the campaign right from your dashboard, integration with Gmail, Office 365, and more.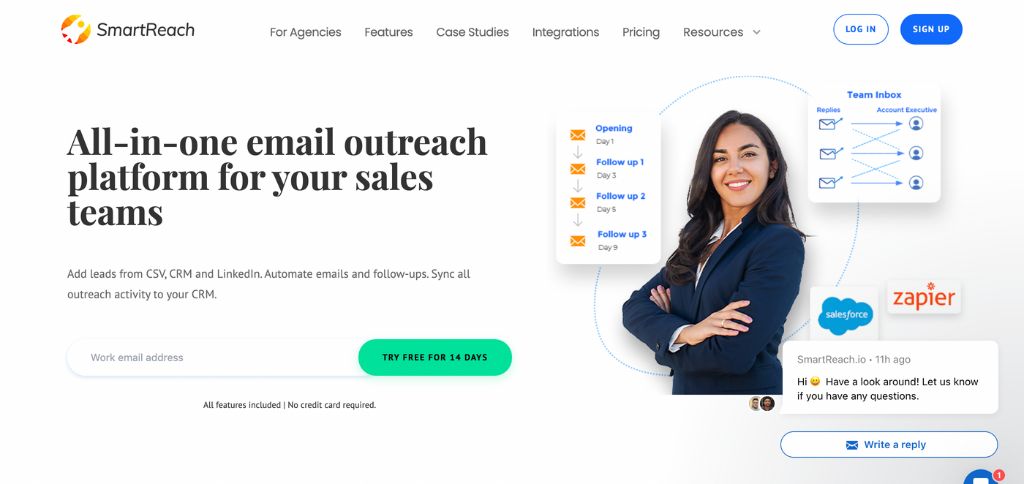 SmartReach also allows you to add dynamic content to your business emails to make them personalized and engaging to your customers and improve reply rates. Smart Reach starts at $24 per month, and they offer a free 14-day trial.
SmartReach is one of the best cold outreach tools to grow your customer base and increase sales. It's also affordable, and you can try their service risk-free with a 14-day free trial.
If you write every cold email like it may change your life, it might. If you don't, none of them will.
– Sahil Lavingia, CEO, Gumroad
Pros
Unlimited campaigns

Ease of use

Affordable

14-day free trial
Cons
Limited filters for the contact list
Our Rating
Features:

5.0

Costs:

5.0

Support:

5.0

Simplicity:

5.0

Automation:

5.0
---
3. Overloop
Overloop strives to make personalized email campaigns easier. They help you with prospecting to find emails, build lists of customers and reach out to them using personalized sales engagement. They have an email finder tool with a verification extension.
They also help you create personalized email campaigns and set automated reminders for cold outreach. You can also track the emails opened, clicks, and replies. The tool also allows the monitoring of unlimited team members and their performance.
Overloop's plans start at $39 per month, and they offer a 14-day free trial. Overloop is an excellent option for sales teams to build customer lists and send customers personalized campaigns for more customer engagement.
Pros
Email search and verification tools

14-day free trial

Easy-to-use interface
Cons
Lacks cold calling features
Our Rating
Features:

4.9

Costs:

4.8

Support:

4.8

Simplicity:

4.8

Automation:

4.9
---
4. GMass
GMass is an excellent option to email outreach campaigns straight from your Gmail inbox. GMass can be installed as a Chrome extension.
The software allows you to use Google Sheets to send personalized emails despite the tool's simplicity. GMass also enables you to schedule email sequences, follow-ups, and more. 
GMass starts at $19.95 a month for unlimited campaigns, personalized emails, email verification tools, and more. GMass is a simple-to-use tool for sales and marketing campaigns and sales teams looking to lead successful cold email campaigns with little effort.
Pros
Builds right into your Gmail inbox

No onboarding

Analytics to track campaign success
Cons
Doesn't work with Outlook or other email providers
Our Rating
Features:

4.8

Costs:

4.8

Support:

4.7

Simplicity:

4.7

Automation:

4.8
---
5. Reply.io
Reply.io is a multichannel platform that provides automated outreach for the best sales engagement and conversion rate.
They create drip campaigns with automated follow-ups and tracking for opens, clicks, replies, and more. The cold outreach software also provides email templates, a validation tool, and integration with Slack, Salesforce, and more.
Reply.io also bundles email searches, personalized cold emails, and Linkedin outreach. Their plans start at $60 per month for one mailbox. Email warm-up is available, but it costs $90 per user, and they offer a 14-day free trial.
Reply.io is an excellent option for a cold outreach campaign for those who can afford it, such as larger businesses.
Pros
Keeps track of replies, opens, and more

Offers a chrome extension

14-day free trial
Cons
Expensive compared to other cold email software tools
Our Rating
Features:

4.7

Costs:

4.7

Support:

4.6

Simplicity:

4.6

Automation:

4.7
---
6. Woodpecker
Woodpecker is a sales engagement platform ideal for business-to-business email automation features. The software allows automatic follow-ups that you can schedule. You can also receive detailed reports to track email opens, replies, clicks, and more.
Woodpecker also lets you perform A/B testing templates to gauge what resonates with customers [1].
Woodpecker offers a 14-day free trial, and their plans start at $32 per month. Woodpecker is a great cold emailing software that ensures email deliverability, offers follow-ups, and more. 
Pros
Simple setup

14-day free trial

User-friendly
Cons
No ability to send email attachments
Our Rating
Features:

4.6

Costs:

4.6

Support:

4.5

Simplicity:

4.5

Automation:

4.6
---
7. Gmelius
Gmelius is an automation and cold email tool that integrates with Gmail and is ideal for team collaboration. They help to automate the sales process with drip campaigns and lead generation.
Gmelius offers the ability to send personalized cold email campaigns, customize and share cold email templates, monitor campaign performance, schedule recurring emails, and more.
Gmelius starts at $12 per month and includes email campaign tracking, automated emails, and unlimited templates. This is a simple platform with affordable email campaign features and provides real-time updates to engage leads. 
Pros
Real-time alerts for lead engagement

Integrate with Gmail

Affordable
Cons
No free pricing plans
Our Rating
Features:

4.5

Costs:

4.6

Support:

4.5

Simplicity:

4.5

Automation:

4.5
---
8. Streak
Streak is similar to GMass in that it integrates directly into your existing Gmail account; however, they transform your inbox into a flexible CRM to handle everything in one place.
It also allows you to create snippets, which are templates you can use to prevent repetitive replying to emails. Streak also helps you to manage sales funnels, track cold calls, and track customer engagement.
Streak also offers the ability to schedule automated emails and send a follow-up email and an email sidebar that provides the details of every email's context.
Streak offers free plans, and their paid plan starts at $15 a month for 800 emails. Streak is an excellent cold email tool with affordable pricing plans that easily integrate into your existing Gmail account.
Pros
Changes your Gmail inbox into a CRM

Track analytics

Free plan
Cons
The mobile app lacks functionality compared to the desktop software.
Our Rating
Features:

4.4

Costs:

4.5

Support:

4.5

Simplicity:

4.4

Automation:

4.4
---
9. Snov.io
Snov.io is a prospecting tool that helps with email deliverability, identifying good leads, and engaging them with email outreach. Snov.io can help you with just about anything from prospecting to managing deals in CRM and even includes an email finder.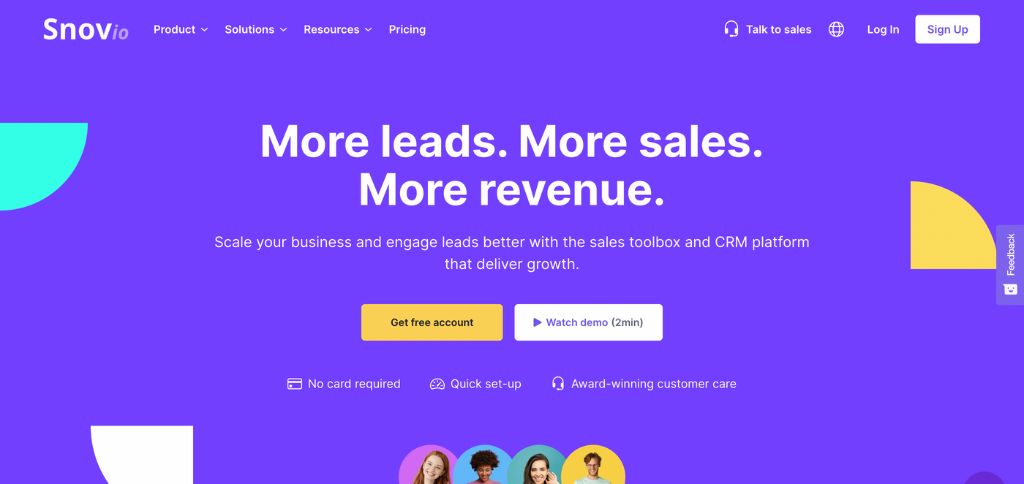 They also collect data on companies and store them in a database to identify if they are a good fit for a prospective customer. You can import your target audience into your campaign with automated follow-ups and verified email addresses.
Snov.io starts at $39 per month for 5,000 emails. Snov.io is an excellent option for securing leads that ensure email deliverability and can help you with prospecting and managing deals all in one place.
Pros
Prospecting database

Simple to schedule bulk emails

Analytics to track performance
Cons
Limited CRM functionality
Our Rating
Features:

4.3

Costs:

4.4

Support:

4.4

Simplicity:

4.3

Automation:

4.3
---
10. YesWare
YesWare is an all-in-one solution for sales. They allow you to track results, send emails, schedule meetings, and integrate with Salesforce and Linkedin. The tool integrates into your Gmail or Outlook inbox to add functionality.
You can track how customers interact with your email and engage them with content such as proposals or links. Their software allows you to schedule emails at specific times and send follow-ups automatically. 
YesWare starts at $35 per month. YesWare is an excellent software that easily works with Gmail or Outlook to increase functionality and make it simple to engage potential customers. 
Pros
Ideal for cold emailing

Works with Gmail and Outlook

Integrates with Salesforce
Cons
Pay per user rather than for inbox, which can get expensive
Our Rating
Features:

4.2

Costs:

4.3

Support:

4.3

Simplicity:

4.2

Automation:

4.2
---
Buyer's Guide
When choosing the best cold email software, you need to be aware of what these tools do, how to select the best software, best practices for cold emails, and more.
What Is a Cold Emailing Outreach Tool?
A cold emailing outreach tool allows you to perform cold email outreach efficiently.
They help you automate sending cold emails, send follow-ups, and provide personalization, tracking, and template options.
How to write a short cold email: Introduce yourself, and link to your website, show you've done your research with specifics, and make a bold request but make it easy for the other person to help.
– David Perell, Founder, Write Of Passage
How to Choose the Best Cold Email Outreach Tools
Using cold email outreach tools is an easy way to boost your leads and conversion rate. Here are some essential features to focus on when choosing the best tool.
Personalization Options – Personalization options are essential to cold outreach campaigns because they allow you to connect with potential customers. The extent of personalization options varies between software. Certain tools offer essential personalization, such as adding names and addresses; others allow you to add customized links or images to the email. Choosing an outreach tool with several personalization features can help you with lead generation and a greater conversion rate.
Tracking – Another critical factor is email tracking, which allows you to see open rates, response rates, link clicks, and more. These statistics can help you determine how to make your campaign more effective. Certain tools make this a premium feature, and others offer it in their base plans, so choose accordingly.
Automation – Automation is a major benefit of using a cold email tool. They can create mailing lists, personalize emails, automatically send emails and follow-ups, and more. A tool that offers you all the essential automation tools can save you time and launch your campaign in seconds.
Email Deliverability – Good deliverability is critical to the success of your email campaign. Look for a tool that has built-in features for email deliverability, such as keeping your emails out of the prospect's spam folder and keeping a healthy sender score.
Collaboration Options – If you are planning on having a sales team to work on your campaign, you will need collaboration tools. Look for the right cold email software with features like a shared dashboard, inbox rotation, analytics to see the individual and overall performance, and more.
Whenever a cold email starts with "I know you are super busy…", I know the request is going to make me busier.
– Jason Fried, CEO, Basecamp
---
Best Practices for Sending Cold Emails
Here are some practices to keep in mind for a successful cold email:
Provide A Powerful Subject Line:

Subject titles are essential because it's the first thing people see when they see your email and can be a critical factor in whether they open it or not. To create a powerful line, including the prospect's first name for instant personalization. You can also ask them a question to grab their attention.

Focus The Email On The Prospect:

The most crucial part of the email is to make a connection. Make the majority of the email about your recipient. You can also add personalized images and links and keep the email short.

Make It Simple To Opt-Out:

Give the prospect an option to unsubscribe from your emails. You are sending emails to prospects who don't know you and to maintain your reputation, it's a good option for them to opt-out. The way to do this is to provide a way to unsubscribe at the bottom of the email.
---
Is Sending Cold Emails Illegal?
In the United States, cold emailing is legal, and the Federal Trade Commission regulates cold emailing. However, different countries have different laws on cold calling and cold email tools.
For example, in the European Union, cold emailing is legal, but it has strict requirements [2].
Laws typically allow you to send cold emails as long as you follow these requirements: 
Mention how you got the prospect's information and why you're reaching out.

Provide recipients with the ability to opt out.

Accurately include your contact details.

Identify any advertising within the email.

Avoid using any contact lists that a third party has obtained illegally.
---
FAQs
How Can I Personalize My Cold Emails?
You can personalize your cold emails by using dynamic content by adding the first name of the prospect, the company, name, and other details. Identify a mutual connection or interest with the recipient. 
Should You Use Gmail Or Outlook for Cold Email Software?
Both are great options; however, Outlook has better deliverability. The best cold emailing software will give support for both.
Do You Need A Cold Email Marketing Software?
Yes, you can't send cold emails with traditional email marketing tools. Their terms and conditions don't allow you to reach contacts that aren't opted in. 
What Is The Benefit of Cold Email Marketing Platforms?
The primary benefit of cold email marketing software is that it helps you to automate the process of sending these emails and provides the ability to personalize your emails.
What Should You Avoid Doing in a Cold Email?
In a cold email, you should avoid not having a clear objective, not segmenting your email lists, writing long subject lines, not personalizing the subject line, sending a generic template, sending a long email, not checking grammar, sending a business-focused email, not adding the recipient name, adding too many calls to action, and more.
How Many Cold Emails Should I Send to Get a Client?
Experts say that if you send an average of three sales emails over the course of a couple of weeks, it would be enough to determine whether a prospect will become a client [3].
How Long Is Too Long for Cold Emails?
A cold email should be two to five sentences and no more than 200 words. That is all you need to spark interest in a prospect.
What Is The Success Rate for Cold Emailing?
According to research, the average response rate for cold emailing is 8.5 percent. However, this depends on how effective your email is and how effective your overall strategy is [4].
How Many Emails Can You Send Before You Get Blacklisted?
You can send up to 10,000 emails at once, but if there is a high bounce-back rate, you will get blacklisted if the rate goes over 10 percent. Sending fewer emails as you warm up your IPs will prevent this situation.
Are Cold Emails or Linkedin Better?
Cold email open rates are typically between 50 and 80 percent for top businesses, but the open rate for Linkedin messages are close to 100 percent because it is designed for you to see your direct messages when you open the message section.
How Do You Start a Cold Email?
You can start a cold email by greeting the recipient with their name. This is a simple step you can take toward getting a response.
Where Can I Find Leads for My Cold Emails?
You can find leads for your cold emails with a Linkedin search, hosting free webinars, joining niche groups on social media, using email finder tools, and more.
What Is the Best Time to Send Your Cold Email?
The best time to send your cold email is between 8 am and 11 am in the recipient's time zone. The best days of the week for sending a cold email are Tuesday and Thursday.
What Are the Ideal Subject Lines for Cold Emails?
The best subject lines for cold emails start with questions, mentioning a mutual connection that you and the recipient have, a benefit from your company, and tips and ideas for the solution your company provides.
What Are the Golden Rules of Email Etiquette?
The golden rules of email etiquette are that your email should be easy to read, organized, and grammatically correct. Also, don't use unprofessional font styles, and use italicizing, bolding, underlining, and abbreviations sparingly.
---
Which Cold Email Tool Do We Recommend?
Finding an efficient cold email software can be challenging, especially if you want to ensure your email won't end up in user's spam folders. However, Mailrush.io stands out as one of the best tools on the market.
Mailrush.io  provides you with up to 1000 emails per day and up to 10 000 emails at month, all at an affordable price. It also offers a 14-day free trial to test its features.
If you need a cold email software that won't break the bank, then you could check out Mailrush.io and see if they can meet your needs.
Our #1 Recommendation: Mailrush