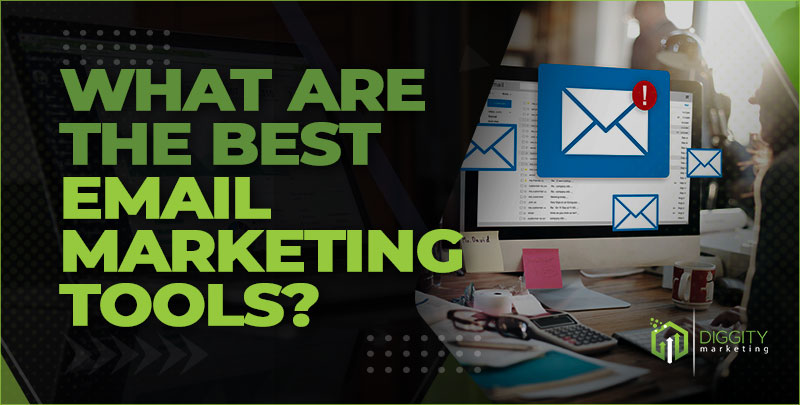 The shifting marketing landscape, with escalating PPC costs and restrictive social networks, demands an effective solution.
As a seasoned marketer, I've already pivoted towards email marketing, a strategy that lets you control your audience rather than bow to constantly changing platform rules.
Let's dive in and explore 15 leading email marketing tools because there's no better time than now to start building your list.
Top Email Marketing Tools
Now it's time to take a look at our individual product reviews, covering features, deliverability rates, pricing, and lots of other useful information.
Marketing automation platform
E-mail builder and marketing tool
Marketing automation platform for E-commerce
1. Active Campaign (

Editor's Choice

)
While other email marketing tools compete for 90% of the market looking for a basic email broadcasting tool, Active Campaign does not.
Their target demographic instead is anyone with a large email list that needs powerful tagging and segmentation features along with high-end automation.
And while you do get everything you need to conduct typical email marketing campaigns Active Campaign's real standout capability is as a marketing automation platform that allows you to precisely control your sales funnel and customer pipeline.
It is entirely sales-focused.
It's what we use here at Diggity Marketing for our sales funnel, and it works a treat.
Putting together a campaign is very straightforward – you simply choose a list/segment, design your email layout from scratch or with a template, and then you hit 'Send'.
They offer a migration service for anyone who wants to move to a paid Active Campaign plan, which is a time-saver for new customers. 
'Conversations' allow you to interact with customers via web chat, email, and Facebook messenger but without using third-party email marketing tools, so all of your customer data, leads, and engagements are kept in one place.
You even get a Gmail add-ons so you can leverage the power of Active Campaign without leaving your inbox.
It's also remarkably affordable, with paid plans available for just $7.50 per month, but you can incrementally upgrade your plan as your business grows.
Price: From $7.50 per month (500 contacts)
Free trial: 14 days
Deliverability: 91.1%
Intended for: Businesses that want to actively monetize their email list
---
2. Sendinblue
Sendinblue exists at the opposite end of the spectrum to HubSpot's email tool in that it has a freemium version.
But even the paid plans start at just $25 monthly for up to 10,000 emails per month, spread across your entire contact database.
What this means is that you can send 10 emails to 1,000 people per month, for example.
The features available to you do depend on what pricing tier you're in, so you'd need to upgrade to their $65/mo 'Premium' plan if you want A/B testing as standard.
And the same applies to your ability to create landing pages i.e. you have to upgrade first.
Users get a nice drag-and-drop email builder to create the exact look and feel they want for your email sequences. 
Sendinblue also makes setting up your first campaign very straightforward, and the automation feature makes it easy to set up a workflow.
The 'Contacts' database feature is also easy to use. There are dozens of integrations for you to work with, plus they also support SMS marketing and the ability to create Facebook ads from within the dashboard.
One nice feature is the ability to use their SMTP to track the performance of your transactional emails – you'd typically have to sign up for an entirely separate service to gain this type of functionality for your marketing emails.
Price: From $0 per month
Free trial: Yes (Permafree)
Deliverability:  96.3%
Intended for:  Can scale from beginner to enterprise
---
3. Omnisend
Omnisend is a service aimed squarely at online store owners who want to use multiple marketing channels.
They offer an extensive list of integrations with online stores and e-commerce platforms from Shopify to Wix, Amazon, and WooCommerce.
So once you've integrated it with your store, you can then set up a basic email marketing campaign with A/B testing if you want.
But Omnisend's real power lies in its pre-built automation that caters to everything from basic transactional emails to cart abandonment sequences.
Users can also leverage the audience segmentation capabilities of this tool to narrow down their audience and provide a more personalized shopping experience.
And then finally, Omnisend offers SMS marketing functionality, so you can contact your customers (locally or internationally) by text message.
Something to watch out for, however, is their email deliverability rate which stands at 85.1%.
Price: From $0
Free trial: Yes
Deliverability: 85.1%
Intended for: Online store owners
---
4. HubSpot
HubSpot is one of the better-known brands when it comes to email marketing tools. However, this is not a free email marketing tool. 
This is mainly because they produce and sell their own suite of SaaS tools and know-how to get the word out about what they're doing via content marketing.
HubSpot email differs from most free email marketing tools because it's more of an overall CRM (Customer Relationship Management) and free email marketing tool with email as a bonus instead of a single-function email marketing software. 
But what you get is more than enough for the marketing needs and marketing automation of an average business.
The tag-based contact management is a more modern take on segmenting lists and is now becoming the standard for many email marketing solutions.
A visual email builder allows you to create emails with a drag-and-drop interface without learning any code.
And then, you can automate one or more of your email sequences with a visual workflow builder, allowing you to map out potential interactions in advance, with A/B testing as standard. 
Is there a downside to HubSpot?
There are two:
Pricing – Once you upgrade beyond the 'Starter' package, HubSpot becomes very expensive to use.
Features – A beginner could end up with a lot of features (CRM, etc) that they'll never use.
So HubSpot's email marketing offering is best suited to larger businesses instead of solopreneurs. 
Price: From $45 per month
Free trial: 14-days
Deliverability rate:  91.6%
Intended for: Medium or large businesses
---
5. Mailchimp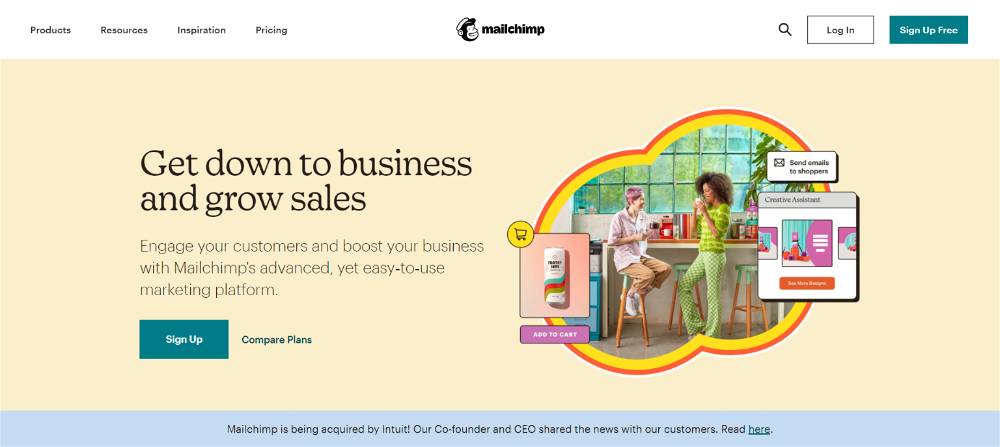 MailChimp was the original freemium email marketing tool, starting all the way back in 2001.
Mailchimp still offers the same freemium pricing structure today, but there are more limitations than before, like the maximum of 2,000 contacts/10,000 emails per month i.e you don't get unlimited emails. 
What happens if you go over your "free" plan allowances?
You get billed.
With that said, Mailchimp is still one of the best email marketing services for anyone working on a very strict budget. 
The drag-and-drop editor uses a series of 'blocks' to put together emails, which is similar to designing a page in WordPress.
You also get typical stuff like automation features, contact management/CRM, tag-based segmentation, and a large number of integrations. 
Two features that set Mailchimp apart from the competition are its 'Content Studio' and website design.
'Content Studio' allows you to store your brand images in one place, and it can even automatically create marketing images for you.
The website design feature allows you to put together a basic website for your business.
Price: From $0 
Free trial: Yes
Deliverability: 86.9%
Intended for: Anyone looking for a basic, free email service
---
6. MailerLite
MailerLite is another tool that provides a free way for marketers to handle their email marketing campaigns.
Well, it's free as long as you don't have more than 1,000 subs or need to send more than 12,000 total emails per month – you have to upgrade to a paid account once you reach the limits of your free account.  
This email marketing software offers its paid subscribers a snazzy HTML email designer, but free accounts have to make do with a rich-text editor instead.
With that said, the HTML editor of this email marketing software uses a drag-and-drop interface where you can simply drag specific types of layout blocks to wherever you need them.
Users of this email marketing software also get access to a forms builder for creating pop-ups.
The 'Sites' feature is where you create landing pages, which again come with pre-designed templates that you can tweak to suit your requirements.
And then finally, email marketing automation is taken care of via their 'Automations' functionality – this makes designing a workflow for email campaigns remarkably straightforward.  
The "Free" plan allows you to send up to 12,000 emails per month to no more than 1,000 subscribers. You will need to pay a monthly fee once you exceed 1,000 subs, but you get unlimited emails for that money.
You then have 'MailerPro' costing $100 per month and does everything MailerLite does but with A/B testing, and 24/7 live chat support, you can remove their logo from your emails, custom domains, additional templates, etc. added in too.
Price: Free plan or $100 per month
Free trial: 14 days
Deliverability: 96.3%
Intended for: A small business or solopreneur who wants an easy-to-use interface combined with predictable costs. 
---
7. Constant Contact
Constant Contact is one of the more recognizable email marketing platforms available today, due in no small part to this being their third decade in business.
Their acquisition by EIG/Newfold [1]saw an obvious restructuring of a service that hadn't changed much in decades.
As of right now, this email tool looks and feels far more like other modern email marketing services.
The campaign and email designer is easy to use, leading you through the individual steps of the process via the drag-and-drop email creator. I highly recommend checking our Constant Contact and Mailchimp comparison for an in-depth review of additional features.
They've also made segmentation easy by introducing options like filtering by "Most Engaged" or "Least Engaged". 
You also get access to a form/pop-up creation tool, a landing page builder, web page designer, plus a very usable reporting interface and integrations for a host of popular email marketing tools and apps such as Shopify, eBay, Etsy, Zapier, and dozens of others.
A nice touch is that you can use this tool to post directly to your social accounts on Facebook, Twitter, Instagram, or LinkedIn automation. You also get a library of images you can use either for these social posts or your email marketing efforts.
Small businesses might find it interesting that their $20/mo plan covers up to 3 users accessing the tool at once.
Price: From $20 per month (3 users)
Free trial: 60 days
Deliverability: 91.5%
Intended for: Small businesses with an active digital marketing team.
---
8. Aweber
Aweber is one of the grandfathers of email marketing services, first opening for business in 1998.
Their platform has changed a lot since back then.
They now offer a free email marketing service…as long as you don't have more than 500 subscribers.
For marketers who need more advanced features than just sending "Welcome" emails, Aweber has a lot to offer.
One example of this is their 'Web Push' notifications, which are just their version of push notifications, so you get more than just another tool to manage basic email marketing campaigns.
However, you do get all the usual functionality you need to manage your email broadcasts, subscriber management, a drag-and-drop email campaign creation interface, and email templates.
Aweber also earns some brownie points for having a very neat and tidy interface.
In terms of pricing and functionality, Aweber is as good as anything else on the market right now.
But where they fall down is their deliverability rate, which is currently sitting at 77%.
Price: From $16 per month
Free trial: 30 days
Deliverability: 77.6%
Intended for:  Businesses that need access to multiple marketing channels
---
9. iContact
iContact is a little bit more than just a typical autoresponder company – they have a lot to offer businesses in terms of email marketing strategy. 
The average user gets an email marketing tool that's free for up to 500 contacts or 2,000 emails per month.
When you log in, you'll find that the interface is eerily similar to Aweber's, but there are far fewer features to navigate.
Something they do offer that most other email marketing platform providers do not is a dedicated deliverability team. 
So, if you're having issues with email service providers tagging your email as spam or just outright blocking it, iContact's in-house deliverability experts can help with that.
This might be why their tool claims to have a 98% deliverability rate – the best on the market right now by at least 2%.
Price: From $15 per month
Free trial:  Yes – Freemium
Deliverability: 98% (claimed)
Intended for: Beginner email marketers who need a basic set of email marketing tools and features.
---
10. GetResponse
GetResponse is another OG in the world of email marketing services and coincidentally also launched its product to the public in 1998 – the same year Aweber entered the email marketing space. 
The first thing you'll notice is the dashboard is pretty dated-looking. You can't work in multiple tabs, so that slows things down a lot. One innovative feature though is that you can add different widgets to customize it.
In terms of the features themselves, you get a newsletter/email creator that again offers email templates that you can customize using a drag-and-drop "blocks" interface.
Their form or pop-up builder follows the same patterns but with a 'List Builder Wizard' that guides you through each step of the process.
GetResponse also comes with a tool for creating landing pages and a workflow automation tool that is far less visual than those offered by other services.
A website builder also comes as a standard. 
GetResponse differentiates itself from the crowd with its 'Webinar' feature, which is a nice touch because most marketing funnels tend to send people to a webinar.
The difference here is that your webinar software can integrate seamlessly with your email marketing service without using third-party tools.
The downside is their deliverability rate which currently stands at just 83.8%.
Price: From $15 per month
Free trial: 30 days
Deliverability: 83.8%
Intended for: Email marketers who make extensive use of webinars
---
11. Hunter.io
Hunter.io isn't an email marketing platform or service in the traditional sense. 
Instead, it's an email finder that's become very popular with marketers running outbound marketing campaigns for lead gen, guest posting opportunities, etc.
Finding an email address for a prospect typically requires quite a bit of detective work, looking at Facebook, Twitter, and LinkedIn profiles and company pages.
With Hunter.io you can input a list of domains, a list of companies, or even articles, and Hunter will output a list of the email addresses it located a few moments later.
These email addresses all come from publicly available data, so you're not doing anything illegal by using them in your email outreach efforts.
And it even has basic CRM functionality, so you can manage all your contacts in one place.
So although Hunter isn't a dedicated email marketing service, it does allow you to send targeted emails.
You can check out our review of Hunter.io here.
Price: From $15 per month
Free trial: Yes – 25 searches per month
Deliverability: n/a
Intended for: Marketers or businesses focused on email outreach
---
12. Drip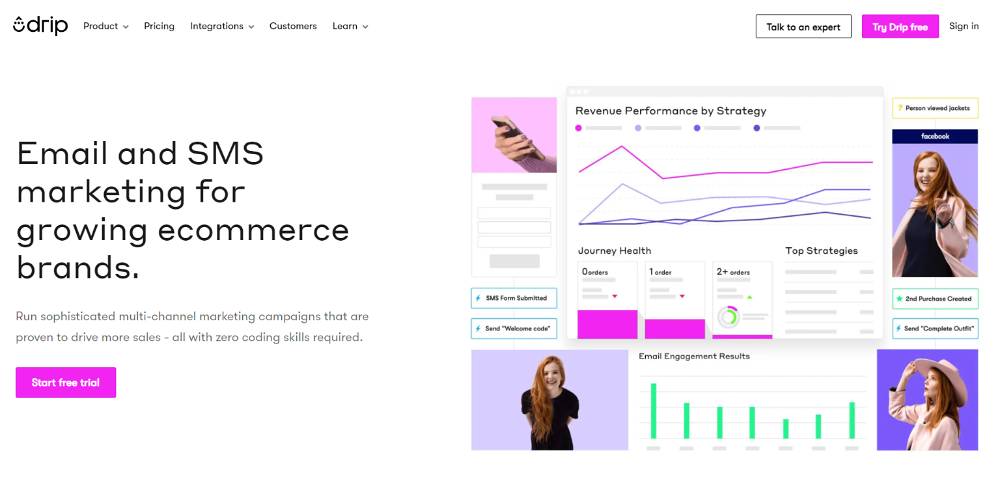 Drip is an interesting take on email marketing automation tools because it focuses on sending your subscribers the information they actually want instead of what you think they want.
Typical Drip campaigns start with an intro/welcome email and then ask the subscriber what type of information they're most interested in.
This then segments them to ensure that they only receive information or product recommendations they want from that point onward.
Drip is aimed at online stores or sites with e-commerce functionality built-in e.g. Shopify, WooCommerce, Magento, etc.
But it also has a ton of potential for marketers who want to be more creative with their campaigns, using informational content to engage individual segments of their list.
Once logged in you'll find an intuitive interface with all of the functions you'd expect from a tool like this.
'Email design' is your first stop – this is where you can start with a template or from scratch for your email campaign.
You also get a form builder and workflow functions to put together your sequences. And then there's 'Analytics' for all your reporting needs.
Drip also uses a very simple pricing structure – you only pay for the number of subscribers you have.
While Drip can be used for almost any form of email marketing its features and integrations are more geared towards e-commerce.
Price: From $19 per month 
Free trial: 14 days
Deliverability: 87.9%
Intended for: E-commerce store owners
---
13. EmailOctopus
Email Octopus is a relatively new name in our roundup of email marketing providers, and to date, their users have sent almost 15 billion emails. 
Their mission is to offer email marketing that is, "…simpler, more intuitive and better value".
The first incentive to sign up with them is their freemium package which covers 2,500 subscribers or up to 10,000 emails per month i.e. 4 emails to a list of 2,500 people.
So they're trying to tap into the current popularity of "free" email marketing software. 
Once you've signed up, you have to set up a list and a campaign before you can access the rest of the dashboard – this is while they're also "…reviewing your account". 
Apart from that, you get email templates where you can design your own from scratch with the drag-and-drop builder or use one of their premade templates instead.
Users also get a landing builder, forms tools, and reporting tools as standard – Email Octopus ticks all the boxes.
Price: Free or $24 per month
Free trial: Yes
Deliverability:  TBC
Intended for:  Marketers who are looking for a solution based on cost.
---
14. Keap/Infusionsoft
If you're not familiar with the brand name Keap don't worry – this SaaS email marketing solution was called Infusionsoft for almost 20 years.
Keap focuses quite heavily on its CRM functionality like settings tasks, reminders, and following up on appointments, as well as its many marketing automation features. 
Email marketing is a component of Keap, so you can use it to send automated emails, create forms, etc. But there's so much more to this software than just email campaigns. 
You need to be prepared to pay for the privilege of using Keap because you have to sign up for mandatory 'Expert Coaching' as part of the signup process…which costs an eye-watering $499.
That's outside your monthly costs for your 'Lite', 'Pro', or 'Max' plan – that's up to $100 per month for 500 contacts. 
So Keap is an extremely powerful but equally costly email marketing solution that will only appeal to specific audiences.
Price: From $40 per month
Free trial: Yes, but difficult to sign up for
Deliverability: 97%
Intended for: Sales-focused SMEs
---
15. Mailjet
Mailjet has been around since 2010, setting out to be an email marketing service that made life easier for marketers and developers alike.
That means it provides users with a level of customization down to the code level – something you won't find available in most email marketing tools.
It's only when you get into the email design interface that you see just how powerful Mailjet is.
You can use their pre-made templates, or tweak them to create your own, but you can also import HTML designs from outside the tool, hand-code your template or even use their proprietary MJML[2] coding tool to create responsive emails that render correctly I popular email clients.
So this is where Mailjet sets itself apart from its competitors because it allows dev teams to work seamlessly with marketing teams.
Mailjet pricing plans are also affordable and cover everything from a free account that allows up to 6,000 emails per month to enterprise solutions for companies that need to send unlimited emails.
Price: From $15 per month
Free trial: Yes
Deliverability: 89.6%
Intended for: Companies that want to be able to design emails at a code level. 
---
Overall Winners
Which tool is best for email marketing? Are there any good free email marketing tools? What are the best free email marketing tools? 
There's no one-size-fits-all solution – each tool or service caters to a specific audience or a specific need. 
So we've put together the winner in 3 individual categories – solopreneurs, e-commerce stores, and best overall. 
Best Overall
Active Campaign is the best overall email marketing tool in this roundup.
For those of you not familiar with this free email marketing tool, it offers all the functionality you could want for standard email marketing campaigns, but you also get powerful segmentation along with quite possibly the best email marketing automation tools on the market.
And they do this without charging a ridiculous amount of money – their plants start at just $7.50. But they also offer a free email marketing version as a trial for your first few email marketing campaigns. 
It's also the email marketing tool we use internally.
---
Best for Solopreneurs
Sendinblue is our winner as the best free email marketing tool for startups or small businesses that just need a really good solution with a broad range of features. They offer a free version and one that's also very affordable thanks to its tiered pricing plans.
It's basically a marketing toolbox for small businesses.
---
Best for E-commerce Stores
This was an easy choice – Omnisend is designed specifically for marketing automation to cater to online stores and anyone with an e-commerce business.
Yes, the best free email marketing tools do offer much of the same capabilities via integrations but you tend to get better results with a specialized product offering like this one i.e. they have cart abandonment templates as standard.
---
Which Email Marketing Tool Do We Recommend in 2023? 
The goal of this roundup was to show you the wide variety of email marketing tools available right now.
And, as you can see, there's a great email marketing tool or suite to suit the majority of needs and budgets.
It's just a case of selecting the one that best suits your needs right now but that can ideally also scale with your business.
Our personal favorite from the above list is Active Campaign because we use it on a day-to-day basis – we're big fans.
Just make sure to evaluate deliverability rates before you make your final choice.
After all, there's no point in saving $5 each month if up to 25% of your emails bounce or get tagged as spam.
Our #1 Recommendation: Active Campaign