For better or for worse, the internet has revolutionized how we do business today. Telemarketing, print ads, and billboards dominated the advertising industry for decades, but now, it's all about reaching your target market online.
In 2023, if marketers don't have a website, profiles across social media, and a strong online presence, they're losing out on big business.
A digital marketing strategy that incorporates different platforms and practices can help you stand out in an oversaturated online landscape.
Drawing from our extensive expertise in the field, we've created this guide to provide you with a thorough understanding of digital marketing, its various types, and how you can harness its power to achieve your business objectives.
What Is Digital Marketing?
Digital marketing is a blanket term that encompasses all forms of marketing activities done over digital channels. This includes computers, mobile phones, and other electronic devices.
The term is most often used to refer to online marketing efforts such as email marketing, mobile marketing, content marketing, blog posting, search engine optimization (SEO), and social media marketing. But most marketers don't know that digital marketing also extends to non-internet mediums like SMS/text messages, television, and even radio.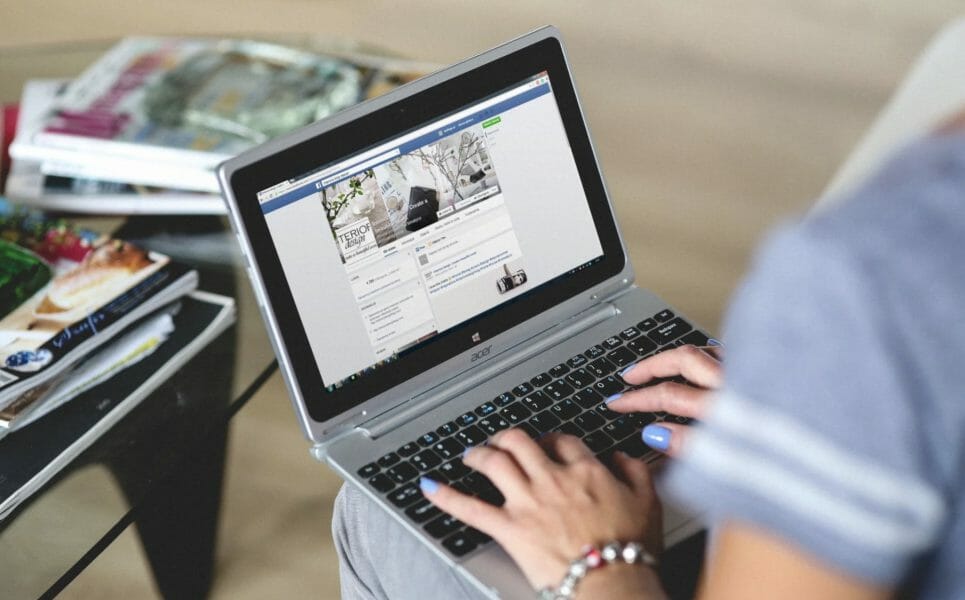 Compared to other forms of marketing, digital marketing channels emphasize the value of dialogue, whether that's between the brand and customer or a group of customers. And with over 3.6 billion active internet users around the world, it offers businesses a great way to connect with more potential consumers than ever before.
Digital marketing channels have several advantages over more traditional 'offline' marketing. Here's why:
It's effective
Digital marketing has proven many times over that it can help you improve conversion rates and attract more buyers. This is partly due to the fact that digital marketing platforms allow you to target specific demographics and entice people who are already at the start of the customer journey. A digital marketing channel is a must for any serious business.
It has a wide reach
Whether you're targeting customers from your local community or marketing to a consumer base halfway across the globe, digital marketing platforms let you reach out to a wide target audience with relative ease.
It offers a range of possibilities
The most effective digital marketing strategy makes the most out of different platforms, like combining blog posts with social media marketing and email marketing and/or mobile marketing (mostly done through websites, phone number, social media, or mobile applications).
With more than a dozen varieties of digital marketing strategies, the possibilities are almost endless, and marketers can personalize their approach depending on their business. Plus, digital marketing platforms allow you to tweak your strategy as you go, which helps you achieve better results almost immediately.
It gives you valuable insight
Digital marketing is one of the easiest forms of marketing platforms to track. There are plenty of tools and social media analytics platforms that monitor your marketing campaigns' progress across the most important online metrics: impressions, comments, conversions, clicks, engagement, and more. From here, marketers can gain valuable insight that will help them optimize their marketing strategy.
It reduces advertising costs
Billboards and commercials can cost thousands if not millions of dollars. Most small businesses can't afford traditional paid advertising; therefore, they can't afford to compete with big companies and established brands. In contrast, digital marketing platform is much more affordable and flexible.
Whether your budget is $500 or $50,000, there are options for you. In fact, you can still do digital marketing campaigns on your own without paying a single cent.
12 Common Types of Digital Marketing Strategies
There are many types of digital marketing. Today, we'll go through a few of the most common types that marketers like you can use for their business.
Keep in mind that no one type is inherently better than the other – it all depends on your specific circumstances and needs. Plus, you can (and should) combine different kinds for a super-charged advertising strategy.
1. Content Marketing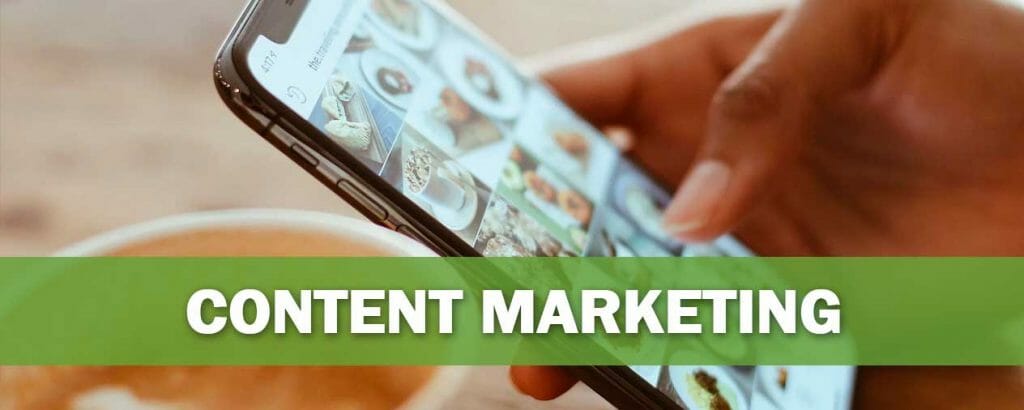 Content marketing is one of the best indirect types of digital marketing.  Usually, businesses market themselves by promoting their products, services, or branding. With content marketing, you shift the focus to promoting your value through relevant and useful content. As Lee Odden, CEO of TopRank Marketing, said,
"Content is the reason search began in the first place"
– so leverage that to drive conversions.
Content marketing encompasses many forms of content. Blogs, videos, social media posts, e-books, brochures, infographics, case studies, and templates are all examples of popular content types on the web. An effective content marketing strategy is all about creating content that your audience want to see, with the aim of influencing their purchasing decisions down the line.
As they say, "content is king" – content marketing drives results, increases trust, and builds brand awareness. By publishing high-quality content, you establish yourself as an authority within your field. Great content is also more likely to be shared and referenced, boosting your reputation among both customers and fellow industry experts.
Another benefit of content marketing is that it ties well with any digital marketing effort. Good content should be the foundation of your digital marketing strategy.
For example, you can write articles that incorporate crucial keywords for SEO, you can create highly engaging posts for Instagram and Facebook or even make a QR Code to include in your traditional marketing material – all of which link back to your site where shoppers can find more information about your products or services.
If you are a service based business, or sell high-ticket products, combining your content marketing with proactive customer service is a powerful, one-two combo.
2. Search Engine Optimization (SEO)
Search engine optimization (SEO) has been the marketing buzzword of the decade, and for good reason – more than 90% of online experiences begin with a simple online search through search engines like Google and Bing..
With SEO, marketers could rank on the search results page (e.g. Google, Bing, and more) for their most relevant keywords and reach tons of potential buyers or consumers in the way. After all, more than 63,000 searches are made every second. That's a lot of untapped potential!
An effective SEO strategy is made up of several synergistic techniques, including (but not limited to) keyword research, content creation, backlink building,
technical website optimization
, and more. There's even a specific subset called
local SEO
, which focuses on marketing small businesses to their local communities.
One of the reasons that this has become popular is because it's an effective form of inbound marketing platform. This means that instead of reaching out to customers (who may or may not be interested in the first place), marketers focus on bringing customers this way via search engines – and these customers are, more often than not, already looking to make purchase decisions.
SEO helps marketers with their social media marketing and it optimizes their online presence so that they bring in high-quality website traffic with high conversion potential.
The biggest drawback is that SEO can get rather complicated and time-consuming for the average business owner, especially since the algorithms that search engines like Google uses to rank content are updated all the time. Thankfully, there are many digital marketing agencies that offer comprehensive SEO campaign management services across different search platforms.
If you'd rather have a skilled digital marketer or a marketing team handle your SEO work, then check out The Search Initiative, an agency that's worked with the likes of Ahrefs, Skyscanner, SEMRush, and the New York Post.
3. SEM – Search Engine Marketing
Search engine marketing (or SEM) often gets confused with SEO because both have very similar names. Both also deal with search engines like Google or Bing. But these two types of digital marketing differ in some way and it's important to know the difference between SEO and PPC.
While SEO helps marketers rank organically for their target keywords, SEM is all about increasing their website traffic from search engines through paid advertisements. The two most commonly-used SEM services are Bing Ads and Google AdWords.
SEM helps marketers put paid advertisements on the search results page. These ads look almost identical to organic search results in Google, except for an "Ad" label. They appear at the top of the search results – before any organic search results – giving you great visibility and instant brand awareness.
Digital marketers love SEM because it's easy to create targeted search results ads based on keywords and the searcher's location. This means you can narrow your ads down to a specific demographic or area. You can even take it a step further and target competitor keywords, making it possible for you to "steal" some traffic from a competing business.
SEM is not meant to be a replacement for search engine results pages optimization. Marketers should always incorporate a bit of both to drive as much search traffic to their website as possible. Explore our comprehensive article for a detailed SEO and SEM comparison.
4. SMM – Social Media Marketing
Social media marketing (SMM), as the name implies, is all about using the power of content on social media to market your business. Social media networks have dominated the digital media over the last decade, attracting millions or even billions of users across the globe. This makes them a valuable source of traffic.
Just check out how many people there are on the three most popular social media platforms:
Facebook – 1.66 billion active daily users
Twitter – 330 million active monthly users
Instagram – 500 million active daily users
The key to successful social media marketing campaign is creating shareable (maybe even viral) content. Marketers could post directly on their profile, or they could add social media sharing buttons on their website to allow people to share their content with their friends and family.
There are also sponsored posts and paid ads for each social media network, but you don't need to shell out money to get a large following. Ultimately, that's one of the biggest advantages of social media marketing – it's accessible, and affordable, even for small businesses.
Social media channels are important parts of any effective digital marketing strategy because it's one of the few channels that offer two-way communication between your brand and your customers.
Users can like your posts, leave a comment, and engage with your content. Some platforms even allow users to directly message your business for inquiries and purchases, so they're great for generating more leads as well, even more profitable when combined with mobile marketing.
And with tools like Hootsuite, or its alternatives, you can schedule and track your posts to get insights on what works for your business. You can check Hootsuite and Buffer comparison for an in-depth features review.
5. Pay-Per-Click Advertising
Pay-per-click or also known as PPC is one of the most common types of digital marketing.  It's a specific advertising model where you only pay for the number of clicks that you get on your ad. PPC is under the SEM umbrella when it applies to ads on the SERP, but it can also extend to affiliate marketing (more on that later) and display advertising on another site.
When you put out a PPC ad, there's usually little to no upfront cost. If a customer clicks on your ad, you pay a minimal cost. If no one clicks on it, then you pay nothing. This makes it attractive for small businesses who are on a limited budget. However, it's also difficult to predict how much you'll have to shell out at the end of the month.
The average cost of a click is around $1-2, but it largely depends on your industry and what keywords you want to target. Extremely competitive industries or keywords will charge more – the highest cost-per-click is in the insurance industry, where some keywords can cost as much as $50+ per click. On the other end of the spectrum, some keywords will cost you mere cents.
6. Affiliate Marketing
Wondering, what is affiliate marketing and how does it work?
Affiliate marketing is one of the most lucrative types of digital marketing. It involves a partnership with an online retailer where you earn a commission from every sale or lead that you bring in. The two most common ways of doing this are:
Offering a unique discount code to their readers/followers
Linking to your website from their content website
Whenever a user plugs in the discount code or clicks on the link, you pay your affiliate partner for the site traffic/sale. The most popular affiliate network is Amazon Associates, but there are also affiliate marketing programs with eBay, Shopify, and other e-commerce site. You can also skip the middleman and establish your own affiliate program.
It's a win-win in most cases. You outsource some to a marketing team, reach a new target audience or consumers in niche communities, dictate your cost-per-click/sale, and only pay for actual conversions. In return, your partners get to earn a passive income with no upfront cost and very little stress.
There are a couple of drawbacks and challenges, however. If you choose to do affiliate marketing through an established affiliate network like Amazon Associates, you are competing with literally thousands of other businesses. You are also bound to the rates set by Amazon, and you must learn how to work with their system to achieve any kind of success. (You can learn more about how to effectively promote your affiliate products through
The Affiliate Lab
.)
If you go the other direction and establish your own affiliate program, you have much more control. However, you also need to handle the rest of the operations like reaching out to potential affiliates, training them, and monitoring the leads they bring in.
7. Email Marketing
Email marketing remains one of the most popular and effective types of digital marketing. This is a testament to how effective this tactic actually is;
HubSpot even estimates that the average ROI for email marketing is $38 for every dollar you spend – a whopping 3,800% return for something as simple as email. (
1
)
Email marketing is a great way for you to promote your products and services, build relationships, inspire customer loyalty, and gain valuable feedback from your customers. The trick is to build an email list, create engaging email marketing content targeting your audience or consumers, craft enticing subject lines, and strategize the best time to do an email blast.
There are limitless possibilities to the types of emails you can send. Most consumers are already familiar with the brand newsletter where you can give regular updates on the goings-on of the business. You can also send out emails whenever you're launching a new product or service, revamping your site, opening a new store, or hosting an event. Confirmation emails, thank-you notes, and notifications are also considered email marketing.
8. Instant Messaging Marketing
Instant messaging is most often used to connect with friends and family, but it can also be used by businesses to connect with their market. And not just to answer questions or fulfill orders but to promote themselves, too.
Marketing through instant messaging apps requires a slightly different approach to other types of online marketing tactics because of the one-on-one nature of chat. Ideally, you should personalize your messages, inspire action (e.g. "Learn more", "Buy now", etc.), and most of all, keep it short and snappy. Users are likely to skip over long messages.
One of the more underrated types of digital marketing, IMM is the marketing type that offers many advantages for your business:
One, setting up a profile or account is a no-brainer.
Two, instant messaging is, well, instant. Customers can (and often do) view and respond to your messages immediately.
Three, you can often create lists or groups to segment your target audience or consumers, allowing you to send the most relevant messages to the right people.
When considering which messaging apps to sign up for, a few stand out above the rest. WhatsApp comes out on top, with more than 1.5 billion people on the app. Facebook Messenger is a close second at 1.3 billion people, while WeChat, Viber, and Telegram round out the list with a few hundred million users.
9. Video Marketing
Video can be an extremely powerful online marketing tool – that is, if you know how to do it right. Considering that more than half of consumers want to see video content from their favorite brands, there's no denying the necessity of incorporating videos into your digital marketing strategies.
Through video marketing, you can promote your business, increase traffic to your site, educate shoppers, encourage engagement, and even go viral. There are many different types of digital marketing videos that you can create:
Demo videos allow you to showcase your product.
Educational videos are great for teaching customers about a new concept or instructing them on how to do a particular task.
Event videos help you highlight the most interesting parts of your event whether it's a conference, meeting, seminar, party, or fundraiser.
Interview videos allow you to get insight from an expert in your field. Not only does this help educate your customers, it also builds your credibility.
Testimonial/case study videos let you demonstrate to users why your business is the best choice. Hearing from other satisfied consumers and seeing actual results can go a long way in converting a customer!
10. Influencer Marketing
The term "influencer" might be relatively new, but the concept isn't. It just refers to a social media content creator who has a large following within a certain niche or community. They might not have the pull and name recognition of an A-list celebrity endorser, but that doesn't mean they are less effective as a marketing tool.
Think of influencer marketing as an "upgraded" version of the word-of-mouth marketing platform. By partnering with an influencer, you gain access to their audience – often in the hundreds of thousands of followers. These followers often trust and admire the influencer, which makes them much more likely to buy a product recommended by one.
Just like there are many variaties of celebrities (e.g. actor, musician, public figure, etc.), there are also many other types of influencers. The kind that you target depends on your target market, nice, and budget:
•  Micro-influencers are people with thousands of followers, but usually not more than 100,000. These are people who usually have a specific niche or expertise and are trusted within their community, no matter how small. Plus, they're also usually much more affordable.
•  Macro-influencers are people who have anywhere from 100,000 to a million followers. These influencers are usually at the top of the social media crop. If you want a bit of expertise and a bit of reach, then this is the influencer type to target.
•  Mega-influencers are people with millions of followers. These are usually celebrities, but some social media stars make it to this level as well. While you get the most reach out of mega-influencers, sometimes casting too wide a net doesn't get you as many clients as you'd like. Also, mega-influencers often charge exorbitant rates, like thousands or even millions of dollars for just one post.
When doing influencer marketing, just make sure that you are targeting the right influencer and, therefore, the right target audience. You also have to be wary of influencers who have "bought" followers. Dan Seavers of Talkwalker recommends focusing on micro-influencers, who are more likely to be genuine.
"Not only are they less likely to cause a major issue if the content is ill-received, but because of their highly nurtured audience, they'll usually drive a higher engagement rate than celebrity influencers."
11. Radio Advertising
When most people think of "types of digital marketing", they often overlook the fact that radio advertising was actually one of the first digital marketing tools ever invented. And it is not a thing of the past, either – in the US alone, radio broadcasts reach over 230 million users aged 12 and up.
Besides its wide reach, radio ads is also one of the more cost-effective digital advertising methods. It's easy and cheap to produce since all you need is a good script and a talented voice actor. However, you need to be smarter about how you market to your target audience because you can't control who listens to your ads.
12. Television Advertising
Yes, television marketing is under the digital marketing platform as well! TV commercials have been the bread and butter of the advertising industry for decades, largely because adults spend hours in front of the television every day. By doing TV ads, you're getting potentially millions of eyeballs on your ad – and a few might even become clients.
But television advertising in 2023 comes with a host of obstacles. First, there's the cost barrier. TV ads can cost thousands of dollars to produce and air, thousands that a small business might not be able to spare. Second, viewers are finding more and more ways to avoid ads through DVRs, streaming services, and illegal downloads.
With So Many Types Of Digital Marketing: What To Do Now?
Digital marketing is a vast and exciting landscape. With so many different varieties of digital marketing and social media marketing, there are endless possibilities for your business.
You don't have to incorporate all types of digital marketing into your strategy, but you also shouldn't hyperfocus on just one aspect. Most companies would do well to start with a mix of website optimization, content marketing, SEO, SEM, and social media; and then expand to other types as you get a feel for digital marketing.
Test out a few, and find the ones that produce the best results!
Does your business needs help with its digital marketing? I've put together a team of world class digital marketers to help your business flourish in an online world.
Contact the team at The Search Initiative for a free consultation.
Get a Free Website Consultation from The Search Initiative: