If you have been looking up tools to help with social media management and scheduling your social media posts, you have likely come across Buffer and Hootsuite. These two are among the most popular social media tools for scheduled posts. 
With years of experience with social media tools, we are experts at helping you understand how to use them to benefit your business. We have spent months researching both Hootsuite and Buffer and evaluated them based on their features, price, and more to help you choose the best social media management solution for your business. 
Quick Summary
Hootsuite is a social media management platform that is best for a small or medium-sized business and integrates with several social networks and social media accounts.

Buffer is a social media marketing platform designed for individuals and small social media teams. They offer advanced and reliable features to keep up with social media trends.

Both Hootsuite and Buffer offer great features for social media management and connecting to several networks.
What Is Buffer?
Buffer is an all-in-one social media tool that helps you organically build an audience. They allow you to produce clickable content, grow your following, save time, and coordinate postings.
It can draft and schedule posts for several social media channels simultaneously and comes with a dozen of social media management tools.
What Is HootSuite?
Hootsuite is a social media tool that helps businesses to create great content and increase their following. It allows you to create and schedule many social media posts, plan your content and save time. It also provides social media monitoring and monthly performance reports.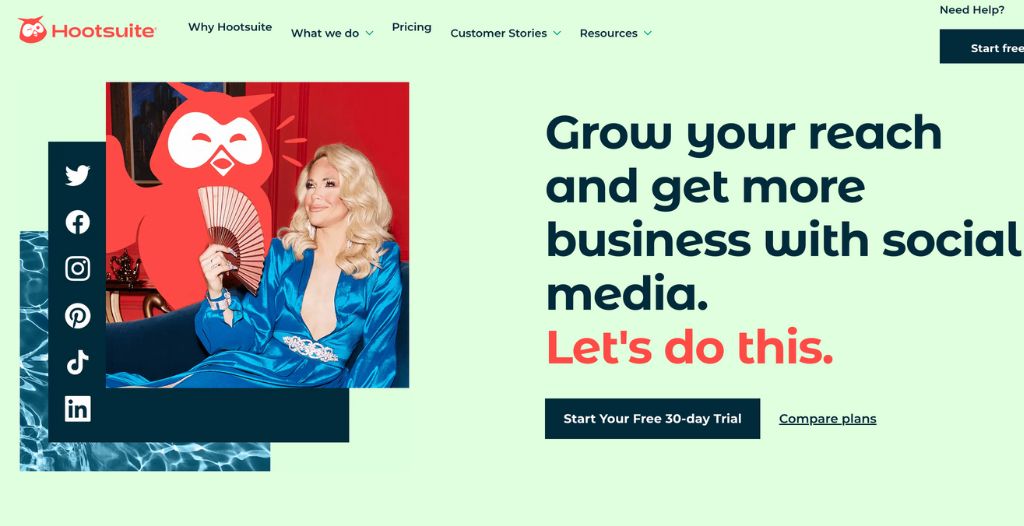 Who Is Hootsuite Made For?
Hootsuite is a social media management software that is great for any business; however, the package offers the best value for a small or medium-sized business. Hootsuite integrates with several social networks and provides a dashboard for managing scheduled posts and social media activity all in one place.
For a larger business, the subscription cost can increase quickly, and Hootsuite lacks premium collaboration tools for enterprise-sized companies to manage their social media presence.
Who Is Buffer Made For?
Buffer is designed for individuals and small social media teams. It is simple to navigate but has reliable and advanced features for a social media management tool. Their new content creation tool, Pablo, helps to make up for the lack of Google Drive integration. 
Social media is about people, not about your company. Provide for the people, and the people will provide for you.
– Matt Goulart, Founder at Ignite Digital
Features Comparison
Hootsuite and Buffer offer similar basic features. They both cover social media scheduling, social media audit tools, and marketing analytics dashboards; however, there are some unique features offered by both platforms.
HootSuite Features
Hootsuite offers a user-friendly platform for monitoring social media trends, post scheduling across multiple social accounts, and more. Their post scheduler is one of the best in the industry. There is no limit to scheduling posts on Hootsuite. In total, they offer 35 options for social networks to connect to. 
Hootsuite's collaboration tools allow you to assign and monitor team activities through team management, and it helps monitor your social media campaign. 
Buffer Features
Buffer's management tools have significantly improved in the past few years. Their central feature remains the automated post scheduler to schedule posts manually to your social accounts. It also offers conversation management and social analytics. 
Buffer now has three separate products, including: 
Buffer Publish:

Allows you to create and publish your social media content or schedule posts in advance. Buffer Publish remains a superb tool for scheduling content and has been improved further by its recent upgrade.

Buffer Reply:

Monitor and manage your social media conversations across all platforms within one inbox. Buffer Reply contains some practical automation rules for identifying topics in audience comments and assigning them to specific team members. Buffer Reply's social listening tools are practical for Twitter, but they still lack detail when it comes to Instagram and LinkedIn analysis.

Buffer Analyze:

Create marketing reports and analyze your social media performance. Buffer Analyze contains all of Buffer's new reporting features, including some intriguing features for content marketing insights.
Customer Support Comparison
HootSuite Support
Links to connect to support can always be found on Hootsuite. Every page has a feedback button to create a support ticket. This directs your issue to customer service, and you receive a solution over email. The support teams are also available through Facebook and Twitter and respond within 12 to 24 hours. They do not provide live chat or phone support.
Buffer Support
Buffer support is available through email and social media on Facebook and Twitter. They provide a sound knowledge base for minor issues on a wide variety of topics. Buffer also doesn't offer live chat or phone support similar to Hootsuite.
Hootsuite Vs. Buffer: Ease Of Use
Hootsuite Ease Of Use
Hootsuite has many features we can expect a standard social media tool to have. The streams tab complies with a side-by-side feed of everything, while the mobile app focuses on critical points to address. The Hootlet Chrome extension allows you to share content from any website easily.
Compared to Buffer, the Hootsuite interface can seem a little outdated and clunky.
I use social media as an idea generator, trend tracker, and strategic compass for all of our online business.
– Paul Barron, CEO and Creator at Foodable Network
Buffer Ease Of Use
Buffer has a more modern and slick interface that is simple to use. They have an app for iOS and Android, and the overall look is designed with mobile use in mind.
The dashboards are sleek and occasionally minimalist, which allows you to focus solely on the details you need. Setting up an account is simple and can be done in seconds. You can easily connect multiple social media accounts and start scheduling posts immediately.
Pricing Comparison
Hootsuite Pricing
Hootsuite offer four paid subscription plans plus a free account version. The cheapest paid option is the Professional, which starts at $29 per month and includes up to 10 social media profiles, basic analytic features, and one use.
The Team account is $129 per month for three users, 20 profiles, and Hootsuite certifications. The Business account is $599 per month and includes up to 10 users, 35 social media profiles, training and premium app integrations, and more.
The free account allows you to connect up to three social media profiles and schedule 30 posts a month, which should be enough for a smaller business. They also offer a 30-day trial for all their subscription plans.
Buffer Pricing
Buffer makes it simple to sign up and even offers a 14-day free trial. Buffer offers three separate products, including Buffer Publish, Buffer Reply, and Buffer Analyze. Whether or not Buffer offers a good value for your business depends on the add-ons that you need.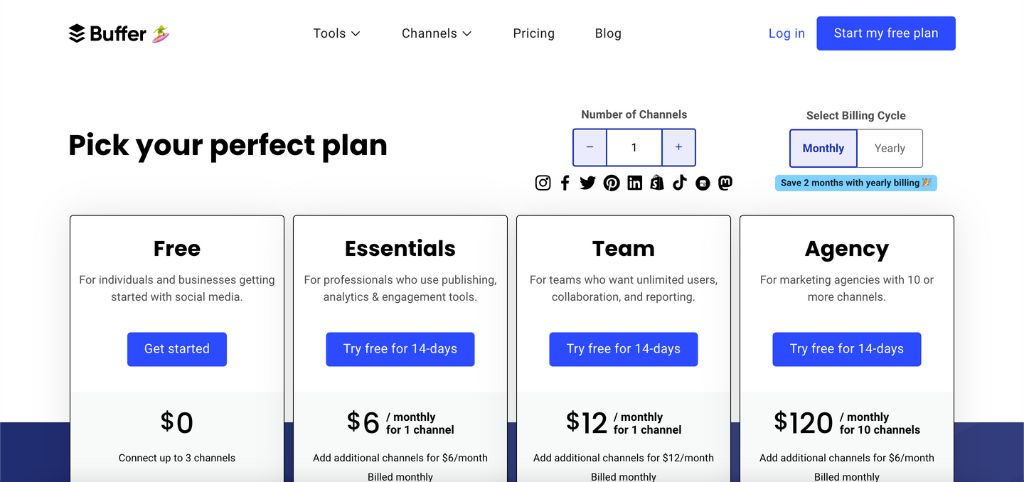 Buffer Publish costs $12 per month for one user and eight social media profiles. The Business plan is $85 per month for six users. If you only need the Buffer Publish tools, the $12-a-month option will suffice.
The Pro with Reply costs $42 a month for one user and allows access to their conversation management tools. The Business option offers advanced reporting and automation for one user at $188 per month. 
Buffer Analyze has a Pro account for $28 per month and a Premium account for $40 per month. Premium access allows Shopify integration and Instagram story analytics.
Buffer also offers a free version that connects three social media networks and allows 10 scheduled posts versus Hootsuite's 30. 
Integration Comparison
Hootsuite Integration
Hootsuite is far above competitors when it comes to software integration. The Hootsuite app directory offers over 150 applications, including free Adobe Stock and Google My Business apps.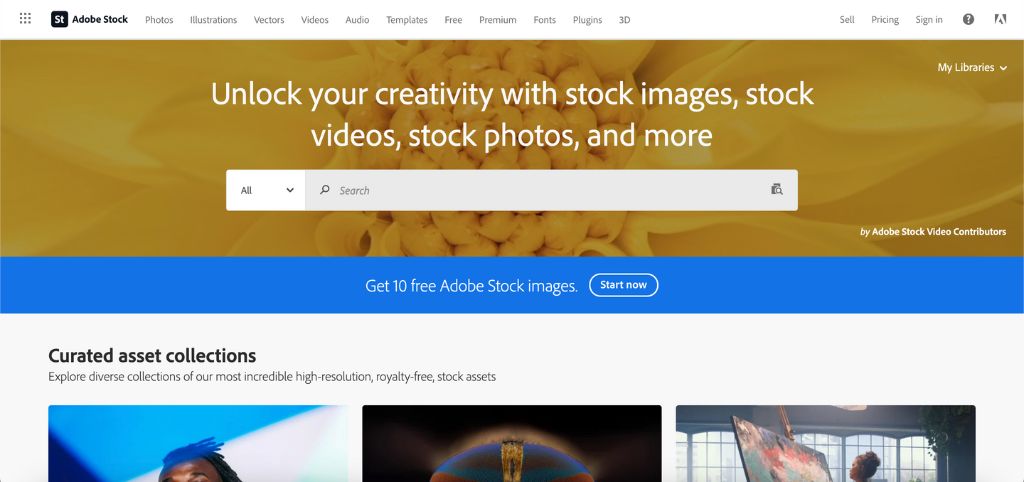 Most of the apps they offer are free to use; however, there are a few paid apps, including Basecamp and Slack. Hootsuite is very flexible and customizable for working with other marketing tools.
Buffer Integration
Buffer also offers a variety of integration options that can connect Buffer publishing to your existing platforms. The selection of available apps has a narrow focus on social media than Hootsuite.
Analytics Comparison
One of the critical aspects of social media marketing is to analyze how effective their marketing is. Analytics allow you to see the gaps in where you can improve your social media marketing.
Hootsuite Analytics
Hootsuite analytics is great for Twitter and Facebook reporting. They have clear dashboards to reflect all major social media metrics with added insight into how the audience responds to certain types of content.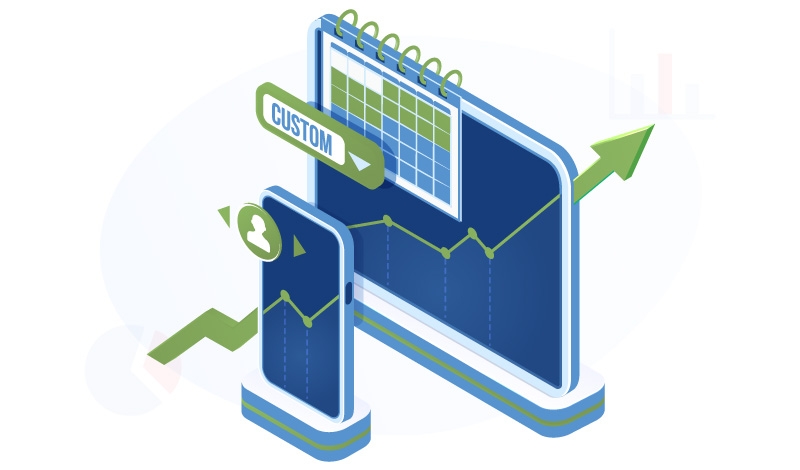 Their data can also help you identify influencers to work with. However, some of their advanced features are only provided with a Business or Enterprise subscription.
Buffer Analytics
Buffer analytics features a user-friendly version of social media data. Their dashboard is great for getting a sense of performance, but you can also dig deeper into the numbers to see which of your posts have worked the best in the past.
They also offer a template builder to add reports and graphs to your weekly dashboard.
FAQs
Is Buffer For Instagram Free?
Yes, Buffer for Instagram is free. Buffer's free version allows you to connect to three different social media profiles, one of which can be your Instagram account. 
How Long Will It Take To Become Hootsuite Certified?
It can take hours, days, or weeks to become Hootsuite certified. How long it will take depends on how fast you can get through the course.
Hootsuite created an academy where you can become certified in social media marketing. After the training, there is a 60-question exam which can take 2 to 2.5 hours.
What Platforms Does Buffer Work With?
Buffer works with Twitter, Instagram, Facebook, Pinterest, Tiktok, and more. Buffer allows you to create images with the perfect size and format for all of these platforms.
What Is The 80-20 Rule With Hootsuite?
The 80-20 rule with Hootsuite is that 80 percent of your post should educate, inform or entertain your audience and the other 20 percent can directly promote your brand.
If you are starting out from scratch and don't know what type of content to post, the 80-20 rule can guide you.
How Many Instagram Accounts Can I Host On Buffer?
You can host up to five active Instagram accounts with Buffer. Instagram has a limit of five active accounts per device. 
Why Should You Use Buffer For Social Media Platforms?
Buffer is a handy tool for almost all social media management and specifically for Instagram. If you are a business with a young audience or your brand focuses on images, Buffer is a great choice for managing social media platforms.
Can I Use Buffer With Personal Accounts?
Yes. Buffer is for professional or personal use. They offer several plan options based on your needs, from free to paid plans to schedule posts.
How Often Should I Post On Hootsuite?
Hootsuite recommends posting up to three-time slots per week to help you schedule posts while your audience is online. Hootsuite recommended times display by default, and you can select settings and show recommended times.
Hootsuite Vs. Buffer: Which Is Better?
The answer to which is better depends on your business and needs. Hootsuite is the more expensive option but comes with more features that an enterprise business may need and can afford.
Buffer is a cheaper option, but if you have a large business, you may feel that there are too many feature limits.
No matter which tool you choose, you can be sure you will reach your performance goals, customer reach and produce more effective posts.