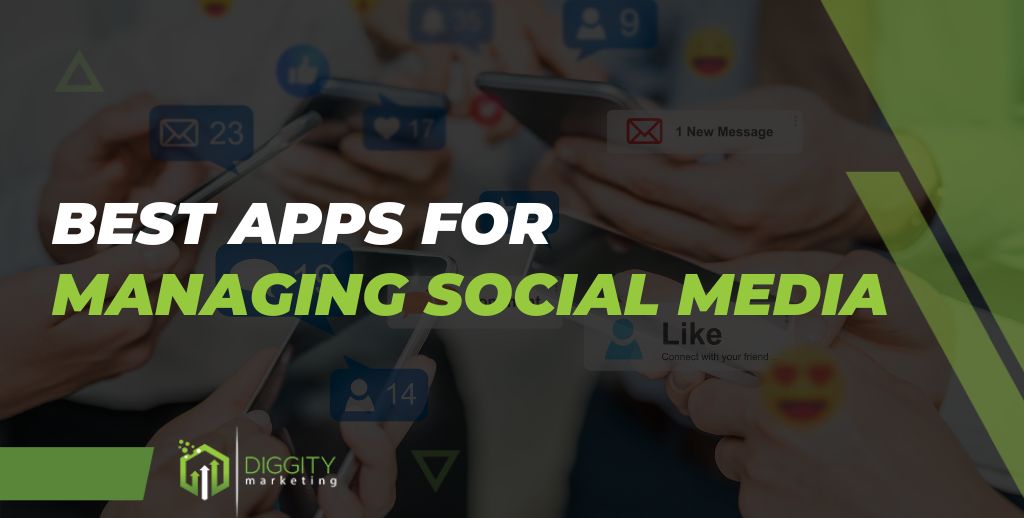 In today's ever-changing digital world, having a strong online presence isn't just an option – it's a must. Whether you're running a thriving business or shaping your brand, social media is front and center in everything you do.
As a digital marketing expert with years of experience, I have carefully selected the 10 best apps for managing social media. After using these apps to manage your social media accounts, you will have the knowledge and expertise to create, schedule, and analyze your content.
1. SocialPilot (Editor's Choice)
SocialPilot is one of the best social media management tools for digital agencies or medium-sized businesses handling multiple clients or accounts.
With a focus on workflows, permission settings, collaboration tools, and custom reporting for clientele, SocialPilot is an excellent choice for large teams.
In addition to the basics, SocialPilot includes a full social inbox that allows teams to engage with their audience and post content automatically.
This app supports major social media platforms like Facebook, Twitter, Instagram, LinkedIn, and more. It also includes a mobile app for on-the-go management [1].
In my experience, SocialPilot has a slightly steeper learning curve than some other social media management apps, but it provides many advanced features for users.
Pros
Comprehensive social media management tool

Supports major social media platforms 

Full social inbox feature for audience engagement
Cons
Steep learning curve
Our Rating
Ease of Use: 4.9
Features: 4.9
Analytics: 4.9
Pricing: 4.9
---
2. Buffer
Buffer is a popular social media management app known for its user-friendly interface and powerful features. With Buffer, users can easily schedule posts for all major social media platforms, including Twitter, Facebook, Instagram, LinkedIn, and Pinterest.
Buffer offers a content calendar that comprehensively summarizes all scheduled social media posts. Its analytics feature allows users to track their performance and make data-driven decisions for their social media strategy. One of the unique features of Buffer is its ability to suggest the best times to post based on audience engagement and activity. 
This app is great for social media managers looking for a reliable tool to streamline their social media management and simplify their workflow. 
In my experience, Buffer makes managing multiple social media accounts less stressful and more efficient.
Social media apps aren't just tools; they're your backstage pass to understanding your audience and tailoring your content for maximum impact
– Mari Smith, Social Media Marketer
Pros
Allows scheduling posts across multiple social media platforms

Post-performance analytics and insight

Affordable plans

User-friendly interface
Cons
The free version doesn't connect to Pinterest or LinkedIn
Our Rating
Ease of Use: 5
Features: 5
Analytics: 5 
Pricing: 4.9
---
3. Zoho
Zoho Social is a comprehensive social media management software that enables users to manage all their social media channels from one dashboard. It offers various features essential for a social media manager, including scheduling, monitoring, and analytics. One unique feature of Zoho Social is the smart Q, which suggests the best time to publish a post based on the highest engagement rate.
Another feature is the social media listening tool that tracks brand mentions and responds to them accordingly. Zoho Social also offers a team collaboration feature that enables social media managers to assign roles and responsibilities to different team members, making it a valuable tool for large teams. 
With Zoho Social, users can generate custom reports that provide insights into their social media performance. Zoho Social has significantly enhanced my productivity. Instead of aimlessly scrolling, I used Zoho Social to track mentions, comments, and posts effectively. Its seamless integration with Canva is especially noteworthy, allowing for easy and native content sharing.
Pros
Supports a wide range of social media platforms

Analytics and monitoring

Built-in CRM and email marketing tools
Cons
Agency plans are expensive
Our Rating
Ease of Use: 4.9
Features: 5
Analytics: 5
Pricing: 4.9
---
4. Hootsuite
Hootsuite is an all-in-one app that covers all social media management needs. Its robust features allow Hootsuite to schedule messages, create and manage potential posts, monitor various inboxes, run boosted post-advertising campaigns, and more.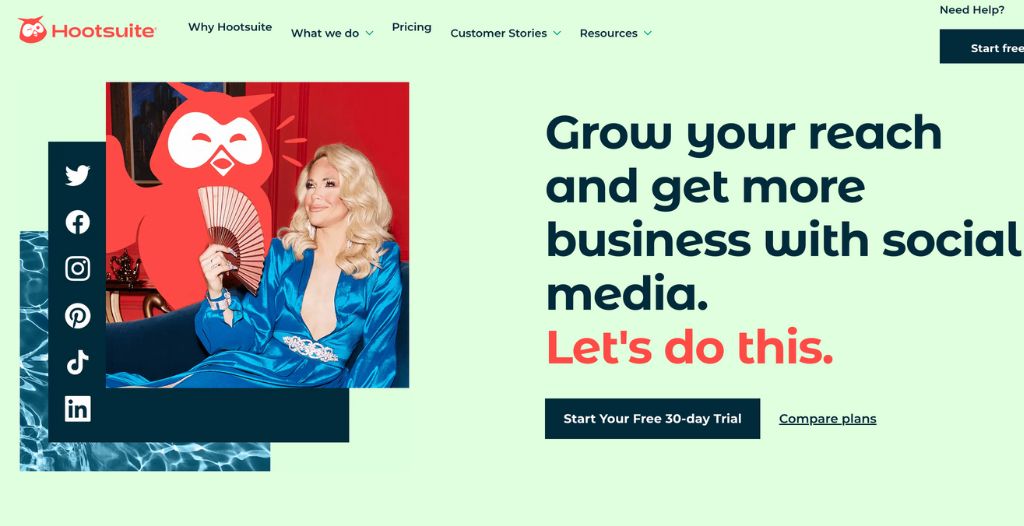 Hootsuite supports popular social media platforms such as Facebook, Twitter, YouTube, Instagram, LinkedIn, TikTok, and Pinterest. The app offers intuitive analytics that provides valuable insights into the performance of social media campaigns. 
From my experience, it's a fantastic tool for effortlessly integrating your CRM with diverse social platforms, especially beneficial when utilizing Zoho CRM. Moreover, it has proven invaluable in efficiently scheduling posts and managing a wide array of statistical data.
Apps for social media management aren't just about convenience; they're data goldmines, letting you refine strategies based on measurable insights.
– Rand Fishkin, Founder of SparkToro
Pros
All-in-one social media management solution

Supports multiple social media platforms

Comprehensive analytics and reporting features
Cons
Expensive standard plan
Our Rating
Ease of Use: 4.9
Features: 5
Analytics: 4.9
Pricing: 4.9
---
5. MeetEdgar
MeetEdgar is a social media management platform focusing on content automation, recycling, and optimization. It helps small businesses manage their social media presence by enabling the scheduling of new posts and recycling old ones.
MeetEdgar features a content library, which allows users to categorize content and reuse it in various contexts. It supports video and GIF sharing.
Its unique selling point is its ability to automate content curation and distribution to different social media platforms, making it an ideal app for small businesses that want to save time and streamline their marketing efforts.
Pros
Automated post scheduling

Content library

Categorization of content for targeted publishing
Cons
No central inbox for messages or managing comments
Our Rating
Ease of Use: 4.8
Features: 4.7
Analytics: 4.6
Pricing: 4.8
---
6. Loomly
Loomly is a social media management platform offering a range of features to streamline the content creation process, including a social media calendar, a content library, and a post-approval workflow.
In my experience,  one of Loomly's standout features is its AI-powered post optimization tool, which analyzes the content of a post to provide suggestions for improvements and increase engagement. 
Loomly also includes analytics and reporting features to help users track the performance of their social media content.
Pros
User-friendly interface

Post inspiration

Real-time optimization suggestions
Cons
Plans for large teams can be costly 
Our Rating
Ease of Use: 4.8
Features: 4.8
Analytics: 4.8
Pricing: 4.8
---
7. Sprout Social
Sprout Social serves as a tool for managing social media, catering to both brands and agencies regardless of their size. It offers an all-inclusive platform that addresses various needs such as social marketing, customer service, data analysis, social listening, and employee advocacy.
Sprout Social offers a range of benefits, including the convenience of managing all your social profiles from a single platform and the ability to delve into detailed analytics.
In my experience, one of Sprout Social's standout features is its smart inbox, which allows small businesses to monitor and respond to messages from their various social media accounts in one central location. It also offers collaborative tools, permission settings, and the ability to create custom workflows.
Pros
Robust social media analytics and reporting capabilities

Integration with popular social media platforms

Advanced social media scheduling
Cons
Limits the number of social profiles you can manage
Our Rating
Ease of Use: 4.7
Features: 4.5
Analytics: 4.8
Pricing: 4.6
---
8. Sendible
Sendible is a multi-purpose platform for managing social media, providing functionalities such as scheduling content across various social media channels, generating comprehensive reports, and fostering active engagement. It allows users to manage multiple social networks, schedule posts, collaborate with team members, monitor brand mentions, and track social media analytics.
In my experience, one of Sensible's best features is its social media automation tools, which can help businesses save time by automatically publishing content at the optimal time for engagement. 
The platform also includes a powerful content suggestion engine to help users discover relevant content to share on their social media channels. Sendible offers team workflows, task assignments, and social media approvals to help teams work more efficiently.
Pros
User-friendly interface.

Advanced scheduling options 

Powerful collaboration tools
Cons
No free option is available
Our Rating
Ease of Use: 4.7
Features: 4.6
Analytics: 4.7
Pricing: 4.7
---
9. Semrush
Semrush is a digital marketing suite that covers everything from search engine optimization to social media management. While Semrush is typically considered an SEO tool, it also offers a full suite of social media management features.
Semrush's social media management tool can analyze and optimize content for multiple platforms all in one place. In my experience, Semrush allows you to easily create and schedule posts, track engagement, and monitor your social media accounts for brand mentions and potential issues.
Another benefit of Semrush is its basic analytics capabilities. It offers detailed insights into your social media performance, as well as the performance of your competitors.
Pros
User-friendly interface 

Helps create, schedule, manage, and post on social media

Excellent analytics tool
Cons
It's not a full fledge social media managing app
Our Rating
Ease of Use: 4.6
Features: 4.6
Analytics: 4.7
Pricing: 4.7
---
10. Agorapulse
Agorapulse is a powerful and user-friendly social media management tool that helps businesses and marketers to manage their social media accounts, monitor their performance, and engage with the audience.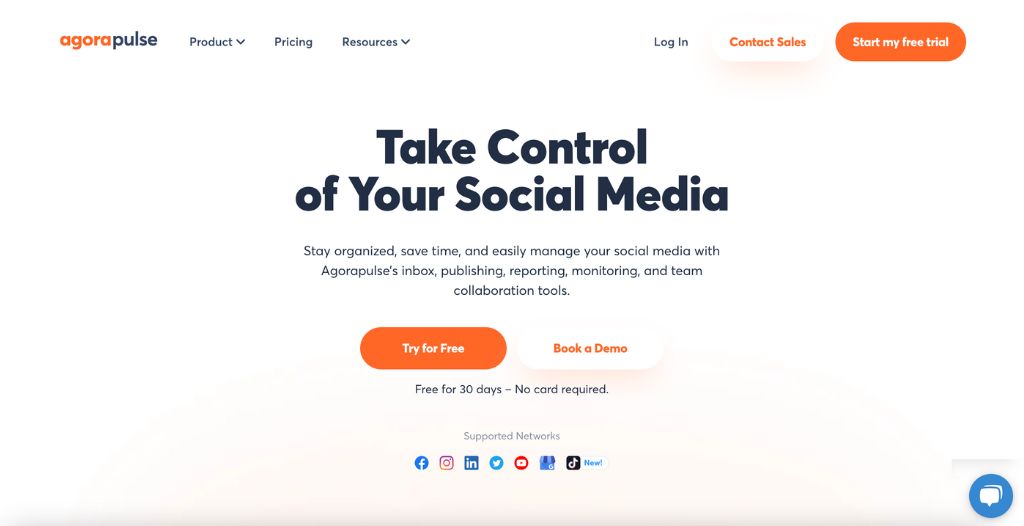 It also provides tools to monitor comments, messages, and mentions in a unified social inbox. Agorapulse can automatically detect and categorize incoming social media messages as comments and private messages, which makes it easy for users to manage their social media conversations. 
In my experience, Agorapulse provides advanced reporting features that enable users to measure their social media performance, track audience engagement, and identify trends.
Pros
Intuitive features

Advanced analytics reports

Workflow management tools
Cons
It's not a full fledge social media managing app
Our Rating
Ease of Use: 4.5
Features: 4.6
Analytics: 4.5
Pricing: 4.6
---
Buyer's Guide 
When choosing a social media management app, it's essential to consider several factors to determine if it will be compatible with your business. These are some of them.
Features and Functionality
Different apps offer different features like scheduling posts, analytics, reporting, social listening, and team collaboration. Choosing an app that provides the parts you need to meet your social media management needs is essential.
Compatibility
Ensuring the app is compatible with your business's social media platforms is essential. Most social media management apps support major platforms like Facebook, Twitter, LinkedIn, and Instagram, but double-checking is still needed.
Ease Of Use
The app should have an intuitive and user-friendly interface that makes it easy to navigate and use. The last thing you want is to spend time and resources on training your team to use the app.
Customer Support
Good customer support is critical for any software or app, including social media management apps. Choosing an app that offers prompt and efficient customer support is essential, ideally 24/7.
Pricing
The cost of social media management apps can vary widely. It's essential to choose an app that fits within your budget. Many apps offer tiered pricing plans based on the number of social media accounts and features, so choose the plan that fits your business needs.
Security
As with any software, security is critical when choosing a social media management app. Choose an app with robust security measures to protect your business's social media accounts and sensitive information.
Integration 
Some social media management apps integrate with other social media tools, such as customer relationship management (CRM) software, project management tools, and email marketing software. If your business uses these tools, choosing a social media management app that offers integration may be beneficial.
FAQs
What Is a Social Media Management App? 
A social media management app is a software platform designed to help individuals and businesses manage their social media presence across multiple platforms. It typically includes features for scheduling and publishing posts, social media monitoring, engaging with followers, and tracking analytics.
What Tools Do Social Media Managers Use?
Social media managers use various tools to manage social media, including scheduling tools, analytics tools, and social listening tools. Some popular tools include Buffer, Sprout Social, and Agorapulse.
What Is the Best Social Media Management Tool?
Managing social media can be a daunting task for businesses of all sizes. Fortunately, many social media software available can make the process more manageable.
You can select the one that best fits your needs by evaluating different apps based on cost, features, and ease of use.
After considering a variety of social media managing apps and evaluating them, we recommend SocialPilot as the best choice. Its intuitive interface, powerful features, and competitive pricing make it an excellent choice for businesses of all sizes. 
Its standout features include scheduling posts, analyzing performance with detailed analytics, and managing multiple social media platforms from one dashboard, making it the perfect choice for every business.
Our #1 Recommendation: SocialPilot