Did you know, Google recently reported 3,234 "improvements" made to their algorithm in one year? That's nearly an average of 9 per day.
Knowing this, having the right SEO campaign management is crucial to keep up.
Although I am an SEO expert with over a decade of experience, I still remember how daunting it can be when you're just starting out. You might have a few questions, like what is SEO campaign management, anyway? How would you start an SEO campaign? And which SEO campaign management companies can you trust?
In this article, I'll share my insights and expertise to guide you through an easy 7-step process for managing your own successful SEO campaign. Together, we'll answer all those questions and set you on the path to SEO success.
What Is SEO Campaign Management?
SEO campaign management is used to improve your search engine rankings, It helps you plan, track, and optimize the results of your SEO strategy. You will be thankful for this SEO campaign.
What Does SEO Campaign Management Involve?
Now that you know what SEO campaign management is, you must be curious as to the specifics of such an endeavor.
To get to the top of search engine results pages (SERPs), you need to manage your SEO campaign well.
If you want to successfully manage your SEO strategy, you need to take note of the following three guidelines:
Research

Website optimization

Report and analyze
1. Research
You should first do some investigating into the on page SEO landscape before making any plans.
You are gonna need to research: 
Keywords that appeal to your intended audience in search engines

What SEO ranking variables are used by your competition
Think about things like these when you plan your campaign:
What phrases does my ideal customer use while surfing the web pages?

What ranking do my rivals have now in Google's search engine results?

Which SEO ranking factors should I prioritize?

How do my goods and services benefit my target audience?

How can I make my website more noticeable in the search engine results pages than those of my competitors?
Studying your target audience, your competitors and search engine optimization factors is essential for effective strategy management.
2. Website Optimization
Website optimization is the primary focus of search engine optimization management. More visibility and site visitors are waiting to be unlocked by smart optimization.
You can increase your search engine rankings by making changes to various parts of your web pages. 
Consider the following as an illustration:
Ensure that your headers and titles are optimized.

Integrate relevant keywords into the body of your site.

Build unique content to enhance the user's experience.
Converting visitors into paying customers via website optimization can be a time-consuming process. Keep in mind that it may take some time before your adjustments provide noticeable improvements. That said, you shouldn't let that deter you.
In fact, it takes on average between four and six months for a company to see results after implementing a new strategy.
3. Report And Analyze
Reporting and analyzing outcomes is crucial when managing your SEO strategy.
Understanding which methods and optimizations were most effective for your company requires measuring the success of your campaign.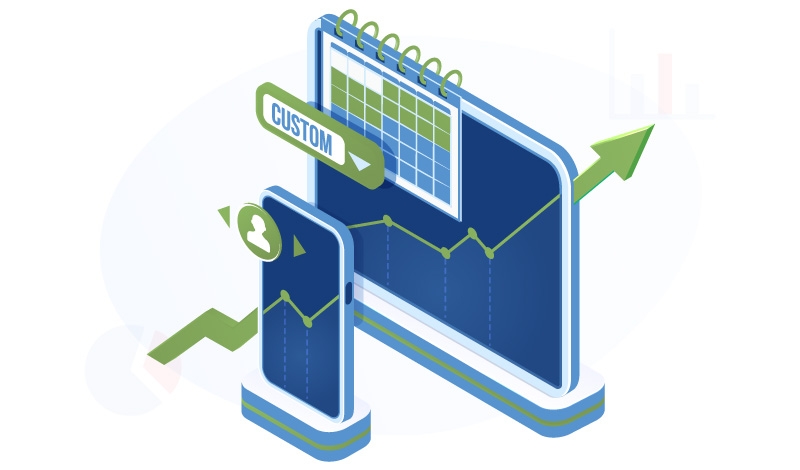 To keep tabs on your organic traffic, leads, and conversions, you can make reports once every month or once every three months through google analytics.
Once you have collected enough data, you can determine which strategies were most effective in increasing your site's visibility and traffic.
How to Manage Your SEO Campaign in 7 simple steps 
Are you ready to launch your SEO campaign?
If you want to outrank your rivals in search engine results pages (SERPs), here are the seven simple steps to follow.
Step 1: Set Your Goals And Strategy
As with any marketing strategy or business plan, it's important to set clear, measurable, and specific targets before you begin your SEO campaign.
This will help you define what success looks like for your business in a tangible and objective way.
Then, once you know what you want to achieve, it'll be much easier to build a campaign strategy that actually helps you hit those targets.
While the #1 goal of SEO campaigns is to improve your search engine results page ranking, it's not the only goal you need to consider.
In fact, a proper SEO campaign runs much deeper than that!
When planning your SEO campaign strategy, you must ask yourself these 3 questions:
Who is your target market? What's your customer profile like—you should include basics like age, gender, and economic background; but you should also delve a little deeper and include their desires,  needs, and social media use. Understanding your customers is one of the best strategies to help you reach them better.
What are your overall goals? Is it to increase sales, generate more leads, or improve engagement? Focus on measurable targets, and don't limit yourself to just website traffic or clicks. Go deeper. Your targets need to benefit your business in a more concrete way. A good rule of thumb is: if you can't think of a metric that can monitor your progress, you need to further refine your targets.
How will you achieve these goals? Create a concrete, actionable plan that details, step-by-step, what you need to do to hit your objectives. You can focus awareness-building actions, conversion-improving actions, or a mix of both.
Step 2: Pick Your Keywords
Keywords are the backbone of an SEO campaign.
On the surface, keywords are simply the words you want to rank on the first page for, such as "wagyu burgers San Francisco" for a chill burger joint in SF or "how to fix leaky pipes" for a plumbing company.
It's easy to brainstorm keywords, but choosing the right keywords—the ones that will actually help you achieve your targets from Step 1—is a whole different ball game.
First, you need to do some keyword research.
Check keyword tools like Google Keyword Planner, SEMRush, KWFinder, or Ahrefs to find high-volume and competitor keywords.
Then, narrow your list down to 10 or so for your keyword ranking, focusing on those with low competition and high search volume.
It's also helpful to know that most keywords fall under one of three categories for "search intent", a.k.a. why your customers are looking up that keyword in the first place. These categories are:
Informational: Your customers are looking for an answer to a question; they want to educate themselves about a certain topic. These searches often include interrogative words like "what is" or "how to."
Examples: SEO campaign definition, SEO campaigns examples, what is local SEO, SEO campaign management guide, best SEO strategy, how to define my SEO goals
Commercial: Your customers are looking to learn more about specific products, brands, or companies. They are already in the market for something, but they just need help on deciding which option to go for. More often than not, these customers are searching for reviews, comparisons, and product roundups.
Examples: best SEO campaign management services, top 10 SEO campaign management software
Transactional: Your customers are looking to do something about the information they've gathered. This could include making a purchase or inquiring further. Customers using transactional keywords are already in the latter stages of your customer journey, so you'll get fewer hits but also a higher likelihood of conversion.
Step 3: Run A Bullet-Proof Audit
Now that you know what you want (your targets) and your general plan of attack (your keywords), it's time to do a fully comprehensive SEO audit of your current assets.
Where are you currently, SEO-wise? What do you need to do to go from there to where you want to be? Knowing the present state of your website helps you understand the exact steps you need to take to improve your SEO.
Get Technical
It doesn't matter if you have the best and most informative content in the world—if you don't have the right technical foundations, your SEO efforts will go to waste.
A clean and properly-setup site is the first major element of any SEO strategy worth its salt. Here are some of the things you'll need to check during a technical site audit:
Loading speed: How long does it take for your site to load? The slower your site, the less enjoyable the user experience, and the less likely the search engine will recommend your website. Long load times can be attributed to many things, such as viruses, clunky code, and your website server.
Sitemap: Does your website's structure and navigation make sense? Do each of the pages connect to one another in a seamless, intuitive way? While your sitemap isn't a ranking factor, it can make it easier for search engines to crawl your site and discover new pages to index and rank.
Meta tags and descriptions: These elements help search engine bots identify the content of your page, which then allows them to better index and rank your site. It's also good from a user standpoint, since a well-written meta-title and meta-description can convince users to click on your content instead of your competitors'.
Get Your Site Crawled
Search engines like Google have "bots" or "spiders" that go through each and every URL to gather more information about it—what is this page about?
How authoritative is this website? How does it compare to other pages with the same content?
Site crawlers mimic how search engine bots crawl through your website. This can help you pinpoint important technical issues that impact crawling, such as duplicate content, non-responsive pages, and issues with your canonical tags.
Read my mega guide on Google crawl.
Step 4: Create Your Content
You've heard it before: "Content is KING." And that's because a well-coded site can only go so far; your bread and butter—the thing that makes customers choose you over your competitors—is the valuable content that only you can provide.
You should always keep in mind the things you learned in Step 1 and Step 2, namely who your target audience is and what kind of content they're searching for (keyword research). Make this a part of your content writing process.
If you can produce content around your customers' most pressing needs and concerns, it will establish you as an authority figure. After all, customers love companies that offer solutions to their problems.
"Sadly, much of the content being published is simply not worth linking to. 75% of it is getting zero inbound links. So forget the 'more is better' approach to content if you want links," recommends Brian Sutter, a contributor at Forbes.com.
"Go with quality instead. Your content will generate backlinks only if it is truly exceptional—'remarkable,' as Seth Godin would say." [1]
Here are some of the best ways to creating great piece of content that positively impacts your search engine ranking:
Include your target keywords naturally throughout your text, but be wary of keyword stuffing.
Link to relevant pages within your site.
Add images, video, and other rich media to make your content more appealing.
Search for "SEO campaign examples" to find out what kind of content your competition is creating, and use that to improve your own content digital marketing strategy.
Step 5: Build Some Links
Sometimes it isn't about what you know, but who you know. Or, in relation to SEO, who knows you. Google analytics can help you identify sites that are authorities in their industry, but how can they tell?
This is where the concept of link juice (or domain authority) comes in.
When other sites link to your content, it acts as a "vote" of approval. It demonstrates to search engines that people find your content valuable and interesting.
The process of getting more of these "votes" is called link building, and it's something you need to actively work on if you really want to have the best results for your ranking.
"For people to discover your website, you need to build pathways and big, flashing signs that lead them there. In digital marketing terms, this means you need links, links and more links," says Luisito Batongbakal of MonitorBacklinks.com. [2]
Link building is all about networking and finding similar niche sites that may be interested in linking back to your content.
Build an email list, reach out to fellow bloggers and influencers on social media, and write guest posts for other sites. Combine this with high-quality content, and you can't lose.
Step 6: Track Your Progress
Now that you've planned out your campaign strategy, done your research, created great content marketing, and established your authority through backlinks, you might think your job is over.
But SEO isn't a one-and-done project, it's an ongoing effort. You have to check on your work to make sure that you're actually reaching your targets.
It's basically a numbers game: are you getting as much traffic as you expected?
Is your content converting customers? Are you closer to your objectives than before? Tracking your SEO progress[3] helps you understand what's working and what isn't, then you can use that insight to make your SEO campaign even more effective.
BONUS Step: STICK TO IT… Or Outsource It
While you can definitely manage your and your clients' SEO campaigns, it's understandably not an easy feat.
Google's algorithms, client management, turnover… these are all issues that make running an agency difficult.
Oftentimes you can get better search engine results by partnering with an outsourcing agency like The Search Initiative (TSI)
TSI is my digital marketing agency that specializes in organic search engine optimization – including SEO campaign management, among many other things.
We offer white labeling services as well, where we'd do the work and you get all the credit.
Get in touch with us today to find out how we can partner together…