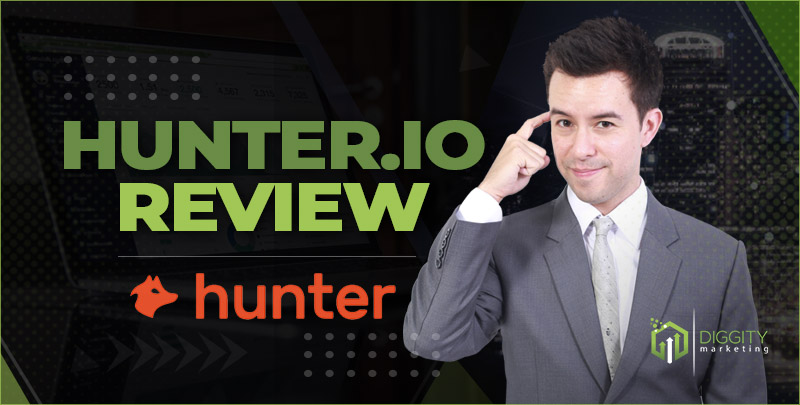 So you've heard the buzz about Hunter.io and want to know if it's a good fit for your business and your budget?
The truth is that running email outreach campaigns can be as easy or as difficult as you make it.
If you want to make the job of finding professional email addresses as easy as possible the Hunter might be exactly what you're looking for.
In this thorough examination of Hunter.io, we'll explore why it's become a favorite among internet marketers and SEO professionals.
While Hunter.io may not be flawless, it certainly comes remarkably close.
With years of experience in digital marketing and a deep understanding of various email outreach tools, we bring an expert perspective to help you navigate the capabilities and nuances of Hunter.io, ensuring your business makes an informed decision.
What is Hunter.io?
Hunter.io is an email discovery tool that simplifies the process of quickly finding the correct email address for a person or a range of email addresses with a bulk domain search.
Hunter.io also allows you to verify prospect's email addresses, locate email addresses for the author of an article, and also includes 'Campaigns', a basic bulk/cold emailing outreach tool.
It provides a complete feature set for anyone wanting to run an email outreach campaign, combining several tools into one sleek suite.
---
How Does It Work?
Hunter works by scouring the public Internet for email addresses, processing over 700,000 web pages per minute, and adding new addresses to its database from the public, verified sources.
Users can then search Hunter for every email address at a domain name, or a specific person by their full name and the domain name of their business or organization.
Hunter allows a person to either claim or delete their personal information from its database as well as blocking Hunter's robot from visiting their site.
This is unlike other email verification tools that often use undisclosed data sources. And that, of course, can result in people asking you where they got their private and unlisted email addresses from.
Hunter does fill some of the gaps in its database by using pattern matching to guesstimate what the email address of a specific person is.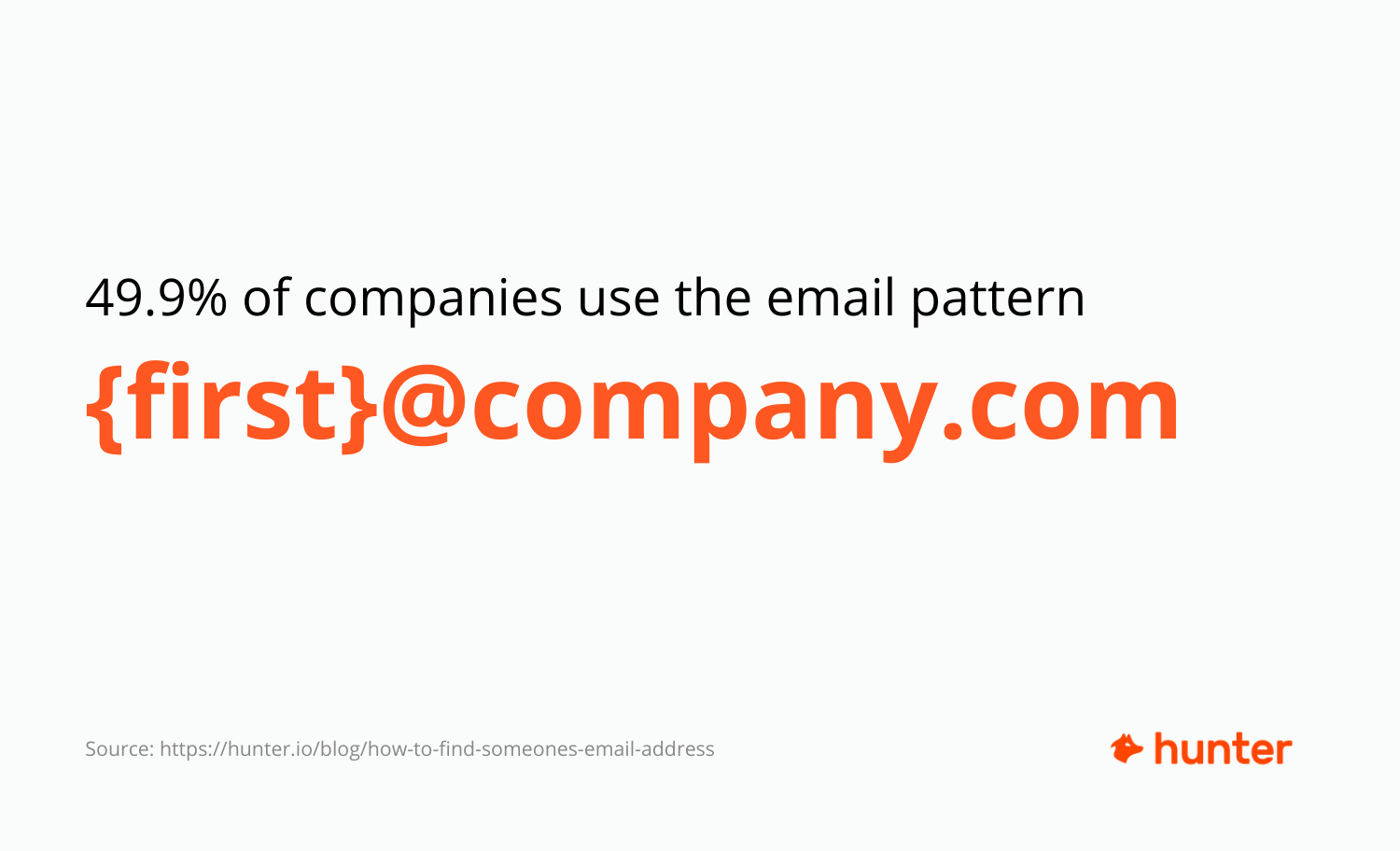 So if a company website uses a [email protected] format, then it's relatively safe to assume that a person named Jane Doe working there will probably be contactable at [email protected].
Doing this manually would require hours if not days of guesswork on your part but Hunter provides you with the same data in a few mouse clicks.
This means you're working with "guessed" contact information at times but Hunter's pattern matching works better than anything else we've seen.
---
Who Uses Hunter.io?
Hunter.io is used by many. Hunter has several use cases spanning multiple industries.
For example, journalists looking for contact information, sales and marketing teams working on lead generation, or SEOs running link-building campaigns can all directly benefit from its features and domain search the most.
But you'll most often hear Hunter being discussed in affiliate marketing groups and forums i.e. what's the best email discovery tool on the market right now?
Hunter is also used by several big names in tech including IBM, Google, Microsoft, and Adobe.
So it hits the mark in terms of features and performance required by large and small businesses alike.
---
Hunter.io Features
And now it's time to get into the meat of our Hunter.io review with a look at the inner workings of its tools.
By the time you've finished reading this section, you'll be able to make a call on whether or not this is the email finder and verifier you've always wanted.
1. Interface
There's very little point in claiming to have the best email hunter on the market if its user interface is a mess.
So how does Hunter fare in this regard?
They've embraced a purely minimalist design.
So, although it might look a little bare at first glance, it also means there's no clutter. And that means less work and time wasted when navigating to the feature you need.
Hunter is more about function than form.
You simply enter the domain you want to find email addresses for, choose from 'All', 'Personal', or 'Generic', and press the spyglass icon to initiate the search function from your home dashboard.
So you don't even have to dig further into the interface than the homepage to search for email addresses.
Now let's take a look at Hunter's 'Email Finder' feature and how it differs from what's offered on their homepage.
2. Hunter.io Email Finder Tool
This feature is made up of two different components:
Email Finder – used to find the email address of a person at a given domain
Author Finder – used to find the email address for the author of an article
The Email Finder is ideal if you're only looking for the contact details for one person: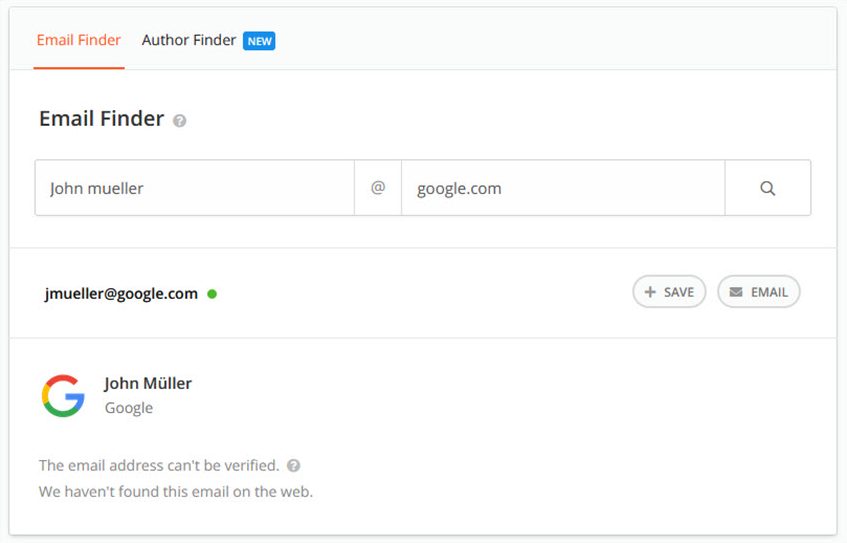 And the Author Finder is the same in that regard – it does a solid job of tracking down the email address of an author of a given article or blog post:
But what if you need to find every email address for a domain, or search for several article authors at once? Typing every single name in the search bar isn't the best way.
That's when you'll need to open up Hunter's 'Bulks' (bulk tasks) feature: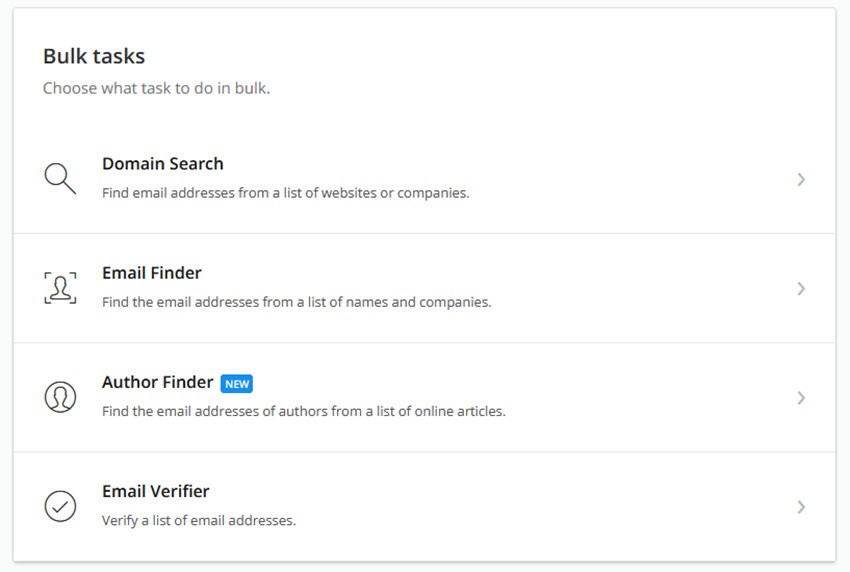 From here you can run bulk searches for email addresses by:
Domain search
List of people
List of articles
You can use the 'Email Verifier' here to test if a given range of email addresses is valid i.e. your email won't just bounce off the server.
Being able to verify emails in advance is a real timesaver for any kind of outreach work, be that for sales teams, customer service, or just plain old link-building efforts.
Let's look at Hunter's bulk domain search in a bit more detail.
To start the process click on Bulks –> New Bulk:
Give your "project" a name:
Choose if you want to search by domain name or company name:

You can then choose to either paste in a list of domains from another source or upload them directly from a data file:
You can then filter by the number of email addresses reported per domain, as well as whether or not you want to verify them during the discovery process:
And then finally you can pre-filter discovered emails based on whether they're 'Generic' or 'Personal', as well as by the specific department they work in:
This saves you from having to potentially filter through dozens of email addresses for a company when all you needed was to find the head of their IT department, for example.
You then click on 'Upload' and wait for the results, which you can preview before downloading: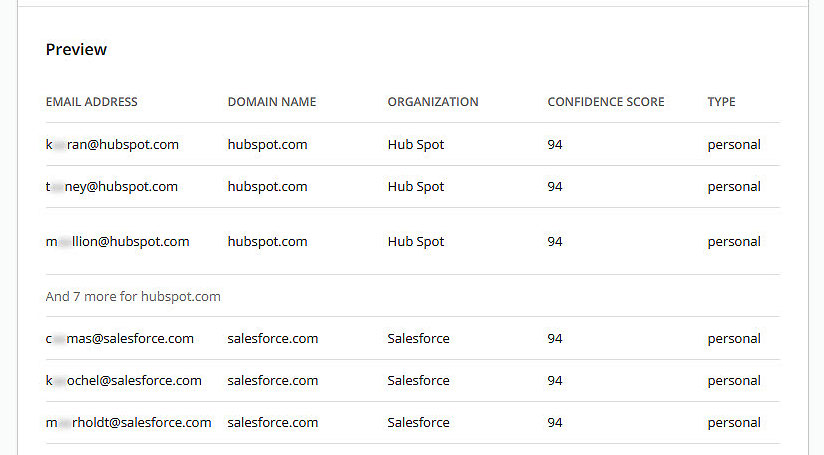 Generating the above list of verified emails only took a minute or so.
So, as you can see, that beats trying to find them manually – a process that can take hours.
If you can even find those email addresses in the first place.
3. Hunter.io Email Verifier Tool
Finding the email leads you to need for your planned outreach efforts is only the first step of any campaign. Whether through domain search or otherwise.
Let's say, for example, that you didn't verify the addresses during the discovery process. In that scenario, all you have to do is fire up Hunter's bulk 'Email Verifier' to begin verifying emails.
Why bother verifying a Gmail account with Hunter?
Because you get a better ROI on any outreach campaign you run in addition to being proactive about data hygiene.
Again, you can copy and paste a list of the email addresses you want to verify or upload a file instead.
But we already have a file to work with from our previous example, so let's do that.
Note: There's a limit of 10,000 verifications per bulk task and each verification uses a "credit" from your account when verifying email addresses. We cover this in more detail later on.
It's also worth mentioning that Hunter will not attempt to verify a Gmail account[1] or similar free email addresses.
This is because Hunter's domain search is designed to only look for professional email accounts and not a personal Gmail account.
So this simply falls outside the scope of the service they offer.
So, how good are Hunter's email verifier and domain search at tracking down invalid emails?
Based on our own internal use and testing it does a great job, relying on pinging recipient SMTP servers rather than sending fake messages to accounts.
The truth is that you don't really know how effective any email verification process is until you start emailing contacts and then measuring your bounce rate.
But so far we've been more than pleased with the results that Hunter delivers.
4. Campaigns
Up to quite recently you would have had to take Hunter's data and then export it to dedicated email marketing software like MailShake, Mixmax, or Reply.io as the next stage of the outreach process.
But this meant paying for yet another SaaS tool, adding to your monthly expenses.
So, Francois and the team at Hunter made the very smart business decision to add an email outreach tool to Hunter in the form of 'Campaigns':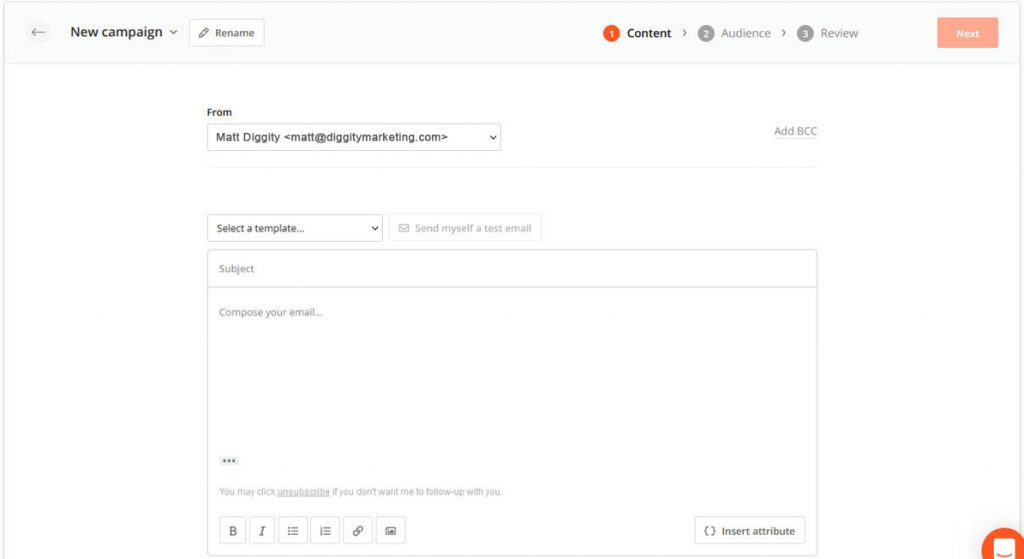 It allows you to use 'Attributes" to personalize your emails, create email templates, and schedule follow-ups in the same way a typical autoresponder or email outreach tool does.
And, yes, you can create custom attributes if you want to.
Does this mean you can run all of your email campaigns directly from Hunter?
Well…more or less.
While the 'Campaigns' feature does add a whole lot of functionality to Hunter it lacks some of the more advanced features you'll find in email marketing software like Mailshake, for example.
But Hunter does provide you with enough features to get the job done in terms of automating outgoing emails and follow-ups as well as tracking open rates.
So while 'Campaigns' might not fulfill the needs of a pro sales team, most SEOs, marketers, and digital agency owners will find it does as good a job as they need it to.
5. Hunter.io Chrome Extension
But what if you want to check a handful of sites for relevant email addresses – do you constantly have to go back and forth to the Hunter.io dashboard?
Nope.
The Hunter.io Chrome Extension allows you to scan their database for email addresses related to whatever site you're looking at.

And when you find an email address you want to add to a campaign later on, you simply click on the little plus button beside their contact details to 'Add Lead'.
So you can do lead gen without being tied to the dashboard, and then sort and verify those leads later.
Note: The Hunter.io extension offers the same functionality for both free and paid Hunter accounts, and is also available for Firefox users.
6. Leads
Managing all the new leads you gather with Hunter could quickly turn into a nightmare unless you're exporting it to a CRM tool of some kind. The Search bar won't cut it here.
Or you can simply rely on Hunter's scaled-down 'Leads' CRM tool.
While this isn't going to revolutionize the customer relationship management software industry it follows the same basic logic as 'Campaigns'.
And that is to provide the end-user with enough functionality for basic lead prospecting or outreach for link-building campaigns.
7. Google Sheets Addon
What if you already have a ton of data stored in Google Sheets or simply want to work directly from Google Sheets because it's part of your existing CRM workflow/outreach process?
Hunter has an addon for Google Sheets to cover this.
It allows you to search by Domain and then creates a new spreadsheet with all the email data it finds.
But you can also take first and last name data from your existing spreadsheets and then run Hunter's 'Email Finder' to pull all that contact information directly into your sheet.
This saves you having to import the data to 'Bulks', run it through the 'Email Finder', and then export it again.
But if you have more than 500 rows of data in your spreadsheet you'll get faster results if you use the bulk tasks function instead.
8. API
Hunter also offers an API (Application Programming Interface) that you can use to integrate its data with your in-house solution to generate leads, etc.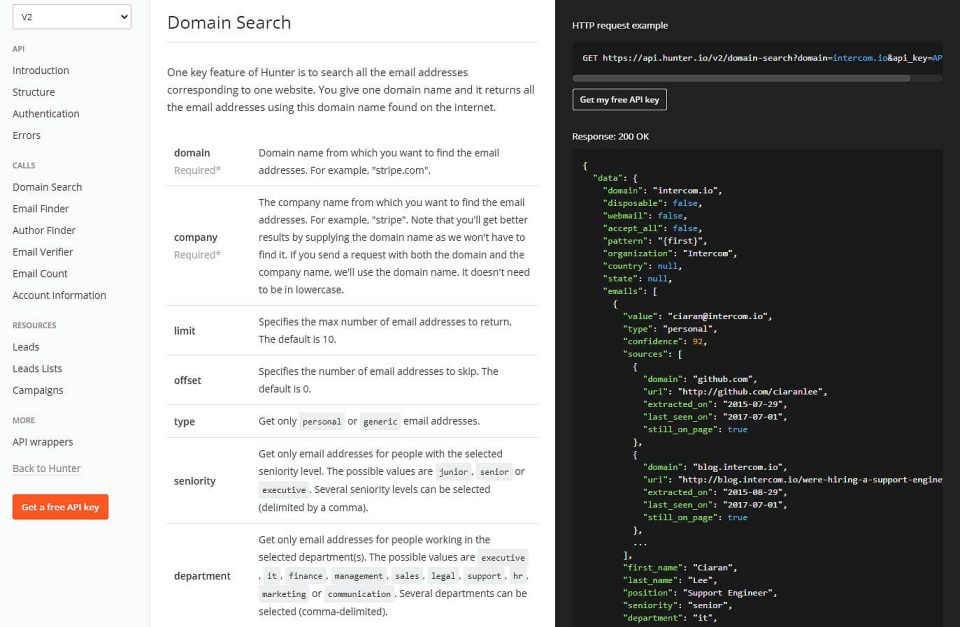 ---
Support
Hunter is straightforward enough for most people to be able to use it.
But what if you run into problems – what kind of support can you expect?
You can ask questions via their online chat tool…but that's only available Monday to Friday from 9 am to 10 pm (CSET).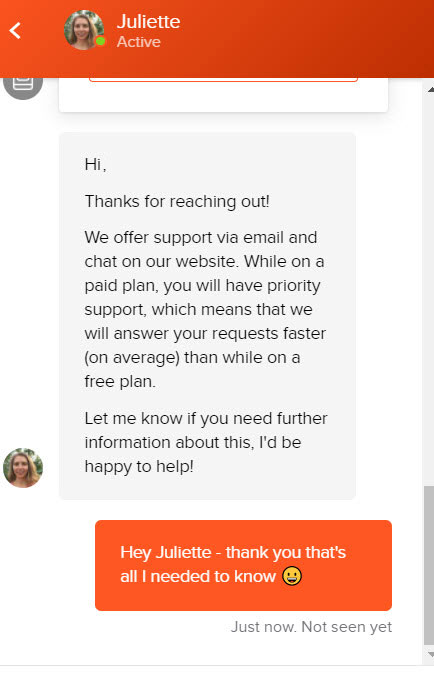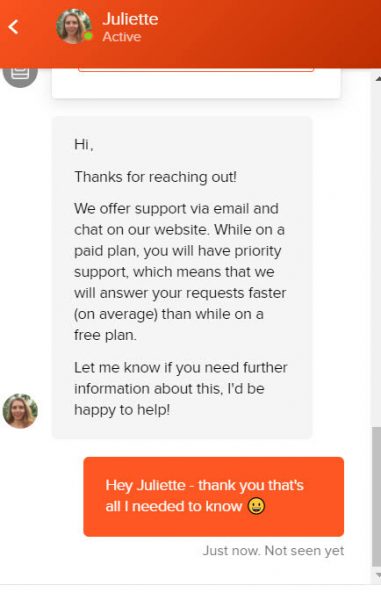 So you're out of luck if you run into a serious problem during the weekend.
Email support isn't specifically provided, but they do have at least one public email address.
Apart from that, you have to rely on their knowledge base for videos and other tutorials that help with the most common problems.
Hunter-paid plans do come with "Priority Support" as standard which means your requests are answered more quickly than with a free plan.
---
Is Hunter.io Reliable?
Yes, Hunter.io is reliable because it only adds publicly available email addresses to its database, while also actively practicing data hygiene.
So when you use Hunter for your outreach email campaigns you can be certain that you're working with clean, verified data because it's their own database.
---
How Much Time Can Hunter.io Save?
How much time Hunter.io will save you isn't exactly easy to pinpoint. The best way to explain this is to use a real-life example.
Let's say you want to email the top 200 sites in your niche to request a backlink, so you export this data from Ahrefs, or similar.
Each email address takes you 3 minutes to find and verify, so that takes 10 hours to complete at the absolute minimum.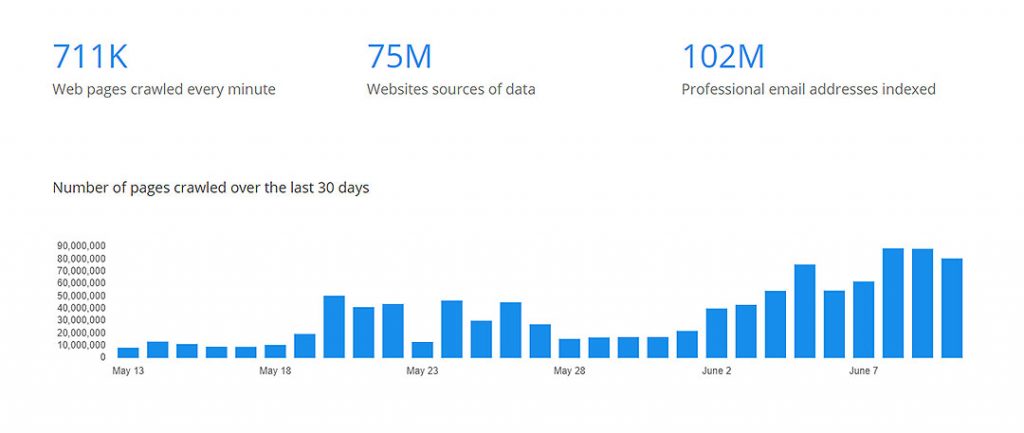 Then you sit down and manually email each of those contacts, with each email taking you 5 minutes to write.
That's another 16 hours of work, assuming you have no interruptions, don't eat, or take a toilet break.
And then you manually track and follow up with each contact, requiring 2 minutes per email, or another 6.7 hours of work.
So that brings us to 32.7 hours, or 4 working days to complete these outreach processes.
The same amount of work when using Hunter instead would break down as follows:
5 minutes to import and pre-filter the Ahrefs data in Hunter
10 minutes for Hunter to find and verify all valid email addresses
30 minutes to manually filter the addresses to remove junk contacts
45 minutes to write a solid outreach email
15 minutes to write your follow-up email
5 minutes to automate your emails
Total: 1hr 50 minutes
Hunter just bought you almost 3 entire additional days to dedicate to other projects.
---
Is Hunter.io Free?
Yes, Hunter.io is free. Hunter.io is available in two different versions, and one of them just happens to be a free tool.
And as with most "Free" SaaS products, you get a limited version, and in the case of Hunter, the 'Free' plan is limited to 25 email searches and 50 verifications per month.
The cool thing is that anyone using the free plan still gets access to Hunter's 'Bulks', 'Leads', and 'Campaigns' features.
So, in theory, you could run a limited outreach marketing campaign using nothing more than what you'll find in the free version of Hunter.
But if you're serious about using it as an outreach/lead generation tool then a paid monthly subscription simply makes more sense.
Here's a side-by-side feature comparison of the free and paid versions of Hunter:

---
Pricing
Once you step away from their 'Free' plan you'll have to pay at least $49 for a 'Starter' plan if you pay monthly, or $34 per month if you pay annually.
The next step up from there is 'Growth' at $99 per month, 'Pro' costs $199 per month, and finally their 'Enterprise plan' costs $399 per month.
But it's a little bit more complicated than just the raw price – each plan comes with a number of "credits" for email searches and verification:
| | | | | |
| --- | --- | --- | --- | --- |
| | Free | Starter plan | Growth plan | Pro plan |
| Searches per month | 25 | 500 | 2,500 | 10,000 |
| Verifications per month | 50 | 1,000 | 5,000 | 20,000 |
| Full database access | No | Yes | Yes | Yes |
| Connect Google Workspace | No | Up to 5 | Up to 5 | Up to 5 |
| Track links in emails | No | Yes | Yes | Yes |
| Insert images in emails | No | Yes | Yes | Yes |
| Priority support | No | Yes | Yes | Yes |
So, even though the 'Starter' plan is very affordable you're limited to 500 email searches and 1,000 email verifications each month.
Put simply, anyone running a serious outreach campaign will need to upgrade to the 'Growth' plan. We use their 'Pro' plan, which we need for the amount of link-building outreach we do.
---
Hunter.io Alternatives
Hunter isn't the only tool of its type on the market.
Several others might be a better choice for you, depending on what functionality you need.
1. Snov.io
Snov.io is very similar to Hunter.io in terms of its capabilities.
You can search for, find and identify email addresses by domain, and you also get bulk search and verification functionality as standard.
Then, once you have your prospecting list, you can filter the results and drop them into an 'Email Drip" outreach campaign.
Snov.io has come a long way in the last few years in terms of accuracy and features such as its LinkedIn prospecting tool and built-in email marketing functions.
It is cheaper than Hunter by about $10 per month, but the interface is far more cluttered – it can be a real chore to find the feature you're looking for.
2. Voila Norbert
Voila Norbert is another tool that's popular with cold email outreach and lead generation audiences.
There are some pretty big differences between it and Hunter.io, though.
You can't just search for contacts by domain name; for example – you have to use a prospect's full name + their domain name.
This means this tool is better suited to lead generation and qualification instead of pure lead prospecting.
Apart from that Voila Nobert performs all the typical functions you'd expect, like verifying email addresses, basic CRM and emailing capabilities, a Chrome extension, and integrations with external tools such as SalesForce.
One nice touch is 'Email Enrichment', which looks for additional information on a contact so that you can personalize your outgoing email(s).
But you have to pay 4c per email (less in bulk) for this information.
3. Find That Lead
Find That Lead might look like a lead generation tool from the outside. But it's got a lot more in common with Hunter.io than something like Voila Norbert.
It allows you to search for, verify and email prospects without using external tools or services.
Just like Hunter.io.
But it's got some features that Hunter does not, such as the 'Social' search function that allows you to "scrape" Twitter and LinkedIn profiles for professional email addresses.
Or the 'Local Businesses' function that allows you to search for the contact details of local businesses based on their industry plus geographic parameters such as "'state'. It's like a scaled-down version of Crunchbase but at a fraction of the monthly cost.
You can also explore our article featuring a list of best cold email software options.
---
FAQs
Is Hunter.io Compliant With GDPR?
Hunter.io is somewhat compliant with the General Data Protection Regulation (GDPR).
Using their recommended method to guess email addresses and then using those addresses in unsolicited email marketing campaigns is a violation of data security laws (as long as those people live in the EU).
Second, putting the addresses in a database is a violation of the GDPR, even if they are never used. 
Is Hunter.io Safe to Use?
Yes, Hunter.io is safe to use. You should not worry about any harm coming from using Hunter.io. To improve your lead generation and customer communication, it searches the web for email addresses. Using the information in your campaigns is subject to the restrictions governing the use of data, of course. The same may be said of any lead creation tool.
How Does Hunter.io Make Money?
Hunter.io makes money through its subscription-based pricing model.  There is a free option, but if you want more features, you can upgrade to one of the paid tiers. These were developed for businesses that need more searching and verifying done each month. Their basic monthly package is the least expensive choice, and it costs about $50.
---
Do We Recommend Using Hunter.io?
And that brings us neatly to the end of our Hunter.io review.
So, the big question here is…do we recommend Hunter?
Yes.
It is a best-in-class tool to not only find but also verify email addresses. You get a basic cold email tool in the form of 'Campaigns' added to provide you with a complete outreach solution.
Their 'Free' plan offers an incredible amount of value for…well…no money at all.
And their paid plans take that experience to the next level allowing you to scale up your outreach efforts using their suite of tools.
You can continue struggling with doing outreach manually.
Our #1 Recommendation: Hunter.io