In the dynamic world of digital marketing, Constant Contact has made a name for itself as a robust email marketing software designed to foster connectivity and stimulate audience engagement. But, like any tool, its effectiveness can vary from user to user based and their needs.
In my exploration of the email marketing landscape, I've discovered numerous alternatives to Constant Contact, each offering a bespoke user experience that caters more precisely to my specific requirements.
If you're looking to supercharge your email marketing strategy, these platforms could be the next step toward success.
Having delved into an exhaustive investigation of numerous Constant Contact competitors, I've collated a comprehensive list of the top ten alternatives. 
1. ActiveCampaign (

Editor's Choice

)
ActiveCampaign is an excellent choice for beginners in inbound marketing and marketing automation. It is also an affordable constant contact alternative for businesses on a low budget.
Like Constant Contact, ActiveCampaign offers access to over 500 prebuilt automations that combine email marketing, marketing automation, and CRM functionalities. 
This powerful combination enables users to effectively segment their audience and personalize their communication across multiple channels, including social media, email, messaging, chat, and text. 
One feature that has made a real difference for me is the ability to create personalized and targeted email campaigns.
ActiveCampaign provided various customizable templates and options, allowing me to tailor my emails to my audience's needs and preferences. 
This helped me build stronger relationships with my customers and significantly boosted my chances of turning prospects into loyal customers. 
However, I think the loading time is one area they need to improve. I would love a faster loading time when sending emails and creating landing pages and reports.
Pros
Contact classification and labeling
Good Structure
Free migrations
Machine learning to improve your marketing results over time
Cons
Charges for client preview
Our Rating
Features: 4.8
Pricing: 4.8
Customer Support: 4.8
User-friendliness: 4.9
---
2. Mailchimp
Mailchimp is a versatile email marketing software that simplifies your email and ad campaigns. With Mailchimp, you can create, send, and analyze the performance of your campaigns seamlessly. 
The platform offers a range of options, allowing you to customize your templates to match your brand or choose from various pre-made templates and campaigns, making it one of the most popular constant contact alternatives today. 
While testing Mailchimp, there were a variety of templates available that helped me create engaging email newsletters.
I also appreciated the automation features, which helped me to set up email campaigns in advance and track the results of each campaign in real-time. You can check my detailed Constant Contact and Mailchamp comparison.
The analytics provided by Mailchimp is comprehensive and enabled me to make data-driven decisions to optimize my email marketing efforts. My only problem with Mailchimp was the A/B testing, which is available only on higher-tier plans. 
Pros
Intuitive user interface

Impressive split-testing functionality

A diverse library of professionally designed email templates
Cons
The rudimentary automation workflow builder
Our Rating
Features: 4.7
Pricing: 4.8
Customer Support: 4.7
User-friendliness: 4.8
---
3. Brevo
Brevo, formerly Sendinblue, stands out as an excellent Constant Contact alternative. It is an all-in-one email marketing software and CRM solution that empowers businesses to scale rapidly.
Its user-friendly interface, budget-friendly pricing, and versatile toolkit make it an ideal choice for businesses of all sizes.
While testing Brevo, I discovered it had all the marketing features and options that Sendinblue provided. It had everything I needed for automated marketing processes, such as an email marketing manager and newsletter builder. 
The inboxes helped store customers' previous email history, so we could better serve and respond to their inquiries.
However, I didn't like that the account got suspended for additional verification when we were supposed to launch a campaign. Support was unresponsive for about 10 hours, and we had to use another ESP.
Pros
Landing Page Builder

Segmentation and personalization features

Create, send, and track professional SMS campaigns
Cons
Campaign automation is limited to email only
Our Rating
Features: 4.6
Pricing: 4.8
Customer Support: 4.6
User-friendliness: 4.7
---
4. Hubspot
HubSpot CRM has revolutionized my company's organization and efficiency with its special automation software.
As a Constant Contact alternative, It boasts extensive features, including appointment scheduling, message broadcasting, client note creation, mass email sending, call management, and task creation for streamlined follow-up processes.
What truly sets HubSpot apart for me is its exceptional customer tracking capabilities. With each customer's dedicated contact card, I managed to store and access all their relevant information effortlessly. 
It also enabled me to deliver top-notch customer service and maintain strong client relationships. Its comprehensive suite of tools allowed me to optimize our workflows and stay ahead of the game in today's competitive landscape.  
However, I would appreciate it if Hubspot took the opportunity to manage super admin settings and views [1]. 
HubSpot Sales Hub is extremely helpful in helping save time in a sales lifecycle. When using all available features from HubSpot, the sales process is optimized. The Deals Pipeline can be customized according to your business, as well as fields and properties, allowing you to collect all relevant information for your company.
– Carolina F.-Sales Operations Lead at Hyster-Yale Group
Pros
Real-time lead behaviors notification

Generous free version

New support for integrated payment processing
Cons
Per-user plans can get expensive for small businesses
Our Rating
Features: 4.5
Pricing: 4.7
Customer Support: 4.6
User-friendliness: 4.7
---
5. MailerLite
MailerLite is a user-friendly email marketing software enabling individuals with varying skill levels to craft personalized and polished marketing campaigns effortlessly.
While I was examining MailJet, I was very impressed with this product's overall ease of use. I moved my mailing list across from a 'rival' company, and I was worried about how this would work, but the transition was so easy. 
Thanks to this great Constant Contact alternative, I now have professional-looking marketing emails and templates using their simple drag-and-drop interface and automated signup system. 
Yet, the API was a big dodgy and sometimes failed with vague response codes, and a retry mechanism was required to mitigate that.
Pros
Reliable reachability

Easy to find and craft new campaigns

Good for small businesses
Cons
Limited support
Our Rating
Features: 4.4
Pricing: 4.6
Customer Support: 4.5
User-friendliness: 4.7
---
6. Zoho
Zoho CRM is an omnichannel cloud-based customer relationship management platform.
It is one of the reputable Constant Contact alternatives that helps global businesses to take control of their business processes to build lasting customer relationships.
With Zoho CRM, you can nurture customer relationships anytime, anywhere. Whether through phone, live chat, email, or social media, you can communicate and connect with your clients, elevating the overall customer experience. 
While trying Zoho, I found the lead management and data collection of customers to be incredibly useful and helpful. 
The seamless integration with various email marketing tools and the top-notch forecasting and reporting dashboards made a significant impact. I was delighted to see how these features greatly enhanced and streamlined my work processes.
That said, Zoho needs to improve its requirement for different payroll services, which can be inconvenient and burdensome to handle apart from the main accounting software. 
Pros
Automation on all plans

30- to 45-day money-back guarantee

Multiple integrations
Cons
AI features only on top tiers
Our Rating
Features: 4.5
Pricing: 4.5
Customer support: 4.4
User-friendliness: 4.3
---
7. GetResponse
GetResponse is a comprehensive email marketing platform with powerful and affordable tools that helped me grow my audience, engage with subscribers, and convert them into paying customers.
While testing the platform, I found the option to utilize snippets of my brand template or the entire template itself when crafting new emails particularly helpful. 
This functionality saved me significant time and effort, as I could seamlessly integrate pre-designed elements into my emails. It ensured that every email I sent reflected my brand's style and messaging.
However, I would like it to be more flexible about funnels and how to upsell or down-sell around a specific offer and automate it even more. 
Pros
Conversion Funnel and landing page feature

Google and social media ads feature

Design and spam testing
Cons
Email automation only available on higher-tier plans
Our Rating
Features: 4.3
Pricing: 4.4
Customer support: 4.4
User-friendliness: 4.2
---
8. Omnisend
Omnisend is a comprehensive email marketing tool designed to automate marketing efforts throughout the customer journey.
It enables you to effectively reach your target audience, deliver the right message, and engage at opportune moments.
One standout feature of Omnisend is its ability to seamlessly connect with multiple communication channels within a single automation workflow. 
With this tool, you can effortlessly reach and engage your audiences through email, SMS, and push notifications. 
This multichannel approach ensures that the message reaches customers through their preferred communication channels, maximizing the chances of meaningful interactions and conversions.
While Ominsend is quite a good Constant Contact alternative, It would be better if the software integrated with Typeform, so I didn't have to log in to Typeform to see my survey results. 
Pros
Prebuilt automation workflow 

Email sequencing 

It can be integrated with multiple channels
Cons
No unlimited emails
Our Rating
Features: 4.2
Pricing: 4.3
Customer support: 4.2
User-friendliness: 4.1
---
9. Moosend
Moosend is a feature-rich email marketing software offering a comprehensive tool suite for lead generation and business growth.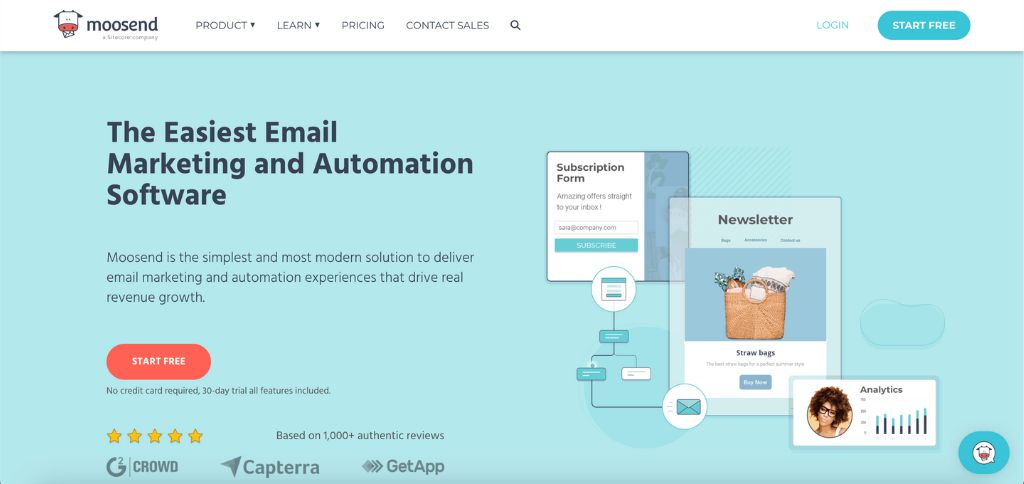 This email marketing software offers a range of advanced capabilities that empower users to create highly effective email marketing campaigns. 
Designing and setting up my email marketing campaigns and building the emails into a funnel for each of my lead magnets was easy. 
I designed my email templates and elements and saved them for future use. I also used Moosend to build a pop-up subscription form that I could build into a button on my WordPress website.
The only thing I dislike is when you have an email list and remove someone from it for whatever reason; they are still on the list, but it says they are removed.
Pros
Automation workflows outperform competitors at the same price

Unlimited custom data fields and segments available

Simple UI
Cons
Moosend's third-party integration is limited compared to competitors
Our Rating
Features: 4.1
Pricing: 4.2
Customer support: 4.1
User-friendliness: 4.0
---
10. Engagebay
EngageBay is a comprehensive marketing software integrating lead generation, email marketing, marketing automation, CRM, and social media engagement into a single platform.
Its purpose is to assist businesses in acquiring, engaging, nurturing, and converting leads. 
With EngageBay, you have the power to effortlessly create captivating email campaigns, automate your marketing processes, and streamline your sales funnels. 
This cloud-based email marketing platform is perfect for generating valuable leads, automating the distribution of your engaging email marketing content, and effectively managing your customer relationships, all thanks to its intuitive built-in CRM.
I thoroughly enjoyed using EngageBay CRM. Thanks to its automation and workflow features, I managed customers and prospects effectively. 
Yet, I would appreciate it if there was more API functionality, especially when it comes to reporting email success. 
Pros
Easy integration with popular CMS

Free trial signup and onboarding

Responsive customer support team
Cons
The learning curve may be a little steep
Our Rating
Features: 3.8
Pricing: 4.1
Customer support: 4.0
User-friendliness: 3.8
---
Buyer's guide
When searching for Constant Contact alternatives, it's crucial to consider several key factors to find the right email marketing platform for your business. 
Start by evaluating the features and functionality offered by each alternative, focusing on automation, segmentation, and analytics. 

Additionally, prioritize user-friendliness, seeking an intuitive interface and easy-to-use tools. 

Scalability and pricing options are important considerations to ensure the alternative can accommodate your business's growth. 

Remember to pay attention to deliverability and compliance with data protection regulations. 

Reliable customer support and seamless integration capabilities are also crucial. Take the time to read reviews and utilize free trials or demos to make an informed decision.
Considering these factors, you can find the perfect email marketing platform to meet your business needs.
FAQs
What Is The Success Rate of Constant Contact?
The success rate of Constant Contact averages 97%. This high rate demonstrates its exceptional performance in delivering effective email campaigns.
Is It Safe To Use Constant Contact?
Yes, it is safe to use Constant Contact. The platform is a legit email marketing software and it safely stores your customer data and offers a secure way to manage your subscribers. 
Is Constant Contact a Free Service? 
No, Constant Contact is not a free service. It has three pricing plans, the lite plan, the standard plan, and the premium plan. 
What Is the Best Constant Contact Alternative?
While there are several great  Constant Contact alternatives, after thorough testing, I highly recommend ActiveCampaign as the top choice. 
As a cheaper constant contact alternative, ActiveCampaign offers a comprehensive set of features that sets it apart from other alternatives, including advanced automation capabilities, robust email personalization options, and in-depth reporting and analytics.
ActiveCampaign has been instrumental in helping me execute successful email marketing campaigns with ease and efficiency. The platform's user-friendly interface and intuitive workflows make it a go-to tool for businesses of all sizes.
With ActiveCampaign, you have the power to create highly targeted and personalized email campaigns, automate your marketing processes, and gain valuable insights into your audience's behavior and engagement.
Our #1 Recommendation: Active Campaign