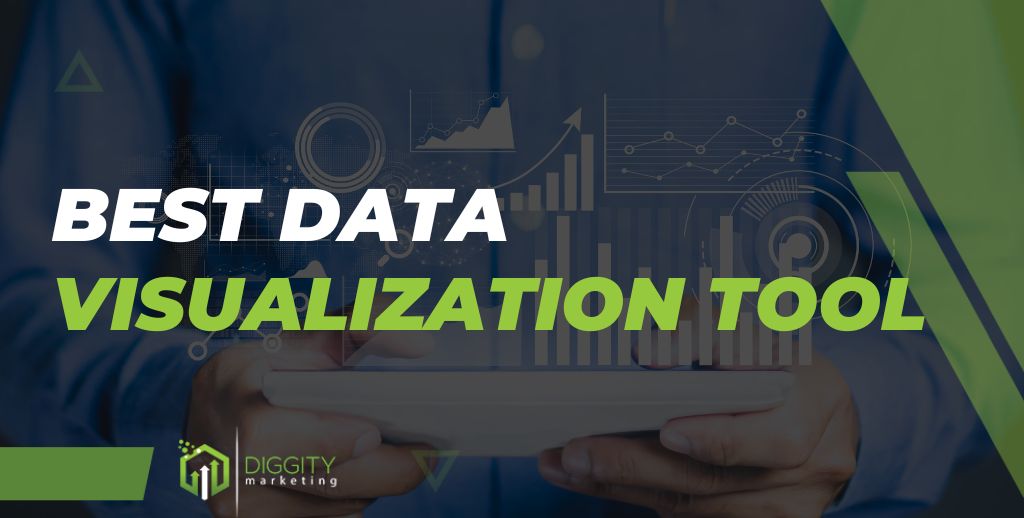 Technology makes it easier than ever to gather data, but all those new data sources are worthless without a way to sort through the information. That's why the best data visualization tools are so valuable.
By applying visualization to important data, you can recognize patterns, track significant changes, and explain new concepts to members of your business. The trick is finding the right software, which isn't easy. We've reviewed dozens of products, and, the ten below have proven to be the best data visualization tools available today.
1. Tableau (

Editor's Choice

)
Tableau is one of the market's most well-known data visualization tools and is widely used by thousands of businesses. It is well-loved for its hundreds of visualizations and offers desktop, hosted, and cloud-based versions.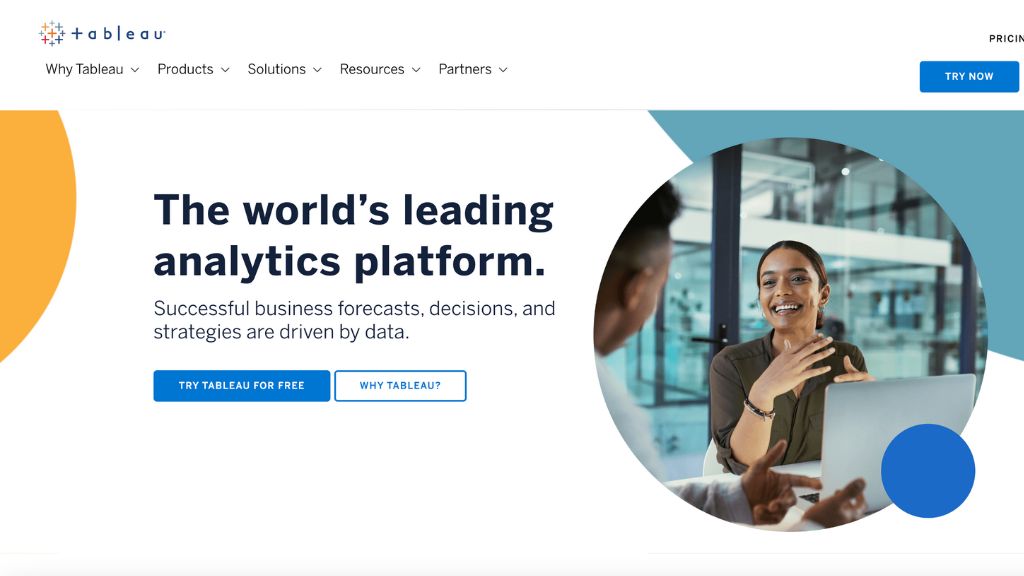 Tableau data visualization tools offer all the features a business could need within an easy user interface. The tool also allows users to import data from most databases and sources. A free version, known as Tableau public, offers impressive functions in return for making the final visualization available to the public.
I spent hours testing Tableau and fell in love with its simple interface and all the power offered in the free public version. With its free and paid options, Tableau is the best combination of simple design and powerful features, making it my top pick for data visualization overall. 
Pros
Easy user interface

Powerful data processing engine

Huge selection of data visualizations

Free public version available
Cons
Professional version starts at $70 per user
Our Rating
Simplicity: 4.0
Data Types Supported: 4.7
Effectiveness: 4.9
Price: 4.0
---
2. Microsoft Power BI
Microsoft Power BI is the best data visualization tool for businesses that already rely heavily on Microsoft products. The tool offers beautiful visualizations, making it easy to understand data points rapidly. Microsoft Power BI works with various backend databases, including Google and Adobe Analytics, Excel, SQL Server, Azure, PostgreSQL, Oracle, and more.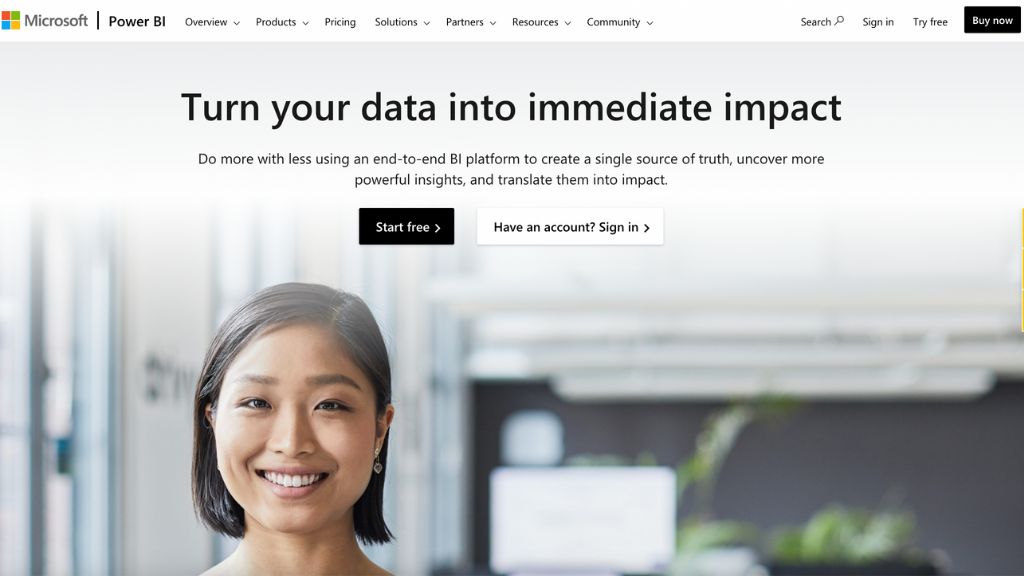 It's built for rapid performance and doesn't suffer from memory or speed constraints. The tool can be deployed locally or in the cloud to produce fast interactive and dynamic maps. I recommend Power BI to users that prefer Microsoft products because it's the most compatible with Microsoft, no matter what raw data types you want to explore. I easily loaded data from Microsoft Excel and enjoyed how seamlessly the tool integrates with a Windows system environment.  
Pros
Integrates well with Microsoft applications

Works with data from most backend databases

Equipped with powerful data security protection
Cons
Won't work with multiple datasets at once
Our Rating
Simplicity: 4.0
Data Types Supported: 4.4
Effectiveness: 4.2
Price: 4.9
---
3. Infogram
Infogram is a data visualization tool designed to create simple infographics. The tool accepts most backend data types and is easy to use with a basic drag-and-drop interface.
Infogram comes loaded with various interactive visualizations and makes it easy to quickly create geographic maps. It also includes a full library of icons and makes it easy to create visualizations with a logo or watermark. The tool has a free option, but many of its top features require a premium subscription for $19, $67, or $149 per month.
I love Infogram for creating infographics and rapidly creating visualizations with little work involved. In my experience, it's very user-friendly and fast. 
Pros
Easy drag-and-drop interface

Hundreds of data templates

Useful for creating stunning infographics too
Cons
Only web-based and isn't as fast as a desktop tool
Our Rating
Simplicity: 4.7
Data Types Supported:  4.0
Effectiveness: 3.8
Price: 4.5
---
4. QlikSense
QlikSense offers data visualization tools powered by artificial intelligence. The product generates a deeper understanding of data faster than most data scientists can. The tool offers rapid calculations and gives you all the visualization tools you need to express your findings to others.
It's only $30 per month per user and is one of the few AI-powered tools we've tried and enjoyed. Use this to create useful visualizations rapidly. I was confused by QlikSense initially but fell in love with how fast I can create visualizations with the help of AI features of this system.
Pros
Ai data mining tools

Simple drag-and-drop features

Supports hundreds of data sources
Cons
The interface is confusing to navigate
Our Rating
Simplicity: 4.5
Data Types Supported: 3.8
Effectiveness: 4.4
Price: 4.2
---
5. Dundas Bi
Dundas BI is one of the more adjustable data visualization tools available today. The product allows you to gather information from various data sources and manipulate it into highly interactive charts. Dundas is highly flexible and gives you the ability to create data visualizations with different visual elements to suit your needs.
Create multi-page reports with visuals from the program and showcase key patterns in your data. The program is best for making interactive data visualizations from huge data sets.
If you need maximum control, you need Dundas BI. In my experience, Dundas BI is the best tool for creating visualizations with the very large data sets. Few other tools offer the same level of control when adjusting visuals.
Pros
Dynamic and highly adjustable charts

Huge range of controls to manipulate data for visuals

Works with most data sources
Cons
No support for 3D charts
Our Rating
Simplicity: 3.8
Data Types Supported: 4.7
Effectiveness: 4.1
Price: 3.0
---
6. ChartBlocks
Chartblocks is the best data visualization software when speed is essential. The tool allows you to import data from CSV files, SQL databases, and Microsoft Excel tables in seconds. This web-based tool has a variety of templates, making it easy to choose the right visualization tool for powerful visual presentations.
I really like ChartBlocks because it supports social media and allows you to put your visualizations on a website easily. When you have visuals to show off online ChartBlocks, makes it easy, and in my experience, it is the best platform for this.
Pros
Simple chart-building wizard

Visuals can be adapted for web use fast

Data uploads are rapid and simple
Cons
Data space is limited
Our Rating
Simplicity: 4.1
Data Types Supported: 3.9
Effectiveness: 4.5
Price: 3.9
---
7. Looker
Looker is one of the top data visualization tools for large businesses that work with many different types of SQL data. It supports more than 50 SQL dialects and connects with Snowflake, Redshift, and Bigquery.
I was impressed by the many different data analytics offered and how many ways there are to visualize data overall. Looker also has responsive customer support that answers questions, making it a real asset to businesses getting started. Looker is expensive, though.
There is no clear pricing on the website, and you must ask for the price, but users rarely pay less than $500 per month per business, and $2,900 per month is the average cost a business can expect. Looker is powerful and user-friendly but too expensive for small businesses. I found Looker easy to work with and I got answers back from the support team fast each time I had an issue getting started. 
Pros
Works with 50+ SQL dialects

Excellent data visualization capabilities

Works well with huge data sets
Cons
Too expensive for most small businesses
Our Rating
Simplicity: 3.8
Data Types Supported: 4.2
Effectiveness: 4.9
Price: 2.0
---
8. Domo
Domo is a powerful visualization tool for business intelligence specifically. This software has many data visualization tools designed to work with business-related information. It also features cards, text, and images designed to transform data and visuals into a compelling story for presentations.
Domo features many pre-built dashboards making it easy for different professionals to use the software successfully. It offers a free trial, but many of the best features come at a cost.
Domo is one of my favorite options for business users because of how well the software handles business information. I found the tool intuitive when working with business-specific information, but it will take a lot of time to learn how it works.
Pros
1,000 prebuilt data connectors

Excellent for business intelligence

Use cards, text, images, and visualizations to tell a story
Cons
Difficult to learn
Our Rating
Simplicity: 3.9
Data Types Supported: 3.8
Effectiveness: 4.3
Price: 4.2
---
9. Zoho Analytics
Zoho Analytics is a business intelligence visualization tool. It's crafted to handle data about marketing, sales, profit figures, and pipelines specifically. Zoho Analytics has free and paid options, enabling users to quickly take away actionable insights designed to make their business more profitable. 
Over 500,000 businesses utilize Zoho, which is why it's considered one of the top data visualization tools for business professionals. If you only care about visualizing sales-related data, Zoho is the number one tool available. 
Pros
Excellent sales data visualizations

Free and paid versions

Simple dashboard design
Cons
Only a cloud-based tool
Our Rating
Simplicity: 4.1
Data Types Supported: 3.5
Effectiveness: 4.2
Price: 4.4
---
10. Klipfolio
Klipfolio is a basic tool when you're looking for good data visualization tools, but it goes beyond those standard functions. The tool has specialized templates and dashboards designed to meet the needs of specific professionals, such as analysts, accountants, and business owners.
When you need an accurate graphical representation, Klipfolio makes it easy to adapt your data to make it more effective. Proper data visualization helps pros understand their business better. Klipfolio makes adapting data as easy as possible. I was able to custom-tailor information for everyone on my team rapidly with help from Klipfolio. 
Pros
Easily share finished visualizations as images and PDFs

Adapt data to meet the needs of different professionals

Loads of custom reporting tools
Cons
Data visualization tools are basic compared to some other tools
Our Rating
Simplicity: 4.3
Data Types Supported: 3.5
Effectiveness: 4.1
Price: 3.8
---
Buyers Guide
Data visualization is the process of taking big data and finding the trends and patterns within it. Today more data is created than ever before. Knowing how to process that data is essential to running a healthy business.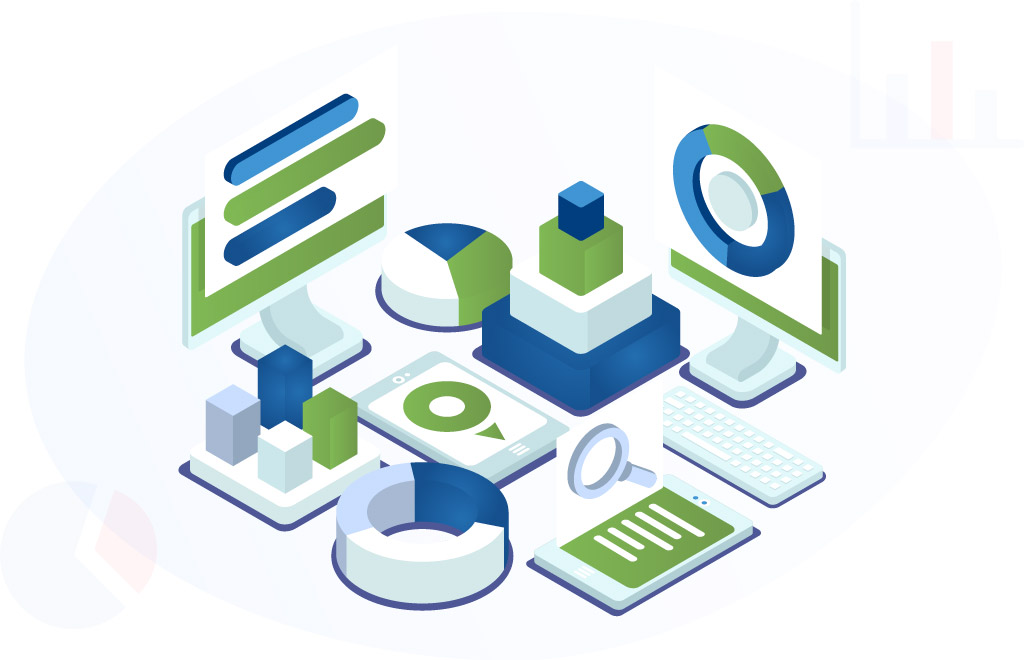 Visualization software takes those patterns and places them onto neat charts, which is the key to using visuals to leverage data today. You can only do this with the right tools; the most powerful tool can be difficult to find if you don't know what you're looking for. 
Why Is Data Visualization Important?
Data visualization is a powerful technique that allows you to explore a data source for valuable insights into the business it represents. With powerful data visualization tools, you can see impossible patterns without the help of the specialized charts and graphs created [1]. 
Without big data, you are blind and deaf and in the middle of a freeway.
– Geoffrey Moore, organizational theorist
Data visualization is used to create interactive charts that can be used to explore data over different periods and in varying conditions. A visual representation of data makes patterns easier to see and is often the best way to share important information with non-technical team members and investors. 
Graphics reveal data features that statistics and models may miss: unusual distributions of data, local patterns, clusterings, gaps, missing values, evidence of rounding or heaping, implicit boundaries, outliers, and so on.
– Antony Unwin – Academic Statistician at the University of Augsburg
A business dealing with large data sets needs to utilize data analytics and visualize data to find, monitor and share important data trends quickly. 
What the Best Data Visualization Tools Offer?
A Customizable Dashboard

Many Data Visualization Techniques

Excellent Backend Data Support

Allows Live Or Rapid View And Data Adjustments

Collaboration And Sharing Tools

No Performance Limitations

[2]
What Are the Types of Data Visualization Techniques?
A data visualization tool uses dozens of visuals, but the seven below are the most common and likely the most useful charts. The best programs should all include each of these visualizations [3]. 
Histograms

Pie Charts

Tables

Heat Maps

Tree Maps

Scatter Plots

Line Charts
---
FAQs
Which Software Is Best For Data Visualization?
The best software for data visualization in general is Tableau, but there are products more effective for specific professionals. Zoho Analytics and Domo are superior for business data analysis, but Tableau works better for other industries.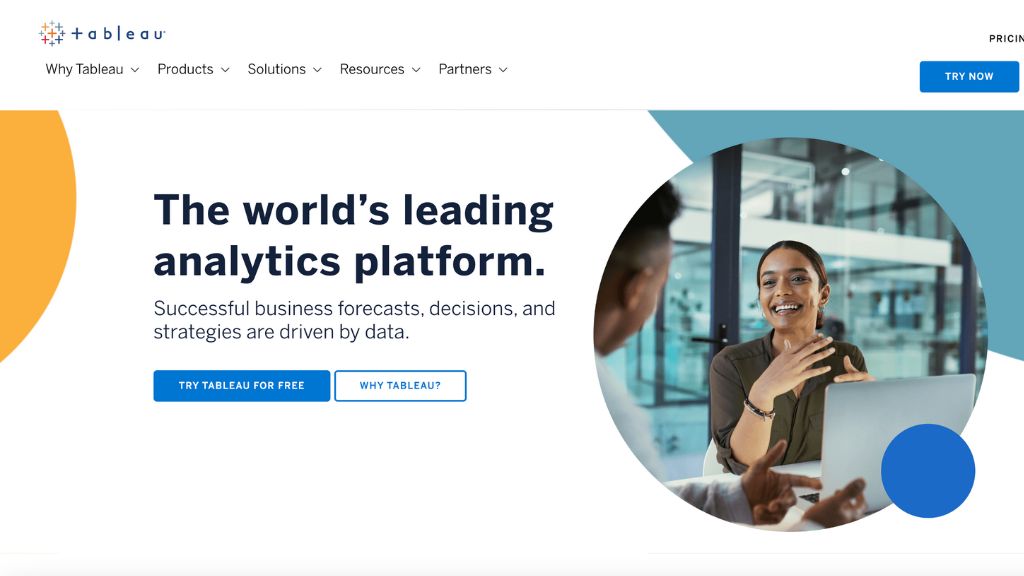 Which Microsoft Tool Is Visualizing Data?
The Microsoft tool that visualizes data is known as Microsoft BI. It's a powerful and interactive tool that can process many different backend data types into clear and dynamic visualizations. 
What Is The Best Free Data Visualization Tool?
The best free data visualization tool is Tableau. This tool has a free public version that offers many advanced features that beat other free tools for visualizing data. 
Which Tool Is Better Than Tableau?
I consider Tableau the best tool for data visualization in general, but Domo is superior for business data, and Chartblocks is better for creating rapid visuals. 
Why Use Data Visualization Tools?
You should use a data visualization tool to find significant trends and changes hidden in a large data pool. Utilizing a visualization tool enables a good leader to enhance their understanding of the business, keep track of developments, and present them in a visually appealing manner.
The three main goals of data visualization are to explore, monitor, and explain. Data visualizations are used to learn about new patterns within a large data set, to watch how the patterns change over time, and to showcase your findings to executives, investors, team leaders, and customers [4].
How Do Data Visualization Tools Work?
Data visualization tools capture trends in data sets and put them into carefully organized charts and graphs to make them visible to others. 
What Is The Tool For Data Visualization?
The tool for data visualization is a computer program known as data visualization software. This specialized tool accepts large data sets and finds and displays important data patterns in many different formats. 
What Are The 4 Pillars Of Data Visualization?
The four pillars of data visualization are distribution, relationship, composition, and comparison. Each is an essential benefit and goal for visualizing data.
How Do You Use Data Visualization Effectively?
To use data visualization effectively, you must first decide what data trends matter to you or the person you're reporting to and then explore different visualization types until you find a representation that clearly shows a relevant data pattern. 
Try Best Data Visualization Tools Today
Knowing how to import data, sort through it, and create visuals that mean something significant to the members of your business is a valuable skill that can make you more successful. 
Add Tableau to your business and find the trends that will improve your business the most. Tableau is the best visualization tool because it's straightforward and offers the most powerful selection of visualization options. You can get started with the free version before elevating to the paid option.