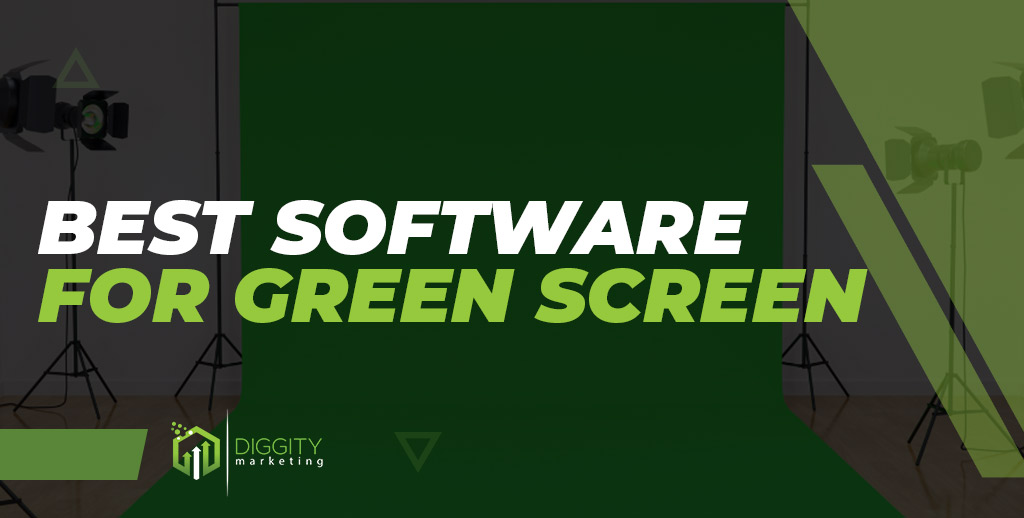 Green screen software isn't just used by professionals. Green screen software is even used in Zoom meetings and other video calls to blur your background or use a specialized background.
Green screen effects are simple to apply to any video; however, selecting the best software for green screen editing can be difficult, especially if you aren't an experienced video editor.
We spent months evaluating the best green screen software in terms of features, price, compatibility, quality, and more to bring you the best green screen options for your video editing needs.
1. Movavi Video Editor (

Editor's Choice

)
The Movavi video editor is among the best green screen background editors that allow you to trim, add effects, add animation, Chroma key software, or ready-made intros to your videos.
They also have features to enable quick edit videos, an extensive library of video filters, several languages, the ability to stabilize and reverse videos, and the ability to add stylish titles, filters, and more [6].
Movavi Video Editor starts at $39.95 a month. Movavi video editor is a great green background editor if you need essential editing tools for a low price.
Pros
Simple to use

Ability to export videos in batches

Large video filter library
Cons
Limited to basic editing tools
Custom rating criteria
Features:

4.3

Costs:

4.3

Quality:

4.3

Compatibility:

4.3
---
2. Adobe After Effects 
Adobe After Effects is the best green screen software, and it's customer-friendly. They are guaranteed to pull off all the editing work you need with the proper effort and time.
Adobe After Effects is a robust software that can be complicated to learn, but once you master the software, anything is possible. Their tools can help with animation, compositing, and the best green screen software. They offer the ability to add a fluid motion to anything, including graphics, titles, credits, and more.
The chroma key and luma key effects offer the ability to isolate a subject and create natural-looking effects, and the green screen editor can create life-like videos. They also offer a free trial, and their plans start at $29.99 per month.
Adobe After Effects is the gold standard for editing and green screen effects. Their tools can help you with almost any video editing or effect. It's also affordable, and they even offer a free trial. 
Pros
A long list of features

Lots of templates

Affordable

Great community
Cons
Intimidating for beginners
Custom rating criteria
Features:

5.0

Costs:

5.0

Quality:

5.0

Compatibility:

5.0
---
3. Light Works
Light Works is the best green screen software for anyone transitioning from entry-level software. It has a smaller learning curve that makes it suitable for those with experience but less of a learning curve than Adobe After Effects.
They also offer several versions, including a free version, a mid-range version, and a more expensive one for professionals. With their green screen editor, you can use essential chroma tools to choose any color for background removal; they also offer a large number of adjustments. 
Light Works is an excellent free green screen software for those who want to edit videos effortlessly. You can also make money editing videos if you're good at it.
Pros
Lots of advanced features

Customizable shortcuts

Can make 2D and 3D titles
Cons
The slight learning curve for beginners
Custom rating criteria
Features:

4.9

Costs:

4.9

Quality:

4.9

Compatibility:

4.9
---
4. Power Director
PowerDirector is a green screen video software that allows you to add customized shapes and objects to a video and supports animated titles and motion graphics.
They also allow you to perform Hollywood-style edits, enable video production with a 1-to-1 output ratio, have one of the best Chroma key software, several ready-made templates, slow and fast motion effects, color distortion correction, and more [1].
PowerDirector starts at $12.50 a month. PowerDirector is an affordable green screen video editor with a simple interface, several pre-loaded effects, and an excellent customer service team.
Pros
Excellent customer service

Simple interface

Lots of pre-loaded effects
Cons
Unexpected bugs
Custom rating criteria
Features:

4.8

Costs:

4.8

Quality:

4.8

Compatibility:

4.8
---
5. Adobe Premiere Pro
Adobe Premiere Pro is a popular editing software that offers high-end features and easy collaboration. This is the best green screen video editing for professionals with its advanced tools and traditional interface.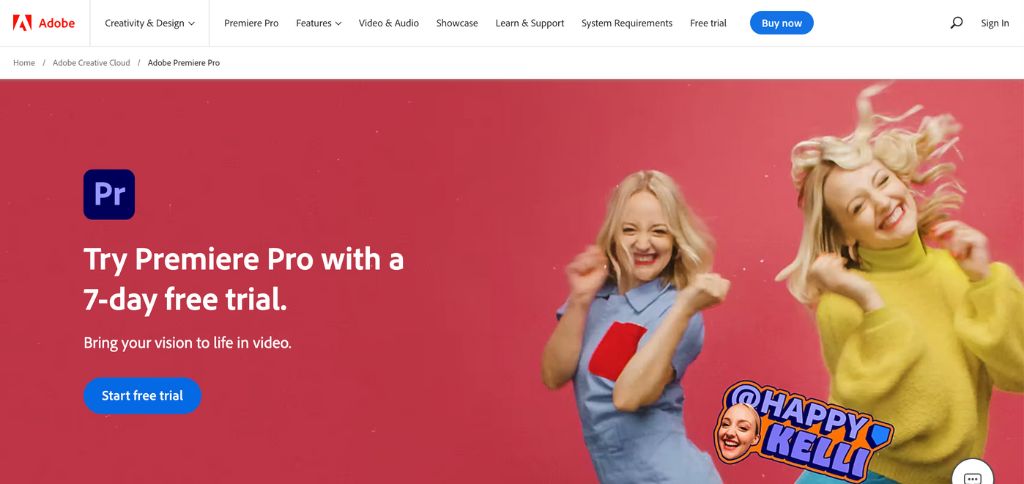 It also comes with Adobe Media Encoder to convert files into just about any format. Adobe Premiere Pro's green screen editing features include a color key and luma key to separate any color background and separate an area with luminance. This software isn't as challenging to learn as After Effects, but it still does take some practice [2]. 
Adobe Premiere Pro starts at $20.99. Adobe Premiere Pro. Adobe Premiere Pro is an excellent option for post-production, green screen video editing, and more. 
You don't have your video finished when you have the director's cut finished. It's all just a bunch of green screen.
– M. Night Shyamalan, Film Writer and Screen Producer
Pros
Chroma key feature

Great collaboration options

Supports multiple file formats
Cons
Subscription-based payment model
Custom rating criteria
Features:

4.8

Costs:

4.7

Quality:

4.8

Compatibility:

4.7
---
6. Shotcut
Shotcut is a free green screen editor with effects and filters, blending modes, time remapping, audio tools, and more. You can use the editor in one click, making it great for beginners and experienced editors.
There is an eyedropper to choose a different color, an adjustment slider to reduce spill, and advanced Chroma essential tools.
Shotcut is an excellent option to edit green screen footage and is simple for beginners and advanced editors with several green screen video tools.
Pros
Free

Wide format support

Several features
Cons
Prone to bugs
Custom rating criteria
Features:

4.7

Costs:

4.7

Quality:

4.7

Compatibility:

4.6
---
7. Final Cut Pro
Final Cut Pro is a green screen video editor that can sync up to 64 angles of video in various formats, offers real-time effects, helps to speed up post-production, and more.
The software also offers 2D and 3D titles, the ability to apply glows, blurs, and 360-degree effects offers, Multicam support, powerful organizational tools, advanced color grading, and more [3].
Final Cut Pro starts at $299.99. Final Cut Pro is a professional green screen effect software with a high price tag.
Pros
Integration with Apple software

Fast post-production editing

Several custom effects
Cons
Expensive
Custom rating criteria
Features:

4.7

Costs:

4.7

Quality:

4.7

Compatibility:

4.6
---
8. iMovie
iMovie is a green screen video editor for Mac. iMovie is free and comes built into a Mac, which makes it an excellent choice for an Apple user who doesn't want to spend money on green screen video editors like Final Cut Pro.
The software offers split-screen effects, voice-over options, color correction, media organization tools, an eraser tool for green screen effects, a background library, and more [4].
iMovie is a great free editor for Apple users with AI-powered features and a simple-to-use interface.
Pros
Beginner friendly

Works for all Apple devices

Ease of use
Cons
No advanced features
Custom rating criteria
Features:

4.6

Costs:

4.6

Quality:

4.6

Compatibility:

4.5
---
9. Filmora
Filmora is an intuitive green screen effect and video editor with all the latest features for professional-looking videos. Filmora is powerful but easy to use.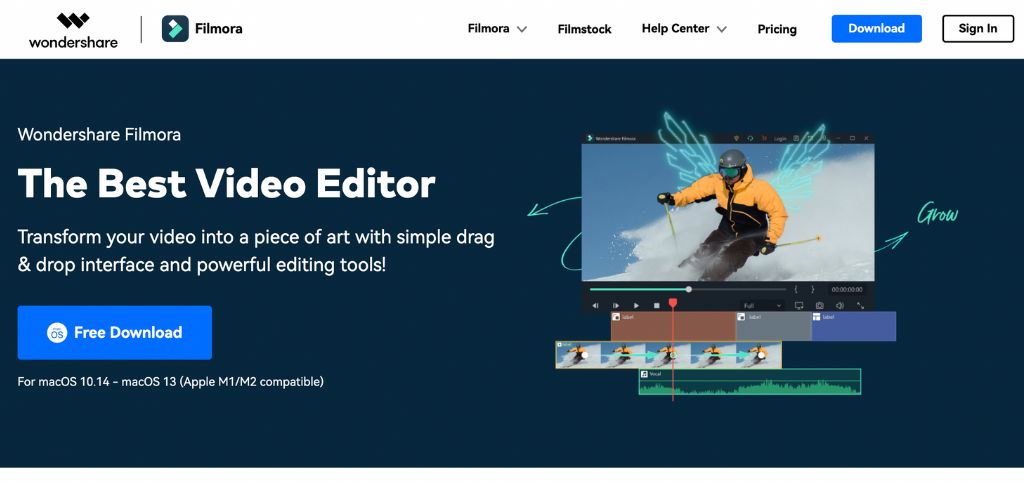 They provide tools such as titles, layers, a Multicam editor, hundreds of videos and audio effects, a simple timeline interface, a drag and drop editor, the ability to separate footage by scene, and a green screen footage editor tool [5].
Filmora starts at $44.99 a year with a 30-day free trial.
Pros
30-day free trial

Affordable 

Hundreds of effects
Cons
Lacks advanced features
Custom rating criteria
Features:

4.5

Costs:

4.5

Quality:

4.5

Compatibility:

4.5
---
10. HitFilm Pro
HitFilm Pro is a free video editing software that gives you professional editing features. The software has a great community with over six million video creators.
It supports the most popular video formats, a personalized workstation, mask editing, a built-in voice recorder, over 400 effects, free video tutorials, 2D and 3D compositing, and more.
HitFilm is free for Windows and Mac, but for specific effects, you need to pay for add-ons. The starter pack is $9 and contains primary effects, and their $19 plan is ideal for video professionals. HitFilm Pro is a great free green screen editor with many beneficial effects, free video tutorials, and more, making it an excellent option for a beginner on a budget.
Working with a green screen, you really have to rely on the director in a way you don't for other types of films.
– Amy Adams, Actress
Pros
A large list of effects

Customizable workspace

Uses popular video formats
Cons
Have to pay extra for certain effects
Custom rating criteria
Features:

4.4

Costs:

4.4

Quality:

4.4

Compatibility:

4.4
---
Buyer's Guide
Before you choose the best post-production green screen software, you will need to understand what green screen software is, how it works, what equipment you need to record a green screen video, how to record a green screen video, and how to choose the best software to apply green screen effects.
1. What Is Green Screen Software?
Green screen software is an editor used to change a video background. The tool allows you to edit the video and trim as needed. It also allows you to add your color choice to the video background.
2. How Does A Green Screen Editor Work?
Here is a step-by-step breakdown of how a green screen software editor works.
Step 1:

It uses a process called Chroma keying.

Step 2:

The software removes a single color in a specific part of the video/

Step 3:

The software uses a green or blue screen to isolate the background.

Step 4:

The software selects the portion of the video based on the hue of the color

Step 5:

Finally, the software removes the background so you can add visual effects to the video.
3. Who Invented Green Screens?
When Chroma key software was invented in the 1930s, Larry Butler used a blue screen matte in the 1940s in a movie that won an Academy Award for special effects. After this, film producers realized the green color was better than blue for Chroma key software, and eventually, green screens replaced blue screens. 
Working with a green screen is different than working with a human
– Shailene Woodley, Actress
4. What Equipment Is Needed for Recording a Green Screen Clip?
While replacing a video background seems complicated, the green screen and Chroma key software make it easier. However, it would be best if you still used the right tools with the software. The essential equipment you need to create green screen video clips includes:
A digital camera or webcam

A sufficiently powered PC, Macs and PCs both work well 

A data cable for downloading images from the camera

A green or blue background

Green screen editing software
5. How Do You Shoot Green Screen Video Clips?
A green screen video clip can be shot in a few steps [7]:
Select Your Backdrop – The first step to recording your video is getting a green screen. You can use pre-made cardboard or delicate fabric. Ensure that your screen doesn't match any of the surroundings.
Choose A Proper Camera – You will need a camera that can shoot high-quality video of at least 720p to 1080p or higher. Also, ensure you have a camera that can record and save videos in a format supported by your editing software.
Provide Adequate Lighting – The purpose of providing adequate lighting is to prevent shadows on the backdrop, as they can cause green screen glitches. To prevent this, light up the recording area from all angles. It's best to use separate light sources for the subject and the background to control color saturation.
Keep The Screen Straight – When recording, ensure that the screen is kept straight. Any wrinkles or folds in the screen can cast shadows and interfere with the Chroma key software.
Shutter Speed – When choosing a camera for your videos, be conscious of shutter speeds. Shooting an action scene with a low shutter speed can produce motion blurs.
Use The Proper Green Screen Software – Once filming is complete, use the proper green screen editing software to replace the background with desired background.
6. Green Screen Video Precautions
Here are some additional precautions to follow during the creation of green-screen videos:
Have six to ten feet of distance between the green screen and the subject.

When shooting in a natural setting with greenery, use a blue screen instead of green.

Make sure you review your footage after shooting your video.

The subject's clothes and makeup should match the background you are adding later.
7. Choosing the Best Green Screen Video Editing Software
There are lots of solid options for green screen video editing available, but there are some key elements to look for to find the best software for your videos.
Skill Level:

Choosing the right editor for your skill level is vital to ensure you have the level of control you need without a significant learning curve, no matter if you are a beginner or an experienced editor.

Cost:

Choose a budget for the videos you want to make. If you have to spend money on lighting, a camera, etc., you won't want to pay an extravagant amount for green screen software. Consider an editor that is within your budget.

Features:

If you don't have a green screen in your home, you will need software with a chroma key so you can choose the colors you need to remove. You may also need features like an AI background remover. 

Additional Editing Features

: Ensure that the editor you choose has the tools you need for your videos, not just a background remover. Ensure they have picture tools, motion titles, slow-motion effects, and more.
FAQs
How Can You Edit A Green Screen Video?
With your green screen software, you just click the green screen background with the color picker tool, and the background can be replaced with your chosen background.
What Is A Chroma Key Edit?
Chroma key editing is a tool that separates the video into layers based on color and removes one of the layers. 
What Can I Use To Make A DIY Green Screen?
You can use just about anything that is large enough to cover the background of the video that is a single bright color. Fabric that is green or blue is a great option. You can also create a green screen from poster board, wood, cardboard, or foam.
Does Using A Green Screen Need Professional Software?
No, you don't need professional software. It would be best to have a camera that can connect to your computer and video editing software that has a green screen tool or chroma key.
Is It Difficult To Use A Green Screen?
No, using a green screen is simple, especially if you have an editor that is user-friendly.
What Is The Ideal Kind Of Green Screen Material?
Muslin is one of the most popular kinds of green screen materials. Spandex and nylon are also good options; avoid shininess.
How Much Does A Professional Green Screen Cost?
A professional green screen room costs around $55 to $250 per hour. A green screen room is a space with a bright green background to give artists the opportunity to make videos.
What Are The Top Five Common Mistakes Made By Green Screen Beginners?
The top five most common mistakes include shadows, too much lighting, a damaged green screen, disappearing green objects, and motion blur with shutter speed.
Is A Dark Green Or Light Green Color Better For A Green Screen?
A dark green color is typically better for a green screen. It blends well with any background and shadows [8].
What Is An Ideal Color To Wear Against A Green Screen?
Darker clothing is the ideal color to wear against a green screen. Due to all the lighting, white clothing can reflect against the backdrop if the lights are bright enough [9].
Can I Use A Wall As My Green Screen?
Yes, you can use a solid-colored wall as a green screen. You can paint the wall green or blue for a DIY green screen. You can also do this with a floor.
Can You Use Any Image For A Green Screen Background?
Yes, you can replace your green screen background with any image or screenshot.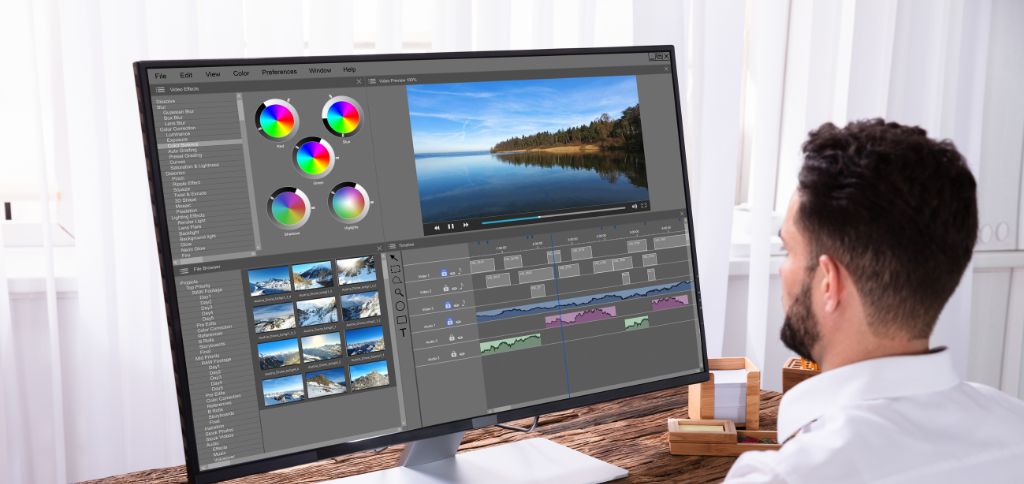 What Is The Difference Between A Green And Blue Screen?
The main difference is that a green screen is brighter than the blue found in a blue screen. If you are filming a night scene, the color luminosity of the blue screen is preferable because there will be less light to bounce around, so it depends on what you are using the screen for.
How Many Lights Should I Have For My Green Screen?
You should have two lights for your green screen if your needs are simple. Place one light on either side of the screen a few feet back at a 45-degree angle.
What Is the Best Green Screen Software?
When it comes to finding the best green screen software for your video editing needs, Movavi Video Editor stands out as the clear winner.
With its user-friendly interface, powerful editing tools, and extensive library of special effects, Movavi simplifies the process of creating stunning green screen videos. Whether you're a professional videographer or a novice content creator, Movavi Video Editor provides the versatility and ease of use.
Say goodbye to complicated software and hello to effortless, high-quality video production with Movavi Video Editor. Elevate your creativity and take your video projects to the next level with this exceptional software.
Our #1 Recommendation: Movavi