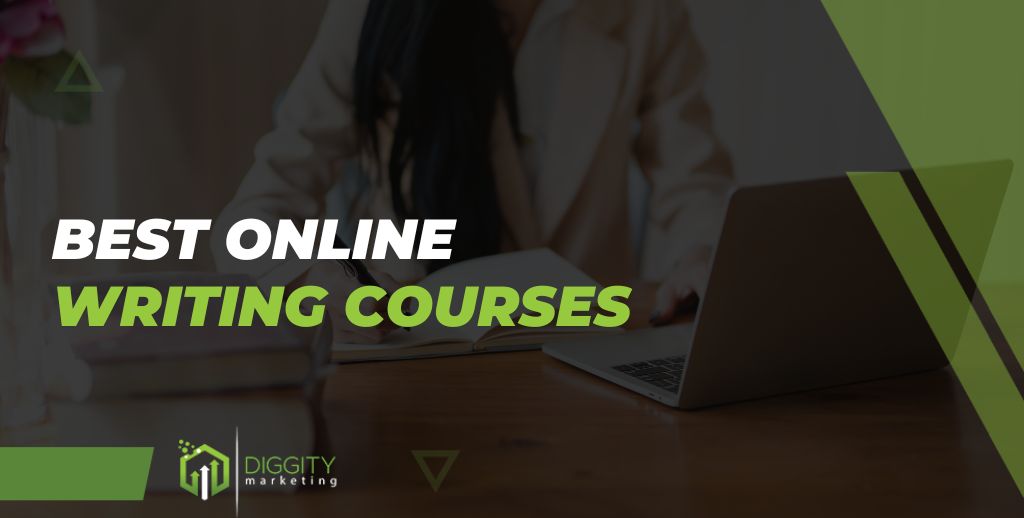 Online writing courses allow you to elevate your natural writing skills to a professional level that will help you excel in your field.
You can improve or build new skills, from publishing fiction or non-fiction books and writing articles to beginning a copywriting career.
As an SEO expert, I understand the importance of finding the perfect online writing course to express your ideas better. In this article, I will leverage my knowledge and experience to analyze online writing courses, helping you discover which fits your creative writing needs.
Best Online Writing Courses
1. Coursera – Wesleyan University Creative Writing Specialization
Coursera is our top pick when looking to boost academics. It partners with well-established universities and colleges to offer high-end courses.
The Creative Writing specialization includes five courses specializing in narrative essays, memoirs, and short stories. It will equip you with knowledge on creating characters, developing your style, and writing descriptions. It gives access to peer readers who can give you feedback.
It is recommended for writers seeking professional qualifications and those who want to start their writing career.
Coursera allows you to adjust your schedule, making it a convenient study option for everyone.
Pros
Verified certificate of completion

Financial aid available

Adjustable study schedule

Discounts available
Cons
Lacks instructor's critique
Our Rating
Features: 4.9
Pricing: 4.8
Customer Support: 4.9
User-friendliness: 4.9
---
2. Masterclass
Masterclass is king if you want to improve your writing because you get to learn from masters of writing themselves.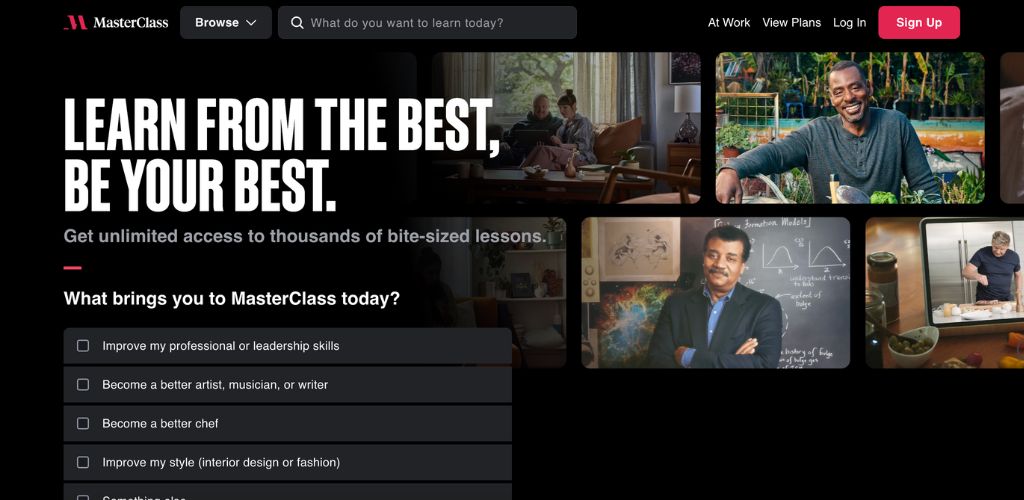 It offers writing lessons crafted by Margaret Atwood, R.L. Stine, Billy Collins, Shonda Rhimes, and David Sedaris.
Masterclass offers a variety of good options, including poetry, composing novels, and screenwriting,  where you will learn to create characters, structure your ideas and scripts, and craft authentic dialogue. Besides, it focuses on courses on the craft and theory of fiction and non-fiction writing.
However, the platform is time-limiting since the classes are about 5- 10 minutes long on average, which is a bit too short. You can only download PDF worksheets and watch lessons offline if you subscribe annually.
Pros
Professional instructors

Affordable

Courses come with practical examples
Cons
Classes are short
Our Rating
Features: 4.8
Pricing: 4.7
Customer Support: 4.8
User-friendliness: 4.6
---
3. Udemy – The Secret Sauce of Great Writing
Udemy offers free online courses with a broad range of products, including freelance writing, basic grammar and punctuation, and self-publishing. You can choose from various writing classes to suit your writing needs.
One of the best free online writing courses is the Secret Sauce of Great Writing by Shani Raja, former Wall Street Journal editor. This course targets clarity, evocativeness, elegance, and simplicity- the four aspects of writing, according to Raja.
It's free, and you can quickly upgrade your marketing copy, blog writing, copywriting skills, and business writing to a higher level.
This course runs for 41 minutes and allows you to have a flexible schedule. It is highly recommended for individuals looking for a short writing course at no cost.
Pros
Free course

Self-paced schedule

Covers the four main aspects of writing
Cons
No interaction with the instructor
Our Rating
Features: 4.7
Pricing: 4.6
Customer Support: 4.6
User-friendliness: 4.5
---
4. Writer's Digest University – Creative Writing 101 
Writer's Digest University has a reputation for having an established magazine since 1920 with experienced writers. It offers a Creative Writing course for individuals looking to get into writing.
The course focuses on helping you find your ground in writing and create a plot for your ideas while addressing key concerns, including dealing with writer's block and settling on your point of view. It is a 12-week course taught by Ran Walker, winner of the 2019 National Undie Author of the Year award.
However, the course is very pricey and doesn't offer as much information as cheaper courses. On the positive side, the quality of the sessions is great, and it offers a flexible schedule.
Almost all good writing begins with terrible first efforts. You need to start somewhere.
– Anne Lamont, American Novelist and non-fiction writer
Pros
The instructor offers feedback on assignments

Free writing resources 

Flexible schedule
Cons
Expensive
Our Rating
Features: 4.6
Pricing: 4.5
Customer Support: 4.5
User-friendliness: 4.4
---
5. Catapult – Mastering First Person Voice
Catapult offers a wide range of online writing workshops led by renowned authors and literary magazine editors. The workshop component is great for connecting with other writers and learning their writing process. 
It starts at $75 for a 1-day seminar and comes with online courses of varying durations and writing genres. 
The workshop can last as long as 6 weeks, helping you gain all the knowledge and discipline needed to finish your first draft.
Pros
Workshops led by renowned instructors

Extensive list of online workshops

Feedback from instructors and top writers
Cons
Expensive
Our Rating
Features: 4.5
Pricing: 4.4
Customer Support: 4.5
User-friendliness: 4.3
---
6. Bookfox – Master Your Writing Habits
Bookfox was founded by John Matthew Fox, where he creates writing courses and provides editing for your work.
One of the best online courses is Master Your Writing Habits, which aims to help you set goals, spark your creativity, and boost your writing speed by building habits. This course will teach you discipline and courage to write more, maximize writing time, and make realistic writing goals.
It costs $99; you get access to the instructor, downloadable resources,  and a completion certificate.
I was impressed by the schedule, which allows you to take the courses at your own pace and access it for a whole year.
However, you don't get to experience a variety of writers who are great in their field since Fox teaches all the courses by himself.
To be the kind of writer you want to be, you must first be the kind of thinker you want to be.
– Ayn Rand, American Author
Pros
Certificate of completion

Allows you to take up to one year

Direct access to the instructor
Cons
Limited course features and teachers
Our Rating
Features: 4.4
Pricing: 4.2
Customer Support: 4.4
User-friendliness: 4.2
---
7. CreativeLive – Wired for Story: How to Become a Story Genius 
CreativeLive is an online learning platform aimed at writers, creative professionals, and entrepreneurs. It offers over 700 courses in various fields, including writing and blogging. 
Wired for Story: How to Become a Story Genius by Lisa Cron, which includes 17 high-quality video lessons recorded before an audience, is one of their most popular courses. Lisa's presentation and lucid content teach you about plotting, writing, and structure.
This writing class starts with a $49 one-time payment or a monthly subscription of $13.
I was impressed with the downloadable PDFs and worksheets I could access on my desktop or through the CreativeLive app on my mobile device.
Pros
Free live-streaming of classes

Hand-picked and experienced instructors

High-quality production values in front of a studio audience
Cons
No all-access pass
Our Rating
Features: 4.2
Pricing: 4.1
Customer Support: 4.3
User-friendliness: 4.0
---
8. LitReactor – Writing the Weird 
LitReactor is an online community that aims to help writers jumpstart their writing goals and readers explore more books.
One of its best courses is Writing the Weird, which features coursework analyzing bizarre and surreal literature to highlight the human elements that make a story unique. It is taught by J.S. Breaukelaar, the author of Collision, and takes four weeks to complete.
You will be assigned weekly writing assignments and receive feedback from your instructor and classmates. In the last week, you will be required to develop a story from start to finish.
I found this online creative writing class best for individuals looking to think outside the box.
Pros
You get to write a story from start to finish

Timely feedback on assignments

Flexible schedule
Cons
Expensive
Our Rating
Features: 4.1
Pricing: 4.0
Customer Support: 4.1
User-friendliness: 3.8
---
9. Grammar Lion – A Grammar Refresher 
A Grammar Refresher is the best course if you are looking to sharpen your grammar and get strong written communication skills.
The text-based course teaches the art of copyediting and proofreading, especially establishing parts of speech, identifying different verb forms, analyzing sentence structure, and mastering the different tenses.
The course runs for 12 weeks and is taught by Ellen Feld, an author and editor. You are allowed one-on-one discussions with Ellen through private email or a discussion forum.
I was impressed with the free engagement with the instructor, who was also willing to offer one-on-one editing services but for an extra fee.
Pros
One-to-one instructor support

Verified certificate of completion

Extensive list of grammar resources for further learning
Cons
Not ideal for auditory learners
Our Rating
Features: 3.9
Pricing: 3.7
Customer Support: 4.0
User-friendliness: 3.8
---
10. Gotham Writers Workshop – Creative Writing Fiction 101
Gotham Writers Workshop was founded by Jeff and David in New York in 1993. It was among the first institutions to offer online education, launching the first online class in 1997.
Gotham offers multiple genre courses from article, creative, and non-fiction to fiction writing. 
Fiction 101 is offered in a workshop format, where individuals must start at the same point and meet at set times. You are also required to complete assigned work within a week; therefore, you have to be confident of your schedule.
The availability of the course is tight, and each group has 16 spaces. The online interface is easy, allowing you to read your peers' work and instructors' critiques. This is a 10-week class with one weekly meeting.
I like that the lectures are live, and you learn through critiquing each other's work.
Pros
Great interaction with the instructor

Small sized class

Great online interface
Cons
Does not feature videos
Our Rating
Features: 3.7
Pricing: 3.6
Customer Support: 3.8
User-friendliness: 3.4
---
Buyer's Guide
When looking for reputable online writing courses, you must consider several key factors.
1. Identify Your Goal
You need to find out if you want to learn basic writing habits, learn fiction or non-fiction writing, or copywriting.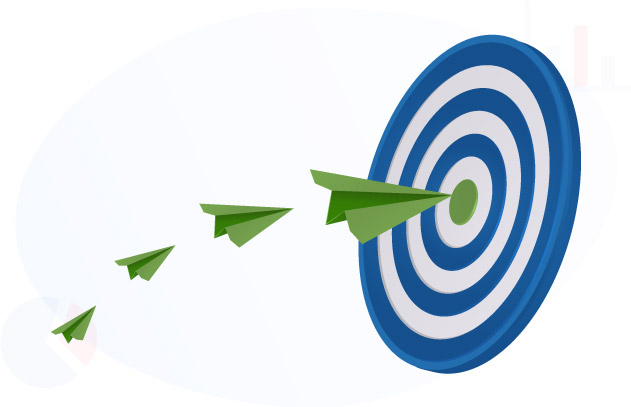 2. Set Your Budget
Decide how much money and time you are willing to spend on a writing course. Do not overspend on a course you can't dedicate enough time to because it will be counterproductive.
3. Evaluate The Curriculum Quality Of The Course
You need to find out the course's curriculum quality and ensure it is comprehensive and up to date. The best online courses have a flexible schedule that allows you to take classes and still do your work.
Additionally, look out for courses that offer opportunities for learners to practice their writing skills.
4. Evaluate The Reputation Of The Instructor
Focus on their background and reviews to understand if they have the experience and expertise to teach online writing.
5. Consider The Certificate Of Completion
This is not a standard for an online class, but it is an added advantage since you can add it to your LinkedIn profile and resume.
FAQs
Are Online Writing Courses Worth It?
Online writing courses are worth it if you are looking for professional advancement or personal enrichment. Go for courses with a certificate of completion if you want to get a promotion at work.
In addition, you can turn your skill into income by joining some of the best freelance writing platforms at a later time.
Do Creative Writing Courses Help?
Creative writing courses help you improve your writing in various ways.
They strengthen your knowledge of writing basics, teach new literary techniques, find your writing voice, and initiate healthy, productive habits.
Some online classes include the instructor's feedback that will help you fine-tune your writing further. Free online writing courses are a good place to start if you want to be a hobbyist writer.
Which Writing Course Is The Best Choice For You?
While there are various online creative writing classes, I highly recommend Coursera and its Creative Writing Specialization Course by Wesleyan University.
Coursera offers certificate courses, which come in handy if you are looking to strengthen your resume and build a writing career. It has reputable instructors who are experts in their field and foster interactive classes.
Also, the classes are self-paced, allowing you to add them to your schedule easily.
This course's major outcomes include an in-depth evaluation of different writing genres and learning essential skills for effective writing.