Creating an effective roadmap makes your product more likely to succeed, and high-quality product roadmap software is essential for creating top-quality roadmaps.
I've spent hours testing product roadmap software in different business environments and have selected what I believe to be the best software options. Learn about the best roadmap software options and how their features can significantly improve your business planning goals. 
1. Monday.com (

Editor's Choice

)
Monday.com is our best roadmap program because it offers all the features you need to plan every product's life cycle phase effectively.
The real strength of Monday.com for project management is that it's highly customizable and has important features like Gantt charts. It is built to unite team members on specific project segments. 
Once you spend a bit of time with Monday's drag-and-drop interface, you can start organizing your team into groups, creating custom views for everyone, integrating outside software like Zoom, Slack, and Google Drive, automating task assignments and more to get everyone organized and move along your company goals.
After using Monday.com for months, I was impressed by the software's ability to give me a big-picture look at what's going on, with visual tables and all the views. The features encourage continuous adjustments and more efficient product cycles, and Monday ranges in price from $8.00 to $16.00 per person, making it an affordable option [3]. 
Pros
Integrates well with popular software

Offers many views, including Kanban and Gantt

Powerful collaboration features like messaging

Supports automation with dependencies
Cons
Zapier may be required to integrate less popular software
Custom rating criteria
Usability: 4.8
Features: 5.0
Value for Price: 4.6
Collaboration: 4.9
---
2. Wrike
Wrike is an effective product management tool with all the features for progress tracking, collaboration, and effective planning. The main issue with Wrike is that it's more complicated than tools like Monday.com.
Wrike is infinitely customizable, offers over 400 software integrations, and has over a dozen configurable views. All these features make the product complex and overwhelming to use.
After using Wrike, I was impressed by how well it can be customized, and it's a top-tier project management tool for users that can spend extensive time getting their workflow set up just right.
Wrike felt overwhelming as I was testing it, but I like it when working with many different software tools I want to be interconnected.
Pros
Three-pane view shows all the important features

Supports Gantt boards

Data visualization with analytics tools
Cons
Complex and daunting to use
Custom rating criteria
Usability: 3.8
Features: 4.9
Value for Price: 4.5
Collaboration: 4.5
---
3. Trello
Although Trello is one of the simplest roadmap tools on this list, it is capable enough for businesses to use it for product planning purposes. With Trello, you organize your data into cards, including files, images, due dates, links, etc. Each card gets placed into one of many lists organized onto boards.
Premium Trello users get access to unlimited boards for as much organization as they like, and with more than 200 app integrations and automation capabilities, you can create a surprisingly sophisticated project management system using several Trello boards.
If you love boards and lists and don't care much for the other project management views offered by Asana, Trello is simple and powerful. It works well as a lightweight roadmap planner and starts off free, with premium versions for $5 and $10 per month.
I've used Trello for years, and when configured properly, this simple program meets all the needs that roadmapping software should. 
Pros
Simple one-button card automation

Easy interface everyone can use

200+ external app integrations
Cons
Focused almost entirely around the board view only
Custom rating criteria
Usability: 5.0
Features: 3.8
Value for Price: 4.6
Collaboration: 4.7
---
4. ProductPlan
ProductPlan is one of this list's purest tools for creating product roadmaps. It isn't for managing every task within a project and is more for creating a visual roadmap for each product your business is focused on.
ProductPlan uses a simple drag-and-drop interface, allowing team collaboration when creating your map. This tool is one of the best product roadmap tools available because that's the only thing it's designed to do.
You can share your finished roadmaps with anyone you like and give detailed and focused maps to team members while offering a broader map to executives.
ProductPlan is easy to use and an always-online tool that doesn't require a software install. It enables users to create a capable product roadmap quickly, and we love the tool's support for map templates.
I love that the tool is always online, and you can access it from many different devices. It's costs $39 per editor, which is quite expensive, and I think other tools are a better value. 
Pros
Customizable templates for fast mapping

Beautiful visual roadmaps

Unlimited roadmaps can be shared easily
Cons
Costly tool beginning at $39 per editor
Custom rating criteria
Usability: 4.6
Features: 4.4
Value for Price: 3.0
Collaboration: 4.0
---
5. Craft.io
With Craft.io your team can easily add tasks for employees with dependencies and group them into various steps on roadmaps.
Craft.io is designed for roadmaps above all else, and it's one of the roadmapping tools that pushes you to use effective mapping practices. The product's design means you are more limited with your strategy roadmaps than with other tools on the list.
We love the tool for small businesses that want help creating roadmaps fast. If you want quick results, this program is solid, and if you want to customize your roadmaps heavily, you won't have the key features you need and should choose Monday.com or another tool instead.
I like Craft.io because it helps standardize mapping between users; when testing this program, everything remained neat when working on projects with multiple collaborators. 
Pros
Built around effective roadmap templates

Easy-to-use interface

Captures user stories and infuses them into the planning process
Cons
This dedicated roadmapping tool lacks customization features
Custom rating criteria
Usability: 4.7
Features: 4.4
Value for Price: 3.5
Collaboration: 4.1
---
6. Airfocus
Airfocus is the roadmapping software for teams that need help with prioritization. If you aren't sure which features should come first, Airfocus uses a proprietary system to tell you. The tool looks at collaboration from your team and their actions and input to decide which features should be completed as soon as possible.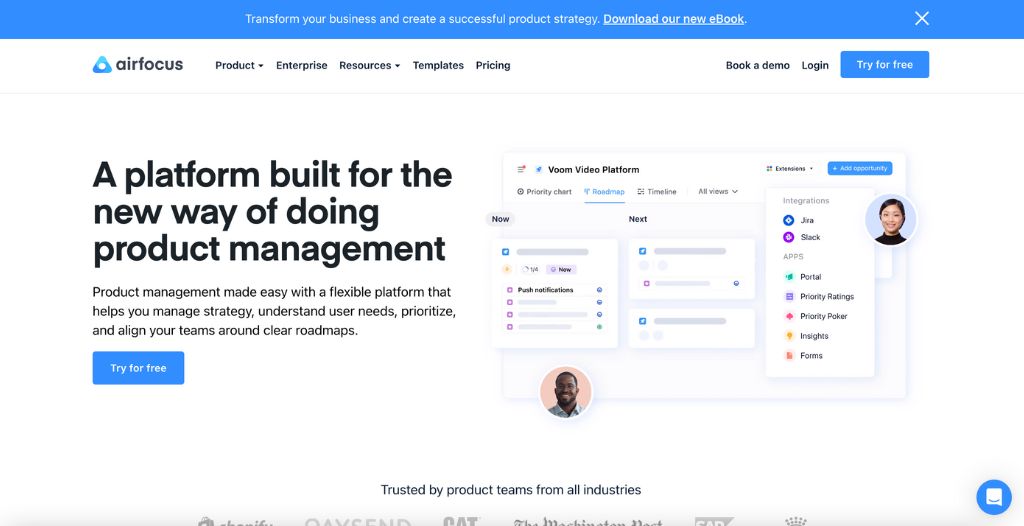 Product managers can rely on this tool to align their teams on what must be done. Airfocus is also a powerful roadmapping tool with a simple user interface and templates for crafting multiple roadmaps. It can be used to create beautiful roadmaps, and it helps with resource and time management.
Costs begin at $19 for one user, but for teams, the minimum cost is $39 per user, and the Pro version is $79 per user. I like this product for teams that have trouble finding their direction more than most,, and it makes collaborating as easy as possible. 
Pros
Simple user interface

Guides users toward the most important features

Create unlimited roadmaps
Cons
No dependency feature
Custom rating criteria
Usability: 5.0
Features: 4.3
Value for Price: 3.8
Collaboration: 3.9
---
7. Productboard
Productboard isn't a free product roadmap software, but it's our favorite for a low-cost solution. The product starts at $20 per maker seat but can have many contributors without adding to that cost.
Productboard is a roadmapping software tool that enables the makers to craft as many roadmaps as they like from input from others. With unlimited projects, organizing your organization's products and goals is easy. The tool supports outside app integrations and feature ranking and brings customer feedback into the planning process. 
It isn't the best at any one roadmap feature, but it's well-rounded and affordable.
Pros
Affordable $20 per maker subscription

Easy user interface design

Incorporates user stories
Cons
Poor internal file viewer
Custom rating criteria
Usability: 4.5
Features: 4.2
Value for Price: 4.8
Collaboration: 4.3
---
8. Roadmunk
Roadmunk is a pure product roadmap tool. It's designed to craft product roadmaps and does it well. Choose from 35 separate templates, and view your maps in the standard Gantt format or with a slightly more flexible Swimlane format.
Roadmunk allows you to adjust and save an unlimited number of views of the same map, and it includes reviewer seats to let outside investors and executives look without making changes. My favorite feature of Roadmunk is its roadmap portfolio.
The software isn't cheap, starting at $19.99 for a single user and going up to $49.99 to $99.99 per seat for multiple users, but it's a quick tool for establishing one or more product roadmaps. I recommend the program to companies looking at how many roadmaps come together.
Pros
View many roadmaps at once in an organized portfolio

Create unlimited views for different roadmap perspectives

Export roadmaps to HTML, an online URL or an image
Cons
Costly monthly membership fees
Custom rating criteria
Usability: 4.2
Features: 4.8
Value for Price: 3.4
Collaboration: 4.5
---
9. Asana
Asana is a comprehensive project management tool, which makes it excellent for running a business. This complex tool has many more product features than necessary for creating and showcasing roadmaps. 
Asana features a product roadmap template that's free to use and makes creating a comprehensive roadmap simple. Once the map is assembled, you can view it in the Timeline view for a Gantt chart look. 
Asana isn't the best option for customizable roadmaps, but it's a powerful tool for project management and roadmapping. If you need a prioritization platform with much more than the core features of a dedicated roadmapping tool, Asana is one of the top product roadmap tools.
It starts off free, but more features are available when you pay $10.99 per user per month for Premium or 24.99 per user for the Business plan.
Pros
Free roadmap templates included

Clear Gantt chart view offered

Handles roadmapping, planning, and managing projects
Cons
Complicated with so many tools, it's overwhelming
Custom rating criteria
Usability: 3.9
Features: 4.0
Value for Price: 5.0
Collaboration: 4.8
---
10. Aha
Aha is a stunning creativity, product management, and roadmap planner in one. It's a costly tool at $59 per user month to $149 per user, but it does roadmapping well. Each roadmap created gets updates to track project progress for everyone with map access. That keeps everyone on the same page. 
Aha comes with a unique product value scorecard feature that lets leaders define the most important features to deliver the best value to customers. Developers can quickly see which features should get their focus and effort, helping the builders connect with the product team making strategic decisions.
We weren't impressed by the cost of Aha, but it's almost forgivable because of how well the program connects a company's decision-makers with the engineers and developers building the product. Aha is expensive, but I love how well it explains important product concepts to engineers and leaders at a company.
Pros
Product value scorecard helps prioritize development goals

Vibrant roadmap chart receives dynamic updates

Highly scalable design for growing companies
Cons
Expensive per-user subscription cost
Custom rating criteria
Usability: 4.8
Features: 4.9
Value for Price: 3.5
Collaboration: 4.7
---
Buyer's Guide
According to Insight Partners, about 88% of companies use product roadmaps [1]. That figure demonstrates that most businesses understand the value of a product roadmap, but it doesn't mean they're roadmapping effectively. 
It (a product roadmap) sets the strategic direction in which the product is to be developed to achieve the company's vision.
– Maria Paasivaara, Professor at the Lut School of Engineering
The best roadmap software brings the segments of your organization together by giving everyone a timeline based on the same goals. The right software enables you to create variations of the same roadmap with a big-picture view for the CEO and executives and a detail-oriented view for engineers and developers.  
The thing is, continuity of strategic direction and continuous improvement in how you do things are absolutely consistent with each other. In fact, they're mutually reinforcing.
–​ Michael Porter, Harvard Business professor
After testing different roadmap software programs extensively, I determined what software features were the most important. Learn what makes good roadmap software and use that understanding to help you choose the product roadmap software for your own business. 
1. Product Roadmapping vs Project Management
A product roadmap is a big-picture plan for releasing products and achieving company goals over time. Project management requires closely tracking the work that team members are doing and distributing work as needed.
A roadmap is a tool that project managers can rely on to decide what tasks their team should work on. 
2. Top Roadmapping Software Includes These Valuable Tools
Roadmap Templates – Before looking at anything else, consider which templates are available and how they align with effective roadmapping practices. The best product roadmap software has one or more simple templates that help you create roadmaps fast. 

Alternate Roadmap Views – An effective product roadmap looks different for workers at various levels of your organization

[2]

. Once you create product roadmaps, you need software that allows you to display your roadmaps in different formats. Create big-picture plans for executives and customers and detail-oriented plans for engineers and developers. 

Scheduling Tools – To effectively move through the product development process, it's essential to monitor task completion, set deadlines, and keep dependencies aligned to avoid bottlenecks in your organization. The best tools offer powerful scheduling tools like calendars, timelines, milestones, and dependencies. 

Collaboration Features – All your project management teams need input on your product roadmap for it to succeed. Software that includes collaboration tools allows your entire organization to influence the roadmap so it evolves effectively and ultimately succeeds.
3. Why Your Product Roadmap Should Focus On User Stories
Product teams must release software with features the end users truly care about to create a successful product. It's helpful to determine which features users care about the most and to focus on getting those features in a product first. 
This is what user stories are for, and product teams should rely heavily on them to create a product that performs better for its users. 
Proper business planning demands that you focus on the self-interest of the customer at all times. – Brian Tracy, self development author and sales expert
User stories are unique perspectives and concerns one individual would have [5]. Often user stories are crafted from customer input and the preferences of the developers and team members designing the product.
By carefully considering which features are the most important to include, effective Gantt charts can be designed, and the roadmap tool can be used more effectively.  
4. Should You Get Project Management Software or a Roadmap Tool?
Project management software tracks the tasks employees are meant to complete and the timeline for each of them.
This comprehensive software also looks at dependencies, stores essential files, allows team members to communicate, and more. Some project management software can be used to create a product roadmap, but not all have the functionality. 
Product roadmap software doesn't have as many features as project management software and instead focuses on creating a clear roadmap and showcasing it with many different views.
Each business must decide whether to get roadmap software or invest in a project management solution like Monday.com or Asana.
If you want to handle all your business management tasks in one location, you should utilize a project management software solution for roadmapping.
If you already have a tool you prefer for project management tasks and want one that handles creating product roadmaps well, it makes sense to add roadmap software and rely on that along with your other business tools. 
5. Portfolio Roadmaps and Dependencies Connect the Pieces Together
Most businesses have many different products and teams to manage. A roadmap portfolio that connects all your company's roadmaps helps you see how the business is functioning and whether your business is moving in the right direction in each segment.
Many products, services, and company departments depend on one another. These are known as dependencies, and the best roadmap tools contain support for dependencies.
Your map should show how one feature is connected to another, making it clear which development projects must be completed first. Selecting software that allows interconnected roadmaps and dependencies will ensure no important details are skipped. 
FAQs
How Do You Create A Product Roadmap?
You create a product roadmap through a lengthy research process that begins by uncovering what you want your end product to be and breaking your product creation up into neat steps. Prioritize the features of your product, lay the features out on a timeline or Kanban board, and determine what segments of your company are going to work on to create an effective roadmap. 
What Is A Product Roadmap?
A product roadmap is a detailed plan for developing and releasing a company product. It serves as a guide and a calendar of milestones the company will work towards. The entire project should evolve over time, and the development team will rely on the product roadmap for sprint planning throughout. 
Why Use A Product Roadmap Tool?
Use a product roadmap tool to create an effective roadmap for your business in less time. Many modern roadmap tools include collaborative features that enable different members of your business to communicate about progress and to modify and improve the roadmap further. 
When Would We Use A Product Roadmap?
Use a product roadmap when planning the development and release of a new product, or a significant update to an existing product. 
What Are The Benefits Of Roadmapping?
The major benefits of roadmapping are helping everyone in your organization work toward the same goal, improving organization-wide collaboration, and making goals more achievable. 
What Is the Best Product Roadmap Software?
The most successful businesses are the ones in alignment from the top down to the bottom. Everyone involved in a company must be working toward the same goals, and a custom roadmap makes that possible. Monday.com combines the best planning and mapping tools into an easy interface.
It comes with every tool you need for roadmapping and a few extra perks that help keep you organized. Monday is perfect for large organizations looking to improve their planning and direction. Get Monday.com for your business and plan your next product launch or revamp to make it a success.
Our #1 Recommendation: Monday.com