The best small business ideas come from a place of passion, experience, and opportunity.
Drawing from our extensive experience in entrepreneurship and small business development, we've meticulously curated this list of the top 39 small business ideas to set you on the path to success in 2023.
These ideas are especially helpful if you're looking for a low-cost startup business idea, work-from-home opportunities, or are interested in starting an online business.
We've also included some profitable business ideas and side hustles that can earn you recurring passive income without large overheads.
Whether you want to quit your 9 to 5 job or invest strategically in a passive-income business, we've got you covered.
Most Lucrative Online Business Ideas
1. Start an Affiliate Website
Affiliate marketing is not a new concept. It's been a buzzword in the marketing and "make money online" spaces for a while now.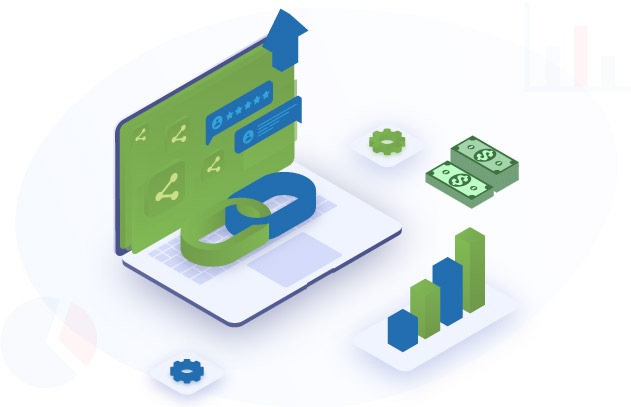 If you're looking for the best of all options or a business idea that offers:
Passive income
Online opportunities
Low-overhead costs
Job-replacing income
Lets you work from anywhere in the world
… affiliate marketing is it.
If you're new to affiliate marketing, here's how it works in a nutshell.
Many brands sell products or services online.
If you help them make more sales by promoting their products or services, you can earn a commission for the sales you generate.
Think of it like brands outsourcing their marketing to you.
Not every brand offers affiliate commissions for sales, but thousands do across various industries. Check out our guide on the best affiliate programs to give you some small business ideas.
You can also join an affiliate network with hundreds of brands and their affiliate offers. These networks save so much time when it comes to finding the best affiliate programs for your website.
Regarding earning potential, affiliate marketing is a proven passive income business model among bloggers.
We surveyed over 790 bloggers and affiliate marketers, and here is the breakdown of their earnings.
| | |
| --- | --- |
| Monthly Income bracket | % |
| $0 – $500 | 34% |
| $500 – $1,000 | 4% |
| $1,000 – $5,000 | 21% |
| $5,000 – $10,000 | 7% |
| $10,000 – $50,000 | 23% |
| $50,000 – $100,000 | 3% |
| $100,000+ | 5% |
From the above results, you can see 38% of people we surveyed are earning a job replacing income and at least 8% of them are earning that per month!
But it's worth noting that affiliate marketing doesn't work straight away. It's not a "get rich quick" scheme.
That's why many people who think it doesn't take much effort can get stuck in the lowest bracket earning less than $500 per month.
If you want to avoid getting stuck there, check out The Affiliate Lab.
It is one of the top courses available to take you through everything you need to know to set up a successful business in affiliate marketing, even if you're a beginner!
Getting started with affiliate marketing is far easier than you might realize. You don't need a degree, and you can bootstrap your success if you're on a low budget.
With such a low barrier to entry, there's no doubt you can start an affiliate business today if it's something that sounds interesting to you!
2. Start an Ecommerce Store
Since the COVID pandemic, eCommerce and online sales have seen accelerated growth. More people are now buying online, including generations who were slow to adopt digital technologies.
We're currently seeing a growth rate similar to where we would have been 4-6 years from now had the pandemic not happened.
This means that you have a world of opportunity awaiting when it comes to selling online!
The most direct route you can choose is to either resell or manufacture a product and sell it through your own eCommerce website.
Some easy product ideas include:
Handmade jewelry
Phone cases
Custom printed products
Home & bath products (like soap or candles)
Personal care products
You can check out our guide on the best eCommerce platforms to get started.
Depending on how much time and energy you want to put into selling online, you can also set up alternative eCommerce channels such as:
Amazon FBA (Fulfillment by Amazon)
Dropshipping (which we discuss in more detail below)
Distribution (selling direct to retailers and wholesalers)
We also share a few easy eCommerce small business ideas (which don't even require you to have a website) further down in this post. Just make a product and start selling online today.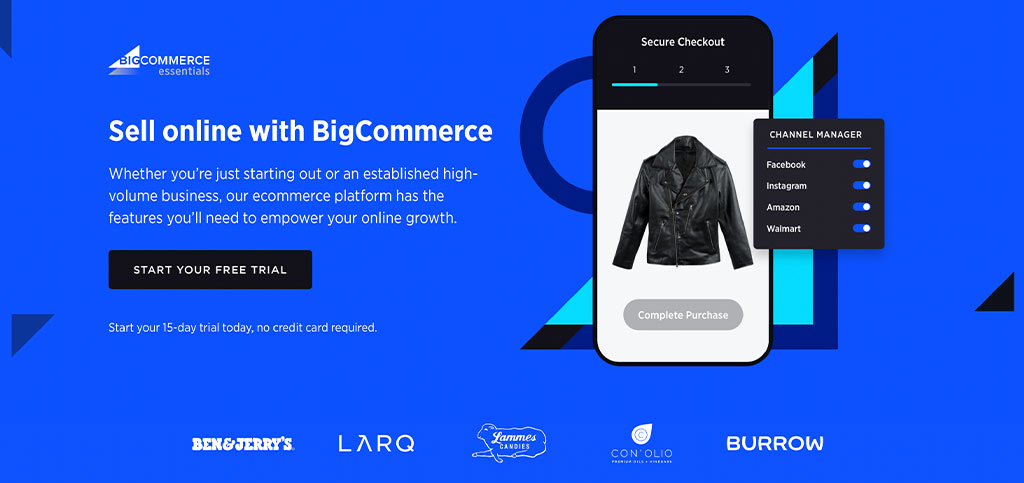 The opportunities are endless!
If selling online with an eCommerce store and website sounds up your alley, we recommend getting started with BigCommerce.
It's as simple as:
Choose what product you want to sell.
Create a BigCommerce account.
Upload your product information and images.
Choose a theme to design your website.
Set up your shipping and tax information.
Test everything works properly.
Go live & start selling online!
Launching is fairly simple. But, in order to build a successful online shop, you'll also need to start marketing it and driving traffic to your website.
Marketing is the difference between eCommerce stores that sink and those that swim.
Check out our eCommerce SEO guide to learn how to generate recurring monthly traffic online.
If you're ready to start selling online today, get started with BigCommerce.
3. Start a Blog or Niche Website
If you like the idea of starting an virtual business, but you're not sure if affiliate marketing or eCommerce are the right options for you, you can start a blog or niche website instead.
Any low-cost online business idea typically sells one of three things:
Your products (eCommerce)
Other people's products (dropshipping or affiliate)
Your time and expertise (coaching or consulting)
With a blog or niche website, you can include all of these and diversify your income stream.
However, you must treat it like a business from day one if you want to earn a living from your website.
It's also important to note that you don't need to invest much to start a website. This video shows how much you should budget to build a website.
You can get started for a very low cost by using the following tech stack:
If you're starting a niche website, you can focus it entirely on a particular topic and establish yourself as a subject matter expert and authoritative source.
You can also start a more general blog that has the potential to grow into an authority site and cover multiple niches.
Either way, the world is your oyster, and you're in complete control of your business if you build a website instead of relying on income from third-party platforms.
For instance, if you only relied on FaceBook to build a business and one day you find FaceBook has shut down your account for an obscure infraction to their TOS, that's a significant risk.
But if you build your own business website, you're in control and can easily set up an email list so you can reach your audience directly without anyone being able to take that away from you.
So, if you're keen to get started with building your own website and monetizing it, here's our guide on the most common ways you can make money with your website.
We also recommend checking out Elementor and Siteground to give you the essential tools for getting started today!
4. Buy an Existing, Profitable Website
If you're sitting on some cash and are looking to invest in a turn-key online business, you can buy an existing profitable business using any of the above monetization methods.
Check out our blueprint for buying a profitable website to get started.
There are hundreds of websites available that have great potential.
You can create a business that buys websites for a low price and then flips them for a premium after you build its audience.
Or you can buy a high-performing website you would like to hold onto for a while. Either way, there are no limits. You can buy a website no matter your budget.
Check out these marketplaces to get started:
If you're not sure what niches to invest in, check out our guide on the best niches for making money online, which is informed by data from Empire Flipper's best website sales.
5. Consulting
If you have developed subject matter expertise or experience in a specific industry, you can start a consultation business for a relatively low cost.
Consulting is a very good business idea where you can charge a premium rate yet have very little overhead.
Don't let that scare you into thinking you need to be a world-class expert to get started though!
There are certain types of consulting that are accessible even to beginners.
For instance, you can start a business that offers:
Travel consulting
Dating consulting
Career consulting
If you have accrued expertise in a specific field, you can also consider things like:
Marketing consulting
WordPress consulting
Project management consulting
Financial consulting
Legal consulting
Human resources consulting
Health and safety consulting
The wonderful thing about starting a consulting business is that you can work from anywhere in the world.
You don't need to stock products or manage staff because all you're doing is leveraging your knowledge and expertise.
For instance, let's presume you're starting from scratch without any expertise to draw from.
You could register for a low-cost course teaching you everything you need to know. Here's a great example of one for travel consulting.
You can start a professional consulting business in only six weeks or sooner if you complete the course faster!
6. Start a Boutique Agency or Firm
While consulting is a very lucrative business idea, it requires a lot of your time and cannot easily become a passive income stream.
However, if you start a boutique agency or firm, you can get the best of both worlds!
Starting a professional firm gives you the flexibility of offering services to implement the strategies or actions you advise your clients to take during consultations.
You can also hire a team as you will no longer need to be the face of a consultancy.
With the evolution of technology, it's now possible to start an agency or firm that runs entirely remotely.
It's worth noting, though, that not every industry you can consult in is suitable for starting an agency or firm.
But if you're working in the marketing or professional services industries, you can likely start an agency or firm that also offers consulting on the side.
For instance, you can start a:
Digital marketing agency
PR agency
Social media agency
Law firm
Accounting firm
Bookkeeping firm
Compared with starting your own business website, an agency can earn more money reasonably quickly. But it also takes a lot more work and comes with more accountability to your clients.
If you're looking for a more hands-off business but like the idea of an agency, you can consider partnering with white-labeled service providers.
Essentially, you'll be outsourcing the fulfillment of the service.
For example, many SEO agency owners outsource the link-building function of their services to Authority Builders, a specialist link-building company.
You can do the same in your industry, so you are not tied to delivering all of the services you sell to clients.
7. YouTube Content Creator
Video-on-demand and live streaming are now more popular than ever.
YouTube has moved away from just being a video-sharing platform to becoming a content-on-demand powerhouse.
It is also the second most popular search engine, after Google.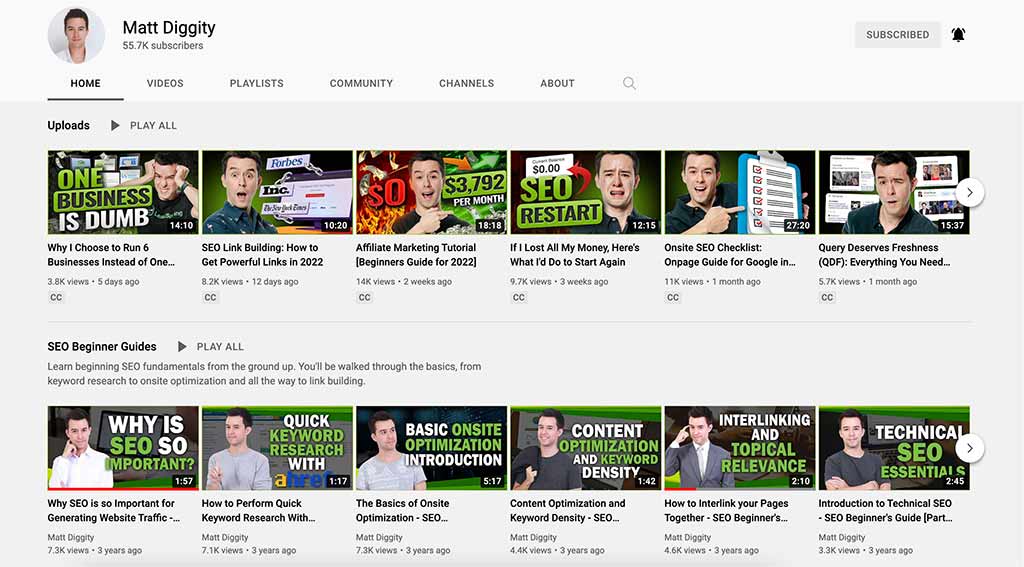 Despite there being over 800 million videos on YouTube, there are still valuable opportunities to explore if you're interested in becoming a content creator.
YouTube creators typically earn money from the ads displayed throughout their videos.
They can also earn from placing affiliate links, showcasing products and merch, or selling their own products.
Either way, the more people watching videos on your channel and the more engaged they are, the more you can earn.
And it's pretty easy to get started to be honest.
All you need is a quality camera and microphone (as a bare minimum), and you can start a channel in no time.
The best performing channels on YouTube are:
Educational
Entertaining
Actively posting new content
While it can become a set and forget, passive income stream, success as a YouTube creator will take time and a dedicated commitment to uploading consistent amounts of new content.
YouTube rewards channels with engaged audiences the most.
8. Social Influencer
If YouTube isn't really your thing, but you like the business idea of earning money from the content you create, you can become a social influencer on different platforms.
You can also make money on Instagram and TikTok since they are quite popular at the moment.
Many consumers are turning to niche influencers for product advice and recommendations.
Take the beauty industry, for example.
There are beauty influencers earning well over $10,000 a month simply by sharing makeup tips and product reviews.
To be successful as a social influencer, you're better off creating a targeted, active following who trusts your recommendations.
The more specific your expertise, the better.
It's also not all about follower count.
A small, engaged audience who trusts your suggestions and whose purchasing decisions you can influence will earn you more than a large, unengaged audience.
9. Online Course Creator
More than 20 million new learners registered for courses on Coursera in 2021.
Like eCommerce's accelerated growth, the online education market also boomed exponentially in recent years.
Online courses are increasingly popular as they provide a low-cost, easy way for people to retrain and develop skills in a different vertical or industry.
This means you have an opportunity to create a profitable online course or multiple courses and earn recurring income year after year.
With platforms like Teachable or Thinkific, you don't even need to build a website to get started!
You just need a professional camera, a microphone, and an idea of what topics you want to teach.
That's how easy it is to create an online course!
10. Life, Business, or Career Coaching
Much like consulting, coaching is a lucrative business idea that sells your time and expertise.
If you have experience navigating career or personal transitions, you can leverage it and build a business that offers life, business, or career coaching services.
Many people are looking for guidance, but it can be tough to find the right mentor, let alone someone with enough time to mentor them.
That's the opportunity you can tap into as a coach.
You can charge a premium by offering intense, hands-on personal training and advice to help your clients reach the next stage in their journey quickly.
You can also extend your coaching services into other opportunities like paid speaking engagements or be featured as a guest on podcasts.
11. Start a Podcast
Speaking of podcasts, this is a nice little idea in and of itself.
All it takes to get started is an investment into quality audio production equipment and a topic you think can engage listeners.
With over 75% of adults in the US tuning into their favorite podcast channels on the regular, you can earn a decent amount by carving out a small slice of that pie.
The way most podcasters earn money is through paid brand sponsorships, affiliate links on product recommendations, or by selling their own products or services.
Getting started is also really easy.
The main part after getting your audio equipment sorted is figuring out where to host your podcast and making sure your audio files are formatted correctly.
For easy podcast hosting (and the chance to earn a $20 Amazon gift card) check out Buzzsprout.
Easy Ecommerce Business Ideas
12. Dropshipping
If you like the idea of selling products online but don't want the headaches of manufacturing a product, storing it and shipping it to customers, dropshipping might be the perfect business model for you.
Dropshipping still allows you to sell products on your website or under your brand.
But, you're essentially re-selling another retailer's products, and with every sale, they will take care of deliveries and order fulfillment from their warehouse.
In a nutshell, you make a sale, your supplier fulfills it, and then sends it directly to your customer. Easy peasy.
Since this business model removes most of the complexities of selling online, it's a great business idea for beginners.
To succeed with dropshipping, you must research the target market thoroughly to find a product you can advertise and sell easily.
Alternatively, you can build an audience that's interested in a specific thing and sell other people's products to that audience.
13. Print on Demand
Another relatively hands-off eCommerce business you could start is print-on-demand.
Print-on-demand works exceptionally well for anything that requires printing, such as:
Books
Merchandise
Clothing
Stationery
Mugs
Stickers
And more!
The difference with traditional eCommerce is that instead of having to print a large batch of products at once, you can automate the printing and only do small batch print runs after you receive an order.
There are a number of different companies out there that can create any product you design.
14. Start an Etsy Store
Are you a crafter? Do you love making handmade goods or reselling unique, one-of-a-kind products?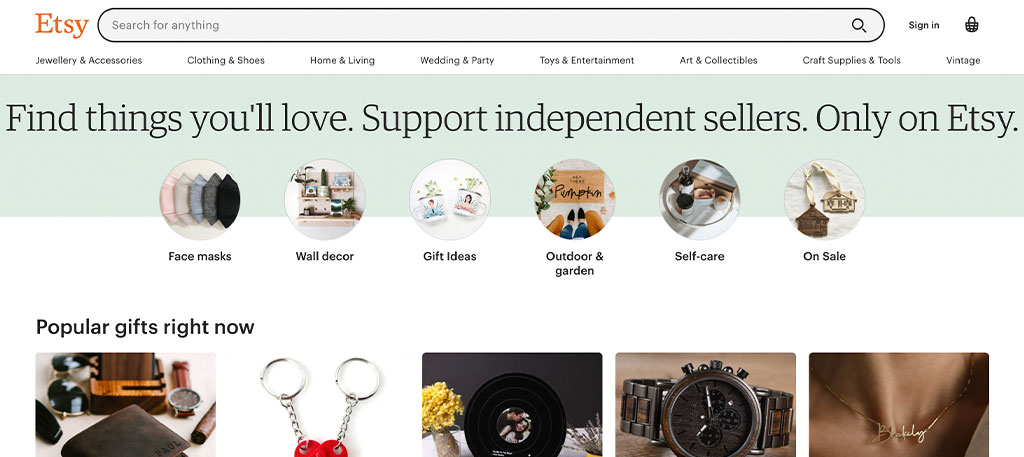 If so, selling on Etsy may be just the thing for you!
Selling handmade products is a viable business for people of all ages and skill levels. From teenagers selling handmade goods to grandmas selling custom knitted goods, Etsy is the marketplace for you.
Check out the top Etsy sellers for inspiration on products that can sell well on the platform.
From jewelry to wedding accessories, clothing, crafting supplies and even stickers.
It's possible to create a multi-million dollar Etsy store starting with just your imagination and creativity!
15. Sell a Subscription Box
Subscription boxes offer more financial certainty than other eCommerce methods due to their ability to generate recurring monthly income.
Subscriptions work because they offer consumers a unique, curated experience based on specific products or themes.
You can keep the items in the box as a surprise and introduce your customers to new brands.
Or you can let your customers customize their own box!
You can also get started with a subscription box business by outsourcing the packaging and fulfillment to specialist companies like ShipBob and then advertising your subscription box on a dedicated marketplace like Cratejoy.
Low-Cost & Easy Work-From-Home Business Ideas
16. Virtual Assistant
If you're after a simple work-from-home business idea, becoming a virtual assistant is an option for anyone with decent organizational skills.
Virtual assistants (VAs) are in high demand by many corporations, agencies, and even small businesses.
Depending on your existing experience, you can also specialize your services to assist businesses in a specific industry, like real estate, or you can be a general VA that can help with any office admin tasks for any type of business.
While it's typically a lower-paying home business, becoming a VA is a great first step for anyone who has never worked from home before.
You can hone your skills, develop new skills and earn while you learn.
You can also start looking for work right away on platforms like Upwork or Flexjobs.
17. Writing or Content Marketing
Another easy work-from-home business that's suited to anyone with a gift of the gab is content writing.
There are so many avenues you can explore.
If you're just starting out, you can create content for SEO agencies or blogs and work your way up from there.
As you develop your skills, you can turn your writing skill into a fairly lucrative side hustle or full-time business – whatever you prefer.
Many full-time professional writers earn over $10,000/month. Some of the more lucrative opportunities for writers include:
B2B content writing
Case study writing
Video script writing
Ghostwriting
eBook & whitepaper writing
Direct response sales copy
You can also expand your service to include content marketing strategy and planning.
Content writers and marketers continue to be in high demand.
Not to mention, there are opportunities available for every skill level and with great potential for you to mix things up by learning new skills over time.
Check out our list of the best freelance writing sites to help get you started with a content writing business or side hustle.
18. Social Media Management
With billions of people around the world using social media sites, there's a huge potential for businesses to reach new audiences on these platforms.
However, creating content, building and engaging with audiences, and managing the growth of a social profile can be hard for many small businesses to keep up with.
If you love social media and you have experience with how social media ad networks operate, you can manage social profiles on behalf of clients.
Some easier opportunities would be to manage and moderate private social groups on behalf of influencers and course creators.
You can also create and curate content for them to post each week.
The more lucrative (and higher paying) opportunities are linked to managing social media ads and increasing brand awareness.
Either way, there are a tonne of opportunities you can tap into!
19. Translations
Another easy work-from-home business idea for anyone who is fluent in multiple languages is translation.
It's a fairly simple business model where all you need is a computer and perhaps a dictionary by your side.
Translators are always in high demand and it's hard to find high-quality translators.
So as you hone your skills, you open up the doorway to a higher earning potential and a loyal client base.
If you also have specialist skills to offer, you can niche down into a specific genre of translations, like medical or finance, and start earning a lucrative paycheck from the get-go.
20. Transcriptions
Transcriptions are also another easy work-from-home opportunity.
Having a good ear and fast typing skills will serve you well in this line of work which can offer a very flexible schedule.
You can also make the job much easier by investing in professional speech-to-text transcription software like Express Scribe.
The more you can streamline your typing process, the more you can earn.
Some professional transcribers use foot pedals and keyboard shortcuts to minimize the time their hands are away from the keyboard.
This way they can type more words per minute.
You certainly don't have to take things that far if you're just wanting a bit of extra cash on the side though!
21. Editing (Content, Video or Audio)
There is more content being created now than ever before.
Between text, audio, and video mediums, you have the potential to start a freelance business as an editor. Most editors specialize in the medium they prefer best.
Text Proofreading & Editing
You can proofread and edit books, eBooks, web content, and academic papers.
Audio Editing
You can edit and improve the audio quality of videos and podcasts.
Video Editing
Many YouTubers and businesses rely on video editors to bring together professional video content.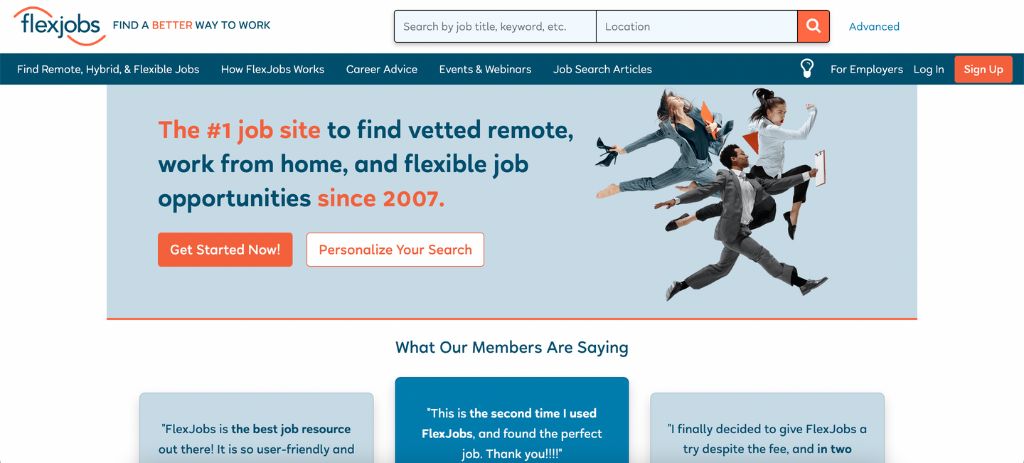 All in all, there's a wealth of opportunity here that you can tap into from a number of freelance platforms like Upwork or Flexjobs.
22. Videographer
If you prefer being behind a camera instead of behind a computer screen, you can become a professional filmmaker, videographer, or video producer.
Many local businesses, especially in the real estate industry, are investing in professional video content and need the skills of a videographer to help them.
You can also specialize in event video production or studio filming for video ads.
While you may need to travel to the filming location on days you're shooting footage, if you handle your own editing, there's a decent portion of time you can spend working from home too.
This is an ideal business idea for people who like a good mix between being out and about and working from home.
23. Photographer
Much like being a videographer, you can choose to take photos instead of videos. There are a great number of work-from-home opportunities for photographers available too.
For instance, you can mix up bread and butter projects for weddings and events with opportunities that do not require you to travel to a location.
These can include:
Product photography
Brands send you their products and you can photograph them in a studio.
Portrait photography
People can travel to your studio for family or professional portraits.
Stock image photography
Offering a diverse range of versatility, you can take photos of anything you like and submit them to stock photo platforms to earn royalties.
Either way, it's fairly easy to get started as you don't need a professional qualification or industry license.
24. Graphic Designer
As a graphic designer, you can earn in so many different ways.
The easiest, quickest and most direct way to leverage your design skills to earn a decent income is to offer design services to businesses.
However, you can also establish other income streams that rely on your design skill including:
Stock images (like icons & vector files)
Typography
Surface pattern designs
Print-on-demand products
All you need to get started is a subscription to professional design software like Adobe Illustrator, Adobe InDesign or Canva. You can also check some of the best Canva alternatives that fit your budget.
You can also learn professional design skills using these tools through cheap online courses on Udemy or Coursera.
25. Web Developer
For anyone with technical skills (or inclination), web design and development is another lucrative freelance opportunity available these days.
Businesses of all sizes need a website and online presence.
No matter your skill level, there are local opportunities available as well as opportunities for custom enterprise-level web development.
Since all you need is your computer, the key to succeeding with a web development business is to deliver quality work.
Too many web developers outsource their projects to offshore teams and things can go sideways pretty quickly if you're not careful.
That's why we recommend you get your hands dirty if you're just starting out.
Build a few websites of your own business to get a lay of the land and to learn specific platforms.
You don't need to learn how to code to get started, by the way.
There are a bunch of no-code web design platforms available that offer drag-and-drop functionality that you can leverage instead.
Check out our post on the best website builders to decide which platforms you'd like to take out for a spin.
If you do know how to code, even better! Companies are willing to pay top dollar to front and back-end developers with decent coding skills.
26. App Developer
Another technical opportunity worth exploring is app development.
This business idea is well suited to people with an aptitude for technology but who want to offer more than just website development.
There are so many diverse opportunities when it comes to app development.
You can specialize in smartphone apps on iOS or Android.
Or you can create fintech apps or software-as-a-service.
There are also a lot of small online business ideas you can explore around no-code apps using a platform like Bubble.
27. Voice-Over Artist
Another pretty cool low-cost opportunity for anyone seeking work-from-home small business ideas is to become a voice-over artist.
You will need to set up professional audio equipment, much like what you would need for podcasting.
However, as a voice-over artist, you will be collaborating with content creators who recognize they need a professional voice-over for intros, outros, and narrations in their video or audio content.
You can even do voiceovers and narrations for audiobooks!
You can learn how to get started in this video from Kat Theo.
Small Business Ideas for Simple Passive Income
28. Coin Operated Laundromat
Laundry services are worth over $40 billion in the US alone.
Businesses involved with clothes and hygiene are also fairly recession-proof since people will require laundry services no matter what's happening in the economy.
A great passive income business model is to start (or buy) a coin-operated laundromat.
You can employ a manager or a couple of staff members to keep an eye on things when you're not around.
But, overall, it can be a fairly easy and simple business to run that generates recurring passive income!
29. ATM or Vending Machines
ATMs and vending machines are also quite lucrative passive income generators — if you choose the right locations.
In the case of vending machines, your selection of products can also influence your success rate.
The key to a successful vending machine business is to target high-traffic areas like hospitals, train stations, or community centers.
With ATMs, it's worth researching to find areas where people need cash such as local markets or near coin-operated machines like parking meters.
There's also the opportunity to disrupt this space by offering technological solutions to major problems racking an entire industry.
For example, check out this post on disruptive vending machines that make $12 billion a year.
It pays to think outside the box!
30. Ice Machine Business
Another great passive income business idea is an ice machine business. It requires few resources and can bring in enough to cover a full-time wage in yearly profits.
In the right location, and with the right hands-free setup, you can be swimming in passive income in no time.
While there is a little upfront investment to set up your ice machine, it's generally smooth sailing from there.
Typically all your machine would need is a little electricity and a lot of water. Want more info on the numbers behind this business idea? Check out his article on how to start an ice machine business.
Creative & Fun Business Ideas
31. Art Lessons or Paint & Sip Events
If you have a creative streak or a penchant for art, you can create a business teaching others how to do what you do.
There are a number of opportunities online and for live events too including:
Courses
Classes
Kids Lessons
Workshops
Private Lessons
Events
You can also tag along on the "paint and sip" trend by creating the opportunity for people in your local area to gather for a night of fine wine and art.
This works for any type of creative medium that people want to learn from painting to pottery, drawing, and even knitting! The sky's the limit!.
You can check out ClassBento for inspiration and to help you get started.
32. Custom T-Shirt & Stationery Printing
Another creative side hustle or small business you can start from home is a simple printing business.
We mentioned print-on-demand as an opportunity earlier in this post.
But, if you like getting your hands dirty and doing the printing yourself, you can set up a mini-studio at home and create your own custom products.
T-shirts and mugs are simple products you can easily start printing on your own and they're also suitable for beginners.
To succeed with a custom printing business, for t-shirts, mugs, or anything else, you need designs that stand out from the crowd.
It's worth building a strong brand with a dedicated audience in order to generate consistent sales.
It's fairly easy to get started though. You can take a print production course on LinkedIn or Udemy.
33. Escape Rooms & Rage Rooms
Escape rooms and rage rooms offer people the unique opportunity to escape their reality for a day and experience new things.
Escape Rooms
These are great for team-building activities where small groups work collaboratively to solve riddles and escape a locked room.
Rage Rooms
These are all the rage at the moment. Imagine a room full of breakable objects.
People can really dig deep and release pent-up frustration by freely breaking, kicking, punching and outright demolishing things with no consequences.
For some, it can be quite cathartic!
Easy Food-Related Business Ideas
34. Specialty Food Emporium
If you're into gourmet food, why not create a specialty food emporium where you offer your expertise and selection of imported goods that your customers couldn't get from their local grocer no matter how hard they tried?
From exotic olive oils to delectable items worthy of being on antipasto platters designed to impress, you can create a one-stop shop bringing such diverse products to your local market.
You can also sell gourmet foods, cheeses, wines, and flavors from all over the world.
Online or offline, there's a range of opportunities worth exploring here!
35. Craft Beer Brewery or Bar
Depending on your location, you can open up a craft brewery or pub.
Brew your own beer, host events, and build a fun spot for locals to hang out in.
Location is everything with this type of business.
Make it easy for people to access and develop a sense of community while enjoying fine drinks and food at the same time!
36. Wine Bar
If you're located in a city, you can scale things up a notch by creating a boutique wine bar.
Wine bars are popular in major cities all over the world, but not so much in small or rural towns.
The key is to pick the right location.
You don't want to be surrounded by too many competitors but you also don't want to be so far away from the community who appreciate a good wine bar either.
37. Local Meal Preparation & Delivery
Whether you become a personal chef or set up a local meal preparation service (with delivery), you have an opportunity for a decent local business.
People are always going to need to eat, so why not offer home-cooked healthy meals with the convenience of delivery?
You can differentiate yourself from other meal prep services by cooking meals fresh on the day (avoiding preservatives) and catering to specific dietary requests.
Add affordable or free delivery to the mix and you'll be a local favorite among neighboring families!
38. Homebaked Goods
If you prefer to bake scrumptious delicacies, you can start up a home baked goods business instead. As a great example, check out The Very Best Cookie In The Whole Wide World.
Starting a home baked goods business really can be that easy. Yes, you can have your cake and eat it too! (Pun totally intended).
39. Food Truck Owner
If you're up for something a little different but not quite as big of a commitment as starting a cafe or restaurant, why not consider a food truck business?
From an ice cream truck to a gourmet food stall at markets, you can explore a world of delicious flavors with this business idea!
You can also keep things easy by purchasing an existing franchise — you're guaranteed to be a big hit at local events and markets either way!
To get started with sales, you can set up a simple point-of-sale device like Square which connects to any of your devices (phone, iPad, or tablet) and start earning cash right away.
Which Is the Best Small Business Idea You Can Get Started With?
In our book, the best small business idea you can start with is one that:
Has a low barrier to entry for you right now
Has a low startup cost
Has low overheads
Offers you flexibility
Is your own business that lets you be your own boss
Improves your lifestyle (instead of cramping your style)
Has the potential to generate a lucrative, passive income
Can replace your full-time wages
Our favorite business idea is, therefore, affiliate marketing.
As we shared earlier, more than 38% of bloggers we surveyed are making more than job-replacing income with affiliate marketing alone.
And over 8% are earning the equivalent of a full-time wage each month.
You really couldn't ask for a more lucrative, flexible, or successful business idea!
If you're interested in creating your own website and monetizing it through affiliate commissions, or other opportunities we mentioned in this article, check out our free personal training on How To Build, Rank, & Flip SEO Websites for a Profit.