The year 2023 presents new opportunities and challenges for website buyers due to the rapidly changing online landscape.
The process of buying a website can be complex, and there are several factors to consider, such as the niche, traffic, revenue, and the seller's reputation.
In this article, I will draw on my experience in website building and buying to provide you with practical insights on how to purchase a website in 2023.
By the end of this article, you will be equipped with the necessary information and tools to make informed decisions when buying a website.
Buy vs. Build
When creating an affiliate site, you have two options:
Build it from scratch
Buy an existing website
Newbie affiliates typically lean towards the idea of building a site from scratch. This makes a lot of sense because you'll learn tons about SEO, managing a domain, etc., when you take this approach.
The "buy a website" option is viewed as an approach best suited to more seasoned affiliate marketers or SEOs.
But it's a bit more nuanced than that.
It comes down to dollars and cents.
But first, let's look at the pros and cons of each model.
Pros and Cons
Building a Website

Pros
You will learn a vast amount about SEO and writing while building your affiliate site
You will know your site like the back of your hand
Sometimes building is necessary because you're in a niche that requires specialized expertise
You can spread your costs over 12 – 18 months
Cons
You'll have to spend time writing content, getting backlinks – lots of time!
There's no way to predict how much, or little, money the site will make
Even when you do everything 100% right, an affiliate site can fail
You could pick a dud domain name
There's the risk of choosing the wrong niche
The timeline to job replacement income is far longer
Buying a Website
Pros
The existing domain is already out of the Google Sandbox – saving you few months of time
You have traffic and search engine rankings to work with
The site is already making money
It's a very efficient use of your time
You can get a really good deal if you look in the right places
Cons
You will typically have to spend $15k to buy a website worth owning
You run the risk of being conned
As a newbie, you could accidentally "break" the site or its rankings, impacting your income
Evaluating Potential Purchases
Here's an overview of the steps of the evaluation criteria you should follow when figuring out if a site is worth buying or not.
Verifiable Ownership
Just because a person claims to own a website doesn't mean they do.
That's the quickest way for you to get scammed out of tens of thousands of dollars.
You can verify ownership in several ways. One would be to ask them to upload a small HTML file to their website. Failure to do so is one of the many red flags you should look out for.
The second, and more reliable method, is to ask the seller to add you as a user on their Google Search Console account.
Not every site owner will want you to see their Search Console account, but there are zero excuses for not using the HTML file method of validation.
Just never, ever accept screenshots as proof that someone is a site owner.
Do An Audit
What site owners don't tell you about their site is often as important as what they do share.
But even the most clued-in SEO or affiliate marketer can't pick up on structural or technical issues that could become a headache later.
Like if every page on the site was recently 301'd before they sold it, or that it's littered with duplicate content – neither of these is a good sign, for example.
That's why a site audit should be a mandatory part of your process for buying a site.
You could do this manually, but it's just way quicker to use a free trial with Semrush, Ahrefs, or Sitechecker.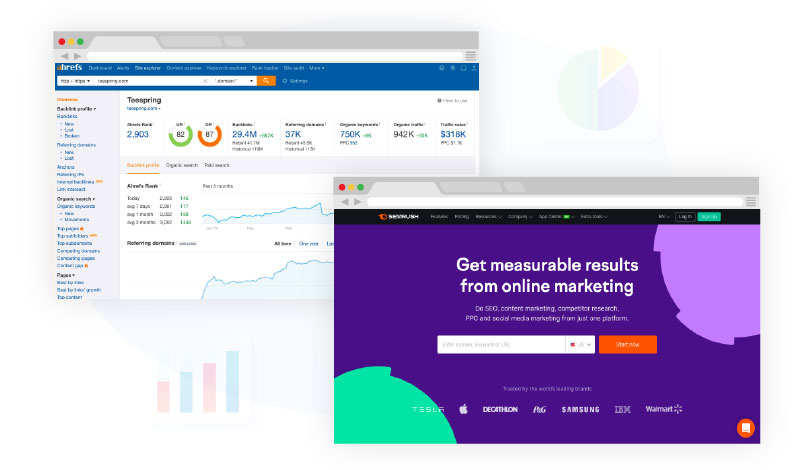 Site History
The person selling you the affiliate site might not be the previous owner – it's entirely possible that they purchased it from somebody else, revamped it, and then flipped it.
Or that the domain name has been owned by several people over the years, using it for a different purpose, or not using it for anything at all.
But you can't leave that to guesswork, not even for a new domain.
Instead, you should run the domain name through two different tools (and 100% free):
This tool crawls the Internet and takes a snapshot of websites, in this case dating back to 1998.
Large green circles indicate multiple snapshots, and small blue circles mean a single snapshot exists.
This gives you a reasonably accurate picture of the evolution of a particular site and if it was ever used for something like porn, gambling, or something else that you might not want to be associated with.
You should always run a WhoIs check on the domain name of any website you're thinking about buying because you can see things like:
Exactly when the domain name was first registered.
How many times it's been through the domain registration process/has expired/dropped.
How many different web hosting providers it's been on
In the above example, you can see that the domain name was registered in 1994, has only been active on 3 domain registrars with a single drop, and only ever used 5 different web hosts.
What you don't want to find are domain names that are just a few years old, have multiple drops, changed registrar dozens of times, and have had more DNS changes than you've had hot dinners.
Another issue is the domain extension – is the site using a Top Level Domain (.com, etc) or something a bit more off-center like .biz?
I recommend you avoid any affiliate site using a free domain or domain name using numerals or special characters.
That's never a good look.
Also, I don't buy sites unless they have a .com domain name extension because it's the default domain extension that people type into an address bar.
Domain Authority
Although it's not a deal-breaker, it's a good idea to check how much authority the domain name behind the website has.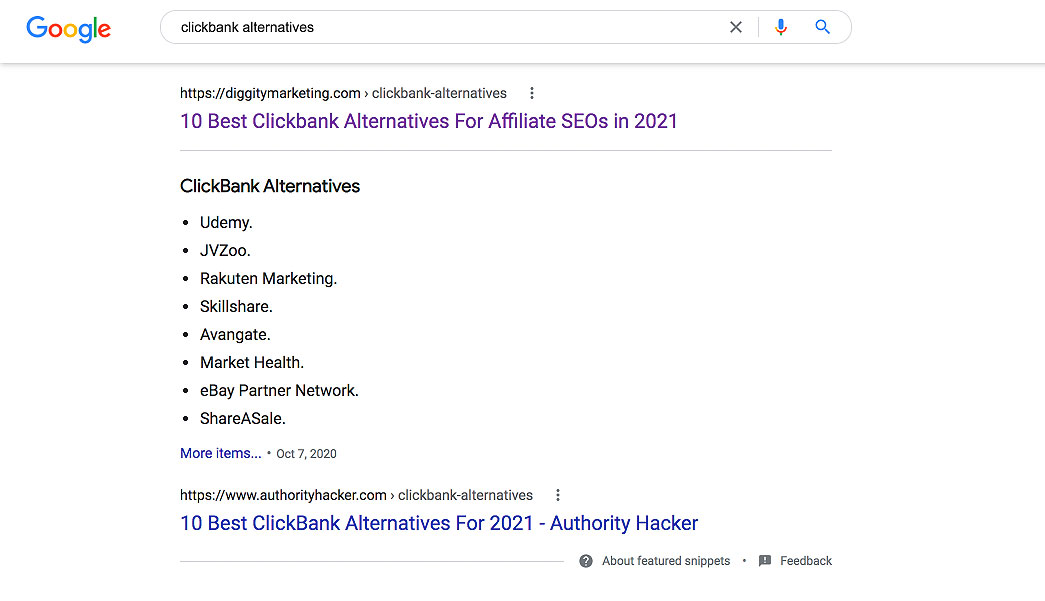 What is domain authority?
It's a value from 0 to 100 based on the number of incoming links and/or root domains pointing to your site, which then influences your site's ability to rank for keywords.
So a site with a DA (Domain Authority) score of 70 will rank for high-difficulty keywords far more readily than a site with a DA score of 10.
More authority on your site will help you build trust.
You can measure site authority with tools such as Ahrefs, Semrush, Moz, and Majestic, for example.
And I would recommend that you check the site authority of the site using at least one other tool such as the Moz Link Explorer or Ahref's Website Authority Checker.
The reason is that site authority can be faked for any existing website, but again if you're purchasing through a broker, this shouldn't be an issue.
Private sales are an entirely different story, however, so you need to be vigilant.
There's no such thing as the "perfect" domain name, but checking the actual site authority vs. what the seller claims will stop you from buying a dud domain.
Yes, you can always improve the backlink profile of a domain name with a faked DA score. But the point is that you shouldn't have to – you paid good money to avoid that particular task.
Backlink Profile
You should always take a careful look at a site's link profile by auditing it.
What you're looking for are anomalies like really high thought leadership but where 95% of the links are shit, where most of the incoming links use exact match anchor text, or even that a large number of stupidly high DA sites recently started linking to the site because this is one way to spoof the DA score.
Truth be told, if you're buying through a broker, they've already checked this for you – or they should have.
Alternatively, the average person with access to a decent backlink checking tool like Ahrefs can spot a toxic link profile a mile away.
Rankings
The evaluation criteria for rankings requires ascertaining whether a large percentage of your site's traffic comes from maybe just a handful of high-traffic pages or keywords.
Or even worse, just a single keyword – gulp!
While it's true that 80% of a typical affiliate site's traffic comes from 20% of the content, you still need to err on the side of caution when you're about to drop a few grand on a site.
So, ask yourself what would happen to the site's revenue and income potential if that small number of high traffic pages got deindexed by Google?
For example, is there informational content on the site that you could monetize if all the commercial keywords tanked?
Ongoing rankings are never guaranteed for any website, but be careful about putting all your eggs in one basket (or one keyword!)
Keyword Research
After you have bought your new website, you will want to increase the traffic, which means finding new keywords to target for your marketing strategy.
This should only be done for sites you have an active interest in acquiring and not every single site that looks worthwhile.
You don't need to be an SEO expert to do this type of research.
All you're looking to find out is:
Does the bulk of the site's traffic come from just one keyword?
Are there dozens (but ideally hundreds) of other keywords to target?
Look for a mixture of targetable long-tail keywords for informational content along with a handful of commercial terms that you can target for revenue generation.
You need to provide food for the search engines if you want to continue to grow your future site and make more money from it.
P.S. If you do want to level up on your research skill set, check out my guide on how to do advanced keyword research.
Traffic Sources
Not all traffic is created equal, so it's always worth digging into a site's Google Analytics to find out exactly where visitors are coming from.
It'd be all too easy to assume that every unique visitor was brought in via the SERPs, but they could just as easily be arriving via social media posts.
Again, don't rely on screenshots for this kind of information – ask your broker or the seller for access to Google Analytics live data, especially if you're spending in the $15,000+ region. Google Analytics data is a must.
Site Revenue
When buying a site, you have two choices available to you in terms of revenue evaluation criteria:
Purchase a site based on its potential to earn money. However, you should pay a lot less for a site without proven revenue because you're making a decision based on speculation.
Purchase a web site with established revenue – this needs to be at least 6 months of stable revenue. This also needs to be provable revenue and not just claimed revenue.
But you also need to look past how the site is currently performing in both of the above scenarios.
Here's what I mean by that
Let's say you're considering a site that already has income from affiliate commissions. Does that site have informational content you can monetize with display ads for an instant income boost to your site's monthly income?
Scan the site for broken affiliate links using something like AMZWatcher for Amazon pbn links. For non-Amazon sites, you can check for broken outgoing links using something like Ahrefs. You can filter by 'No Follow' to speed things up. Fixing these links can mean an instant increase in monthly income.
If the site uses nothing but Amazon affiliate links, look for better affiliate offers for those same products. If in doubt, e mail the manufacturer of the product to see if they operate one platform. Upgrading the affiliate program(s) you use can be another easy win to boost site revenue.

If you'd like to get into more detail on this topic, you should check out my case study on the changes I make after buying an affiliate website to boost CRO, traffic, and conversions.
Your Niche/Domain Experience
You don't have to love a niche to buy or build a site around a given topic.
But it helps if you at least like the niche or know a little bit about it.
There's also the issue that specialized topics (coding, martial arts, engineering) require specialized domain experience if you want to keep your audience on the site.
Yes, you can outsource the content creation, but again you'll have to hire specialists who are experienced coders or martial artists, for example. And specialized content creators/writers charge a lot more than generalists.
Failure to do that will have you exposed as an impostor pretty quickly, and your audience is most likely going to bail on you.
Hidden Costs
There can be hidden expenses that end up costing an unwary buyer a whole lot of money.
Hosting is one example.

Let's say the site you want to buy generates 25,000 uniques per month and uses shared web page hosting; your monthly web hosting bill should be around $20.
But a site that gets millions of unique visitors per month will need to use high-end cloud or dedicated web hosting. This could set you back $2k or more per month, or $24,000 per year.
That's a big chunk of change.
And it goes beyond web hosting too, like recurring licenses for plugins, images, or other software, tools, or services required to keep the site running.
That's why you should always ask for a profit and loss statement to see what the site's true monthly costs are.
CMS
One particularly unpleasant surprise is when you log in to your newly acquired website only to find that it's using a non-standard CMS like Drupal, Joomla, or even some hybrid custom CMS nonsense.
Sure, you can still design pages and posts as you would with WordPress, but the two issues you'll face are:
The learning curve involved with a non-standard CMS i.e. you'll waste a lot of time learning it
WordPress is – by a huge margin – the most extensible (it's a real word) CMS available today.
That's why you should always ask what CMS is used to run the site.
Site Structure
A site with solid structural foundations is something you can build, whereas a site with an illogical or scattered structure will typically prove to be a lot of work.
Here are some things to watch out for:
Does the site use a silo structure, and if so is it a hard or soft silo?
Is every page on the site within 3 clicks of the main navigation menu?
Are all of the URLs short and punchy (around 30 characters)?
Have you checked for duplicate content?
Did your earlier audit pick up on a bunch of 301s?
The easiest way to get an overview of site structure is with a tool like Screaming Frog's 'SEO Spider' software – it's free tools to use on sites with fewer than 500 pages.
Make sure to check out our guide on mastering Google website crawl too – there's a ton of useful information there.
Quick Ranking Wins
You've already run an audit, so you should have some keyword ranking data handy for the site you're considering purchasing.
Look at the top 10 – 20 keywords the site currently ranks on page #2 or #3 for and make a note of them.
Then do some competition analysis on this set of keywords and look for ranking gaps, especially in areas where you could quickly improve on-page SEO using Surfer or add topical relevance to tip the game in your favor.
Or maybe it would take just a handful of backlinks to rank for that 40k search volume keyword that's at #12 right now?
Either way, these are the kind of quick SEO (Search Engine Optimization) wins that can double your traffic/revenue in a few months.
Content Quality and Quantity
It's really important that you view the site content not just from an SEO point of view but from a visitor's perspective.
So, do the pages and posts read well, or are they just keyword-stuffed nonsense?
Does the content read like it was written by a fluent English speaker or the cheapest outsourcer the site owner could find?
It may not be easy to identify a low quality content if you're not keen. If you're not sure what really good affiliate content looks like, here's my definitive guide to writing for conversions and SEO.
Negative PR/Reviews
Take the time to check online for any kind of negative press around the affiliate site or web page address you're about to purchase. Otherwise, it means purchasing a non-existing site.
This goes double if you're purchasing a drop-shipping online businesses or ones that sells physical products or merch.
A handful of negative reviews is no big deal – you can't keep all the people happy all the time. These can be neutralized with a proper online reputation management campaign.
But if you find dozens of negative reviews, you should rethink your acquisition.
Future Investment Required
Although it would be great to buy an affiliate site and never have to work on it again, that's not how things work in real life.  A successful site depends on how much work and effort goes into it.
You will have to exchange either time or money to keep the site updated, add new content to it, and improve its link profile.
How much money?
Let's take a conservative estimate of 4 blog posts per month of around 1,500 words each. A decent freelance writer will charge 6c per word, so that's $90 x 4 for $360 per month x 12 for an annual content marketing cost of $4,320.
You can find such writers on the sites listed here.
Next up, you'll need a budget for pbn links – either outsourcing them to an agency or freelancer or purchasing them from a high-quality establishment like Authority Builders.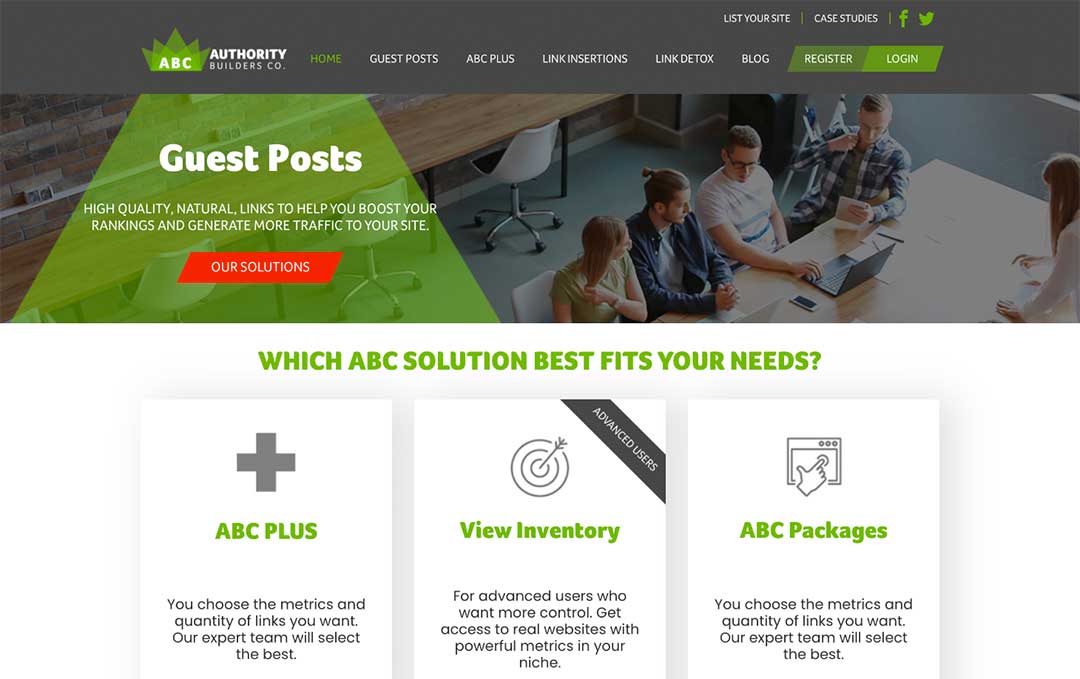 So if we assume that you want to build 100 new links to your site within your first year as a site owner, that's 100 x $85, for a total of $8,500. As you can see, you can expect to spend the most money on adding links to your site.
That's a total future investment required of $12,820 at the bare minimum. But don't forget, that investment can reap big rewards…
Seller Reputation
The vast majority of the people selling an existing website are not going to rip you off.
But there's always that one guy who wants to make a quick buck from an unsuspecting investor.
So again, do proper due diligence and run several Google, Bing, and DuckDuckGo searches on their name.
Why use separate search engines?
You should use separate search engines because some of the bigger ones allow the removal of certain types of web results from their index, especially in Europe.
Mailing List
A site with an existing subscriber list can be a real bonus, so long as you do your due diligence.
Proper due diligence will help you know where the subscribers came from, were they double opt-ins, and is there any risk of getting caught up in GDPR shenanigans if you email them.
Not all mailing lists are created equal, so never assume that the mailing list you're being handed is made up of high-quality leads or engaged subscribers.
It could just as easily be made up of scraped e mail addresses, which is a quick way to get your web address blacklisted by email providers.
Flippable?
There comes a time for every website owner when they'll want to sell their site. Trends expire, hobbies change, and sometimes you just exhaust what you feel can be said on a given topic.
So ask yourself if you could easily flip this site if you had to within the next 12 – 36 months.
Does the domain itself have inherent value outside of the content?
And if the answer is "No" or "Maybe if…" then you might want to reconsider buying the site in the first place.
Note: You have to be pretty mercenary when it comes to the above list – you're not running a nonprofit organization here. These are business decisions – so treat them accordingly.
What Kind of Websites Should You Buy?
The kind of website you should buy is one with a future, but that's pretty vague.
So we need to look at specific types of existing websites instead of using broad generalizations.
Your primary choices when buying a website will be between an authority or niche site – both have their pros and cons.
A site built around the 'authority' model should have a lot of traffic and existing rankings to work with, but you'll pay far more for acquiring the site. But you will have to continue to produce a lot of quality content across a broad range of related topics to build trust that keeps attracting new visitors and increase your earnings.
On the flip side, Niche sites tend to be more hands-off in terms of maintenance and rankings, plus they tend to require less in terms of hosting services.
Plus, you could buy several sites of this type for exactly what you would pay for an authority site, spreading your risk.
What about e-commerce or drop-shipping sites? They're always an option, but there are major considerations to take into account:
You need real business acumen to run these types of online businesses successfully
Small mistakes can cost you a fortune in lost revenue or marketing overspend
You're going to have to drop 6 to 7-figures to acquire a profitable site
If you're a complete newbie in the world of affiliate marketing, then a smaller niche site makes sense – you can learn the ropes far more quickly.
And then once you've built up enough experience, you can move onto an authority-type site or just start from scratch with a brand new domain name.
Where to Buy Websites?
You can buy websites in some of the bigger marketplaces such as:
The major benefit of buying a website from marketplaces is they vet sites, so you don't end up with a dud  – they've already checked the backend stats and other stuff before the site is listed with them.
But big marketplaces need to charge a fee for their services, so that's an additional expense for you.
There are cheaper alternatives, though, including several Facebook groups like the Flipping Websites, Affiliate SEO Mastermind page, and others where you can buy a website for far less than through a broker.
Remember, you're looking for "starter sites" when you're bargain hunting – you want sites that haven't quite taken off yet, but have the potential to do so with some minor tweaking.
They'll probably have a lot of content, but it's either not optimized enough, not thematically relevant enough, or simply not old enough to earn a significant income.
"Lots of content" and "good content" are not the same thing.
You have to be aware of the asking price of any of these "starter" sites based on income potential instead of hard data – the trick is to find a price that makes the seller happy with their decision without exposing you to unnecessary financial risk.
How Much Should You Spend on a Website?
How much you should spend on a website will always vary. This is almost like asking, "How far is up" because how much you should spend will depend entirely on your circumstances.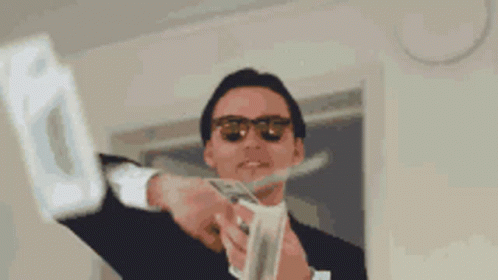 Some investors will have the financial resources to drop $50k when buying an existing affiliate site, whereas others will have closer to $5k when making their acquisition.
We've even seen examples of first-time buyers getting started with as little as $700.
So the "how much" question is entirely relative.
Website dollar values are typically calculated using a multiplier:
N is based on several different factors, including site age, niche, future profitability, etc.
You can expect most people selling websites to expect a final sales of 40 x monthly profit – that's pretty much the industry standard right now.
So a site that earns $1,000 per month will set you back $40,000.
But, based on my own experience, $15,000 is the kind of money you need to spend to pick up a site with enough proven income potential and traffic to make it worthwhile. So that's a multiplier of $500 x 30.
As you get better at this stuff, you can go mining for sites costing far less than that because you'll have a better idea of what works and what doesn't
For me, I like investing where I know there's the potential to 5x site revenue within 12 months.
And finally, here are some tips on how to negotiate a better price when acquiring a website.
How to Buy a Website
There are really only two ways to buy a website.
Do it yourself with the seller
Via a broker
A broker can walk you through the process of acquiring an existing website.
And they're more than happy to do that for their fee.
But that doesn't mean you should skip doing your due diligence. Brokers are there to assist you in the process of buying a website but you are ultimately responsible for whatever decisions are made.
The decision to buy a website directly from a seller can be a little intimidating and risky at the same time, especially if you've never done it before.
So here's what you do.
Set a purchase price and confirm that both parties agree on it
Initiate the transfer of funds to a third-party escrow service like Escrow.com (https://www.escrow.com/).
Provide the seller with proof of funds and ask them to begin the domain name transfer process to your registrar
Then once the domain transfer process is complete, release the funds in escrow.
Ask the seller to then provide you with CMS and web hosting logins
But if any part of that process makes you nervous, hire a broker. In fact, if this is your first time buying a website, then I'd recommend using a broker.
They make the entire "checkout process" far less hassle for you.
First Steps Post-Purchase
The buying process is complete, you've taken ownership of an existing website…now, what comes next?
The very first thing you should do is change the passwords for all CMS and web hosting logins for the purchased website.
Next, create a complete backup of the site using your tool of choice – UpDraft is pretty good for that purpose.
And then run a full suite of audits on the purchased website. Here's a list of guides to help you in doing that:
Running these audits will help you find your quick wins in terms of organic traffic, ranking, UX, etc.
And as luck would have it, I already published an in-depth guide on exactly how to optimize a newly acquired affiliate website.
Just in case you're feeling a bit overwhelmed.
Wrapping It Up
And that concludes our comprehensive guide on buying websites vs. building them.
If you're still struggling with the buy vs. build dilemma, here's how I look at it.
Building a site from scratch entails a total cost of up to $30k and 18 months of your time.
Acquiring a site means purchasing it for around $15k – $20k but you can start earning money right now.
That's why I never build a site from scratch unless I have absolutely no other choice.
But if you still want to learn how to build your first affiliate site from scratch, you should check out my Affiliate Lab course.
It teaches you everything you need to know about the subject.