In this guide, I'll show you exactly how to take control of the SERP for brand searches, with super easy (and cheap!) techniques that my grandma could do in a spare Sunday afternoon.
We're talking about online reputation management (ORM): the process of pushing negative search results down off page 1.
Imagine this scenario: You're a politician that recently got smeared for a big mess up.  You want that negative online reputation to go away.  This is where a company's online reputation management SEO comes into play.
Over the years, my agency The Search Initiative, has performed dozens of Online Reputation Management campaigns for our clients.
I'm about to share the key essentials from these campaigns.
You're about to learn:
How to boost your existing rankings to cover page 1
How to delete negative reviews in the search result
How to push down negative reviews onto page 2
Quick Summary
Online Reputation Management (ORM) in SEO refers to the process of controlling the reputation of your personal or business brand via the pages that rank on your brand's search terms.
Effective Online Reputation Management techniques, include boosting existing rankings, removing negative reviews, and blanketing page 1 with positive pages.
ORM is not only beneficial for controlling what shows up on page 1 of search results, but it can also drive traffic to your website, increase your brand's visibility, and improve your search engine rankings.
Why Is Online Reputation Management So Important?
Online Reputation Management is so important because it controls the reputation of your personal brand via the page (or pages) that rank on your brand's search terms, aka keywords.
The easiest way for a user to decide if they want to trust a brand is with a Google search.
If someone Google's "Diggity Marketing" or "Matt Diggity", I want good things coming up on page 1.
Whether your client is an online retailer with a bad news story ranking high or you have a new info product that's losing branded search traffic (and control) to affiliates; being able to control what shows up on page 1 is massively beneficial.
ORM can also be a very attractive skill set to future clients and employers, or even have a dedicated Online Reputation Management service.
In this post, I'll be taking you through my sure-fire system to gain (or regain) control of any brand's online reputation, using a mixture of real brand marketing and parasite Search Engine Optimization.
Parasite SEO was a term created in the early 2000s by Eli, the founder of the now defunct Blue Hat SEO blog.
Eli's definition of parasite SEO still stands true to this day:  Using large, authoritative websites to build pages that allow you to "hijack" the root domains ranking signals.
It's truer than ever that Google favors large, authoritative websites. In fact, Google gives them certain leeway in terms of techniques they can get away with using.
As you have seen throughout the last 12 months of updates, Google's algorithms are moving more and more towards authority and thus, authoritative websites.
This means our job of doing Online Reputation Management is easier.
Techniques for Powerful Reputation Management with SEO
These are the core techniques that I use to boost my site's own ranking signals as well as give users a clear idea about what my brand's about.
While there are other ways to do ORM within the SEO spectrum, these are by far the simplest and most effective techniques available to us.  And I've tested a lot of them.
Boost Your Existing Rankings
The easiest and totally free way to start cleaning up your brand's reputation is by boosting your site and its appeal within the SERPs – Having a knowledge graph, sitelinks and multiple additional positive pages, reviews or posts ranking sends huge trust signals to users.
Optimizing Your Site's Entity
Google will associate keywords with your branding if you build a compelling enough case for it to do so.
For example, DiggityMarketing.com's brand is "Diggity Marketing", not "Matt Diggity".
But Google will still give me a sitelink pack when you search for "Matt Diggity".
When you're optimizing your brand's SERP, you want to first create as strong an entity stack around your brand's keyword/s on your own website as possible.
There are a few ways you can do this:
Schema – Using organization & persona schema, as well as navigation bar microdata (SiteNavigationElement) to tell Google about you and your website is one of the easiest additions to a website you can make.
About us Page – As documented in the Google search quality rater guidelines, Google is actively looking for an about us page to validate the people and the organization behind a website. This page can also serve very well to link people and social media accounts to the site.
Domain & Meta Titles – While your brand can differ from the domain it's on, in an ideal world you want everything to match together, including the end of each meta title on your site. It's common practice and helpful for Google to further identify your brand.
Your pillow links such as social profiles and citations also play a big role in authenticating your website and its surrounding details – This is especially true for local sites and local SEOs looking to optimize a site's GMB rankings using NAP.
Optimizing Your GMB
One of the easiest ways to get instantaneous trust signals to a user is by (first creating and then) optimizing your GMB to automatically insert a knowledge graph that authenticates the business as real in the user's eyes.
Posting on Your GMB – While there's no direct correlation, it can give you additional cards in your GMB's knowledge graph when users search your brand which does increase the size of your knowledge graph and add additional trust signals.
Full About Details + Product Listings – Making sure you have every detail filled out and directly link to your products via GMB product listings allows you to have even more room and authenticity in your GMB knowledge graph.
Images – Office pictures, employee group photos and ongoing work with professional photography (which can be on one of the latest iPhones with a compact lens these days) all add additional trust signals to Google and the user of the authenticity of your business.
Consistent citations can also have a major role in optimizing your GMB, but that's another guide for another time.
GMB Reviews
Google will always display their review stars the highest on the page for a business branded search query than any other site or that site's schema element.
This means Google's reviews (Which can arguably impact your GMB rankings[1]) are the most important trust signal to be sent to a user, and thus the ones you want to be optimizing for the most.
It's against the GMB guidelines to offer anything in return for a review but having an active email list or social media marketing accounts with engaged customers can provide a handful of positive reviews in a very short amount of time if you catch my drift.
As a side note, just because it's against the guidelines doesn't mean that you can't buy them.
You didn't hear that from me though.
How To Remove Negative Reviews
Just because you (or your client) has gotten a negative review on Yelp or TripAdvisor, it doesn't mean it's set in stone.
Every website has its own unique process and system and appeal process.
Do this…
Firstly, you need to identify which site (or sites) it is you're getting the negative review on.
Then, you'll want to look if it's just that singular review or if the reviewer has left multiple brand mentions across the same or other platforms.
The support staff of these sorts of websites tends to be more sympathetic if you give evidence of the reviewer leaving multiple negative reviews within a short timeframe.
Identifying the Review & Asking For its Removal
As I said, every website has its own unique process, but most of them will be some form of ticket or contact support form with or without an upload feature to give additional evidence.
Google allows you to flag a review[2] for removal and gives a variety of reasons, leading to a more often than not automated response as to if your review gets removed or not.
TripAdvisor has a built-in appeals system in your company's dashboard, though is notoriously known for only working properly for their paying customers.
TrustPilot also have a built-in appeals panel[3] that allows companies to appeal reviews for a variety of different reasons.
Once you have the way of how to report the review, you need to give the company hosting said review a good enough reason to remove it.
Most companies will remove online reviews that:
Are fake users – Though this needs evidence (Such as reviewing multiple wildly varying locations in a short amount of time or completely different types of businesses very far apart)
Use profane/racist/abusive language
Uses the review to market another service or website
Shows someone's full personal information – A first name is normally fine, but full names, addresses, phone numbers, and the such will get every review removed.
Most of these won't require you to do any further digging yourself, but if you do almost all sites will only ask you to do it both on their website and physically within your own books/receipts.
Unfortunately, if the review doesn't break any of these additional rules then it's very unlikely you'll be able to remove it.
Thankfully, there is always another tactic you can employ to knock it out the SERPs.
Blanket Page 1 And Push Down Negative Pages
Unless you're some sort of super hacker, you're unlikely to find a member of staff that'll willingly remove a negative review on a site unless you're paying to be listed on there in the first place – And even then you'll still run into a bunch of restrictions and headaches.
The easiest way to get negative pages knocked out the SERP for your brand is by putting stronger pages that you have control over and above them.
Luckily, there are a bunch of authoritative websites out there that allow you to create totally free pages that can rank well for our brand's name.
Social Profiles are the Easiest SERP Control
Associating social media accounts with a brand's entity is one of the easiest jobs an SEO has.
The root authority of huge social media marketing websites like Facebook, Twitter & YouTube makes for easy rankings without having to utilize links in most cases, or at least not a huge number of them anyway.
If you look at my own SERP, you'll note that the raw authority of my social media presence outweighs any interview, podcast, or guest posts on much lower authority domains than my own –
Even though most of these profiles don't have any readable content for Google to understand they're linked to my brand, the brand association and root authority of the domains are high enough to rank them above pieces with 1,000+ words of content.
Just make sure you're consistent with your branding used on each profile, and the URL you've created around them and if you're consistently posting on Twitter, Facebook & Instagram then you can even start getting additional feed elements in the SERPs from those sites which take recent posts and put them in a SERP block.
Getting A Video Carousel
Google's use of video carousels within the SERPs worries some brands[4].
Its prominence can take up multiple organic positions on desktop but it can also be used to great effect when you're trying to knock content down for your own brand terms, by re-optimizing existing videos or creating new video content with the brand's keyword featuring within the first 50 characters of the video's title.
You'll want a minimum of 3 videos optimized around your branding or you won't even be able to get a carousel.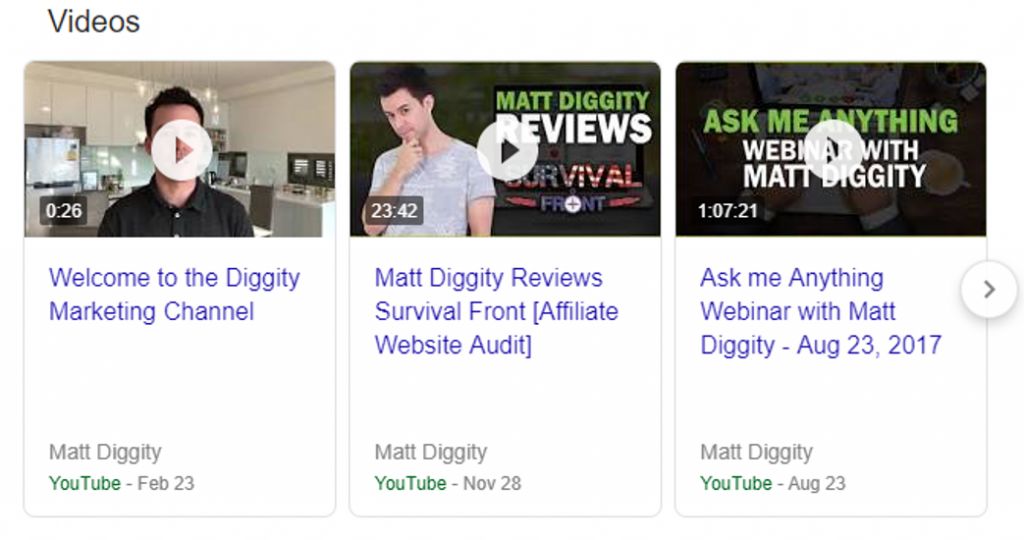 Ideally, I'd go for 5, and they don't need to be anything special nor have a huge view count for this to work.
Google will normally feature the channel trailer video (If you have set one) first in the carousel if it's branded around your keywords.
So just make sure you want whatever's within your channels trailer to be the first video that catches your users' attention.
Your Own Properties
If you have other domains that are related to you, the client you're focusing on or the brand itself then you ought to be either optimizing a page around it (like I have done with the homepage of The Affiliate Lab).
You can also create Author or About pages on existing properties.
For example, I'll likely create an About page on Authority Builders featuring a short bio on myself (optimized for Matt Diggity and Diggity Marketing).
Citations
Some directories have huge authority and DR, as well as offer totally free listings – This makes for a perfect page to help build our entity stack and makes for easy rankings on branded search terms.
All it takes is 5 minutes of searching your competitors top 10 pages for directory sites and signing up – Most of them will offer free listings anyway.
Just make sure you're consistent across every profile with the business information listed, as Google does take consistency into consideration when it comes to authenticating a business.
WhiteSpark actually has a tool[5] that allows you to reverse engineer your competitors citations and find high authority citations within your geolocation and niche.
It has a free trial, but the plans are affordable, and it makes finding these citations to build significantly easier – Especially if you're doing this en masse for multiple clients or sites.
Other Review Sites
Though Google has its own internal review system and it prefers to put its stars above anyone else in the SERPs, getting listed on sites like TrustPilot or TripAdvisor can massively help your own branded search.
My media group and affiliate company LeadSpring will get TrustPilot profiles (and online reviews) for affiliate sites as a trust signal.
Though be advised that many of these sites now require you to pay for them, and there are lower DA/DR alternatives that are much cheaper or free like reviews.io and TrustPilot.
When it comes to spending money on these sorts of sites, make sure you shop around and aren't going to end up paying a fortune or getting extorted[6] by the Yelp mafia.
Again, I recommend also checking your competitors' SERPs for review sites they're listed on and ranking well for their brand terms.
Extreme Lengths – Interviews, Forums & AMAs
When all else fails there are always the additional extremes of taking you or your client's brand marketing to real lengths by launching an AMA on Reddit, paying off bloggers to interview you, and spending hours trawling niche forums to be able to gain the ability to ask for an opinion on your brand.
These pages are where you win over the real brand skeptics though.
When other users validate the authenticity of a business – that's where real trust is built.
Interviews & Podcasts
Interviews/Podcasts can be a great piece to rank for multiple brand related terms.
If you have both a person and a brand, such as Mark Zuckerberg and Facebook, doing an interview can effectively kill 2 birds with one stone, allowing you to rank for multiple entities within the same page, unlike things like social media presence which generally require different pages for the differing entities.
Realistically, unless you or your client has some authority built into the space, you're going to have to pay off bloggers, podcasters, journalists, and site editors to publish interviews.
It's a very standard outreach process, but you can have them ask the questions which often allows you to get cheaper rates than a guest post and you don't necessarily even need a backlink – Though every little helps, as they say.
You can also get featurettes using sites like HARO, Cision & PitchRate but these will often be grouped with broad interviews and serve better off ranking for branded keywords in the Google News feed and not the search index.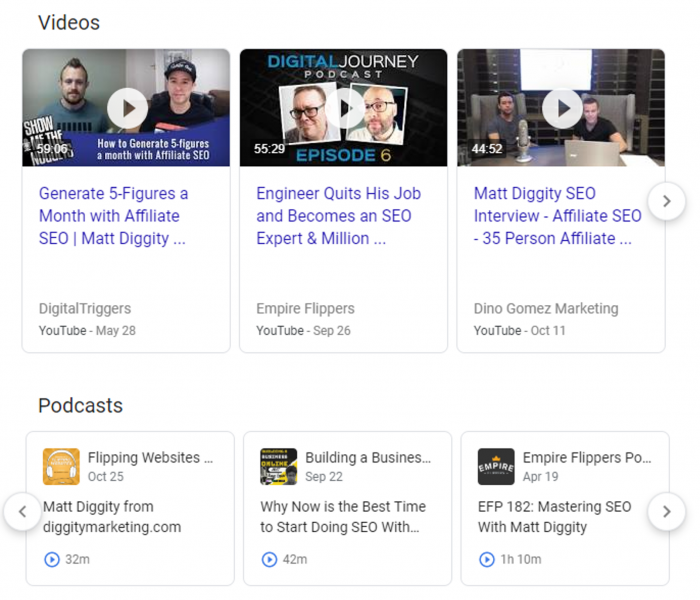 I personally find that podcasts are preferable to textual based interviews.  They typically get larger reach, and oh hey, look… there's a bunch of carousels for them now:
Forums
This one may take you up to a month of proactive work to get a page that'll rank for your brand terms.
As some forums will instantly ban you if you start using company or people's names straight off the bat, better to spend a few minutes each day getting involved and building some cred.
You never know, you may learn more about your own target audience and the language used in the process of building some brand relevant pages.
The idea is very simple.
Create a third-party profile and build up a decent amount of authority (posting) on large DA/DR, niche relevant forums and after a while, you post a thread in a relevant section about your company.
Let's say I had a client named Bob Bobberton who had a course on "bobbing for apples."
An example subject line for the forum about this blog could be, Has anyone heard about Bob Bobberton? Looking at buying his apple bobbing course.
9.9/10 times these types of threads won't get deleted, and even if they don't earn responses all you have to do is flesh it out with a couple paragraphs of unique content to rank and you're good to go.
If you want to take it to further extremes you can create multiple accounts over the space of several months using VPNs to change your IP address and reply to the threads yourself.
Reddit AMAs 
Reddit is a powerhouse in the SERPs, and if you can get multiple subreddits covering the same AMA you'll easily be able to take SERP realty for your brand with multiple Reddit listings in the SERP.
Either personal (Matt Diggity) or company (Diggity Marketing), just make sure you're using your branded keywords in the thread title and have an aged account with some previous karma for authenticity.
Again, it doesn't really matter if you don't get any replies, the page alone and it being found by Google's crawlers within other category pages of the subreddit should be enough to rank it.
Just make sure you're filling it out with content like the forum Online Reputation Management strategy.
Ranking These Pages
As most of these pages are on large websites with large root domain authority, you don't necessarily need to build links to them.
Especially if it's for a small branded keyword. Even affiliate sites will get beaten out by branded social media plartforms.
Once you have your list of pages created, you'll first want to link from your main site to them.
Your site is generally the highest topical relevancy to your branded search term as there is in Google's eyes, so linking (ideally from an about page – EAT) from it to your pages is the easiest way to get a very powerful link that'll pass relevancy and ranking signals.
Next up, we simply create an about.me profile and link to all of my social profiles – I then normally Tweet the about.me profile which allows it to get picked up by Google's real time tweet index.
Social profiles, Reddit, and even most forums are DR/DA80+ which is massively higher than most publications on the internet.
These can all make for good, free sources of links to get your pages indexed and ranking.
This small amount of link building will normally index the pages on page 1 for your brand keywords without costing you a dime.
Link Building to Stubborn Pages In 2023
In the case of you running into a trickier, more competitive SERP or you need to take back control from a well built affiliate/competitor that's irking your brand, use this simple but effective link building strategy to rank pages fast and safely for more competitive SERPs or pages that don't have the higher root authority we were talking about earlier.
Tier 1 – Hand Made Web 2.0 Links
You only need 2 or 3 per page you're wanting to rank for this, I recommend getting multiple posts on to the web 2.0 (making sure your link is on the homepage, and dofollow of course) from sites like Xing.
1,000 to 2,000 words of decent content, with some light internal linking, doesn't cost too much and provides a solid base link (though on its own isn't very valuable at all).
You'll want to drip feed any multiple posts you've made for the site and you'll want to let it age a little bit before moving on to building tier 2 links.
Just built branded and generic anchor texts for these links.  Using the brand's name poses a potential risk from manual reviewers looking into your link profile too much.
Tier 2 – Cheap Niche Links
Power up the links with one-time payment PBNs from a provider like Rank Club's Tier 2 Network.
Remember, you aren't trying to rank a small rinky-dink site here.  These are large, authoritative sites with low competition SERPs you're ranking in.
In terms of anchor text for tier 2s, it really doesn't matter, it's all about the ranking signal passed to the tier 1.
FAQs
What Is Online Reputation Management?
Online Reputation Management (ORM) is the process of controlling the reputation of a personal or business brand through the pages that rank on the brand's search terms.
Why Use Online Reputation Management?
Online Reputation Management is crucial as it allows a brand to control what shows up on the first page of search results, which can influence a user's decision to trust a brand.
Is Online Reputation Management The Same as SEO?
While ORM and SEO share similarities, they are not the same. ORM focuses on managing the reputation of a brand through search results, while SEO is a broader practice aimed at improving a website's overall visibility in search engines.
Who Needs Online Reputation Management?
Any individual or business that cares about what shows up on Google when their name is searched needs Online Reputation Management. This includes politicians, online retailers, businesses with new products, or any other entity.
Ready to Start With Online Reputation Management? 
Online reputation management company is extremely cost-efficient using these methods.  Basically, you're leveraging brandability 101 tactics and some fairly non-complicated entity manipulation.
You've learned:
How to get your own site ranked higher
How to get negative reviews removed
How to blanket page 1 with positive reviews and properties
If you're a brand, site or business owner and you haven't got control of at least the top #3 results for your brands own keywords, then I'd start investing the minimal amounts of time and money that it costs to do so, or you risk potential reputation issues.
All it takes is one rowdy person to start a flame war on the internet these days.
If you need help, you know where to find us: The Search Initiative.
Get a Free Website Consultation from The Search Initiative: