What is Sandboxing?
Definition: When you build links to a site and you see little to no ranking benefit.
Back around mid-2014, we started to see a sandboxing effect on new domains that had been recently registered.
Before that time, you used to be able to register a new domain, build some backlinks to it, and within 5 days it could potentially be on page 1.  Now a days, SEOs are reporting sandbox periods of 3-6 months long.
People have been discussing various ways to beat the sandbox and reduce the time it takes to rank.  In general, the most widespread theory is that you want to create a viral effect.
Here's my recipe for sandbox reduction, and the results I've gotten by using it…
Social Fortress – For most "real" businesses, a website's first links are usually from social websites.  Once their site is made, a business naturally goes out to brand itself on Facebook, Twitter, G+, etc.  This social fortress should constitute the first links that you create to your website.
Business Citations – After social profiles are created, a typical business would like to make sure potential customers can find them in local and industry-specific directories.  Leverage directories like these to build free but natural links to your homepage.
Social Signals – After that, create a social signal campaign to drip out 50-200 Facebook shares, Twitter tweets, etc over the next 30 days.  This is where the virality comes from.  To generate signals, I use SEO Butler's 200 signals package, namely for their ease of use, delivery of quality signals, and repeatedly good results.  Use coupon code "DIGGITY10" for 10% off.
Guest Posts – Now that the stage is set, it's a safe time to build links.  I stick to quality guest posts from websites with traffic in this beginning phase.  Why?  Because in the natural course of the internet, most new links are created on brand new pages.  Similar to how guest posts are created.  The name of the game is to look as natural as possible.

Results
Here are the results of two separate tests running the sequence listed above.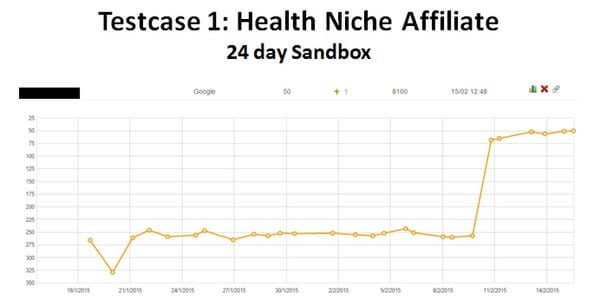 Of course, there are various techniques people use to skate around the sandbox, but this is what I use and it seems to be working quite well, and quite consistently.  Give it a shot and share your results as well.