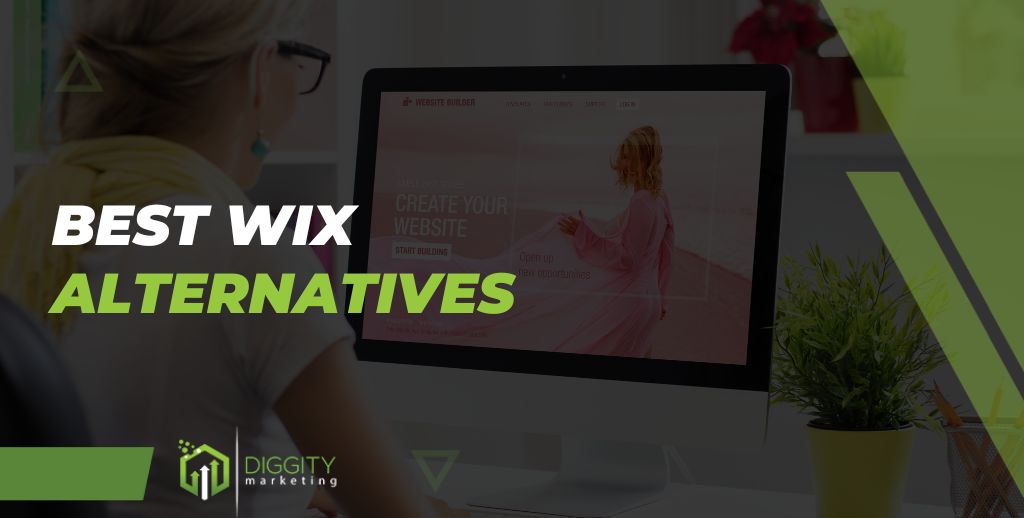 Website builders offer an easy pathway to create and customize your website without worrying about coding, backups, and security. 
Wix is a good website builder but lacks power and flexibility. For instance, you cannot switch templates and add featured images to blog posts after your website goes live.
With a decade of experience in digital marketing, I will guide you through the best Wix alternatives that will help you create and optimize your site, how they outperform Wix and their downsides.
Best Wix Alternatives
1. GoDaddy (

Editor's Choice

)
GoDaddy  is one of the best Wix alternatives. It is an effective website builder focusing on quickly running your site.
It comes with Artificial Design Intelligence (ADI) builder that creates a professional website for you by answering questions.
You get a fully designed and personalized site in seconds, and you can customize it to fit your branding.
Besides, it has a social post creator, digital marketing suite, and GoDaddy suite that helps you optimize your website for more traffic.
I noticed that its SEO wiz is beginner friendly and comes with tools that helped my site to rank high on Google.
I recommend it for startups and small to medium-sized businesses.
Pros
The quickest way to set up a website with ADI

Better value for money

Hundreds of pre-designed templates

Manages customer communications from a single tab
Cons
Fewer customization options
Our Rating
Security: 5
Ease of use: 4.9
Customer Support: 4.9
Pricing: 4.8
---
2. Weebly
Weebly is a premium website builder and a great alternative to Wix for startups and blogging options. It now supports more than 40 million websites.
It allows you to build an online store and personal website and comes with professionally designed themes that you can customize to fit your content.
Weebly comes with various tools, including free ecommerce hosting, video backgrounds, a free domain finder, content scheduling, a fully functional mobile app, animations such as reveal and parallax, custom lead generation forms, and integrated social media tools.
I particularly like that it is great for large websites and is easy to use. It allows you to go deep into your favorite topic as it handles dozens of web pages smoothly. The interface is clean, and the drag-and-drop function works perfectly.
Pros
Structured designs

Ease of use

Perfect for large websites
Cons
Less flexible
Our Rating
Security: 4.8
Ease of use: 4.8
Customer Support: 4.7
Pricing: 4.8
---
3. Shopify
Shopify is an ecommerce platform with 70+ customizable store themes and over 6k apps in the Shopify app store. It makes it easy to design a fully featured ecommerce website without having coding skills.
I found it particularly helpful when managing large product catalogs; the inventory system helps manage dropshipping and printable labels.
I also noticed that Shopify had the best server response on both desktop and mobile; this means our online store loaded quickly.
Unlike Wix, it has no free domain, and the blogging features are less established. However, Shopify has well-developed marketing tools to help you grow and expand your online store.
But it's worth mentioning that Shopify relies more heavily on apps than built-in features. While this is great for customization, it can increase the overall cost making it more expensive.
Pros
Comprehensive e-commerce features

Great for large online stores

Quick server response time
Cons
Expensive
Our Rating
Security: 4.7
Ease of use: 4.5
Customer Support: 4.6
Pricing: 4.7
---
4. Hostinger
Hostinger is a hosting provider with a drag-and-drop builder, WordPress-friendly optimizations, and a free custom domain name.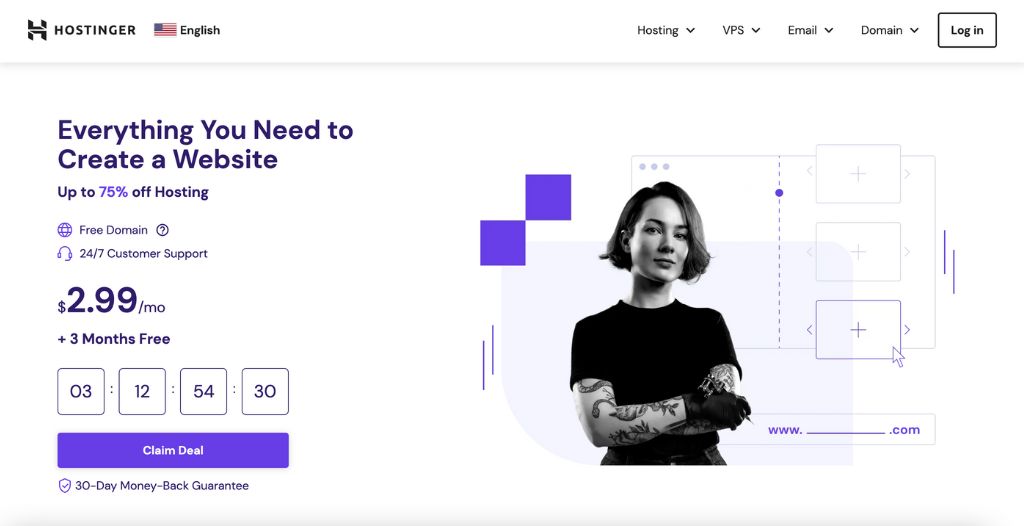 This website builder is designed for beginners with its affordable prices and simple interface. On top of the basic website building features, it comes with other additions such as AI writer, logo maker, and heatmap.
The drag-and-drop editor helps you to design your site more easily, and the few templates get you started.
Since it is a web hosting provider, it offers better hosting features, server response, and uptime than Wix.
It is very affordable, and I found that Hostinger offers stable and fast services at a price that is hard to beat, from as low as $1.99 per month. It aims to create the perfect balance of performance versus price.
Pros
Excellent uptime reliability

Very affordable

Advanced features
Cons
Limited marketing options
Our Rating
Security: 4.4
Ease of use: 4.6
Customer Support: 4.5
Pricing: 4.5
---
5. WordPress
WordPress is the most accepted content management system and the most popular website builder.
Before working with this platform, you must get a custom domain name and hosting. It comes with 60k+ plugins and 10k+ themes that allow you to customize and extend the functionality of your website.
WordPress allows you to integrate your site with a CRM with plugins such as WPRocket, Hubspot WordPress Plugin, and Yoast SEO to optimize your content.
This fully custom website builder is a free alternative to Wix, but you must purchase a hosting and domain name and pay for premium plugins or themes to control your site fully.
I found WordPress to be more powerful and flexible in SEO features. The customizable page titles and integration with Google Analytics helped optimize my website for search engines.
Pros
Top-notch blogging features

Great value plans

Flexible and easy to use
Cons
Expensive plug ins
Our Rating
Security: 4.7
Ease of use: 4.5
Customer Support: 4.4
Pricing: 4.3
---
6. Webflow
Webflow is a website builder suitable for designers. It is one of the best Wix alternatives suitable for developers who want to utilize HTML/CSS capabilities, use an on-page editing interface and create visually rich animations which allow them to create a custom website from scratch.
Its most powerful asset is the clean and semantic code which allows search engine robots to dip deep into every corner of your site and represent your content better.
Webflow offers motion design features like 3D and no-code animations, allowing you to create excellent animations and run on various devices without any hitches.
I was impressed with the advanced e-commerce features WebFlow offers – I could have full control over the design of my receipt to match my brand.
Designing a website can be a bit like being a kid and inheriting a sweetshop. It's easy to get carried away. There are so many choices.
– Gerry McGovern, Chief Creative Officer at Jaguar Land Rover
Pros
HTML/CSS editing features

Offers high-end web design customization tools 

Creates rich animations and unique interactions
Cons
User interface can be overwhelming for beginners
Our Rating
Security: 4.6
Extensions: 4.4
Customer Support: 4.2
Pricing: 4.2
---
7. Hubspot
Hubspot is a powerful website builder that allows you to create a website without any coding or technical skills.
It is one of the Wix alternatives that offer a drag-and-drop website builder, CRM, and marketing automation tools to create a customized experience for your visitors.
It effortlessly integrates with their CRM to leverage customer data, while the drag-and-drop editor makes it easy to design a custom website or change the existing templates.
Their customized templates help you to set up a website quickly.
Additionally, it offers blogging tools, email marketing features, analytics tools, and live chat software to help you create an authentic experience for your users.
I found this website builder particularly powerful since they have a free WordPress plugin that allows you to integrate WordPress tools with Hubspot's marketing tools.
Pros
Great CRM integration makes

SEO friendly

Intuitive page builder
Cons
You have to pay for technical support
Our Rating
Security: 4.5
Extensions: 4.3
Customer Support: 4.1
Pricing: 4.0
---
8. Squarespace
Squarespace is an alternative to Wix that helps you create responsive websites using templates, a free online logo maker, and email marketing tools. It is suitable for beginners since it allows you to add content to your site without any coding.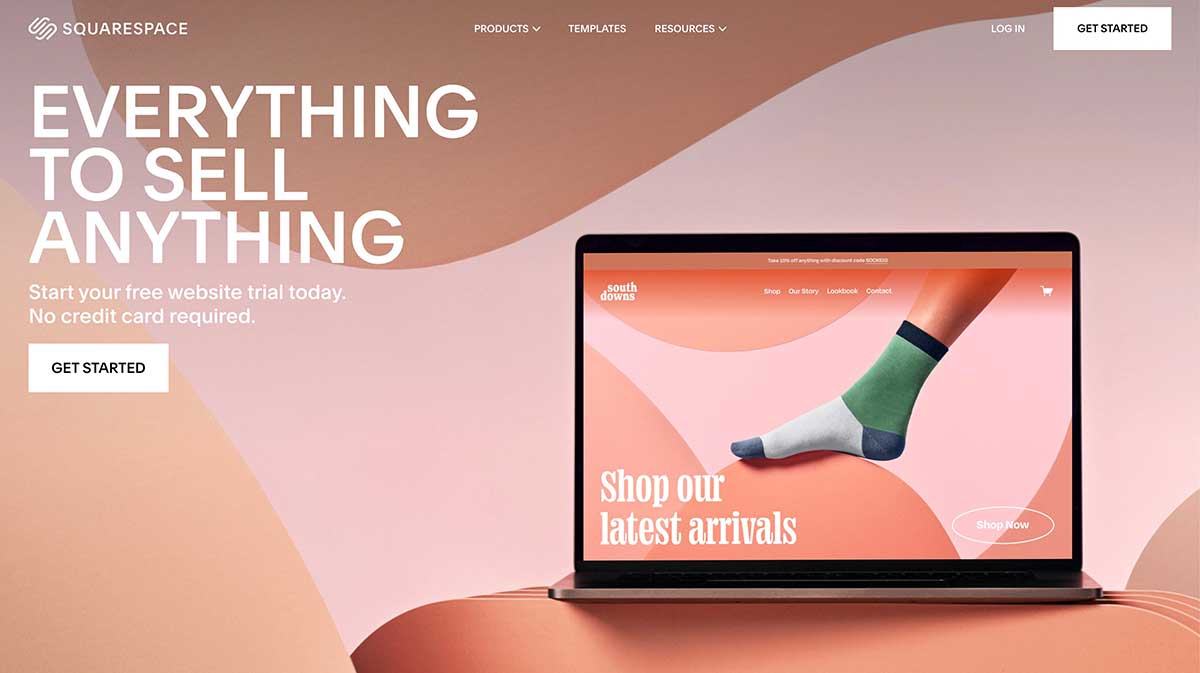 I found Squarespace to be better than Wix in design. It offers quality templates that create beautiful sites.
Also, the specific templates for various industries helped me to choose a template that suits my niche- I found all relevant features already built in.
This website builder also has marketing features, including built-in live feeds, an in-house marketing tool, a social post creator, social media integrations, and blogging features such as SEO tools, scheduling, comments, and categories.
Pros
Great value for money

Easy to use

Great design flexibility
Cons
No free plan
Our Rating
Security: 4.6
Ease of use: 4.7
Customer Support: 4.0
Pricing: 3.9
---
9. Jimdo
Jimdo is an AI-based tool allowing you to design quality websites without coding skills.
The Jimdo classic editor uses a drag-and-drop tool to edit your website. You choose a template and get directed to an editor.
On the other hand, the Jimdo AI editor asks you about who your website is for and your goals and chooses an array of various layouts that fit best depending on your answers.
This website builder is designed to fit small business owners; it allows you to create mobile-optimized websites easily. It has similar features to Wix, including SEO tools, an online logo maker, personalized support, and 100+ templates.
I was impressed with its access to Facebook's selling tools which allowed me to automatically sync my Facebook catalog with my Jimdo store products and create stories on Instagram.
Pros
The AI assistant lets you create a website quickly

Fast loading speed

Responsive designs that work on mobile devices
Cons
Not flexible
Our Rating
Security: 4
Ease of use: 4.0
Customer Support: 3.9
Pricing: 3.8
---
10. Pixpa
Pixpa website builder is great if you want to showcase your work and portray expertise on your site.
This alternative to Wix is designed for small businesses, creatives, designers, and photographers to create professional sites with an online store, client galleries, and a blog.
Its features allow you to showcase your work, sell your stuff, and share ideas online without coding know-how.
It has built-in SEO and social media tools, fully managed cloud hosting, E-commerce enabled galleries, drag-and-drop builder hosting, responsive templates, 24/7 live chat and HTML editing.
The built-in client galleries were quite good and allowed me to share work with my clients and provide them with private access.
Pros
Outstanding customer service

Easy-to-use editor

Great choice of templates
Cons
Needs an email host provider
Our Rating
Security: 3.8
Ease of use: 4.0
Customer Support: 4.5
Pricing: 3.8
---
Buyer's Guide
Wix is a web builder that offers a drag-and-drop tool that helps you create a website quickly. However, it comes with limitations in specific features, requiring you to pay for third-party plugins or apps to have more options.
Also, it offers a one-size-fits-all approach, and you cannot switch to a different template in a website you have created.
You must consider your personal and commercial goals when looking for an alternative to Wix. These are some of the things you should pay attention to when deciding on the best Wix alternative.
1. Flexibility
Wix users can only use its templates and tools; you are limited when customizing your website.
When looking for an alternative, consider how well you can personalize your site beyond what's offered in a platform to match your brand.
For instance, if you are looking for the fastest way to build a website with limitless customization, GoDaddy is the best alternative.
2. E-Commerce
Wix has less effective e-commerce capabilities may limit your ability to develop an online brand. An alternative to Wix should be able to design online stores with well-developed marketing tools.
3. SEO Functionality
Optimizing your site is important for search engine rankings. However, Wix comes with SEO limitations.
Consider the potency of SEO tools and their integration into Google Analytics when choosing an alternative to help you raise your search engine rankings.
For instance, you should be able to add alternative image text, change the titles of web pages, and add meta descriptions and tags to blogs.
If there's one thing you learn by working on a lot of different Web sites, it's that almost any design idea–no matter how appallingly bad–can be made usable in the right circumstances, with enough effort.
– Steve Krug, UX Professional and Author
4. Analytics 
Choosing a web builder with its own form of traffic analysis with easy-to-analyze reports is important.
This is perfect for beginners to give information on where your website traffic is coming from and how users found you.
If you want to expand your website's reach, you may need to invest in specific software for your analytics and reporting.
---
FAQ
Can You Move To A Wix Alternative If You Already Have A Wix Website?
Yes, you can move to a Wix alternative if you already have a Wix website. But the process will depend on the website builder you choose to move to. Remember to unpublish your Wix website and move your domain name to your new site. 
What Is The Weakness Of Wix?
The weakness of Wix is the lack of interchangeable templates and design options, causing your website to look generic and bland.
---
What Is The Best Wix Alternative?
Wix is a great website builder, however, there are other excellent options with better flexibility, uptime reliability, and blogging features.
The best Wix alternative is GoDaddy because it focuses on getting your site up quickly without compromising quality and professionalism. The GoDaddy website builder helps you to build your site easily and offers options for customization.
Additionally, it is significantly cheaper, starting at $9.99 per month, when paid yearly, and comes with a free plan. Its huge improvements in boosting its SEO and site speed capabilities are impeccable.
Our #1 Recommendation: GoDaddy