Choosing the right platform for website building is crucial for a successful online presence.
With a long-standing reputation as a trusted provider in the web development industry, GoDaddy has crafted a powerful website builder that offers ample opportunities for individuals and businesses alike.
As an SEO expert who has tested several website builders, I have dedicated considerable time and effort to thoroughly examine and evaluate the GoDaddy website builder and provide you with the needed information.
What Is GoDaddy?
GoDaddy is a renowned and widely recognized company that provides a range of services related to domain registration, web hosting, and website building.
GoDaddy offers domain name registration, website hosting solutions, email services, SSL certificates, and a website builder tool, among other services.
With its user-friendly interface, affordable pricing, and extensive customer support, GoDaddy has become a popular choice for individuals and businesses looking to establish their online presence.
How Does GoDaddy Website Builder Work?
GoDaddy website builder works by offering a user-friendly interface to help individuals and businesses create and manage their online presence. 
GoDaddy's website builder is designed to simplify the process of building and designing websites.
It provides a range of customizable templates and intuitive drag-and-drop functionality, allowing users to create visually appealing websites without any coding knowledge.
All you have to do is open the website builder, choose the desired template, and start publishing posts on your website.
GoDaddy Website Builder Features
1. Blogging Functionality
GoDaddy's website builder, along with its custom domain integration, offers a user-friendly blogging functionality that allows individuals and businesses to create engaging content.
With essential features like categorization, tagging, and scheduling, users can optimize their blog posts for improved visibility. 
With GoDaddy's blogging functionality, users can easily add a blog section to their website and start publishing articles and posts. 
Users can customize the appearance of their blog by selecting from various templates, adjusting fonts, and incorporating multimedia elements such as images and videos.
2. E-commerce
With GoDaddy's e-commerce features, users can set up an online store and customize it to reflect their brand identity.
The platform offers a range of professionally designed templates tailored specifically for e-commerce purposes, making it easy to create visually appealing and user-friendly online stores.
3. Social Media Integration
GoDaddy's site builder offers seamless integration with social media platforms, allowing small business owners and individuals to expand their online presence. 
GoDaddy's site builder allows users to effortlessly connect their website to popular social media platforms, such as Facebook, Instagram, Twitter, and more. 
With GoDaddy's social media integration, users can display social media icons and links on their websites, allowing visitors to navigate to their social media profiles easily.
This feature promotes brand visibility and encourages visitors to engage with the business across multiple online platforms.
4. Built-in SEO Tools
GoDaddy's site builder offers built-in SEO tools that help small business owners optimize their website's search engine visibility.
GoDaddy's site builder provides a range of other marketing tools. These include search engine optimization (SEO) features, free custom domain options, and email marketing integration.
It includes essential SEO features such as customizable meta tags, headings, and URLs. These tools enable users to enhance their website's search engine friendliness.
5. Mobile Responsiveness
GoDaddy's site builder prioritizes mobile responsiveness, ensuring your site looks and functions flawlessly on different devices. With automatic optimization for mobile screens, your website will provide an optimal user experience. 
This feature is especially important for online stores, allowing seamless shopping on mobile devices. GoDaddy's platform takes care of mobile responsiveness, saving you time and ensuring consistency. 
GoDaddy Website Builder Benefits
1. Cost-Effective Solutions
It offers cost-effective solutions, providing great value for individuals and businesses. With competitive pricing plans, including free and paid options, users can choose according to their budget.
GoDaddy saves users money by eliminating the need for professional developers and separate hosting services. 
The platform's user-friendly interface, pre-designed templates, and free custom domain options further enhance affordability and convenience. GoDaddy payment options allow users to pay monthly or opt for annual plans. 
2. 24/7 Customer Support
GoDaddy website builder offers 24/7 customer support, ensuring prompt resolution of issues and valuable assistance.
With multiple support channels like live chat, phone, and email, users can get help anytime. 
This reliable assistance enhances the user experience and ensures users can make the most of GoDaddy's website builder.
Having personally experienced GoDaddy's customer support, I can attest to their team's prompt and helpful assistance, ensuring a smooth website-building process and peace of mind knowing help is just a click away.
Our mission is to empower everyday entrepreneurs, providing them with the tools, support, and resources they need to succeed online.
– Bob Parsons, Founder of GoDaddy
3. User-Friendly Interface
GoDaddy site builder features user-friendly interfaces that simplify the website creation process. 
With intuitive drag-and-drop functionality, ready-made templates, and straightforward navigation, building a professional-looking website becomes easy, even for those without coding knowledge. 
This benefit ensures a seamless experience for users of all skill levels, allowing them to focus on their content and design choices rather than getting caught up in technical complexities.
4. Fast Loading Speed
One of the significant benefits of using GoDaddy website builder is its fast loading speed, which contributes to optimized website performance. 
With efficient coding, optimized infrastructure, and robust hosting capabilities, GoDaddy site builder delivers speedy loading times, enhancing user experience and reducing the chances of visitors leaving due to slow-loading pages.
This allows you to provide a seamless browsing experience and keep the audience engaged with your content.
Pros
User-friendly interface

Cost-effective options

eCommerce functionality

24/7 customer support
Cons
Limited design flexibility
Our Rating
Ease Of Use: 4.8
Value For Money: 4.6
Features: 4.6
Help and Support: 4.9
Downsides Of GoDaddy Website Builder 
GoDaddy site builder does come with a few downsides that are worth considering. Firstly, there may be limited design flexibility, restricting the ability to create highly customized and unique designs.
However, it is still one of the most reliable choices for beginners who don't know how to use other website builders or don't have funds for them.
Additionally, users are tied to GoDaddy as their hosting provider, which limits the flexibility to switch to a different hosting service in the future. 
How To Use GoDaddy Website Builder?
To use a GoDaddy website builder, you have to start by signing up for a GoDaddy account. 
These are the steps you should take after that:
Choose a domain name – the first thing you need to do is choose your domain name or connect your website to an existing domain name.

Choose your industry – when you choose your business industry, you will be provided with a variety of templates related to it. You can choose between hundreds of different website themes on GoDaddy.

Customize your design – when you have opted for a template, you can customize its design and add images or a logo to it.

Add text and pages – after you have created a unique design, you can start uploading content and creating pages for your new website.
GoDaddy Website Builder Pricing
GoDaddy website builder comes with different pricing plans:
Basic plan (Starting at €5.49/month)

: Comes with an annual term, including website security, custom domain connection, on-the-go editing, 24/7 support, and guidance and analytics. No e-commerce functionality is included.

Standard plan (Starting at €8.49)

: Offers all the features of the Basic plan, plus enhanced security and SEO capabilities. No e-commerce functionality is included.

Premium plan (Starting at €11.99)

: Provides all the features of the Standard plan, along with additional tools for advanced website customization and optimization. No e-commerce functionality is included.

E-commerce plan (Starting at €13.99):

Includes all the features of the Premium plan, as well as e-commerce functionality for setting up an online store and selling products.
User Testimonials For GoDaddy
GoDaddy Website Builder Alternatives
WordPress
WordPress offers more flexibility and customization options compared to the GoDaddy site builder. While GoDaddy is user-friendly, WordPress provides greater control over design and functionality.
WordPress allowed me to create a highly tailored website with extensive plugin options and advanced customization capabilities, which makes it a lot better solution than GoDaddy.
Squarespace
Squarespace offers sleek and modern templates with a strong emphasis on design. Although GoDaddy provides a user-friendly interface, Squarespace offers more visually appealing options and intuitive editing tools.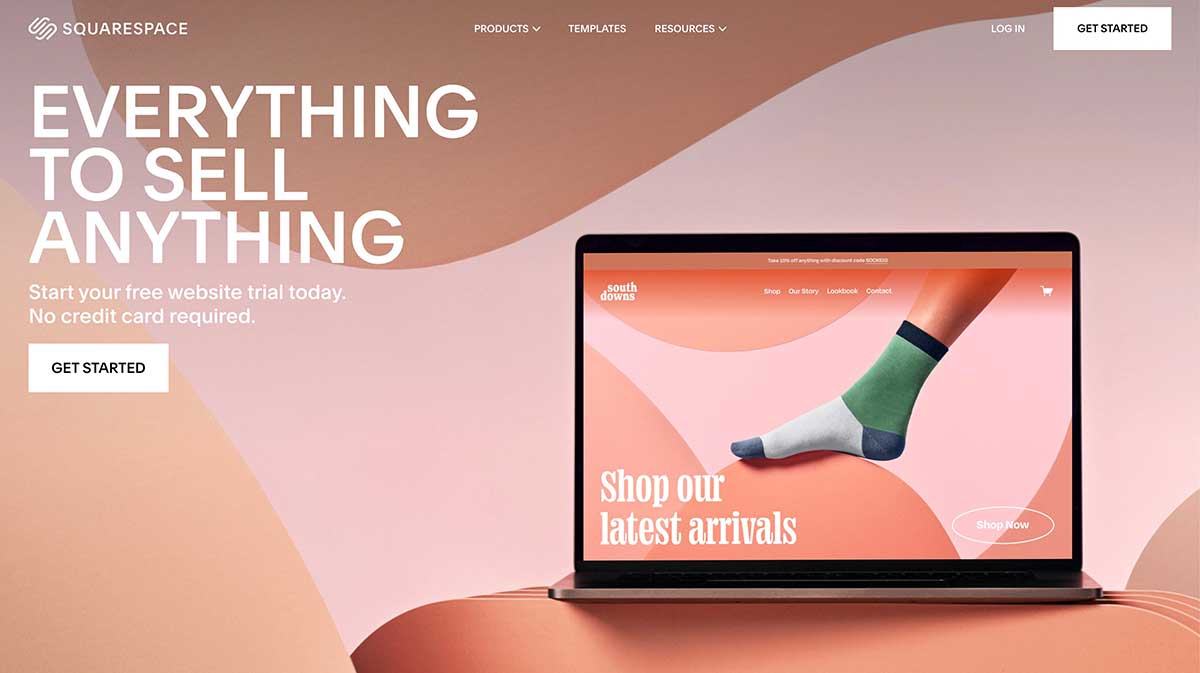 Squarespace's elegant templates and seamless design customization are something that I definitely prefer,
Weebly
Although Weebly shares similarities in user-friendliness with GoDaddy website builder, GoDaddy offers a more comprehensive range of features and better customer support. GoDaddy website builder provided a more robust platform for creating and maintaining my website, along with reliable support whenever I encountered any issues.
FAQs
Is GoDaddy Completely Free?
GoDaddy is not completely free. It offers both free and paid options for its website builder. They have a free trial that allows you to create and publish a basic website, but you will eventually have to subscribe.
However, they also offer paid plans with additional features and functionalities at different price points.
Can I Transfer My Existing Website to GoDaddy Website Builder?
Yes, you can transfer your existing website with the GoDaddy website builder, but it may be a demanding task.
Is GoDaddy Website Builder The Right Choice For You?
Finding a good website builder takes a lot of time and patience, but if you are a beginner in this field, I would always recommend GoDaddy over any other software.
GoDaddy offers a user-friendly interface with a dedicated support team and a variety of templates and features that will help you create an outstanding website easily. They are well-known for fast websites and affordable prices, so their website builder should definitely be one of your first options.
If you are in need of a quick and efficient website builder, I would definitely recommend you check out GoDaddy.
Our #1 Recommendation: GoDaddy